Sending more often isn't always the best way to maximize revenue with SMS marketing but sending smart, almost always pays off.
Recart clients, Her Juice Bar, achieves its status in the top 63% of Shopify stores by using SMS marketing not just for marketing but as a sales channel too. Regularly sending SMS campaigns to their active subscribers.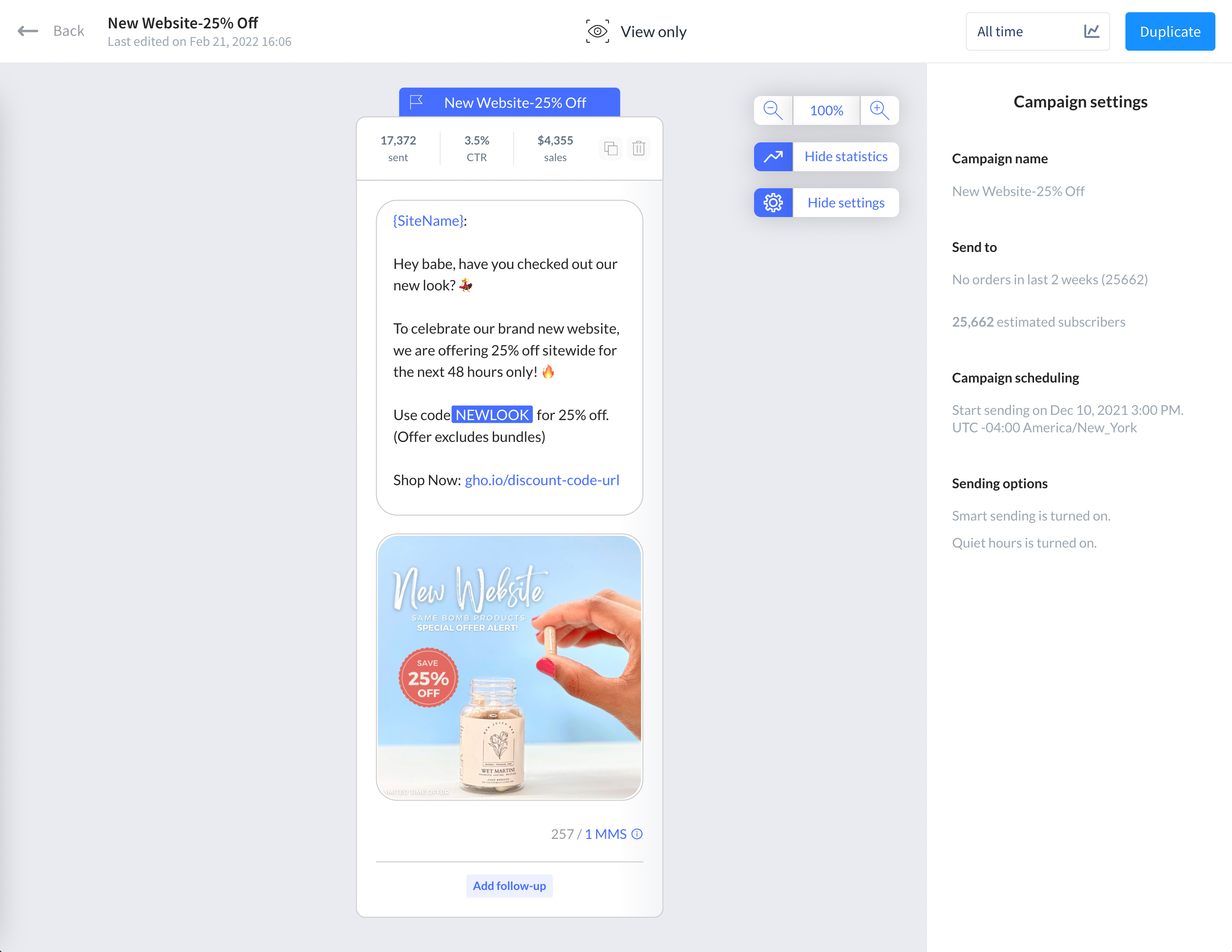 These campaigns drive great results: with an average CTR of 5%, and an average ROI increase 19x other channels, making it by far their  most profitable sales channel.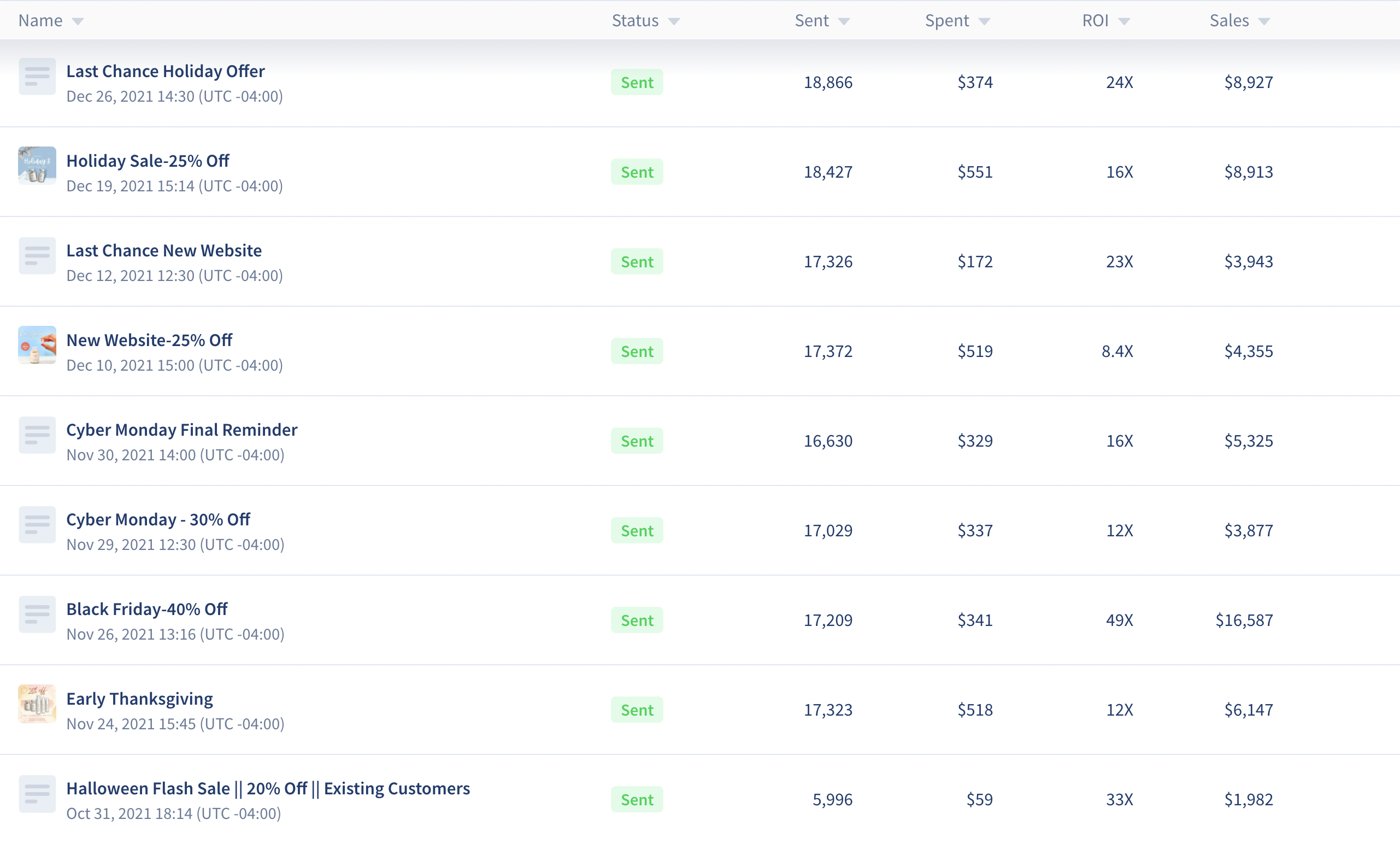 What if we could  take these results  even further? What if we could  use customer engagement data from  past campaigns to create highly targeted audiences who previously engaged with the SMS campaign but didn't purchase?
Using Recart's sophisticated targeting engine, we did exactly that – and we'll explain how you can replicate this success step-by-step:
To start, we quickly created a new segment in Recart: subscribers who clicked on the last campaign but didn't make a purchase. It took like 30 seconds, it looks like this: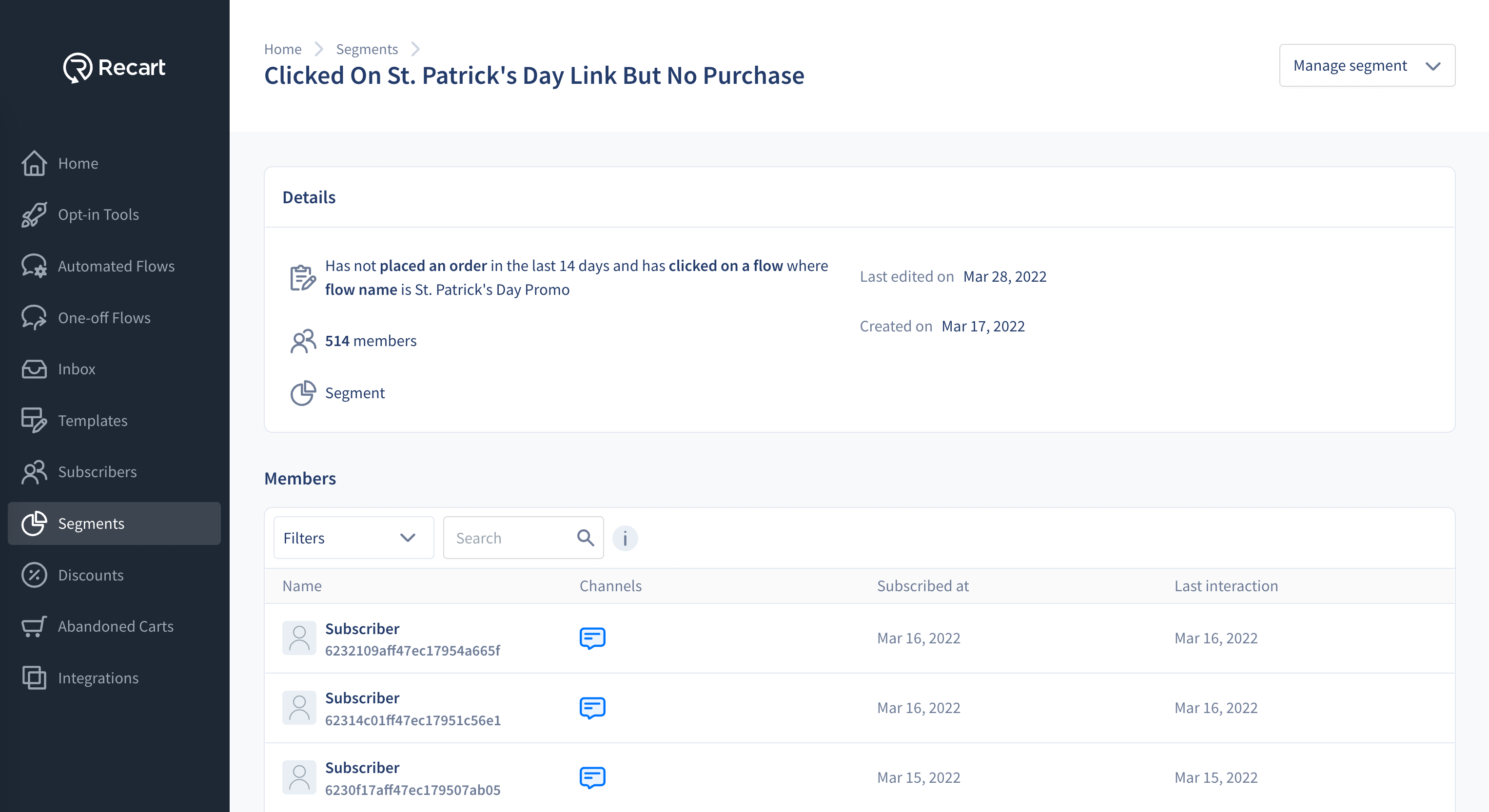 Then we created the campaign. The goal was to  send a friendly reminder to customers who were interested in the offer but didn't place an order. 
Here's how you can  create the same  in 4 easy steps: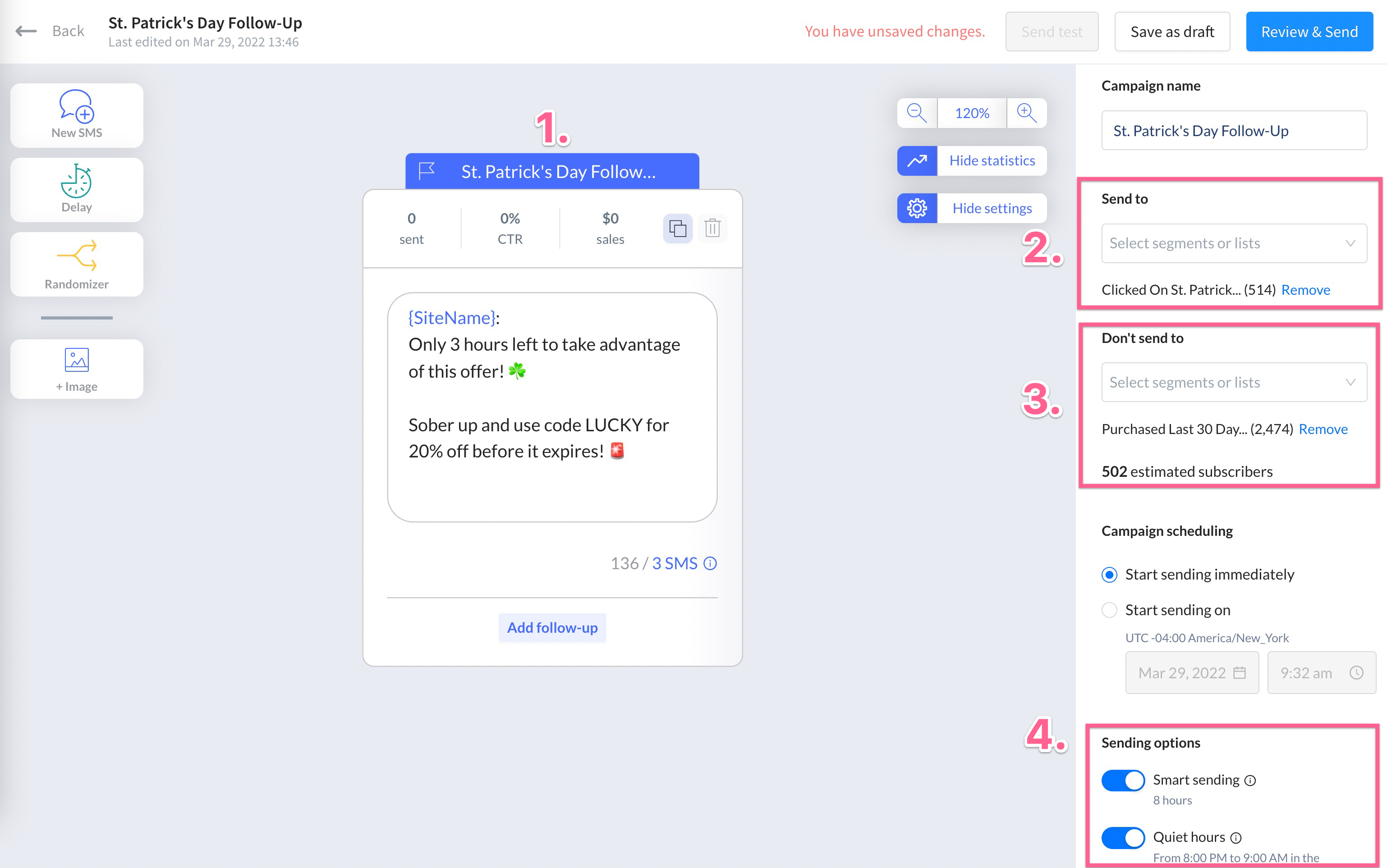 Add a short and relevant copy to remind them of the promotion. Don't forget: you're talking to people who were interested in the original promotion.

Define the segment: In this case: people who clicked on the St Patrick's Day campaign, but did not purchase.

Exclude recent buyers: You don't want to over communicate with customers, so excluding the ones who recently purchased a specific product or promotion is almost always a good idea.

Set Smart Sending and Quiet Hours to make sure you're not reaching out too often or in the middle of the night.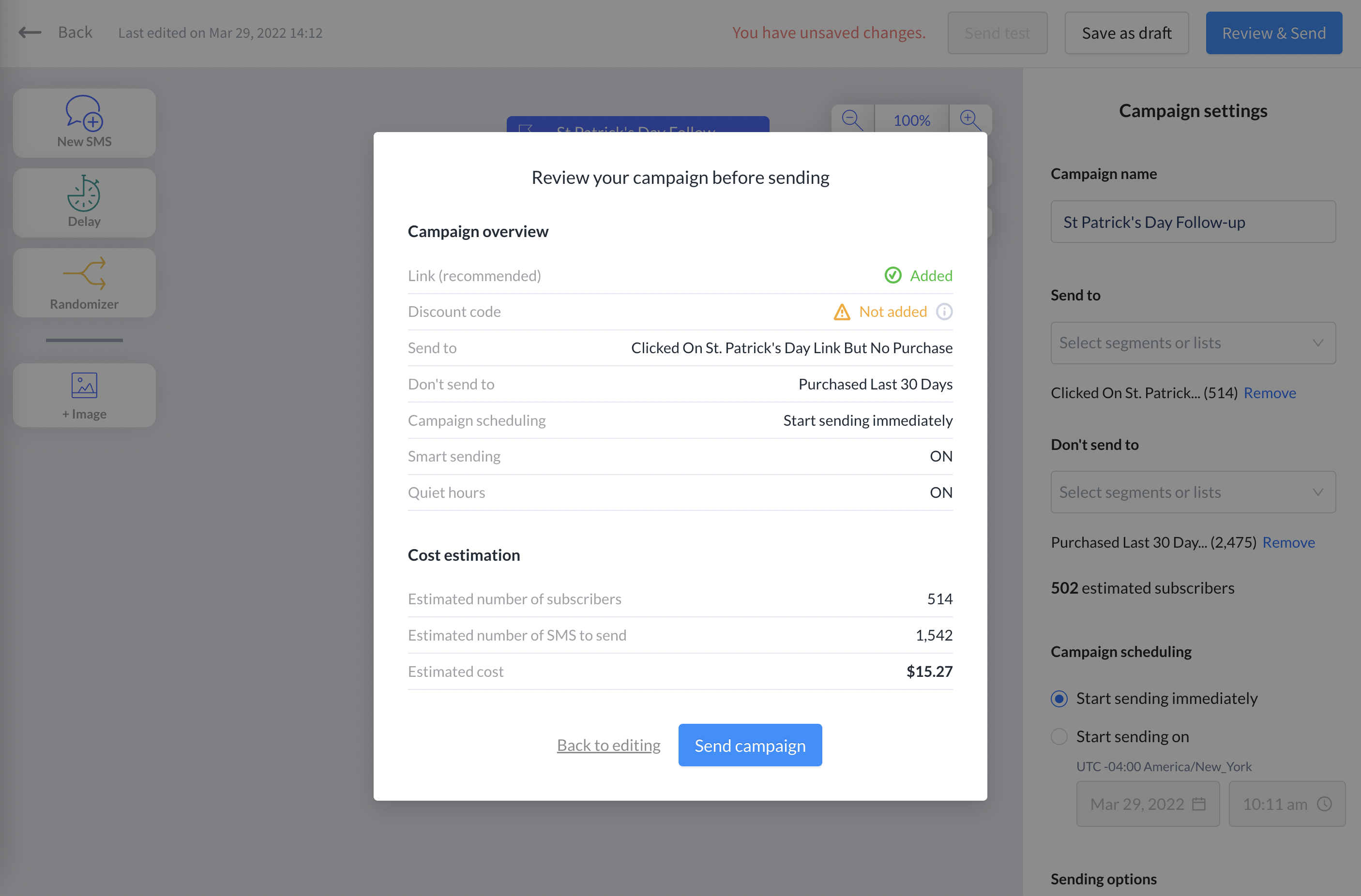 It doesn't take long to see results and quickly after sending, you'll see your efforts pay off. Especially because highly-engaged people receiving friendly reminders is one of the best ways to boost the total campaign revenue by 10-30%.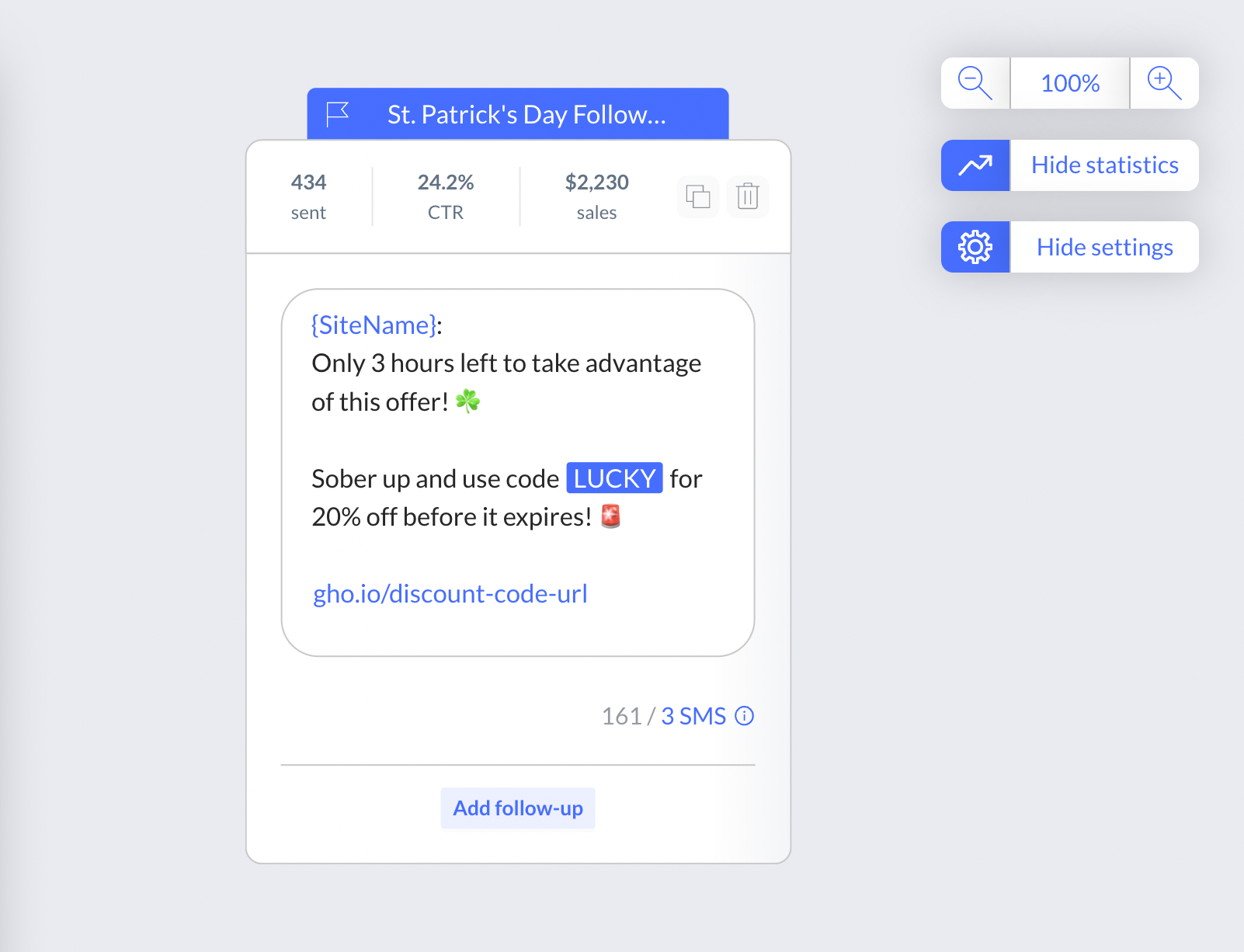 You can also compare how your new campaign compares to the original campaign. In this case, the follow-up generated $2.2k in addition to the $7k which has been generated by the original campaign.

Those are some amazing results. By reminding just  1.7% of the original recipients, this campaign generated 23% of the total campaign revenue.
The lesson is crystal clear: campaign follow-ups work!. If you're not using them, try  following this guide or reach out to your Customer Success Manager to help you implement them.
If you're not on Recart SMS yet, you can get your account set up here.
Special thanks to our friends at
Recart
for their insights on this topic.