I always talk about my 10% rule. It means that if you want to run a successful email or SMS marketing program, you must convert at least 10% of your online traffic into subscribers.
If you rely on paid traffic from Facebook, Instagram, or TikTok, the 10% rule becomes absolutely crucial for the success of your SMS marketing.
There are more than a dozen ways to subscribe people to your SMS list – today I'm going to show you how you can do it using your Instagram posts & stories.
What's really cool about converting your IG traffic into SMS subscribers is that it takes literally two taps from your customers and it can be done using the organic traffic on your pages. Let's dive into the two main ways of Instagram to SMS subscription!
Instagram Story to SMS Subscription
The most popular & easy way of converting your organic IG traffic into SMS opt-ins is using an SMS signup link in your stories. These stories usually lead with an offer: a discount or exclusive content to incentivize followers to signup.
SMS subscription from Instagram stories takes only two actions:
When customers see your story they can simply tap the link which takes them to the SMS app on mobile with a pre-filled text message they can send to your number.
The second tap is when they hit send message.
Here's an example of Bella All Natural offering 15% off to subscribers from their Instagram posts:
Reading this on mobile? You can try the experience by tapping here or the image above.
Once they send the message, they become your SMS subscriber and start receive the welcome flow – which usually contain an incentive like a discount code.
From this point moving forward, you have the opportunity to talk to your customers via SMS, share updates and send promotions.
SMS Keyword in Instagram Post
The other main way to subscribe Instagram followers to your SMS list is by sharing SMS keywords in your posts.
Here's a great example from Her Juice Bar. They share the keyword HJB and their phone number followers can text.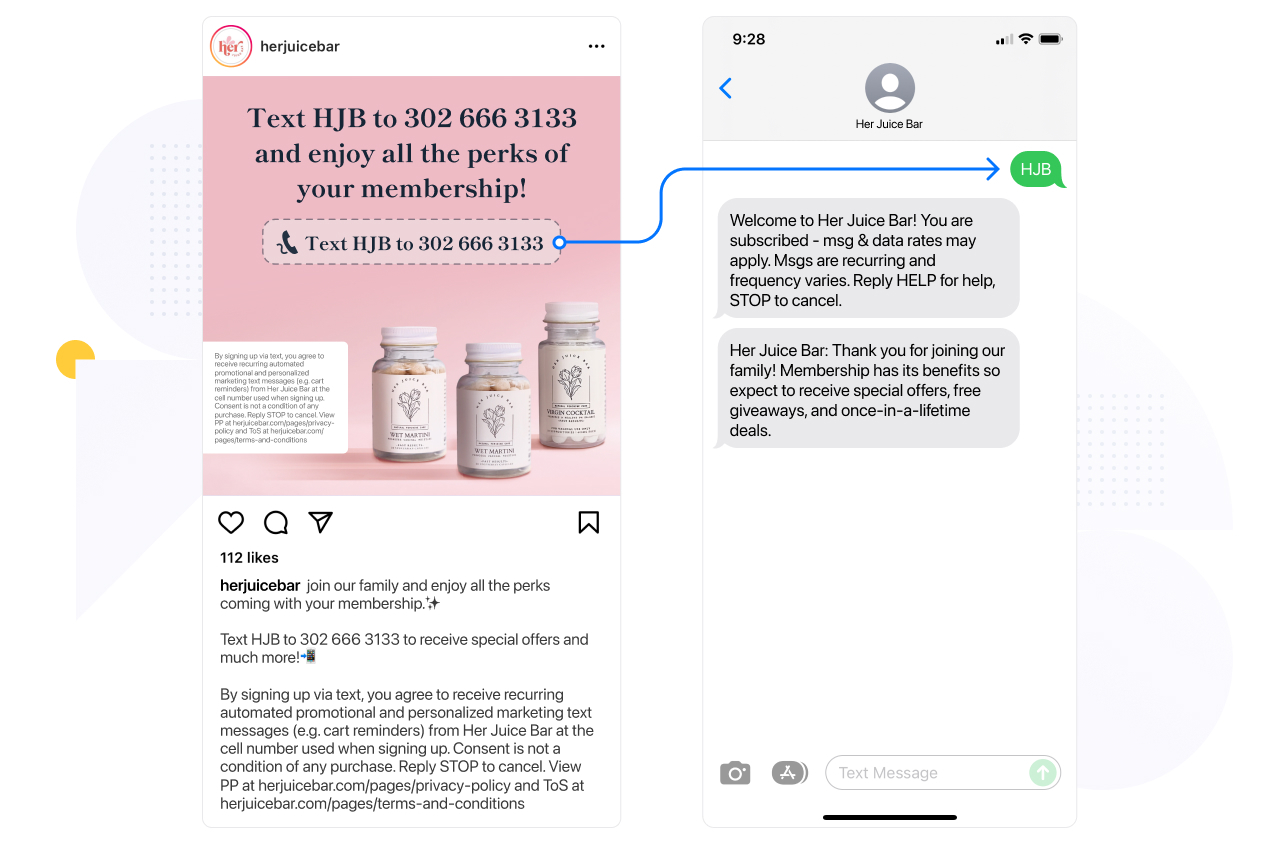 Once they text the keyword, they become subscribers of the brand that can message them about updates, special offers, and new product launches.
You can start growing your SMS list using Instagram in minutes. Here's our tutorial on how to create your own keywords.
New to SMS? Our experts at Recart are happy to get you started in minutes! Book a quick demo & setup call with us here.
Special thanks to our friends at
Recart
for their insights on this topic.