Easter is just around the corner 🐰 🐣 . 
Bunnies and chocolate eggs are on the very near horizon but, with just a week left to go, are your marketing campaigns ready to put a spring in your step? 
This year – like last year – is different. Social distancing measures are still in place and a lot of venues still have their doors firmly shut. But that doesn't mean that people aren't ready and raring to celebrate Easter. In fact, they might even be more eager than ever to get some sense of normality back. 
Research from the NRF shows that consumers plan to spend an average of $151 during Easter, predominantly on clothing and flowers. Even people who don't celebrate the holiday plan to take advantage of Easter-related sales. 
With limited time to put something together, how can you engage and excite your audience this Easter? Try these three tactics 👇.
1.Grow Your Email, SMS, and Messenger Lists
Email marketing brings in the highest ROI out of any other marketing method. Landing directly in someone's inbox is a great way to engage them and establish a loyal customer relationship in a place the consumer already feels comfortable. 
Growing your email list should be a top priority this Easter. The more subscribers you have, the more chances you have to build loyal, long-lasting relationships. But growing your email list shouldn't be the only activity you focus on. Today, people spend more time than ever on their smartphone 📲 , which means that text messages and Messenger apps are proving hot touch points for brands to reach their buyers. 
Instead of going straight for the inbox, think about the platforms your buyers are already hanging out on and reach them there instead. 
Chances are, they're already scrolling through Facebook or checking their texts from friends, and popping up alongside these familiar points of contact will help establish a deeper connection with potential buyers. 
Collect email addresses, Messenger information, and SMS details from your website visitors via Easter-inspired popup forms so that you can communicate with subscribers through their preferred method.
👆 This example invites visitors to "spin the wheel" to win a prize, and the colors and visuals give it a very seasonal feel. 
There are plenty of ways you can use popups to capture visitor information at Easter time. 
Make your popups work for you by: 
Including a powerful CTA: let visitors know what action you want them to take next
Keeping design consistent: give your popup and Easter feel while still staying on-brand with the rest of your site
Sharing the added value: use microcopy to tell visitors what they'll get when they hand over their details 
Providing an irresistible offer: make sure your Easter offer is well-aligned with your audience's wants and needs 
Creating a mobile-friendly popup: capture mobile subscribers by using a popup designed specifically for mobile devices
Use Two-Tap Popups for Instant Subscribers
The key is to make it as easy as possible for people to subscribe to your list, particularly with limited time offers or around seasonal events. Giving visitors the option to subscribe via Messenger significantly increases open rates.
Standard ecommerce email open rates stand at about 12% but increase dramatically to 85% when done through Messenger. 
Recart's Two-Tap Popup not only makes getting customer information a breeze, but makes the subscription experience seamless.
When visitors are served a popup, they simply click the CTA and get a promo code or the offer information sent straight to their Messenger account. There's no typing required, which means there's less chance of someone entering an incorrect email address or avoiding submitting their email address/phone numbers at all 👇 :
The results?
2-3x better conversion rates compared to traditional popups, and within two single taps on their phone, 20% of visitors will become Messenger and email, SMS subscribers 👀.
Also, with a library of eye-catching 3rd party popups to choose from using any integrations for your Easter campaigns is a no-brainer. 
Whether you're using 3rd party Popups or Recart's two-tap Popup, you can freely design your popup to match the branding on your site, add an Easter touch, and encourage visitors to send your chosen deal or offer straight to their Messenger inbox. From there, you're able to nurture them through a platform they're familiar with and use a lot until they're ready to buy.
2. Create an Online Egg Hunt or Easter Giveaway
People love to receive free things 💞. 
Tap into this by taking your Easter campaign one step further and creating an Easter egg hunt 🥚 that visitors can carry out directly on your site. 
At the end, present them with an exclusive offer or discount to push them through the final part of the sales funnel. The best part is that shoppers will have to scan your site and visit multiple pages while they find the "eggs" in the hunt. 
As a result, they'll visit more pages than they would have otherwise, which increases brand awareness and improves their chances of converting. Once the eggs are found, you can redirect them to a dedicated landing page with a discount code or "eggsclusive" Easter offer.
Plenty of brands leverage this type of campaign over Easter (because who doesn't love an Easter egg hunt?), but there are other ways you can offer free prizes and generate a buzz. 
In 2019, Evercrafts ran a giveaway on Twitter that encouraged consumers to follow them and Retweet a post, increasing the visibility of the campaign and bringing in even more participants. 
Russell Stover combined these two campaign ideas to create an Easter egg hunt on their Instagram page. By hiding eggs in various posts throughout the Easter period, they grew their Instagram following and directed potential buyers to their website where they could claim their prize. 
Capture Subscribers Through Facebook Comments
One of the most common ways consumers can enter a giveaway is to comment on the social media post promoting the contest. These are people who are engaging with your brand, and it'd be a shame to let them leave without getting their details.
With Recart, you can leverage the Facebook comments entry point to send a conversation flow via Messenger to people who commented on a selected Facebook post 👇. 
The feature works by identifying people who have commented on your giveaway post, whether that's to tag a friend or answer a question, and automatically sends them a message via Messenger thanking them for entering the giveaway and encouraging them to complete the final step of the giveaway: providing their email address. 
Giveaways and CTM ads provide plenty of eggslent benefits ✨: 
They continue to engage interested consumers ✨
They carry on the conversation in a private space 📱
They capture the contact details of potential buyers 🎯
They create a buzz around your brand and spread your campaign's reach 📈
They promote word-of-mouth marketing as participants often tag their friends and family 👪
The results? 
With a seven-day giveaway promotion, one of our fashion brands
Turned 2,910 conversations into Messenger subscribers  
Earned 2,806 email subscribers at a 96% conversion rate
CPA of $0.33 per Messenger + email subscribers
making $6,700 new revenue from a $930 ad spend.
3. Give People What They Need
A recent study by Nielsen suggested that stay-at-home orders could lead to a 60% increase in the amount of content people consume – particularly on mobile devices. Understanding what kind of content people want and how they consume that content is crucial if you want to stand out and capture visitors when they're most engaged. 
Let's face it: the last year has really shown that we could all use some positivity and some good experiences. Consumers are looking for hope at the end of a dark year, and Easter is the perfect time to bring some sunshine into your campaigns.
H&M did exactly this for their Easter campaign in 2020. 
The coronavirus pandemic had just begun to take hold, and the brand realized that consumers were looking for light at the end of the tunnel (at that point, we had little idea of how long the pandemic would go on for).
For every gift card a shopper sent to a loved one at Easter, H&M gave back 10% of the original gift card value to the buyer. They also allowed buyers to customize their gift card designs to make them more personal and add a message before sending them. 
Showing goodwill like this during difficult times helps build loyal relationships with customers while giving them something in return. As a result, they're more likely to come back and shop with you in the future knowing that you did something nice for them in a time of need.
Send Sponsored Messages to Loyal Customers
Recart's Sponsored Message feature lets you connect with customers via Facebook Messenger and give them a little something they can pass forward at Easter. 
Promotional messages like this can achieve up to 90% open rates while cementing relationships with your best buyers. 
Your Easter-inspired Sponsored Messages can cover everything, including:
New Spring product launches
Easter flash sales
Early access to exclusive offers
Thank you messages
Restock reminders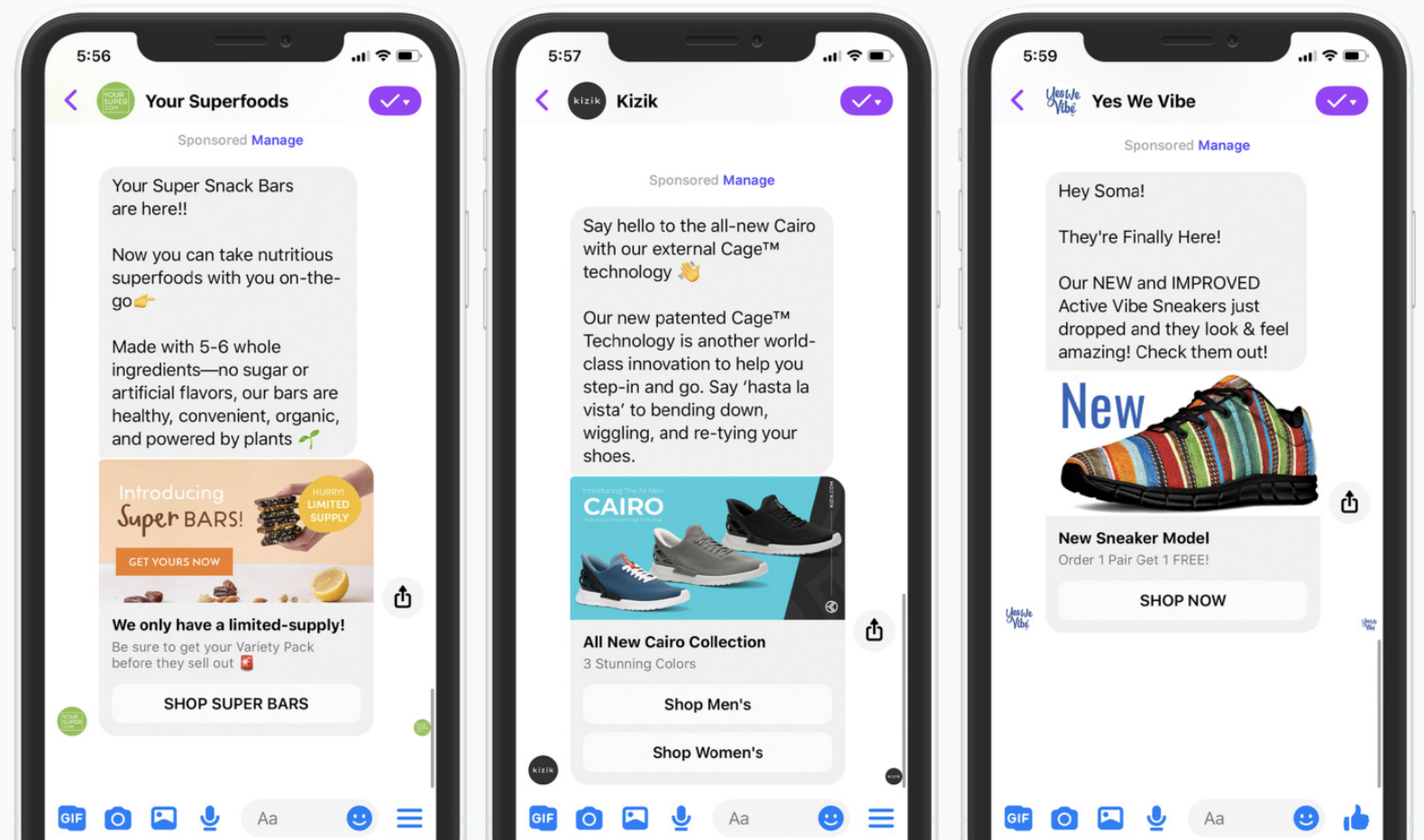 Shoppers have short attention spans during the holidays, and Easter is no different. They're constantly being bombarded by competitor campaigns, so it's important that you tap into their immediate needs and offer them exactly what they want, exactly when they need it. 
Sponsored Messages target people based on their past buying behavior or their interactions with your brand and send messages, offers, and deals based on those.
You can also target people based on how often they buy. For example, Candy Lion sent Sponsored Messages to customers who had bought sweets and encouraged them to pass on a discount code to their friends and family. 
Not only does this message make customers feel valued, but it also gives them an incentive to share your brand with others – it's a win-win situation for everyone. 
Easter is the perfect time to spread cheer, and creating enjoyable, frictionless journeys for customers will keep them around long after the holiday has passed. Take inspiration from our customers, get 90% open rates on your promotions and make your sales bloom 🌸 👇.
9 Sponsored Message Examples To Spread Cheer with Personalization 📣
Make Your Easter Campaigns Shine This Spring
With so many consumers keen to make purchases over the Easter period, it's crucial that your campaigns are set up for success. 
Stand out against competitors by tapping into the unique needs of shoppers; collect their contact information through fun, Easter-inspired popups, run giveaways and 🥚 Easter egg hunts to boost engagement, and send personalized offers, deals, and information straight to their Messenger inboxes 🎯 . 
Creating an enjoyable customer experience with as few friction points as possible should be your top priority. And, with a library of easy-to-implement features that promote two-tap signups, personalized messages, and communications with your most engaged followers, Recart is your ideal Easter companion 👌. 
Whether you're just getting started with Recart or you're looking to tidy up your campaigns, we can help. Let us set you up with pre-loaded holiday automations, a quick strategy call, or anything else you need to win big this year 👇. 
Special thanks to our friends at
Recart
for their insights on this topic.