Deciding to sponsor the eCommerce Fastlane Podcast and Insights Blog will get you access to a CAPTIVE, ENGAGED and TARGETED AUDIENCE in the Shopify Ecosystem.
Stats for podcast consumption and reach
eCommerce Fastlane podcast is a top 1% most popular show out of 2,793,821 podcasts globally!
Over 55% of all US homes are podcast fans.
In 2021 over 155 million people listen to a podcast every week.
Around 24% of the US population (68 million) listen to podcasts weekly.
Podcast listeners consume an average of seven different shows per week.
There are over 2,793,821 podcasts and over 50 million episodes as of March 2021.
27% of US podcast listeners have a 4-year college degree vs 19% of the US population.
The most popular age group for podcasts listeners is 25-44, making up 49% of total listeners.
Podcasting specifically drives trust and authenticity. Learn more here about the science behind the power of podcast ads.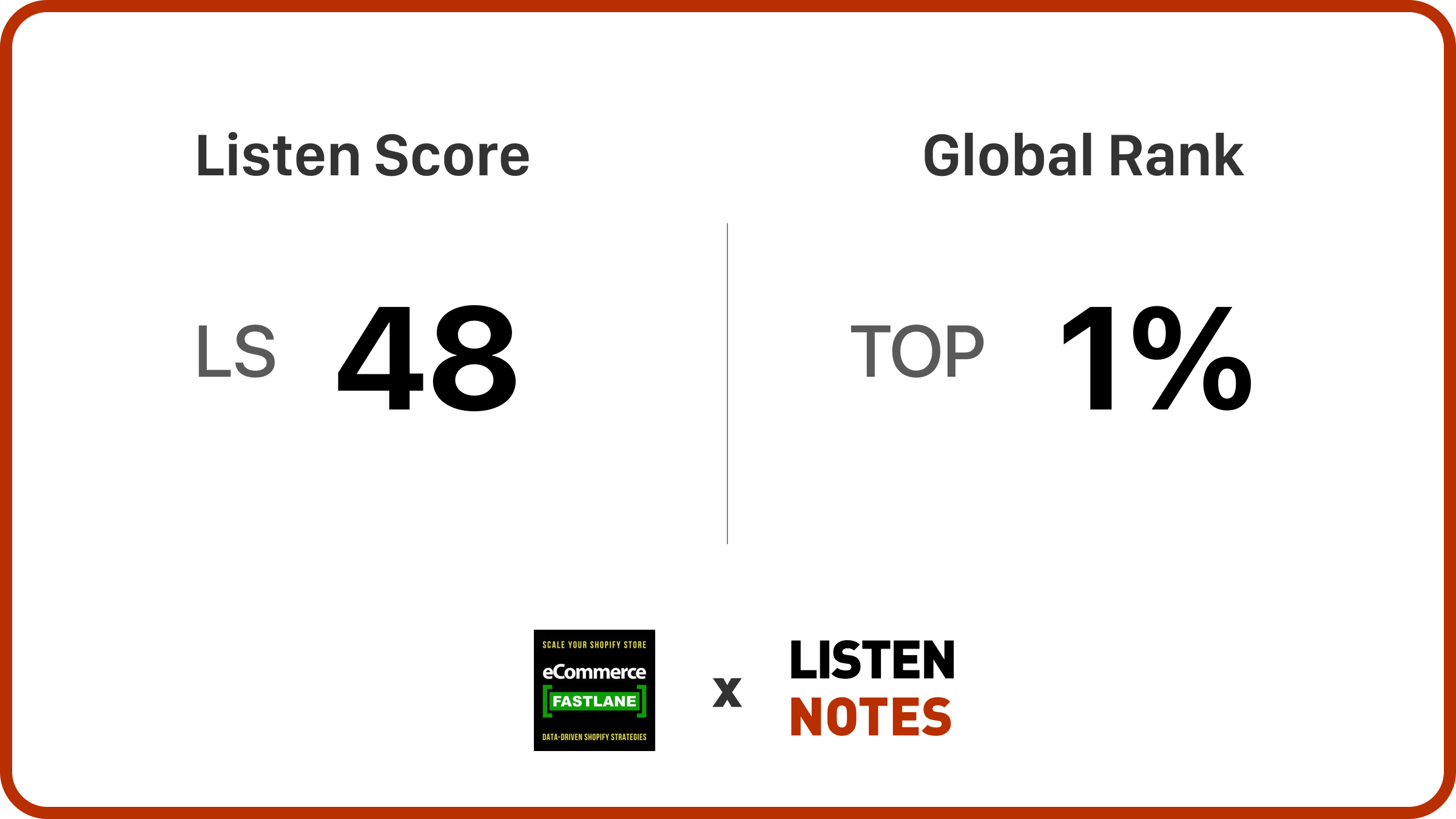 Steve Hutt is an ecommerce startup founder (VisionPros), Senior Merchant Success Manager at Shopify Plus, and an industry thought leader for nearly 2 decades. His audience knows, likes, and trusts him along with the commerce-related guests he has on the show twice a week.  When Steve recommends a product, service, or Shopify app to his loyal listeners, they take action.
Get exposure to new listeners
There are 2,000,000+ entrepreneurs around the world using the Shopify platform. They are finding out about the eCommerce Fastlane Podcast and going back to binge listen to episodes and absorb the actionable content to help them grow and scale.
This means that your sponsorship is constantly being heard by new ears, long after it first went live.
The power of podcast ads to shape minds, grab attention, and grow trust comes as no surprise to my podcast listeners. They're giving longer periods of tuned-in, undistracted time to a medium that took less than a decade-and-a-half to go from new to necessity.
Each week, my existing listeners and a whole new audience are exposed to the eCommerce Fastlane Podcast for the first time. All our guests have two things in common…
Large audiences
Willingness to invest in paid acquisition to drive episode awareness
In every new episode, our featured guest shares their appearance with their audience, thus exposing the podcast and show notes to Shopify brand owners, marketers, and entrepreneurs.
---
ECOMMERCE FASTLANE SPONSORSHIP
Details on the $12k investment
To get maximum exposure for your Shopify App, Platform, Marketing Services, Mastermind or Event, sponsoring the podcast includes ALL options available on the podcast and the eCommerceFastlane.com site.
2 months as the exclusive podcast show sponsor

2 months site-wide banner placement

2 months of your second Facebook pixel + Google pixel placement for retargeting and look-a-like campaigns

1 year brand logo placement on the home page of eCommerceFastlane.com 

2 Front of the line podcast interviews to cast an even wider net of your product or service
Show sponsor for 8 episodes (2 months x 4 episodes)
20,000+ downloads per month (growing month/month)
8 weeks of exposure on eCommerceFastlane.com site

Leaderboard banner near navigation
Leaderboard banner on footer
8 show notes pages with your logo, details on your product offering, and a do-follow backlink
Syndication of your blog posts on the eCommerce Fastlane blog through your RSS feed to cast a wider net of discovery for your brand and offering. See here.
Evergreen social media reposting of your sponsored episodes through Missinglettr.com and Lately.ai for 6 months
As a valued partner and sponsor, we are open to other creative opportunities to drive the awareness and revenue for your solution including:

Steve Hutt can be a guest or host on your webinar or podcast
Early access as a podcast guest on eCommerce Fastlane
Author access to the eCommerce Fastlane blog for original content releases
Creative marketing ideas through Steve Hutt's social media accounts

60 second, host read, pre-roll, where Steve Hutt shares the benefits of your product and tells people (twice) where they can find you
30 second, host read, post-roll (similar to the pre-roll, by sharing or reiterating your benefits with your offer and call-to-action at the end of the episode
Free home page logo placement to a custom landing page for 12 months.
Episode social sharing through 20+ Facebook Groups [ 600k+ members ] and LinkedIn Groups
Episode sharing on Steve's personal accounts [ Twitter 20k followers ]  [ Facebook 6k followers ]  [ LinkedIn 14k connections ]  [ Instagram 5k followers ]
Permanent sponsor logo, description, and do-follow backlink on the 8 sponsored show notes pages
Permanent backlink and description paragraph on these podcast players
When you are a show sponsor, you also get free show sponsorship on a second show, Shopify Founder Stories.
---
BANNER SPONSORSHIP
Details on the $3k investment
8-week banner placement on eCommerce Fastlane (50,000+ unique visitors per month)
Square sticky banner (300×300) on the sidebar of the blog and podcast pages
New podcast episode recording to drive more awareness and consideration for your solution or services
8-week sponsorship link/logo in the Thriving with Shopify weekly roundup newsletter (it shares the latest podcast episodes and commerce insights for the week)
---
FACEBOOK PIXEL AND GOOGLE PIXEL SPONSORSHIP
Details on the $3k investment
Adding your second Facebook pixel and Google pixel to the eCommerce Fastlane website provides a targeted opportunity to create better Facebook and Google retargeting ads and lookalike audiences. The tracking pixel data helps ensure your ads are seen by Shopify entrepreneurs who want to improve efficiencies, profitably grow revenue, and build lifetime customer loyalty.
8-weeks with your second Facebook pixel and Google pixel code on eCommerceFastlane.com (50,000+ unique visitors per month).
This gives you a fantastic advertising opportunity to target Shopify Entrepreneurs through retargeting, seed audiences, and lookalike audiences.
---
FRONT-OF-THE-LINE PODCAST INTERVIEW & RELEASE
Details on the $997 investment
There are over 7000+ Shopify App and Marketing Platform Partners but only 115 possible episodes per year on the eCommerce Fastlane Podcast.  This option allow you to record and release your podcast episode within 7 days.  This is a very popular option as the show gets 20,000+ downloads, 50,000+ unique website visitors paired with a high domain authority.
7 day escalated podcast episode recording and release.
SEO optimized show notes page with transcript and lifetime do-follow links back to your site.
Episode audiograms and social media quote graphics are created for your episode. We share them widely through Facebook groups (600k) and our company and personal accounts (45k).  These assets are also available to you for social sharing, blog post, and other episode marketing.
---
HOME PAGE BRAND LOGO SPONSORSHIP
Details on the $495 investment
The home page of eCommerce Fastlane drives the most amount of targeted web traffic for Shopify-powered brands.  Having your brand's logo front and center with a clickable landing is a great opportunity for continued awareness and consideration for your platform.
Logo placement for 1 year.
Clickable brand landing page for each logo with author access to edit and publish your latest platform updates, case studies, and offers.
---
Website Audience Overview
Organic Search – 55%
Direct – 21%
Social – 17%
Referral – 5%
Other – 2%
Audience Overview / Demographics
Visitor Type
New Visitor – 88%
Returning Visitor – 12%
Traffic Medium
Organic – 53%
Referral – 25%
Direct – 22%
Social Network Traffic
Facebook – 67%
Twitter – 16%
LinkedIn – 14%
Others – 3%
Age of Site Visitor
18-24 – 15%
25-34 – 54%
35-44 – 22%
45-54 – 9%
Country
United States – 30%
Canada – 15%
India – 9%
United Kingdom – 7%
Australia – 4%
Israel – 2%
Germany – 2%
France – 2%
Session by Device
Monthly Website Visitor's 
Referring Domains Since 2016 Inception 
eCommerceFastlane.com Domain Authority Growth Since 2016 Inception
Podcast Analytics
eCommerce Fastlane Podcast launched in 2018 and is experiencing exponential growth with 22,000+ monthly downloads.
Ready to partner up?
The launch of the eCommerce Fastlane Podcast in 2018 was to prove the hypothesis that a Shopify App and Partner Ecosystem-focused show would resonate with Shopify entrepreneurs. It's making a significant impact with Shopify brand owners through timely education and partner recommendations.  Shopify entrepreneurs and marketing teams are learning the strategies and tactics to improve efficiencies, profitably grow revenue, and build lifetime customer loyalty, thanks in part to your partnership with Shopify.
The podcast has an incredible residual effect of also building Shopify partner thought-leadership, awareness, lead flow, and revenue for their offerings.
eCommerce Fastlane has achieved proof of concept and is now scaling up.  Let's chat about how we can work together and share your message.