Whitney Blankenship
Content Marketing Manager
Reading Time: 9 minutes
"You can't improve what you don't measure" is one of the most commonly repeated phrases in ecommerce, and for a good reason.
The ability to accurately track, record, test, and present various marketing metrics is vital for any business's growth. Understanding ecommerce metrics allows you to identify your strengths and weaknesses, gauge your performance against your competitors, and learn how different tactics affect your overall strategy.
Because data itself is useless without context, you need to ensure that you have a good analytics tool that is custom-made for ecommerce. This tool should be able to instantly calculate your key metrics in real-time, giving you real, actionable information that can help you optimize your strategy and provide a big-picture view of your performance.
In this article, we'll present some of the best ecommerce analytics tools on the market, checking out their various features, goals, and pros and cons of each. But first, let's have a quick look at what metrics every ecommerce store should be measuring consistently.
Examples of Actionable Ecommerce Metrics
Every store is different and has its own specific requirements, but the following examples are relevant to any ecommerce business that sells a product:
Conversion rate: usually refers to the percentage of visitors to your store that end up making a purchase, with average ecommerce conversion rates in ecommerce hovering around the 1-2% mark. Aside from sales, conversion rates can also apply to any action that you want a customer to take, from signing up to an email list to clicking on a specific link. For more on ecommerce email marketing conversion rates, click here.
Customer Acquisition Cost (CAC): finds out how much you spend for each new customer you acquire. Having a clear picture of this data helps you to optimize your advertising expenses and lower your CAC.
Visits and bounce percentage: tells you how many visitors you're attracting and from which source, as well as showing when users are leaving your site quickly. Knowing this can help you test different content and designs to keep users engaged and on your site.
Average order value (AOV): shows how much people are spending when making a purchase. This helps you to gauge what kind of return you're getting on your various marketing efforts.
Cart abandonment rate: shows the percentage of shoppers that are adding a product to their cart and then leaving your store without making a purchase. With 70% of carts abandoned on average, this is an unavoidable phenomenon, but knowing your rates can help you optimize and streamline your checkout process and initiate actions to recapture these lost sales.
Of course, these are just a few of the many key ecommerce metrics you can measure for your store. You should also be keeping a close eye on things like ROI, social media performance, navigation flow, and much more.
Now we have a few basic metrics to analyze, let's look at some of the best tools for the job. We've deliberately chosen a wide variety of ecommerce analytics software, from the well-known to the more niche and specialized, so there's sure to be something new and interesting that you might want to try for your own business!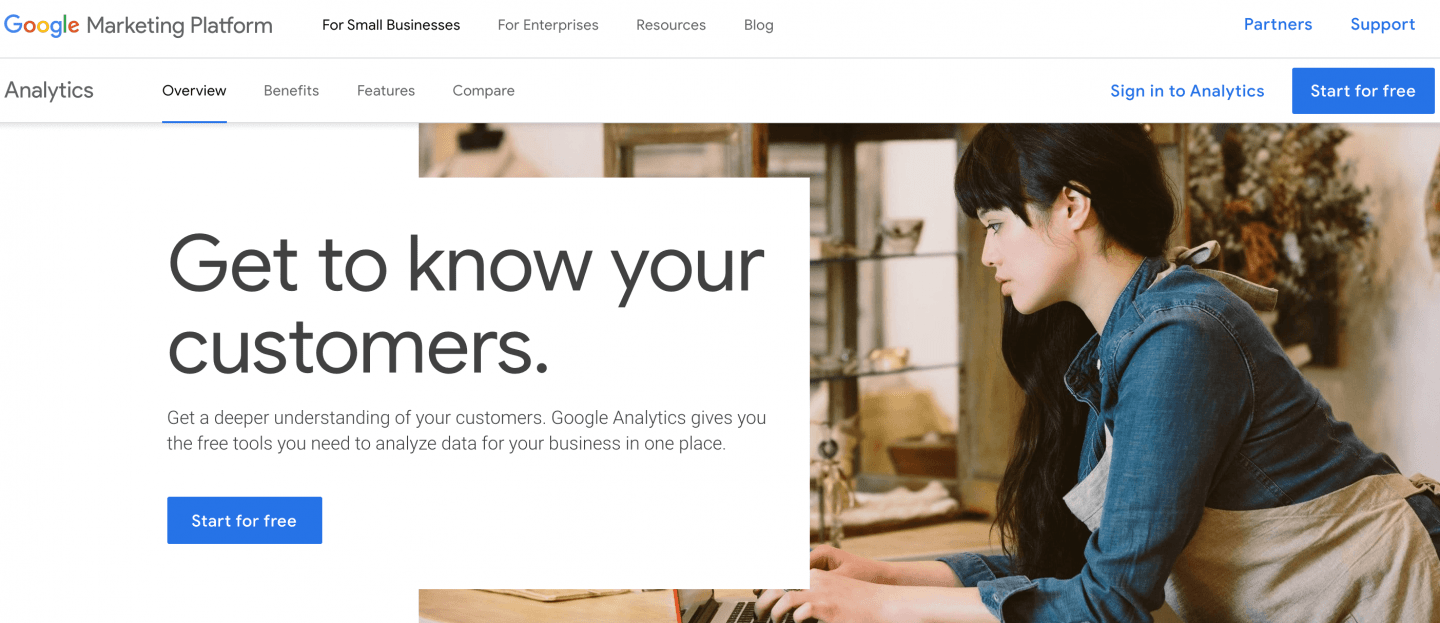 Google Analytics is the go-to choice for small and large businesses alike, evolving from a mainly traffic-driven analytics service to a complete data tracking and ecommerce analysis tool. Almost everyone uses or has used Google Analytics at some point, and you should probably do the same.
This essential tool can track data and provide comprehensive reports on ecommerce metrics like sales conversions, product performance, customer acquisition, and various customer behavior and interest insights. And the best thing? You get all of this for free.
Google Analytics integrates pretty much flawlessly with any ecommerce platform you can think of, hence its popularity and ease of use. Plus, there are millions of blogs, videos, and other sources of information, hints, and tips to help you maximize the full potential of your analytics on Google. Learn how to create custom reports, flow visualization graphics, and in-depth audience reports to really understand what makes your customers and potential customers tick.
How much does Google Analytics cost?
Free, but with paid options for larger enterprises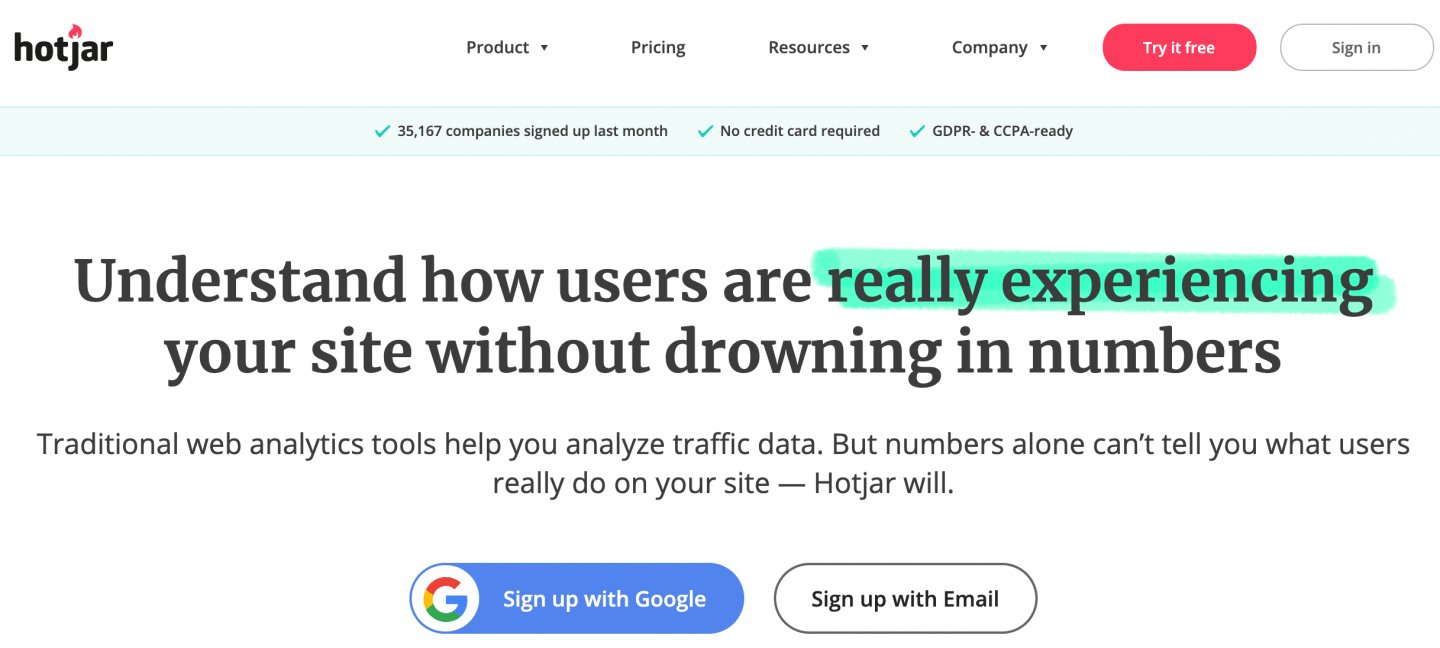 Hotjar is all about analyzing and understanding customer behavior, turning your numbers into a clear picture of what users do on your site.
It does this via a unique 'heat map' which shows exactly where on your site is getting the most activity, so you can find out which categories, pages, and products are the most popular—and design your site to maximize conversions.
There are different types of heat maps available, so you can see and record precisely where users clicked, scrolled, moved around, and on which devices they used. There's also a funnel feature that shows how users navigate your site and where they are most likely to leave.
Hotjar is perfect as a visual interpretation of your customers' user experience, helping you understand how they interact with your site and record the behavior and preferences that motivate them. This will allow you to test and optimize the effectiveness of your CTAs.
While it won't replace more 'traditional' marketing analytic tools (there is no way to track ROI or predict future performance, for example), Hotjar is the best in its niche and offers a great freemium version.
How much does Hotjar cost?
Personal Basic: Free
Personal Plus: $29/mo
Business: $89/mo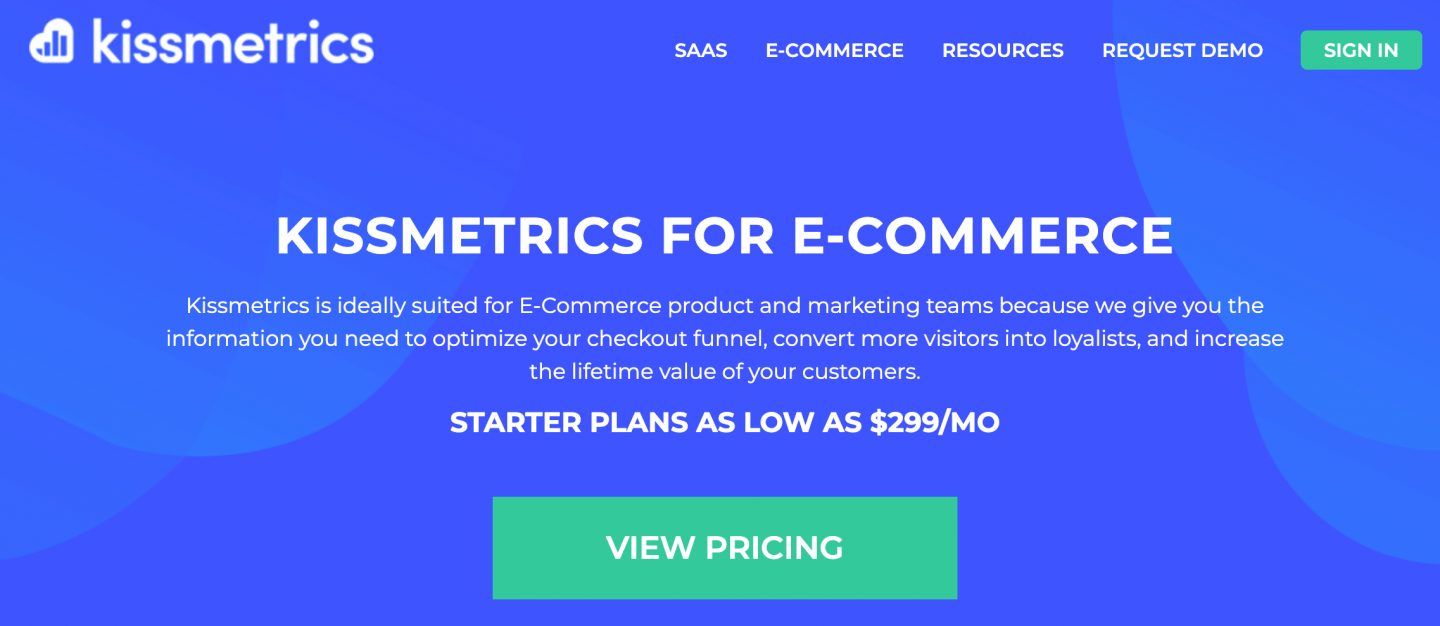 Kissmetrics has advanced analytical tools for business, offering enterprise-level features at competitive prices. The beauty of Kissmetrics lies in how it combines essential ecommerce metrics like conversion rates, sales, ROI, average customer value, and so on with a more personalized experience.
For example, you can link this data to specific customers, allowing you to track their journey from start to finish. This allows you to view your data through the lens of a real person, not just numbers on a screen, giving you actionable insights based on customer behavior and preferences.
As well as getting to know your individual customers, Kissmetrics allows you to segment them by common interests and behaviors so you can find out what resonates best with specific demographics, and you target them with content and offers that they find most relevant.
Kissmetrics is the ideal tool for serious ecommerce businesses that are ready to upgrade from Google Analytics. It's not a cheap option, but the way it can translate your raw data into real information based on customer behavior is second to none. You'll be able to instantly generate detailed reports in real-time and access all of your key metrics on a single, easily-customizable dashboard.
How much does Kissmetrics cost?
Silver: $299/mo
Gold $499/mo
Custom options available upon request

Woopra specializes in something called 'shopping success,' focusing on the customer journey to find the various strengths and weaknesses of your sales funnel and helping you to avoid the dreaded abandoned carts.
Woopra's customer-oriented features allow you to zoom in on every customer touchpoint, find the areas where they are dropping, and highlight the amount of time they take to make a purchase. You can also delve into individual customers' profiles to find out how they interact with your content and website design in real-time and offer them personalized experiences and support.
Woopra is ideal for ecommerce businesses that are invested in the customer journey and want to identify trends, optimize customer retention and acquisition, and improve segmentation for personalized experiences.
With a free version offering 500K actions a month, core analytics, and one-click integrations with over 30 platforms, Woopra is worth trying. Of course, more expensive upgrades offer more advanced analytics and features.
How much does Woopra cost?
Core Learn & Experiment: free
Startup Analytics Powerhouse: $349/mo
Pro Journey Architect: $999/mo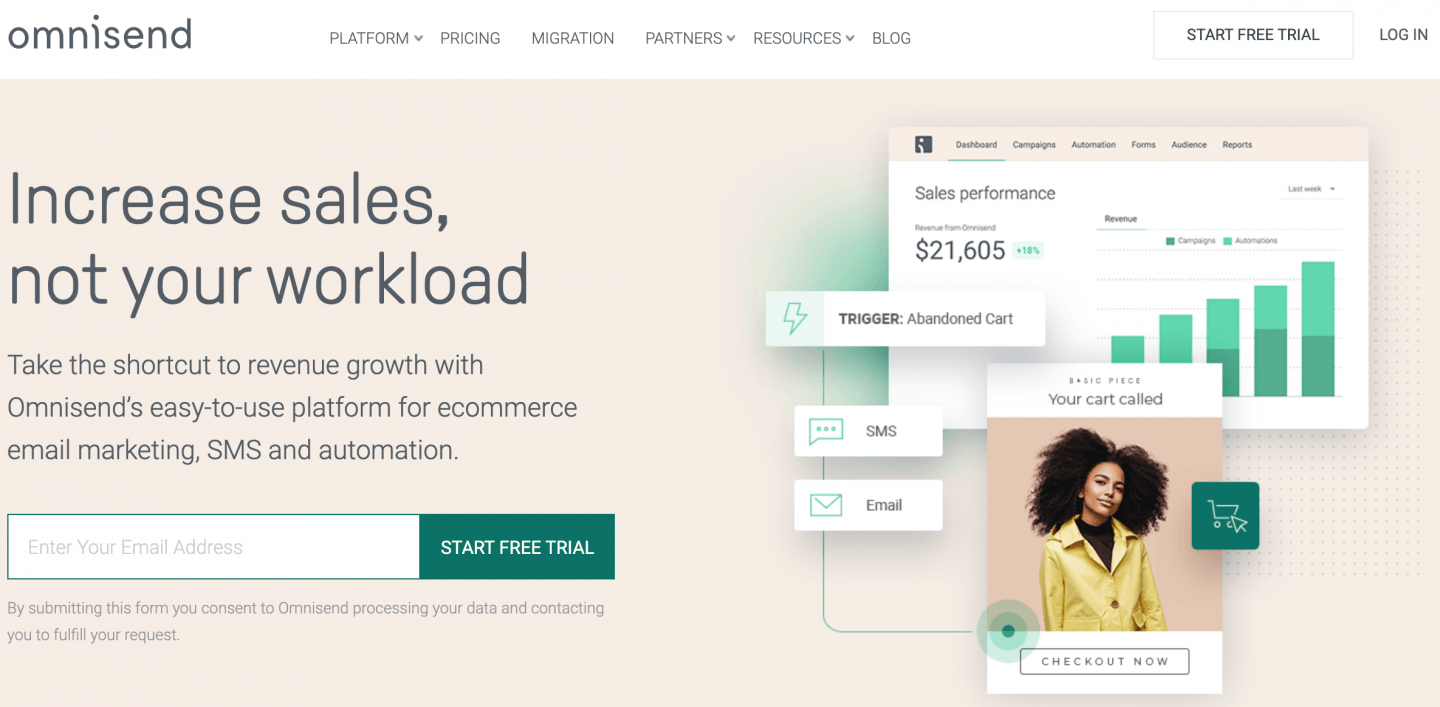 Omnisend is a complete platform for ecommerce businesses, offering everything from email and SMS marketing to automation and, of course, web analytic tools.
As well as comprehensive reporting on all of your campaigns and automations, from big-picture ROI insights to your choice of KPI across all channels, Omnisend allows you to see what customers are browsing in real-time, thanks to an intuitive Website Visitor Tracking feature.
Keeping with the platform's all-in-one nature, Omnisend's analytics offers a combination of site tracking and behavioral and transactional data to give a unified, single-customer view on a single dashboard. They also offer robust customer segmentation, enabling you to leverage your insights to create campaigns and automations that are hyper-personalized and relevant—a must in today's competitive ecommerce environment.
Omnisend is ideal for small and medium-sized businesses who want all of their ecommerce marketing tools under one umbrella, with a range of incredible features to choose from, and analytics that is just as good as any specialized tool.
How much does Omnisend cost?
Free version that offers basic reporting
$16/mo for more channels and features
$99/mo for advanced features and reporting
Register now to free 14-days trial and check out best Omnisend ecommerce analytics features for yourself!

Yotpo is all about customer reviews and feedback.
With user-generated content an under-valued and under-used resource in analytics, the ability to gain actionable insights from what your customers are saying is a great way to improve your product and service while stealing a march on the competition.
It works by using sentiment analysis and language processing to scour the internet for customer feedback data about your brand and product. This data is used to provide insights about customer preferences, any issues they might be having, current trends, and much more.
With customer loyalty, referral programs, and SMS marketing available too, you have the tools that you need to act upon your findings. Yotpo is ideal for businesses of all sizes that value their customers' opinions and feedback, are looking to maximize the value of their user-generated content, and wish to tailor their products and services to best accommodate customer needs and wishes.
How much does Yotpo cost?
Free plan with basic features available
Premium plans available upon request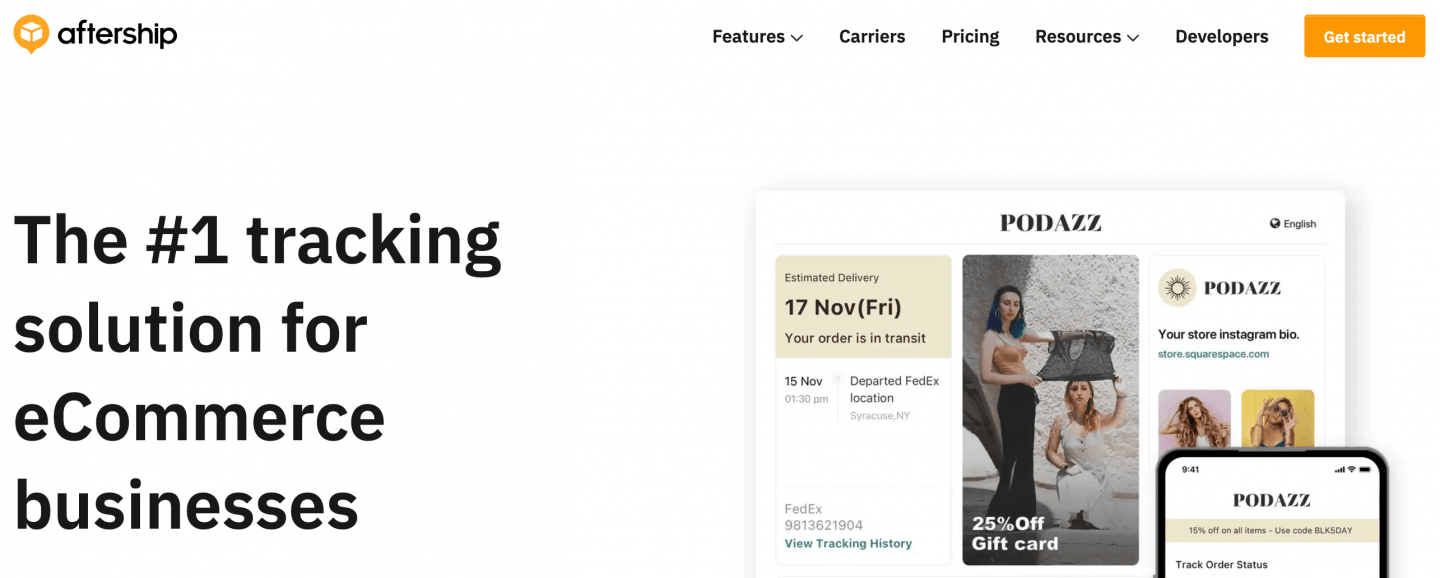 Aftership analytics specializes in the post-purchase experience and shipping performance.
Many ecommerce merchants make the mistake of thinking that the work is done after a customer has made a purchase. Aftership helps correct this mistaken perspective with comprehensive analytics of the entire post-purchase, allowing you to optimize delivery rates, exception rates, and delivery times.
With a customizable dashboard for all of your most important KPIs, you can easily find and address individual shipping issues, leading to better and faster customer service. You'll be able to easily compare the performance and cost-effectiveness of different carriers, as well as measure the effectiveness of your post-purchase messaging.
Aftership is perfect for businesses looking to optimize their shipping processes, improve customer retention, and have all of their shipping data consolidated under one umbrella.
How much does Aftership cost?
Free option available offering up to 50 shipments per month
Essentials plan for $9/mo
Pro plan with advanced features and 5,000 shipments per month $199/mo

Justuno is a marketing platform with a strong focus on data and conversion rate optimization.
This data-driven approach naturally lends itself to strong analytics capabilities, and Justuno delivers with a real-time marketing analytics dashboard that fills in the data gaps to help you see the bigger picture.
Features include an intuitive funnel maintenance tool, which helps you to understand where visitors are falling out of the funnel so you can eliminate obstacles; optimization opportunities which highlight the parts of your site experience that could be performing better; and A/B testing, so you can test content and design variations and find the version that resonates best with visitors.
Justuno is great for small and medium ecommerce businesses looking for ways to boost their growth with data-driven methods. It has all the tools you need to increase traffic conversion, generate new leads, and drive sales by finding the opportunities and hidden potential in data that many other analytics tools might overlook.
How much does Justuno cost?
Free version for sites with under 5k monthly website visitor sessions
Starting at $25/mo for 10k visitors
$41/mo for 25k visitors
Price increases with more visitors
Best Ecommerce Analytics Tools: Wrap up
Analytics comes in various shapes and forms, and every business will have its unique priorities. In this list, we've chosen a range of different analytics tools, from the classic starting point that is Google Analytics to an all-in-one email and SMS marketing solution like Omnisend.
We hope you found them useful, and please feel free to suggest any of the best analytics tools that you think we've missed!
Register now to free 14-days trial and check out best Omnisend ecommerce analytics features for yourself!
Special thanks to our friends at
Omnisend
for their insights on this topic.