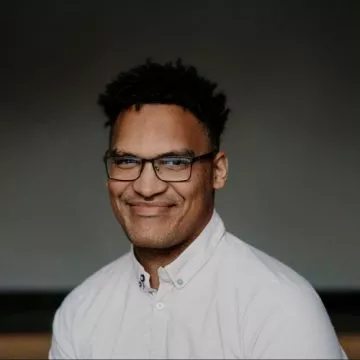 Bernard Meyer
Content Growth Marketer
Reading Time: 8 minutes
Conversational commerce is a relatively new form of doing business online where brands and customers can communicate during a customer journey, at each step of the process, including post-purchase.
Think of it like this: in traditional online marketing channels, the (potential) buyer goes through the customer's journey by themselves. They see your ad or social post, go to your store, look at your products, and buy from you. Alternatively, they sign up to your newsletters and then the business does the one-directional messaging—you send them emails and they then eventually buy from you.
At all times, the communication is one-way. 
Conversational commerce changes that, allowing the brand and the customer to communicate back-and-forth throughout the buying process. Because of the ease and convenience, this style of commerce is really taking off.
For example, Omnisend's Ecommerce Statistics Report showed that automated and omnichannel communication had up to 102% increase in conversion rates in 2020 versus 2019. 
Why Conversational Commerce is Probably Right for You
In 2019, the conversational commerce market size was estimated at $5.94 billion with an estimated compound annual growth rate (CAGR) of 26.3% from 2020 to 2027. 
That would put the entire conversational commerce market size at $30.45 billion in 2027.
This is not just a sign of the opportunities for companies selling conversational commerce, but rather reflects the growing demand—more people want to have conversations with their brands before they purchase.
Chris Messina popularized the term "conversational commerce" in a 2015 Medium post and described how it helped customers along their journey:
"Conversational commerce is about delivering convenience, personalization, and decision support while people are on the go, with only partial attention to spare."
In many ways, conversational commerce can fit nicely into a business' marketing strategy. 
First of all, it utilizes the growing trend of deeper personalization—customers are growing accustomed to and demanding more personalized touches from online stores. Studies have shown that 80% of consumers were more likely to buy from brands that offered a personalized experience.   
Secondly, conversational commerce ties in nicely with the critical omnichannel strategy. Instead of reaching one customer on one channel at a time, you should have various touch points across the multiple channels your customers are using. This includes chatbots and two-way SMS communication that are commonly used with conversational commerce.
Because conversational commerce depends on automation (rather than sending personalized messages manually on every channel), it also benefits from the powerful conversion rates we see with automation in general. 
For example, INGLOT Canada was able to boost their revenues by an amazing 4,798% by using various automation techniques:
Beyond that, there are loads of different techniques you can use, such as SMS, conversational commerce bots, voice assistants and even adding augmented reality into your conversations. 
The Main Channels for Conversational Commerce
There are two important distinctions to make here before we delve into the best platforms or channels for conversational commerce:
Conversational commerce as an isolated strategy: An isolated strategy can lead to separate and sometimes conflicting messages on your various channels.
Conversational commerce as part of an omnichannel marketing strategy: An omnichannel approach is far superior since it takes all channels into account when the marketing strategy is created, helping to create a smooth experience for your customers across all channels.
Live Chat
The most popular form of conversational commerce is the basic live chat. Live chat boxes are usually placed at specific areas on each page of a website, such as the bottom right corner, or they are dedicated to specific priority pages. 
It is easy to use, often intuitive, and can help answer a customer's question much faster than conventional customer service options. The initial contact with a visitor is usually automated—asking boilerplate questions and hoping to help the visitor in a quick way.
Afterwards, if the visitor's problem is special or requires further attention, it can be sent to a live agent for further assistance.
Chatbots
Chatbots are like live chat, except it's entirely automated. Chatbots are able to help multiple customers at the same time, 24/7. In order to work best, setup is crucial.
This means that the business using it needs to know the visitor's most common pain points and queries and have the best answers ready for them. With these established, a chatbot should have a strategy set up to make this a smooth experience for the user. Essentially, business owners need to know what questions the majority of their customers are most likely to ask.
Since the majority of customer queries are pretty similar and basic, chatbots allow human customer support to focus on edge cases. If special cases arise, the conversation can be forwarded to live agents.
Messaging Apps
Facebook's Messenger and WhatsApp are some of the more popular messaging apps that assist in conversational commerce.  
Messaging apps like Messenger allow users to interact with their favorite brands without having to leave the app. This extra convenience helps make the customer journey much smoother.
Voice Chat
Lastly, larger companies are beginning to make use of voice assistants to chat with their customers. They do so by using AI tools like Google Assistant, Cortana, Siri or Alexa. 
Conversational commerce using voice assistants is pretty easy and can even be fun for the customer, seeing as all they'll need to do is have a conversation about what they're looking for.
However, options like Linc's conversational commerce voice assistant can also help stores (such as those on Shopify Plus, BigCommerce, etc.) use voice chat.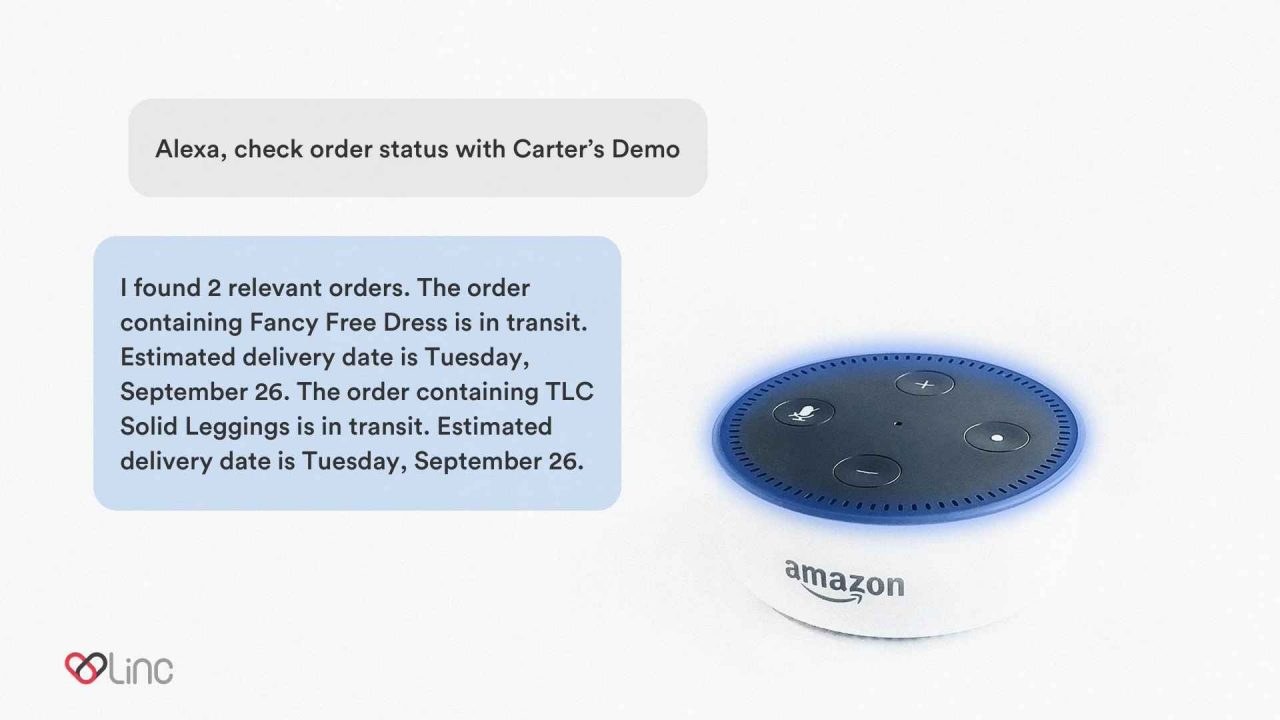 Platforms Incorporating Conversational Commerce
There are multiple conversational commerce platforms that can incorporate these various types. For example, if you are on Shopify or a Shopify alternative, you can use a variety of ecommerce apps specifically tailored to your conversational commerce goals.
But this is where we'll get back to our original point—if you use only chatbots or live chat, you'll find it hard to have an omnichannel strategy. 
Take Omnisend—it offers the ability to use conversational commerce via integration with conversational commerce tools, and you can then handle the entire customer's journey.
You can also provide customers with the right messaging at the right time. This is true whether they're browsing, deciding between products, checking on orders, or even thinking about restocking.
Using a tool like Omnisned will allow you to create and execute your omnichannel marketing strategy. You can get a free trial now to see how it works and how you can use it right away. It shows you how to incorporate conversational commerce into your marketing strategy right from the word go.
The Best Examples of Conversational Commerce
At the top of this article, we showed an example of Lego interacting with their customer using conversational commerce. This is just one of the many ways you can use it for your online business, so let's take a look at some other great conversational commerce use cases to inspire you.
prAna: Message Apps
prAna is a well-known brand that sells sustainable clothing. It has been using conversational commerce effectively in its ecommerce business strategy by utilizing Messenger to handle automated orders and inquiries.
Below, you can see an example of how the Messenger bot works, giving the user initial keywords to use until they mention specific products:
You can also see that they provide an image of the product plus a quick, enticing description. When creating your own message app bot strategy, try to highlight the quality of your products as you would on your own website.
An effective conversational commerce strategy will strive to offer it easily, seamlessly, and in a more concise way.
1-800-Flowers: Chatbots
1-800-Flowers uses chatbots on its website. Similar to prAna, it allows customers to not only get shopping assistance, but also place orders directly from the chatbot.
This takes a bit of implementation on the backend, but once it's been tested and mastered, it can really help provide a smooth experience for the visitor.
The strategy for chatbots will essentially be the same as for the messaging apps mentioned above. Think through the customer's journey and their most common questions and work them into the bot.
eBay: Voice Conversational Commerce
eBay uses Google Assistant for its eBay Shopping Assistant program. By using this, users can talk to their devices about eBay products using the sentence "Ask eBay…"
When the assistant finds something interesting for the customer, Google Assistant can send that product info to the customer's phone.
Because using voice conversational commerce is much easier and faster than typing, this is a good option for people with no concrete idea of what they want to buy. Afterwards, when they've narrowed down their options in the consideration stage of their customer journey, they'll most likely want to see the products.
While it's one of the more technologically-advanced conversational commerce examples, voice chats will still fare best in combination with a live chat or chatbot feature.
Omnisend: Live Chat
Omnisend uses its initially automated live chat feature called Omnibot to effectively manage customer inquiries. Navigate to any page on Omnisend,  especially with important pages like Pricing or Features and you'll most likely see the live chat pop up:
Here, users can start with two popular options—either have a demo with a product walkthrough or start a free trial so they can experience Omnisend first hand.
Notice that there's also an option for the visitor to enter their own question, which can put them in contact with customer support.
When implementing your own live chat, think through your average customer's journey and what the most likely questions or pain points might be. Then, craft your strategy so that the customer has a great user experience throughout their journey.
How to Get Started with Conversational Commerce
By now, you probably realize that conversational commerce should be a strong, if not central, point in your overall ecommerce marketing strategy. So let's look at how you can get started with it today:
Create your online store. If you're still thinking about launching your ecommerce store, find a platform that works for your business. While many ecommerce businesses opt to go with Shopify, there are other viable Shopify alternatives, like WooCommerce or BigCommerce, that might work for you.
Choose your conversational ecommerce tool. Decide if you want your customers to engage with you via live chat, message app, chatbots, voice chat or any combination. Make sure you understand your customer's journey to understand how to communicate with them.
Use an ecommerce marketing automation tool. Make sure your conversational commerce tool integrates well with your marketing automation. Automation is crucial, since it allows you to schedule timely, automated messages so you can focus on other parts of your business while knowing that your customers are well taken care of. Play around with a free Omnisend trial and see how it can help your business.
Get viewers, subscribers and buyers. Use various methods we discussed elsewhere, such as our article about building an email list with features like exit-intent popups.
Follow up with buyers to turn them into repeat buyers. Your automation marketing tool will be crucial here. For example, with Omnisend you can use segmentation (customer groupings) to find those who completed a purchase 30 days ago. They may be customers that need a refill, or they may be customers that never completed their purchase in the first place.
Improve your business and scale. Once you've figured out what works for you (and what doesn't), you are ready to scale your business. Improve, rinse and repeat.
Ready to begin your ecommerce journey or improve your business? Get your hands on a free trial to jumpstart the possibilities.   
Special thanks to our friends at
Omnisend
for their insights on this topic.