Juste Rastenyte
Reading Time: 3 minutes
So much to do, so little time? It's no secret that time and effort are limited resources for marketers, making prioritization a subtle art form on the path to success. 
There are almost endless key performance indicators (KPIs) that can be improved upon—from email opens and first-time sales to repeat sales, subscribers, cart abandonment, and so on. But where to allocate the time and effort to reach your full business potential?  The answer remains foggy. 
We have introduced Health Check and Benchmark reports, to help you measure the performance of your ecommerce store against your direct competitors. Now, there's an easy way to evaluate your ecommerce and marketing performance—simply by zooming into key areas and comparing them to the industry average. 
With a single click, you can:
Compare your performance to businesses just like yours and gain a competitive edge by focusing on what matters.
See which performance metrics are lagging behind the industry average and prioritize your attention on them accordingly.
Understand which KPIs have reached their maximum and stop over-investing in those areas.
How do Health Check and Benchmarks work?
Measuring against industry peers
Both reports are available directly on the Omnisend platform, and grade your performance to your industry peers automatically. This means that you'll be comparing apples to apples, rather than measuring your performance against irrelevant business metrics. 
To guarantee the relevance, our Benchmark Advanced Algorithms compare your data to peer brands in the same industry. Omnisend has thousands of businesses' performance data that we aggregate and anonymously compare with your data for the last 30 days.
Data for business and marketing performane
Health Check takes overall averages of business performance areas such as Customer retention, Campaigns, Workflows, Cart abandonment, and Signup forms, while Benchmarks zoom into precise performance metrics. 
Because while your store might be nailing it in terms of overall performance, there are always specific KPIs that could be boosted even higher. 
Actionable reports
Not only do we provide you with the reports and numbers that really matter, but we make them actionable too. Simply click on your reports and you'll receive tips and suggestions on how to boost each metric's performance. 
Health Check is located directly on Omnisend's home dashboard and provides the score for your e-store performance. This can range from A+ to C-, compared to your industry average.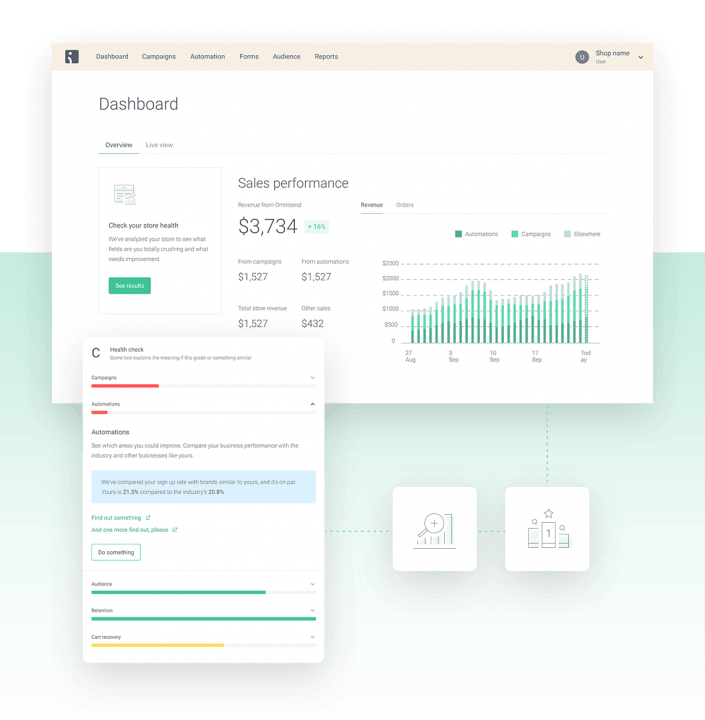 Benchmarks are available for all Omnisend reports, and you can find them just below the main report information.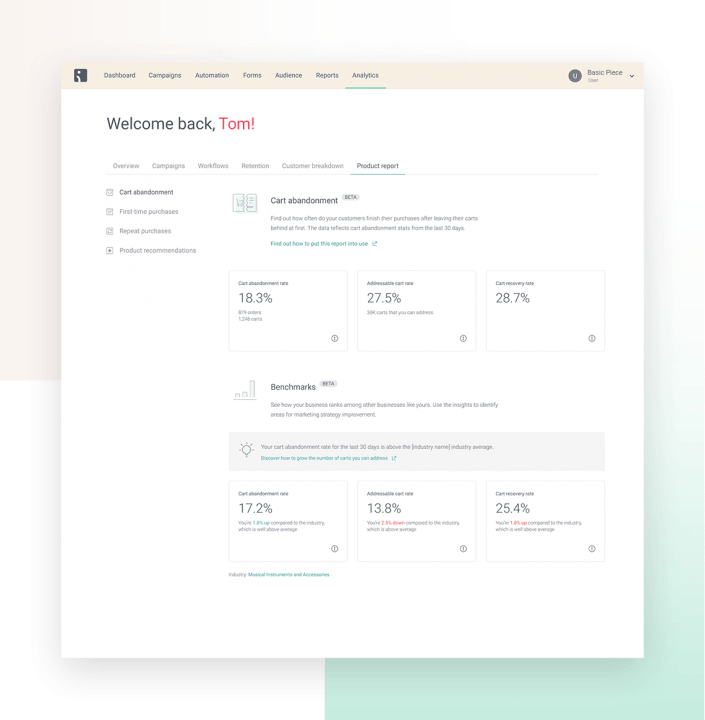 Ways to Utilize Health Check and Benchmark insights
#1 Stop overinvesting in metrics that reached their maximum
Sometimes, you might reach a metric's peak performance without even realizing it. For example, the average cart abandonment rate for the fashion industry is 76.78%. While health and beauty rates are 70.77%. (Data covers the year 2021). Thus the smart strategy would be to maintain a similar rate and focus more of your attention on metrics that are lagging behind your industry average. 
#2 Invest in metrics that need a boost
Depending on the metric, you can employ different tactics. If you see that your email open rate needs improvement, try A/B testing for subject lines, experiment with sending time, or segment your customer base to send more personalized emails. Or, if your repeat purchases are low, try adopting automation and cross-selling tactics. Automation will save you time and target the right customers with an attractive offer. A good option for this is to target customers who added an item to their cart and then target them by offering similar items that they may likewise be interested in. 
Benchmarks are North-Star to growth
The shortest path to failure is making decisions without having the right data to guide you. Omnisend's Health Check and Benchmarks reports help you to set the right goals by prioritizing the areas that will most impact your bottom line. Health Check and Benchmark reports are available to Omnisend's clients free of charge who uses Shopify or Bogcommerce shops.
Start a FREE 14-day trial of Omnisend and enjoy tailored Benchmark reports.
Special thanks to our friends at
Omnisend
for their insights on this topic.