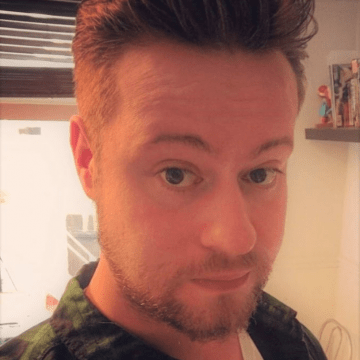 Tom Simpkins
Reading Time: 8 minutes
They say that you only have one chance at a first impression, which is why nailing your landing page is critical for ecommerce success.
A landing page can serve many different purposes. Whether it's to generate sales, increase email sign-ups, or register for something, the quality of your page will make or break your efforts. You can create the most enticing deal, offer, or engaging content, but without a solid way for your audience to interact with them, your efforts will be all for naught.
Even if you have your campaign goal in mind, creating a landing page can be difficult—but it doesn't need to be. Combining landing page best practices with a platform that makes creating landing pages easy is all you need to succeed.
So what do online merchants need to know to stick the landing with their landing pages and increase conversions? Let's explore some of the most common questions surrounding how to create effective landing pages that convert.
Understanding the True Purpose of Landing Pages
A landing page is a dedicated page where your visitors will 'land,' which has a clear and defined purpose. They can arrive here by following a link from a website, an email, social media post, or a search engine and are designed to drive visitors towards a specific action.
For example, this could be a sign-up landing page for an email or SMS program, a contest or a giveaway, or some other special offer where you want a streamlined action to be taken.
A good landing page convinces people to proceed with the journey you want them to take. It brings their attention to where you want it and encourages them to take action. A poorly designed one will cause your audience to leave—possibly never to return.
Here's an example.
Landing Page Example: Kombustion Motorsports
To grow their SMS marketing program, they included a signup call-to-action (CTA) inside their email marketing campaigns. Clicking on the image directs the email subscriber to a landing page where they can opt into Kombustion's SMS program—providing Kombustion Motorsports increased omnichannel marketing opportunities.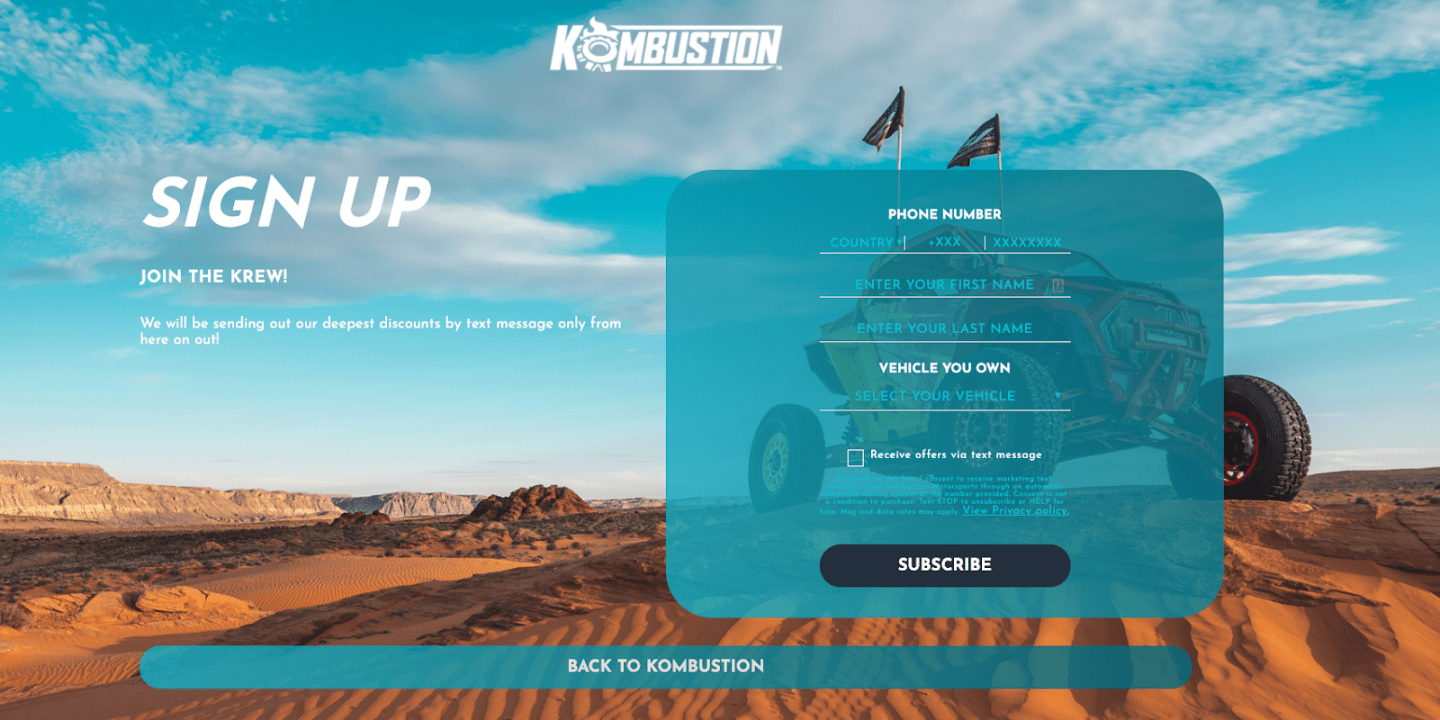 Some may confuse a website's homepage with a landing page, but they are different. A home page is more of a primary functioning page. Because of the additional information needed on a homepage, it will be far less streamlined than a traditional landing page. With the above example in mind, the landing page is more of a temporary addition to a website intended to serve a specific purpose while the rest of the website performs business as usual.
Above all else, a landing page guides visitors to a specific page for a specific purpose. The landing page is often the first page your customers interact with, regardless of how they found it.
The Benefits of Landing Pages
Understanding how a landing page works and its function helps, but some may not be sold on the boons they can provide. Along with helping your visitors more easily navigate your website, they allow you to generate more traffic and increase conversions for campaigns.
Your website may already feature sign-up forms or pop-ups to help visitors, yet landing pages with sign-up forms have some distinct advantages, including:
1.They remove distractions: Since landing pages can be isolated from your website, customers won't face the same distractions your website may present, such as pop-ups. 
Consistently having visitors leave or quickly divert from a page on your website can hurt your bounce rate and overall campaign metrics. By using a landing page, you can funnel this traffic to a specific, distraction-free page.
2. They are easily shareable: Landing pages can be shared in promotional emails, on blog pages, and on social media. This means you have the potential to reach a much larger audience, even before they know about your website. 
For example, you can launch a campaign and have the landing page advertised on Facebook.  By directing users to the landing page, you can provide the user a more customized experience while collecting specific campaign metrics.
3. Help keep the campaign's focus: Consumers are accustomed to website elements such as helpful links and sign-up fields in a website's footer. However, campaign landing pages don't need this information, and because of this, they can be more alluring. 
As opposed to a website's conventional marketing attempts, landing pages can be more experimental and eye-catching. This makes it easier to make obligatory and mandatory requirements interesting, such as capturing visitors' consent or contact information—keeping you in compliance with GDPR and other laws.
4. Easy customization: Above everything else, a landing page provides a unique benefit that makes it a special part of any website—customization. While you can also alter, edit, and change any part of your website, a landing page lends itself exceptionally well to stand out with custom, easy-to-create eye-catching differences. 
We'll discuss this further when considering the design of a landing page. In a nutshell, since landing pages are temporary additions to a website, you have more freedom in their appearance, layout, and copy. This opens up plenty of possibilities for experimentation, allowing you to see how visitors react and interact with them.
In some cases, the success of a landing page can help you to learn more about how your visitors interact with your website as a whole. With enough data and the odd trial and error approach, you may find ways to improve your website overall. 
With these improvements, you can work on both your website and your landing page by:
Improving the design for more positive visitor interactions.
Improving the CTAs to increase visitor interactions.
How to Create a Landing Page
Creating and setting up good landing pages can be incredibly rewarding. When well-executed, a single landing page can achieve what an entire professional website aims for. 
A good landing page makes a conversion journey simple to understand and simple to follow. A great landing page makes this journey alluring for visitors.
When considering landing page best practices, you should consider fulfilling three separate objectives:
Clear messaging: A new visitor should instantly understand the page's intent and why it is relevant to them.

Design supported: The page's layout, style, and overall functionality should highlight or emphasize the messaging.

Simple to use: The conversion method should be clearly visible and ideally only have one step to follow.
To achieve these, you can use a page structure with headers and an appealing design with images and buttons. Some platforms will feature landing page templates, which can make creating free landing pages incredibly simple.
The process for creating a landing page usually follows these steps:
Create a form: Regardless of whichever platform you use, you should be able to find an option that allows you to create new sign-up forms. Some platforms may offer specific forms for landing pages, while others allow you to create standalone landing pages.

Choose a theme: Naturally, you'll want to adhere to your website's current theme. However, if you want to make special landing pages divert from the norm, a different theme might serve as an eye-catching alternative.

Fill in the content: Just as you would with any other page, you'll need to fill it with content, including your logo, promotional copy, enticing headlines, and so on. A landing page may also require additional content, such as options to enable opt-ins for GDPR compliance and the collection of information.

Adjust design elements: Similar to both theme and content, a landing page will require you to establish design elements. These include the overall page layout, where the content will be positioned, and your choice of colors, fonts, and other design elements throughout the page.

Modify the code (optional): This step is only necessary if your landing page requires something truly custom or special. Most platforms will allow you to edit or make changes to the code, including HTML, JavaScript, and CSS. Likewise, it should only be changed or edited if you are comfortable doing so.

Set sharing options and additional settings: With everything essentially penciled in, you'll need to work on the landing page settings to ensure it functions as intended, such as having functioning CTA buttons and input fields. If warranted, also include sharing options so that your visitors can help spread the word on social media.

Create a 'success page': Naturally, you'll want to ensure that there is a way for your customers to know that their actions have been recognized. When they have provided their contact information or engaged with your campaign, a success page will inform them that everything has proceeded as intended.

Test the landing page: When you have a landing page that is essentially complete, it's time to ensure it works exactly how you intend. Testing the process, from arriving at the landing page to completing the desired action, will confirm that the landing page will provide your customers with both an expected and enjoyable experience.

Launch the landing page: Once you've got your landing page looking great and you've made sure it has a 'success' page, you can launch it on your website and make the page live. 
Can I Create Free Landing Pages?
Those trying to find free landing page services can find professional-grade landing pages at Omnisend. It isn't difficult to find free landing page services, whether you're looking for an easy-to-use or those with in-depth functions.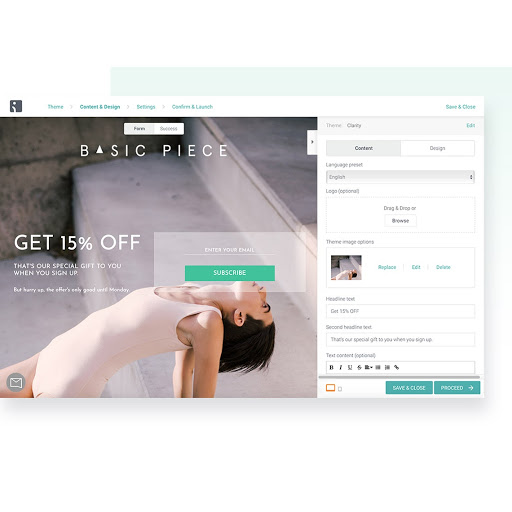 1. Omnisend
Omnisend is complete with new improvements to landing page tools, complete with advanced settings. Omnisend's landing page tools are available to all accounts, including free ones, and are a great way to get started quickly.
Omnisend has a wealth of features that help both novice and expert merchants alike. This includes, but certainly isn't limited to, A/B testing, professionally-designed templates, and an intuitive method of easily editing landing pages.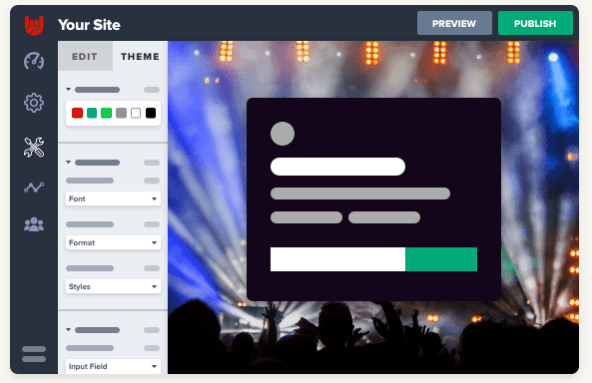 Like Omnisend, LaunchRock is available as a free landing page service. It's a great choice for those with no coding experience. It also helps those seeking analytic features, with integrated tools for checking how landing pages are performing.
However, LaunchRock isn't made for those seeking a lot of wiggle room. There aren't many customization options and don't feature vital marketing tools like the A /B testing.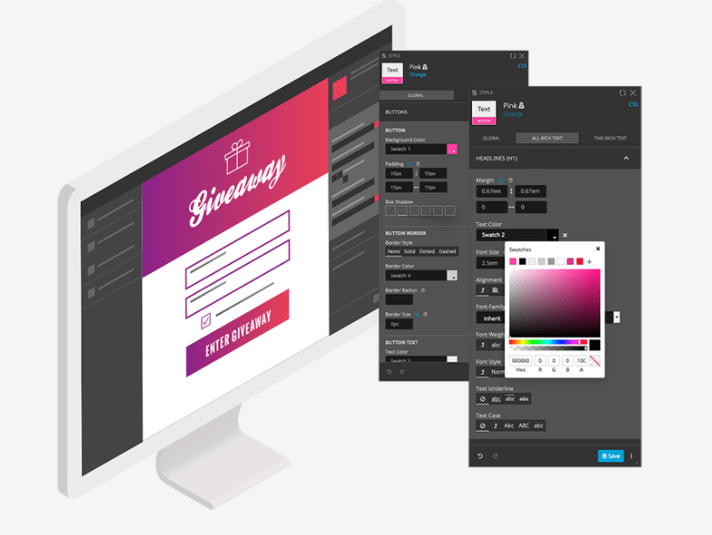 Shortstack knows its two prime audiences; businesses who are spearheading their own brand and agencies looking to cater to different clients. It's particularly useful for those who have basic coding knowledge, making it a good choice for those who wish to personalize pages with HTML, yet not the best solution for more novice users.
Despite this, Shortstack certainly has its charm, combining a great visual interface and a fairly intuitive workflow. Shortstack's templates can serve well for both agencies and brands.
How to Create a Landing Page: Wrap Up
With the right tools and strategy, you can create engaging landing pages that drive traffic, boost conversions, and make your website easier to navigate for customers, both old and new. Consider how to use landing pages properly, and you can create campaigns that start to generate results.
Special thanks to our friends at
Omnisend
for their insights on this topic.