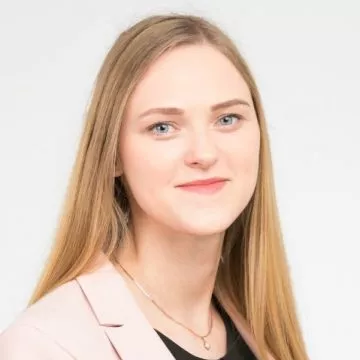 Laura Cerbauske
SEO Specialist
Reading Time: 4 minutes
Any business owner that operates in the ecommerce space knows that success can depend heavily on a solid marketing strategy. Connecting with customers, generating conversations, and making sales are the foundations of a successful online business.
Many traditional marketing efforts center around social and email marketing platforms. In the past few years, SMS (text) messaging has emerged to join them as a highly effective method of communication, too.
But SMS can only be a persuasive force when it reaches its intended target. Understanding SMS reliability and how to improve upon it are key to making this communication channel shine.
What is SMS Deliverability?
The purpose of marketing is to reach the customer and generate an action or response. Generally speaking, better rates of connection lead to higher levels of profitability.
SMS marketing consists of sending text messages to convey an announcement of some kind; i.e., a reminder, a promotional deal, etc.
More ecommerce marketers are viewing it as a valuable communications channel. After all, American adults spend around three hours and 45 minutes per day browsing their cell phones. In 2020, Omnisend customers sent 378% more SMS messages than the previous year.
Sending the message to the right segment of your customer list is one very important aspect of the endeavor, but SMS deliverability can make or break the effort.
SMS campaign success, largely depends on the number of texts successfully received. The higher the rate of deliverability, the more successful the SMS campaign.
How Do You Calculate SMS Delivery Rate?
When using SMS messages for marketing or promotional purposes, it is important to understand how to calculate the SMS delivery rate. Without it, you're not getting an accurate picture of results.
Messages can be sent to ecommerce customers, but that does not always mean successful delivery.
The formula used to calculate the SMS delivery rate percentage, and therefore understand what portion of text messages makes it to the recipient, is relatively simple:
(Number of text messages successfully delivered / Total number of text messages sent) X 100

For example, let's pretend a marketer sent 5,000 text messages. Of those, 3,778 were actually received. That equates to a 75.56% text message delivery rate.
Use this calculation to create a basic SMS delivery report for each campaign.
Delivery rates for text messaging are traditionally high. We recommend investigating low percentages, as they are typically indicative of issues with the network or other components of text delivery.
Common Reasons for Text Message Delivery Failure
As with any other marketing channel, some messages will fail to reach everyone in your target audience. Even though SMS messages have an admirably high delivery rate, expecting 100% is unrealistic.
From the example above, 1,222 messages never reached their destination. Why would a text message not be delivered? There are several reasons that can interrupt the text journey and cause SMS delivery failure.
Incorrect Phone Number
One of the most obvious and simple-to-fix causes of message delivery failure is having an incorrect number for the recipient. Perhaps the number was recorded or entered incorrectly. Or, the number belongs to the subscriber, but it's a landline phone unable to receive texts.
Network Problems
Technical network issues sometimes arise, depending on the cell phone carrier. Drops, weak signals, or other technical glitches can be responsible for SMS failure.
Phones are sometimes temporarily unavailable due to service suspension, such as those on a pay-as-you-go contract that depletes the credit. Until the credit is replenished and phone service restored, text messages are not received.
Inbox Limitations
Similar to email inboxes, SMS message inboxes are limited in the number of messages they can receive and store. Inboxes that are full to capacity don't accept new SMS messages.
Spam Restrictions
Most phone carriers utilize spam filters to block junk messages from their users. If you send a mass number of texts, be forewarned that the carrier network may identify your text message as spam and stop it from reaching the recipient's inbox.
Breaking up messages into small groups can help reduce this risk. Identical messages can also trigger alarms, so we advise changing the text to avoid rejection.
How to Improve SMS Deliverability with Omnisend
Using a reputable SMS delivery service, such as Omnisend, is one of the best ways to avoid rejected messages, the spam label, or whatever reason a message might not be delivered. You also want to be on the right side of the law.
Omnisend stays ahead of industry changes, like carriers moving to ban the use of shared short codes, and best practices designated by U.S. wireless communications industry advocacy group CTIA (Cellular Telecommunications Industry Association).
When you collect phone numbers from your customers, it's important to gain their OK before sending any texts, per U.S. Telephone Consumer Protection Act regulations. Omnisend's built-in sign-up forms incorporate SMS marketing approval as an option.
Then, tap Omnisend to enhance what you're delivering. Leverage segmentation tools to separate customers into categories. That way, you can design personalized ecommerce marketing and promotional messages within the platform for each segment, and send your flash sale, offer and reminder messages to pertinent recipients and in smaller batches.
Omnisend can help you enhance your conversion rates with SMS automation workflow tools. This can be useful in:
Welcoming new customers
Returning customers to abandoned carts
Cross-selling
Promotional messages to encourage sales
Recommendations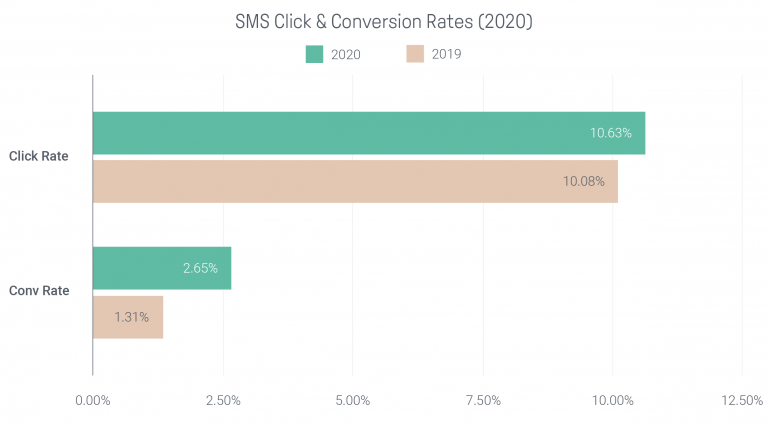 Many ecommerce store owners and businesses have successfully incorporated SMS messaging into their multi-channel marketing plan and are driving sales and improving customer communications as a result.
Conversion rates for SMS campaigns are rising, with numbers almost doubling from 2019 to 2020. While the click rate is around the same level, conversion percentage is increasing, meaning that more users are responding to SMS and using it as a way to perform transactions.
Effective text messaging relies on having accurate information and maintaining best practices. Deliverability rates can fluctuate depending on networks, and other variables that can impact messaging success. SMS marketing has the ability to boost other channels such as email, website, or in-store visits.
Start a free trial with Omnisend and see how adding SMS marketing and automation tools can improve your ecommerce efforts.
Special thanks to our friends at
Omnisend
for their insights on this topic.