Whitney Blankenship
Content Marketing Manager
Reading Time: 10 minutes
The Ecommerce Statistics Report 2020 shows the critical role email campaigns play in shopping cart recovery. In fact, automated emails crafted specifically for this purpose have conversion rates of up to 33.9%—an incredible figure considering the average for promotional emails is only at 6.49%. But why address shopping cart abandonment in the first place? And how do you use email in conjunction with other cart abandonment solutions?
According to data from Baymard Institute, only 30% of carts make it through the checkout process. Seven out of ten times, customers add items to their carts without pushing through with the purchase. Imagine the potential revenue from those seven carts! 
Understanding the reasons why customers abandon their carts along with the best ways to address those issues could be just what your business needs for a boost in profit.
Jigsaw puzzle company Jiggy Puzzles boosted revenue-per-email by 158% through Omnisend's cart abandonment solutions. Check out this case study to see how they did it.
The Top 7 Reasons for Shopping Cart Abandonment
There are several solutions to reduce the abandoned cart problem in your ecommerce store. But before you consider them, it's important to understand the most common cart abandonment reasons. What causes shoppers to drop out of the checkout process in the first place? Here are the top reasons many carts are abandoned, never to be seen again: 
1) Unexpected Costs
No matter your market, price sensitivity will affect your customers to a certain degree. In fact, the top reason why shoppers leave carts behind is that they're surprised by additional costs made apparent only during the checkout process. This might include shipping costs, taxes, and other additional fees.
If possible, mark up your products to include shipping costs and always display final prices. Alternatively, you can put a shipping calculator on the product or checkout page so customers can calculate their shipping based on their zip code, getting an idea of what the final price will be.
When you surprise shoppers with additional costs towards the end of the checkout process, you risk not only having them abandon their purchases but also leaving them disgruntled with your brand.
2) Complicated Check-Out
Your primary goal as an ecommerce business is to get customers to check out. To make that happen, you need to move them along the customer journey as quickly as possible, so it's critical that you get rid of any blockages along the way.
Requiring a customer account before allowing a shopper to purchase is one of the most common hindrances that lead to cart abandonment. Although user sign-ups are undeniably valuable, it unnecessarily complicates the buying process. Either allow guest check-outs or seamlessly integrate a simple sign-up procedure into the checkout process.
The more unnecessary steps, clicks, and input forms, the more likely your customer will abandon the process altogether.
3) Intending to Buy Later
It's common for shoppers to add items to their shopping carts with the intention of checking out later. They do so because they're not ready, they want more time to think about it, or they want to check out on another device.
As someone who is guilty of using a shopping cart as a wishlist, provide a wishlist on your site. A wishlist allows customers to save products as long as they like, allowing them to come back and purchase later. Wishlists benefit the customer experience, because unlike carts, a wishlist will be kept longer. 
They're great for ecommerce merchants too—now you have a window into first, getting a customer to register for an account to create the wishlist (expediting checkout in the future), and second, knowing exactly what products they're eyeing. This will make subsequent campaigns you send all the more targeted and enticing as you can leverage the products in their wishlists.
Asos has a great system where it notifies the customer that a cart will only be kept for one hour, using FOMO (or fear of missing out). After that hour is up, abandoned products get moved to wishlists automatically.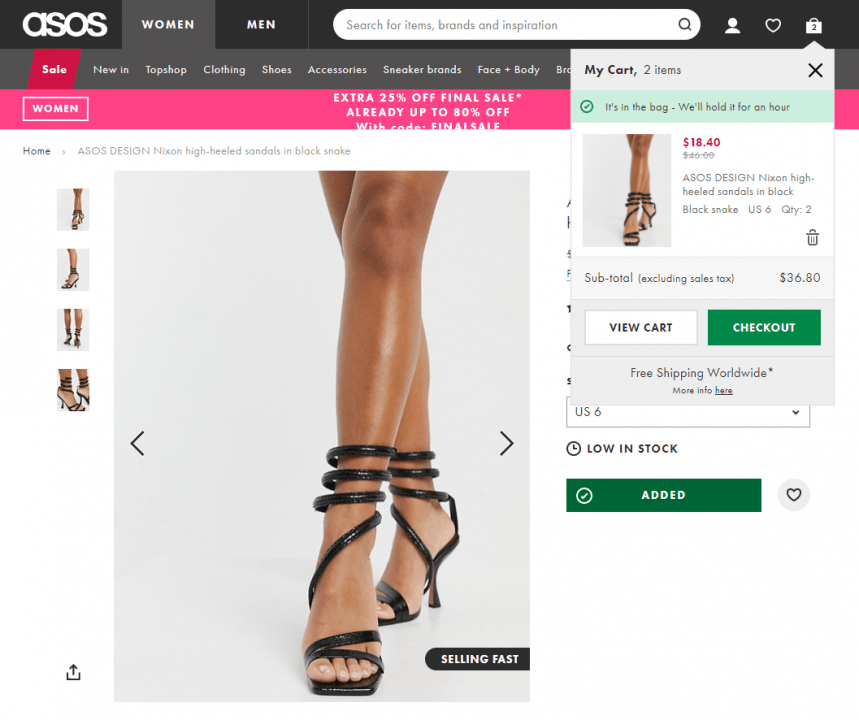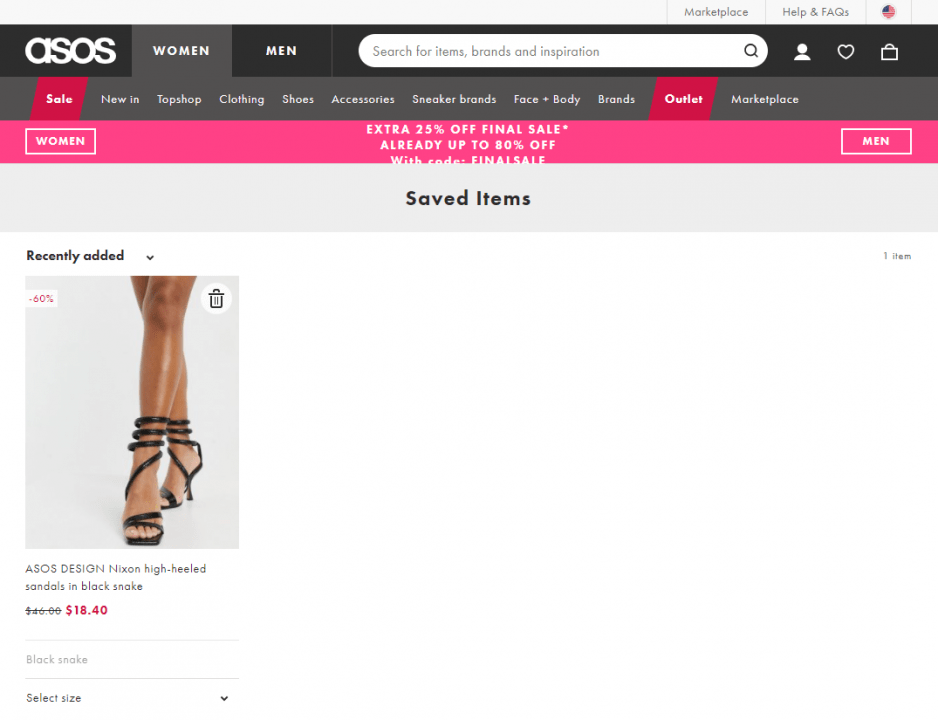 4) Security Concerns
Online shoppers are generally comfortable buying from popular ecommerce stores. This is often because they've had positive experiences with them in the past. Furthermore, they trust that established stores value their privacy and have the capacity to protect their information. Unfortunately, this is not how smaller and newer retailers are perceived.
The biggest security-related concern when buying from online shops is credit card fraud. To address that issue, make sure you have a few apparent elements on your site: 
HTTPS: or an SSL certificate (the little lock at the top left of your browser address bar), which tells the customer you're certified secure and that their data is encrypted. 
Secure checkout and payment: a variety of payment methods, including PayPal and other popular payment options, can help your customer feel more secure. 
Transparency: list your business registration information, physical address, contact details, etc. 
5) Holding Out for Discount
When purchasing your products isn't urgent, it's common for shoppers to hold out for longer in hopes of getting a better deal. This is especially true if you conduct sales or send out coupon codes regularly. 
Being generous with discount codes might mean taking an acceptable blow to your margins, but it will allow you to secure the purchase now. Alternatively, a 3-part cart abandonment workflow may just do the trick, and leave the discount code for the last-resort message. Chances are, if your customer is holding out for a discount, receiving one or two emails without might make them impatient to complete the purchase.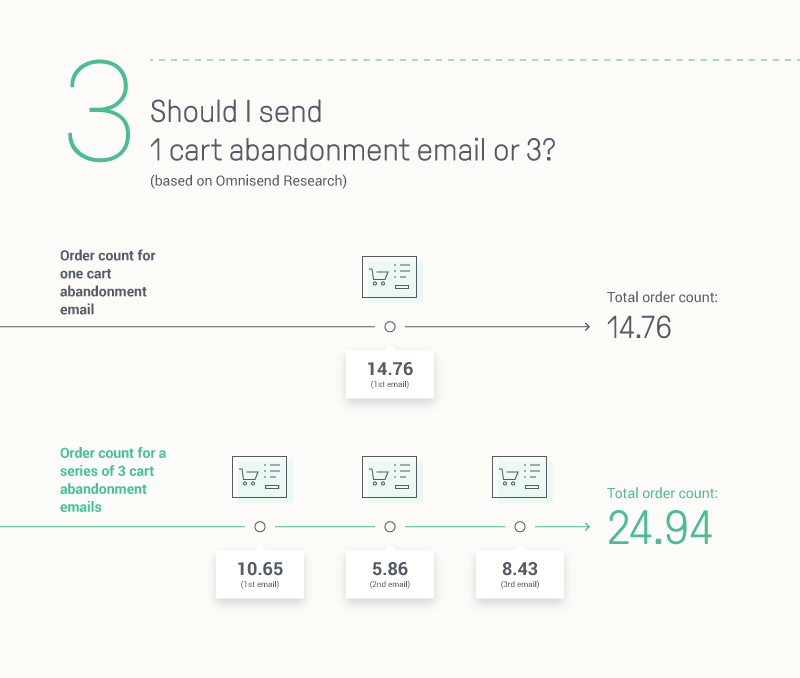 Check out the full cart abandonment infographic here!
6) No Express Shipping
Shipping speeds also play a huge role in convincing people to buy. Sometimes, customers don't complete their purchases after they see the delivery estimates. Either they're too excited to wait too long or they actually need the items before a certain date.
Although a vast majority of shoppers prefer free standard shipping, there will always be a handful of customers willing to pay extra to get items sooner. Make sure you offer an express shipping option to address their needs and keep them from abandoning their shopping carts.
7) Poor Returns Policy
For many shoppers, buying online is still a gamble because they can't see, feel, and fit items before completing a purchase. You're already working against the disadvantage of low-trust, and a huge part of your customer journey should be centered around earning that trust. 
Having a transparent and easy returns policy can help your customers trust your store. If you offer a money-back guarantee for products, free returns shipping, or a simple one-step returns process, list that on product pages so your customer knows it's safe to shop with you.
Giving your customers the option to easily return items lowers their financial risk and consequently gives them more confidence to buy.
The 7 Most Effective Shopping Cart Abandonment Solutions for Ecommerce
Consider all the reasons why your customers might be leaving their filled-up carts behind. Doing so will help you determine strategies you can implement to recover lost sales.
Generally, the best solutions involve a combination of different channels, each with perfectly crafted messaging to help shoppers overcome their apprehensions. Here are the top cart recovery solutions you should consider:
1) Email Automation
Email marketing is undoubtedly the most cost-efficient way to keep customers engaged. Today, automation workflows allow marketers to pursue customer engagement much more efficiently. With the right software, certain actions (or inactions) trigger pre-crafted messages to send automatically to customers. This is one of the best shopping cart abandonment solutions because it enables stores to reach out to customers using personalized messages soon after they leave their carts behind.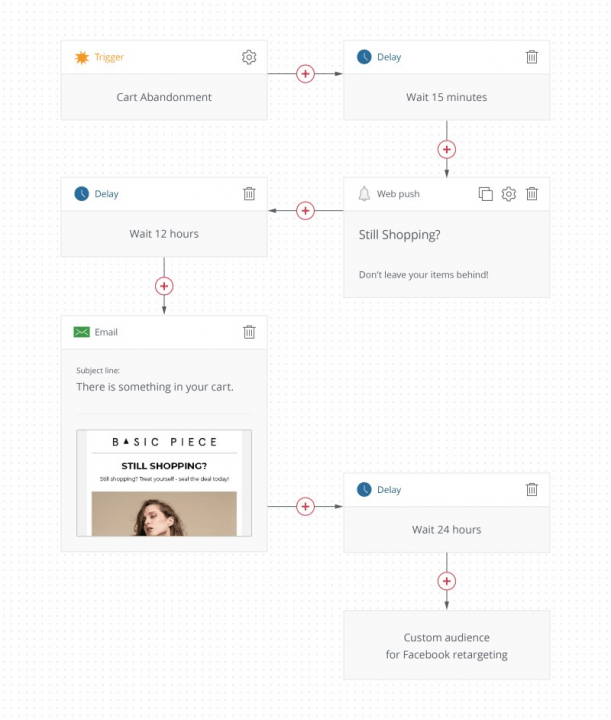 When using email automation workflows for cart recovery, timing is critical. Make sure your customer receives the first message within an hour of leaving your site. You can then set two or more cart abandonment emails to improve your chances of a recapture. Additionally, make sure you feature the abandoned products in the email so recipients remember what captured their interest in the first place. For subsequent emails, including recommendations for similar products might improve chances of conversion.
2) Exit-Intent Popups
Online shoppers are easily distracted—we all are. A notification pings, we suddenly remember an email that needs a response, or we think of something else we need to buy, and we switch tasks without another thought. Implementing exit-intent popups are an effective way to snap a customer out of context-switching without interrupting their user experience.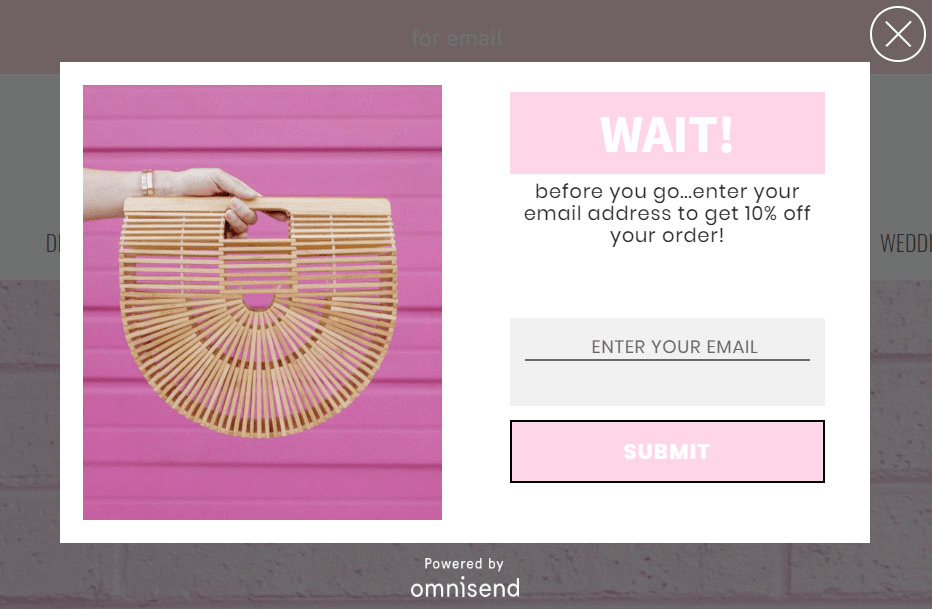 Exit-intent popups appear when a visitor is about to leave the website without performing a desired action (e.g., completing a purchase or signing up for a newsletter). Typically, these are effective in gathering subscriptions because they re-engage visitors and present a single path: sign up or leave. Nevertheless, this is also an excellent cart abandonment solution for ecommerce sites when used to provide incentives (e.g. discounts or free shipping voucher).
3) SMS Marketing
While many online retailers have adopted SMS marketing, few use it specifically to recover abandoned carts. However, cart abandonment SMS can actually be incredibly effective when used on its own or to complement an email automation workflow. It is an excellent way to remind customers of items they left behind and even offer incentives to encourage them to push through with their purchase.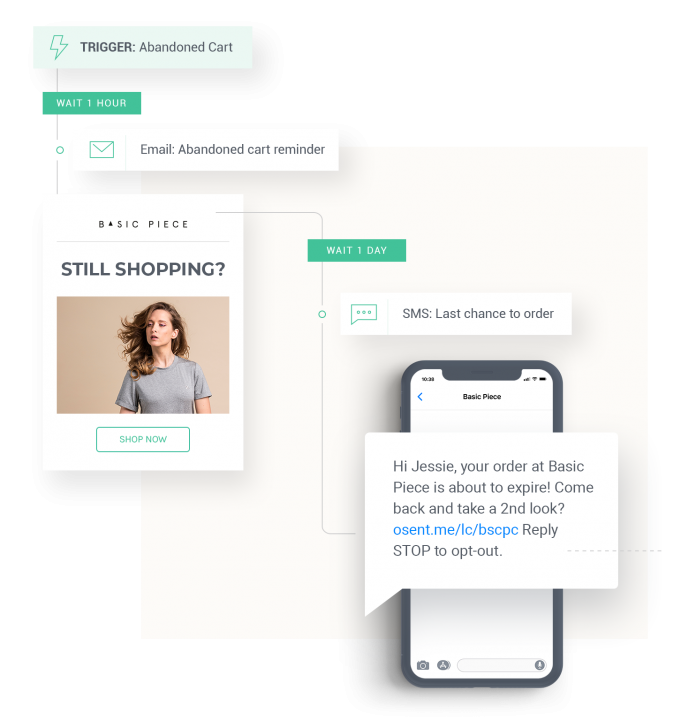 The reason why SMS is one of the most useful shopping cart abandonment solutions lies in the smartphone's proximity to the customer. These messages are received instantly and read just as quickly. It makes it easier to capture your customer's attention, especially when you take the time to craft highly personalized messages. Additionally, SMS can be an effective way to distribute incentives like free shipping vouchers.
4) Retargeting Ads
Acquiring customers via PPC advertising is now much more effective because of its powerful targeting capabilities. As a cart abandonment solution for ecommerce, it helps re-engage shoppers even long after they've left your site. While your main goal should still be to convert your customers on the first visit, you at least have opportunities to recapture their interest.
When using retargeting ads to recover shopping carts, it's critical to segment your customers in great detail. Make sure you consider the items they were purchasing, the value of the cart they abandoned, and whether they're a first-time customer. Proper segmentation will enable you to target each one with personalized copy that will increase the likelihood of clicks and, consequently, conversions.
5) Live Chat
Offering a live chat feature on your website is one of the most effective shopping cart abandonment solutions you can implement. Certain questions or doubts often keep shoppers from pursuing a purchase. Having easy access to someone who can minimize the guesswork and uncertainty will undoubtedly lead to higher conversions. To make the most of the live chat function, make sure it is accessible on the product pages and is displayed prominently throughout the checkout process. 
It is an excellent strategy to recover abandoned carts and optimize ecommerce conversions with live chat. Not only will this reduce instances of cart recovery but will also have the potential to increase your store's average order value. Furthermore, proper documentation of live chat conversations can lead to valuable insights that will help you optimize your entire sales process.
6) Social Proof
According to Stackla data, as much as 86% of digital consumers decide to support brands based on how authentic they are perceived to be. Additionally, 60% of these consumers believe that publishing user-generated content is the best way to show authenticity. Given this data, one of the best shopping cart abandonment solutions to implement actually doesn't have anything to do with the checkout process at all.
Ease shoppers' worries by displaying trust badges and customer reviews prominently on product pages and within your cart abandonment workflow. Such content will serve as social proof that should address any apprehensions your customers might have about buying your products. Using your social media accounts to encourage customers to share their experiences with your brand will also go a long way in reducing cart abandonment.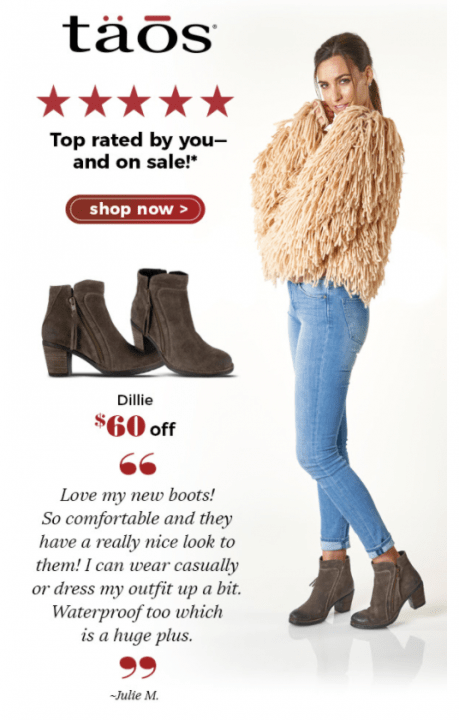 7) Excellent Check-out Experience
Focusing on optimizing your checkout process might be the best solution to reduce the abandoned cart problem on your ecommerce site. There are several things you can do to generate such an impact.
Let's go back to Asos, who uses a simplified checkout process where you simply scroll step-by-step, with the next step highlighted so customers know exactly what they need to do next.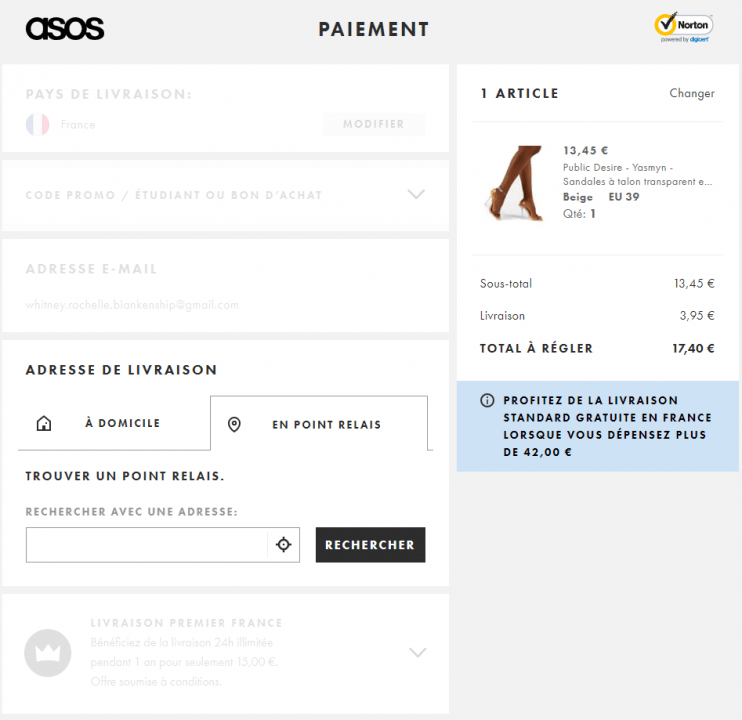 Although a simple desktop checkout process is critical, you should also ensure a good experience on mobile since purchases on smartphones and tablets continue to grow. You should also allow guest checkout and refrain from asking for unnecessary information. 
Furthermore, make sure shopping carts are saved even when users abandon the checkout process—and if they're not saved, opt for the wishlist system to keep track of the products that interest your customers. Saved products will enable shoppers to pick up where they left off, which will increase their chances of completing their purchase. 
Wrap Up
Pay attention to your ecommerce store's shopping cart abandonment rates. How much do you think those carts are worth? As a marketer or business owner, you can either consider these abandoned carts as lost sales, or you can use them as opportunities to re-engage your customers.
Remember that these shoppers have already selected products and have considered making a purchase. They're far enough along the buying journey that it shouldn't take much to recapture their interest and get them to convert this time around. All it takes is a good understanding of their decision blockers as well as the best shopping cart abandonment solutions to address those issues. 
Are you ready to reduce cart abandonment, boost conversions, and take your business closer to its maximum revenue potential? Sign up for a free trial of Omnisend.
Special thanks to our friends at
Omnisend
for their insights on this topic.