Juste Rastenyte
Reading Time: 5 minutes
Segmentation and personalization is a key tool when it comes to winning the fight for customer attention. According to Gartner, businesses that excel in segmentation and personalization outsell their peers by 20%. Moreover, just a 5% increase in retention can increase profits from 25-95%. 
Omnisend is super excited to introduce Customer Intelligence to give nimble marketers a competitive edge when it comes to retention strategies and adjusting acquisition.
By design, we've created insightful and actionable yet effortless reports to help you uncover targeting opportunities with the highest impact for your ecommerce.
Customer Intelligence combines analytics, insights, and segmentation to identify even more customer segments to target based on buying preferences and engagement history.
And by 'actionable' we mean just that! With one click, generate targeted segment lists and receive relevant tips to improve your metrics. Then easily employ data into emails, automations, and SMS.
With Omnisend Customer Intelligence:
Get to know your customers better. Reports give you an overview of your customer base and their engagement with your brand, their LTV, and retention. 
Discover high-potential marketing opportunities. Intuitive visual reports guide you towards impactful marketing opportunities. By helping you to spot, segment, and retain up to 23% more repeat customers.
Get results, faster! We've got you covered by automatically generating insights and targeted segments, which means you can ditch the spreadsheets and focus on what matters.
Think of Omnisend's Customer Intelligence as your extra helping hand that does all the heavy work of gathering and crunching the data, as well as guiding you to the highest-impact marketing opportunities. 
Actionable reports to maximize performance
Life Cycle Stages

Our customer lifecycle-based segmentation makes retention marketing effortless. A Lifecycle Stage map is an easy-to-follow visual guide that gives you a clear understanding of your customer base distribution by their current lifecycle stage with your brand.
Omnisend dynamically assigns each customer a lifecycle stage based on their historical shopping frequency, recency, and spend – e.g. you'll easily know which shoppers have high repeat purchase potential, who need a little extra nurturing, or who are your true champions.
You can use the Lifecycle Stages map to prevent shoppers from churning. For example, reaching out to shoppers from About to Lose, Can't Lose, and At-Risk lifecycle stages to be at the top of their minds. 
Or to cherish your best customers. Delight your best customers from Champion and Loyalist lifecycle stages with exclusive offers or loyalty programs and see how their value grows.
Or you can even find more high-value customers. By combining the upper-row segments from the Lifecycle Stage Map to build a single, high-CLV customer segment and sync it to create lookalikes in Facebook and Google to acquire similar profile customers.
Funnels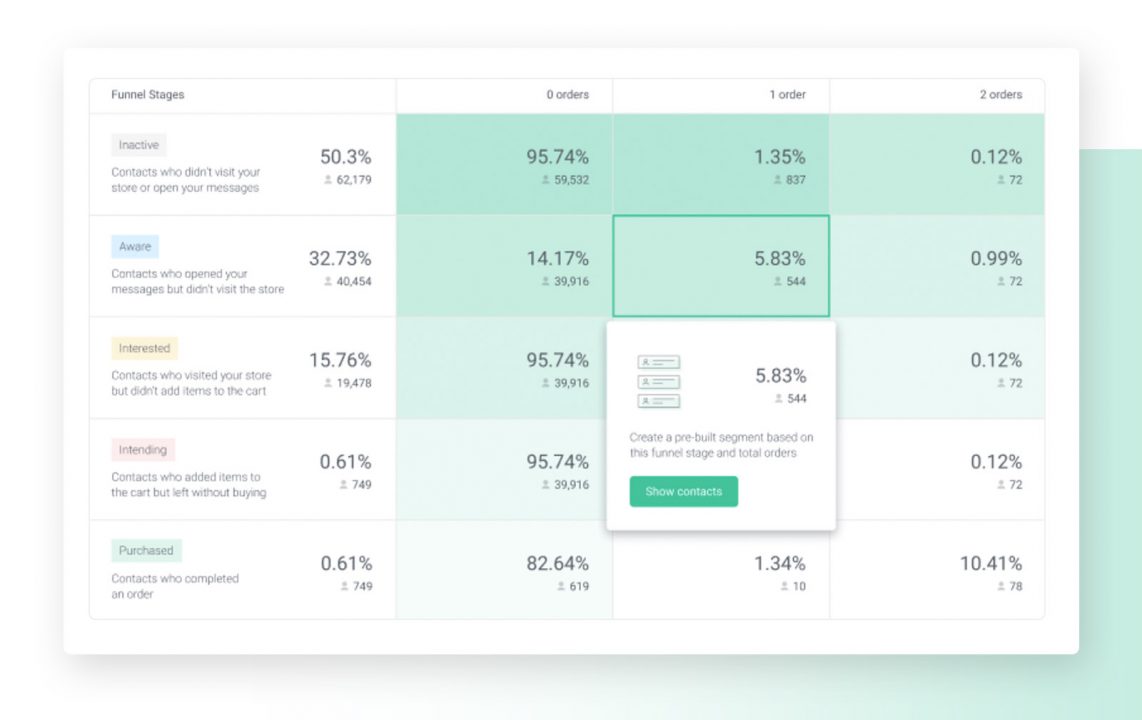 Funnels report shows you where your contacts are in their path to completing an order, uncovering for you the places where customers tend to drop off before completing the purchase.
Omnisend does the heavy lifting for you by gathering and aggregating the data of all email and SMS contacts and their engagement throughout the various channels in the last 30 days.
Both campaign & automation data are included as well. You can then go from insight to action in a click by segmenting and engaging contacts in the specific funnel stages to nudge them to convert.
With funnels, find answers to the questions such as:
How close to purchase are my contacts, and how many of them do I have at this stage?
Do I have customers who are inactive and not responsive to my marketing efforts?
Should I focus more marketing efforts on top-of-funnel contacts (e.g., drive more traffic to the store)?
Should I fix the more bottom-of-the-funnel gaps first?
Product Analytics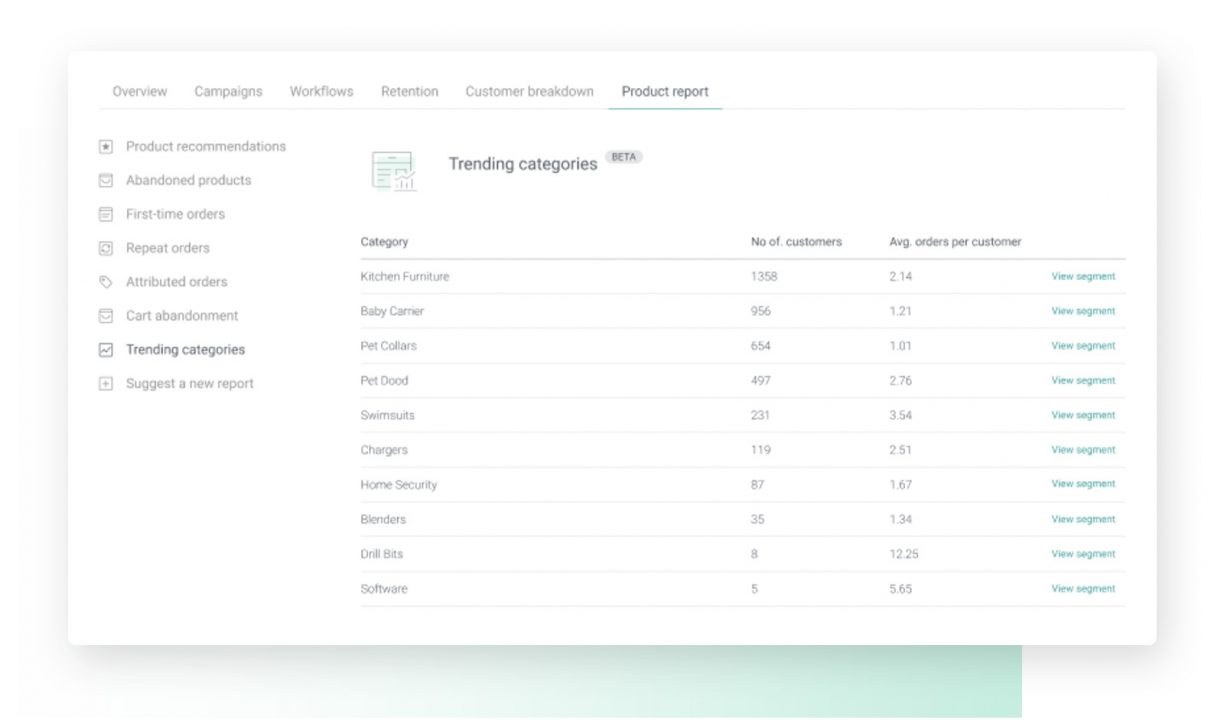 With Product Analytics, you can capitalize on sales opportunities easily. Omnisend unifies and analyzes your product and customer data and uncovers your customers' product preferences.  Product Analytic reports guide you through top product performances in different areas such as:
Top popular products
Top cart abandonment products
Top first-time or repeat purchase products
Top recommended products and categories
Also, built-in product profiles provide you with the best matching product-customer segment lists that you can use for any campaign. 
You can use Product Analytics insights to improve your conversion rate. By better understanding your product performance per different customer segments, you'll be able to laser-target customers with promotions that they will love. Also, spot trends on which products have the biggest potential to be sold and uncover power products of your brand that help to attract and retain customers 
For example, converting non-shoppers into buyers by offering top first-time purchased products. Or increase retention by promoting top repeat purchased products to customers who bought only one product.
Omnisend's Retention report uncovers your new and repeat customer behavior with all key retention metrics presented in a single dashboard. Thus, you can easily understand who drives your business (new or repeat customers) and where you should focus your attention.
Deep dive into metrics such as:
Returning customer base
Revenue from returning customers
Returning customers AOV
Revenue split by first-time/returning customers
Customer count split by first-time/returning customers. 
Moreover, you'll find personalized, aggregate insights about your retention trends and performance. Think of them as short, easy-to-digest bites of information about your customer behavior, value, and retention. You can use these as your guiding light towards a retention performance improvement plan.
Why Omnisend's Customer Intelligence
Unlike other point-solutions or heavyweight CDPs, Omnisend's Customer Intelligence tools automatically uncover the highest-impact targeting opportunities for you instead of overwhelming you with a multitude of data rows.
Reports visually guide you towards areas where you should focus your attention, saving you time. They are easy to read yet insightful for beginner or advanced marketers.
Reports are truly actionable. By clicking on cells, you'll be provided with suggestions on improving the metric. Or you can generate a corresponding customer segment to instantly employ in your marketing activities. Simple as that – Click on cell – save segment – create an automation campaign to target those customers with an offer. 
Directly built into an ecommerce marketing platform and eliminating the need for data syncing and extra integrations, now you can analyze your data, gather insights and implement marketing strategies all in one place.
Getting data-driven doesn't cost with Omnisend try out Omnisend for free with a free trial.
Special thanks to our friends at
Omnisend
for their insights on this topic.