If you've attended our Power to the Marketer festival, joined any of our webinars, read any of our blogs, visited our website, or even just talked to anyone who works at Emarsys, you'll know that we're all about bringing more power to marketers.
But to fully empower marketers and help them achieve true 1:1 omnichannel customer engagement, we believe it's important to dedicate ourselves to continuous innovation. 
During the Emarsys Product Keynote Presentation, which took place on day two of our Power to the Marketer festival, we learned about the new and upcoming innovations in the works from Emarsys. These exciting features were created specifically with the marketer in mind, to support them, and to help them engage anywhere, personalize everywhere, and reach anyone, no matter the audience or scale of their business. 
So how exactly do we do that? Read on to learn more about the latest innovations and products coming soon from Emarsys. 
Engage Anywhere
These days, if you're waiting for a customer to come to you (i.e., your brand) on your terms (i.e., the channels that only you and your marketing team prefer), you're going to be waiting a long, long time. 
In fact, they might not come to you at all. 
That's because today's customers have the luxury and expectation of choosing when, where, and how they engage with a brand — it's all on their terms. If you want to drive growth and revenue for your business (which, as a marketer in today's world, is one of your key responsibilities), you need to be able to reach your customers with highly personalized relevant experiences, no matter where they're at. In other words, you need to be able to engage anywhere. 
This requirement puts a tremendous burden on you as a marketer. On top of everything else you have to contend with in your role, it's no easy task — we understand. 
That's why we're making it easier for you to connect with customers on whichever channels they choose. Here are three new upcoming innovations from Emarsys that will help you engage customers anywhere, and at any scale, as your business grows.
1. Mobile Wallet
With the Mobile Wallet feature, now being piloted, you can launch campaigns using wallet passes. Whether it's a voucher, coupon, loyalty card, or event ticket — these wallet passes give you an opportunity to engage customers in a highly personalized way and deliver value to them through their mobile device. 
Plus, you can follow up with the customer as they use these passes, and that follow-up engagement yields more data about their experience to improve future 1:1 engagement.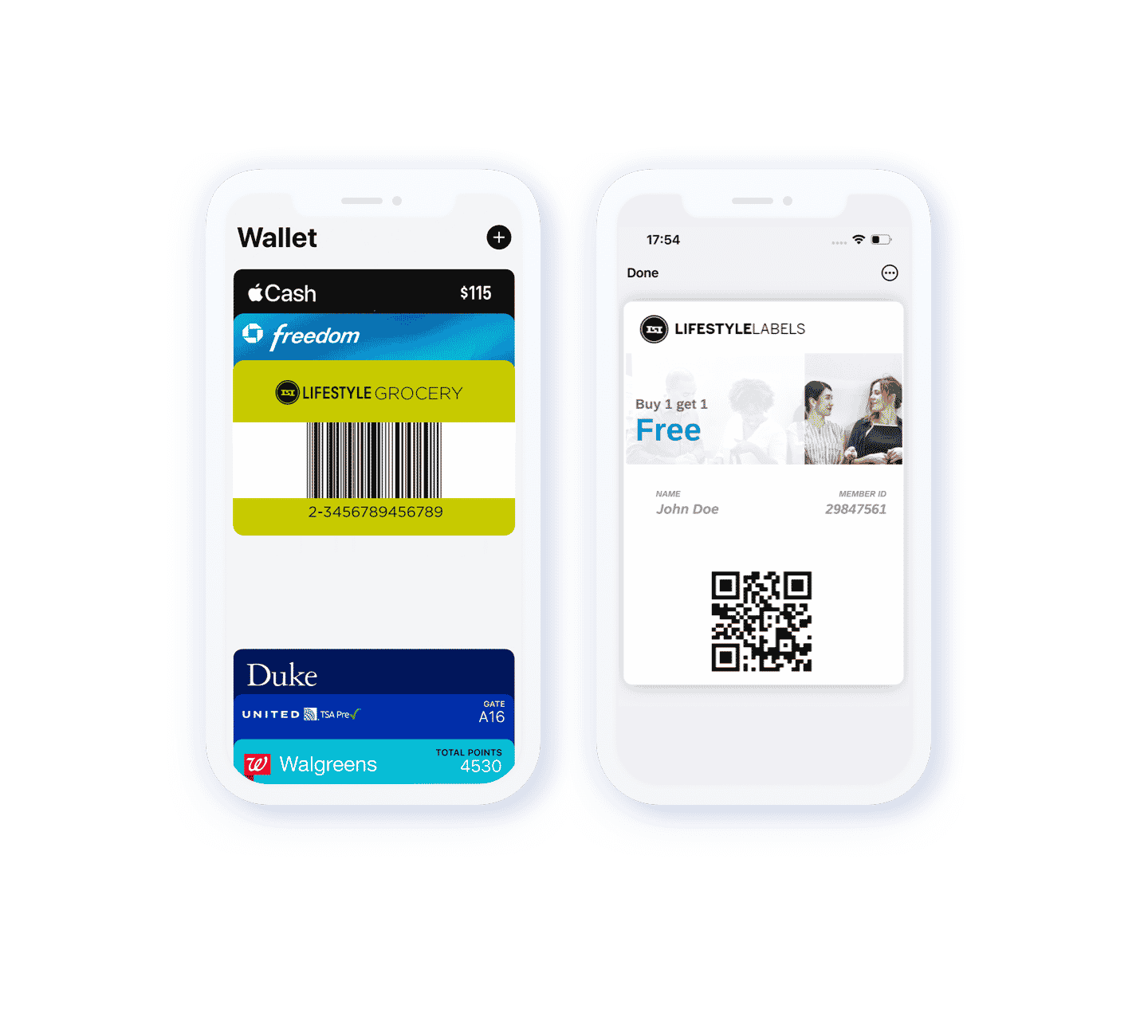 2. Conversation Channels
The foundation of a good relationship is built on good conversation. Make sure you're able to strike up those conversations with your customers on the channels they use. 
With the Conversation Channels feature, you'll be able to engage customers on preferred chat channels like WhatsApp or Facebook Messenger. Instead of sending a one-off message, you can have a conversation to talk about promotions or special offers, remind them about a product they've left in their cart, or perhaps welcome them to your loyalty program — whatever conversation is most relevant for the customer. 
3. Enhanced CDP Integration
Our aim is to give marketers more power to achieve their omnichannel customer engagement goals, but we know siloed data and channels stand in the way of that. That's why we continue to add features that make breaking down those siloes easier. 
Coming soon from Emarsys is Enhanced CDP Integration, which will allow you to collect and synchronize consumer identity, subscription, and preference management in one single place. You'll breathe easier knowing all the appropriate rules and compliance regarding customer data is already built-in, and your customers will benefit from having a more seamless experience with your brand, no matter which channel they're on.
---
Hear stories about innovation and omnichannel marketing success from marketers all across the globe. 
Join the Power to the Marketer Festival
---
Personalize Everywhere
Marketers talk a lot about highly relevant personalized experiences, but to make them truly relevant for customers, you can't just personalize one or two touchpoints along their journey. You need to personalize everywhere. 
Of course, easier said than done, right? As a marketer you're already short on time, resources, and budget. Customers move seamlessly across channels, looking for the best brands and the best experiences — they don't have the patience to wait and see if your brand will catch up. You need to be agile enough to meet customers where they are, with what they want, in a personalized way. 
That's why Emarsys is working on a host of new features that will give you the ability to create personalized experiences fast, and then easily scale that 1:1 engagement. Here are three of those features we learned about during the product announcement presentation:
1. Real-Time Web Personalization
Customers love the personalized touch they receive in the emails sent by your brand. But what happens when they go to your website and none of the experience is personalized? You lose that connection with the customer, and they suddenly feel like a random stranger browsing your site. 
Don't let technical complexity or the inability to move quickly stand between you and delivering personalized web experiences to customers. With the Real-Time Web Personalization feature, you can turn browsers into buyers by delivering the most relevant content and offers in real time.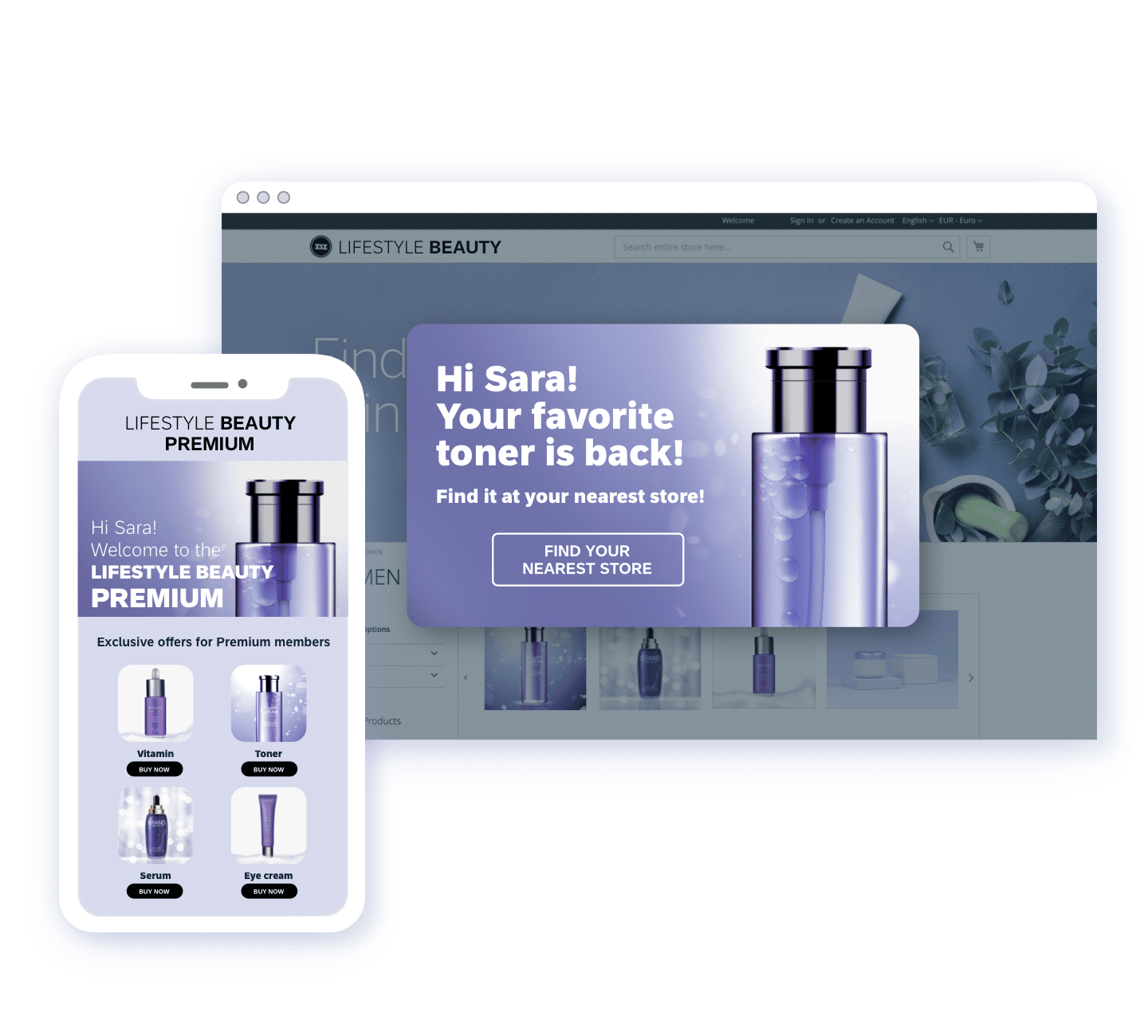 2. In-App Personalization
The mobile app gives you, the marketer, more control over how the customer will experience your brand. So when you pair that up with highly relevant communications, you create a unique interaction for the customer that makes them feel understood and valued.   
With the In-App Personalization feature included in the release, you can personalize in-app content, in real time, with contact, voucher or event data, allowing you to better tailor the in-app experience. Deep links, urls, on-event actions — all of these can be made personal and one-of-a-kind for the customer. 
3. Unified Personalization Rules
If your customer receives a personalized product recommendation on one of your brand's channels, but then receives a totally irrelevant product recommendation on one of your brand's other channels, how "personalized" was that experience? 
When you provide a recommendation that is truly personalized, you greatly increase the chances of converting that customer. So in addition to making sure your recommendations are relevant to the customer, you'll want to make sure they are consistent across channels. The Unified Personalization Rules feature does exactly that. 
With a unified personalization rules engine, marketers will be able to leverage AI and rules across multiple touchpoints, which is key to cross-channel consistency and preventing disconnected experiences. 
---
Want to help us innovate? Become a Product Pioneer to influence and preview new features before they are available.  
---
Business to Everyone
As a marketer, you're tasked with engaging more audiences than ever before. Digital engagement happens across an entire organization, so you're looking to reach more than just consumers — distributors, retailers, users, employees and more are all on your list. In today's world, you need the ability to engage anywhere and personalize everywhere, but you also need the ability to reach anyone. 
During the keynote session, we learned how Emarsys will soon release and begin piloting new, exciting features that enable marketers to use data-driven insights to optimize engagement, no matter their audience. 
1. Account Engagement
As more and more pressure is placed on marketers to increase revenue for their business, they must align themselves more strongly with other revenue-focused teams in the organization. Whether it's through direct or indirect collaboration, there's a pressing need for marketers to work in sync with sales to drive business results.
With the new Account Engagement option in this release, SAP Emarsys Customer Engagement clients can effortlessly unify their sales and marketing efforts to accelerate sales performance and generate more revenue. This means marketers can more easily personalize campaigns using valuable CRM data or send campaigns on behalf of their sales partners, while sales teams gain the ability to customize their content and contacts in a campaign. Shared profile views and activity tracking mean marketing and sales can engage in a truly collaborative, unified way, acting on a single view of their customer.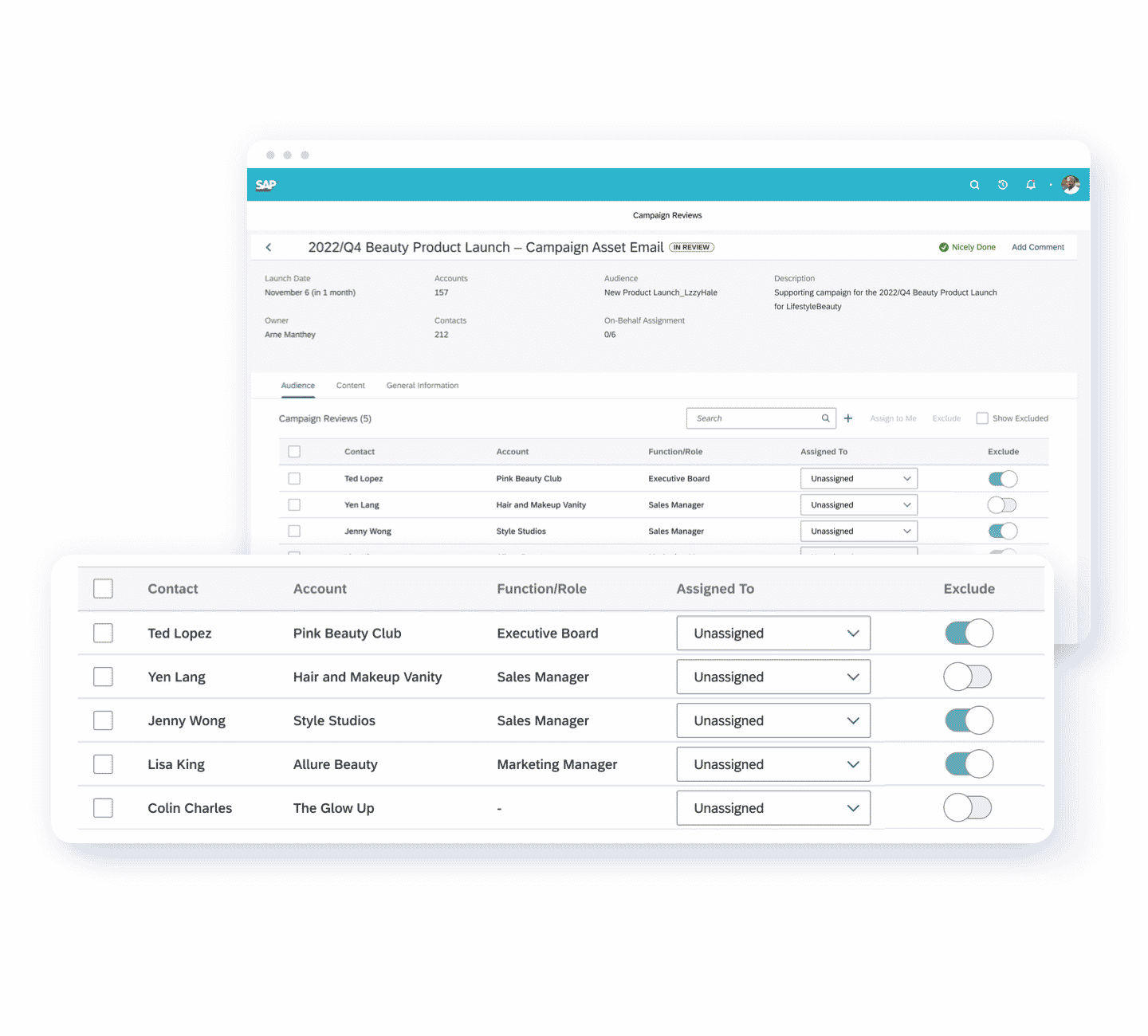 2. CP & B2B Strategies & Tactics
Time — it's a luxury you don't have. Speed and agility — it's a must, if you expect to keep up with the market. You need to move fast as a marketer, and you don't always have time to build each and every campaign from the ground up, or engage in endless trial-and-error on choosing a strategy that works. That's why Emarsys offers pre-built, proven strategies and tactics in our omnichannel customer engagement solution. 
With the new pre-packaged strategies and tactics in our latest release, you'll get even more ways to engage customers, increase retention and loyalty, and drive business results, fast. Our latest release will include a host of strategies and tactics for consumer product and B2B industries, allowing you to set up, launch, and automate campaigns quickly. A few examples include:
Merchandised Cross-Sell: Follow up on a purchase with cross-promotion of products based on different recommendation rules to increase cart value and customer lifetime value.
Product Registration: Encourage your customer to register their newly purchased product so you can stay in touch and foster brand loyalty.
Brand Survey: Improve CX by asking your customers to complete a short survey and share their thoughts, feelings, and opinions about your brand.
Referral Offer: Incentivize active customers to refer friends and family to your brand by offering a personal referral link that gives a reward upon action.
User-Generated Content: Give voice to your best customers and encourage them to create content about your products and share their experience with your brand on social media.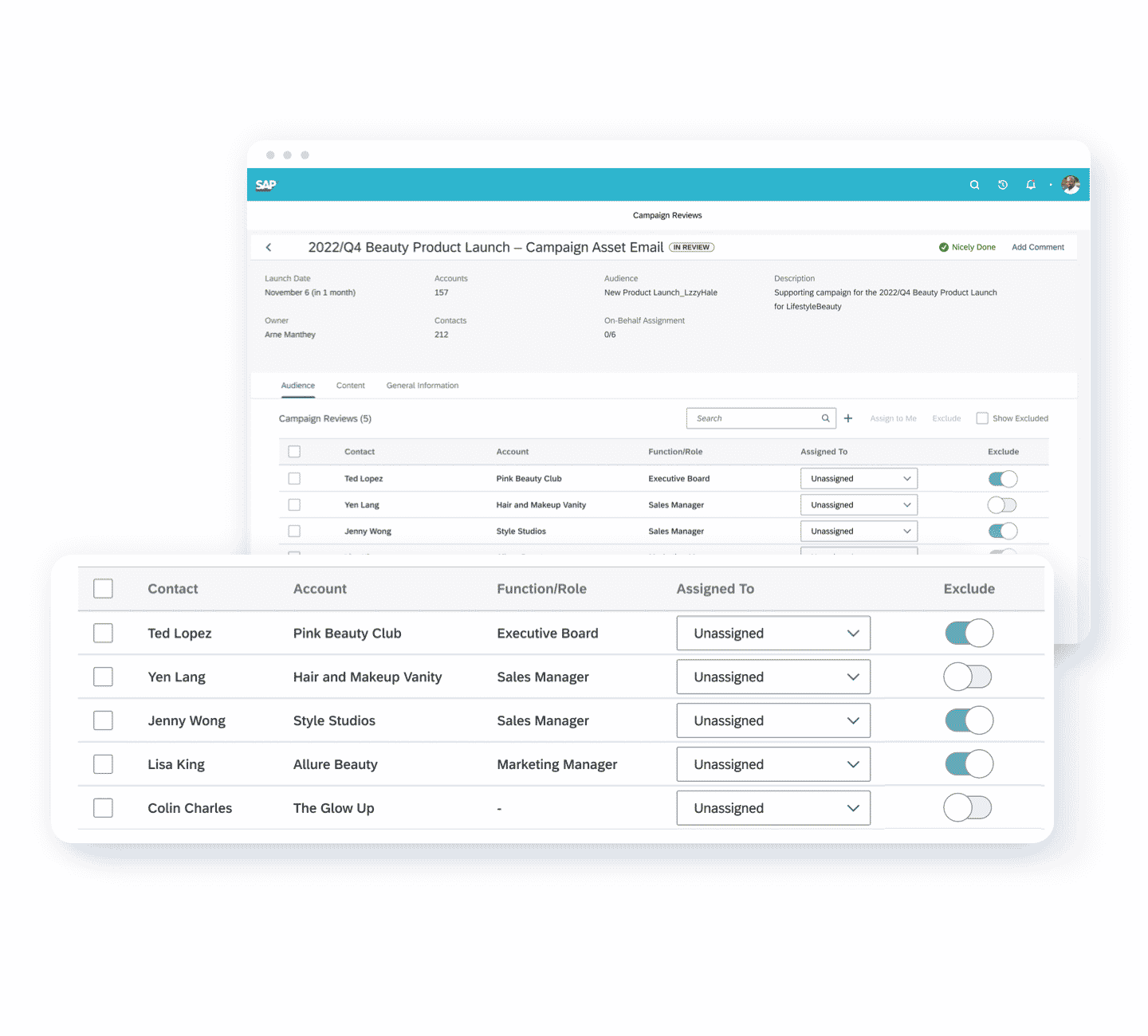 3. Audience Reporting 
You want to better understand your audiences so you can deliver the personalized experiences that will make the most impact. To do that, you need visibility into all your audience data in a single place so you can compare, analyze, and optimize accordingly. 
With our latest release, we'll begin piloting a new Audience Reporting feature which enables you to view, analyze, and compare audience-related data for segmentation and campaign optimization. This level of visibility and insight into all audiences is especially critical for marketers who are engaging with multiple audience types, including B2B channel patterns. 
Continuing to Innovate
At Emarsys, we're constantly innovating in order to bring more power to marketers. We know that attaining true 1:1 omnichannel customer engagement is business-critical for today's marketers, and our goal is to empower marketers on their path to get there. How do we do that? By making it easier to connect data and channels, adapt with speed and agility to meet ever-changing market demands, and make data-driven decisions based on proven guidance — all built on a platform you can trust.
But of course, the best ideas for innovation come from you, the marketer. That's why we're offering Emarsys clients a chance to become Product Pioneers. As a Product Pioneer, you can influence and preview new features before they're available, which allows you to be directly part of the innovation process. 
We're excited to share with you all these upcoming innovations from Emarsys (as well as features available for pilot) that are specifically designed to help marketers engage anywhere, personalize everywhere, and reach everyone. To learn more, visit our product release hub page. 
Handpicked Related Content:
Special thanks to our friends at
Emarsys
for their insights on this topic.