Whitney Blankenship
Content Marketing Manager
Reading Time: 6 minutes
Ecommerce marketing has come on in leaps and bounds over the last few years, with advances in automation, in particular, proving to be a real game-changer. And with more and more businesses jumping on the bandwagon every day, marketing automation is no longer the optional extra it used to be, it is an absolute must.
Customers have changed their expectations accordingly and now expect highly relevant, personalized messaging, delivered in a timely manner, to the channel of their choosing. This is impossible to deliver with impersonal, hit-and-hope emails sent out in bulk blasts!
So unless you have an army of marketing staff, capable of looking after each individual customer with personalized service, marketing automation is your only answer.
But which email marketing automation platform is the best for your business? In this article, we are going to compare two of the best known on the market, Omnisend and Newsletter2go.
A Quick Feature Comparison
First up, let's check out a handy feature comparison table so you can easily compare the main features of these popular marketing automation platforms.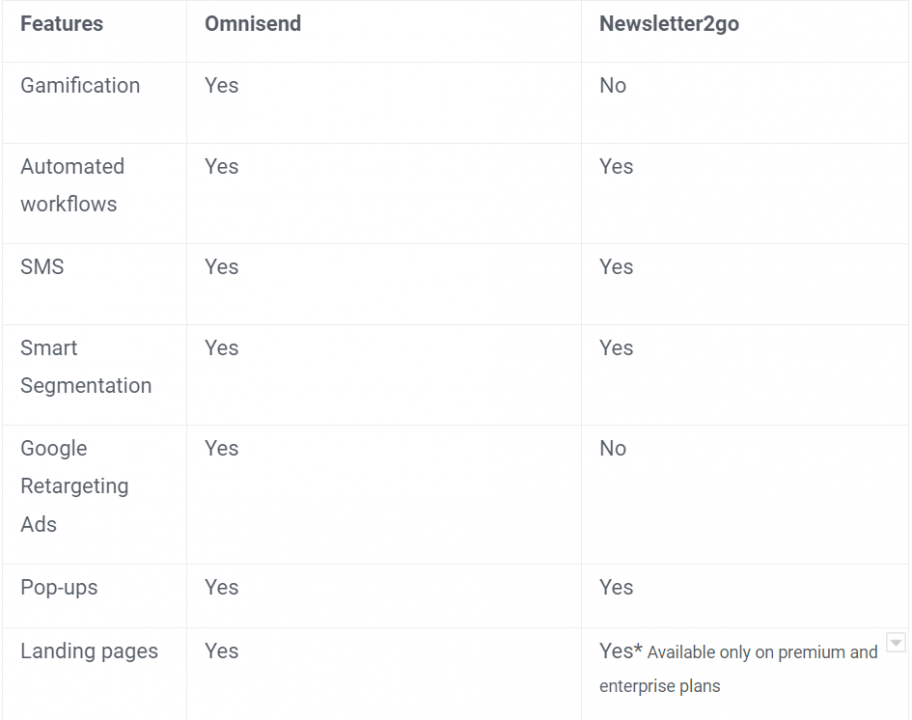 Omnisend and Newsletter2go: Who is Each Tool Built For?
Omnisend and Newsletter2go have their roots in email marketing but have since evolved into more comprehensive marketing platforms. They both feature advanced automation and CRM capabilities, suitable for small and medium-sized businesses to start using immediately with an easy setup.
While these platforms are quite similar in their primary focus, Newsletter2go features are mainly centered around email marketing, supported by useful and efficient SMS and chat channels.
Omnisend also has powerful email marketing features but goes for a more holistic approach in terms of channels. Here, you can easily utilize five different channels (Email, SMS, Push Notifications, Google retargeting, and Facebook retargeting) that work together seamlessly for a truly omnichannel experience. Built specifically with ecommerce in mind, Omnisend offers many tools and pre-made automation workflows that are ecommerce-focused.
While Newsletter2go is geared towards smaller teams looking for the basics, Omnisend is ideal for growing ecommerce businesses with nimble teams who are looking to maximize their marketing potential with targeted, personalized messaging.
Newsletter2go is great for those who are just starting out and need something that works for the time being. While it has the features that you'd need for basic marketing automation, it's still a bit limited in terms of what an ecommerce merchant might want to do.
As a great Newsletter2go alternative, Omnisend can help you to identify and nurture customers throughout the customer lifecycle, from attracting leads to post-purchase messaging for customer retention and reactivation, and provide detailed analytics so you can closely track your performance.
Marketing Automation
According to Omnisend's Ecommerce Statistics Report, automated emails generated nearly 30% of email orders from just 2% of total sends in 2020. This impressive statistic is largely driven by must-have automation powerhouses like the welcome series and cart abandonment, which boast 52% and 34% conversion rates respectively.
Omnisend's automation is easy to jump straight into, with all the pre-built messages, subject lines, and workflow settings you need to get up and running within minutes. If you wish to customize, this can easily be done with an intuitive drag-and-drop automation editor. The workflows included are welcome series, product, browse and cart abandonment, order confirmation, shipping confirmation, birthday message, and cross-sell, all of which can be refined and optimized to your marketing needs with personalized recommendations, automation splits, and A/B testing.
Businesses are reaping the benefits of this powerful automation, which doesn't require any coding skills or specialized IT knowledge to quickly set up.
Take the case of Black Mango, for example. This small lighting and furniture company saw a whopping 5,147% increase in revenue per email after setting up an abandoned cart sequence—that's 25% of their entire email revenue from less than 1% of their email sends!
Newsletter2go features eight workflow templates that can be easily customized for specific purposes. These include Welcome series, Birthday Message, Abandoned Cart, Page Visit, Website Visit, and Product Purchase workflows.
One automation feature that Newsletter2go offers is an easy way to create contact filters based on demographics, automatically adding a customer to a workflow. This means that if a contact signs up from a certain place, or spends a specified length of time on your website, they are automatically categorized and added to the best workflow to capitalize on this interaction.
Newsletter2go workflows are fairly easy to set up and use. However, while it is an excellent platform for basic and small-scale marketing campaigns, it cannot handle the large and complex automation tasks that larger enterprises and ecommerce merchants might require.
Want commerce-focused automation workflows that take the work out of email marketing? Try Omnisend free for 14 days!
Email Campaigns
Creating a campaign on Newsletter2go is simple, you just name it, then create a subject line, sender email, and sender name. Then you can choose either a responsive design or HTML simple text template builder, with the responsive design adapting to the size of the screen for mobile-friendly emails.
To create your email you use a drag-and-drop builder to populate your page or choose from a pre-designed template. You can send your campaigns to different segments based on criteria that you choose (e.g. gender, geography, purchase history, etc.), and find the best message with A/B testing.
Omnisend also makes campaigns a breeze by providing a library of excellent email templates, allowing you to create professional, attractive emails in just a few minutes. The templates are easily customizable with a drag-and-drop editor, so you can add your branding and reuse them for future campaigns.
This time-saving functionality is a must for creating personalized campaigns, with added features such as a product picker, dynamic discount codes, and product recommendations creating unique and highly targeted emails designed especially for your carefully segmented audience.
Other handy features include a campaign booster, which automatically resends your unopened emails and gives them another chance to be read; detailed A/B testing; and scratch cards, which add an engaging layer of gamification to your emails.
List Building
Getting consent from your contacts is crucial for complying with various data and privacy regulations, and the best way to ensure that your contacts have opted in to your list is by providing clear and engaging sign-up forms.
Newsletter2go lets you build custom sign-up forms with their drag-and-drop builder—you just choose your colors, add images, and create text that matches your brand and encourages your website visitors to sign up. You're free to add all the data collection fields that you wish, giving you the info you need to have the best possible segmentation for your emails.
Omnisend takes your list building to another level with a focus on dynamic sign-up forms and gamification. Like Newsletter2go, you are able to create and customize your sign-up forms in any way you choose, whether they be standard sign-up forms for your website, landing pages, or exit-intent pop-ups.
Studies have shown that dynamic sign-up forms work best for conversion and in terms of list building, the more dynamic the form, the better it performs. For example, targeted landing pages boast a 25% success rate, followed by the Wheel of Fortune at 12.74%, and popups at 4.22%. In contrast, the traditional static sign-up boxes only managed 1.28% conversions.
The gamified Wheel of Fortune is an especially interesting and valuable tool, engaging customers with an interactive experience and the chance of winning incentives in exchange for signing up. Omnisend's continued gamified innovations, backed by strong statistical analysis, is something that really sets them apart from the competition.
Customer Support
Newsletter2go can be quite complex for newcomers to ecommerce, so customer support resources are much needed. Most pages on the site feature a help button, giving instant and context-specific info. There are plenty of tutorials and answers to the most common questions, easily searched by category. If you need to contact the support team you can do so by creating a ticket, using a web form, or via a toll-free phone number.
In contrast, Omnisend offers a comprehensive Knowledge Base, covering every aspect of the platform with walk-throughs and articles dedicated to getting the most out of your subscription. On top of this, you will enjoy 24/7 support via live chat and email, onboarding courses for newcomers, and Pro and Enterprise customers even get their own account managers, who work exclusively with you to resolve any issues and help you to reach your campaign goals.
In terms of wider learning, Omnisend furnishes you with a library of whitepapers and reports, outlining the latest trends, innovations, and statistics in ecommerce marketing, a podcast featuring insights from prominent names in the industry, and success stories for inspiration in your own business.
In short, everything you need to succeed in ecommerce is right there at your fingertips.
A Quick Price Comparison
An overview of the basic Newsletter2go pricing and Omnisend pricing structures.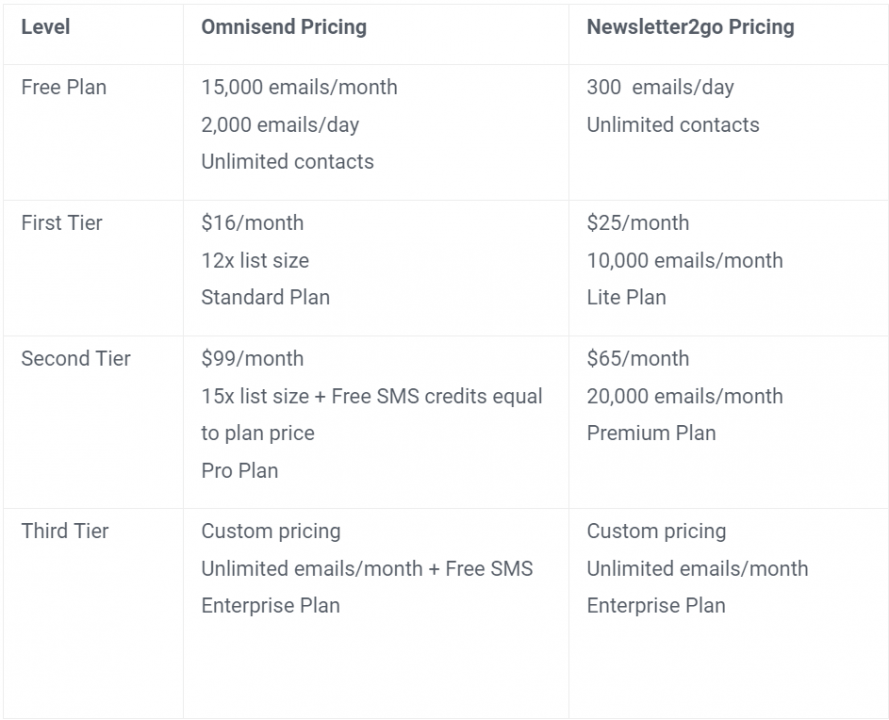 Omnisend vs. Newsletter2go: Wrap up
With both Omnisend and Newsletter2go built specifically for small and medium ecommerce businesses with nimble teams, there are definitely many similarities in their features and functions.
However, with more powerful automation, better list-building tools (especially in terms of dynamic sign-up forms), more focused campaigns, better pricing (Newsletter2go pricing is limited by its low capabilities on the Free Plan), and superior support, we can confidently say that Omnisend wins this particular match-up.
Have you tried either of these platforms? Which do you prefer? Feel free to let us know!
Ready to plunge into automation that increases your revenue, but not your workload? Try Omnisend free for 14 days!
Special thanks to our friends at
Omnisend
for their insights on this topic.