did you know
Omnisend customers automate 32% of their email conversions. Are you maximizing sales?
Reading Time: 9 minutes
The web has become a place for small, medium and large businesses to compete on practically equal footing. This is especially driven by ecommerce platforms that have made it possible for anyone to set up and manage online businesses regardless of their programming background or access to significant capital. 
Today, Shopify is one of the most popular software services in ecommerce. It's best known for its website builder and built-in sales tools. But if you're looking for good ecommerce solutions, WooCommerce is definitely one of the best Shopify alternatives to consider. 
WordPress' WooCommerce vs Shopify is a commonly debated subject but there is no universally accepted best choice between the two. The right solution depends on the unique needs of your business, and this comprehensive comparison should help you make the right decision.
Whether you choose WooCommerce or Shopify, Omnisend enables you to generate sales and nurture your customers on autopilot. Start free.
WooCommerce vs Shopify
Among the top one million ecommerce websites based on traffic, Shopify holds a market share of 20% but WooCommerce Checkout is the leading platform at 29%. In fact, WooCommerce is the leading ecommerce platform on the entire web. This is undoubtedly driven by the popularity of WordPress, the open-source content management system it is built for. 
However, when you consider only the top ten thousand online stores, WooCommerce drops significantly to an 8% market share while Shopify retains 19%. 
The only reasonable conclusion is that there are larger and more active businesses on Shopify than on WooCommerce.
Although adoption rates help you appreciate the value of each platform, it shouldn't be the primary basis of your decision. You should choose either WooCommerce or Shopify based on features and unique offerings that will help you maximize the potential of your online business.
In-depth WooCommerce vs Shopify comparison
Below is a Shopify vs WooCommerce evaluation of the most crucial considerations for ecommerce stores. Identify which factors are important to you and then see which platform will deliver on your requirements. 
Website builder features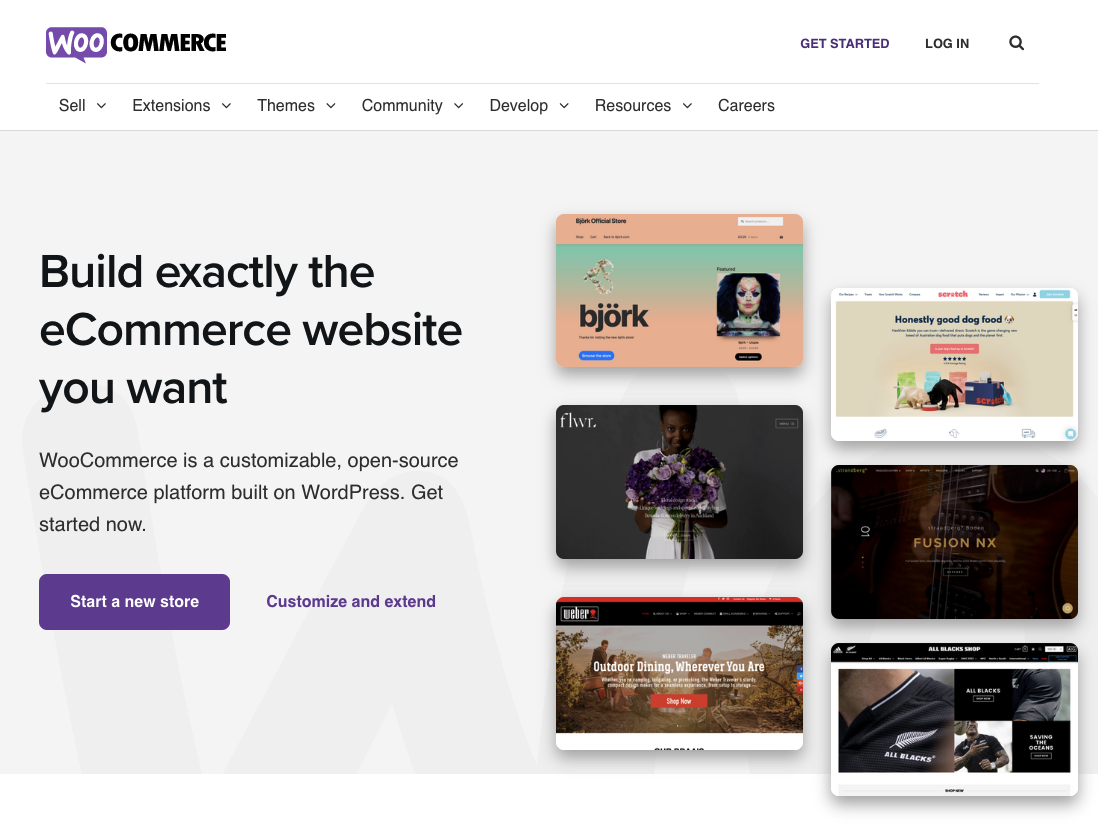 Whether you choose Shopify or WooCommerce, you can build an ecommerce store and process payments. You can also fulfill orders and run marketing campaigns on the same platform. But each platform handles these features differently.
Building an online store is generally easier on Shopify. Once you've selected a theme, much of the work is already done. All you'll need to do is populate your store with all the products or services you want to offer.
On the other hand, WooCommerce requires more work. Apart from selecting and setting up your own hosting plan, building on WooCommerce typically involves more customization to ensure that your store has the design and functionality you need to run your business. On a more positive note, this allows for more creative freedom, better branding, and a shopping experience that's customized for your audience.
Payment processing features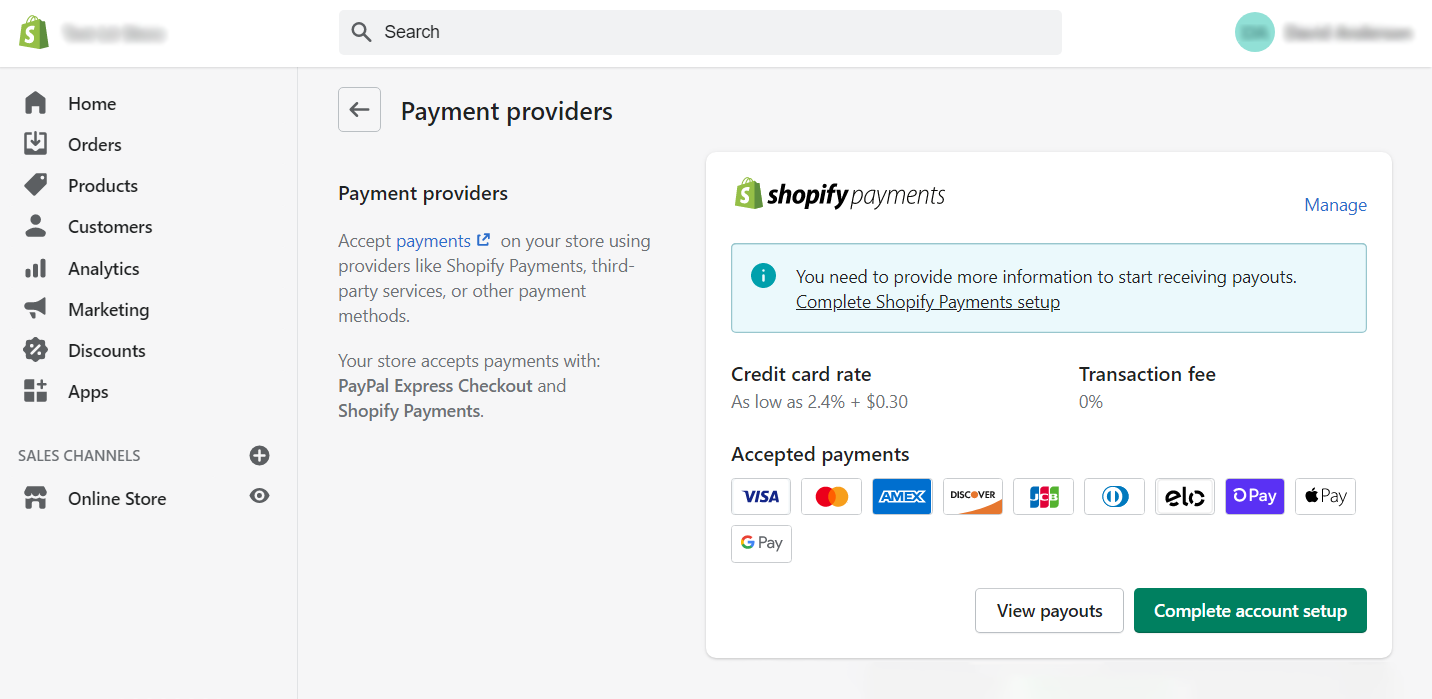 Shopify plans come with a built-in payment processor while WooCommerce sites can be integrated with an extension like WooCommerce Payments. Both enable you to accept a wide variety of payment types, including credit cards, debit cards, Apple Pay, and several local payment options. 
Both Shopify Payments and WooCommerce Payments charge pay-as-you-go fees. Rates are similar between the two, which is a $0.30 flat fee + 2.9% per transaction. Where WooCommerce differs is an additional 1% charge for non-US cards and another 1% charge for currency conversion each time a non-USD payment is made.
Shopify doesn't have any additional fees. In fact, your store's transactions can be subjected to lower fees depending on the Shopify plan you select. Although the flat fee per transaction remains at $0.30, the variable rate is lowered to 2.6% for the standard Shopify plan and even lower to 2.4% for the Advanced plan.
Shipping features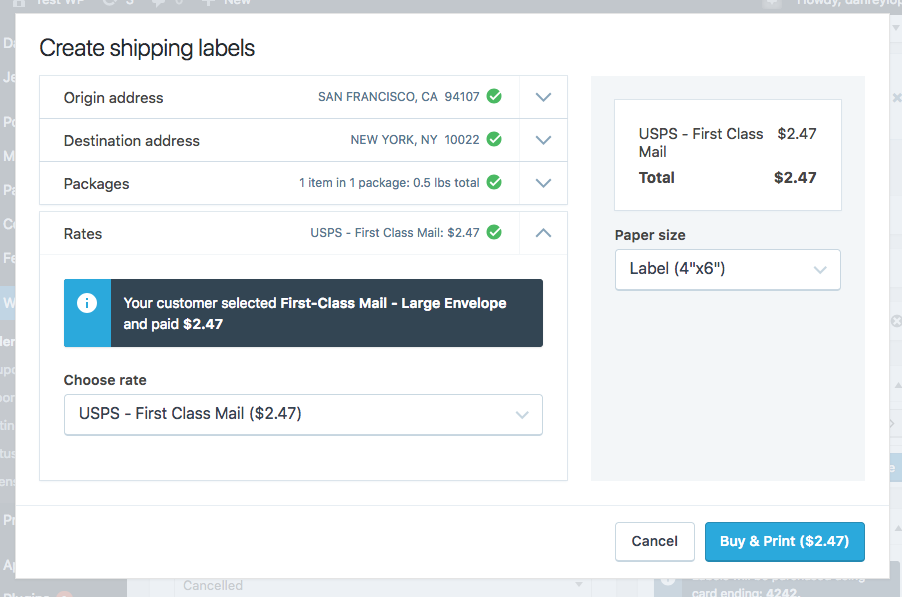 Order fulfillment features are built-in on Shopify. On WooCommerce, you can use extensions like WooCommerce Shipping. Both will enable you to print labels and manage the entire process on the same admin panel as your website. Additionally, both platforms will let you ship orders through DHL Express and USPS. Shopify offers the additional option of UPS shipments.
Apart from convenience, running your order fulfillment process through your ecommerce platform gives you access to lower courier fees. WooCommerce promises a discount of up to 67% on shipping while shipping discounts go up to 88% on Shopify.
Marketing features

Abandoned cart recovery workflows are one of the most effective ways to drive sales. This feature is built-in on Shopify. On WooCommerce, you can run similar workflows through plugins like Omnisend, which can also be used for many other automated workflows like reactivation, birthday greetings, welcome emails, and more.
Given that built-in marketing features are limited for both, you can expect to require the use of third-party apps not only on WooCommerce but on Shopify as well. Nevertheless, such plugins are often much more powerful and feature-filled, allowing you to run sophisticated marketing campaigns on the same platform you use to manage your online store.
Pricing
WooCommerce is an open-source platform that works with WordPress. As such, it is technically free to use. This gives you the freedom of controlling your costs by adding only the services you actually need. The problem with this is costs can quickly pile up if you aren't able to foresee all your requirements.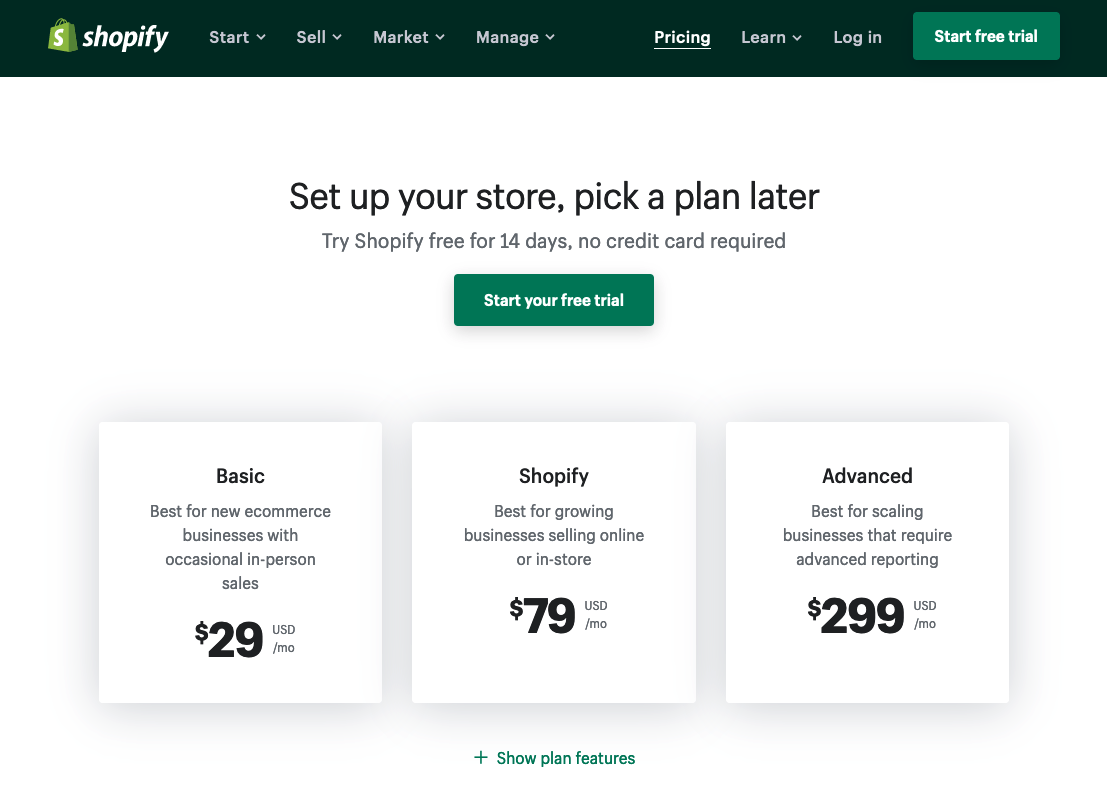 Unlike WooCommerce, Shopify is a subscription product. You'll need to select a plan and commit to monthly payments in order to build and maintain your online store. It offers a Basic plan at $29 per month and an upgraded Shopify plan at $79 per month. 
For businesses that need more advanced features like the ability to manage more inventory locations, provide access to more staff members, and generate more detailed reports, Shopify also offers an Advanced plan for $299 per month. 
Apart from these standard offerings, Shopify Plus is available for enterprises with large sales volumes. This is a customized, all-in-one solution that comes at a monthly cost of at least $2,000 per month. 
But before you dismiss Shopify because of its subscription pricing, make sure you consider the cost of all the add-on services you'll need to get a WooCommerce site running the way you need it to.
For example, every Shopify plan lets you sell your products on other channels like Amazon and eBay at no extra cost. On WooCommerce, you'll need to integrate a plugin like Codisto, which can cost you an extra $29 to $499 per month depending on your sales volume.
Ease of use
Every WooCommerce review mentions how much freedom you get from having a basic open-source platform and then building on that using only the extensions you need to meet the unique needs of your store. But although this platform offers better customization and design flexibility, it is that same freedom that makes it more difficult to use for the average user.
On WooCommerce, you'll have to plan for every feature you need, integrate each one, and ensure that every plugin is running on the latest version at all times. You'll also need to select your own web host, ensure that your plan can handle your website's activity, and also ensure that it can scale up along with your business growth.
In contrast, Shopify is an all-in-one service. Your subscription already includes hosting, which means much of the technical work of building and operating an online store is already taken care of for you. Additionally, Shopify's website builder is more intuitive. Although customization options might be limited compared to WooCommerce, it is generally easier and faster to set up online stores on Shopify than on WooCommerce.
It's worth noting that Shopify wins the WooCommerce vs Shopify ease of use contest only in the development stage. If you're keen on building your store yourself and you don't have any programming experience, you might have a better experience on Shopify. 
But if you're getting a professional to build your ecommerce store for you, that doesn't make much of a difference. Both Shopify and WooCommerce can be set up to make simple work of maintaining your website and managing your business.
Apps, plugins and integrations
Building your online store on the WooCommerce platform will make you more reliant on apps and third-party integrations than if you were to get a Shopify subscription. Even so, there are significantly fewer apps on the WooCommerce Extensions Store than on the Shopify App Store.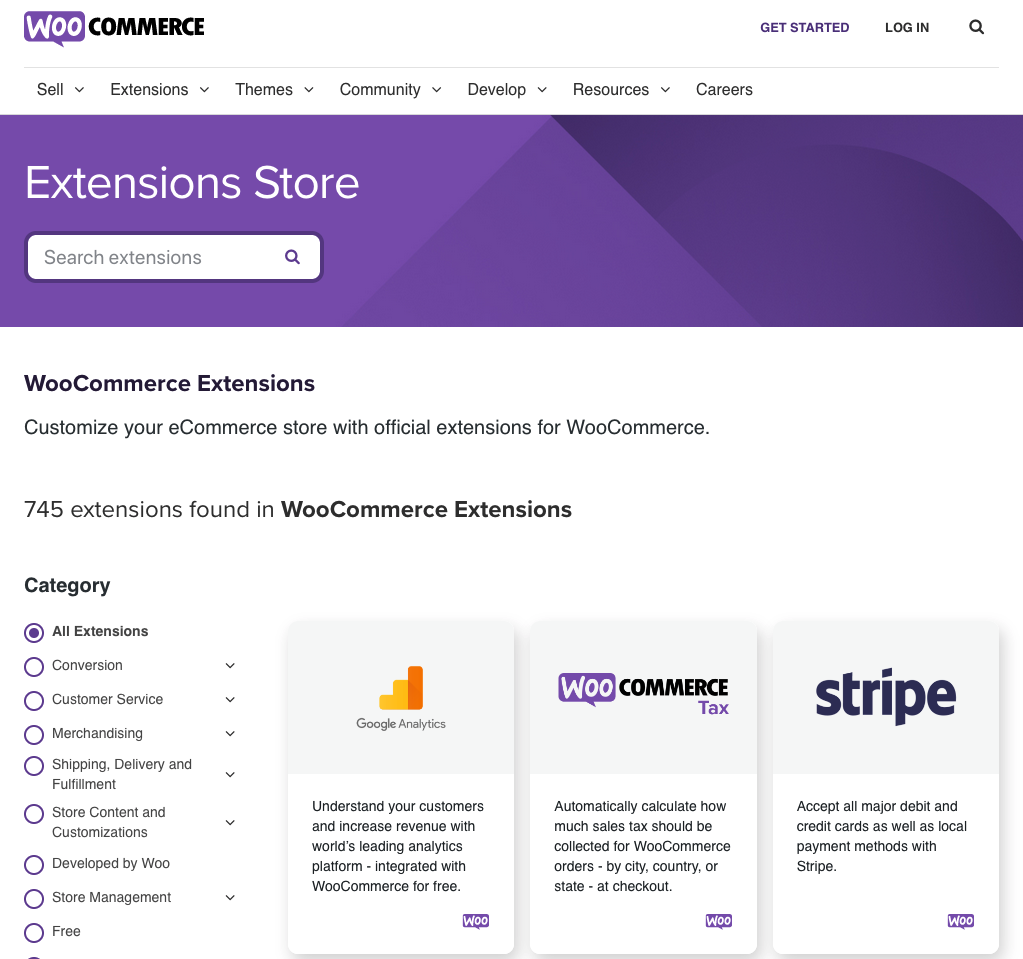 There are over 740 extensions available for WooCommerce sites and 87 of them are developed by WooCommerce itself. Of all these extensions, only 40 are free to use but several are considered essential WooCoomerce plugins for any type of ecommerce store. 
In contrast, the Shopify App Store has over 7,000 plugins available and over 850 of them are free. Some of the best Shopify apps are critical to sales optimization and order fulfillment.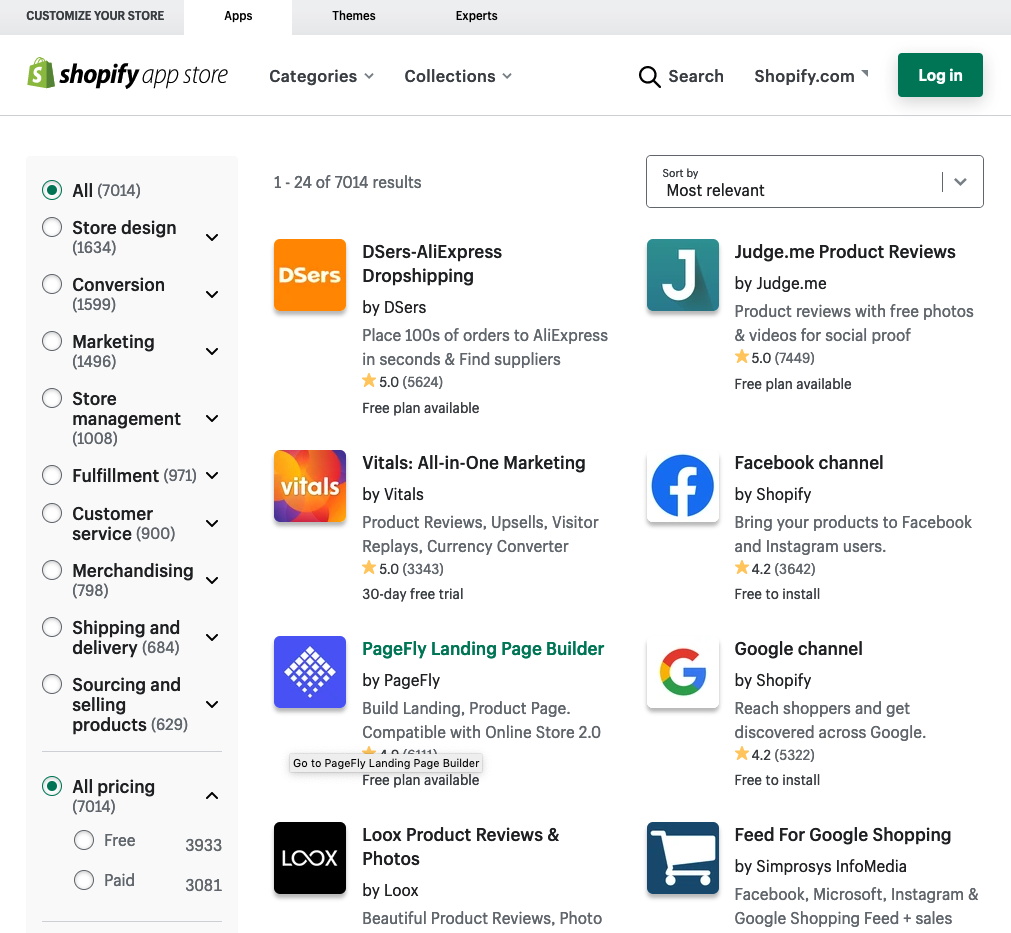 Shopify apps outnumber WooCommerce extensions not only in total but in every category. For example, there are 903 customer service apps for Shopify while there are only 20 for WooCommerce. Additionally, there are only 151 WooCommerce extensions for marketing while Shopify offers over 1,400 apps in this category.
Although Shopify undoubtedly has more integrations available than WooCommerce, the more popular services are, thankfully, available on both. For example, you can run omnichannel campaigns and automate your marketing through Omnisend, which is available both as a WooCommerce plugin and a Shopify app.
Themes & templates
Themes are another necessity that can contribute significantly to the total cost of building your ecommerce store. Consider looking for a theme you want to use before you commit to either Shopify or WooCommerce. Depending on the nature of your business, these can range from free to several hundred dollars.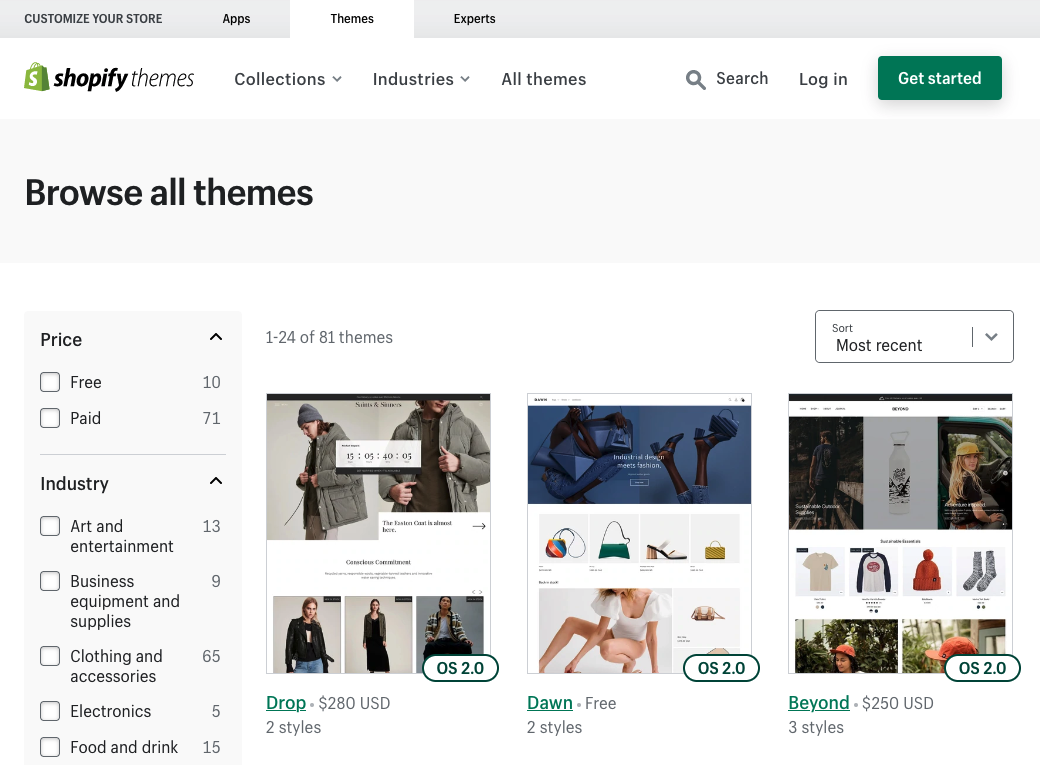 The Shopify Themes store has about 80 options to choose from but only 10 are free to use. Premium options can cost anywhere from $150 to $350, but that buys you professionally designed templates that are easy to populate and customize. 
They also have built-in features that will help with engagement and sales generation. If you can't find what you need, you can always go through theme marketplaces like Template Monster and Themeforest.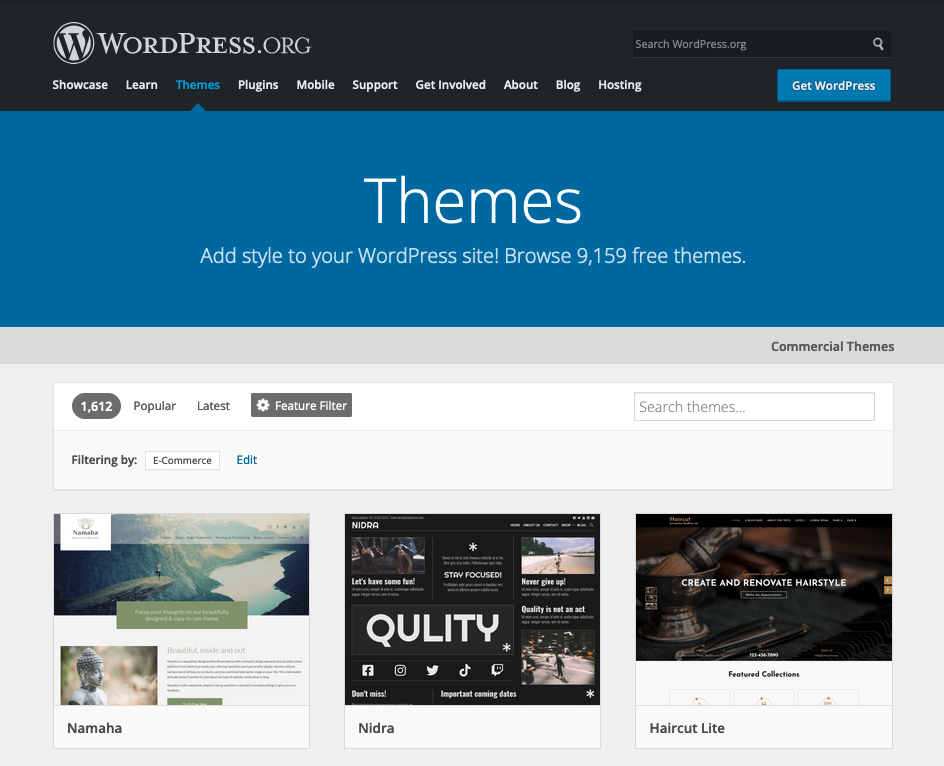 WooCommerce has significantly more themes and templates to choose from. The WooCommerce Theme Store itself only has 42 themes available but all are created by the company itself, so you can be assured of each one's functionality. If you don't find what you want there, you can also go through over 1,600 free WordPress themes designed specifically for ecommerce. 
Like Shopify, WooCommerce templates are also available in theme marketplaces. Although the best WooCommerce themes can be quite expensive, you'll find some that are free to use or at least affordable at less than $50.
Security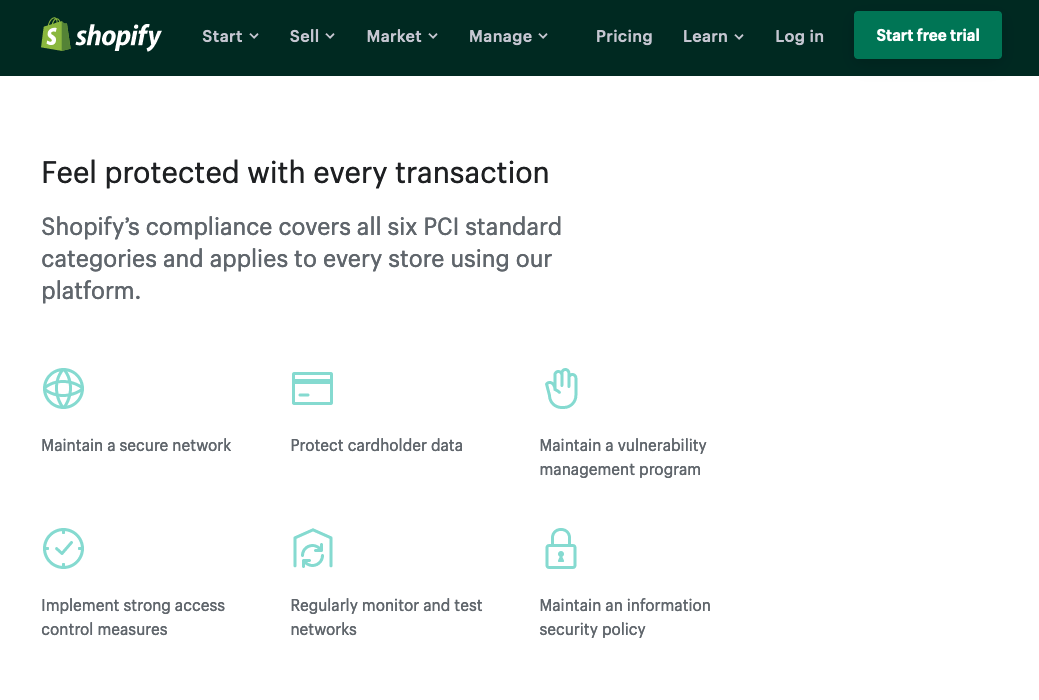 In terms of built-in security features, there is no Shopify vs WooCommerce contest. Shopify is the clear winner in this regard. Every Shopify subscription is already hosted and the platform meets all the security features needed to protect against fraud and data theft. 
Among the most critical security features of an ecommerce site are PCI-DSS Compliance and an SSL Certificate. Shopify has both while WooCommerce has neither.
PCI-DSS stands for Payment Card Industry Data Security Standard. Building your store on Shopify ensures that your store is compliant with the stringent standards required to process debit and credit cards safely. Shopify is also subject to annual compliance checks, so websites built on the platform are always covered by the latest cybersecurity technologies.
On the other hand, an SSL (Secure Sockets Layer) certificate protects your website from cybercriminals by encrypting communication between browsers and your server. Web browsers show a padlock icon beside the URL of any website with an SSL certificate. Digital savvy shoppers avoid websites that don't have this, so it is also essential for maximizing sales.
But although WooCommerce doesn't have these security features out of the box, you can ensure that your website is just as safe. For an SSL certificate, you'll just need to select a hosting plan that guarantees this. For PCI-DSS compliance, WooCommerce provides a comprehensive guide.
Wrap up
WooCommerce vs Shopify isn't about which is the best platform overall but which is better suited to meet the unique needs of your business. Before you decide between the two, it helps to have a clear picture of what you want your online store to look like, how you want it to work, and what you need to maintain it.
Being tied to Shopify's monthly subscription fees might seem daunting, but it offers an all-in-one solution with very little customization required to get your store up and running. It also has powerful sales, marketing, and operations management tools both built into the platform or available as plugins. 
In contrast, building your ecommerce store on WooCommerce involves more work and will require you to be more reliant on extensions and third-party services. But if you have the patience, knowledge, and resources to plan and prepare everything you need, WooCommerce can be less expensive. The flexibility it offers might also be better for branding and optimizing customer experiences.
Whether WooCommerce or Shopify is best for your business, use Omnisend to drive sales on autopilot.
Get started with Omnisend today & drive sales on autopilot with pre-built automation workflows
Special thanks to our friends at
Omnisend
for their insights on this topic.