Do you have an abandoned cart problem? If so, don't panic, this is a very common issue for Shopify store owners. In fact, according to a Statista report, the average online shopping cart abandonment rate is a massive 79.8%. You're in good company!
A good Shopify abandoned cart app can win back a healthy percentage of this lost revenue. To help, we've put together a fresh list of the very best Shopify abandoned cart apps, based on both user reviews and their overall effectiveness.
How to recover abandoned carts on Shopify?
It's simple: you choose the right Shopify abandoned cart app for your business and use it effectively. Usually, this means sending a series of carefully-timed messages over multiple channels, reminding the customer of their missed purchase.
Messages can include things like a photo of the abandoned item, an easy link back to the product page, an incentive such as a discount or free shipping, and similar product recommendations.
Popular channels to recover abandoned carts on Shopify include:
Email: This is the most common and cost-effective method, converting an impressive 34% of lost orders
SMS: These widely-read messages can add a sense of urgency to your abandoned cart series with time-sensitive deals
Exit-intent popups: Catch users as they are preparing to navigate away from your store and give them a second chance to complete the purchase
Website chatbots: These handy helpers guide users through the shopping experience and can leave subtle reminders about an unfinished purchase
Push notifications: Increasingly popular push notifications give reminders directly on-screen, regardless of which website the user is browsing.
It's always a good idea to use a combination of these channels in your abandoned cart workflows. Let's check out the best Shopify abandoned cart apps that allow you to do this.
Best Shopify abandoned cart apps

Omnisend is the most complete marketing automation app for Shopify. Designed specifically for ecommerce retailers, it naturally includes powerful abandoned cart features. You can easily combine email, SMS, and more for a truly omnichannel abandoned cart strategy.
Features:
Advanced segmentation: Break your audience down into smaller, more specific categories for more personalized and relevant abandoned cart messages
Pre-built automations: Save time with effective pre-built abandoned cart workflows created specifically for ecommerce and backed by data
Drag-and-drop builder: If you want to customize you can with easy drag-and-drop functionality
SMS and push integration: Seamlessly add SMS and push notifications into your abandoned cart workflows for urgency and time-sensitive deals
Powerful analytics: Discover exactly what's working and what needs a few tweaks with in-depth analytics and actionable insights
Why choose Omnisend?
With its focus on easy-to-use automation, Omnisend makes good on its promise of increasing your sales, not your workload. Workflows are quick to set up and run seamlessly in the background, driving sales on autopilot and drastically reducing your abandoned cart rate.
Another useful feature of Omnisend is the ability to track visitors with cookies, so you can send abandoned cart messages to visitors who aren't yet subscribed to your list. And the best part? All features are accessible on their free plan, so you can get started right away.

Tidio prevents cart abandonment at its source by reaching out to shoppers while they're still shopping. Using smart exit-intent technology, this Shopify abandoned cart app displays automatic reminders via chatbots. You can also "catch" customers in real-time with live chat.
Features:
Pre-built cart abandonment chatbots: For quick set up and start
Drag-and-drop editor: To easily customize chatbots without coding skills
Multiple languages: Provide an international outreach
Why choose Tidio?
Tidio's cart recovery chatbots appear instantly after cart abandonment and can appear on multiple pages of your website. You also have the option to chat with shoppers in real-time via live chat and offer them special deals to complete their purchases.
And it's not just chatbots and live chat—Tidio offers cart abandonment emails too. The Free version offers Chatbot conversations with up to 100 visitors per month, with more features and chatbots starting at $15/month.

Rivo is a simple cart abandonment solution. It offers push notifications that work without the need to capture email addresses or phone numbers. There are also email and SMS options for your subscribers.
Features:
No coding: Simple one-click set up for instant use
Easily customizable: Create the right messages to suit your brand
Three channels: Reach out with email, push notifications, and SMS
Why choose this cart abandonment Shopify app?
Rivo offers a Free version that includes automated cart recovery via push notifications and email. Paid versions include SMS and more advanced automation rules, charging an extra 2.5% commission on orders the app generates from abandoned carts.
For quick and easy abandoned cart solutions with basic features, the Free version of Rivo can be useful for small businesses. Customer service is excellent and attentive, helping new users to quickly set up and start generating abandoned cart sales.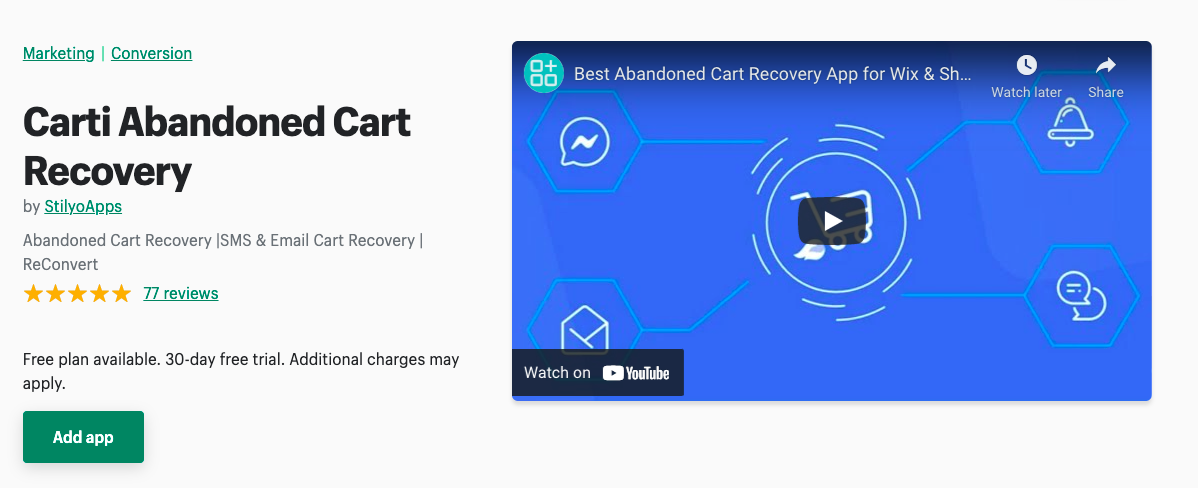 Carti allows you to run multichannel abandoned cart campaigns via email, SMS and push notifications. It also offers other growth tools such as browse abandonment to further increase your revenue and distribution lists for more personalized messaging.
Features:
Multiple channels: You can currently reach out via email, SMS, and push notifications, with other channels such as WhatsApp and Telegram coming soon
Feature-packed Free version: The free version gives access to all features. Prices depend on the revenue generated by the app
Browse abandonment: Reach out to shoppers who didn't place a product in their carts yet, but browsed certain pages and products
Why choose this Shopify app for abandoned checkout?
Carti offers a range of growth-focused automations, including browse abandonment, order confirmation, fulfillment updates, and more. However, its cart abandonment recovery feature is the main focus and its most effective feature.
It allows you to create a multichannel cart recovery strategy for reaching out to visitors in the places that they prefer. Not only will you take them back directly to the checkout, but you can offer automatically generated discounts & coupons as incentives to finish their purchase.

PushOwl specializes in highly-visible push notifications sent directly to mobile or desktop. These are great for quick cart abandonment reminders as they're instant and don't require the user to open anything. Retailers use PushOwl mainly for its effective cart recovery feature.
Features:
Segmentation: Send more personalized messages to visitors based on their location, gender, purchase history, and on-site behaviors
Cart Reminder Sequence: A pre-built, easily customizable automated workflow sends a series of 3 different messages designed to elicit urgency and bring customers back to the checkout
Dynamic Hero Images: A hero image of the abandoned product is dynamically generated and displayed on the push notification, helping customers to remember what they missed
Why choose this Shopify app for abandoned checkout?
With its focus on maximum visibility, PushOwl is ideal for short, sharp cart abandonment messages that are easy to consume. Push notifications are particularly effective for mobile users, so retailers with a high percentage of mobile shoppers can expect great results.
Analytics is also a strong point of PushOwl. You'll get actionable insights on every cart recovered, the total revenue generated, and how different abandoned cart messages are performing. The Business Plan offering cart recovery features starts at $19/month.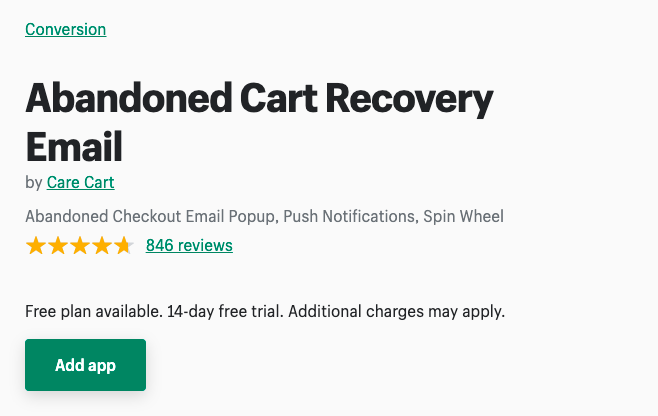 Care Cart is a simple and effective cart recovery app that retargets users via automated email marketing and push notifications. It also offers the possibility to include incentives such as discount codes with an interactive and engaging " Spin the Wheel" feature.
Features:
Easy-to-use automation: Care Cart's pre-built Abandonment Protector feature is quick to set up and automates a series of abandoned cart recovery emails for order recovery
Mixed retargeting strategy: Combine email campaigns, push notifications, and cart reminders for maximum visibility
Interactive discount form: Increase engagement and offer tempting incentives with a fun Spin the Wheel game
Why choose this Shopify app for abandoned checkout?
The introduction of a gamified element helps Care Cart to stand out from the crowd. Gamification is an effective and increasingly popular strategy in ecommerce, with Omnisend reporting that its interactive Wheel of Fortune outperforms other subscription forms by three times.
With a $12/month Pro Package offering up to 300,000 monthly emails, Care Cart is a cost-effective option for businesses of all sizes.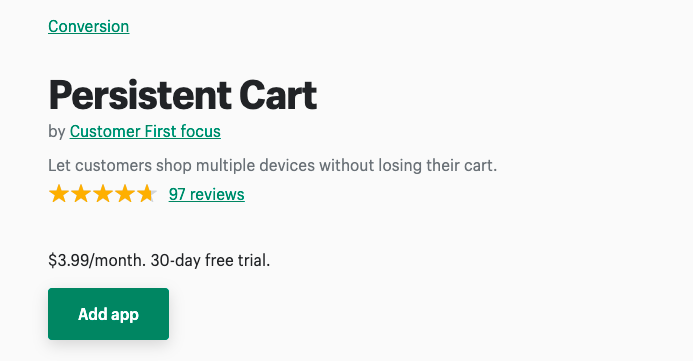 Persistent Cart syncs shopping carts to customer accounts to keep them active and accessible over multiple devices. This prevents shoppers from losing the items that they've saved in their carts for later purchase while increasing your sales.
Features:
Automatically sync carts to account: Never lose sales again due to items not appearing in carts on other devices
Quick and easy installation: One-click installation for immediate use
Pop-up alerts: Shows items in a customers cart when they log into new devices
Why choose this Shopify app for abandoned checkout?
Shoppers often use their carts as a 'save for later' place and regularly change devices throughout the day. Persistent cart keeps items synced and easily accessible, preventing lost sales and the need for customers to search for products again.
At just $3.99/month, this simple app runs in the background and provides the kind of intuitive experience that customers expect. Retailers find that it usually pays for itself in 1-2 days, making it a no-brainer for busy stores.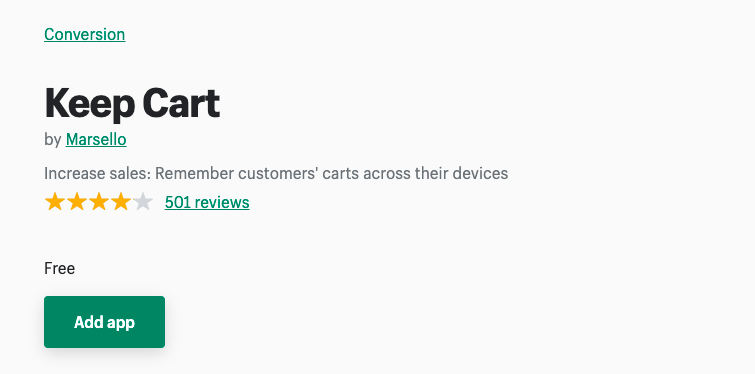 Similar to Persistent Cart above, Keep Cart by Marsello works to keep your shopping carts synced over multiple devices. Having saved items accessible at all times is convenient for the customer and reduces your abandoned cart rates.
Features:
Set and forget installation: Simply install and Keep Cart works automatically in the background
Merge carts: Customers can merge carts from their previous sessions to have all of their items in one place
Seamless experience: Items are always available in carts across all devices
Why choose this Shopify app for abandoned checkout?
Keep Cart by Marsello is a free app that works seamlessly in the background to keep customer carts synced. While this might seem to be a basic feature, you'll quickly find that you're losing sales without it. Inconvenienced customers will quickly leave your store for a better experience.
Some users have reported errors in syncing, with orders being doubled in the cart and causing confusion for customers. However, it's definitely worth trying this free app and upgrading to a paid version such as Persistent Cart if problems arise.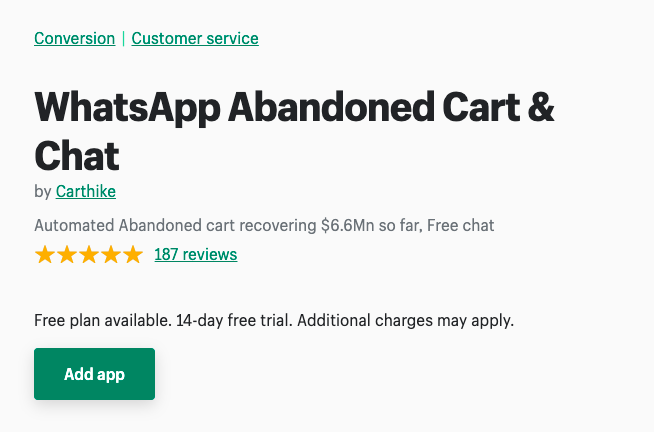 WhatsApp is the most-used mobile messenger app, with over 2 billion active users worldwide. WhatsApp Abandoned Cart & Chat allows you to send unlimited cart recovery messages over this massively popular channel and close more sales.
Features:
Automated recovery: Send automated messages to WhatsApp contact when they abandon their carts
Manual recovery: Reach out personally over WhatsApp with special deals and incentives to complete the purchase
Smart SMS fallback: If a customer can't be reached via WhatsApp an SMS is automatically sent to their mobile number instead
Why choose this Shopify app for cart abandonment?
Customers love being contacted on the channels that they are most comfortable on. For many people, WhatsApp will be their preferred channel. With WhatsApp Abandoned Cart & Chat you can send cart recovery messages directly to their phones, increasing your chances of conversion.
The Free version offers basic features and up to 100 manual cart abandonment recovery messages. For automated messages, you'll need a paid version with plans starting at $9.99 a month and $0.02 per automated message.

Facebook Messenger is another incredibly popular communication channel that customers feel comfortable using. Facebook Messenger Cart Recovery does exactly as the name suggests—allowing you to reach out via Messenger to recover abandoned carts.
Features:
Abandoned cart campaigns: Reconvert customers who abandoned carts by sending timely and proactive messages via Facebook chat
Visual pop-up: Show attractive pop-ups along with discount codes to seal the deal
List subscriber: Easily add subscribers to your Messenger campaigns with an intuitive list subscriber feature
Why choose this app for Shopify cart abandonment?
Facebook Messenger Cart Recovery is your go-to app for recovering carts via the popular and personal Facebook Messenger channel. You also get a bonus in the form of Live Chat features that allow instant connection with visitors to your store.
There is a Free version of the app, but it doesn't support cart recovery. For that, you'll need the Premium plan that costs $9.99/month. For brands with a younger audience who use Facebook Messenger frequently, this is definitely a worthy investment.
Best Shopify abandoned cart apps: Summary
The right Shopify abandoned cart app for your business depends on your particular needs. Which channel does your target audience prefer?
Email allows the most flexibility in terms of content—you can include photos, incentives, recommendations, and so on. However, emails are not always read. Supplement them with timely channels like SMS, push notifications, WhatsApp messages, and more.
We hope you found our list useful! Choosing your Shopify cart recovery app is just the first step—building your perfect abandoned cart strategy comes next. Good luck!
Get started with Omnisend today & drive sales on autopilot with pre-built automation workflows
Special thanks to our friends at
Omnisend
for their insights on this topic.