Big box stores may have had their holiday planning all completed by July, but we know small business owners are, well, busy. And you may still be tying up loose ends before the holiday rush hits.
Don't worry. You're not alone. In fact, many customers that we've spoken to recently are in the same boat. So we decided to put together this last-minute checklist to help you make the most out of Black Friday, Cyber Monday, and the rest of the holiday selling season.
1.) It's all about the offer
Only 2% of ecommerce website visits result in a purchase. This is why the most important factor in your holiday sale is what you're offering your customers.
We did a recent survey of various offers and their efficacy, and here's what we found:
89% of people will opt-in for a discount (or buy one, get one offers)
56% will opt in for free shipping
41% will opt in to stay informed (newsletters, etc.)
34% will opt in for access to exclusive content (i.e. free cookbook with offer)
While it's clear discounts are the most effective, we know that every business is different (as well as your margins). Ultimately, you need to think about what will resonate with your shoppers (what's worked best for you in the past?), what you can afford, and the action you want your shoppers to take.
Related content: Ecommerce Discount Strategies: How to Craft an Offer Shoppers Can't Refuse
2.) Tailor your paid ads to drive urgency
You're coming up on the final weeks of the "marketing moment" known as BFCM. And you should be using this time to drive as much urgency as possible. This holds true for your paid ads as well.
Take a look at the examples below, provided by our friends at Shoelace. In the days leading up to Black Friday, use language like "The countdown is on! Sale starts November 22nd!"
Then once the sale has started, indicate that with "The sale is on!" or "The wait is over!" to drive more clicks to your site with urgency.
Credit: Shoelace
For extra credit, tie your pop ups back to your paid ads for a seamless customer experience.
3.) Don't sleep on great customer service
Whether a shopper is a returning customer or this is their first time shopping with you, you need to make sure their impression is a lasting one. Studies show that consumers are willing to spend 17% more on a company that has outstanding customer service.
We know. This is an incredibly high traffic time of years with orders flying off the virtual shelves from left and right.
Our best advice? Automate as much of the customer service experience as you can. Services like Gorgias.io allow you to set up automated responses to key phrases like "where is my order" via channels such as chat on your website, SMS, Facebook Messenger, email, and more.
Credit: Gorgias.io
4.) Don't let a shopper leave without capturing their email
You hear us preach about this a lot (ok, we preach about this every single day), but as many times as it's been declared in the last decade, email is far from dead. In fact, it's the preferred communication channel for most shoppers.
Not to mention, an email address is worth around $15 for merchants.
Remember that 2% conversion stat from earlier? The one where only 2% of online store visits result in a purchase? That means that 98% of those visitors aren't ready to make a purchase the first time you come to their site. But if you capture their email, you can follow up with discounts and other offers, or education about your product, convincing them to buy.
Capturing email helps you turn a complete stranger into a subscriber, and then hopefully a customer for life.
5.) Use phone number and Facebook Messenger opt ins
Capturing an email address is fantastic. Your shopper is no longer a stranger and you can send them awesome deals and offers.
But today's shoppers are accessible on more channels of communication than ever. Let them choose where they want to hear from you by allowing opt ins for SMS/Text messaging as well as Facebook Messenger.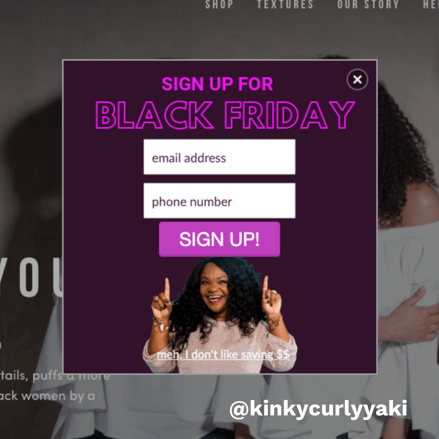 According to our friends at Octane AI, these messages see
80-95% open rates
43% click rates
And 1 out of 9 abandoned carts followed up with via Messenger turn into a sale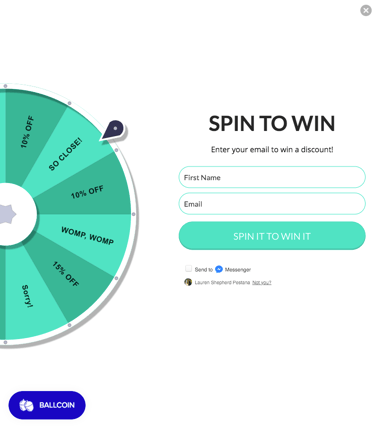 Credit: Ball Wash
6.) Test, test, and test again
Last year, Privy merchants saw that their traffic doubled on average over Black Friday/Cyber Monday weekend. This means you have double the sample size for A/B testing.
A/B testing is the best way to increase your conversion rate. This could be as simple as the color of a button or background on your campaign or your call to action (CTA) language.
For example, Zutano, a baby bootie brand, made some minor changes in size, darkened the background, changed some more colors, and removed the border on a campaign and saw a 25% increase in emails addresses captured.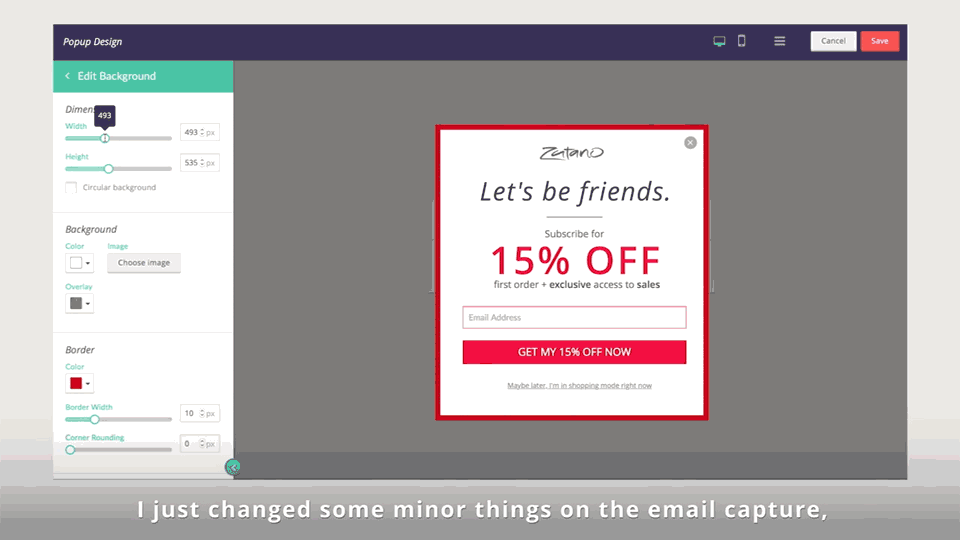 Related content: How to Calculate Conversion Rate
7.) Use email and social channels to promote your sales
It may sound obvious, but folks that are on your email list and/or follow you on social media are already invested in your brand. Use Instagram, Facebook, and email to count down to your sales or show off limited edition merchandise available for the holidays.
Credit: Twenty One Threads
Or take some inspiration from Inked Gaming. They created a whole list of holiday gift ideas to make it easy as pie to buy for friends and family.
Credit: Inked Gaming
We also love this email example from Zutano.
Honestly, anyone who uses GIFs in an email gets extra credit in our book. They are so fun to look at.
8.) Proactively combat cart abandonment
You spend a lot of time driving people to your website through paid advertising, SEO, social media, and more. Which again, on average, means double the traffic during the holidays. Great news!
Except it also means double the abandoned carts, unless you are proactively trying to stop them.
Cart savers are the best way to do this. A cart saver is a pop up display that launches when someone is about to exit your website with items remaining in their cart. You can offer a discount as an incentive to check out right then and there, or follow up via email with a discount code. We recommend doing both.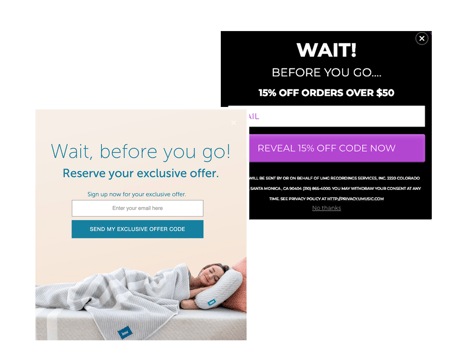 If they still don't complete their purchase, you can send a series of emails to encourage them to do so.
9.) Don't pass up the opportunity to upsell
Shoppers that have items in their cart have a high intent to purchase. Target those customers with an upsell campaign to increase your average order value (AOV).
Take this example from Peejamas. Once a shopper adds two pairs of Peejamas to their order, they trigger a pop up to offer up a third for half off. That's a great deal!
Now your shopper has a gift for three family members instead of two, and everyone wins.
Related content: 6 Upsell Tactics to Increase Your Average Order Value
10.) Don't skip the follow-up
Once you land the sale, your job isn't quite over with. Order follow up emails are critical to confirm the purchase and provide accurate shipping information, but more than that they're an important touchpoint in your relationship with your customer.
This is another chance to familiarize the customer with your brand and tell them how much you appreciate them, in hopes they'll become a loyal customer.
As a bonus, take this opportunity to encourage product feedback and reviews, ask for a referral, or showcase loyalty programs.
This article was originally published by our friends at Privy.