Reading Time: 8 minutes
If you've taken the plunge and finally started your own online store, it's absolutely normal to feel discouraged by the amount of work you need to accomplish. As someone new to this, you can get overwhelmed by all the tasks you may not have foreseen. You'll need to manage menus, add trust signals, optimize for SEO, etc.
The difficulty of setting up a new online store could shift your focus from things that really matter, especially at the beginning. That's why we're sharing ten Shopify tips to help you ensure your business hits the ground running.
Follow these tips to guide you through the development of your first ecommerce store. These will enable you to get your products seen by your target audience as soon as possible.
Choose the right theme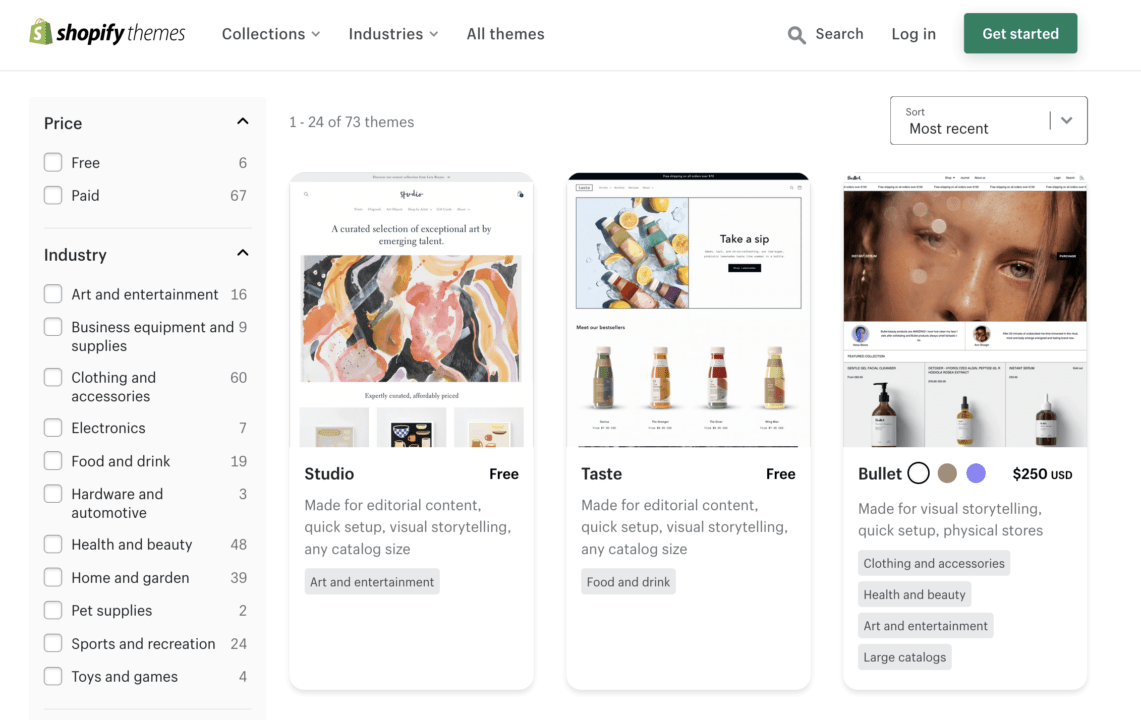 Finding the right Shopify theme is tricky because there is actually no wrong theme. You can build a store using practically any theme but the best choice will tick all of these boxes:
It reflects the brand you envision
It's easy to navigate
It offers some visual storytelling
It has the ecommerce features you need
Additionally, premium isn't necessarily better when it comes to Shopify themes. Sure, you may find better quality themes as you browse through paid options but paid themes aren't always what makes a good store. The best choice is the one that meets your budget. So if you find a free or inexpensive theme that ticks all the boxes, go for it!
Add refunds and returns policies
Your store policies show that you care about providing value at the level your customers expect. Having fair and customer-friendly refunds and returns policies on your site will help you build trust and let consumers feel safe about transacting with your store.
Thankfully, Shopify makes it easy to generate refund policies and there are several other resources online that will help you make sure you have all things covered for the protection of your shoppers as well as for yours. Get your policies up as soon as possible and then you can keep improving on them as you get more feedback from your customers and learn about their preferences.
Here's a simple but effective example from AquaFlask: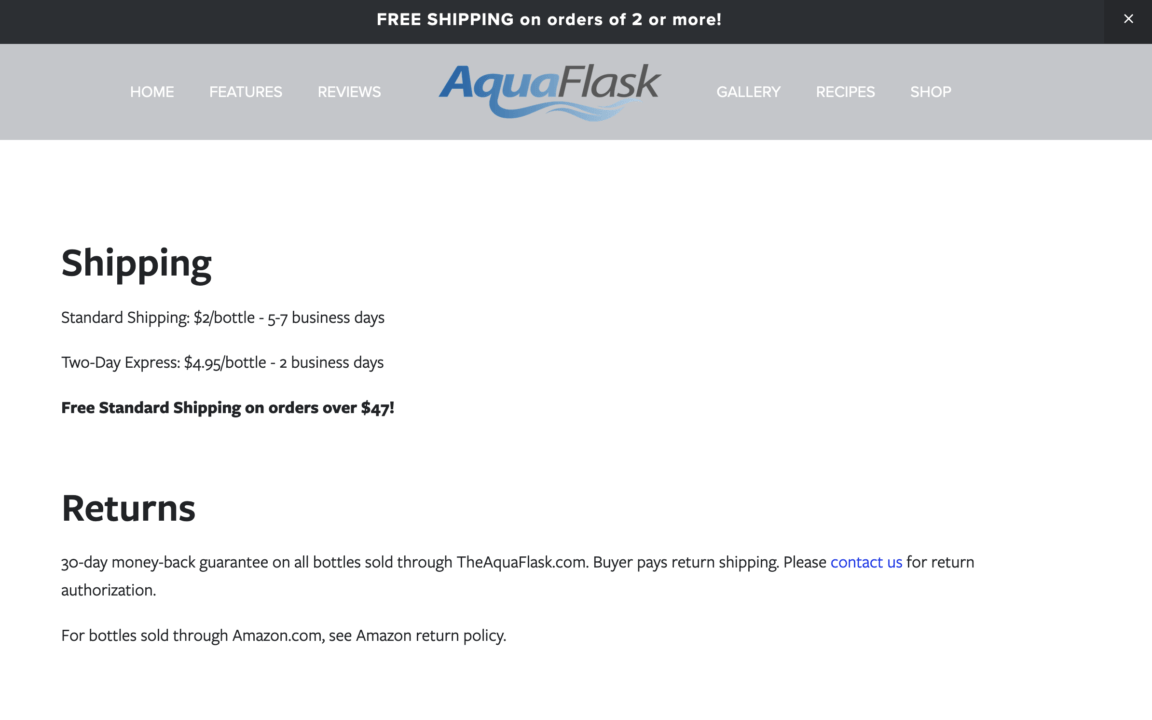 As you create your policies, keep these tips in mind:
Keep the language simple to prevent misunderstanding
Define a reasonable timeline for returns (e.g., up to 60 days)
Convey refund conditions clearly
Describe the expected condition of returned items
Additionally, research shows that 92% of consumers will buy from a store again if they've experienced an easy returns process. So don't think of returns as lost business but opportunities to provide excellent customer experiences. It will translate to sales and better brand affinity later on.
Maximize loading times
How quickly your website appears to visitors will directly affect your sales. In fact, as much as 32% of your visitors will leave if your website takes more than three seconds to load. 
Here are some tips to optimize your Shopify store for speed:
Compress all media files – Large images take long to load. Use a service like TinyPNG to compress your images before uploading them onto your Shopify store.
Disable unused theme features – Themes that aren't custom-made for your store may have features that you don't need. Disable them to keep the theme from using up resources.
Remove unnecessary plugins – Plugins are necessary to make Shopify work for you but make sure you remove any that you no longer need because keeping them there affects your site speed.
Generate AMP pages – AMP is Google's caching solution and it stands for accelerated mobile page. You can use a service like FireAMP to implement this solution on your Shopify store and ensure faster loading times on mobile as well as higher rankings on search engine results pages.
Choose a reliable email marketing app
Email marketing is an effective and cost-efficient way to keep your target audience engaged with your brand. Make sure you select a tool that will help you achieve your business goals while also decreasing your workload.
Launched in 2020, Shopify Email is relatively new and is still in the process of being fleshed out. Nevertheless, it is a native app that the platform will always recommend. If you want to give the service a chance, here's a step-by-step Shopify Email setup guide.
You'll also find that MailChimp is a common recommendation. But between their recent price increase and the surprisingly low overall rating of 3.5 out of 5 (from over 450 reviews), it's smart to consider Mailchimp alternatives.
Omnisend has an overall rating of 4.7 (from over 4,100 reviews) and for good reason. Users highlight its ease of use thanks to an intuitive interface. Plus, its free plan already lets you send out up to 500 emails a month and even includes up to 60 text messages and 500 web push notifications. As a new business, this free tier is more than enough to hit the ground running and then scale up affordably as you grow.
Additionally, Omnisend enables you to create professional-looking email templates and attractive email capture forms without having to write a single line of code. You'll also be able to automate most of your email marketing and let your campaigns run on autopilot.
Learn how Black Mango gets 43% of email revenue with Omnisend's automated campaigns feature. Read the Black Mango case study.
Get traffic from free sources
Running digital ad campaigns may seem like the ideal way to quickly generate buzz but they can get expensive. When you're starting out, it helps to focus your efforts on free but high-quality traffic sources.
Here are a few tips to start marketing your Shopify store for free:
Build a social media presence – Set up social media accounts for your brand and promote them to groups with similar interests.
Tap your personal network – Tell your friends and family about your business and engage them throughout your entrepreneurial journey. Remember, they all have their own networks that may help you promote your business much more quickly.
Try Pinterest – Pinterest puts your brand in front of 367 million active users looking for inspiration on products to buy. 
Maintain a blog – Provide valuable information and establish yourself as an expert in your niche by writing useful blog posts. This will also help you rank on Google for relevant search terms, boost your SEO, and drive targeted web traffic.
Set prices with no 99-cent endings
As you populate your Shopify store, you might be tempted to publish prices that end with 99 cents. Don't do it. Many seem to think that doing so makes your products look more affordable, but they don't. Instead, they make your products look cheap.
Rather than trying to convince your audience that you have cheap products, focus on highlighting features that make your product unique. Your main goal should be to convince them of your value and that starts with doing away with cheap, discount store tactics like 99-cent pricing.
Automate basic SEO tasks
Search engine optimization is crucial for driving targeted, organic traffic. But there are many aspects to SEO and some can get very technical, making it difficult and overwhelming for the typical Shopify store owner.
Fortunately, there are now apps that can take care of many SEO tasks for you on autopilot. Yoast SEO is the most popular Shopify plugin for this purpose. But there are some like Smart SEO that automates or simplifies several SEO tasks for free until you've grown enough for an upgrade.
Write an FAQ section
Compiling answers to the most common questions you get from shoppers will not only save you a lot of time but also move customers along your sales funnel more quickly. Ultimately, it saves you costs as you avoid using up resources to answer the same questions over and over again. It also boosts your revenue since customers are more likely to buy when they're not plagued with uncertainty.
FAQs will differ for every business, but if you're selling physical products, consider describing your shipping policies (e.g., which countries you ship to, how much it will cost, how soon to expect the package, etc.) and returns policies (e.g., the returns process, how to qualify for refunds, etc.). You should also cover questions about your products specifically, including size, materials, and proper care.
Here's a good example from Greats:
Remember, you can add more to this page later on as you receive more inquiries from your target audience. Don't feel like you need a comprehensive FAQs section right away.
Upsell or cross-sell products
When you already have a shopper that's primed for purchase, chances are you can get them to spend more using subtle but effective upselling tactics. Here are some things you can do to impact your average order value:
Entice with an upgrade – Show that the benefits of an upgraded version far outweigh the price difference. Then, give them an easy way to upgrade their selected item.
Recommend complementary products – Show add-ons or related items that could enhance their enjoyment of what they're currently buying. 
Offer a reward for a minimum purchase value – Show them how little they need to add for valuable rewards (e.g., premium samples, free shipping, exclusive gift, etc.). Then, recommend items that can get them over the threshold.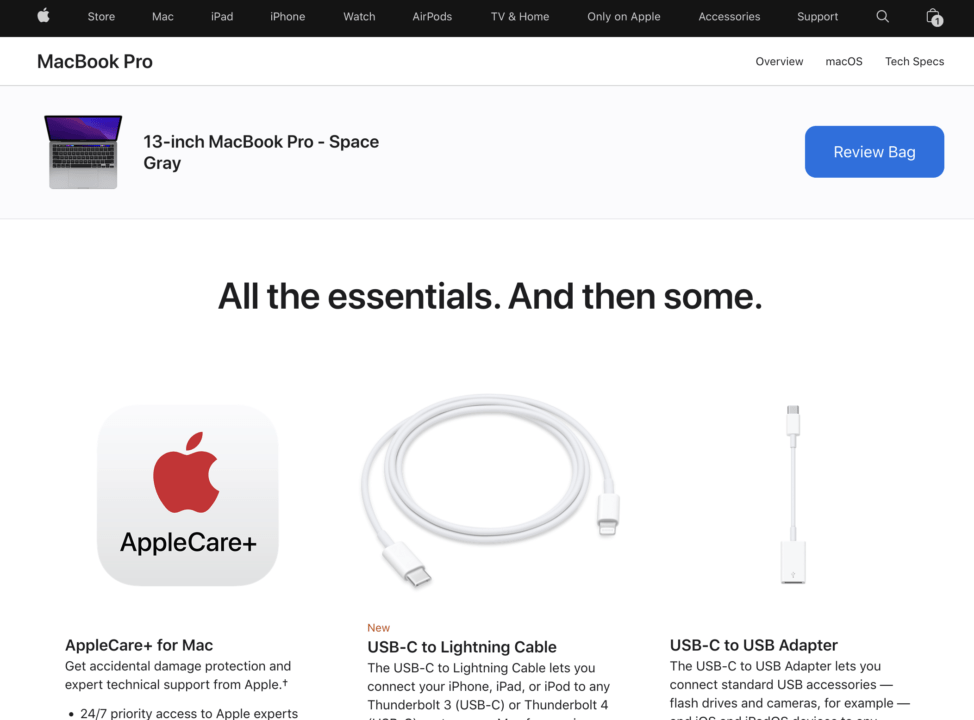 No other brand does this upselling and cross-selling better than Apple. When you're buying a Mac, you can start from the model with the lowest end specs but you'll be asked about several upgrades (e.g., memory, storage, pre-installed software, etc.) throughout the buying process. Then, once you've done configuring your purchase, you're shown recommended accessories before you can actually check out. At the end of the entire checkout process, your cart value will have already increased by several hundred dollars.
Display your value proposition with a headline
Let your visitors know exactly what makes your brand and products special as soon as they enter your website. Use your header wisely to showcase not just your main product through high-quality images but also your value proposition through a clear headline. This will be the basis on which a web visitor decides to close the tab or look around.
Here are some good examples of headers you should emulate:
Here, ember tells the visitor right away that their temperature-controlling mugs make the perfect sip of coffee (or tea) possible.
Here, Stitch Fix highlights their personalized styling service.
Here, Frankie & Friends brings attention to their advocacy of sustainability and slow fashion. 
When you create your own headline, make sure you emphasize what makes your brand unique. Also, consider the following tips:
Keep it short
Be specific
Convey value or benefit
Elaborate using a sub headline
You can also use your main headers to announce special events and share important announcements.
Wrap up
Shopify has made it possible for practically anyone to build an ecommerce store. But that doesn't mean it's always easy. These Shopify tips will help you take care of things that matter the most at the beginning of your ecommerce journey. They will help you prepare everything you need to get your business up and running and ensure that you set yourself up for success.
Get started with Omnisend today & drive sales on autopilot with pre-built automation workflows
Special thanks to our friends at
Omnisend
for their insights on this topic.