The Shopify App Store holds the key to transforming your operations and unlocking revenue growth for your business. But, with thousands of apps to choose from, it can be overwhelming to choose which apps are the right fit for your store.
To help you get started, we've compiled a list of the 11 best Shopify apps to grow your business in 2023.
---
1. Keeper—Recover Abandoned Carts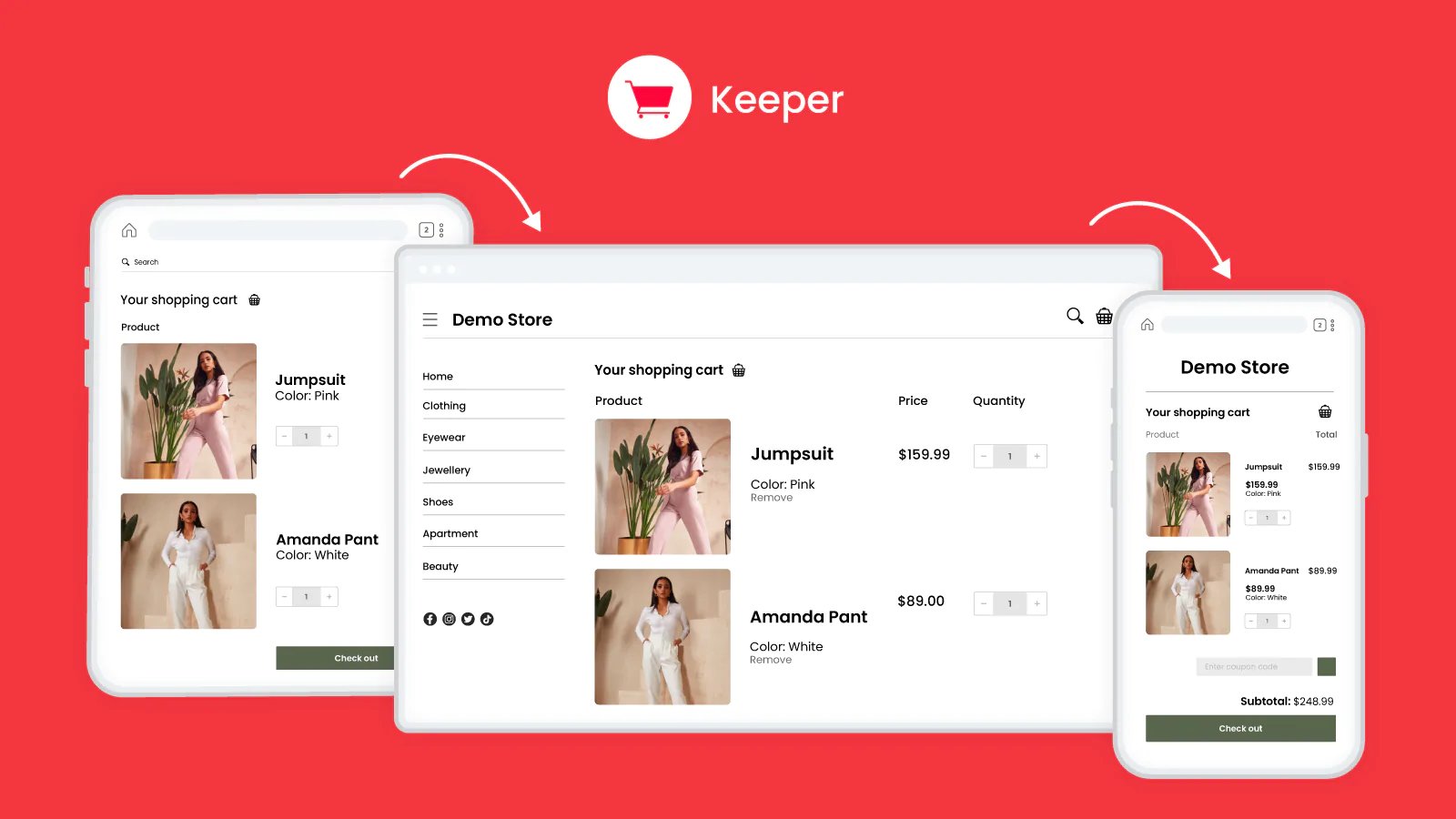 According to the Baymard Institute, the average abandoned cart rate in 2022 was 69.99%. That means that for every 100 people that visit your online store, almost 70 of them will never make it to checkout—that's a lot of potential revenue you're missing out on. 
Keeper is a one-click install Shopify app designed to recover abandoned carts and increase your store's revenue automatically in the background. When customers log in across multiple devices they will find their abandoned shopping cart waiting for them, ready to complete their order. This makes it easy for them to pick up where they left off, resulting in more sales for your Shopify store.
Key benefits:
Automatically prompt users to complete their orders.

Remember customers' shopping carts across their devices.

Merge previously abandoned carts with current ones and drive more sales.

Reduce your abandoned cart rates and drive more sales.
Pricing: Free
Shopify Review | CHIC 414 Boutique
"SO helpful for regaining sales and reminding our clients that they have abandoned their shopping carts. We have definitely seen an increase in our sales."
2. Shopify Flow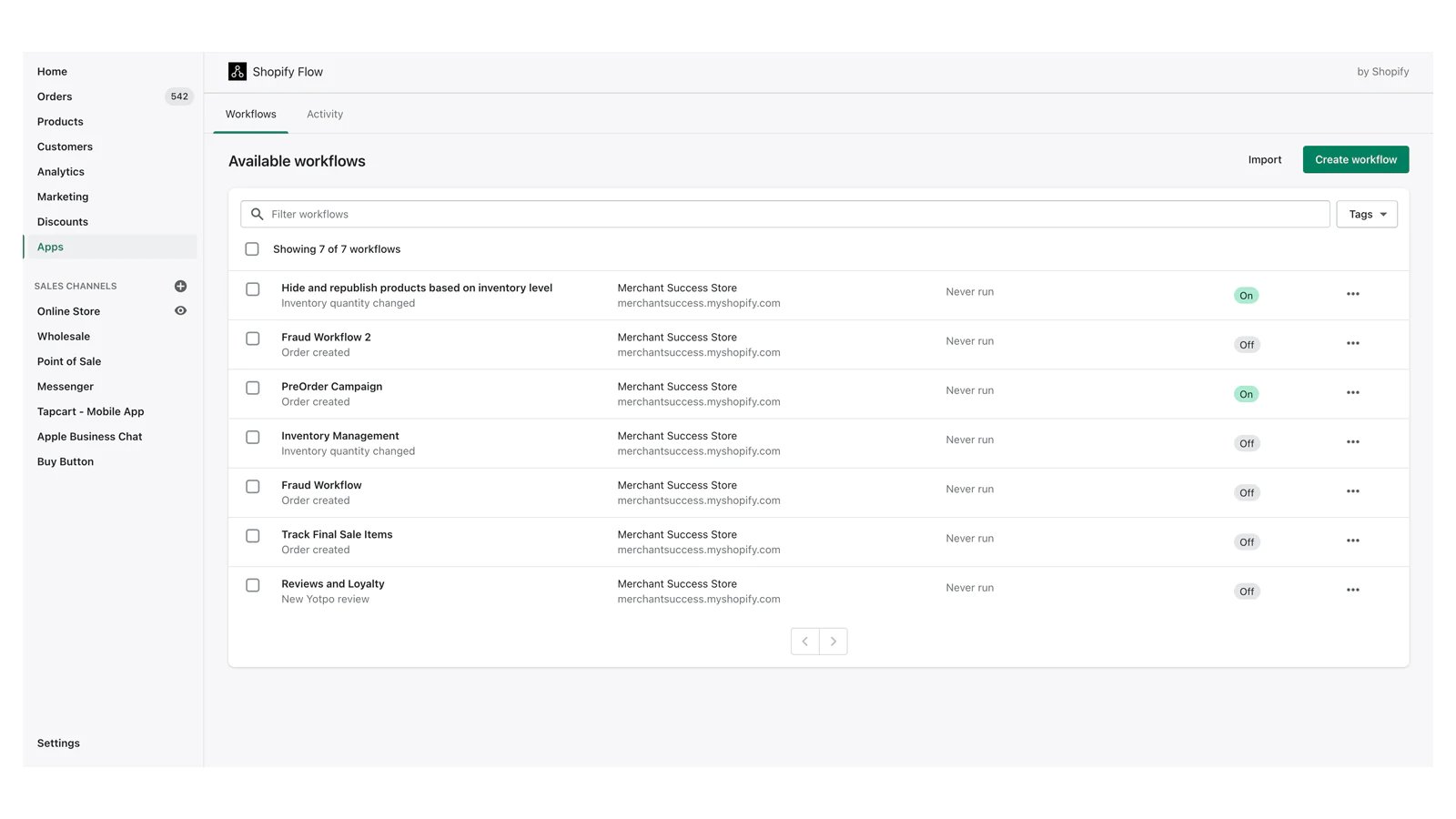 Shopify Flow helps automate processes that solve unique challenges eCommerce store owners face. With Flow, you can easily build custom workflows to solve specific challenges and tasks that would otherwise burn precious time and resources.
Flow is a powerful but simple automation tool. You can quickly customize unique triggers and conditions to create advanced workflows that run on autopilot, all without needing prior developer knowledge. 
Key Benefits:
Create custom workflows and automate processes to streamline your operations

Save time by turning repetitive, time-consuming tasks into automatic workflows

Simple to set up: Automate workflows in a few clicks and get back to business

Pricing: Free
Shopify Review | Landyachtz Skateboards
"In my opinion Flow is the single most valuable aspect of Shopify Plus! The biggest limitation of Flow is your imagination and the things I've been able to automate have been game-changers for our operations. One aspect I never expected was how effective Flow is in helping me build safety nets and redundancies for problems that would go unseen without it. Probably my favourite app."
3. Marsello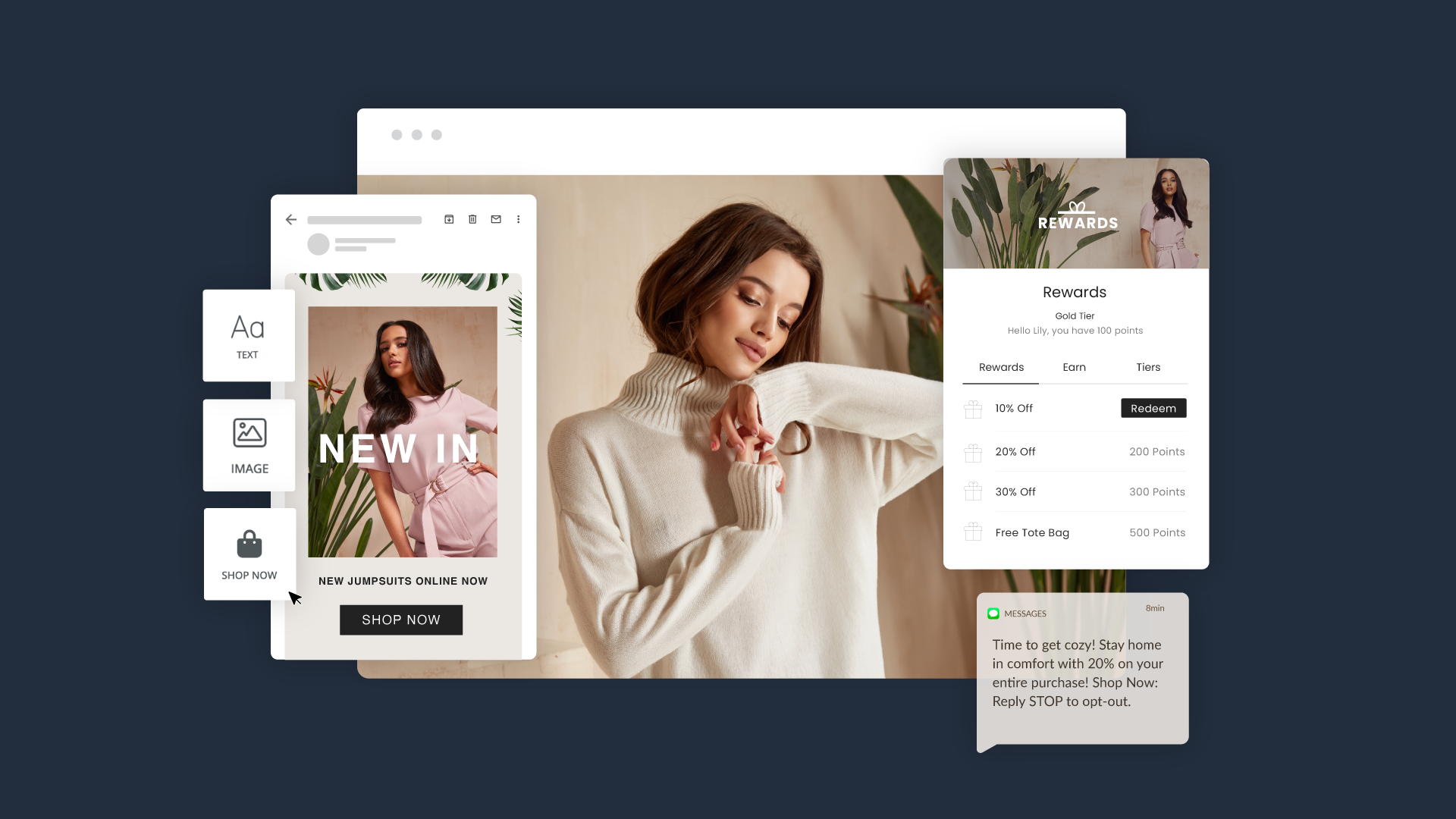 Marsello is a seamless loyalty and marketing platform that helps Shopify brands drive repeat sales and engage customers, no matter how they shop. It offers a variety of marketing features, including loyalty programs, email and SMS campaigns, automations, social media management, and more.
One of Marsello's key strengths is its omnichannel loyalty solution, which allows Shopify brands to run a seamless loyalty program across their eCommerce and brick-and-mortar channels—simplifying your customer loyalty management and improving customer experience.
The platform's eCommerce and POS connection helps brands unify their customer data, making it easy to understand how your customers shop, and providing powerful data that can be used to run more effective marketing campaigns.
Key benefits:
Run a seamless loyalty program across your in-store and online channels.

Save money on subscription fees by consolidating all your apps into one.

Get a complete view of your customer, and harness that data for smarter campaigns.

Incentivize customers to come back more frequently, and spend more when they visit.

Pricing: Free plan available. Paid plans start from $100/month
Customer Review | LEGO® Certified Stores
"Marsello made the most sense as it offers a single loyalty program that extends to customers online and in-store. We have many customers that shop with us in both channels and expect a seamless loyalty and marketing experience."
Recommended app for Shopify stores
Drive repeat sales with a loyalty program that works in-store and online.
4. Loop Returns & Exchanges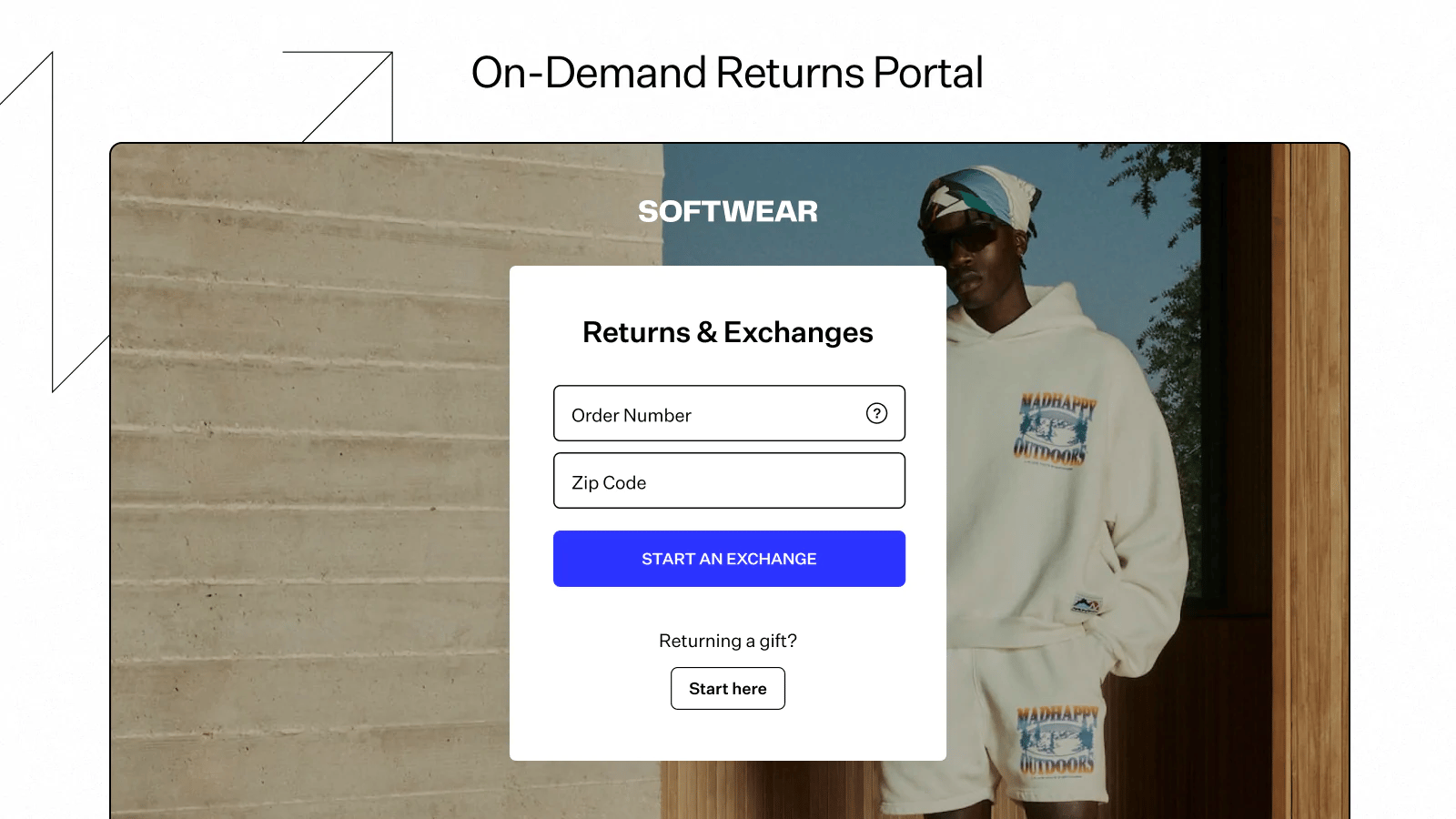 Loop is a returns app that aims to simplify and automate returns, exchanges, and store credit processes for brands. With the global economy facing a potential recession in 2023, retaining customers and cutting costs are more important than ever.
With Loop, you can analyse your customer interactions from a cost-saving lens, helping you to identify opportunities for revenue retention, and nurturing your customers through their most fragile interactions with your store. Control how and when returns get approved, optimize costs, prevent losses of returned products and retain more revenue with ease.
Key benefits:
Retain customers through fragile interactions with your brand and optimize costs.

Save time and automatically control how and when returns and exchanges get approved.

Reduce refunds and negative reviews, and drive repeat purchases from happy customers.
Pricing: Paid plans start from $59/month.
Shopify Review | Mediclio
"Love that this app continues to keep customers and merchants comfort in mind. They continue to vamp up the features so that returns and exchanges process can run as smoothly as possible…"
5. PageFly Landing Page Builder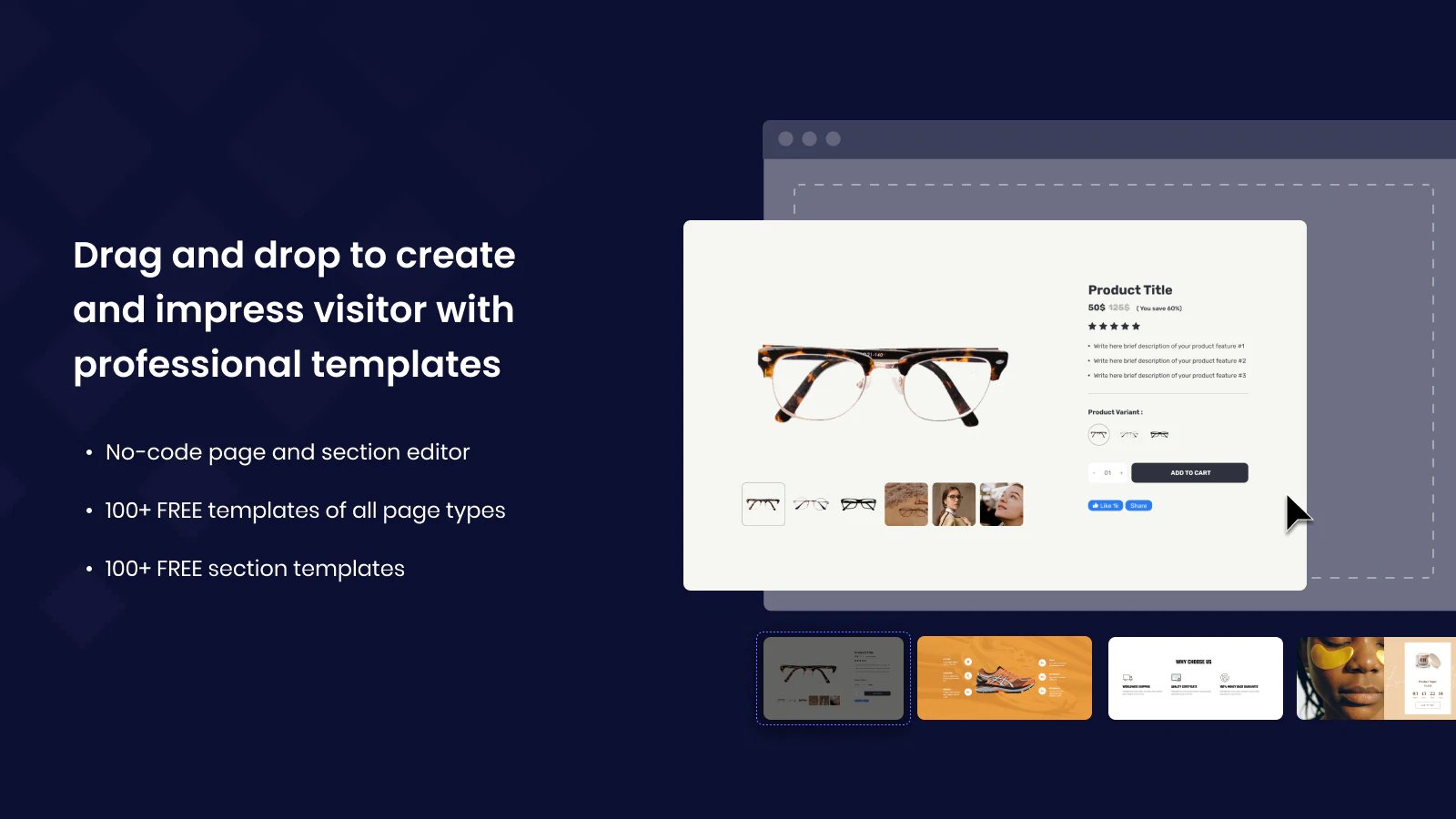 Running a successful eCommerce store requires regularly creating and optimizing landing pages that help turn traffic into revenue. With PageFly, you can drag and drop your way to high-converting landing pages that engage shoppers and grow revenue for your business.
PageFly helps bring your website pages to life with intuitive page-building features and pre-made elements that help you design your storefront how you want it. With its user-friendly interface and pre-built elements, it offers a convenient solution for new Shopify store owners looking to improve their performance.
Key benefits:
Simple drag-and-drop landing page builders that help create pages that convert.

Build landing pages with or without code.

Suitable to build pages of any type and on any device.
Pricing: Free plan available. Paid plans start from $24/month.
Shopify Review | The Sustainable Watch Company
"Really easy to use, similar to the Shopify page builder. Really knowledgeable, helpful support and after-sales service."
6. Stamped Product Reviews & UGC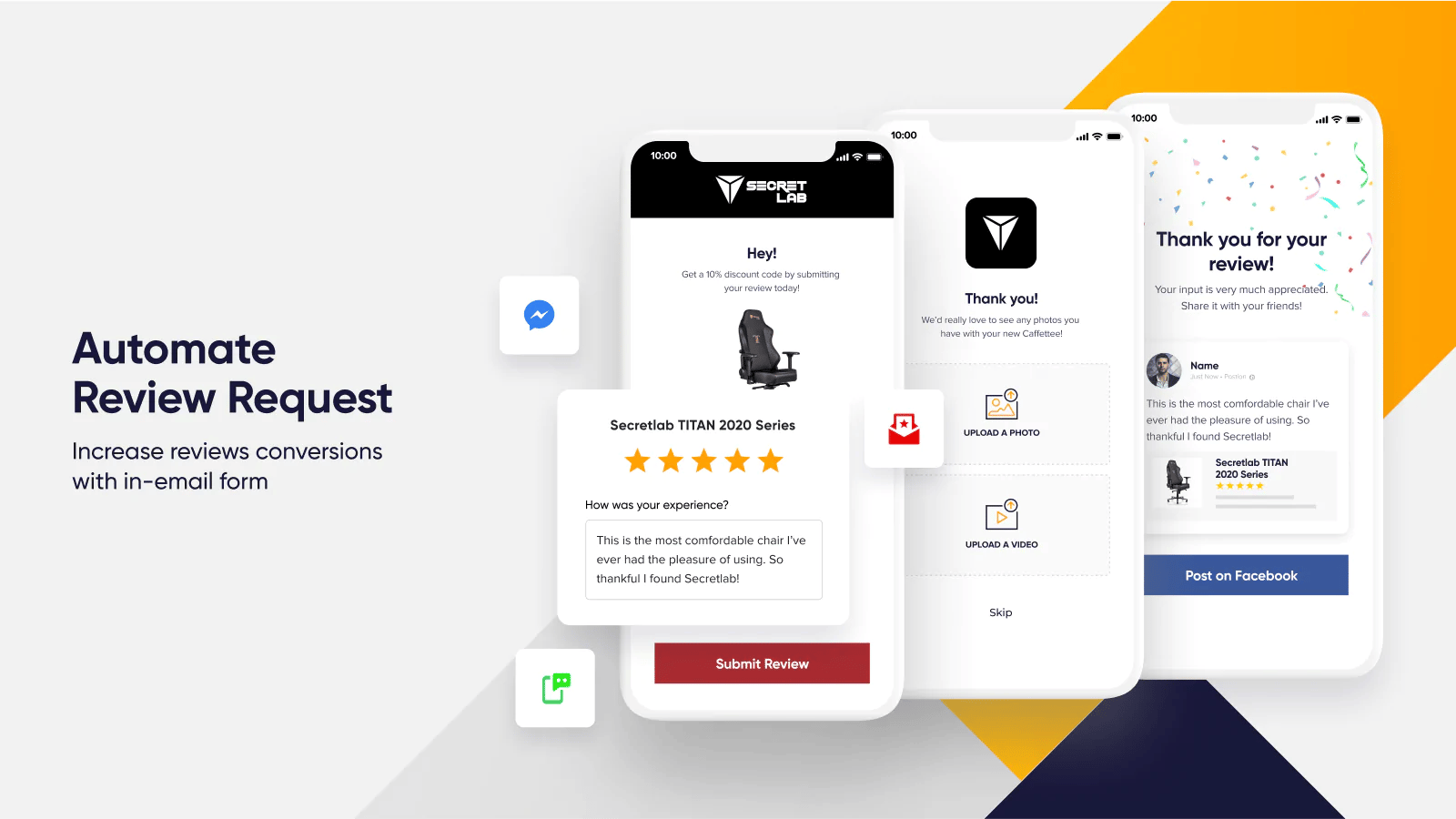 When a customer has a positive interaction with your brand they're more likely to tell other people about you.
With Stamped, you can encourage customers to leave reviews after positive experiences with your brand, then use those reviews to improve your online reputation and stand out from the crowd.
Key benefits:
Collect and showcase product reviews to build trust and transparency.

Improve your website's SEO and Google Shopping rankings.

Gain deeper insights into what your customers think about your service.

Use reviews to promote your business and drive more sales via your store.
Pricing: Free plan available. Paid plans start from $25/month.
Shopify Customer Review, Seed Cycle Brand
"Stamped Product Reviews is a great app if you want a more minimalist and stylish review app. Their support and technology upgrades are great also!"
7. Booster: Page Speed Optimizer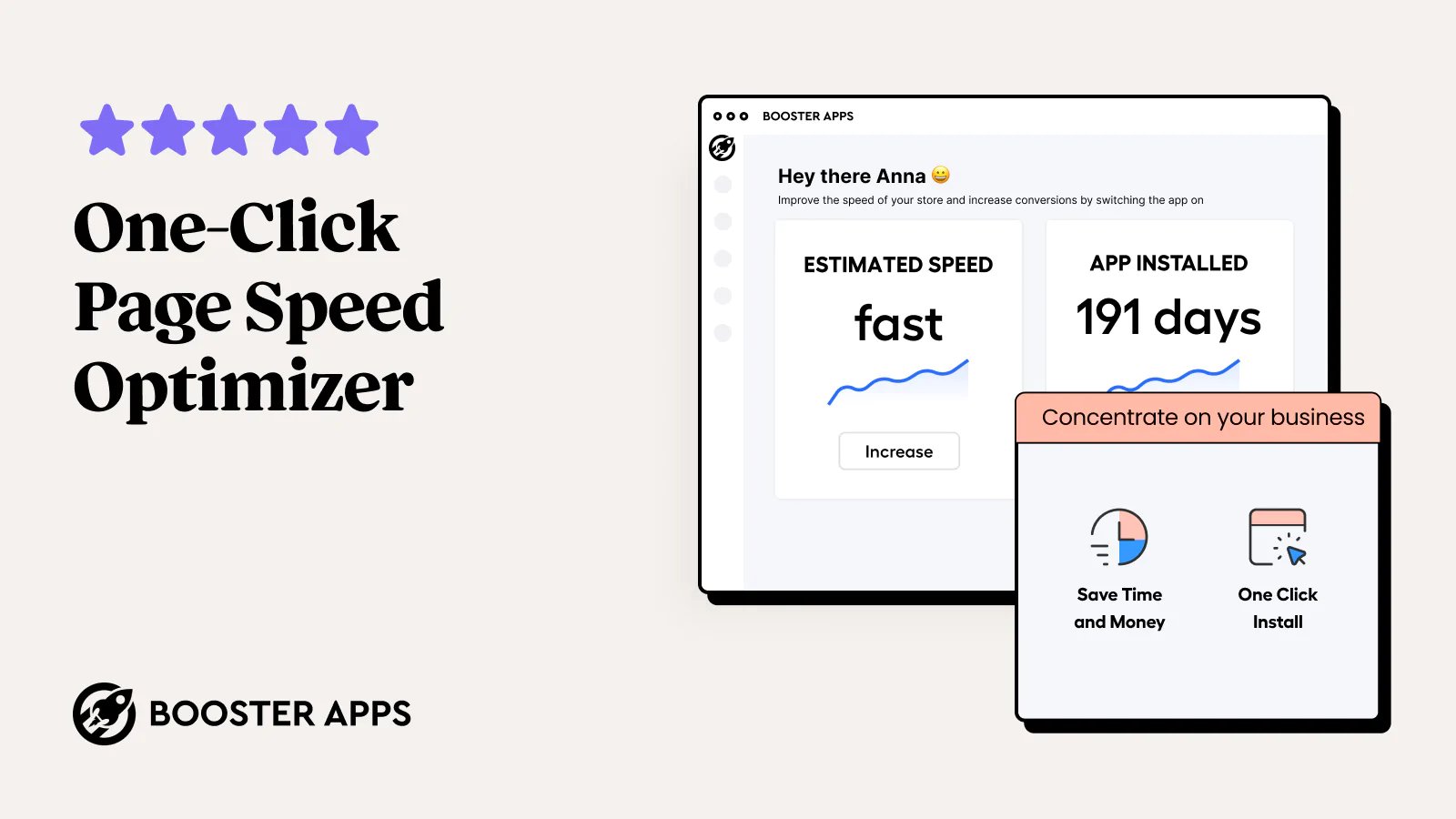 Page load speeds are everything when it comes to conversion. According to Hubspot, website conversion rates drop by an average of 4.42% which each additional second of load time. 
Booster helps your eCommerce stores prevent lost sales by making your Shopify store pages feel like they load almost instantly. With Booster, you can pre-load landing pages and increase your website performance without needing any code.
Key benefits:
Improve your store's load speeds on desktop and mobile.

Reduce bounce rates and improve your chances of conversion with faster loading times.

Pre-load landing pages in the background when a customer hovers over a website link.
Pricing: Free
Shopify Customer Review, Zael Findings
"Very friendly customer service quick to respond and if you are ever looking for a service to get a speed boost I highly recommend for you to check it out."
8. Appstle Subscriptions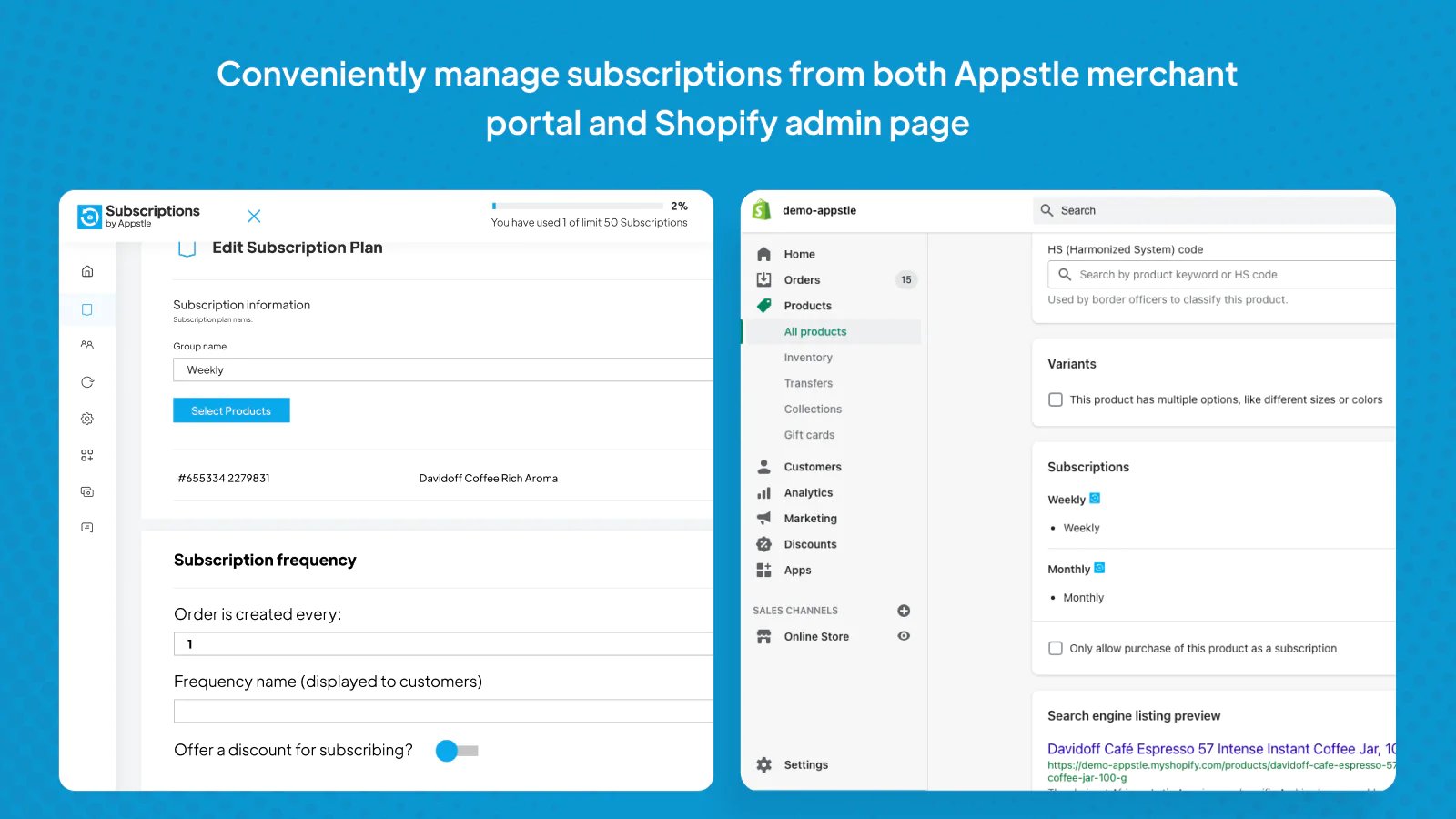 Subscription-based selling provides a consistent, predictable revenue stream from your best customers. If you're running a subscription-based business model, then Appstle Subscriptions is the perfect solution for managing orders and driving repeat purchases.
The app makes it easy to choose and manage subscriptions via the Shopify checkout page and encourages customers to spend more with personalized product offers, up-selling and product bundling. This helps increase customer engagement and provides reliable, recurring revenue.
Key benefits:
Provide subscription plans for customers during their checkout process in Shopify.

Allow customers to manage their subscriptions and skip, reschedule or edit deliveries.

Drive consistent revenue from customers and up-sell personalized offers and bundles.

Pricing: Free to install. Paid plans start from $10/month.
Shopify Customer Review, Friendly Soap
"This app works like a dream. It's really popular with our customers and the support team are very responsive and helpful. Highly recommend."
9. Peek! Better Replay & Survey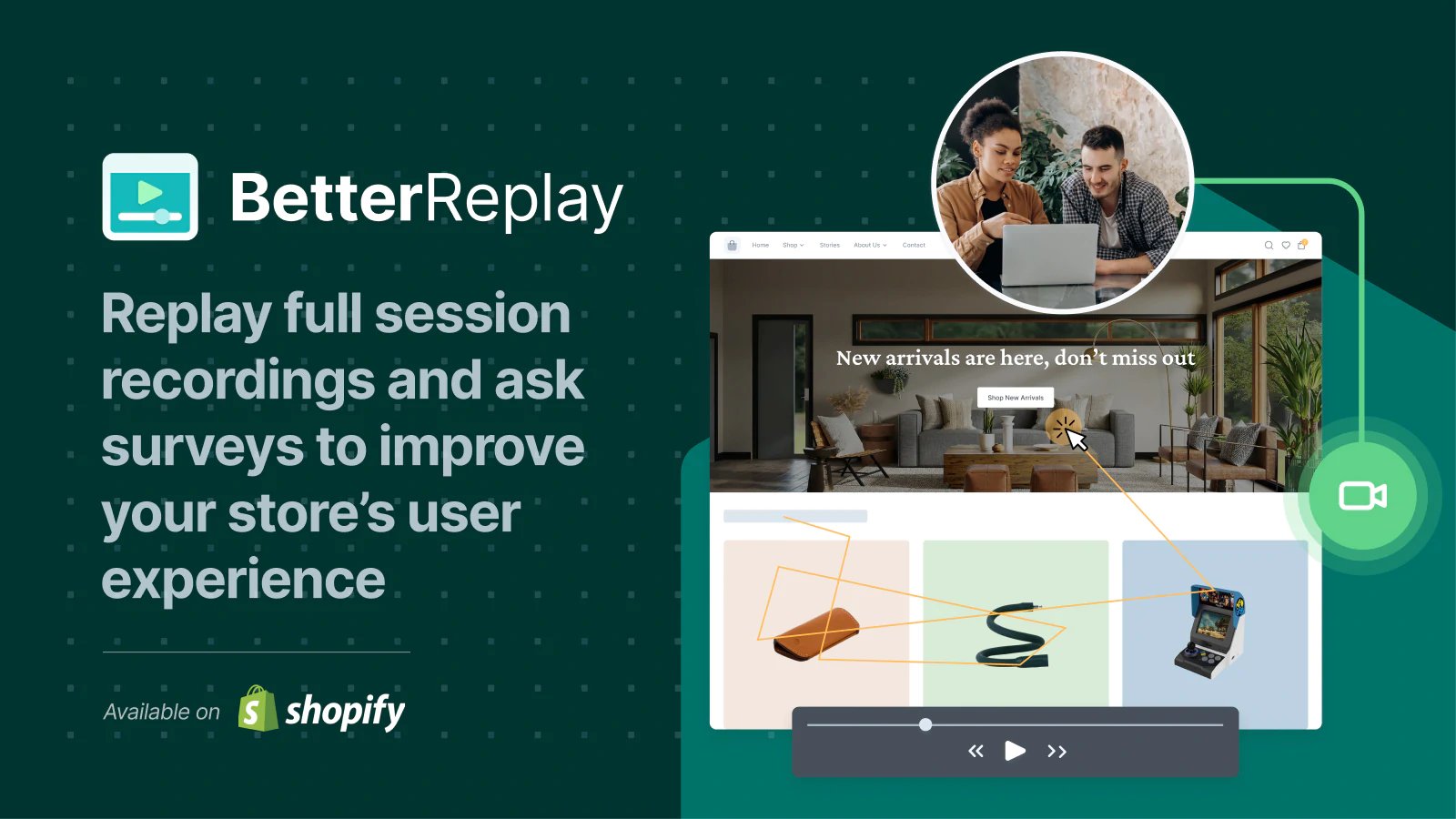 Ever wonder why customers aren't converting on your website? If you do, then Better Replay can help. With free session recording and playback options, Better Replay allows you to observe how visitors interact with your site. 
Boasting a 4.7-star rating on the Shopify App Store, Better Replay eliminates the uncertainty of why your pages aren't converting, helping you enhance your user experience and increasing conversions.
Key benefits:
Learn how your visitors interact with your website with session recordings.

No more guesswork. See exactly why your landing pages aren't converting to sales.

Gain insights into customer behavior and improve your website conversions.

Pricing: Free. Paid plans start from $29/month.
Shopify Customer Review, Smaller Living
"I recommend gaining knowledge of what leads to a bounce rate. You can review live sessions, and it shows where you are losing customers."
10. Easyship – All in one Shipping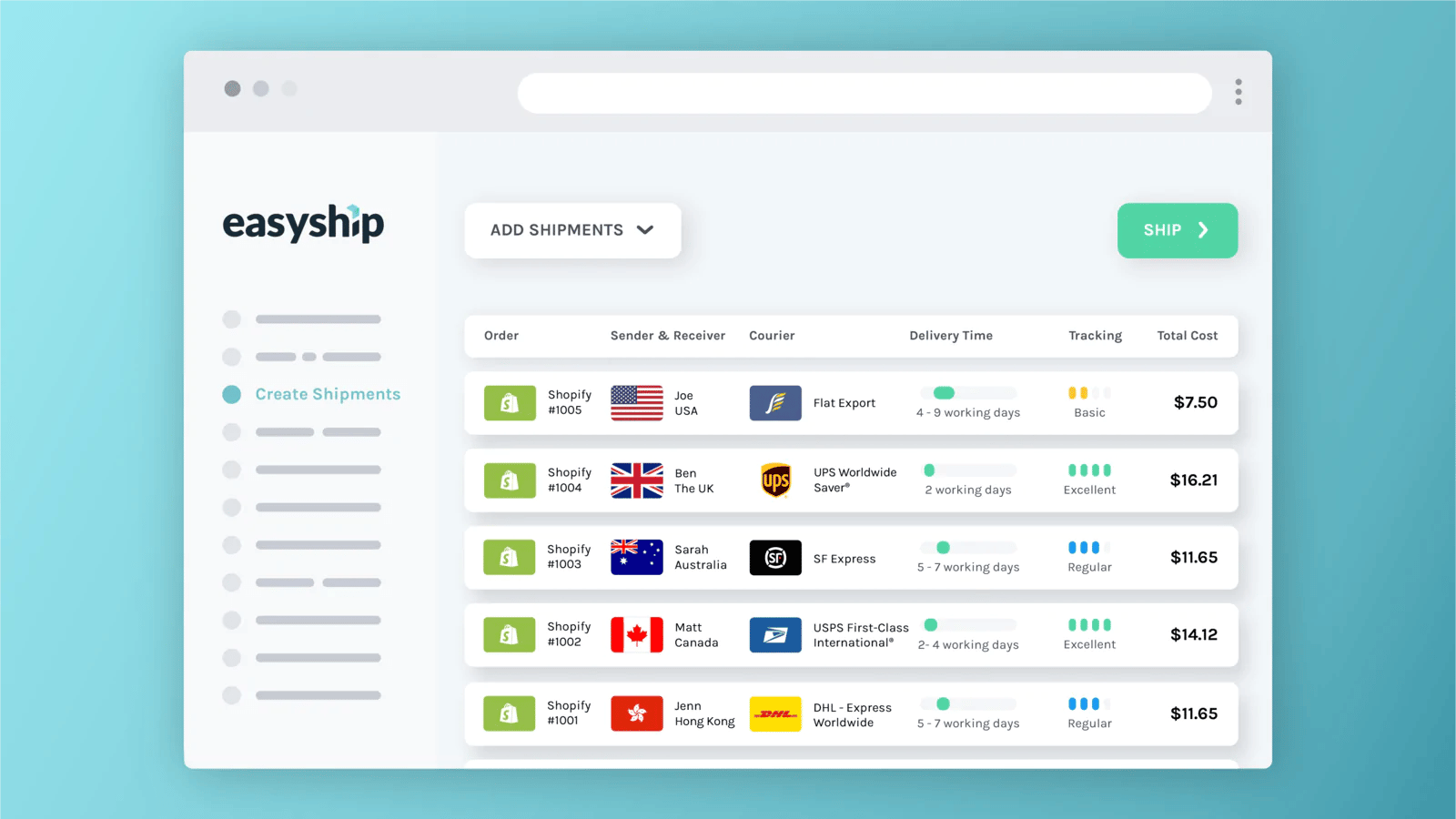 Online shoppers have extremely high expectations when it comes to shipping times and order management. According to a Retail Dive study, 62% of shoppers expect to receive their shipping orders to arrive in less than 3 days. 
Easyship is an all-in-one shipping management platform that helps Shopify businesses manage their shipping operations and save time and money. The app helps customers easily compare costs and delivery times with dynamic rates during the checkout process. It helps you create a tailored shopping experience and requires little effort so you can focus on growing your business.
Pricing: Free plan available. Paid plans start from $29/month.
Shopify Customer Review, Mokuyobi
"I use this app to help fulfill our orders efficiently. It has worked great in the 3+ months that I have been working where I currently am. So far I have not had any real issues with Easyship."
11. Klaviyo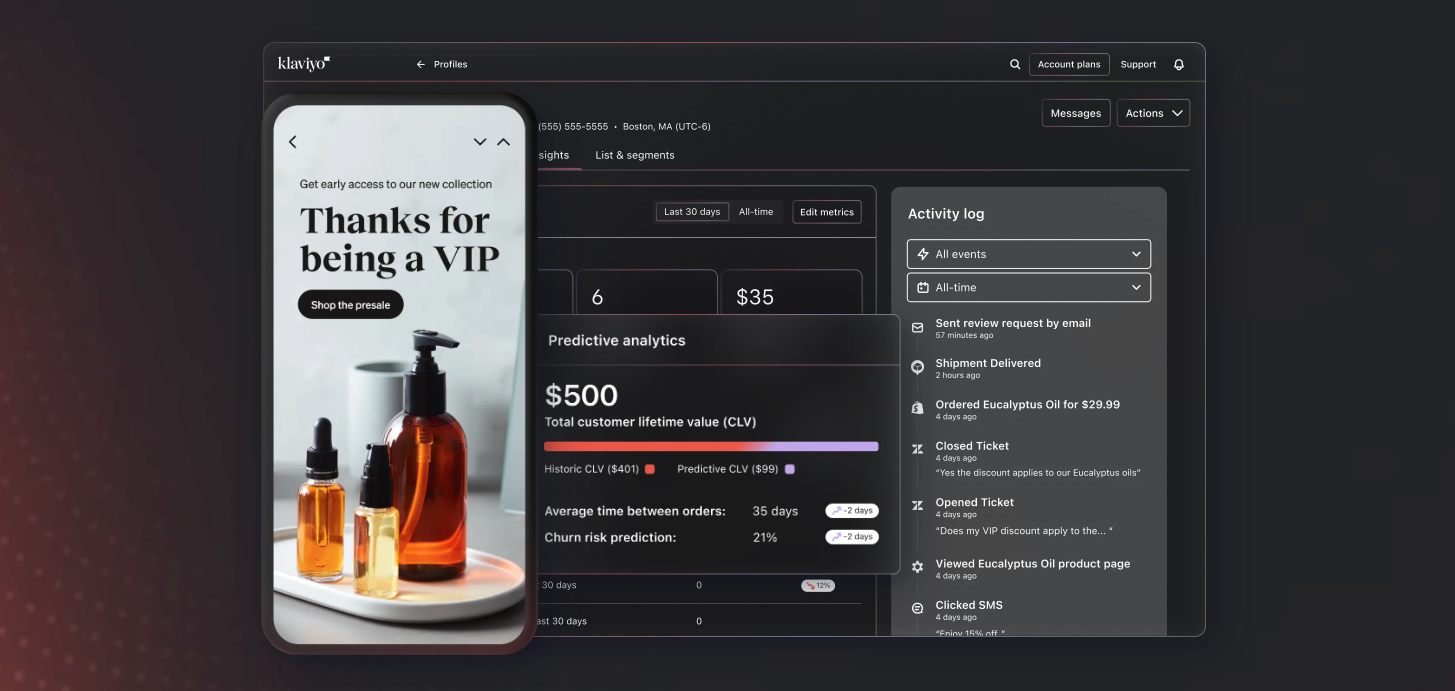 In the world of eCommerce and retail, customer relationships are everything. Klaviyo is a unified customer marketing platform that revolutionizes the way you connect with your customers, helping you build profitable relationships with intuitive features like email marketing, SMS, automations, forms, and reviews.
Klaviyo's intelligent marketing automation features make it easy to earn more revenue without resorting to ineffective batching and blasting. The well-known Shopify app delivers unmatched speed and time-to-value, empowering you with best-practice marketing templates that are ready to go live from the start.
Key benefits:
Deliver tailored experiences to each customer, increasing the ROI of your email marketing.
Save time and effort with automated workflows that nurture leads and engage customers.
Leverage your customer data and analytics to make informed decisions that drive growth.
Did you know? You can integrate Klaviyo's advanced customer marketing features with Marsello's loyalty software to create advanced customer segments that can be leveraged to craft highly-personalized campaigns that engage customers and grow revenue.
Learn more about Klaviyo and Marsello's integration.
Pricing: Free to install. Paid plans start from $30/month.
Shopify Customer Review, Wingback
"Klaviyo provides vastly superior data on every customer, every automation, and every campaign, helping us make better decisions and drive greater ROI each month. The support guides are really comprehensive, their team is always quick to provide guidance and the platform is constantly improving."
So, which Shopify apps should I install?
Whether you're a new eCommerce entrepreneur or an established Shopify store owner, you'll want to take advantage of the many great apps the Shopify App Store has to offer. From all-in-one marketing solutions to shipping and customer service apps, Shopify has something for everyone.
But the truth is, there's no one-size-fits-all solution for Shopify stores. Each business is unique and faces its own set of challenges, but with the right app, you can overcome these challenges and achieve success.
Before you start your app store search, we suggest you take a moment to reflect on your business goals and needs. Ask yourself these simple questions:
What challenges am I facing as a Shopify business?

What specific tools do I need to address my problems?

What does my ideal state look like, and will this app help me get there?

Does this app have what I need, what is the cost, and am I willing to pay for it?
By answering these questions, you'll gain a clearer understanding of your business objectives, and it will become easy to choose the apps that align best with your goals.
Remember, with the right tools at your disposal, you'll be poised for success and ready to take your Shopify store to new heights. Best of luck with your app store search!
Next read: 7 Steps To A Profitable Loyalty & Rewards Program
Recommended marketing app for Shopify
Drive repeat sales with a loyalty program that works in-store and online. Marsello has everything you need to grow your store's revenue.
Published Feb 3, 2023 4:45:38 PM
Special thanks to our friends at
Marsello
for their insights on this topic.