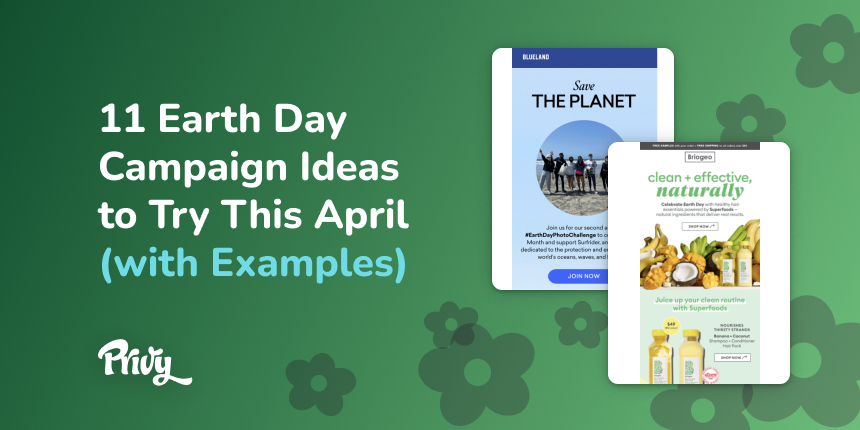 Spring is here, the days are brighter and longer, and Earth Day is right around the corner. 
You may be starting to think about crafting a campaign around environmental awareness and sustainability. 
The weeks leading up to Earth Day are a great time to run a site-wide promo, donate a portion of proceeds to a good cause, or share a letter from your founder detailing what Earth Day means to your brand. 
Not sure where to start? Keep reading for 11 different plays to try out this Earth Day, including:
Offer ideas
Examples from real brands
Subject line inspiration
Email templates
Let's dive in.
Get our best content on ecommerce marketing in your inbox 2 times a week
1. Launch a collaboration
Last year, eco-friendly cleaning line, Blueland, collaborated with data artist Mona Chalabi to launch a limited edition line of hand soap dispensers.
They teased the release a couple weeks in advance, piquing interest with the subject line "Hi there, something new is landing soon…" and giving customers the option to join the countdown so they didn't miss the drop.
Once the collection became available, they sent out another email with the big reveal. The adorable line told a story about animals that have been impacted by pollution and climate change, and also included a limited edition hand soap scent.
In addition to debuting the products, Blueland made sure to drive urgency by reminding customers that these products were limited edition and would be sure to go fast. 
Blueland also made sure to feature this collection on Instagram, where they announced that they would also throw in a limited edition puzzle with each purchase. And who doesn't love a free gift??

2. Showcase your bestsellers
If you don't have time to launch a whole new line of products, don't stress. Instead, follow Briogeo's example and focus on some of your existing products. 
Their Superfoods line is made with clean, natural ingredients, making it a shoe-in to highlight during this season.
In their Earth Day newsletter, which featured the subject line "Celebrate Earth Day with naturally effective hair care 🌎," they emphasized that you don't have to sacrifice effectiveness for a low environmental impact.
They also included some facts about the harmful effects that certain chemicals have on the environment, driving home the point that their silicone-free products are a great choice for your hair and the environment. 
3. Show, don't tell
Online furniture giant Wayfair boasts over 500,000 eco-friendly products, so they used their Earth Day promotion as an opportunity to show customers exactly how they can incorporate these items into their household. 

Trying to focus more on sustainability? Browse their line of sustainably sourced furniture. Looking to cut back on water and energy consumption? There's a category for that, too. Showing customers exactly how your products can help them cut back on their carbon footprint is a great way to encourage them to buy from you this season.
Crate & Barrel follows a similar playbook, highlighting specific products that can be used in each area of your home. This specificity is great for triggering that "Oh yeah, I have been wanting a new chair!" type of response, which is only made stronger by the assurance that these products will do the Earth good.

Take the guesswork out of the process and show your customers exactly how they can use your products to be more environmentally conscious.
4. Stand up for what you believe in
Instead of using Earth Day as an opportunity to highlight their products or run a sale, skincare brand Hyperskin used their platform to discuss the racial and social injustices that come along with climate change.
In addition to opening up a conversation on their social media channels, they pledged to donate $1,000 to environmental justice non-profit WE ACT.

If social justice is a core tenet of your brand, this is a great time to talk about that with your subscribers. Putting your money where your mouth is is a great way to build trust with your customers and encourage them to continue to support and advocate for your business.
In a similar play, the Serendipitous Project kicked their Earth Day email off with a heartfelt letter from founder Sydney, who shared her personal journey toward creating sustainable jewelry and encouraged readers to "learn how to live with the earth versus fight against it."
They also provided an informational graphic on how to get out of your comfort zone and fight the climate crisis, as well as resources on the waste in the fashion industry.

This Earth Day, think about going beyond the average newsletter and advocating for causes that you truly believe in. Your customers will thank you for your authenticity and love your brand all the more for it.
5. Partner with a good cause
Aerie showcased that they were teaming up with a good cause with this leafy green newsletter example, in this case pledging to donate 5,000 trees to One Tree Planted.
This non-profit is a great option to look into if you want to donate this Earth Day, as each dollar donated goes directly to planting one tree.
Offering to plant a tree for each purchase made is a pretty sweet incentive for environmentally-conscious buyers.
In addition to the donation callout, Aerie also used this email as an opportunity to highlight that their new swimwear line is made from recycled plastic bottles and nylon fabric. If you have a product that's created in a sustainable way, Earth Day is a great time to remind customers of that.
6. Make a week (or month) out of it
A core part of recycled athleticwear brand Girlfriend Collective's ethos is sustainability and environmental awareness, so they took a whole week to celebrate Earth Day.
Throughout the week, they partnered with founders and CEOs of various environmentally-conscious brands, featuring behind the scenes looks at their products, sustainability tips, plant-based recipes, and more.
Skincare brand Youth to the People extended their Earth Day campaign into a whole month, kicking off the month of April with a huge donation to the Global Fund for Women.
This is another example where the brand doesn't necessarily advertise their products, but instead showcases their commitment to the environment and social justice. Once again, this is a great way to build trust with your customers and encourage them to support your brand and your brand's initiatives.
When Earth Day actually rolled around, they took their campaign a huge step further and announced that they were donating 100% of the proceeds that they made on Earth Day to The Planet Fund. Now that's putting your money where your mouth is!
7. Get social
For this one, we once again turn to Blueland for inspiration. Last year, they kicked off their second-annual #EarthDayPhotoChallenge, encouraging subscribers to share a photo of themselves enjoying nature or cleaning up an outdoor space on social media. 
The terms of the challenge are pretty straightforward:
Tag @blueland and 3 friends
Use the hashtag #EarthDayPhotoChallenge
In exchange, Blueland pledged to donate $1 for every nature photo and $5 for every cleanup pic, all to the non-profit Surfrider. 

Girlfriend Collective did something similar during their previously mentioned Earth Week celebration, offering customers double rewards points if they used the hashtag #goodjobgf and shared a picture of themselves doing right by the planet in their Girlfriend Collective apparel.
Encouraging customers to actively engage with your social channels is a great way to build your following and get in front of new potential customers without having to put in too much extra work on your part. Offering a donation, discount, or rewards points in exchange for a social share is a smart way to get your brand in front of new eyes.
8. Love your mother (Earth)
After Earth Day, Mother's Day is right around the corner. So last year, Lovepop took advantage of this opportunity to tie the two together. If you want to start driving early sales for Mother's Day, the "Mother Earth" approach is a great way to combine the two holidays into a larger campaign. 

Lovepop also took the opportunity to stress their ongoing commitment to the environment, reminding customers that their cards are 100% recyclable and sustainably harvested. They also partnered with a good cause, donating $1 of every purchase of their Willow Tree Card to the Arbor Day Foundation.
Overall, this is a great way to honor Earth Day and to remind customers to order their Mother's Day cards in time.
9. Speak from the heart
Blueland co-founder and CEO, Sarah, got real with her audience by sharing a heartfelt letter about how she started the sustainable cleaning brand to build a better tomorrow for future generations like her son, Noah. 

She shared a handful of inspiring and devastatingly cute letters that she's received from kids, all detailing why they love and care about the planet. 
I'm not crying, you're crying. 
10. Make sustainability part of your brand's ethos all year long
Earth Day comes once a year, but that doesn't mean your brand should only be thinking about sustainability when April rolls around. Around 60% of consumers value sustainability as an important piece of criteria before making a purchase, so it's super important to emphasize that this isn't a once a year thing. 
Maybe that means being more thoughtful about your packaging, looking to more sustainable options like Noissue. 
They offer compostable, recycled, and reusable packaging that can be customized to fit your brand. So not only does it look good, but it does good too!
Or maybe take a leaf out of Death Wish Coffee's book and write a blog post about how your product is saving the world. 
The more customers know about your product and how it's made, the more excited they'll be to purchase it knowing that they're making a positive impact on the environment.
There are lots of ways that your brand can do good for the environment. Always be sure to be authentic and transparent with your customers about how you're doing it.
11. Launch an email campaign with Privy
Use one of our Earth Day templates to get your campaign up and running in no time. 
Just drop in your logo, update the copy to match your campaign/offer, drop in any products you want to feature and you're good to go!
You can get started with Privy for FREE today. Already have an account? Log in to start using your Earth Day templates ASAP.
12 Earth Day subject line ideas
Once you decide on your actual campaign, it's time to start thinking about your subject line.
A compelling subject line is absolutely key to getting your audience to open your message. And if they don't open your message, they'll never get a chance to take action on your offer or even see what you have to say! So before you launch your Earth Day campaign, here are 12 subject line ideas to inspire you:
What Earth Day means to us

💚

Love your Mother (Earth)

🌎

Earth Day | Sustainably Made Favorites
Save some green this Earth Day
Happy Earth Day, Earthlings!

👽

Make a difference this Earth Day
Every Day is Earth Day
Down to Earth (Day)
Go Green for Good
Make a purchase. Plant a tree.
Home Sweet Home

🌎

We've only got one planet
Make sure the subject line that you choose matches your offer. If you're running a site-wide promo, you want to make sure you're sharing that in your subject line to encourage people to check it out.
And it's always helpful to look back at your emails with the highest open rate to get an idea of what works best with your audience. Ultimately, you know them (and what they'll respond to) best.
Never miss a chance to bring in sale with The Ecommerce Holiday Calendar
From Valentine's Day, to March Madness, and everything in between, The Ecommerce Holiday Calendar has you covered.
You'll get constant inspiration (like this post!) and reminders so you never miss out on a chance to bring in holiday sales again. 
Because the reality is that even the smallest holidays are a chance for you to come up with a killer campaign and watch the sales come in.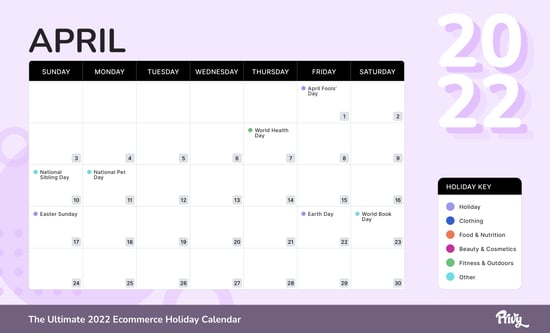 Get your FREE calendar today.
Launch an amazing Earth Day campaign today
The sky's the limit when it comes to Earth Day campaigns.
And now that you have campaign inspiration, subject line ideas, and the right email templates, you're in a great place to start crafting your own campaign.
Whether you run a site-wide promo, start a social media campaign, or share a heartfelt message about your company's personal sustainability journey, you're well on your way to building an Earth Day campaign that converts.
Topics: holiday
Special thanks to our friends at
Privy
for their insights on this topic.