did you know
Omnisend customers automate 32% of their email conversions. Are you maximizing sales?
Reading Time: 9 minutes
Since it launched in 2009, BigCommerce has been a major player in ecommerce. Its user-friendly interface provides endless options for growth, making Bigcommerce platforms a no-brainer for ecommerce retailers seeking agility and flexibility. One of the key factors in the success of BigCommerce is its huge range of third-party apps and integrations.
In this article, we're going to check out 12 essential BigCommerce apps to supercharge your online store. From marketing automation to gathering reviews and streamlining your shipping, these powerful and efficient apps will provide you with the maximum benefit for the minimum cost. They'll also ensure that you're not slowing down your store's performance with unnecessary and poorly-built downloads.
Ready? Let's jump straight into it.
1. Omnisend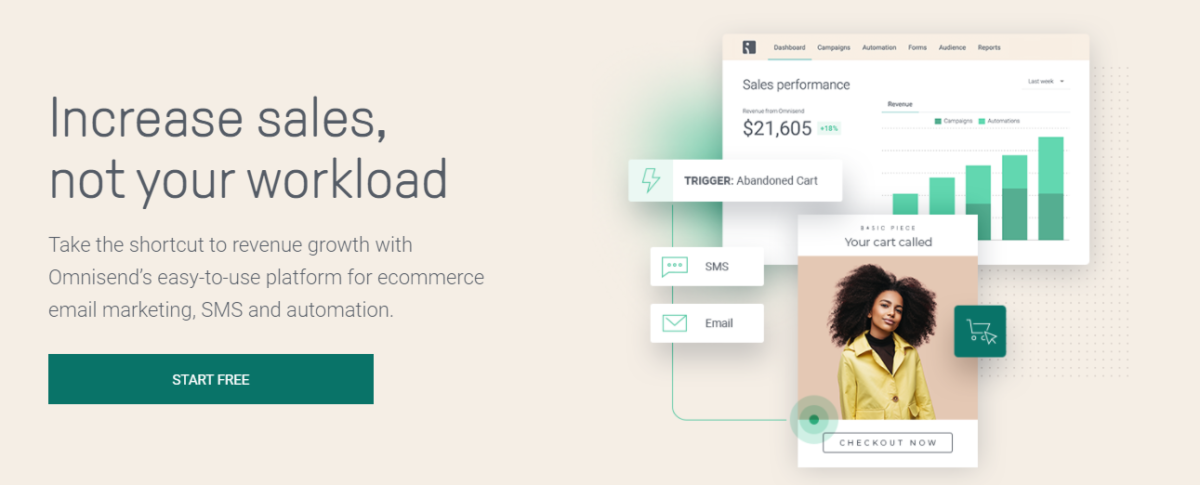 Category: email marketing and marketing automation
Omnisend is a powerful marketing automation platform that allows you to reach out to your customers with personalized messaging. It is one of only two email service providers (ESPs) chosen by BigCommerce as an Elite Technology Partner.
You'll be able to target different segments of your contacts with email, SMS, push notifications, and more for a seamless omnichannel experience. Getting started with Omnisend is a breeze, with pre-built automations such as Welcome Series, Cart Abandonment, and Order Confirmation set up and ready to start driving revenue straight away.
Key features include an intuitive drag-and-drop builder, which makes it easy to customize your emails, SMS, and automated workflows to precisely fit your strategy. There are also interactive list-building forms to help you grow a highly-engaged subscriber base quickly and efficiently. Smart segmentation and reactivation workflows encourage repeat purchases and keep customers coming back for more.
Add in comprehensive analytics and reporting, and you've got everything you need to run growth-driven marketing campaigns on autopilot.
BigCommerce integration is easy—simply download the app from the BigCommerce app store and your contacts, products & orders will be automatically synced with Omnisend. Every new user can get started on a Free plan that gives full access to all of Omnisend's features, with the possibility to upgrade to a paid plan as your business grows.
2. Yotpo

Category: Generating product reviews
Reviews are vital for building trust and loyalty among customers. They also help in building a solid brand reputation.
Products or services that have very few reviews risk coming across as unpopular, or even untrustworthy. That's why ecommerce businesses are increasingly investing in review marketing to bolster the number and quality of reviews on their site. Yotpo specializes in gathering user-generated content and helping you to integrate it into your online store.
Key features include automatic review requests, which are synced with orders placed via your BigCommerce store. It also has a handy social curation tool that can find and gather the best customer-produced content on social media. On-Site Widgets bring it all together by showcasing the reviews that you've collected on relevant product pages.
There's a Free version of Yotpo with basic but very useful features. Premium features such as Customized Loyalty & Referrals Programs come at a cost but are well worth the money for brands looking to boost their loyalty and reputation.
 3. Printful

Category: Print-on-demand drop shipping
Printful is an online drop shipping and custom printing fulfillment service. With Printful, you can create custom designs, place them on products from Printful's catalog, and sell them on your online store.
Printful handles inventory, order fulfillment, quality control, and shipping, so you can focus on the fun part of building and running an ecommerce business, like marketing and creating new designs. Besides, since everything is printed on demand with no order minimums, you don't ever have to worry about overproduction and unsold inventory.
It works by syncing your BigCommerce store with Printful. Whenever someone buys a product from you, the order is automatically imported, fulfilled, and shipped to your customer under your brand.
Key features include custom packaging with your own branding, creative services to help you design your products, and a suite of intuitive design and marketing tools. The Printful app is free from the BigCommerce marketplace and doesn't come with monthly fees. You only pay when an order is made.
4. ShipStation

Category: Shipping & Label Printing
ShipStation offers automated and advanced features to make managing and shipping your orders a breeze.
ShipStation's BigCommerce integration syncs the purchases made on your BigCommerce store and organizes all of your information into a single dashboard. You can then use scan-based workflows, bulk updates, and automation processes to quickly fulfill your daily shipments. And once an order ships, it will instantly update tracking information to both the selling channel and the customer.
Key features include inventory management, branding on all of your shipped parcels, one-click label making, and intuitive order management software. Prices start at $9/mo which includes up to 50 shipments.
5. Signifyd

Category: Security
Chargebacks are among the most infuriating issues you'll have with your online store. Handling all of these complaints and requests will easily eat up your time. With the help of Signifyd, you can have the app do all the tedious work for you.
Signifyd assures that you won't have to worry about needing to manually track and respond to fraudulent purchases. The app is proactive in assessing potential issues and only allows safe purchases to be approved. As a result, you'll spend less time reviewing and declining bad transactions.
Key features include transaction scoring for fraud assessment, real-time monitoring, payment verification services, and security reporting & analytics. Signifyd offers a free Small Business Plan with basic features and the option to upgrade to a paid plan as you grow.
6. Brightpearl

Category: Enterprise Resource Planning (ERP)
Sometimes ecommerce stores in BigCommerce become so popular and busy that they need a helping hand to handle their orders. Brightpearl is the perfect solution for "positive problems" like this, seamlessly integrating all of your retail operations from sales orders up to inventory replenishment.
Brightpearl is one of these essential all-in-one apps that saves you money and boosts the performance of your store. It allows you to delete quite a few unnecessary programs that might be clogging up your site's interface. It merges accounting, inventory management, and order routing into a single platform.
Key features include order management, shipping & fulfillment, warehouse management, retail accounting, and much more. Brightpearl pricing is quote-based, depending on the size of your business and specific needs.
7. LiveChat

Category: Customer Service
Customers want to be able to contact you when they're having an issue with their purchase. Sometimes, buyers just have questions about a product they're interested in. However, you won't always have time to personally respond to every request. This is where LiveChat comes in.
LiveChat is an app that allows your BigCommerce store to engage customer queries in an instant. This app also records queries you may have missed so that you can respond to them once you go online. Mobile chat options are also available to help you keep in touch with your customers wherever you may be.
Key features include targeted messages, canned responses, after-hours ticket forms, ecommerce reports, and more. Livechat pricing starts at $16/mo.
8. Shogun Page Builder

Category: Visual Merchandising
Visual content is extremely important in BigCommerce because it draws the attention of customers. Building your ecommerce store doesn't have to be limited to pre-made templates. With Shogun Page Builder, you'll have more freedom when customizing your site.
Shogun Page Builder is a drag-and-drop page builder that is simple and easy to use. Once you've set up your store, you can use Shogun to easily create elements such as galleries, videos, blog posts, and more. While Shogun offers a wide range of customizations, it's still up to you to create attractive and efficient designs. Learning visual hierarchy and web design can help you maximize customizations and earn more conversions over time.
Key features include powerful analytics to review the success of your creations, as well as the all-important A/B testing so you can ensure that your best-performers are always on show. Shogun prices start at $49/mo.
9. ShipperHQ

Category: Shipping and Logistics
There are few bigger problems for the ecommerce retailer than the dreaded abandoned cart. While a good BigCommerce abandoned cart strategy can go a long way towards winning back some of the 70% of carts that are abandoned on average, prevention is always better than the cure.
This is where ShipperHQ comes in. With unexpected shipping costs the primary cause of abandoned carts, ShipperHQ makes it simple and easy to show your customers the most compelling shipping options before they commit to a purchase. Not only does this provide customers with the best and most flexible shipping options available, but early access to all price information makes them much less likely to abandon their carts.
Key features include total delivery transparency, in-store pickup options, multi-origin shipping, and much more. ShipperHQ also partners with ShipStation to offer an end-to-end shipping experience that drives sales, saves shoppers money, and delivers on customer expectations. Prices start at $46/mo.
10. Justuno

Category: Customer acquisition
Customers find their way to your site in a variety of ways. Many stop by to read your blog and have a quick browse of your products. Can you do more to capitalize on this passing interest and attract visitors into your sales funnel?
Justuno helps you to do just that by offering engaging experiences on your online store. This includes smart pop-ups that reach out with offers and deals when a customer is about to navigate away. You can also choose gamified solutions that offer prizes in return for a sign-up. According to Omnisend research, gamified sign-up forms such as a Wheel of Fortune drive consistently high conversion rates as well as the highest average views.
Key features include a range of standard and gamified pop-up options, segmentation and targeting of specific site visitors, GDPR compliance for responsible data collection, and much more. Pricing is flexible depending on how many website visitors you expect per month.
11. ReCharge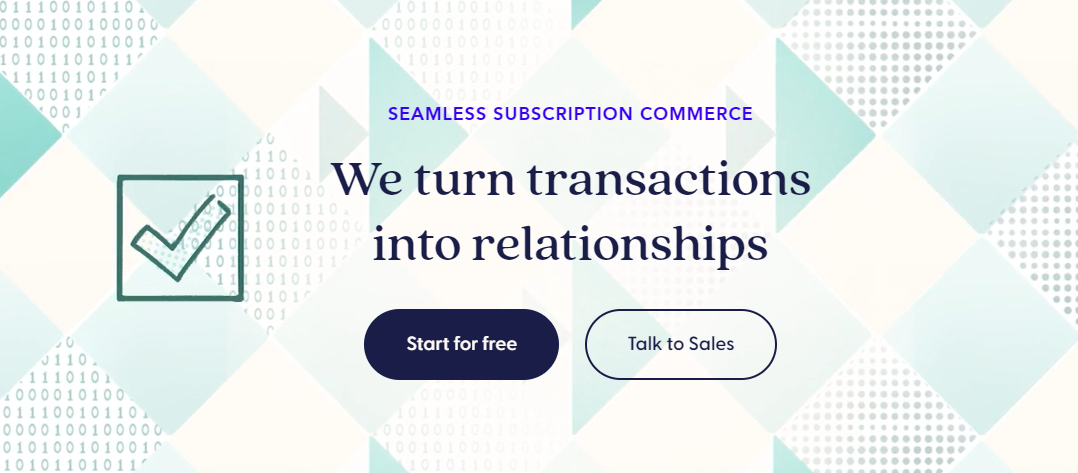 Category: Customer subscriptions
One of the most effective ways to encourage repeat customers is by making it as easy and convenient as possible to buy again. ReCharge does this by helping ecommerce businesses to offer subscriptions and recurring billing for their customers.
ReCharge's flexible subscriptions are easy to set up in minutes, allowing you to immediately get started on recurring billing for weekly, monthly, and annual time frames. Customers are also able to customize their subscriptions to skip or reschedule a delivery, meaning there are fewer unsubscribes overall. They'll also be able to swap products while keeping the same subscription terms, another handy boost for customer retention.
Key features include upsell workflows that can increase your AOV, simple customer subscription management, and automatic updates via SMS and email notifications. ReCharge offers a free plan with basic features, no monthly fees, and a pay-as-you-go price of 1% + 10¢ per transaction.
12. TrustPilot

Category: Online review platform
TrustPilot makes it easy for customers who have purchased from your store to write a review. With a TrustPilot profile, your ecommerce brand can receive a star-based rating from 1 to 5, as well as a short written review detailing the customer experience.
The easier you make it to leave reviews, the more you will gather. Reviews are important for building trust and providing valuable social proof, acting as the kind of "word-of-mouth" marketing to which customers respond so well. In fact, according to research, consumers now trust online reviews as much as they trust recommendations from their closest friends and family.
Key features include a business profile page on the popular TrustPilot website, a large range of customizable automatic review invitations, automated fraud detection, and Google Seller Ratings which put informative and eye-catching stars on your Google ads. TrustPilot has an excellent Free Plan which enables you to engage with customers and show ratings right away, with the option to upgrade to a paid plan for more comprehensive features and support.
Wrap up
We hope you've enjoyed reading about some of the best apps available in BigCommerce. These 12 must-have apps are easily available in the BigCommerce app store and are guaranteed to help you optimize your site's performance and vastly reduce your daily workload!
Use Omnisend's features and supercharge your next email campaign!
Special thanks to our friends at
Omnisend
for their insights on this topic.