February 14th is the day of love. Valentine's Day is all about spoiling the people you love, whether this is your romantic partner, your best friends, your family, or even yourself! No matter if you opt for the classics: candles, lingerie, and flowers, or if you want to go outside of the box (of chocolates) with a memorable romantic dinner at home, this list of 14 small businesses has got you covered with a Valentine's Day gift your love will love.
No grocery store flowers and discount chocolates on your way home from work this year. Find that special gift for that special someone with this Valentine's Day gift guide we are totally head over heels for.
Set the mood with your special someone this year with these affordable luxury candles. Or indulge in some self care because who says you can't be your own valentine? Bijou Candles offers pop culture candles that look good and smell even better. With 3 different sizes of candles and various candle sets, you'll be sure to light up your valentine's day with this gift idea. These clean-burning, soy candles can burn up to 140 hours making it the gift that keeps on giving. Did we mention customers even say they're guaranteed to give off magical vibes? True story.
Whatever February 14th means to you–Valentine's, Galentine's, Palentine's, or Self-Love-entine's (alright, we're still working on that one), Bijou Candles sparks that magic you've been waiting for.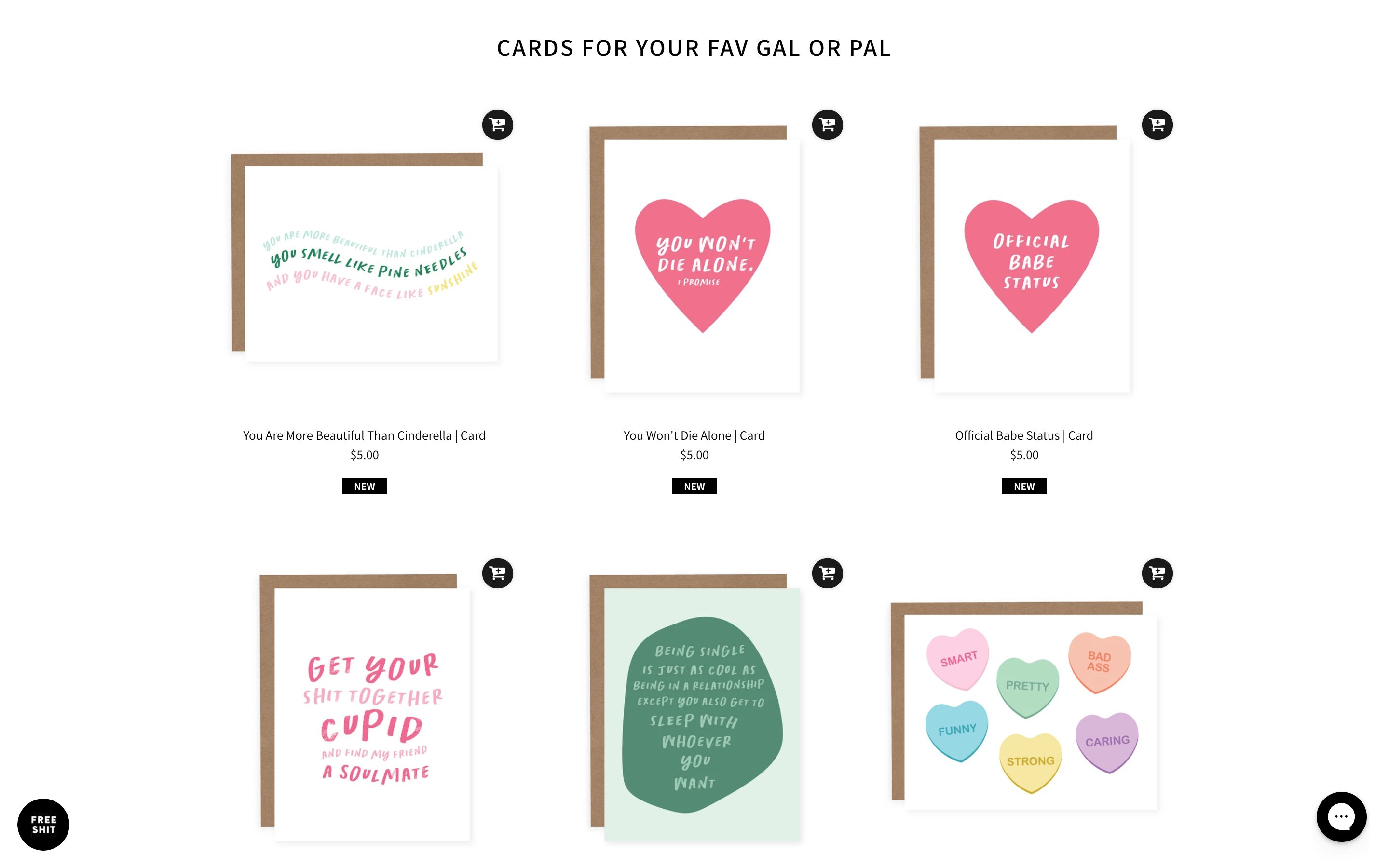 Not the mushy gushy romantic type? Valentine's Day doesn't give you total heart eyes? Don't worry–skip the traditional uber romantic gifts this year and stay true to yourself with a fun, sassy gift.
Show your fun side with Pretty By Her's collections of sassy greeting cards, wine labels, and stickers. Shop their line of "gifts for the person you kiss" for your partner or spoil your galentines or palentines with their friendship cards and gifts. This brand might be called Pretty by Her, but it definitely has gifts for everybody shown through their range of inclusive products and values. Give your special valentine a gift that will make them laugh because it's just so you.
There's a reason flowers are a tried and true Valentine's day gift. Stick to the classics this year and give your special someone a single red rose or a full bouquet of beautiful flowers. The Million Roses specializes in beautiful personalized flower boxes of the timeless symbol of eternal love and affection: roses. These roses are hand picked from their private farm in Ecuador and can be shipped basically anywhere in the world. A perfect option for when you and your valentine are a country or even an ocean apart.
Oh yeah, did we mention these roses last up to 3 years? Yup, that wasn't a typo (don't worry, we did a double take too). 3 years, 36 months, 1095 days or however you measure 3 years. So if you're looking for a gift to make a long-lasting impression, here you are!
Red, white, rosé, or champagne–Wine Chateau has you covered for when you're looking to unwind with a nice glass of wine with your special someone. We've all gotten used to celebrating those special moments from the comfort of our living rooms for the past 2 years. But this February 14th, why don't you swap the sweats and chips for some nicer clothes and a romantic dinner completed with a glass (or a few) of your favorite wine.  
Opting for Galentine's or Palentine's Day this year? Did somebody say rosé all day? Whatever your go-to celebration drink is, Wine Chateau has you covered with their wide selection of wines, spirits, and champagnes that can be ordered online and delivered right to your front door anywhere in the United States.
Skip the alcohol this year and make Valentine's Day one to remember. This mocktail brand has a variety of booze-free cocktails for every occasion. Curious Elixirs is the perfect option for anybody who doesn't drink alcohol and will help you step up your hosting game by offering the designated drivers something a bit more exciting than H2O.  
Hint: their Curious No. 2 is said to "set the mood" containing the aphrodisiac damiana. Give this "Bright and Spicy" drink a try this year with your spicy little valentine. People opt not to drink for tons of different reasons and this brand truly gets that. As the Wall Street Journal says, "Curious Elixirs are great for social situations without the hangover." Go #shakennotslurred this love day.
Handzy Shop + Studio has a wide variety of cute, positive clothing, accessories, home decor, and greeting cards that would make the perfect gift. Take their cute Valentines Day Card for example. Showing your love doesn't have to break the bank–for just $5 you can give your special someone an adorable card filled with a love letter that'll make their heart skip a beat.
This upbeat boutique is your one stop shop for all your valentines this year. Since Valentine's Day is about love, why not celebrate all the people you love in your life? Not just the ones you kiss. Whether you want a spicy card for your bae, friendship bracelets for you and your bestie, or a self-care pocket guide for yourself.  Spread the love (and the cuteness) this year.
WEEEEE want candy! Cue The Strangeloves, although there is nothing strange about showing your love through candy. Pick Yo Mix is the perfect gift for your valentine with a sweet tooth. This UK-based brand allows you to pick 10 of your favorite types of candy to fill a 1kg candy bag. Dietary restrictions? No problem–the candies are clearly marked based on different categories such as vegan, vegetarian, gluten free, dairy free, and gelatin free.
With over 40 delicious types of candy, the hardest decision you'll have to make when picking yo mix is which 10 make the final cut. Let's be real, after your first few pieces of their fresh candy, you'll be planning your next mix. The great news is that Pick Yo Mix offers a rewards program where you can earn "Jelly Beans" to redeem for discounts or even free candy. Get the ball rolling for Valentine's Day and give your sweet some sweets!
Nothing shows you care like a personalized gift that your valentine couldn't possibly get anywhere else. Create a memorable gift with a custom photo book this year. This gift has all the nostalgia of a homemade scrapbook without all the cutting, gluing, and mess. MPix makes the process easy even for the most unartistic gift-givers. Start by selecting an album size, then design your book using their stylish photo layouts, and finalize this timeless gift with the finishing touches like personalized debossing and cover colors.
MPix also offers a variety of other special custom gifts such as Collagewall Displays, personalized blankets, photo calendars, and more. If you don't have a way with words, say everything you need to with a photo this year. After all, a picture is worth a thousand words so an album must be worth millions.
If you love the idea of a personalized photo gift, but don't have the actual photos yet, then this one's for you. Create more memories with a gift from Polaroid this Valentine's Day. Film photography can be confusing, but Polaroid simplifies it with their camera bundles that include everything you need from the camera to the film to capture new memories with a retro feel.
Whether you're shopping for a significant other, a best friend, or even a kid, a Polaroid camera is a great way to capture the moment in an instant that will last a lifetime. You can also shop their wide range of phone printers to turn the great photos you already have into Polaroid photos. This way you can give your valentine a photo they can keep with them wherever they go by adding some personalization to their wallet with a photo of the two of you or adding some flare to their phone case by storing a Polaroid behind it.
This one is for all of you who have little valentines at home. Valentine's Day is all about showing the people you love the most how special they are. For all the parents out there, that can be your little ones at home. Rose and Rex is the perfect small business to support when wondering what to buy for Valentine's Day. With tons of curated gift guides, you can find a gift for all of your kids, no matter if they're just starting to sit up or if they've got their ABC's memorized.
This toy boutique specializes in elegantly designed toys that are aimed to stimulate imaginative play. Their products are selected by education professionals, teachers, and child development experts to promote well-rounded skill building. This is a total win-win. Your child will get a new toy and feel loved while learning at the same time.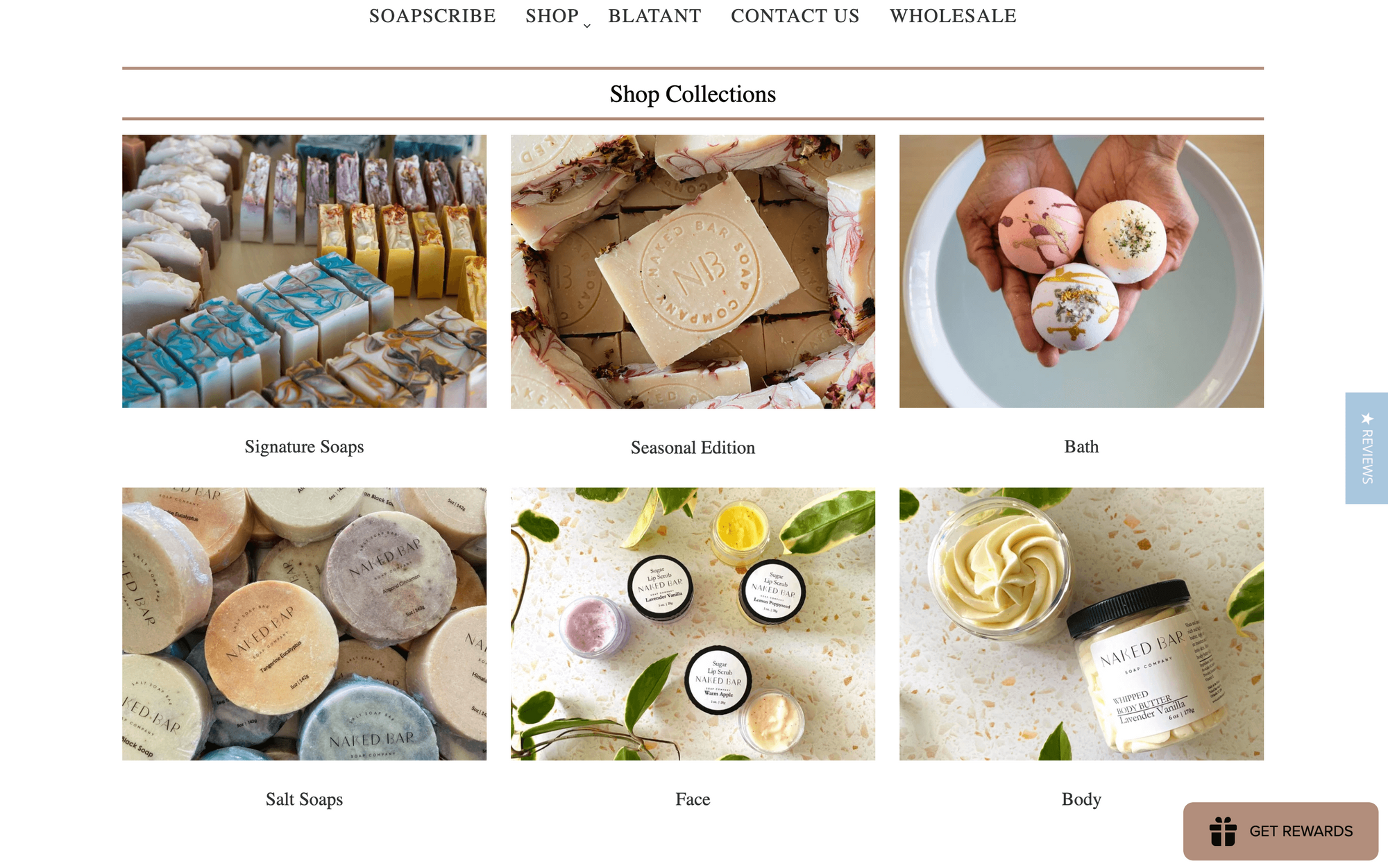 This Black-owned self-care shop is perfect for those of you who are your own valentine. The most important kind of love is self love so don't forget to treat yourself this year. Nothing screams self-care like unwinding in a relaxing bath. Naked Bar Soap has you covered in this department with their wide range of natural signature soaps, bath bombs, and salt soaps.
If you want to score major points with your signature other, gift them some of these self-care products to show them how much you care about their mind, body, and wellness. Naked Bar Soap even offers the opportunity to gift wrap 3-5 soaps in beautifully-designed, eco-friendly wrapping paper. Sometimes the best things come in the smallest packages!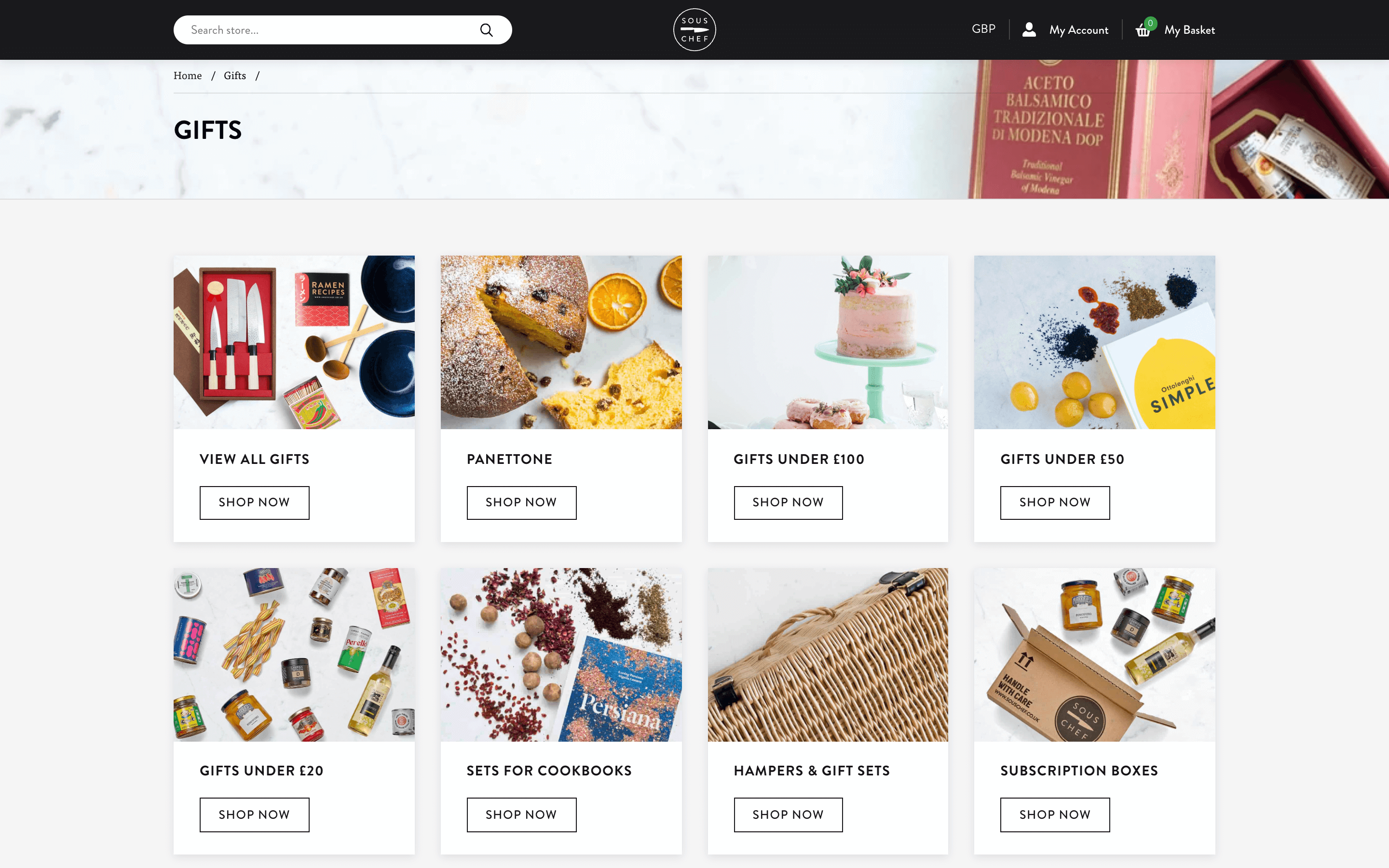 If your valentine is a total foodie, then we've got you covered. For tons of us, the way to our heart is through our stomach. Make this Valentine's Day extra special by bringing the luxury of a fine dining experience into your own home. Sous Chef is a UK-based food shop for people who love cooking. With their wide product range, you can shop for ingredients, equipment, and gifts inspired by international cuisine around the world.
Impress your bae this February with a gourmet Italian dish made with authentic ingredients that you would find in a local supermarket in Bologna. If your valentine is the one who does the cheffing, browse all of Sous Chef's different curated gift and subscription boxes to give them something they'll love to use. Bonus–this is really a gift for you too once you're enjoying those delicious home-cooked meals 😉
The Gold Supply is here to put a twist on the timeless gift of jewelry. With their "Customs" product category, you can surprise your loved ones with a gift just for them. These jewelry pieces for anybody can be customized to include someone's name or a photo that they can keep close to their heart. You can even go for the classic heart-shaped locket with a photo of the two of you inside.  
You can also browse their wide variety of jewelry products including necklaces, bracelets, chains, earrings, rings, and grillz. If you are feeling adventurous this year you can opt for their 12 piece Mystery Box or subscribe to The Gold Supply Jewelry Club to receive one piece of jewelry every week or month depending on your preference. We think this Valentine's Day gift idea will earn you a few gold stars of your own.
Last but certainly not least, we'd be remiss not to include the quintessential Valentine's Day gift idea: lingerie. This Australian-owned brand is your one stop shop for artfully designed and beautifully crafted lingerie and swimwear. Whether you are going on a vacation or a staycation this Valentine's day, Naran Lingerie has a wide selection of lingerie and bathing suits to make your significant other embrace their sexuality and confidence.
This brand aims to enable their customers to be all that they can be, "fierce, sexy, feminine, and completely unique." Treat the special lady in your life to a luxurious gift that'll make her look and feel her best for this special occasion.
So…totally in love yet?
Valentine's Day is the perfect excuse to shake up your sweats and Netflix routine. Whether you're celebrating big or staying in, make this February 14th one to remember with an extra special gift. Show how well you know your love with a gift that they'll absolutely adore. Don't worry, we'll even let you take credit for the gift idea.
Happy shopping lovebugs!
This originally appeared on
Smile.io
and is made available here to cast a wider net of discovery.