They say all you need to do to collect reviews is ask. It's simple advice, and it works. But, it also feels easier said than done. How, exactly, are you supposed to go about asking for reviews? Should you email your customers, tweet them on social media, or host a contest?
All of the above — and more. The truth is, the more creative you are with asking, the more reviews you'll receive. Customers respond to different requests for reviews, so the more ways you can ask for reviews, the more successful you'll be.
Today, we're sharing 18 proven strategies for collecting more product reviews, with real-world inspiration from our own clients at PowerReviews. Let's dig in.
1. Ask for reviews in your post-purchase emails
This one's an essential best practice. Our research has found that nearly 80% of all reviews content is generated from email requests. Personalize your post-purchase emails with the customer's name and the products they purchased, with direct links to write a review.
Not convinced an email can really make that much of a difference? Take a look at the chart below. The blue bars represent how many reviews one of our clients collected each month. In December 2020, they started emailing customers asking for reviews. As a result, their review numbers skyrocketed by around 600%. When we say asking for reviews works, we mean it!
2. Collect reviews from the email itself
Want to wow customers with your review collection technology? Let them complete their review directly within the email. 
3. Collect multiple reviews at once
60% of orders include more than 1 product. That's a lot of reviews to write. Make the process quick and painless by letting customers review multiple products in one click. One of our clients saw their review collection rates increase by 54% in just 30 days after implementing this approach.
4. Add a review request form to your product pages
Add review forms to your product pages, so customers have a place to leave a review no matter if they purchased your products from your site, another retailer, or in-store. 
Pro Tip: Encourage longer reviews by gamifying the process! Add a Review Meter link that shows a progress bar and cheers customers on to keep writing.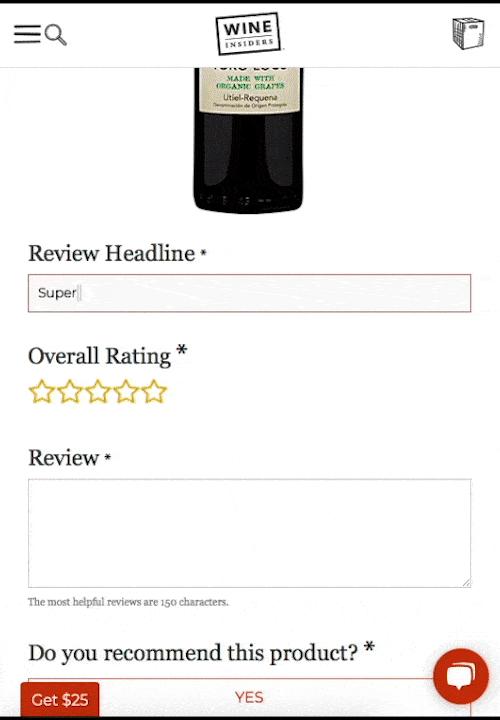 5. Create a landing page for reviews
Maybe you don't sell your products through your website. Good news: you can still collect reviews. Create a page on your website that's just for reviews. Feature each product with a link to write a review. This gives you a handy URL you can share on social media, email newsletters, and other marketing communications.
6. Ask for reviews on receipts and invoices
Post-purchase emails are great, but you need a customer's email in order to send them. For in-store purchases, you can add a call-to-action on your receipts and invoices asking shoppers to write a review. Take every opportunity you can to remind shoppers that their feedback is valuable and you're always looking for reviews. 
7. Include review requests in your email newsletters
Do you send a marketing email newsletter to your customers and subscribers? That's another great spot to ask them to write a review. Remind customers of the value of reviews in a short and sweet callout, or feature some of your products along with links that take people right to the review form. One PowerReviews client collected 175 days in just 2 days with this review collection campaign; another collected over 1,000 in just 5 days!
8. Ask for reviews via text message
For younger generations, email feels so old school. Stay hip and connected by asking them to leave reviews via text message. You can send them links to your review form after their purchase.
9. Host a sweepstakes or giveaway
Among shoppers who don't write reviews, 55% said they need an incentive or reward to do so. So, give the people what they want! Throw a review sweepstakes, where each review counts as an entry. One of our apparel clients saw a 290% increase in review collection in just 45 days thanks to this strategy!
Pro Tip: Promote your review contest far and wide, including on your website, email newsletters, and social media channels.
10. Include your review request on the product packaging
It's common to include rave reviews on product packaging. Why not also ask for reviews while your customers are in a positive frame of mind, and excited to start using your product? Print a QR form on product packaging. Once the customer scans it from their smartphone, they're taken directly to your review form.
11. Collect more reviews via QR codes
Speaking of QR codes, they're a review collector's best friend. As long as they're linked to your review form, you can use QR codes in a variety of places to collect more reviews. Do you attend trade shows? Print a QR code on a business card with instructions on how to write a review and hand it out at your booth. Do you ship products directly to your customers? Include a product insert with a QR code and instructions to write a review.
12. Award loyalty points for writing a review
If you offer a customer loyalty program, make writing a review one of your point-earning activities. Allow customers to earn points each time they leave a review for one of your products.
13. Share product samples to drum up new reviews
Are you launching a new product, or reintroducing a seasonal product line? Generate new reviews fast by offering product samples. You can share physical products, or distribute physical or digital coupons for specific items. Tell customers that you are looking for their feedback. Because you've already given them a free product, they'll be more likely to return the favor with a review. We've found that review submission from a sampling campaign can range from 60% to 90%. Not too shabby!
Pro Tip: Supercharge your product sampling campaign by partnering up with influencers. Talk to your notable influencers or register with a micro-influencer platform to expand your reach.
14. Reward reviews with a product discount
Keep the positive momentum going. After a customer writes a review, thank them with a discount. It can be a percentage-off discount or something as simple as free shipping. Offering a discount not only encourages the customer to make another purchase, but to keep writing reviews to score more discounts.
15. Ask for reviews on your Order History page
Customers often review their Order History to reorder their favorite products. That's an excellent time to remind them to write a review. Include a CTA to write a review next to each product in their order history.
16. Ask for reviews on social media
Your most loyal customers are following you on social media. These are folks who love your products and want to see you succeed. Activate your social media army and tell them they can help by writing you reviews. Ask for reviews on Facebook and Twitter, and include swipe-up links in your Instagram Stories. 
Pro Tip: Prevent writer's block and inspire your followers by retweeting, reposting, and resharing positive reviews from other social media users.
17. Follow up on Facebook comments
Are customers raving about your products on social media? Join the conversation. Respond to positive Facebook comments with your appreciation and a link to leave a review. Social media is a perfect place to collect review content when you don't have customer emails — sometimes you just need to do a little digging!  
18. Include review requests on product warranties and registrations
After customers complete their product registration or warranty, ask for a review. These folks care enough about their product to want to keep it protected, so they probably have some pretty good things to say. This is an excellent way for non-ecommerce brands to collect reviews.
Bonus: Syndicate reviews to other retail partners
We'll include this last tip as a bonus. If you sell through retail partners in addition to your own website, you need to be thinking about how to collect reviews not just for yourself, but for those other partners, too. One easy way to accomplish this is to share reviews from your website out to your retail partners through review syndication. By boosting your review counts on other retailers, you can increase sales there as well. 
As you can see, you've got lots of options for collecting reviews. All it takes is a little creativity. Get started by putting these tips into practice today. Collecting reviews is the foundation of any UGC strategy, but there is so much more you can do. Learn more in our Complete Guide to Ratings & Reviews for 2021.
Special thanks to our friends at
PowerReviews
for their insights on this topic.