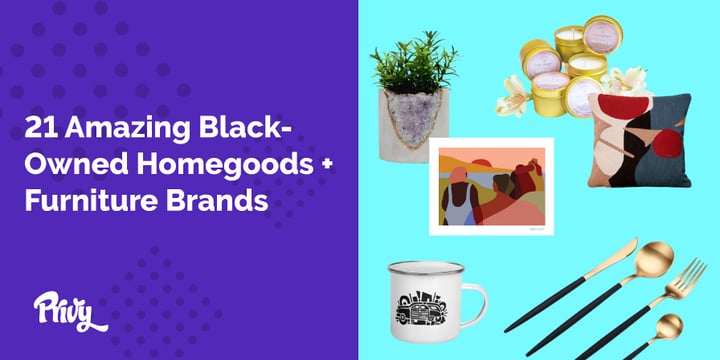 In honor of Black History Month, we're making a point to use our platform to amplify Black voices. So this month, we're publishing collections of Black-owned brands that you can support, not only right now but always.
In this installment, we're highlighting 20 amazing Black-owned brands in the home and furniture industries. 
But you can also check out these apparel and cosmetics brands.
And for a more extensive list, check out this directory of more than 200 Black-owned brands.
Get our best content on ecommerce marketing in your inbox 2 times a week
1. Blk Mkt Vintage
Blk Mkt Vintage is a Brooklyn-based antique and vintage store dedicated to showcasing the richness of Black history and culture. Founders Jannah Handy and Kiyanna Stewart have curated a vast collection of vintage books, records, clothing, furniture, art, and other goods.
Whether you're looking for vintage magazines, pins, or signed novels, you're sure to find something fascinating in their online collection.
Recently, Blk Mkt Vintage even partnered with HBO to create a limited edition run of prints and a sweatshirt for the hit series Lovecraft Country.
2. SustainAble Home Goods
SustainAble Home Goods is a collection of fair trade and ethically-made home decor and accessories crafted by local and international artisans.
Founder LaToya Tucciarone's mission is to create sustainable jobs and economic stability in marginalized communities across the globe, all while showcasing the art and beauty of different cultures.
Check out these gorgeous Maraba Planter Baskets handmade by artisans in Rwanda: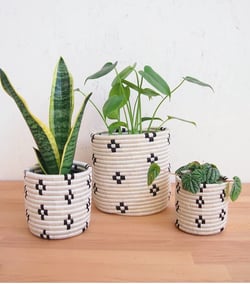 Or put together a one of a kind gift box with a selection of items from their gift box bar.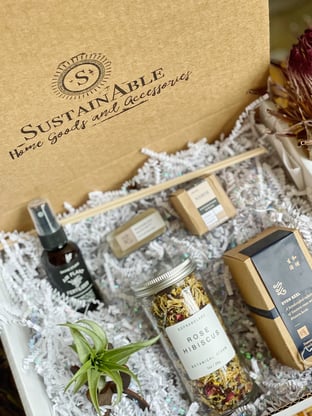 3. For Keeps Books
Rosa Duffy started For Keeps Books with the intention of giving readers greater access to Black literature. Since opening the bookstore in 2018, Duffy has curated a vast collection of works by a multitude of Black authors.
Her brick and mortar shop was a staple in her Atlanta neighborhood pre-COVID, but these days she keeps the spirit of the store alive by making a number of works available online.
Virtually browse through a wide variety of titles by Toni Morrison, Octavia Butler, Langston Hughes, and more. For Keeps even has a selection of signed copies if you're looking for a collector's item.
4.
The Black Home
The Black Home by designer Neffi Walker is a line of artfully-crafted, minimalist home goods. With a focus on contrast, dark tones and thoughtful design, Walker's collection of tableware, wallpaper, and candles have been seen on and featured in places like Bravo, Essence, and Kitchn.
Her cutlery line is gorgeous and comes in three different color combinations:
She even offers up an abundance of free design advice to help you get inspired. And for even more expert insight, you can purchase her two e-books to help bring out your inner interior designer.
5.
Expedition Subsahara
Expedition Subsahara is a collection of handmade Senegalese baskets and goods with a truly amazing mission: providing education access to girls and young women.
Twenty percent of every sale is set aside to fund the construction of a girls' STEAM school (science, technology, engineering, arts, and math) in Senegal.
So not only is Expedition Subsahara's mission incredible, their products are one of a kind, handmade, and absolutely STUNNING.
Made with elephant grass and recycled plastic, this vibrant, gourd-shaped Wishing Basket will liven up any space (and as a bonus, tradition says that these baskets create the perfect energy for wishes to come true):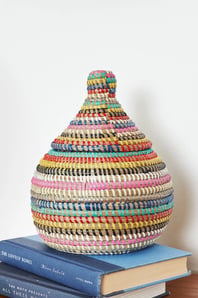 And I absolutely love the color combination of this set of woven placemats (which can double as wall art):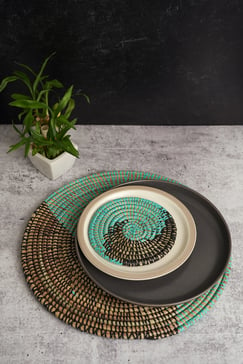 In 2020, they hit their first major financial milestone and collected enough funds to purchase the land the school will be built on. Help them reach their amazing goal, all while brightening up your home with beautiful woven goods.
6. Clare
Getting tired of the color of the walls that you've been stuck inside for the past year? Same. If you're looking to shake up your home aesthetic, Clare has you covered.
Founder Nicole Gibbons created her premium paint line with the intention of taking the stress out of finding the perfect paint color. Clare's Color Genius quiz matches users with the color options for their space with just a few simple questions. And they've made sampling colors easier than ever with their removable, peel-and-stick paint swatches.
But that's not all…Clare paints are self-priming, ultra low-odor, compliant with the world's most stringent emissions standards, and packaged with recycled materials.
7. Tactile Matter
Tactile Matter is a collection of art and textiles by multidisciplinary artist and creative director Kenesha Sneed. Using evocative and purposeful colors and forms in a variety of media, Sneed's work speaks to themes of empowerment and the Black experience.
Check out this beautiful print of her work Sunrise: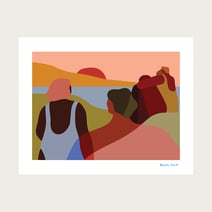 Or preorder her gorgeously illustrated children's book Many Shapes of Clay, set to be published in 2021.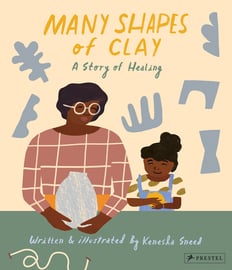 8. Karibe Company
Founded by Vernon Williams in 2018, Karibe is a New Jersey-based line of high-quality cookware that specializes in durable, expertly-engineered cast-iron skillets. Choose from several different pan sizes, or buy their skillet set to be prepared for any culinary endeavor: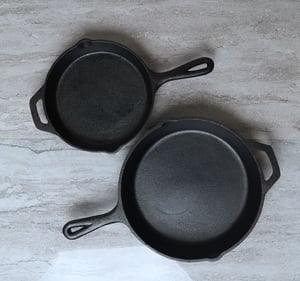 And if you're not sure where to start with your new cookware, Karibe has a page of recipes to inspire you.
9. Kintsugi Candle Co.
Kintsugi (meaning "golden journey") refers to the Japanese art of repairing broken ceramics with golden lacquer to accentuate rather than hide the flaws. Allison Jones carries this philosophy into her line of candles, which she decided to start after relying on aromatherapy to cope with a brain tumor diagnosis.
With the slogan of "broken is beautiful," Kintsugi has candles for any mood, whether you need to relax or invigorate.
Their lavender gift box features two of their lavender-based candles, two sets of matches, and a handwritten note: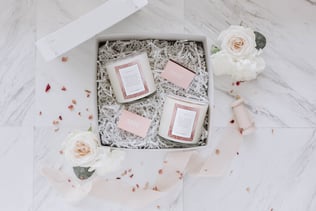 And their mini candle sampler set features a small version of each of their four signature scents:

10. Tal & Bert
This Pittsburgh-based homegoods studio run by husband and wife duo Ray and Val Talbert also celebrates the Japanese philosophy of finding beauty in imperfections (known as wabi-sabi).
Tal & Bert combined their love of art, the outdoors, and recreational mining to create a line of stunning, hand-crafted planters and candle holders made from concrete and raw minerals.
The duo uses a signature technique that creates a gorgeous, geode-like effect using natural minerals and gold accents. This mermaid mod planter is absolutely stunning, and is perfect for small houseplants or cacti: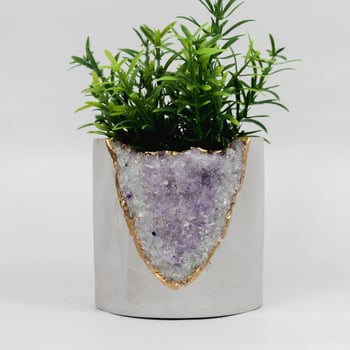 And their smaller planters, like this blue apatite vessel, can even be upgraded to come with a live air plant or tea light.
11.
Black Pepper Paperie
Black Pepper Paperie Co. is a Washington, D.C.-based studio and lifestyle brand. Designer Hadiya Williams draws influence from ancient West African art with modern western design in her work.
This minimalist, camping-inspired Woody enamel mug is adorable, but also durable and multifunctional enough to attach to your bag on a hike: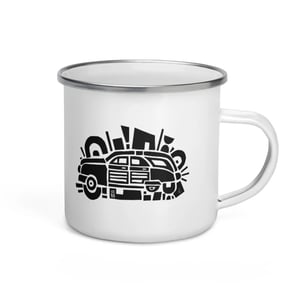 And this stunning, speckled clay incense holder will definitely add some good vibes to your space: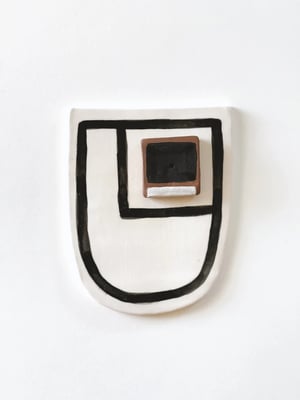 12. Bespoke Binny
Founder and cognitive behavioral therapist Natalie Manima started Bespoke Binny, a vibrant line of home goods, because she truly understood the impact that a home environment can have on people's moods. She has always found bright colors and prints to be uplifting, and represents with the bold, cheerful patterns that are the core of her brand.
Her line includes bedding, tableware, lampshades, blankets, and more, all in rich, vibrant patterns. This cozy fleece-backed throw blanket will add a pop of color your couch: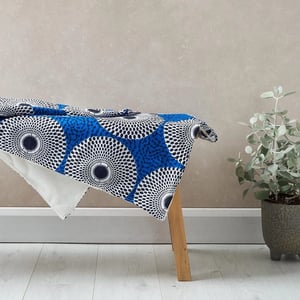 And if you're looking for something crafty to do, she even offers virtual lampshade-making classes. Just select your fabric pattern and she'll send you a kit with everything you need to make your very own lampshade.
13.
TNT Goods
Founded by craft-loving best friends Jessica and Simone, TNT Goods is a line of custom, handmade home decor and accessories. They offer a wide selection of eye-catching resin-based coasters, dishes, and trays as well as art prints, stickers, and pins.
I'm in love with these black & gold monstera leaf coasters, which are handmade with resin and real gold leaf: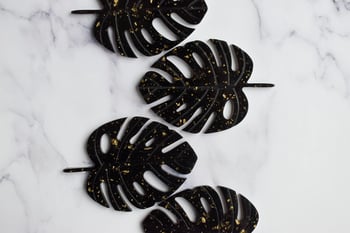 And check out the colors in this decorative tray: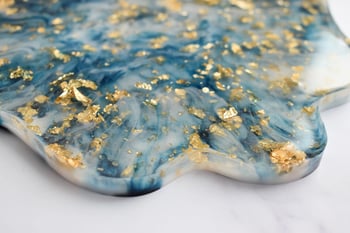 14. Unwrp
Unwrp is a one-stop shop for all of your gifting needs. The line of beautifully eclectic, high-quality gifting materials includes gift bags, wrapping paper, cards, fabric wraps, and even pillows.
Founder Ashley L. Fouyoulle's love for art, fashion, and unique patterns drove her toward the luxury gifting industry, and today she partners with artists all over the world to keep her vision alive.
This food gift bag set showcases quite literally all of my favorite things (and the pattern is also available as gift wrap and greeting cards):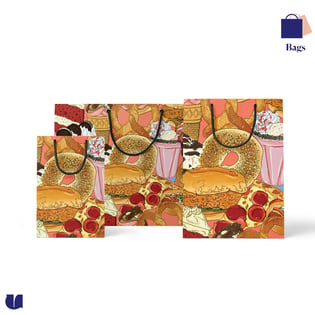 And this fun hands wrapping paper will brighten up any gift (and is also available as gift bags, greeting cards, a fabric wrap, and even a pillow):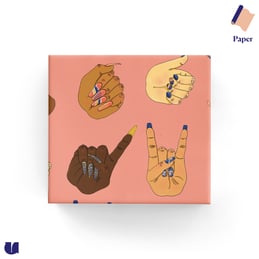 15.
Goodee
Goodee is a curated marketplace centered around conscious commerce. Founders Byron and Dexter Peart work exclusively with brands and artisans that make a positive social or ecological impact, so you can feel good about any purchase you make from the brand.
There are a ton of amazing products on their site, including home decor, furniture, personal care products, and kitchenware. You can either shop by product or by room, so it's super simple to find exactly what you're looking for or discover something new.
Their Tapestry Pillow is available in several different color palettes, made from premium organic cotton, and finished by hand: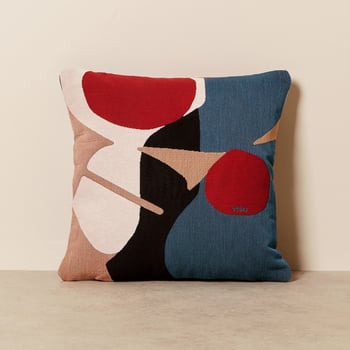 And they partnered with Nordstrom to create Goodee100, a line of items all priced under $100. So you can find amazing, sustainable goods no matter what your budget. This Women in Design bundle, which includes a tote bag and two publications highlighting trailblazing women in art, would make a great gift or addition to your coffee table.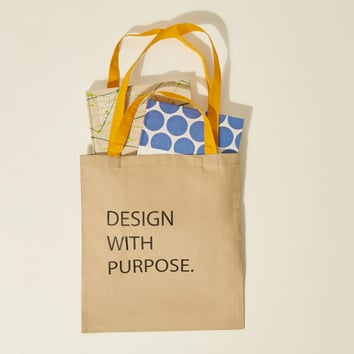 16. Cloth & Paper
Cloth & Paper is a brand that focuses on all things planner-related. Founder Ashley Reynolds launched the company in 2015 to address her own need for a planner that fit her minimal, modern aesthetic. So with no background in graphic design at all, Reynolds went ahead and designed her dream planner, which then evolved into a full line of stationary, writing utensils, and leather products.
Her refined, minimalist style is a breath of fresh air in an industry that's often dominated by loud neons and kitschy patterns. Keep yourself organized with a a slick, refillable 6-ring agenda and a beautifully designed planner insert: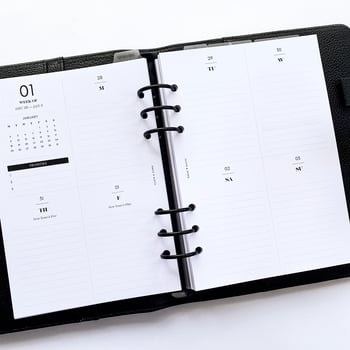 And they even offer monthly subscription boxes so you never run out of your pens, stationary, and other high-end writing accessories.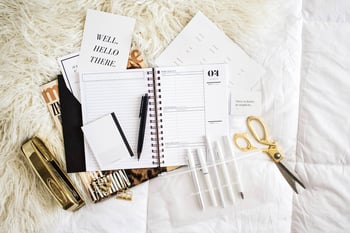 17. 

Loo-hoo
Loo-hoo wool dryer balls are an all natural, eco-friendly alternative to dryer sheets, which can contain harsh chemicals. This nifty product can reduce your clothes' drying time by 10-25%, and wool's natural odor-absorbing properties leave your clothes smelling fresh. And since founder Cyndi Prince started the brand in 2010, they've expanded to offer a variety of laundry products and even an award-winning dog toy.
Start off with their starter three-pack, which is a great option for smaller households and will last for hundreds of washes: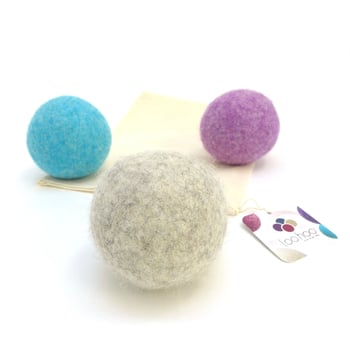 Or grab their jute tote laundry set, which includes 6 wool dryer balls, a laundry tote, and an all-natural stain stick: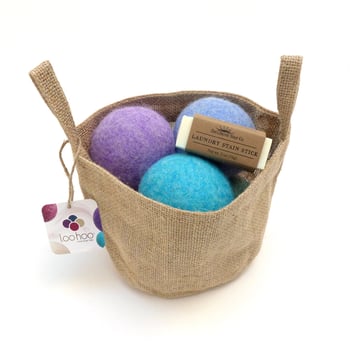 18.
Reflektion Design
Anitra Terrell launched Reflektion Design to honor her love for Ghanaian culture and art. The line includes art, baskets, tableware, and more, all created using fair trade, ethically sourced textiles. Her passion for showcasing culturally-inspired art and design is evident across the brand.
These bead-handled olive spoons are truly functional pieces of art: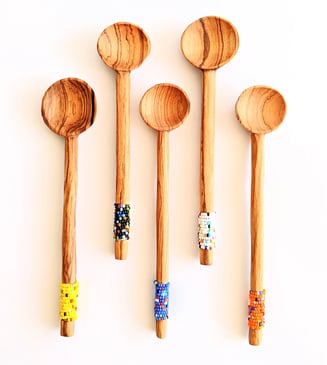 And these small woven colorful bowls are perfect for storing jewelry, keys, or trinkets: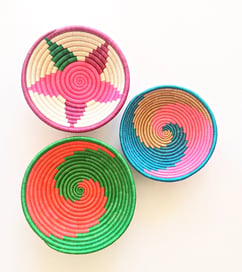 19.
Estelle Colored Glass
Estelle is a stunning line of hand-blown glassware that can best be described as "jewels for your table." The inspiration for the brand was founder Stephanie Summerson Hall's grandmother, Estelle, who loved antiquing and was always on the hunt for a piece of colored glass to add to her collection.
Hall's vintage-inspired designs are crafts by artisans in Poland, and the results are absolutely beautiful. There are several different types of glasses, all offered in a wide spectrum of vibrant colors. Can't make up your mind? Opt for a whimsical mixed set of 6 brightly colored wine glasses.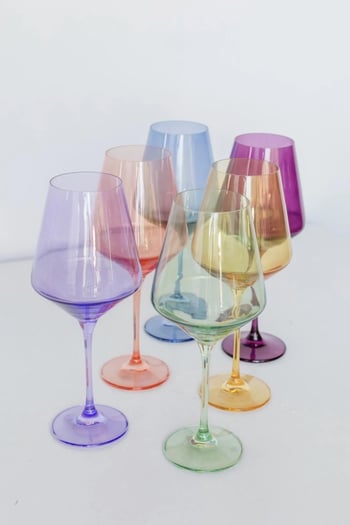 20.
Peace & Riot
Founded by interior designer Achuziam Maha-Sanchez and her husband Lionel Sanchez, Peace & Riot is a Brooklyn-based boutique with a collection of eclectic housewares that combine the owners' Caribbean and African heritages.
There's truly something for everyone on their site, with products including art, kitchenware, bed and bath products, furniture, and so much more. These hand-carved mango wood serving spoons are a beautiful, functional addition to your kitchen: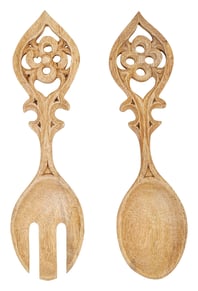 And this gradient puzzle seems incredibly challenging, but also a great way to spend a cold winter day when you're stuck indoors.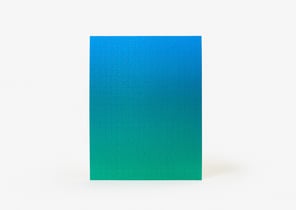 21.
Lichen
Created by Ed Be and Jared Blake in 2017, Lichen is an NYC-based interior design collective. The duo aims to share their passion for music, art, and design with like-minded individuals, and their brand definitely reflects that mindset. The ever-changing selection of furniture and home decor is carefully sourced by Be and Blake, who collect, sell, and trade goods throughout the city.
Their pieces are tasteful and modern, and there's always something new to see on the site. In addition to the vintage furniture that they curate, the duo has also gotten into crafting their own pieces. Their signature coffee table is a fan-favorite, constructed from baltic birch in a sleek, minimalist design: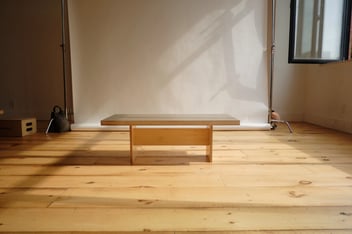 Topics:
Ecommerce Brands
Special thanks to our friends at
Privy
for their insights on this topic.