Reading Time: 10 minutes
Popups may divide opinions but one thing is for certain: they're effective.
The immediate popup—those that appear almost as soon as you land on a website—convert at around 1.9%. Meanwhile, the exit-intent popup converts at 8%, more than four-times higher!
When using an exit-intent popup, the cursor of your site visitors is tracked and when it looks like they're about to leave the site, a popup appears to grab their attention before they leave. Typically these popups offer something compelling—a discount, ebook, free gift, etc.—but as we'll explore shortly, there are many different ways to approach them.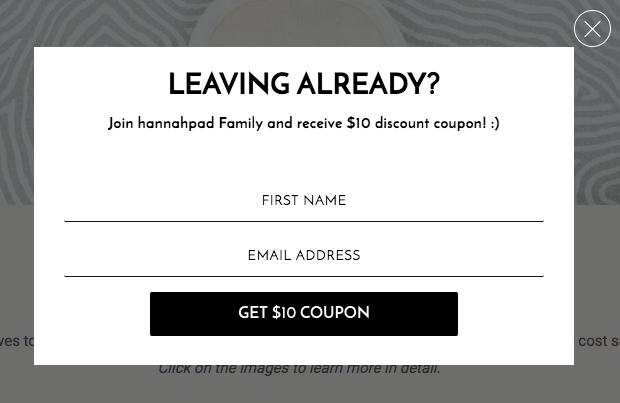 If you're not yet using them, consider that Allison Caufield, the Senior Marketing Manager at FiGPiN, told us in a podcast interview that:
"[The popup has been] extraordinarily successful compared to the newsletter sign up at the bottom…in the previous six months we had about 120 or so people sign up for the newsletter link at the bottom. But we've had…over 2,000 sign up via the popup, so absolutely more exposure and more signups through that popup."
Exit-intent popup best practices
Like anything related to marketing, there's not a best exit intent popup—there are various approaches you can take, and some are more effective than others. Before we look at some real-world examples, here are six considerations to help your popups achieve strong conversion rates:
Have a concise message with a clear benefit. Remember that this person is about to leave the site, so you need to grab their attention quickly and require very little effort from them.
Ask only for relevant information. As above, you don't want to ask for too much here, so exclude anything you won't actually use. That said, if the visitor is already giving their name and email address, it's worth also asking for a phone number and/or birthday—it adds just a few seconds for them to complete and gives you additional segmentation opportunities, which can pay dividends later.
Target the popup. Using the same popup on every page is likely to be much less effective than tailoring the message to the page. For example, a discount might make sense for a homepage, while product pages may highlight some of the benefits of your store to reduce cart abandons; e.g., free shipping, free returns, or introduce other products.
Try gamification. Popups don't have to be static blocks of text and images. The Omnisend Wheel of Fortune is an interactive game that has a sign-up rate of almost 13%!
Use social proof, a.k.a reviews. Gaining someone's trust can be difficult, especially when we see so many adverts every day. That's why social proof is so powerful: it helps to remove some of the perceived risk by showing your visitors that other people enjoy what you offer.
Generate urgency. Urgency and FOMO can help to push your conversions up. For example, instead of just offering a discount, make it clear that it's for a limited time or has exclusive benefits.
30 exit-intent popup examples
Now let's dive into some real-world examples, with some of the best exit-intent popups that Omnisend customers have created. How many of the six recommendations above can you see in these?
1. Distorted People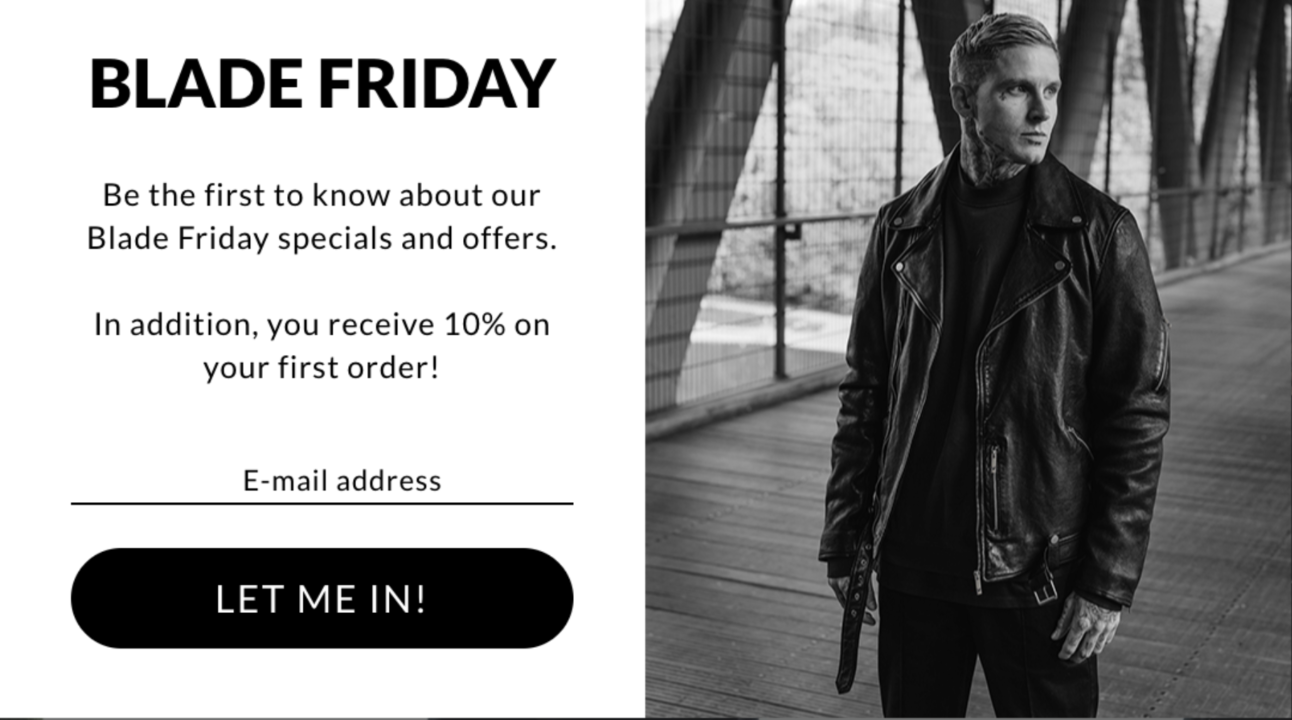 Like most of the best exit popups, this one by Distorted People is concise and to the point, doesn't request too much information from the visitor, and offers a 10% discount on the first order. And instead of the button having the usual "Submit" or "Sign up," it puts itself in the reader's place with an enticing "Let me in."
2. WarFit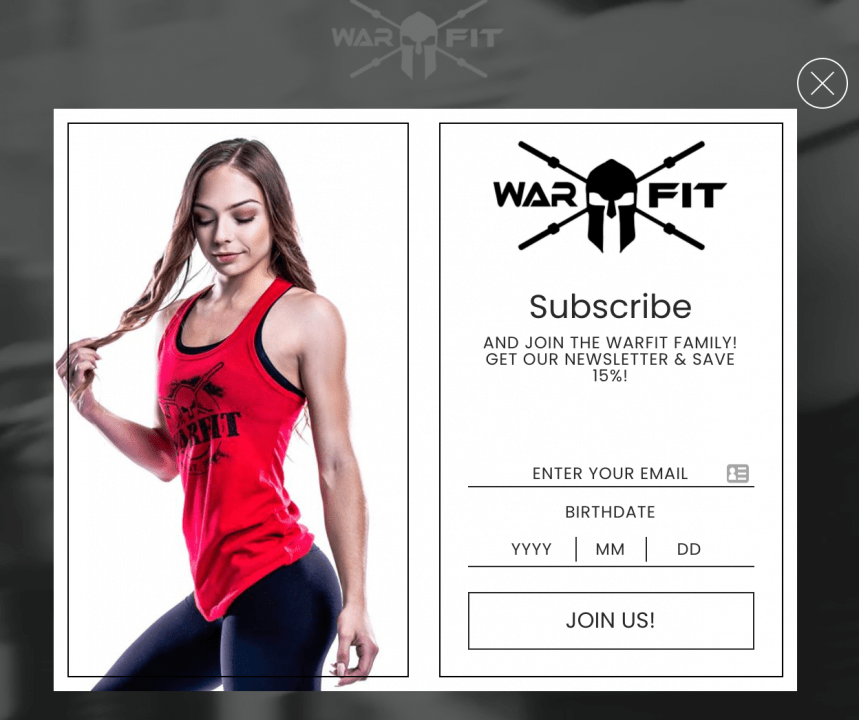 This popup offers visitors the opportunity to join the family, and the button keeps consistency here with "Join us!" There's also an interesting choice of wording: instead of offering a discount, it offers visitors the chance to "save 15%" which plants the seed of saving money. 
Finally, it asks for a birthday, which gives WarFit additional opportunities for personalization and segmentation with its subsequent campaigns.
3. Avanchy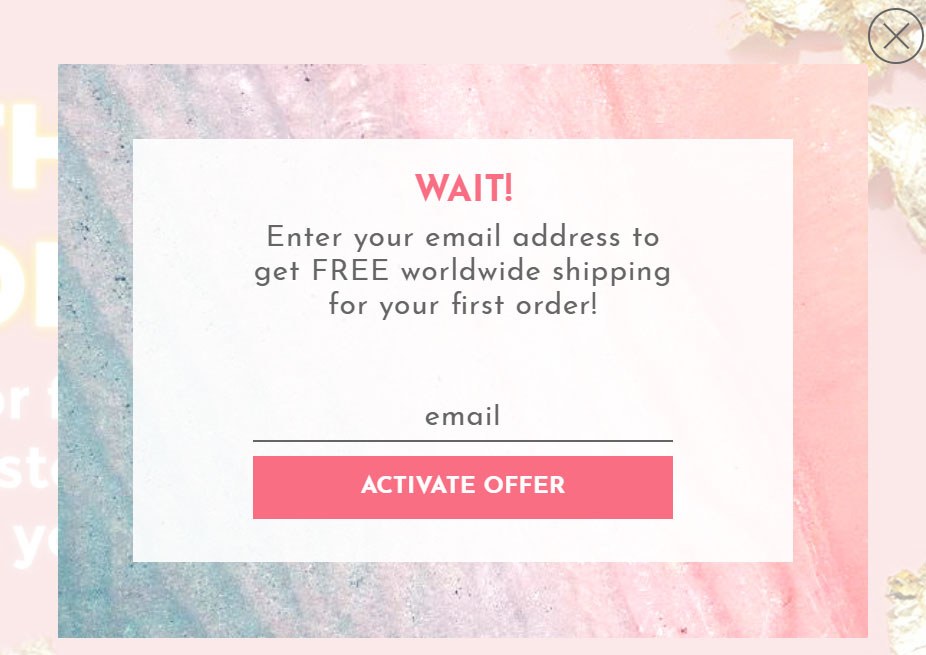 Avanchy's a great example of tailoring content for exit-intent popups, and the large, bold "WAIT!" is the perfect way to grab their attention. Once the popup has that attention, it has a clear and short offer of free shipping anywhere in the world.
4. Alastin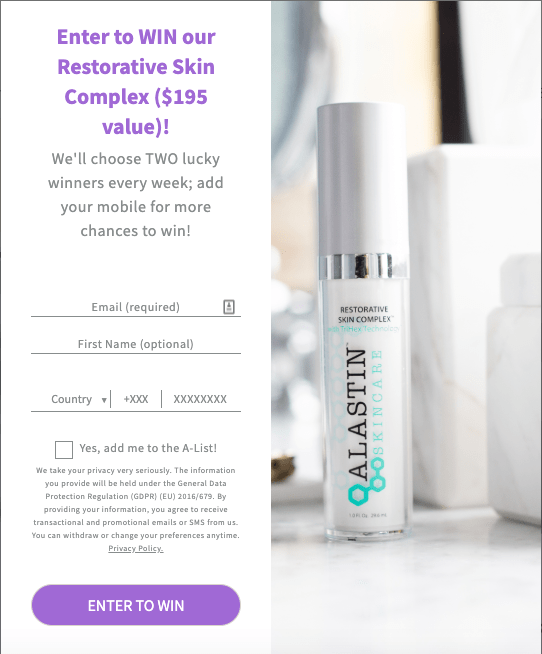 Alastin's popup takes a different approach. First, it's significantly longer and second, instead of the typical discounts, its offer is to take part in a giveaway for a relatively expensive product. It also asks for a phone number, sweetening the request by boosting the chances to win.
5. Olive and Piper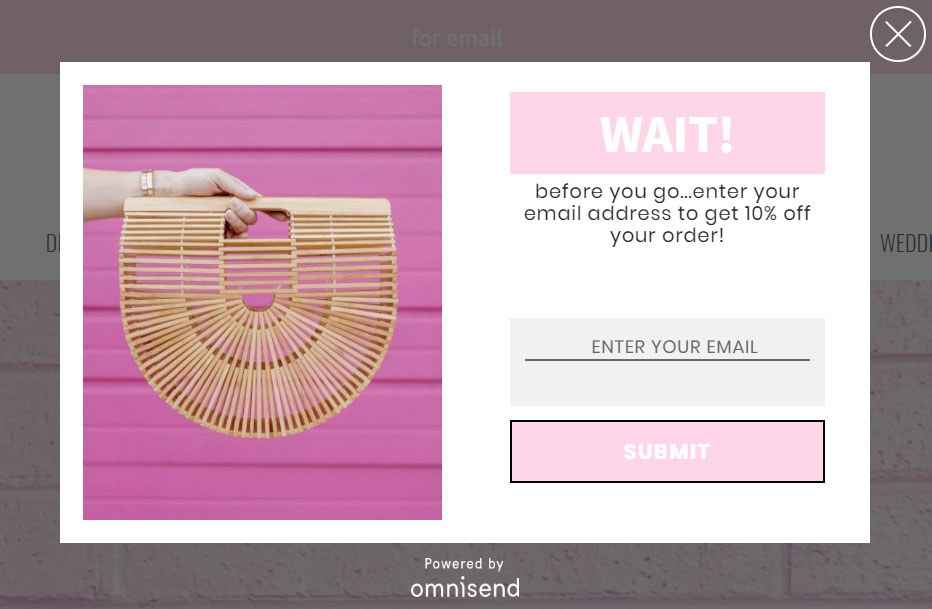 Like Avanchy, Olive and Piper use a large, bold "WAIT!" to grab attention from visitors before they leave with a 10% offer in exchange. 
6. Roadside Vapes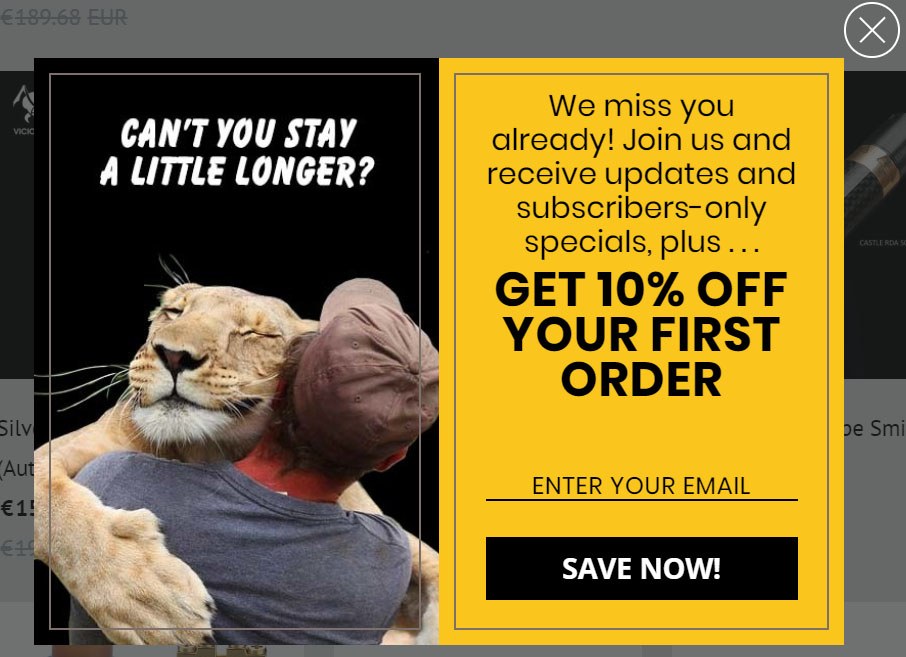 There are different exit intent popup strategies you can use, and this is a perfect demonstration of tailoring content to the type of popup. The lines "Can't you stay a little longer?" and "we miss you already!" only work on an exit-intent popup, and wouldn't make sense on an immediate popup. It also has a great use of personality, as well as enticing people with the promise of subscribers-only specials.
7. Modern Me Boutique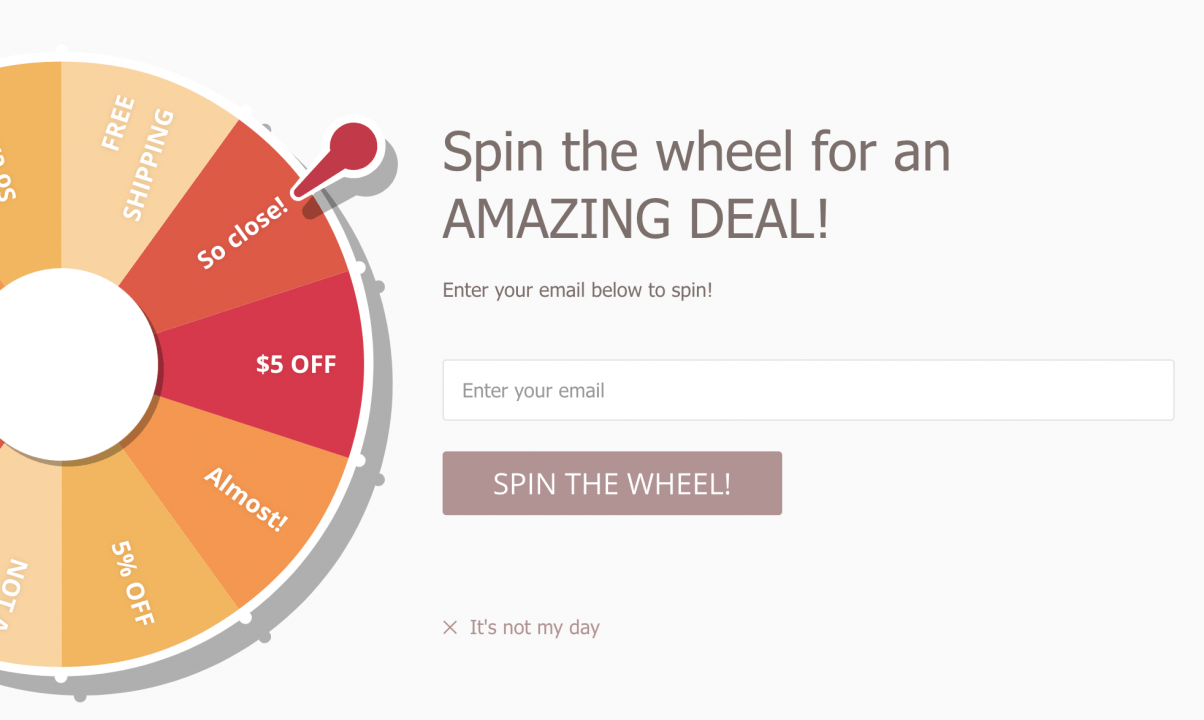 This popup utilizes Omnisend's Wheel of Fortune, which adds a fun and interactive element. Instead of a standard discount that applies to everybody, each visitor has a chance to spin the wheel and receive a specific prize—in this case, free shipping, or a discount of 5% or $5.
8. The Purr Shop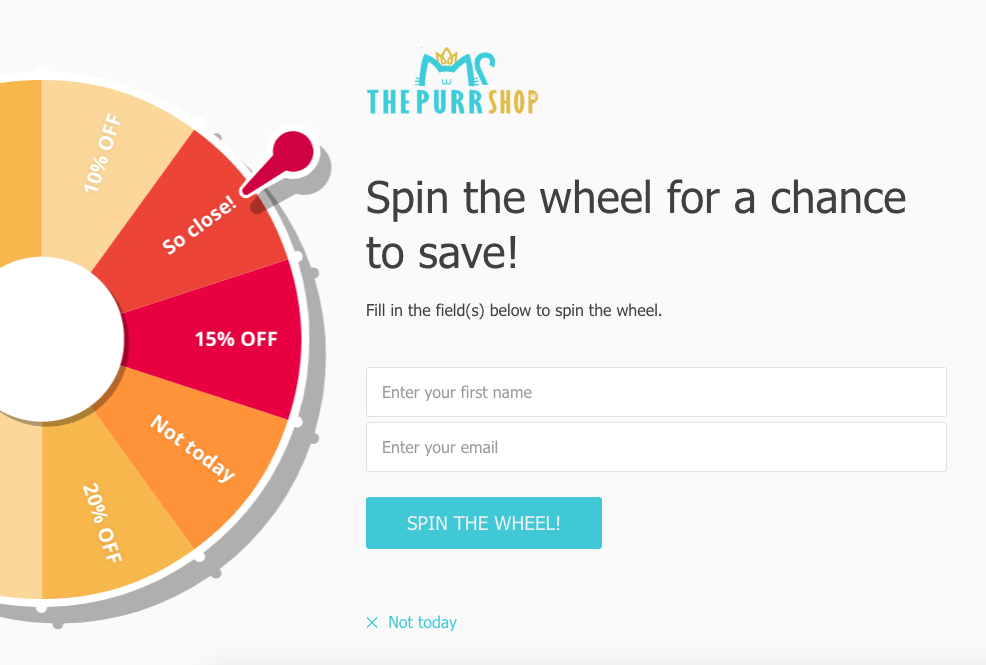 This popup also uses Wheel of Fortune but with a different approach. Whereas Modern Me Boutique asked only for an email address, The Purr Shop also asks for a name to enhance its personalization options in future emails. 
9. Spoiled Brat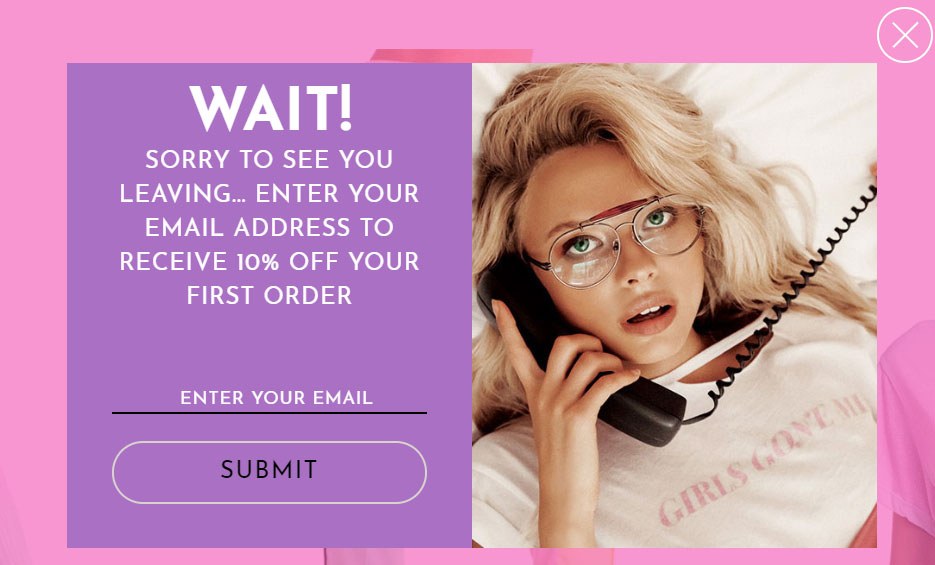 This is the first of two exit intent popup examples from Spoiled Brat, and it's a great reminder that you don't need to reinvent the wheel. There's nothing in this offer that isn't used elsewhere, but the image is perfectly on brand and research has found that human faces can significantly increase conversion rates.
10. Spoiled Brat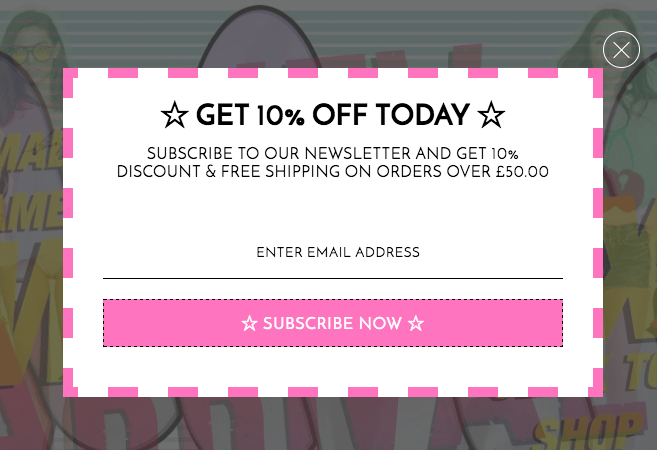 The second example from Spoiled Brat demonstrates that you can use different messages on different popups. This one has a prominent headline of a 10% discount, creates urgency with "today," and highlights free shipping for orders over £50.
11. Alyanna by Alexandra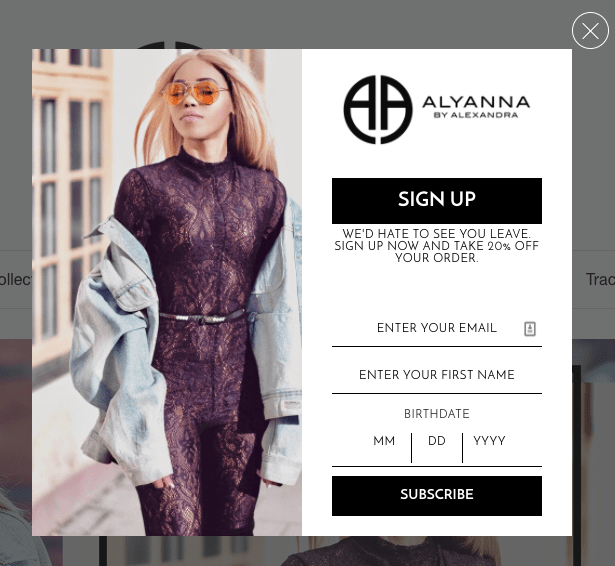 This has prominent and clear imagery alongside a clear offer. They also ask for email, name and birthday for better personalization and segmentation in their future campaigns.
12. Wilson Street Gifts & Decor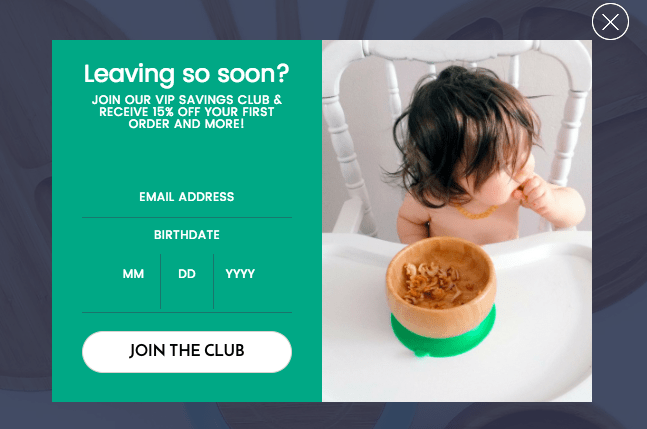 Similar to WarFit's mention of joining the family, Wilson Street offers the chance to join a VIP savings club and its CTA button uses the persuasive message of "join the club." 
13. Ask&Embla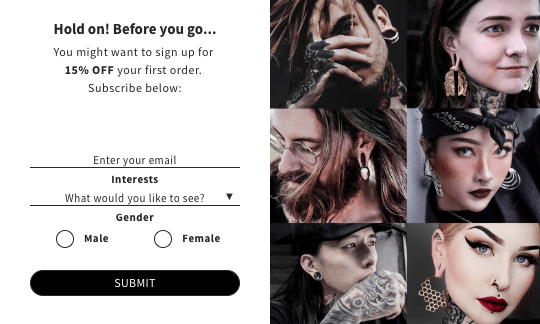 There's a wonderful focus on personalization here. The photo perfectly displays the brand and its audience, while the popup itself allows visitors to select their interests and gender—allowing for greater segmentation opportunities.
14. Emrick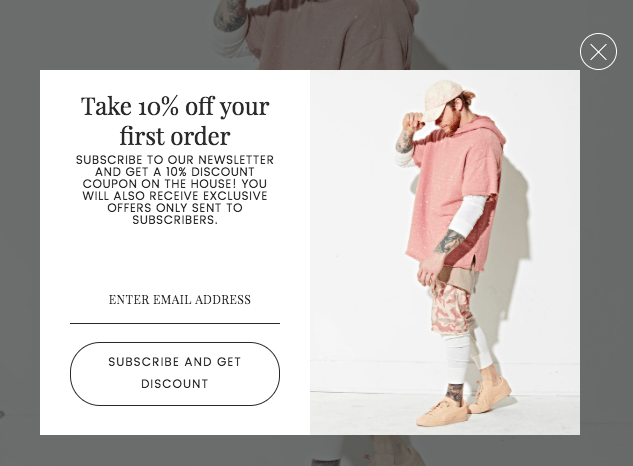 Emrick's exit popup not only offers a 10% discount but also generates FOMO by mentioning exclusive offers that only subscribers receive.
15. Out of the Rat Race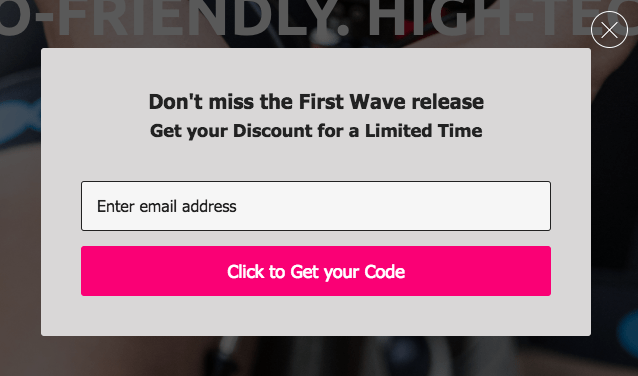 This exit popup has another take on FOMO, adding urgency by making the discount available for a limited time.
16. Wayre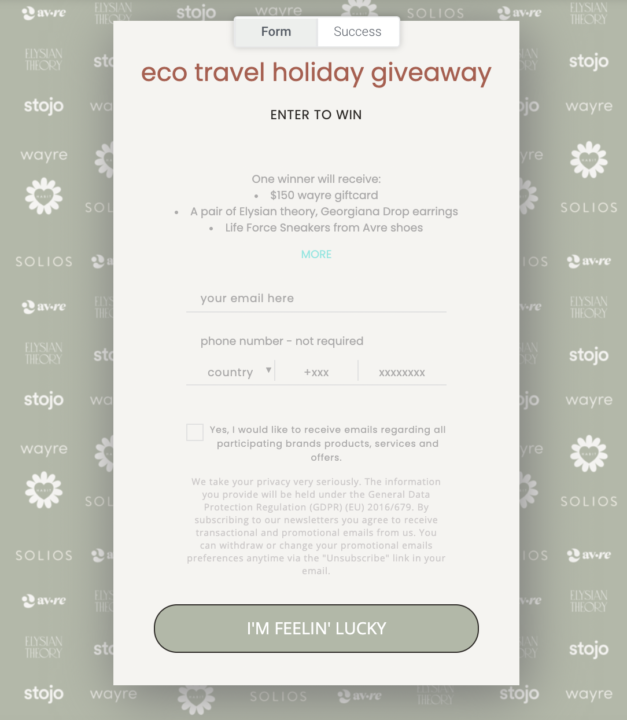 Users that complete this popup are entered into a giveaway, and all the information is prominently displayed: the prize, terms and GDPR opt-in, while the "I'm feelin' lucky" CTA is cleverly linked to the offer.
17. BaGallery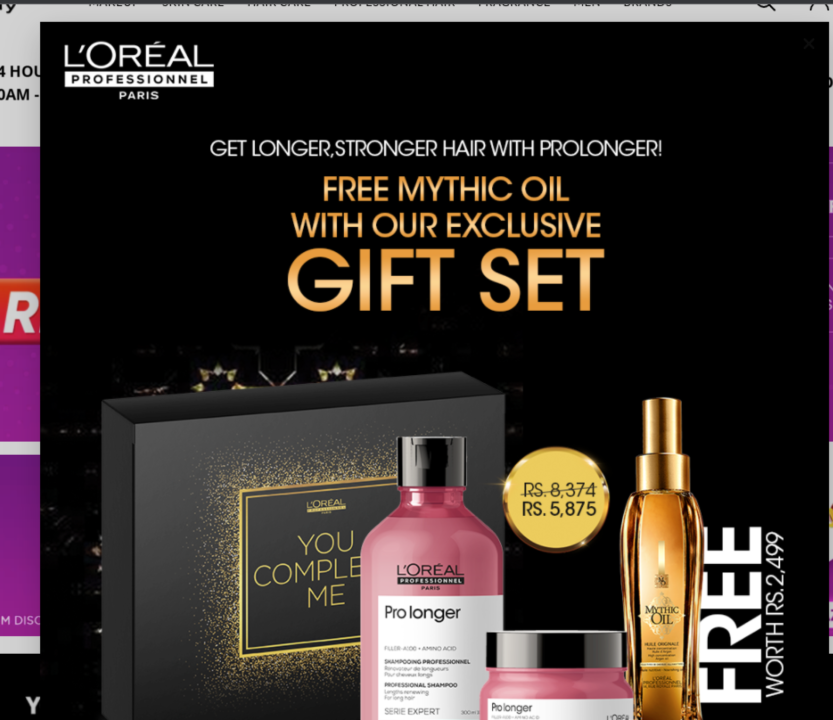 Notice the luxurious imagery and enticing language in this example: "free mythic oil" plus "exclusive gift set," coupled with a prominent discount and the word "FREE" in large font.
18. BaGallery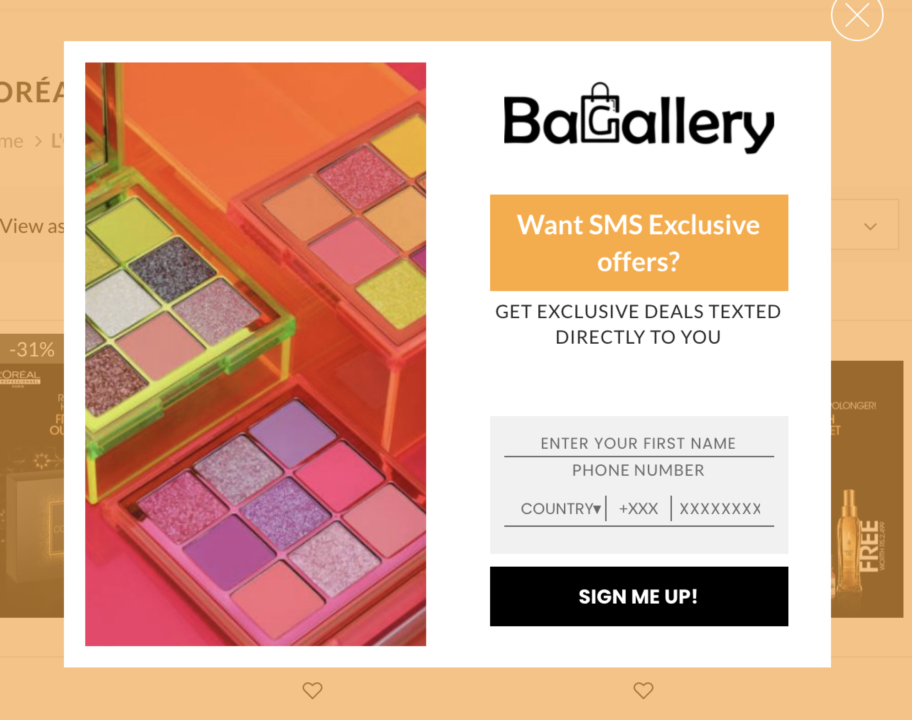 This second exit intent popup example from BaGallery is SMS-focused, again enticing visitors with exclusivity.
19. Face Ice Globes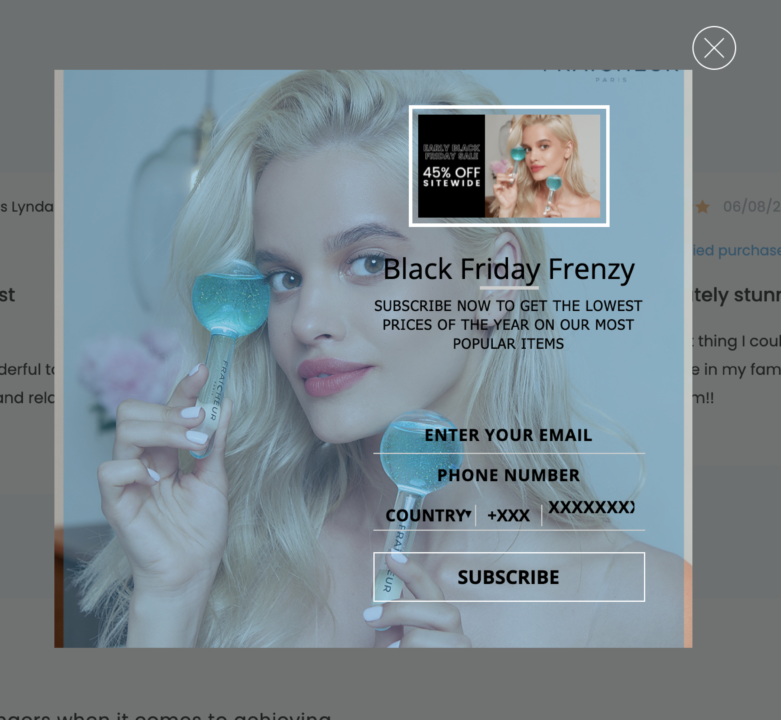 This exit popup from Face Ice Globes is clever, as the phrase "the lowest prices of the year on our most popular items" creates FOMO by suggesting that if you don't buy now, you'll pay more later. Plus, asking for email and phone number allows for greater omnichannel possibilities. 
20. FiGPiN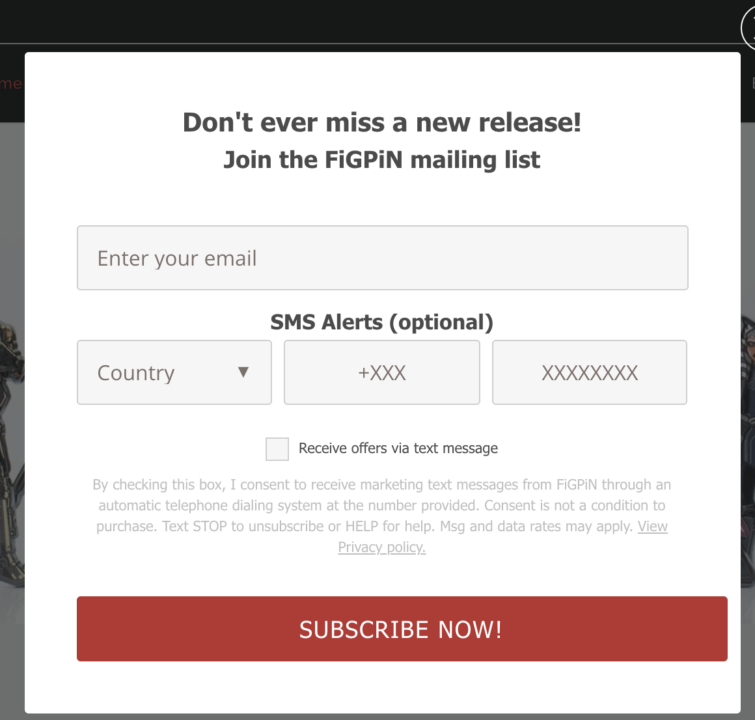 This popup shows a deep understanding of the audience: being in-the-know is hugely important in the collectibles world, and the offer here is to simply stay updated on all new releases.
21. Altamont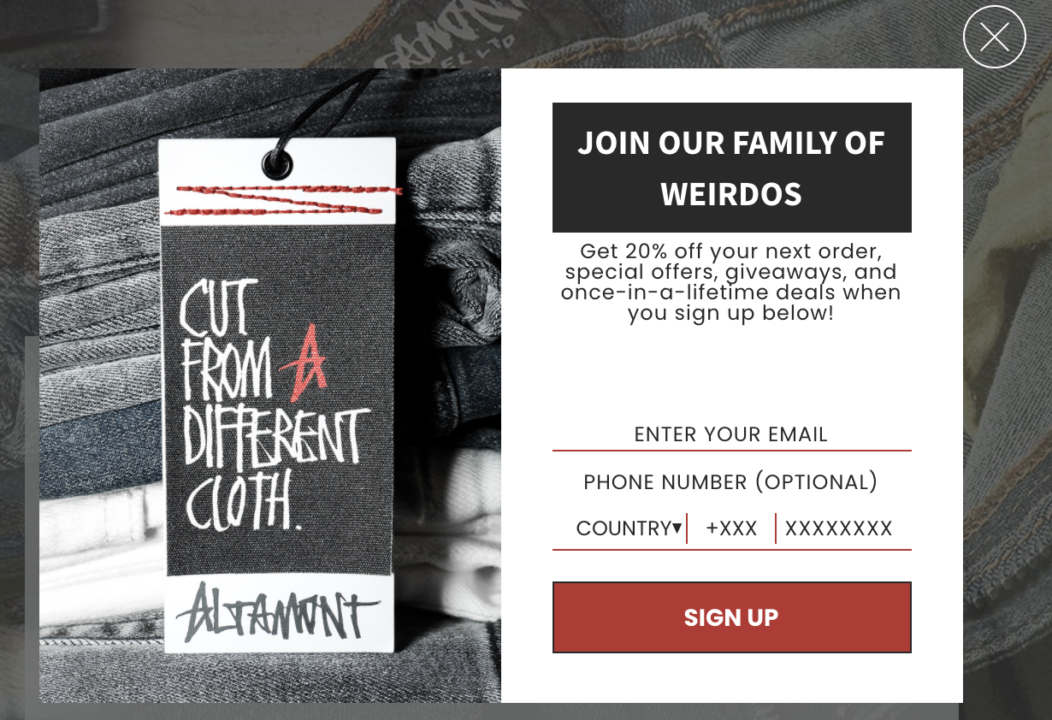 Altamont displays an understanding of its audience by proudly announcing who the brand is for. The offer is also significant: 20% discount, special offers, giveaways and once-in-a-lifetime deals.
22. LionHeart Hobby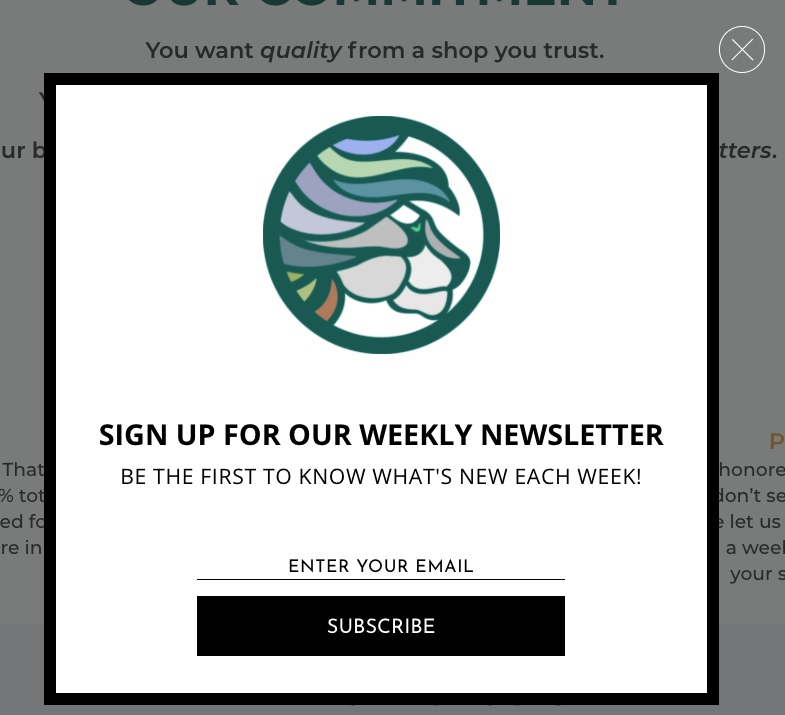 This exit popup demonstrates the power of simplicity. It's minimalist enough to be completed by people who are in a rush.
23. Duke Cannon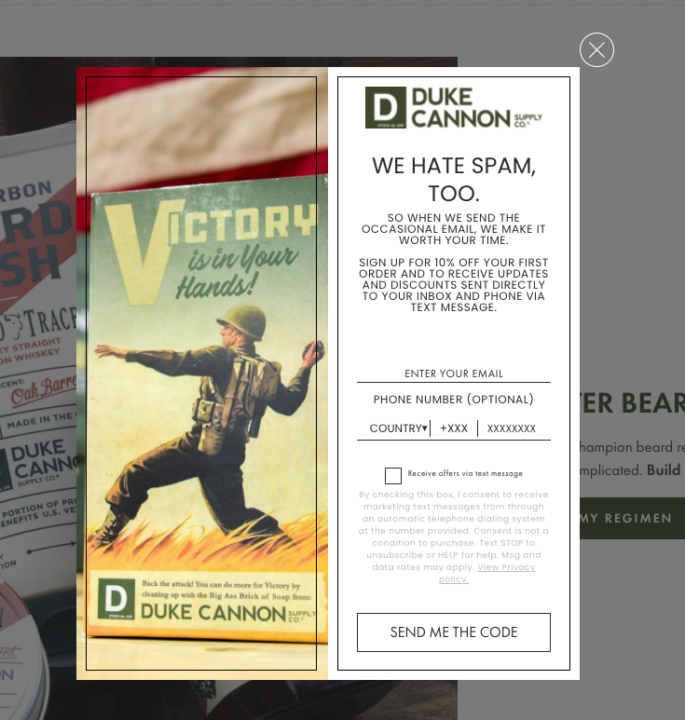 Humor, personality and overcoming a common objection are skilfully incorporated here, with the headline and first sentence promising never to send spam. 
24. BreezeBalm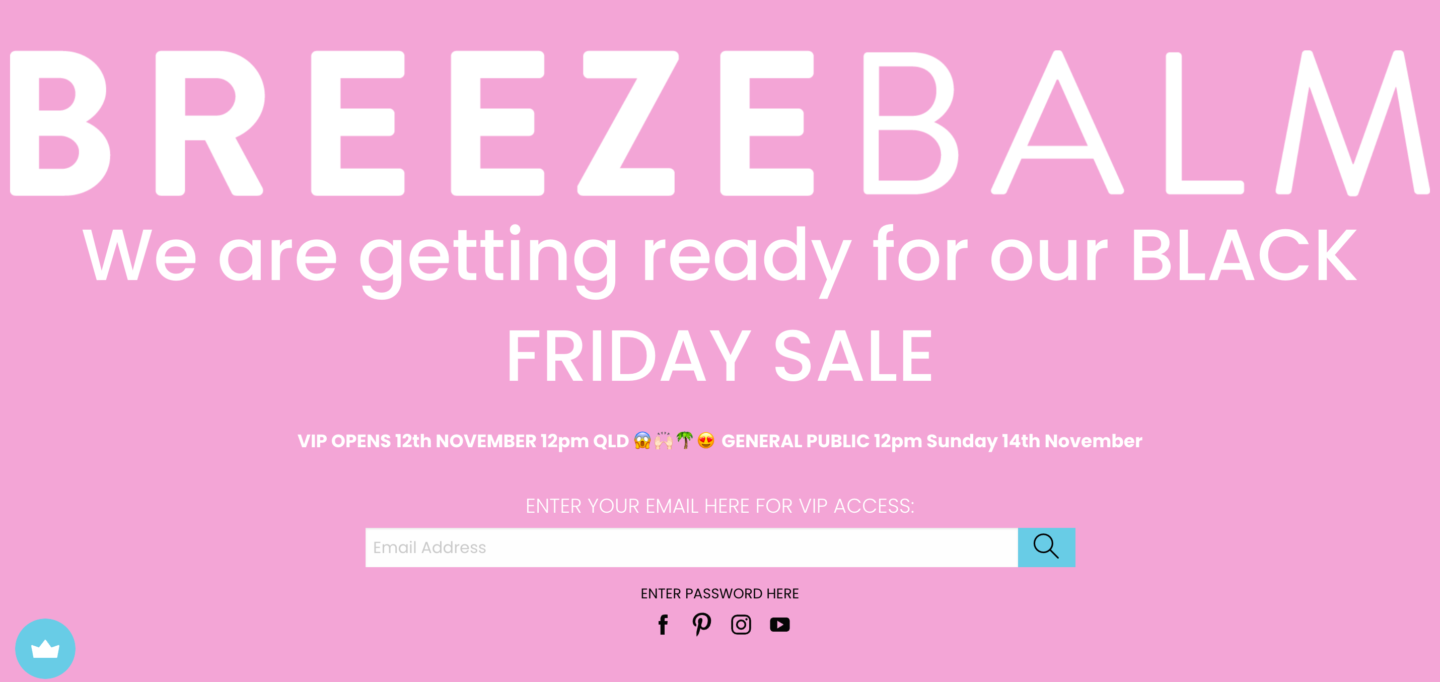 This popup demonstrates how to take a slightly different route, enticing signups by promising access to a VIP sale two days ahead of the general public.
25. Cover Me Ponchos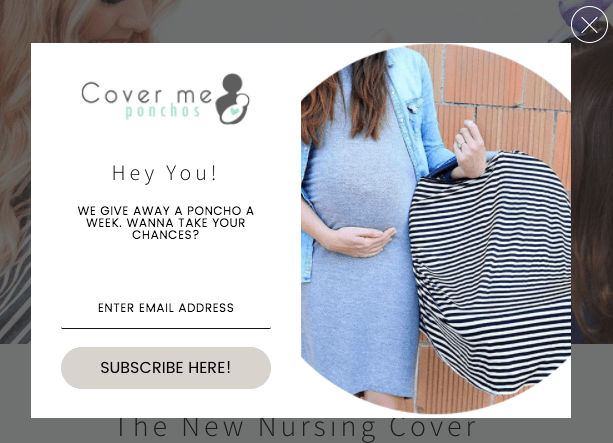 A quick and concise message informs visitors that there's a giveaway every week and by being on the email list, they can be in with a chance of winning.
26. VesperBooks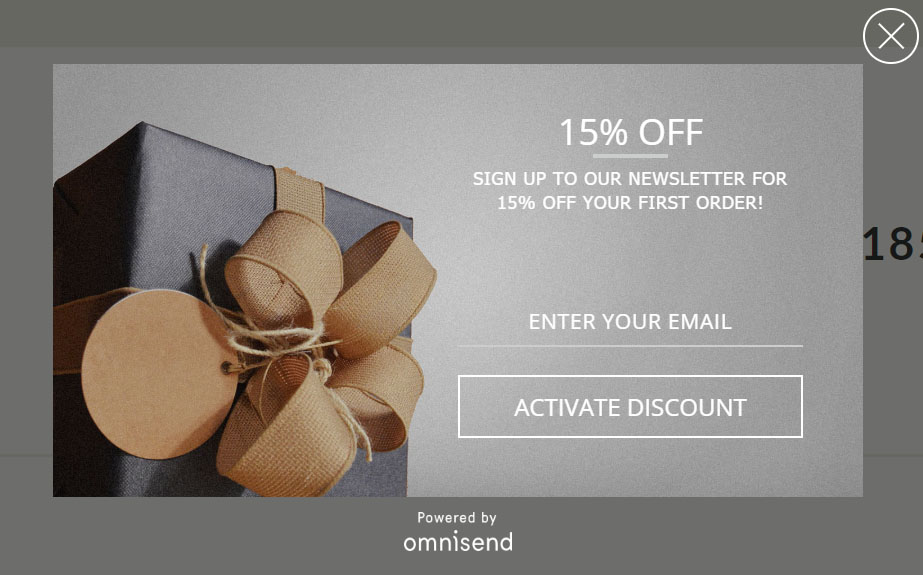 27. Hannahpad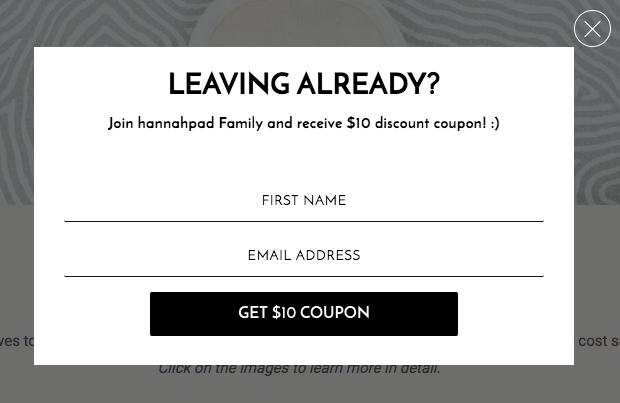 28. Blue Culture Tees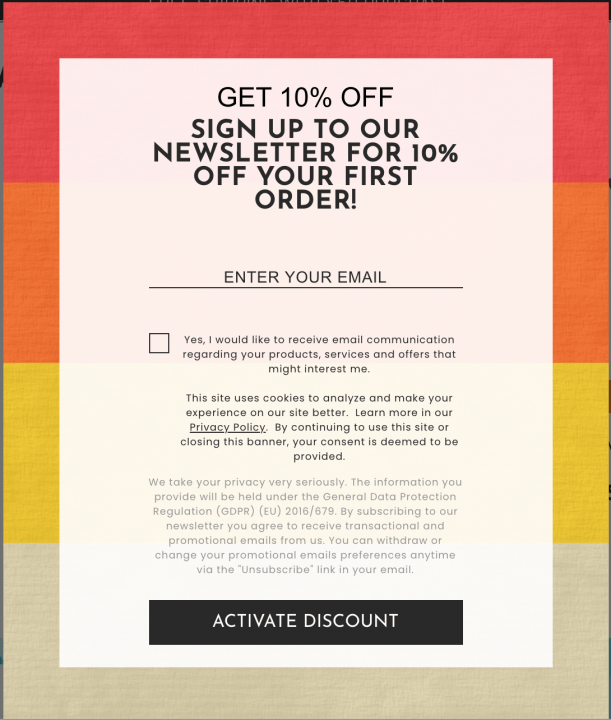 29. She Simply Shops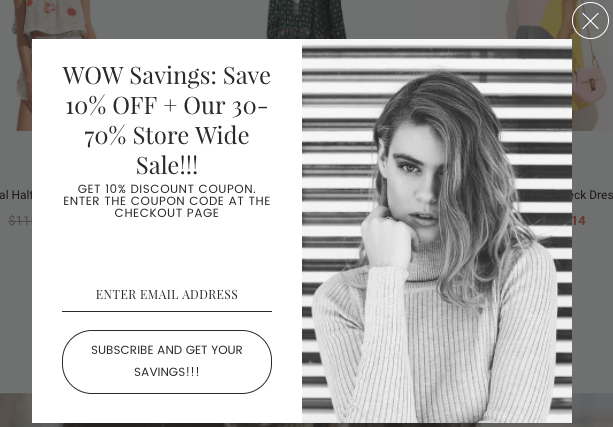 30. Coffee in a Cone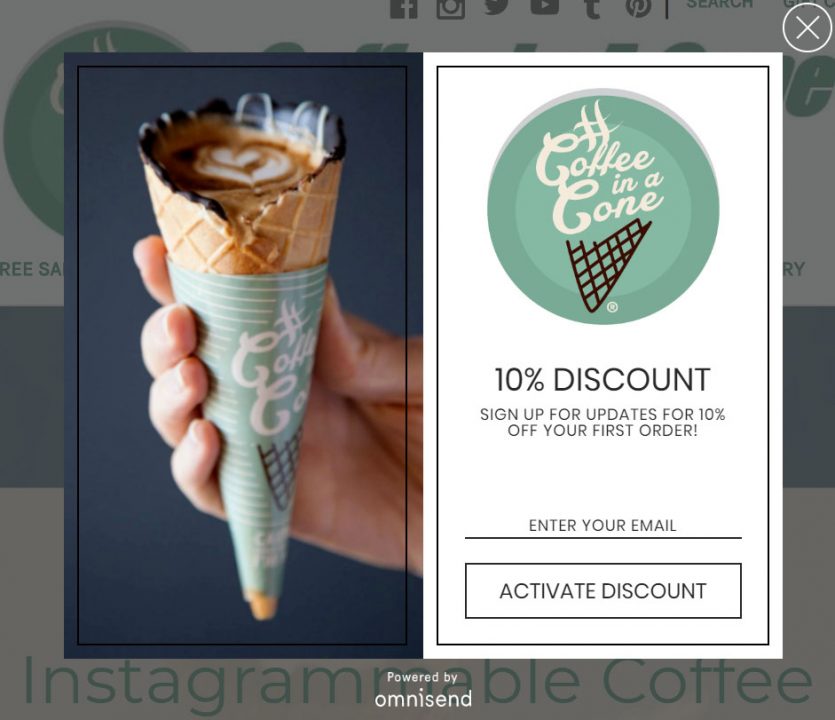 The main benefits of exit-intent popups 
Exit-intent popups can be hugely effective elements of a marketing strategy, directly leading to more subscribers and, in turn, customers. 
Omnisend completed a four-week experiment with Organic Aromas to build an audience list, and with just one hour's work, created various popups that went on to capture 661 leads—an increase of 150% compared to Organic Aromas' previous conversions.
Here are the four main benefits of exit-intent popups:
Build your list. Compared to immediate popups, exit-intent popups not only have a higher conversion rate, but they also give your list a boost by acquiring site visitors who were about to leave, having seen and ignored the immediate popup.
Reduce cart abandons. One of the most common reasons shoppers abandon their carts is the cost of shipping. Exit-intent popups help to overcome this by offering a discount or free shipping when signing up.
Increase sales. By offering an incentive—such as a discount or free shipping—you increase the likelihood that site visitors become paying customers when they were otherwise about to leave.
Reduce distractions. Although popups can be hugely effective, it's possible to overdo them and distract your site visitors. As exit-intent popups only show to people about to leave, they don't appear for people who are actively browsing your site or completing a purchase. 
If you decide to add popups to your website, remember that it's essential for them to be mobile-friendly so that Google doesn't penalize your site's rankings and your visitors find it easy to sign up. All popups in Omnisend are mobile-friendly by default: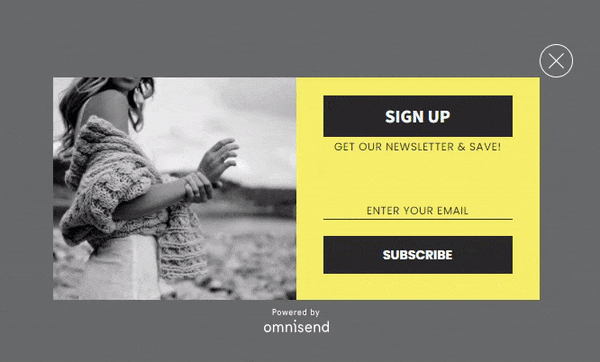 How to set popups in Omnisend
Omnisend offers a variety of popups, which you have full control over: not only when they show but also what pages they appear and don't appear on. And setting them up couldn't be easier, so you can quickly build your own version by taking inspiration from the best exit popup examples above.
The first step is to create a popup form by selecting Forms in your account menu and then clicking the "Create form" button. From there, you can select an existing popup template: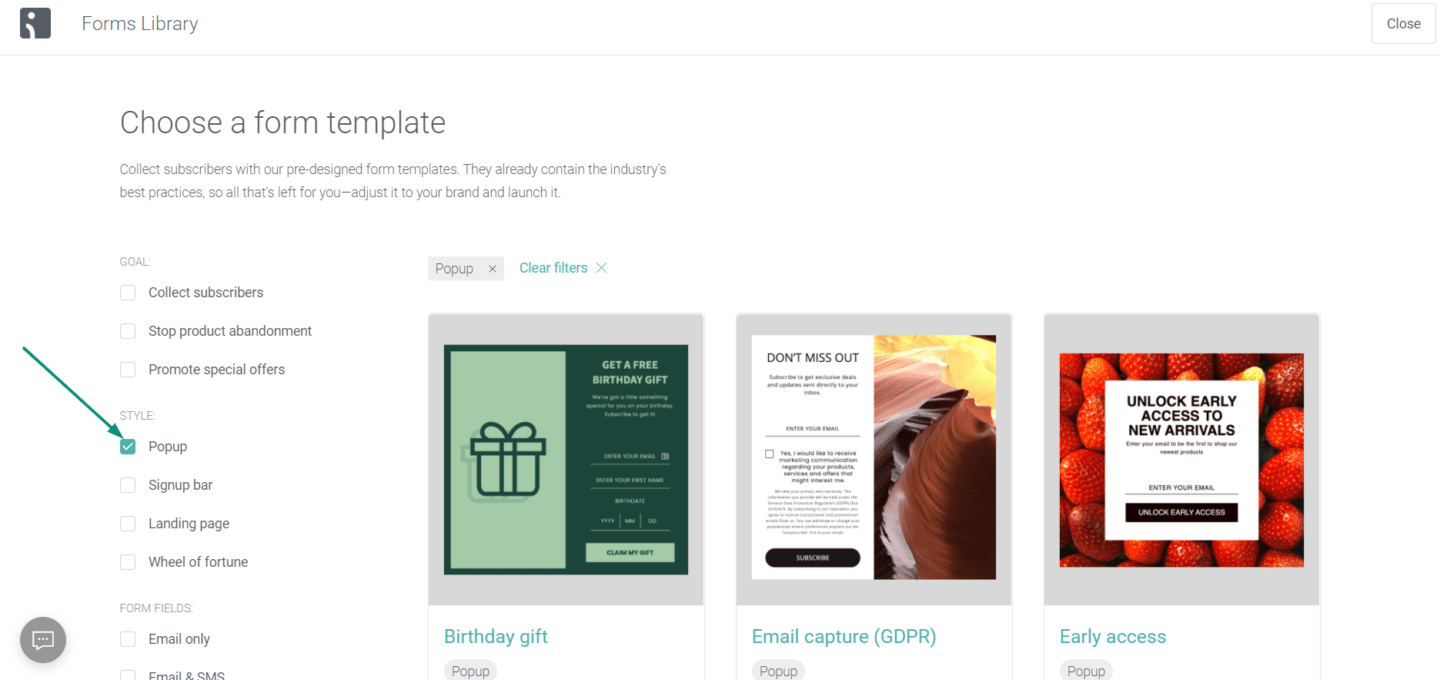 Next you'll visit the Theme tab, where you can fine-tune the layout of the popup so it appears exactly how you want it. You can also select a topic on this page and we'll suggest relevant text offers to include.
From here, you can visit the Content and Design tabs, where you can:
Upload your logo
Add new content blocks
Change images and headlines
Enable opt-ins for email and SMS
Enable GDPR and TCPA consent checkboxes
Change the messages visitors see when they subscribe
Add additional property fields, including custom properties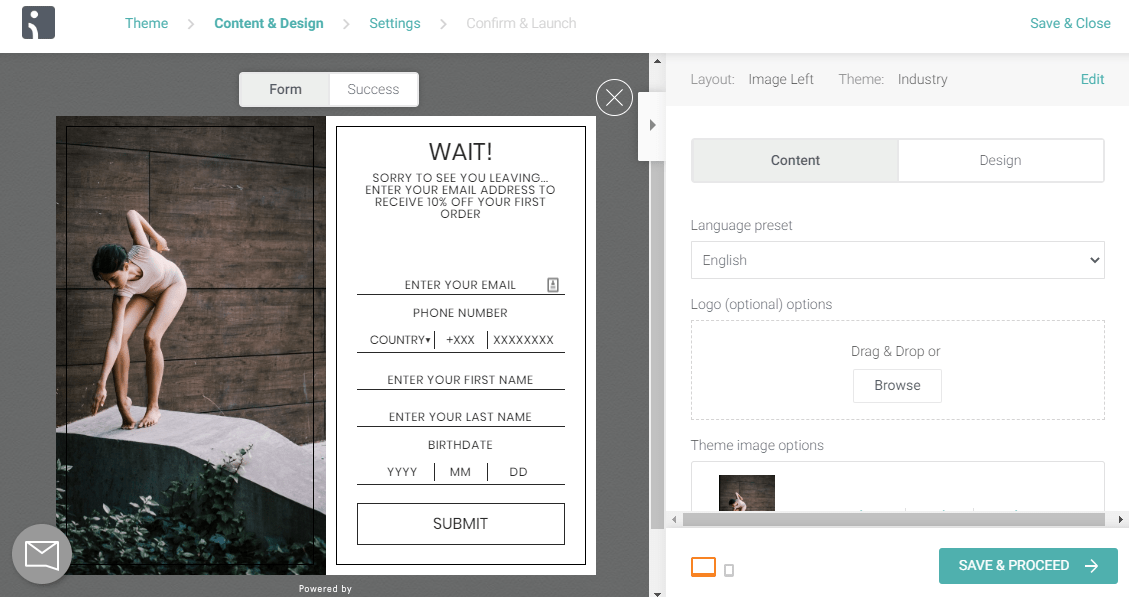 And, of course, you can change your success message and see how it looks in the preview: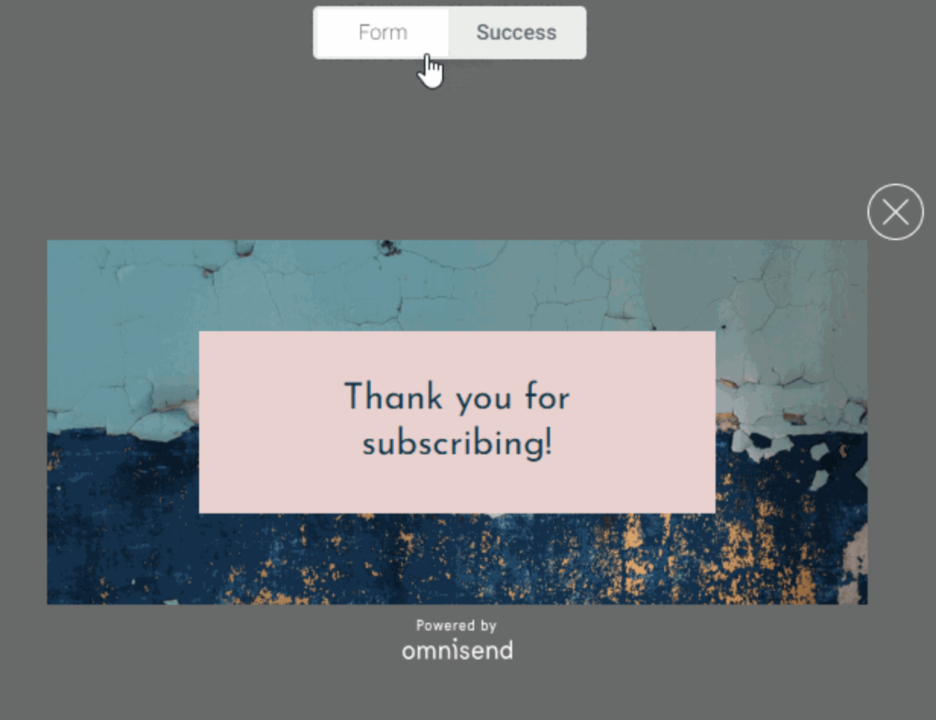 Once you're happy with the design and content, you can review and tweak the settings:
Add a Tag allows you to place your subscribers into different segments for targeted messaging
Enable double-opt in
Timing of when the popup form appears for your visitors (e.g. immediately, after a few seconds, or set it to be an exit intent popup)
Targeting to choose who will see your form
Limits on how often the form appears
Omnisend's popups also have the ability to include a discount code. Just set it up in your store's admin and add it to the popup—each contact will receive an identical code, with a seamless user experience because they won't need to leave your website to access it.
Conclusion
Incorporating an exit-intent popup on your site is a highly effective method for growing your contact list and boosting your sales and revenue. A particular benefit is that they can be used in tandem with other popups, catching some of the visitors that ignored your other sign-up forms.
They're highly customizable and, as this article has shown, there's no shortage of different ways to use them. The best exit-intent popups are direct with clear benefits, so try to incorporate your personality, branding, and an appealing offer.
Omnisend includes exit-intent popups on every plan, so you can try them out for free today.
Get started with Omnisend today & drive sales on autopilot with pre-built automation workflows
Special thanks to our friends at
Omnisend
for their insights on this topic.