BFCM is right around the corner and we know that you want to make it your most profitable one yet.
To help you turn your Messenger list into a major Black Friday revenue generation machine, we collected four quick but highly impactful steps to take within your Recart dashboard.
These steps will help you build your Messenger list, re-engage your existing subscribers and help your shoppers' cart get to checkout, so that you can end this year's BFCM season with record success!
1. Tailor Your Welcome Pop-Up To BFCM
Make it clear for your website visitors right away that your store is taking part in the Black Friday sale. Switch the messaging to communicate that the biggest shopping season of the year has started!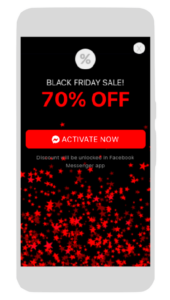 During BFCM, shoppers are actively looking for discounts, so the best incentive to get them to sign up to your list is a coupon or reduced price.
You can make your pop-up attractive by adding the discount amount to the form. Make sure you're offering the welcome discount code in your welcome flow!
To take it a step further, we recommend also changing the color of your pop-up. The colors that are most often associated with Black Friday are red and – obviously – black!
To change your pop-up form, open the
Recart app
, select
Opt-in tools
and click Edit next to the Popup you wish to display on your site.  
2. Re-Engage Your Customers With Sponsored Messages Before Black Friday 
A sponsored message is a paid ad feature that Facebook offers for Businesses, but, unlike regular ads, it lets your customers start a conversation with you without leaving their Messenger inbox. As such, sponsored messages can have a 20-80x ROAS (Return On Ad Spend)!
Re-engage your prospects and customers leading up to BFCM, and spread the word about your upcoming sales. Let them know what to expect over the next few weeks and remind them to keep an eye out for Messenger-only deals.
During BFCM, it's especially hard to cut through the noise of all the promotional emails from stores, so delivering a sponsored message straight to your leads' Messenger rather than their inbox helps you stand out from the crowd and make sure your message is getting the attention it deserves.
You can send a sponsored message straight from the Recart dashboard that'll appear in your customers' Messenger feed.
Tips for Sponsored Messages During BFCM
Schedule your messages early! BFCM is extremely competitive: a Messenger user can only get one sponsored message per day (in total!). The sooner you schedule, the better your chances are at getting a wider reach. 
You only pay for Opens. While you may have a large subscription list, you only pay for the messages that have been opened. When thinking through your budget, keep in mind that you'll likely spend far less than expected. 
Schedule several messages… but make sure they aren't overlapping. Since a user can only get 1 message per day (from all merchants!), you will not get any delivery on messages that have overlapping dates. 
The preferred image dimensions for Sponsored Messages that Facebook requires is approximately 1200×628 pixels.
To start sending Sponsored Messages, go to your Recart dashboard and select
One-Off Flows
. 
3. Extend The 24-Hour Window For Further Interactions
Let's take the Sponsored Messages feature a step further.
According to Facebook Messenger platform policy, you can only contact a subscriber with promotional content for up to 24 hours after their last interaction with you. 
Luckily, extending this 24-hour window is super easy with Sponsored Messages. 
During BFCM, send a Sponsored Message that only includes a Button that links to another message. Once the user clicks on the button, Messenger will count it as an interaction. Now you have 24 hours to contact the user any way you want and remind them of the awesome BFCM deals you have in store!

This re-opens your 24-hour window and helps you accomplish two things:
Every follow-up message during that 24-hour window is completely free and automated. Use this opportunity to highlight different deals and drop the customer deeper into your store with a higher purchase intent. 

Users who've abandoned a cart tend to have a much higher purchase intent. Cart Abandonment flows are now available for such users. We provide additional details on this in the next section. 
Don't waste time setting up your Black Friday Sponsored Message flow! Go to
Templates
under the Recart dashboard and find the out-of-the-box Black Friday flow we build for you!
4. Automate Your Cart Abandonment Flow
While BFCM is one of the best revenue generators of the year, don't forget that you're not the only one trying to get your customers' attention. 
Shoppers actively look out for sales during this period, and stores have limited time to win them over.
Don't just interact with your list once. You can send three messages in the 24-hour window: one 5 minutes after the cart was abandoned, one 8 hours after, and a third one, 15 hours after.
Cart Abandonment messages are some of the most effective ways to get shoppers back to your site and make a purchase. 
In many cases, your visitors still need your products, but they're hesitant: maybe the shipping cost is too high, they're waiting for additional discounts, or they simply don't have time to finish the purchase and forget to do it later. 
Use the power of Cart Abandonment messages during this BFCM season and boost your revenue this year.
Ready to Make the Most of Recart This BFCM? 
We hope that these tips will help you make the most of the BFCM season this year!
Do you have any concerns about making the most of Recart, or need further assistance to make your Messenger marketing strategy flawless? 
Don't hesitate to contact our customer support team or your dedicated account manager! 
Special thanks to our friends at
Recart
for their insights on this topic.