With the holidays fast approaching, things are about to get crazy for everyone involved in ecommerce. That's why you want to do everything you can to automate your marketing before, during, and after Black Friday. (Don't forget that shopping started even before Thanksgiving last year!)
Big box retailers have already been planning for months and every blog post or piece of expert commentary includes awesome sounding, but highly complicated ideas for driving sales which might leave you feeling pretty overwhelmed.
We're here to help you make sure you've got your bases covered and ready to go way ahead of the holiday rush to ensure you're turning as many unknown visitors as possible into subscribers and customers.
1. Welcome pop up with a discount
Launching a welcome pop up is the most basic thing you can do to drive conversions during the holidays because it engages new visitors to your store, offers them a discount on their first purchase, and gets them opted-in to hear from you as the season progresses.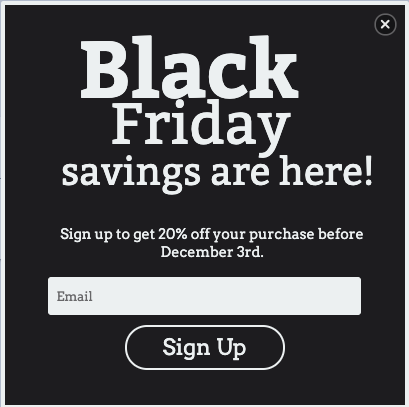 Four keys to a successful welcome pop up.
Simple, on-brand design. Your pop up should feel like part of your site and be easy to read and consume in under 3 seconds. This is not the time to write a novel. Simply give your shoppers a reason to sign up and a way to do so.
Be aggressive, but not too aggressive. Pop-ups work great because they grab your shoppers' attention, but you don't want to hit people the second they arrive. Use a scroll trigger or a time-delayed trigger (10 seconds) that gives shoppers the chance to see what you're about.
Use unique coupon codes. If you're offering a discount, unique coupon codes (single-use coupons) limit the risk of it spreading to non-subscribers and give you more flexibility on the type of offer you can include. For example, you could use a code that only lasts for 72 hours.
Send a welcome email/autoresponder. Once someone signs up to get your discount they should get an email that includes the discount code, introduces your brand, and links directly back to your site.
Want to take it up a notch? Create two versions of your welcome display – one for mobile (we suggest a flyout display type) and one for desktop (pop-ups are perfect here.)
2. Cart saver pop-ups with discount
Scheduling a cart saver pop up is probably the most impactful set it and forget it campaign you can run this holiday season. The way it works is simple. When a shopper attempts to leave your site with an item still in their shopping cart, this pop up will deliver a message designed to get them to stay for a special discount or at least join your email list so you can encourage them to come back later.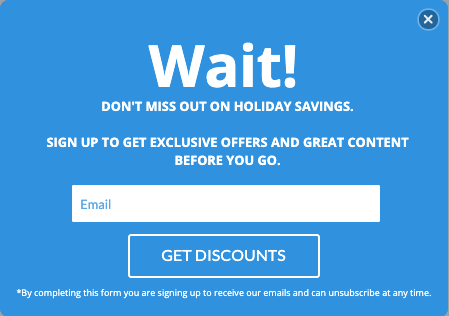 Three keys to a successful cart saver:
Be direct. Shoppers who see this message have already decided to leave your site, so you need to be very clear about why they should stay and use copy that grabs their attention like "Wait!" or "Before You Go!"
Use unique coupon codes. Like the welcome pop up, if you're offering a discount you should use time-based unique coupon codes (single-use coupons) to drive urgency. If people didn't see something they liked, they wouldn't have any items in their cart.
Don't overlap with your abandoned cart emails. If you're sending automated abandoned cart emails, you may want to avoid the autoresponder on this campaign. That way people aren't getting two emails based on one abandoned cart.
Want to take it up a notch? You can use cart value-based targeting to create versions of your cart saver pop up that vary based on whether someone is a high value or low-value customer and offer them something different to stay on your site.
3. Shipping deadline bar
As the holiday season progresses, so does the stress level for store owners and for shoppers. There is nothing worse for either side than placing an order that doesn't arrive in time to be the awesome gift everyone was hoping for. For that reason, I suggest using a bar display to communicate your shipping deadlines well ahead of time.

Three keys to a successful shipping deadline bar.
Pick the right date. Not sure when orders need to be placed to arrive before the holidays? Your shipping provider should be able to give you the answers that you need. For example, here are the dates for the US Postal Service.
Keep your copy simple. Your only goal with this bar is to make sure you're not creating a bad experience for your customer (and for you). Don't add extras to the message.
Create a buffer. Just a few words ago I mentioned the actual shipping deadlines, but you should actually communicate something earlier, just in case something goes wrong. You can't compete with Amazon on shipping times, but you can compete on service if you're smart about it.
Want to take it up a notch? Use geography-based targeting to create shipping deadline bars based on where a shopper currently lives.
Also, consider sending an announcement email to all of your subscribers that communicate shipping deadlines way ahead of time and recommend some of your top products.
4. Abandoned cart email with a discount
While it's always a good idea to have an automated abandoned cart email running, it's even more critical during the holiday season. With everything going on, shoppers can get easily distracted – even if they like what you are selling. Sending an automated email that makes it simple to get back to your store and resume shopping will make your life easier and the lives of your customers easier.
Three keys to a successful abandoned cart email.
Include cart contents. Make sure you are including the actual cart contents of a shopper in your email, so they can easily remember what it was they wanted and get back to their cart to finish the purchase.
Communicate shipping deadlines. As we discussed earlier, including shipping deadlines can drive urgency and avoid creating a bad experience for your customers and for you.
Keep it simple. Think of this email as a reminder and fight the urge to include tons of additional messaging and suggestions in your first email.
Want to take it up a notch? Build on your first abandoned cart email with an email series. This is a great way to introduce discounts or recommend products if the initial email doesn't do the job.
Wrap up
Setting up these four basic campaigns ahead of time will let you reap the rewards of a growing email list and new customers while spending your time on the rest of your business and/or your family during the holidays.
Need help setting these up in Privy? Shoot us a note at support@privy.com.
Check out our 10 part video series Black Friday Bootcamp to have your best holiday selling season yet!
This article was originally published by our friends at Privy.