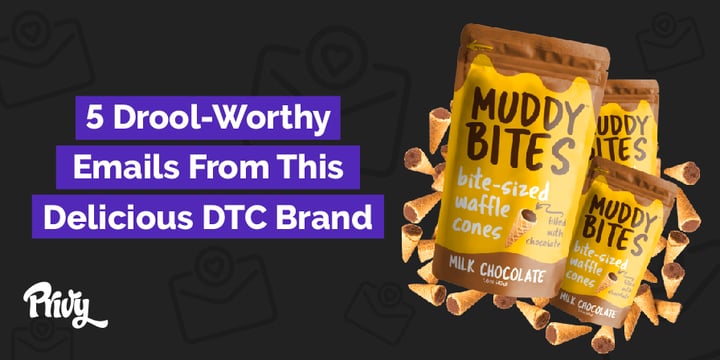 Do you have brands you open emails from every single time?
I only have a handful, and it's either because I love their products so much that I'm willing to look past their email faults OR because their emails are too good to miss.
But what if your brand could have both?
Muddy Bites does. And let me tell you why…
First, they sell mini ice cream cones filled with chocolate. So obviously the product is unreal. But their emails are just as good (which, trust me, is saying something).
So I wanted to share 5 of my favorite emails that you can use for inspiration for your own brand.
Because finding emails you love enough to be inspired by shouldn't be so hard. 
1. The Muddy Bites Welcome Email
Starting with the welcome email for new subscribers…
The subject line is "A note from our co-founder" and it's from Jarod at Muddy Bites.
Side Note: When you send your email from a real person rather than just your brand, your subscribers will start to build a real connection with you. And if you add in your picture, it'll definitely add to that.
Here's the email: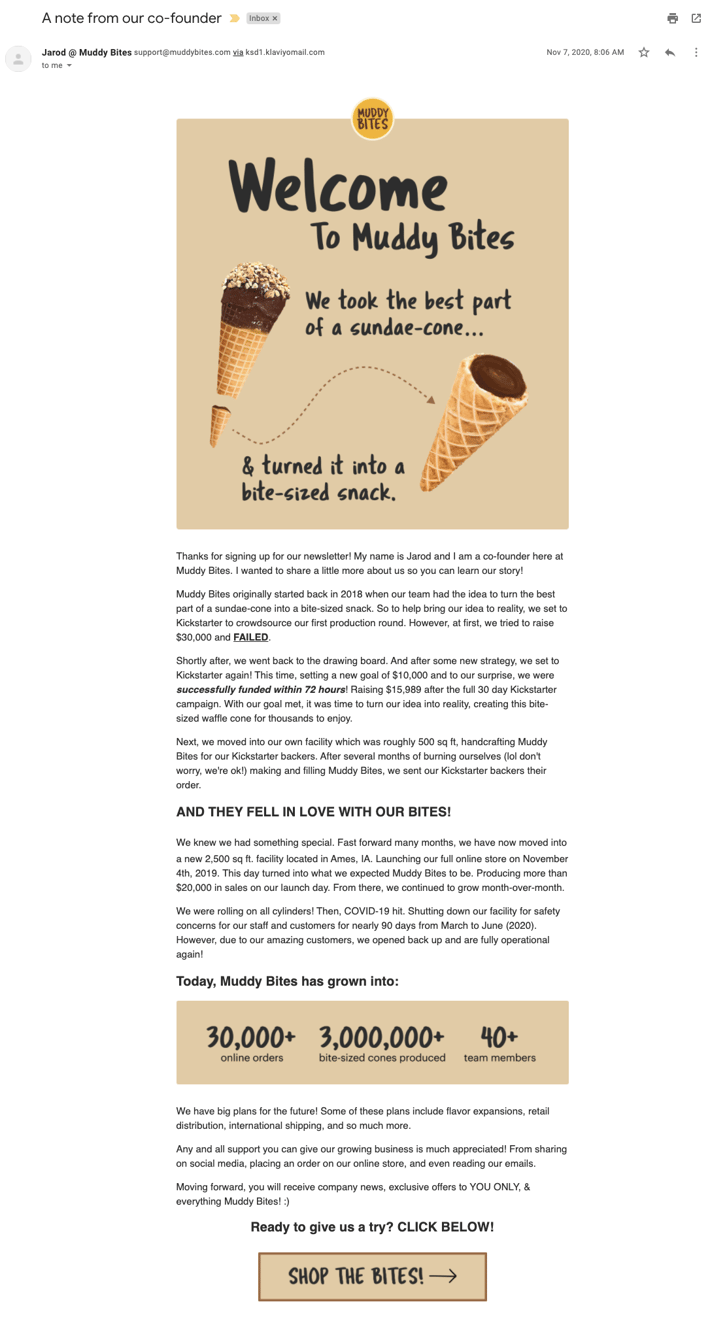 One of the things I absolutely love about this email is the fact it tells their full story and really positions them as an underdog.
Their first Kickstarter campaign wasn't successful, but then they tried again.
They've moved from a 500 square foot warehouse to one that's 2500 square feet.
They're located in Ames, IA.
They Sold $20,000 on their first day.
Every single detail helps you paint a picture of their journey. You can envision them burning their hands, bumming about the fact that their first plan didn't work, and getting starting over again.
How much more connected do you feel to Muddy Bites after reading this ONE email than you do to so many of the other brands taking up space in your inbox?
And how much more powerful is it than a canned welcome email with nothing more than a discount code? It's not even close.
That's why telling your story is soooo important. Tell people the good and the bad, be real about the ups and the downs. Everyone gets that. 
This email really is a textbook example of what a welcome email should be. But, unfortunately, very few brands have a welcome email that's even close to this good. But they're just getting started…
Get our best content on ecommerce marketing in your inbox 2 times a week
2. The Muddy Bites Confirmation Email
Now let's get into the confirmation email.
Yes, it has the standard information you'd expect, but they also make it fun, which really makes it stand out: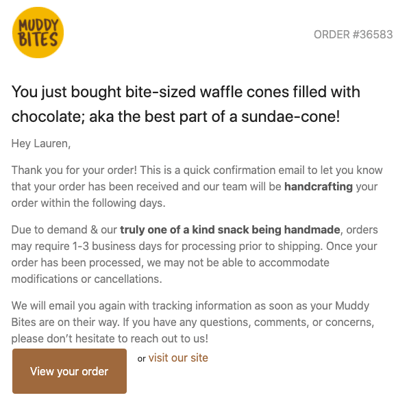 Where most brands stick to the basic order confirmation email template, Muddy Bites' has a little extra oomph. For a really simple reason: they mix in personality with the information customers really care about. 
They really lean into the fact that the product is handmade (as they should!) and make it really clear that there are people behind the brand. These are the kinds of really simple tweaks you can make to your confirmation emails to get your customers even more excited about their purchase.
And proud of the fact that they supported a small brand like yours!
3. The Muddy Bites Review Email
If you have amazing reviews, share them!
Another great email just has screenshots of a bunch of reviews. And the subject line is, "Reactions to their first BITE 🤩."
Then there's a button that sends you to a page with just reviews.
This is SUCH an easy way to showcase your happy customers and convince people who might be right on the edge to go and make a purchase.
Use other peoples' words rather than your own to tell your subscribers why they should buy.
4. The Muddy Bites Purchase Follow-Up Email
This is really just a thank you email, but they use it to drive repeat purchases too.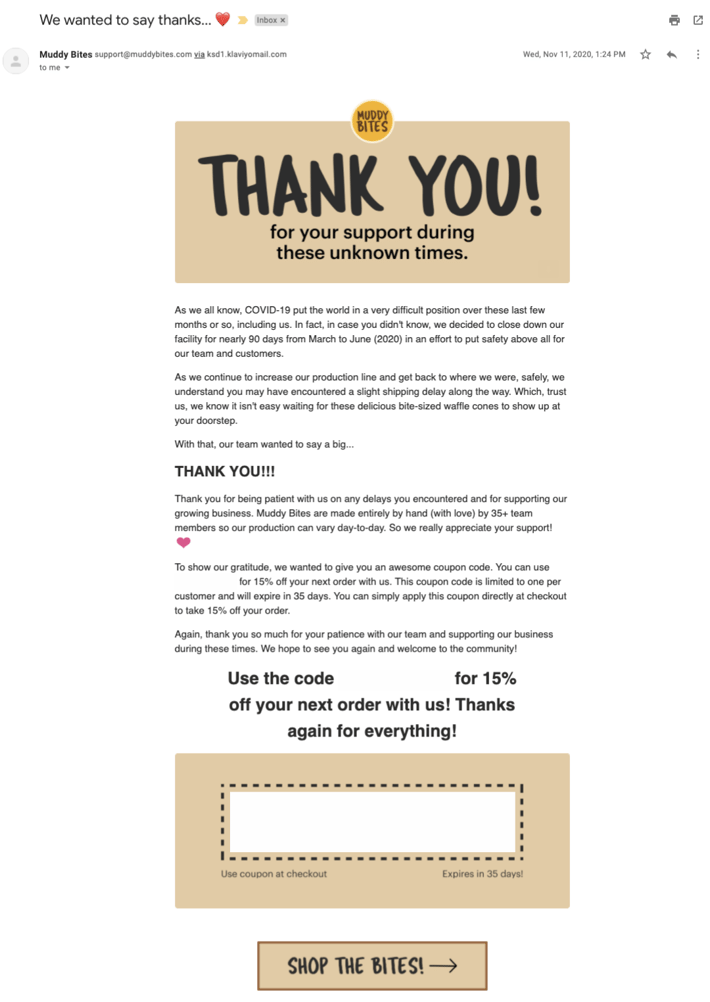 Not only does this email make me feel special, it also encourages me to go back and make another purchase. So it's a total win-win.
This is something you can easily put together for your brand…you can also make it a series!
5. The Muddy Bites FOMO Email
The last email I want to showcase came after their biggest sale of the year, Black Friday. 
And no, I didn't make a purchase then. So why send it?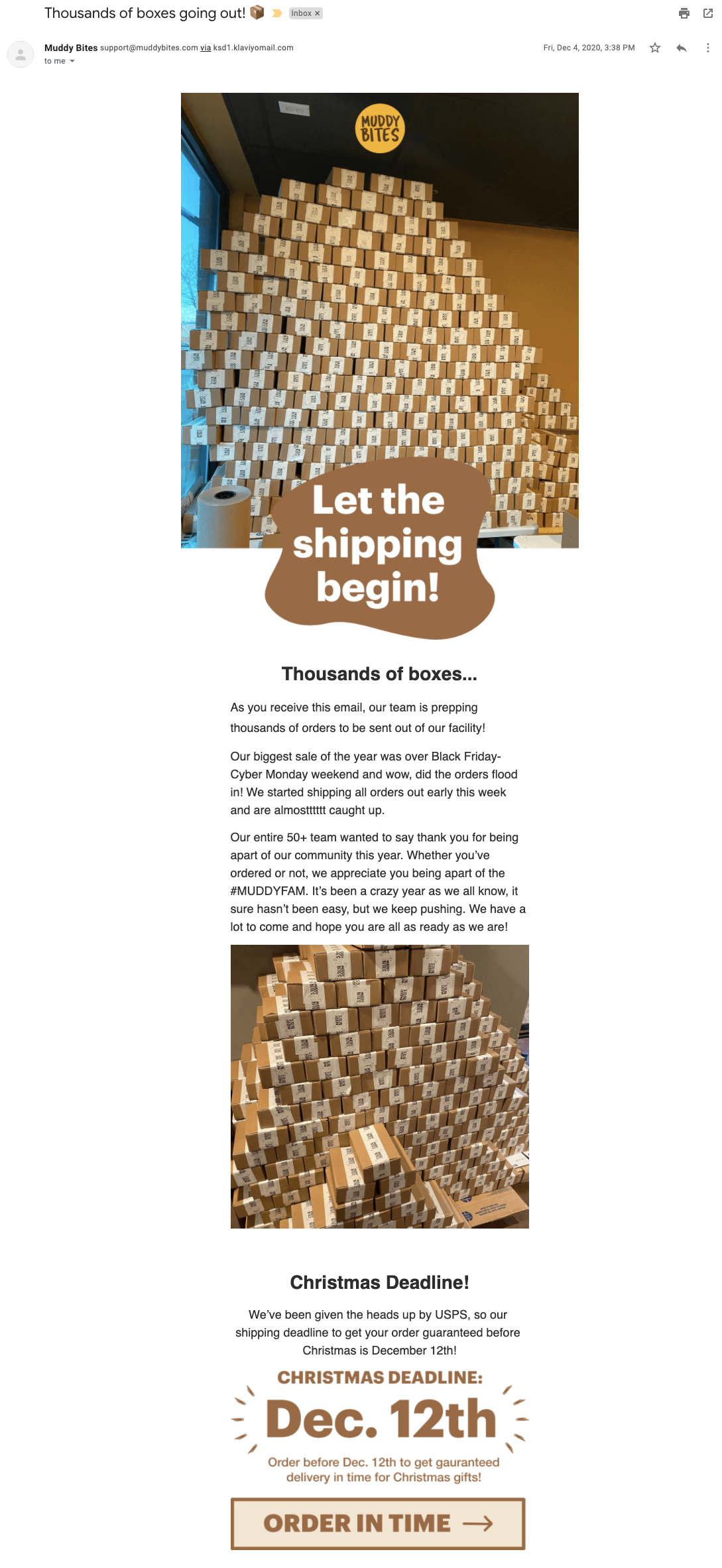 I don't know about you, but this email gave me serious FOMO that I didn't order during their sale. The boxes stacked from floor to ceiling make me think, "Oh, they're legit!"
And the shipping reminder is awesome, too. Whenever there's a deadline your customers should be aware of, tell them often. 
The only feedback I have on this email is just to change the messaging slightly for different audiences.
One email for the people who did order during the sale to be like, "OMG thank you so much for the support we're getting caught up and you should expect your order soon."
And rather than saying, "Whether you've ordered or not," change the messaging slightly for customers and people who haven't purchased from you before. These might feel like tiny changes, but it feels way more personal when you do it that way.
The Takeaways To Remember
Now you should have 5 solid emails to inspire your email marketing. Just remember:
1. Your welcome email should tell your story. Get into specific here! That makes it real for people.
2. Tweak your confirmation email messaging to make it a little more special than the standard emails you're used to. I promise it'll stand out and people will remember.
3. Use your favorite reviews in emails! And if you're not collecting reviews yet, start there.
4. Encourage repeat purchases with your customers in your thank you emails.
5. Updates after big sales don't just have to be for the people who purchased – use them to make people feel like they missed out. Just make sure the messaging is specific to where they are in the journey with your brand.
And go subscribe to Muddy Bites if you need email inspiration.
Special thanks to our friends at
Privy
for their insights on this topic.