The opportunity for sales through TikTok is colossal. 67% of TikTok users say they feel an impulse to shop while scrolling through their feed. 20.6% of consumers who have bought products through social media say they frequently purchase on TikTok.
In addition, TikTokers use the platform as a search engine; TikTok crawls comments, tags, and captions for keywords to provide highly relevant search results.
This illustrates a rapidly growing preference for organic, user-generated content over keyword-stuffed blog posts in traditional search engine results.
As Black Friday approaches, users jump on the app to find deals and see what their favorite TikTokers are buying. It's no wonder TikTok is the place every retailer wants to be this Black Friday…



Quick Links:
Why User-Generated Content Works Best
TikTok is all about authenticity.
TikTokers are more discerning than any other social media user. They're social natives, raised by influencer culture and reality TV, so they know when someone's there to sell them something.
On the other end of the authenticity spectrum… you've got traditional, big-box, branded Black Friday campaigns.
But that doesn't mean you can't harness the power and influence of the For You page to stand out from the crowd this sale season.
The key? User-generated content, or UGC.  That's right, you want to make content that looks like it was made by one of your customers, NOT by your marketing team.
Let's dive in!
Top 5 TikTok Trends To Use This Black Fridays
These are not new or fleeting trends. (Nope, we're not going to make you edit corn into your next collection promo video).
TikTok moves fast, so trying to plan out content ahead of time can be a headache. You don't want to awkwardly miss the beat on a trend, it'll be very obvious. For quick, hot-and-fast trends, you want to jump on them right away.
Once you've spent a bit of time on the platform, you will get a pretty clear idea about what kinds of trends will last a few days or weeks, and what will stand the test of time. 
If you aren't super au fait with TikTok just yet, never fear. We have put together some tried-and-tested successful formulae that we see working over and over again. With these trends, it's all about creating a hook that entices the user and gets them to stop scrolling.
1. Black Friday Hauls
Create a video of someone shopping online or in your physical stores, then cut to them showing all their new products. Walk the viewer through the discounts, bundles, and deals.
Example of a Black Friday haul:

Some hashtags to add: 
#blackfridaydeals #blackfriday #haul #christmashaul #shoppinghaul
2. Deals You Need To Know About
Create a video showcasing your brand's deals. To level up the authenticity, promote some complementary deals from brands you collaborate with too. It's all about community!
Example of a deal finder:
Some hashtags to add: 
#cybermonday2022 #blackfriday2022 #blackfridaydeals #christmasgiftideas #giftguide2022
3. Unboxing Experiences
These work particularly well if they're 'oddly satisfying' or ASMR inspired. You can add a mention that the product was on sale on a Black Friday deal.
Example of an unboxing:
Some hashtags to add: 
 #unboxing #blackfriday #ASMR (if applicable)
4. Get Ready With Me (GRWM)
Make this trend Black Friday relevant with a "GRWM: Black Friday edition" showcasing all your Black Friday deals. Mix and match with non-sale items, or do a full 'on sale' promotion. This works for clothes, make-up, beauty, accessories… get creative!
Example of a GRWM:
Some hashtags to add:
#outfit #winter (or any applicable season) #grwm
5. Come shopping with me
If you have a bricks and mortar store, bring the viewer "shopping" with you. Take a timelapse of walking into your store from the street, looking around, then slow down to pick up products and deals. Show the viewer you're adding it to your basket, all while showcasing your in-store experience candidly.
Example of a shop with me:
Some hashtags to add:
#comeshopwithme #mallshopping #shoppingaddict
Dos and Don'ts for Black Friday TikTok success
Don't brand your videos.
Use TikTok's native fonts, instead of your own branded fonts. This will give your content a much more organic feel, and won't stick out as "marketing" content on TikTok's For You page.
TikTok's native fonts include Proxima Nova Semi Bold, Kaufmann Bold Script and Georgia Bold. You can mix and match fonts and styles.
Do make sure your videos are well lit.
Good lighting is essential for creating high-quality content. Every successful TikToker has this down. If you can, film in good natural light (but not direct sunlight). Golden hour (when the sun is setting) will give your content a warm, radiant glow.
As a second-best alternative, invest in quality artificial lighting, such as a ring light. 
Do get creative with transitions.
If you're feeling confident, try some creative transitions between shots. TikTokers are known for using manual camera tricks to enhance the overall feel of their videos.
Do get familiar with editing apps.
If you're creating content in advance, TikTok's native editor is not ideal. Use an editing tool like CapCut to get a cleaner final result. You can download it for your phone, tablet or desktop.
Don't try and tell your whole brand story.
While it can be tempting to start talking about how great all your products are and listing all the benefits, stick to the short, hook-based formats above.
Don't use muffled audio.

If you're doing voice-over style videos, it's important to get crisp, clear sound. Invest in a small microphone you can clip to your clothing, like a lapel mic, that plugs into your recording device (i.e., your phone). These are affordable and easy to find online. 
Most TikTokers find it's simple and effective to record straight into Voice Memos or similar. Your phone's inbuilt voice recording app serves the purpose just fine.
Don't spend thousands on equipment.
I can't iterate this enough. Even the best quality user-generated content doesn't need anything more than good lighting, good audio, your smartphone (as long as it has a decent camera), and a tripod.
Do have fun with it!
Express your personality, and have fun—otherwise, it will become just another marketing chore, and that won't produce good content. Making TikToks is a creative process, so enjoy it!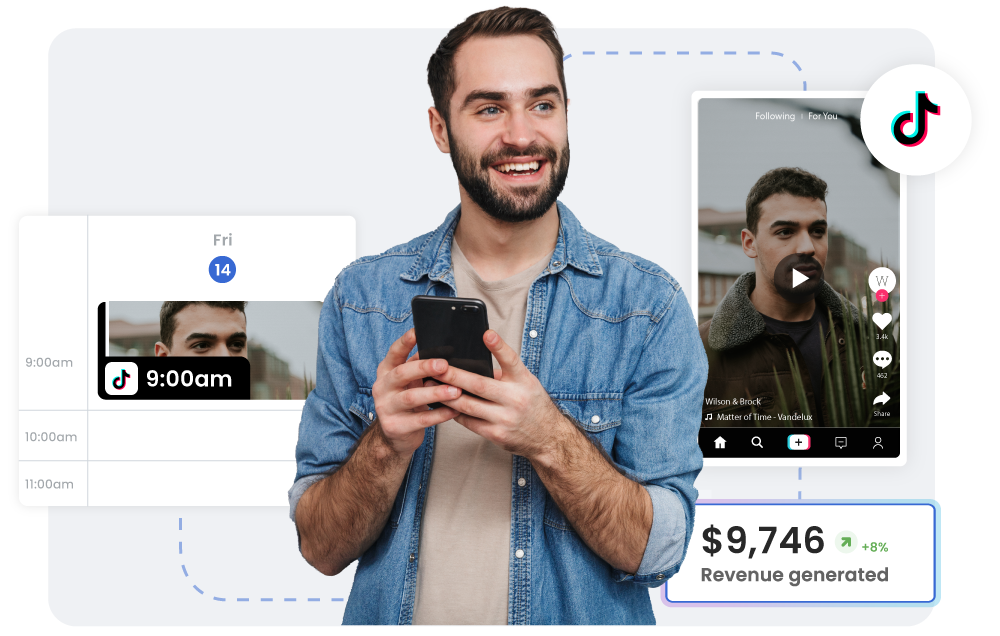 Marsello: All your Black Friday marketing, in one place.
Send email and SMS campaigns to customers

Create set-and-forget marketing automations

Schedule social posts and track sales

Track the direct impact of all your marketing on revenue

Build a customer database
Published Oct 13, 2022 5:01:33 PM
Special thanks to our friends at
Marsello
for their insights on this topic.