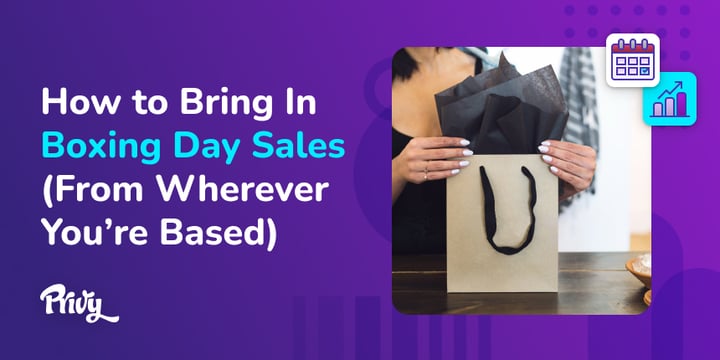 The holiday season might be coming to an end, but that doesn't mean your sales have to come to a screeching halt.
In fact, the day after Christmas (December 26th), known in many parts of the world as Boxing Day, is actually a huge opportunity to extend the holiday season and generate more revenue before the year ends.
You might be wondering, "But didn't most people just get holiday gifts? Who will want to spend more?"
But think about it. 
Over the holidays, go-to gifts are cash and gift cards. And if you've ever been on the receiving end of that, how often have they started to burn a hole in your pocket immediately?
If you're anything like me, it's almost always.
Pair that with year-end deals, and shoppers won't feel so bad buying for themselves.
So this year, test out a Boxing Day campaign and end the year strong.
Get our best content on ecommerce marketing in your inbox 2 times a week
What is Boxing Day anyway?
Boxing Day falls on the Day after Christmas and is celebrated in many English-speaking countries, including the UK, Canada, Australia, South Africa, and New Zealand.
Initially a day for giving back, it has transformed over the years into a major shopping holiday.
And while it might not be formally recognized in the US, that definitely doesn't mean your audience isn't shopping.
So if you're not running promos through the end of the year, you're leaving money on the table.
Boxing Day stats you need to see
Whether you've heard of Boxing Day or not, these stats can't be ignored. It's time to get in on the post-holiday sales and December 26th is the perfect day to get started.
Boxing Day is the best day to shop after Christmas
According to The Money Manual, December 26th, also known as the first day of Kwanzaa and Boxing Day, is the best day to shop after Christmas.
Which, if you think about it, makes a lot of sense. Think about all the times you've received cash or a gift card and it started burning a hole in your pocket immediately…
Pair that with amazing deals, and it's a no-brainer.
Boxing Day was the #3 highest traffic day for retail stores in 2020
Last year, according to Sensormatic Solutions, Boxing Day was the 3rd most-popular day for retail stores, right behind Black Friday and Super Saturday (the Saturday before Christmas). 
Before you start thinking, "I don't have a retail location!," this is actually a HUGE opportunity. You have the chance to capitalize on the day after Christmas by crafting killer offers and sharing them with your audience with emails, texts, and on social.
Because you run an ecommerce business, you have the luxury of selling globally, not just to the local community.
Nearly 50% of consumers plan to take advantage of post-holiday sales and promotions
Believe it or not, nearly half of consumers will make purchases after the holidays. Pair that with returning gifts they didn't love, a little extra cash (and gift cards!), and the time to browse, and you've got the perfect storm.
Boxing Day campaign ideas you can steal
Now that you know why Boxing Day could be a massive revenue generator for your business, it's time to break down campaign ideas you can run. 
So you can spend less time planning and more time bringing in sales while you sleep (or enjoy time with family and friends, unwind, you get the idea).
Clear out your inventory with steep discounts
Out with the old, in with the new. As you gear up for a brand new year, it might be time to slash prices and make way for new inventory. 
With these 3 offers, you'll give your audience a chance to take advantage of amazing discounts and make way for brand new inventory heading into 2022.
Put your holiday products on sale
How many times have you gone into a retail store after the holidays only to see aisle after aisle of holiday merchandise on sale? I'm guessing more than once.
Well guess what: you can do the exact same thing. Do you have holiday-specific products, like bundles or holiday-themed packaging leftover? 
Now is the perfect time to run a promo to get it off your hands like this offer from 100% Pure:
Just remember to make a note of what's left this year so you can make adjustments when you place inventory orders heading into next year.
Slash prices (put sale items on further sale)
If you're coming out with brand new colorways or products in 2022, it might just be the perfect time to run your deepest discounts of the year to make sure you're moving inventory to make way for the new.
The Beach People ran a promo that included items up to 60% off.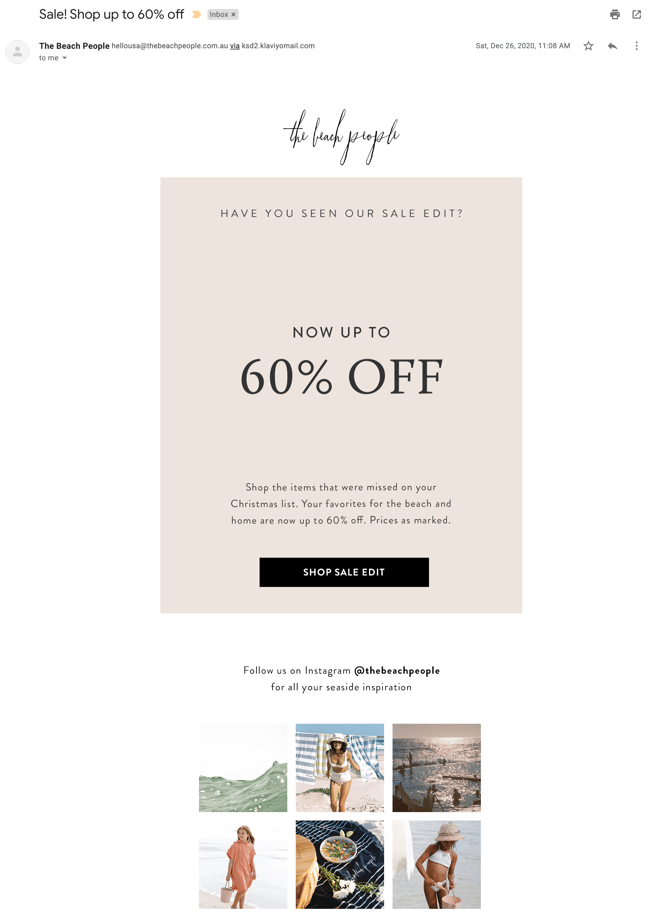 How guilty can you feel buying something that's 60% off, right? 
You could also test out putting existing sale items on sale even further to get your audience over the hump. There's nothing better than getting something that's already on sale for even less.
Test out a BOGO campaign
Another great option is to run a buy one, get one campaign like The Little Market: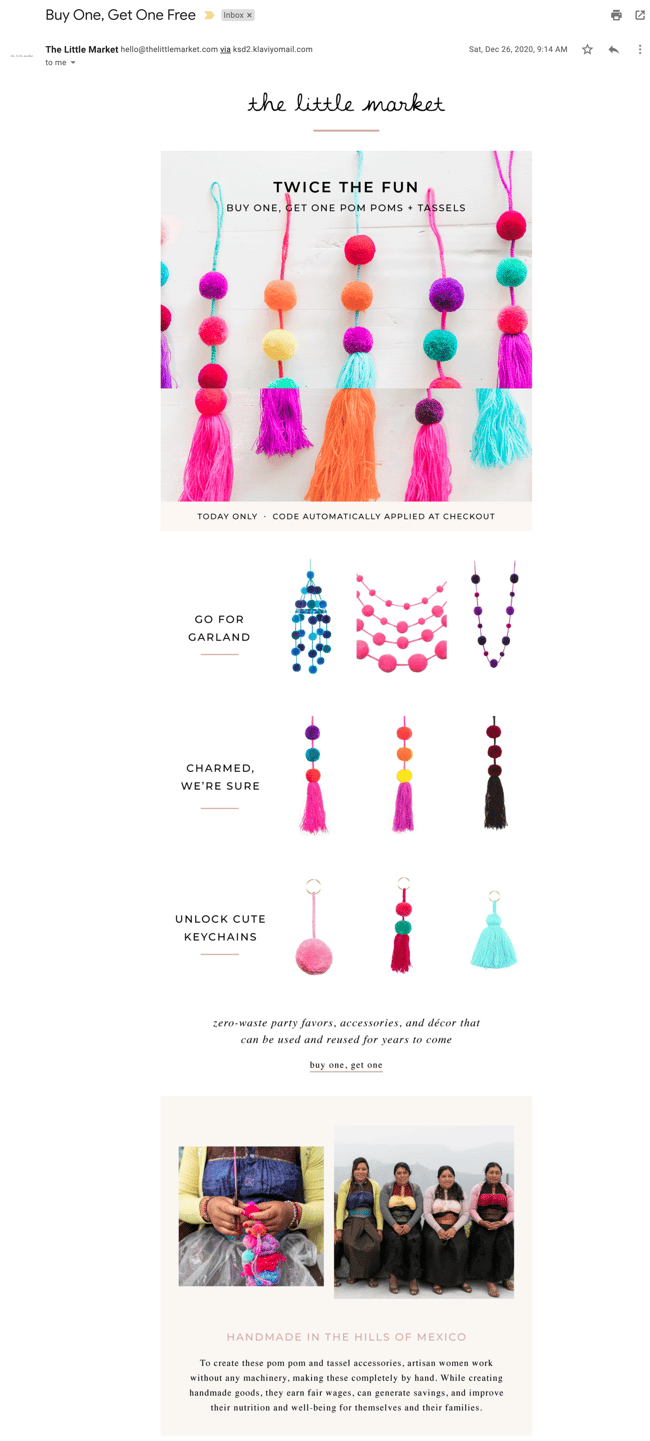 In this case, they're running a buy one get one free promotion, but you could also think about buy one get one 50% off.
But it's a limited time offer, which increases the urgency around it. So if you have products that could be a good candidate for a BOGO offer, make sure you're only running it for a limited time.
Run a site-wide sale
Even if you're not trying to clear out inventory, you can still run a site-wide sale to bring in revenue on Boxing Day.
Take this example from Hydrant: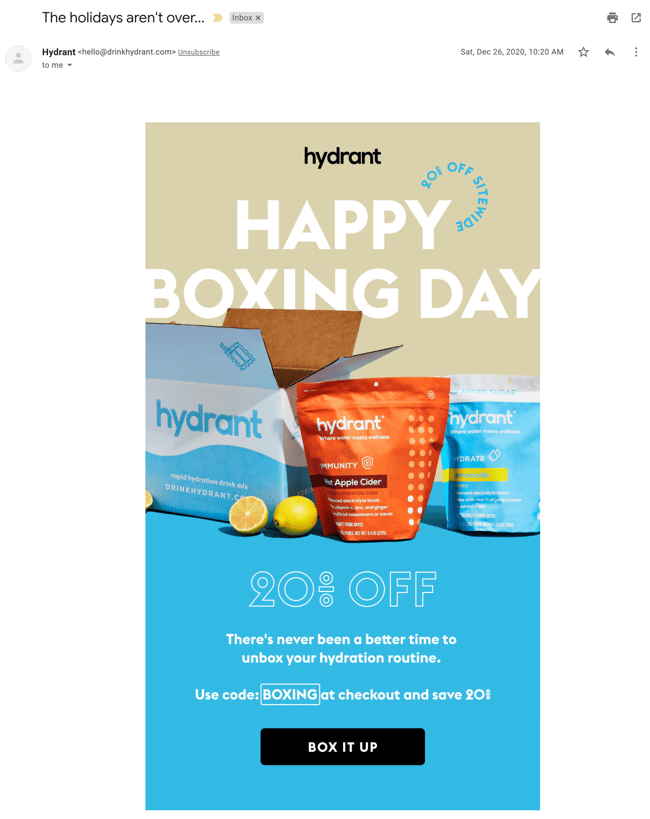 And while this applies to everything on their site, you don't have to go that route…
Test out a flash sale
You could also test out a flash sale on items that don't typically go on sale, like Mala:

Again, there's urgency with this offer because it only lasts for 24 hours. It's the perfect opportunity to encourage your subscribers to get what they really want this holiday season.
15 Boxing Day subject line ideas
Now that you have Boxing Day campaign ideas, here are 15 subject line ideas you can swipe for your emails to make it easier than ever to get your offer out into the wild:
The holidays aren't over…
Post-holiday plans
a sitewide sale?
TREAT YO SELF 
The gift you really wanted 
Pssst. Get your 
That's a wrap 
It's now or never 
You deserve it 
⚡ FLASH SALE ⚡
DON'T MISS THIS ONE
Re: Your 30% Off
Did someone say sale?
surprise! The holidays cont'd…
One last gift. 🎁
Keep the holiday momentum going with Boxing Day
Don't skip out on the post-holiday promotions this year. No matter where you're based, it's time to get on the Boxing Day bandwagon. 
Just because the holiday season is wrapping up doesn't mean your audience isn't shopping. Especially if there are deals to be had. 
So test out one of these 5 Boxing Day campaign ideas (and steal a subject line for your emails!) and watch the holiday sales keep coming.
Topics: Ecommerce Marketing
Special thanks to our friends at
Privy
for their insights on this topic.