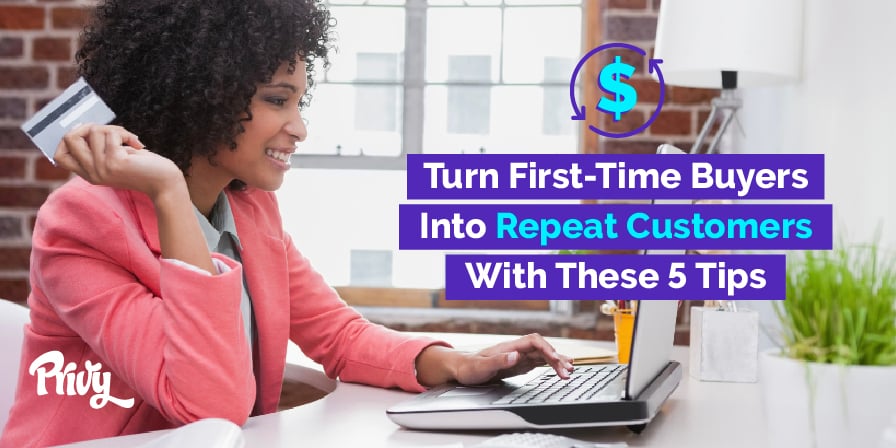 Small ecommerce brands spend so much time thinking how they can get more first-time buyers.
And that's a great strategy for growing your business.
But it often comes with a big cost: neglecting your existing customers.
Your existing customers are often the highest spending, most overlooked audience (even though they are 9x more likely to convert than first time buyers).
So today, we are going to share 5 tips to turn first-time buyers into VIP customers.
Get our best content on ecommerce marketing in your inbox 2 times a week
1. Customer Winback Emails
Customer winback emails are automatic emails that help you get that 2nd purchase.
These take minutes to set up and are the perfect emails to send either 30, 45, or 60 days after a customer's last purchase.
You can even segment these emails based on what product your customer bought, letting you cross-sell other products in your catalog.
Here's a great example from Blume, who gives a 30% discount code that has to be used by midnight.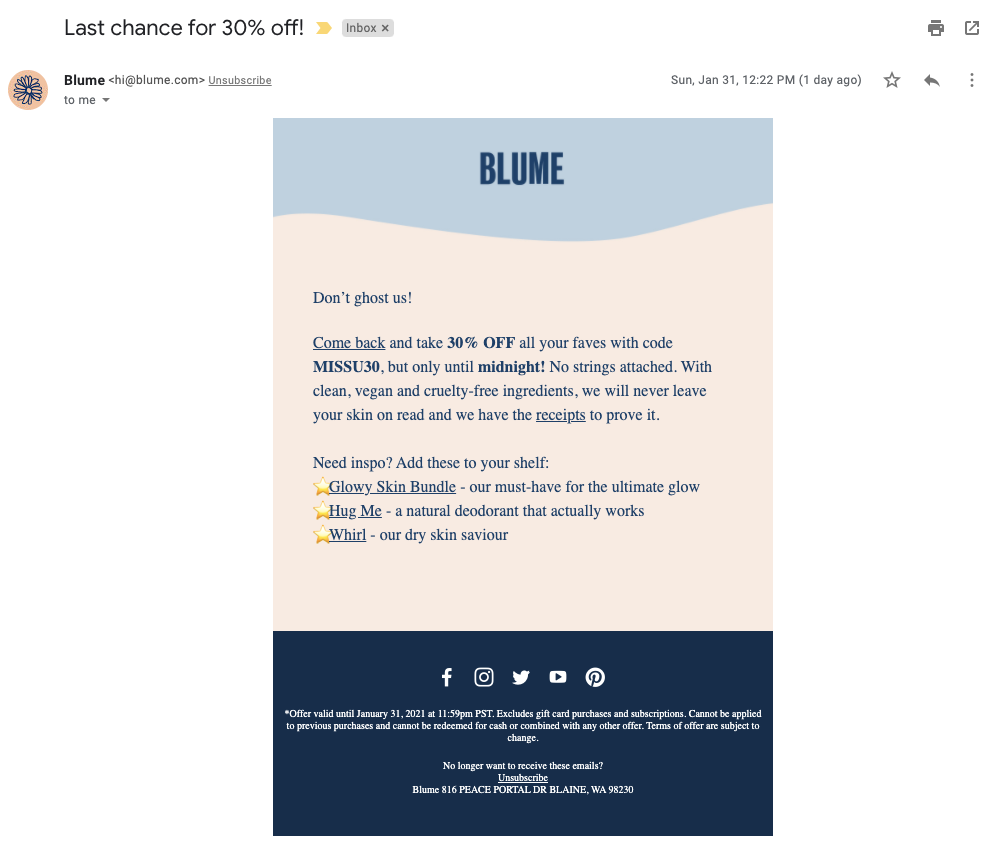 2. Newsletter Promotions
If you are just setting up your customer winback emails today, you likely still have customers who have bought from you before these emails were turned on.
Sending a special offer for first-time buyers and letting them know that they are only getting access to that deal as one-time customers, is a great way to begin building brand loyalty.
Setting this up in Privy is extremely easy.
Whenever you're setting up your targeting, you can filter by order count or lifetime spend.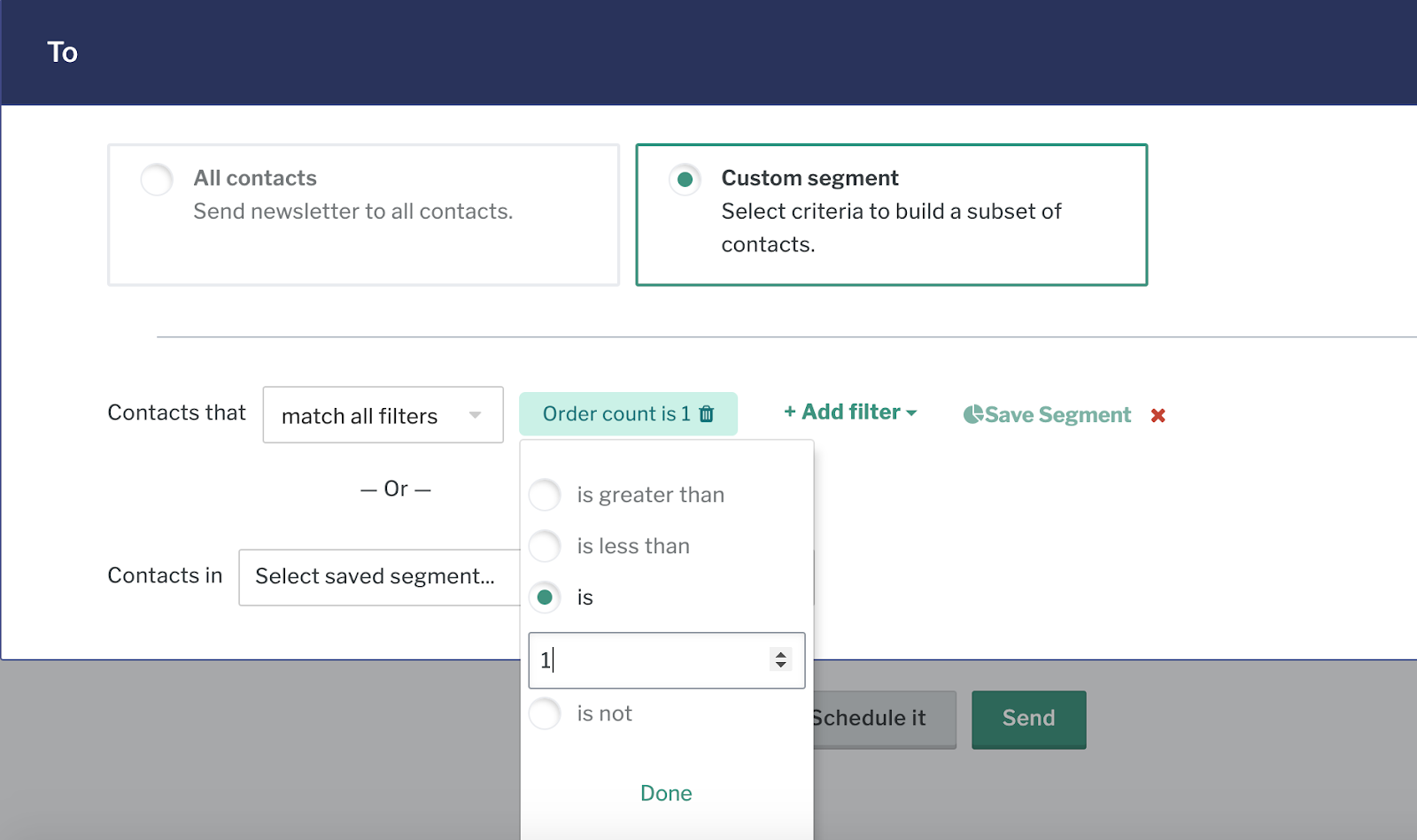 3. Early Access To New Products
Not every offer has to be a discount.
Sometimes just giving your customers early access to new products is enough to let them know you're thinking of them (and pre-sales never hurts).
Here's an example from Beardbrand. They give their content list access to their latest product launch before anyone else.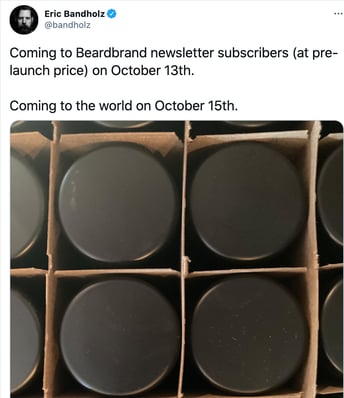 Eric gives their subscriber list access to their new product on October 13th and the rest of the world has to wait until October 15th.
Even if this is only a 2 day difference, the psychological impact of getting special treatment is enough to make your customers feel important (and even grow your email list).
4. Better Sales For Existing Customer
We saw this come out in full swing during Black Friday and Cyber Monday.
Brands would offer 30% off to first-time buyers and 40% off for their existing customers.
And the best part is that since you aren't acquiring these customers through Facebook Ads or Google Search, this doesn't impact your profit margins.
In fact, you're likely still making as much in profit as the discount to first-time buyers.
Consider looking at holidays on the calendar for excuses to give your one-time customers an additional bump on savings.
5. Creating A Loyalty Program
The last way you can reward your VIP customers is by creating a loyalty program.
Loyalty programs help keep your brand top of mind for consumers.
In fact, loyalty programs have been shown to increase revenue from customers by as much as 18%.
Here's how Bella Luna uses their welcome popup to create a loyalty program with their customers.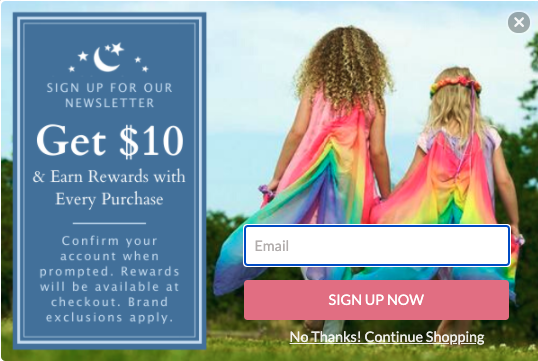 Looking to turn your first-time buyers into repeat customers?
Try out Privy's Starter Plan today and get access to everything we talked about in today's post!
Special thanks to our friends at
Privy
for their insights on this topic.