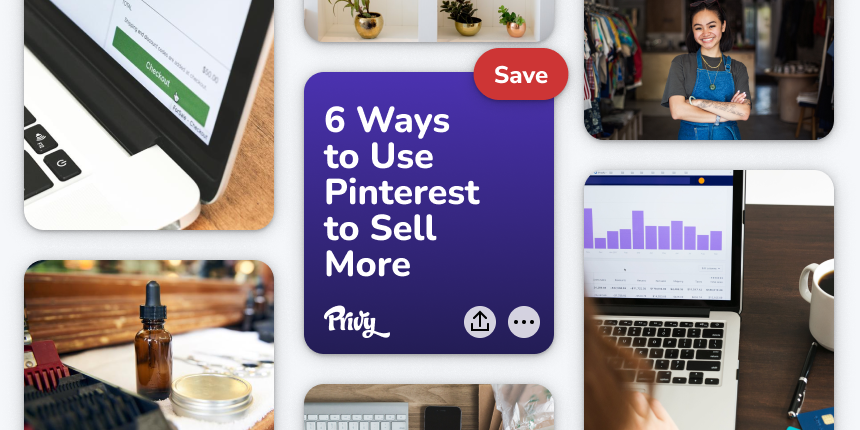 If you were to imagine the dream sales channel for your ecommerce store, it would likely have 3 things:
a large audience that's in the mood to shop
a network of people

eager to post about products they love

and a platform designed to help ecommerce businesses make sales.
Pinterest nails all 3.
Each month, 431 million people log in to find new ideas and products. Visitors pin their discoveries on boards – effectively marketing those products to their friends. And Pinterest continues to release new features that help online stores grow.
Pinterest is the perfect blend of search engine and social network. But it can still be intimidating to add a new channel to your marketing strategy, especially when you're competing with established retailers. Fortunately, there are some simple hacks to establish a presence on Pinterest and start finding your most devoted customers.
Get our best content on ecommerce marketing in your inbox 2 times a week
1. Choose SEO-friendly content
People go to Pinterest in search of inspiration, far more so than on Twitter or even Facebook. But to become someone's newest favorite brand, they have to be able to find you.
Like Google, Pinterest is a keyword-driven search engine. When Pinterest users type "bracelets for men" in the search bar, Pinterest's algorithm looks for the Pins most relevant to that query. If you include those search terms in your Pins, you'll make it easy for Pinterest to find your account and display your Pin.
There are several places you can add keywords. The online store Twine & Twig Jewelry included the term in its Pinterest account bio and created a Pinterest board titled "Mens Bracelets."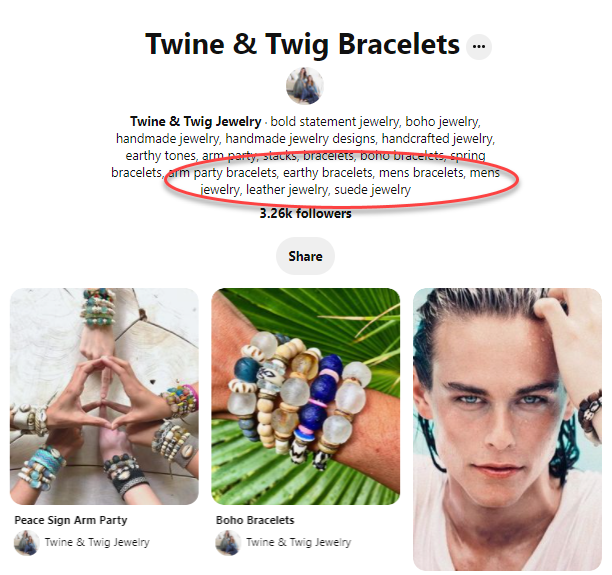 Then the store created a Pin titled "Mens Bracelets" and added variations like "men's pieces" in the description to capture more search terms.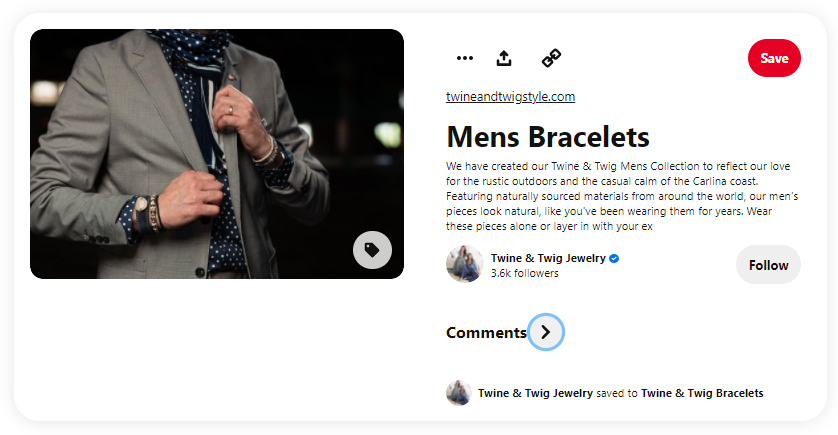 Both Pin and board descriptions can have up to 500 characters of text, which leaves plenty of room for several keywords.
Not sure what keywords you should include? One easy way to find the best SEO keywords is to type a basic term like "men's bracelets" into Pinterest's search bar and see what variations it suggests. For an added boost of intel, use a keyword checking Google Chrome extension like Keywords Everywhere. You'll instantly see how much search traffic each variation gets.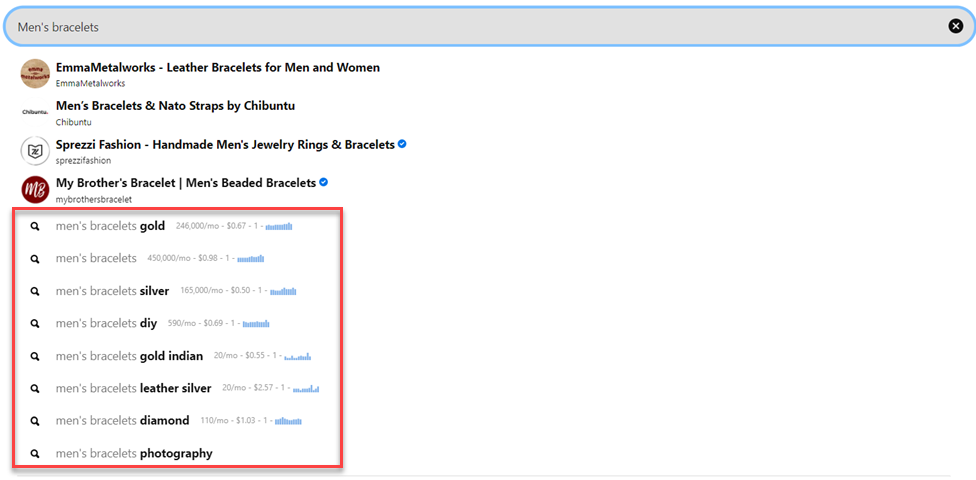 Make keyword research a regular part of your Pinterest strategy by using Google's free Keyword Planner tool or looking at Pinterest's search trends report. The more relevant terms you include, the more you'll be able to drive traffic from Pinterest users.
2. Share a variety of Pins
Pinterest continues to add new ways for creators and sellers to engage their audiences, including new Pin formats.
Add visual variety to your boards and stand out in searches by experimenting with several types of Pins
Static pins
A static Pin features a single static image. Notice how Hilton added a text overlay here.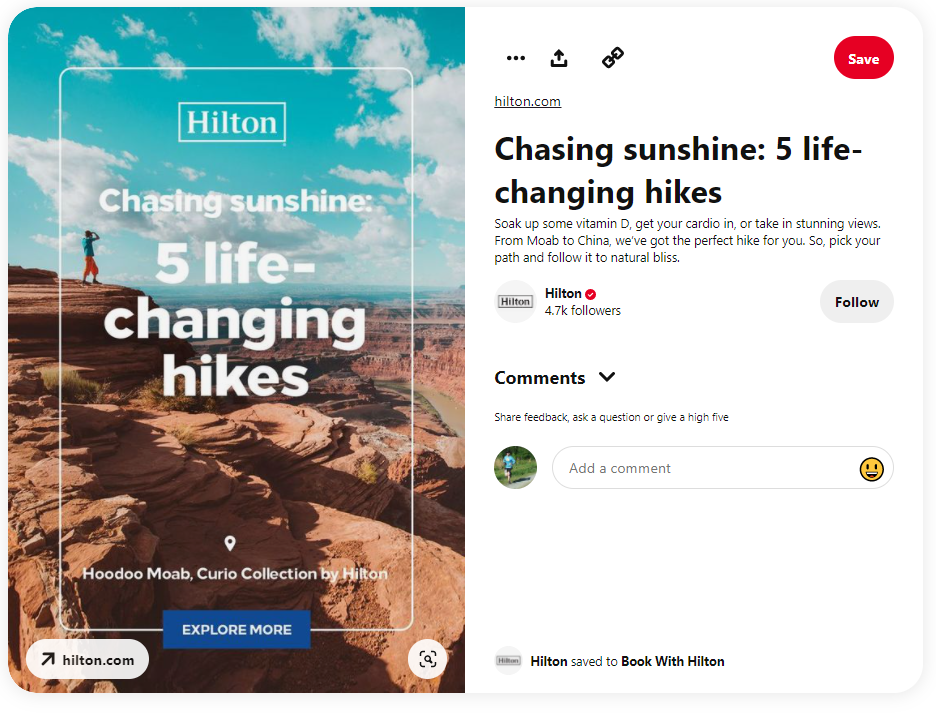 Every Pin has space for a description but adding text to an image puts your key message front and center.
Video pins
Video Pins feature a single, uninterrupted video between four seconds and 15 minutes long (Pinterest recommends six- to 15-second-long videos).
Videos like this one from blogger Gage Made Home autoplay in search results, so they catch attention better than a static image.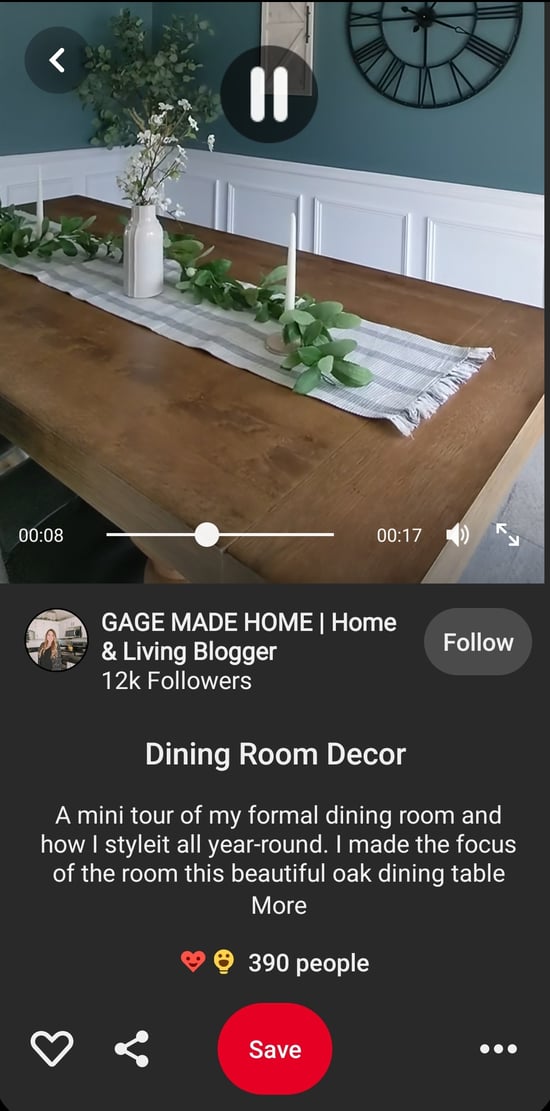 See how the online store used several keywords in the title and description? That helped the Pin show up in a search for "dining room ideas."
Carousel pins
A carousel Pin features 2-5 separate images people can click through.
Apparel brand Trina Turk uses carousel Pins to showcase several pieces from a seasonal collection.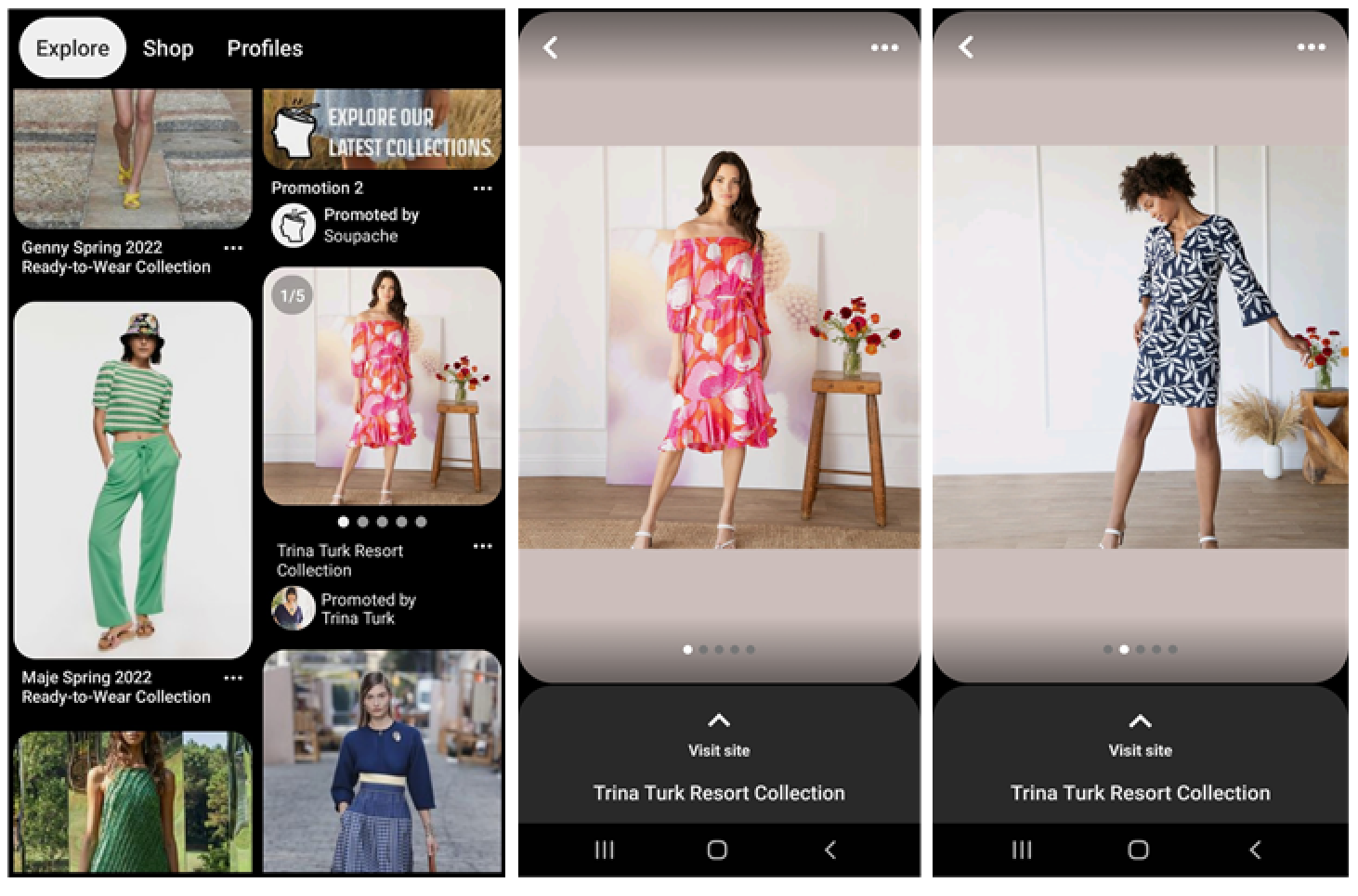 Carousel Pins are also useful for showing multiple angles, uses, or features of a single product.
Collections Pins
Collections Pins feature a large hero image or video at the top and several smaller images underneath.
United Airlines uses an eye-catching video tour and images from different seat types. Each image links to an online store or website with more information about that option.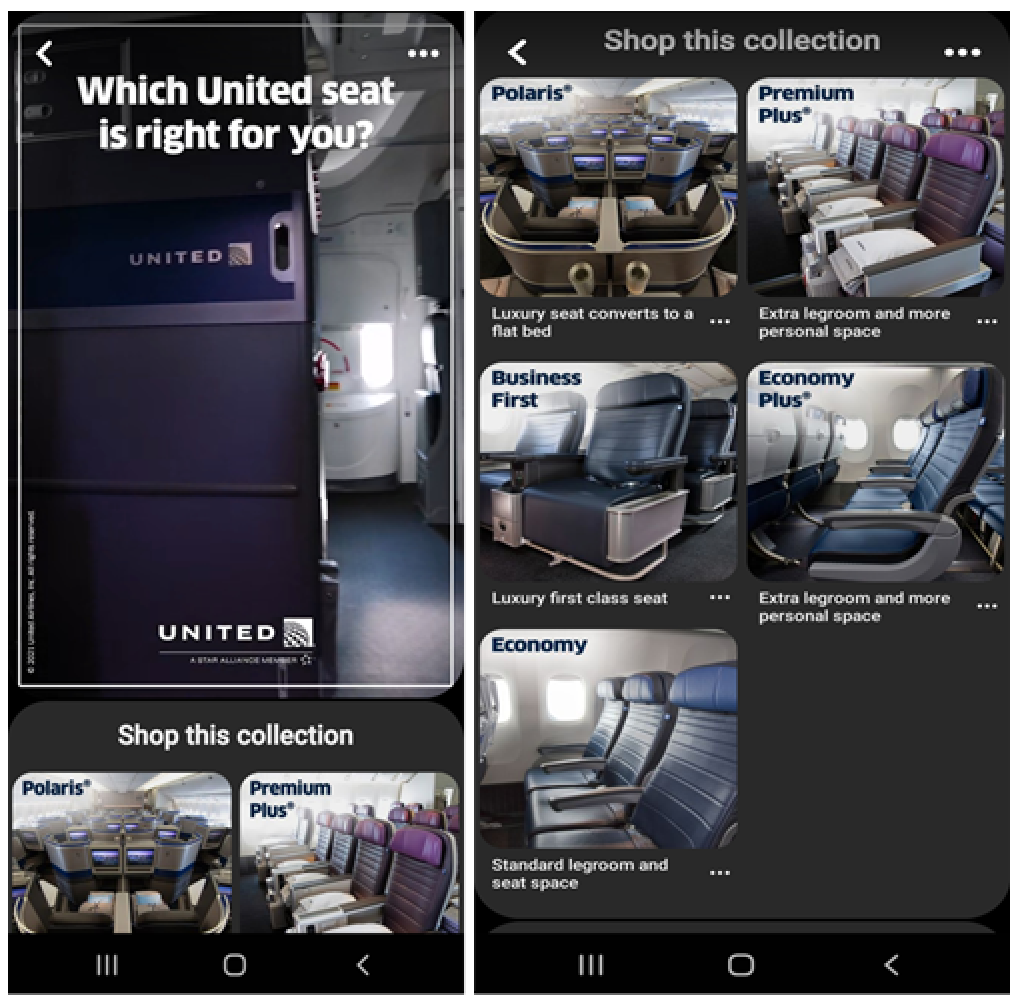 Collections are one of the few Pin types that are only available as product ads (more on Pinterest ads in a bit).
Product Pins
Product Pins are Pins enriched with metadata – current price, availability, title, and description – pulled directly from a website.
For example, this Pin from Etsy shows a description and price that matches the Etsy site.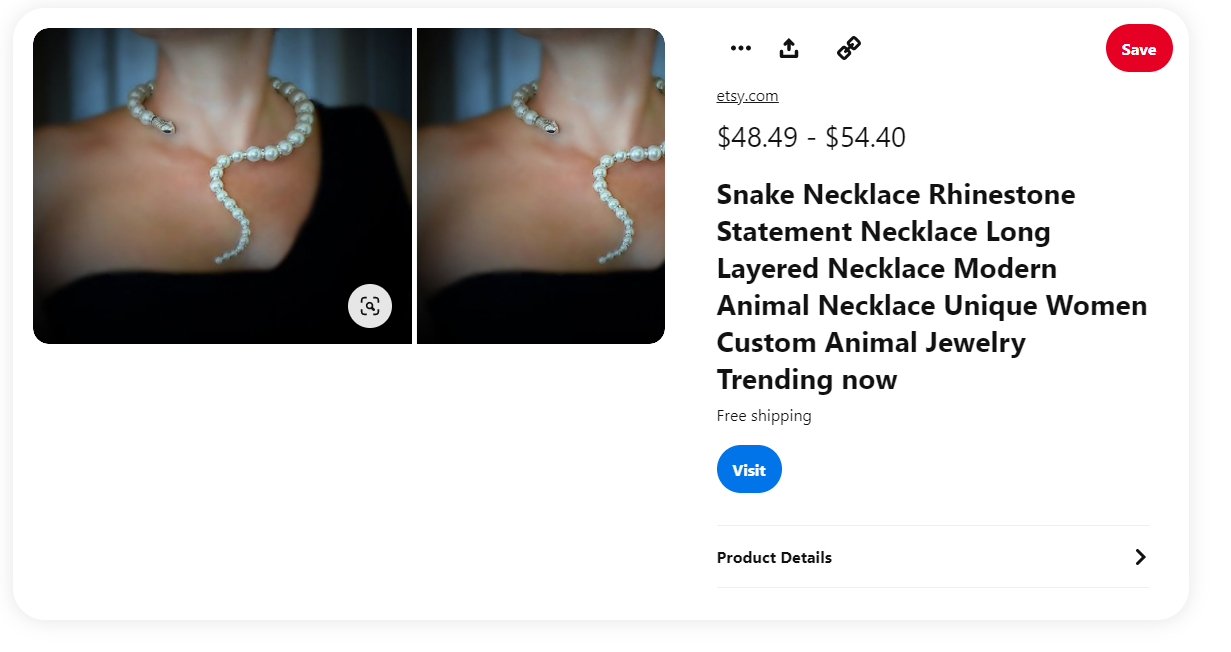 If the price, title, or description changes on Etsy, it will be automatically updated on the product Pin.
Idea Pins
The new Idea Pins (formerly Story Pins) is Pinterest's answer to Instagram Stories.
These Pins feature multiple pages of images or videos that autoplay when a Pinner clicks on them. They're great for breaking up larger videos into bite-sized chapters.
Makeup artist Mbali Christina M uses Idea Pins to give tutorials and show off her creative cosmetology.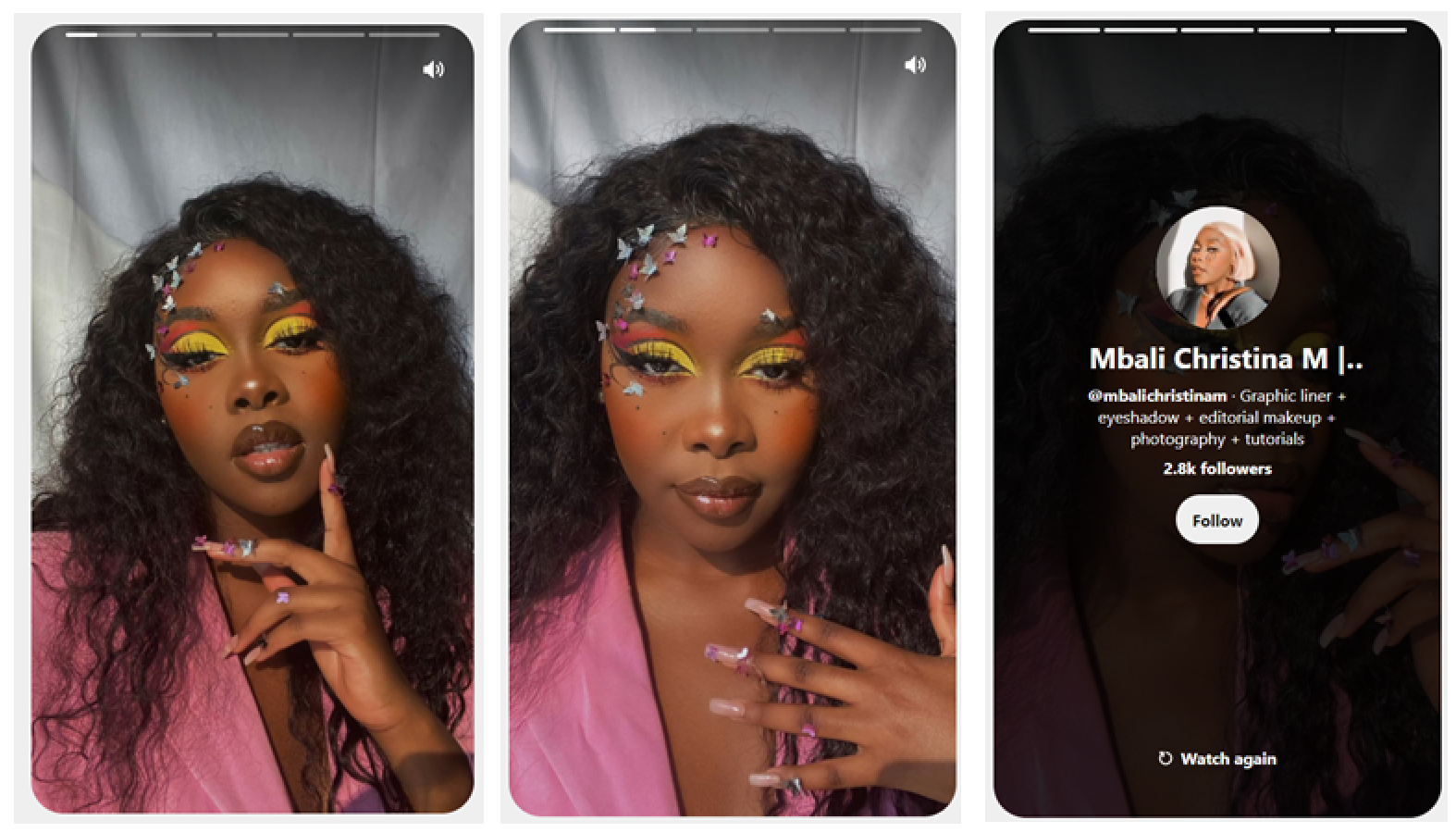 Pinterest allows you to add captions to video Idea Pins – a good idea since some Pinners watch without sound.
3. Use Pinterest ads (aka Promoted Pins)
Promoted Pins are similar to standard (aka organic) Pins, except the seller has paid to give them more exposure – essentially turning them into Pinterest ads.
Paid ads are different from organic Pins in 2 ways. First, they're labeled with "promoted by" and the advertiser's name, like this Etsy ad.

And second, when someone clicks on an ad, they're taken to the seller's website instead of an expanded version of the Pin.
To promote a Pin, you'll need a website and a Pinterest account for business. Here are a few other tips to get you going:
Promote a popular Pin – spend a little money promoting your most popular organic Pins
Don't limit ad placement – you can tell Pinterest to put your ads in people's home feeds or in their search results – do both until you know what works
Use SEO – make sure your ad copy (descriptions, hashtags, etc.) also have the right SEO keywords, so they surface in relevant searches
Target your audience – use Pinterest's audience targeting features to find your ideal customers
You can turn almost any type of Pin into an ad. Static, video, carousel, and collections Pins are all up for promotion. Idea Pins aren't, yet. But there's a beta test that allows influencers and sellers to collaborate on shoppable Idea Pins. Just like organic Pins, it pays to mix up the types of ads you place.
3. Join the Verified Merchant Program
The little blue "verified merchant" check, like the one on this Pin from home décor specialists Room & Board, is a sign to shoppers that a seller has been vetted by Pinterest for clear communication and a quality website.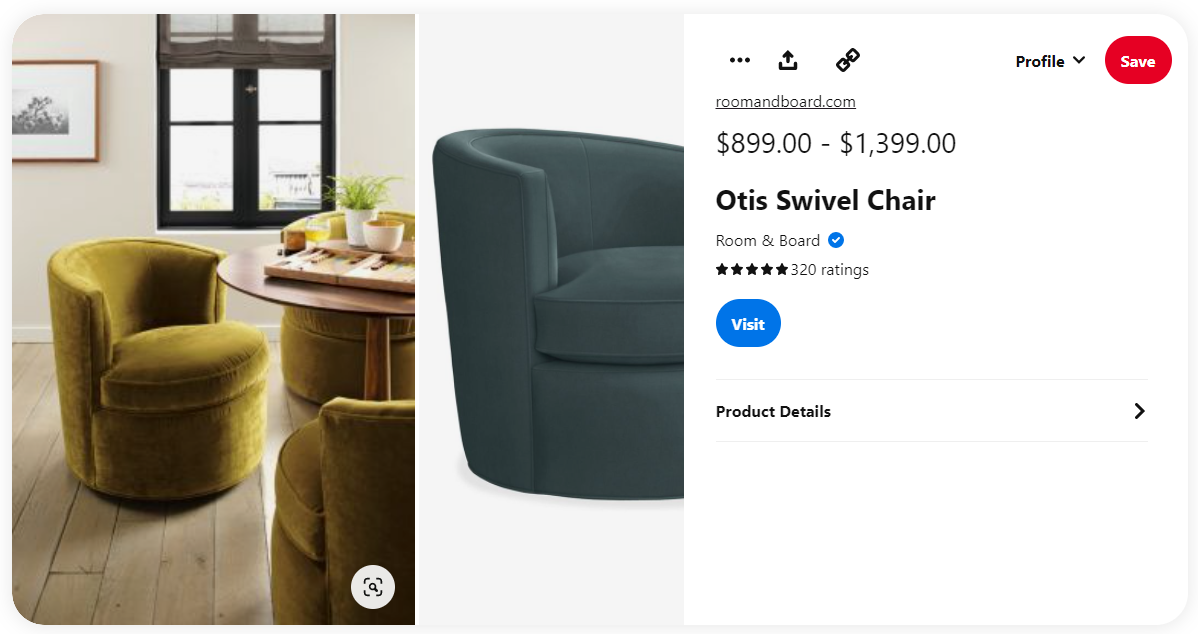 That extra brand trust is worth the application process – especially since it's free. But becoming a verified merchant also unlocks several valuable features to help your online store sell more.
For starters, Pins from verified merchants show up in more places. Here's La-Z-Boy's ad, which appeared in a premier spot in the "more like this" results under an organic Pin.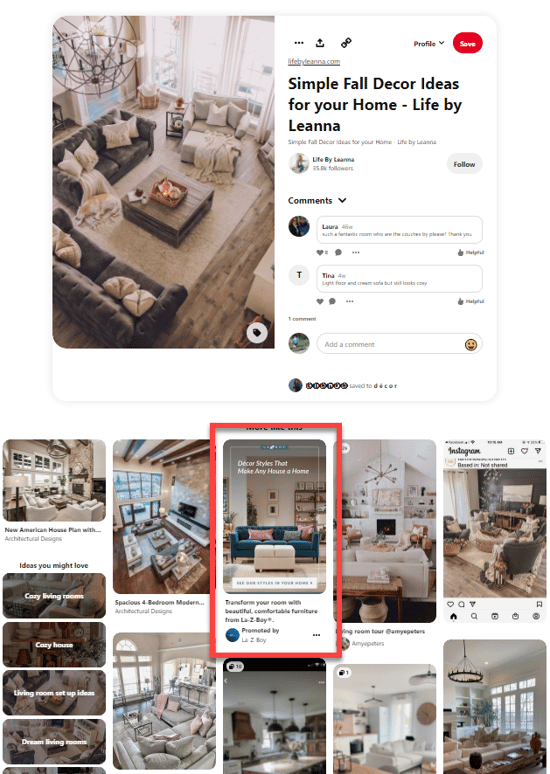 Verified merchants also get a couple of upgrades to their profile page – namely, a "shop" tab and merchant details tags.
The shop tab gives you a digital showroom to display all the products you want to sell on Instagram. Merchant detail tags, like "Black-owned" or "eco-friendly," let you share your brand's communities and values. Home goods seller, Anact, shows off both in its Pinterest profile.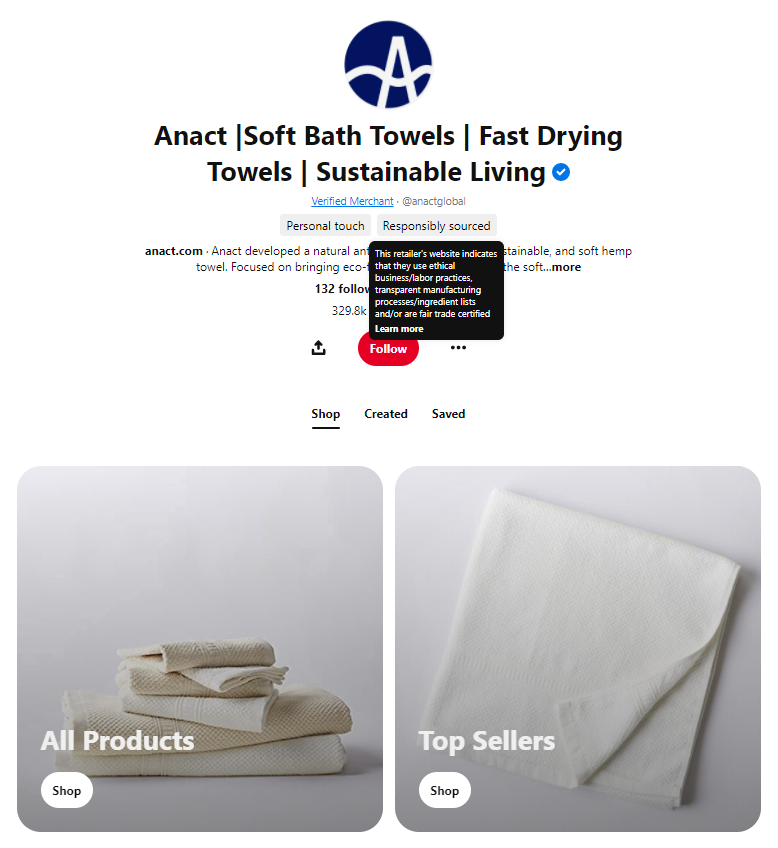 When Pinners hover over the detail tag, they get a description of what it means. There are 5 brand values and 7 communities to choose from.
What's it take to become verified? Pinterest lists its complete guidelines. If you have a high-quality website, clearly stated shipping and refund policies, and easy-to-find contact details, you're most of the way there.
4. Create a Pinterest Catalogue
Pinterest Catalogues is a handy shortcut for placing and managing all of your product Pins. It's an ingestion tool that pulls details right from your website's product pages, sort of like rich product Pins, only en masse.
With Catalogues set up, Pinterest users will see a beautifully arranged digital brochure of your products, complete with up-to-date pricing. You can also arrange products from your catalog in convenient groups – like the apparel brand Johnnie-O has.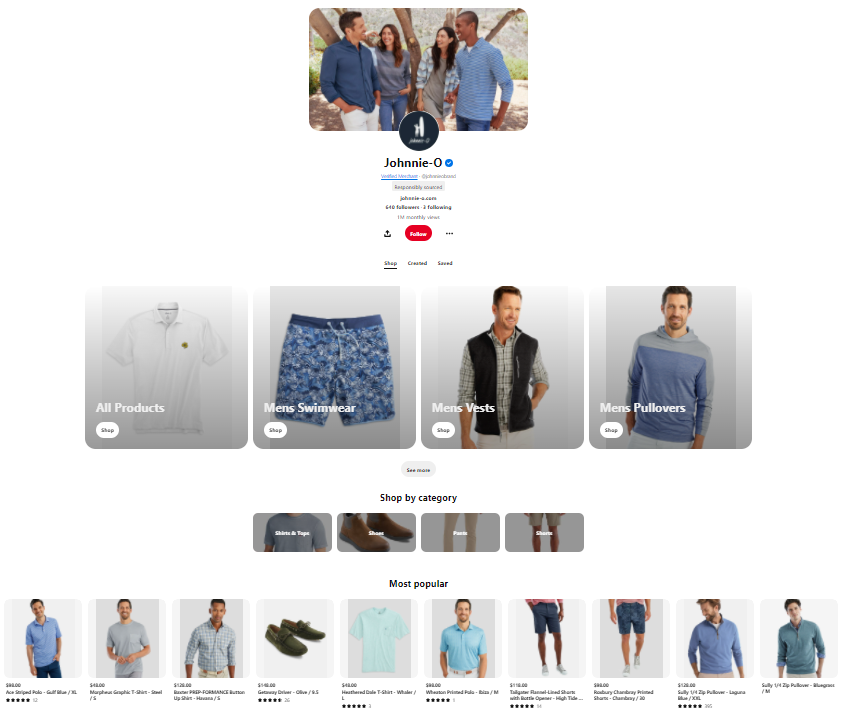 Using Catalogues gets a little techy. Here are the basics:
If your store is built on Shopify and you have the Pinterest for Shopify app, the process will be much easier.
Don't forget to tag products in your Pins. So when you pin a stunning image of your shorts, top, and shoe combo, a shopper can click and find the product pages for each.
5. Be active in the community
Sure, Pinterest is a discovery platform. But it's also a network where like-minded people come to share creativity and inspiration.
Joining the conversation is free, and there are multiple ways to do it.
Pin content beyond products
Fenty Beauty inspires and informs its brand fans by posting dozens of makeup tutorial videos. The educational recordings feature users and influencers – including a few by company founder Rhianna – with a wide range of skin tones and types.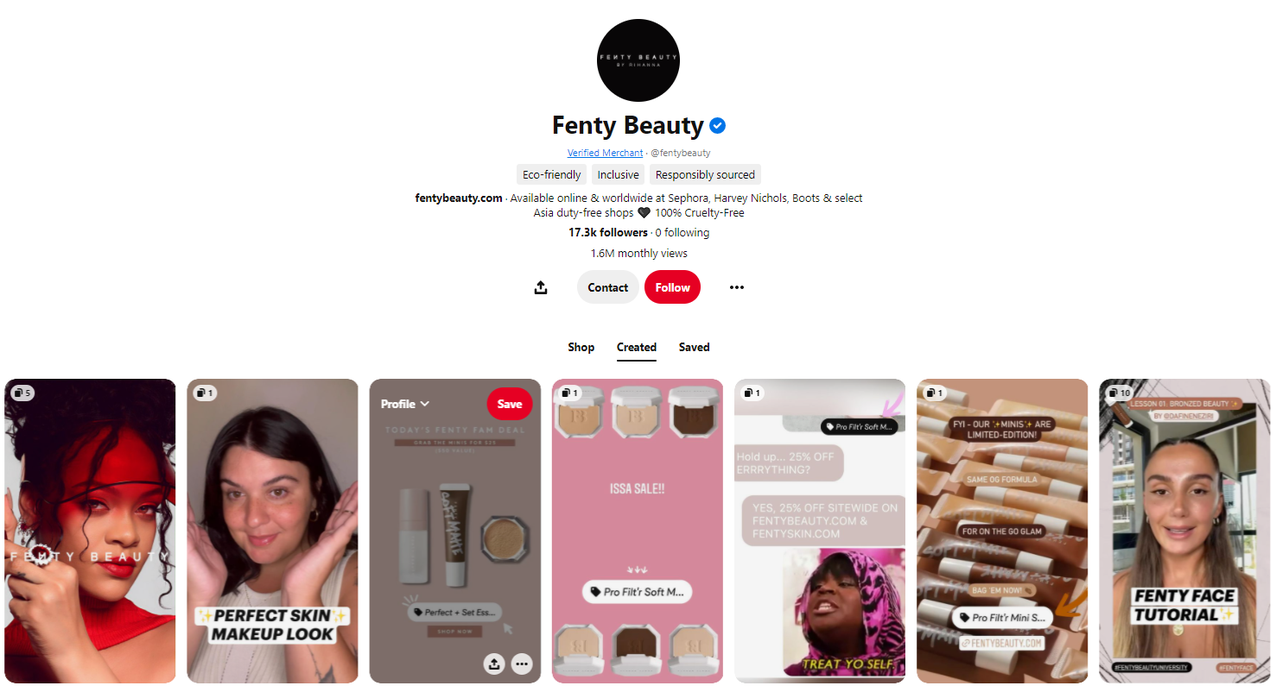 Posting content like this lets Fenty create a relationship with its customers that's more than simply transactional.
Steal a page from RiRi's playbook and pin blog posts, inspirational quotes, tutorials, recipes, and infographics – any relevant content that brings value to your audience.
Pin other people's content to your profile
Inkbox is a company that makes semi-permanent tattoos. And since lots of people look to Pinterest for tattoo inspiration, Inkbox curated hundreds of Pins from artists and enthusiasts, giving its ideal audience a reason to visit its profile often.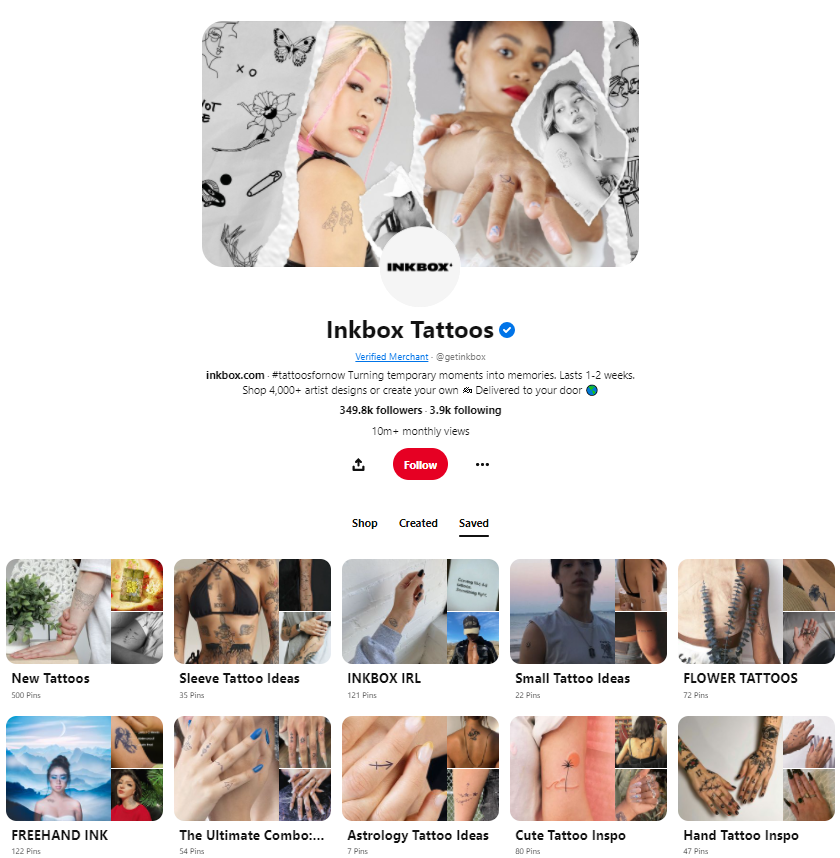 Notice how the company has organized Pins into Pinterest boards, then given those boards SEO- (and people-) friendly titles. This is also a good strategy for organizing shoppable Pins by new products, seasonal collections, or other categories.
This strategy is an easy way to quickly fill your profile with great content while you ramp up Pinning your own. Plus, all the engagement you get from people perusing your Pin collection is a signal to Pinterest that your profile is worth displaying in search results.
Pin user-generated content (UGC)
Mejuri Jewelry struck Pinterest marketing gold when it asked customers to add the hashtag #thefinecrew to pictures shared on Pinterest and social media.
All that UGC is free advertising creative and the type of social proof that wins new customers.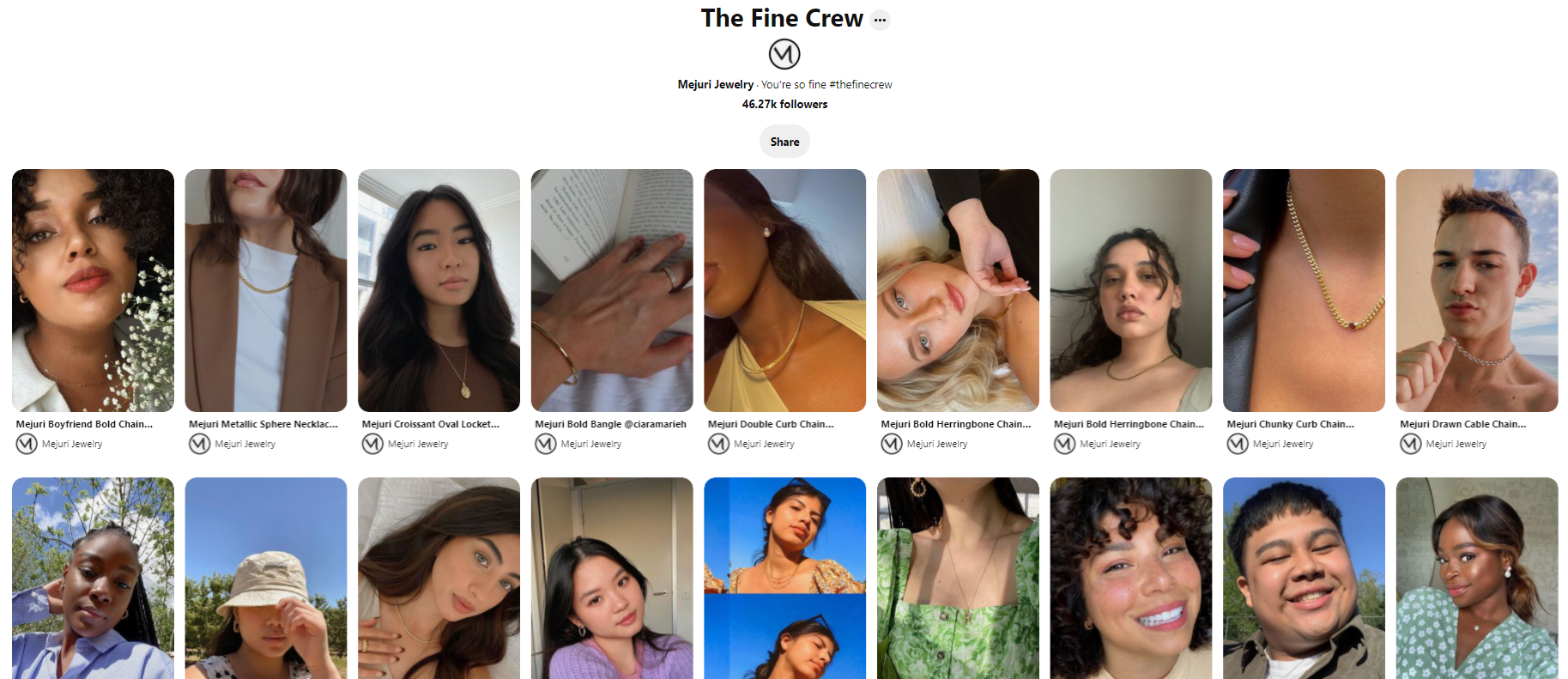 The hashtag has delivered over 46k followers and 1k images. The brand then tags the product in each photo and provides a link to the product's sales page – taking Pinners from brand awareness to consideration to purchase in a couple of clicks.
Want to jumpstart your UGC collection? Hold contests and reach out to influencers who can get their audiences involved.
6. Learn from Pinterest analytics
Say you've placed an organic Pin featuring a small folding desk that seemed perfect for students in a dorm room. It's getting clicked on and saved by a lot of people, but, surprise, it's women aged 45–49 doing the saving.
It turns out the desk is perfect for professionals living in small spaces who now work from home. You spend money to promote the product as a home office solution, and it's become a top seller.
That's the kind of decision-driving insights retailers get from Pinterest analytics.
Insights on Pinterest come in 3 varieties: Overview, Audience, and Conversion.

In the Overview dashboard, you'll find:
Impressions: How many times your Pins or ads were on someone's screen
Engagement: How many people clicked, saved, or interacted with your Pins and ads
Video analytics: How many people started watching a video, how long they watched it, and how many watched all of it
Plus, you get a quick view of your top-performing Pins and boards.
In the Audience Insights, you'll find:
Interests: categories your target audience prefers like design, fashion, or travel
Demographics: the age, gender, and location of your audience
Device: does your audience see your Pins from a phone or laptop
You can also compare your audience against Pinterest's audience as a whole.
Finally, in the Conversion Insights tab, you'll learn:
Total revenue you got from Pinterest
Which Pins or ads increase conversions (website visits, adds-to-cart, or purchases)
Average order value
When combined, all this data will tell you where to spend ad dollars, which Pins and boards your audience loves, and which content isn't worth the effort.
Pinterest is lead generation for ecommerce businesses
Unlike other social media platforms, where users go to catch up with friends and do a bit of doom scrolling, Pinterest is 100% designed for discovery. That means Pinterest users are looking for ideas, inspiration, and solutions. In short, they're looking for you.
Once Pinners find the solutions you provide, it's time to nurture those new and potential customers. That's where Privy comes in. With a host of tools for email and SMS marketing plus conversion, you'll turn a Pinterest audience into repeat customers and enthusiastic ambassadors of your brand. Start your free trial today.
Topics: Ecommerce Marketing
Special thanks to our friends at
Privy
for their insights on this topic.