We're willing to bet that Christmas in July is just another day for most people. But it's a signal for the ecommerce marketer to be on top of their game.
July 25—or as soon as the calendar turns from June to July for the ambitious—should be the date that triggers preparation for the real Yuletide season.
Last year, the COVID-19 pandemic pushed consumers toward digital buying, prodding merchants to optimize their online stores, improve the shopping experience and hone in on marketing efforts. The exact online competition, if not more, exists this year.
Marketers will also contend with a new wrench, thanks to Apple. The iOS 15 update arrives sometime this fall, effectively disqualifying email open rates as a reliable metric. Thus, focusing on the channels and strategies that engage customers is extremely important.
Your best shot at snagging holiday shoppers requires action now. Get things rolling with these six-holiday marketing strategies.
#1: Start Early with Holiday Marketing
For at least five years, more prominent brands have proven that Black Friday no longer claims the holiday shopping season kickoff title. By offering discounts earlier and earlier, they have effectively created the month-long "Gray November."
The pandemic accelerated the trend of starting sooner. Amazon set the tone by shifting Prime Day from July to mid-October, influencing stores like Target and Macy's to launch big holiday sales around the same time. Merchants also recognized the demand to prevent in-person crowds and reduce shipping bottlenecks.
No one can say if October will usurp Gray November as the unofficial start of holiday shopping. But we all know at least one person keen on checking off their gift lists before Halloween strikes.
Our advice: don't wait for the key dates.
Yes, Black Friday and Cyber Monday—what we affectionately call BFCM—are still pinnacle shopping days for ecommerce. All Black Friday week plus "Cyber 10" (the Sunday before Black Friday through Giving Tuesday) also have their place. Cyber 10 accounted for 43% of all automated email conversions in November 2020.
We don't underestimate the importance of ecommerce merchants spending time on their Black Friday marketing strategy or researching Cyber Monday tips. But taking stock of the early shoppers is also essential if you want to capitalize.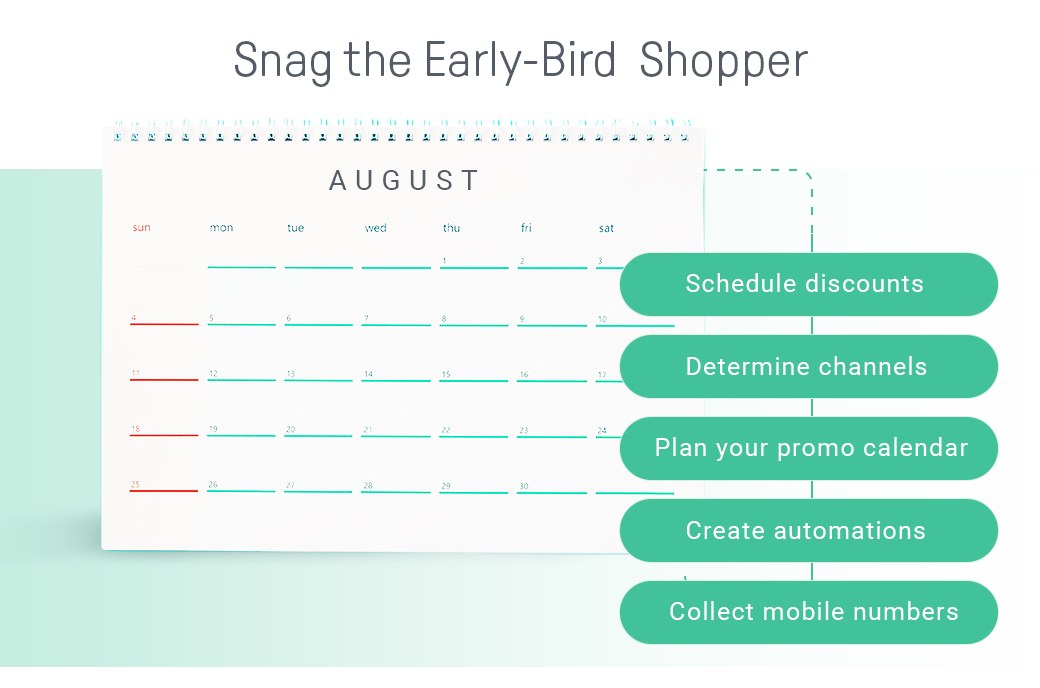 Here is a list of things to consider/put into motion now:
If your shop is in the business of offering discounts, give serious thought to the timing. Is it best to hold great deals, hostage until Cyber Week?
Determine what channels you'll use to communicate. The more, the better, as 76% of customers prefer different channels, depending on context (email is No. 1).
Plan your holiday promotional schedule, accounting for incentives. Define any teasers and flash sales aimed at keeping your customers hooked throughout November, throwing the bait as early as October. Stay organized by creating a complementary email content calendar.
Set up critical lifecycle workflows for automation. We'll get into this later.
Begin collecting phone numbers for SMS message purposes. More to come on this, too.
Whether you succumb to October or decide to wait, the clock for laying the foundation for holiday marketing is already ticking.
#2: Be Explicit with Holiday Email Subject Lines
The arrival of iOS 15 will render open rates obsolete. That means you lose a historically significant measure for determining how a subject line resonates.
Therefore, it will be essential to create holiday email subject lines and preheader text that reveal the email's content and grab attention. Brush up on subject line best practices.
I'd like you to please be proactive by A/B testing variations of subject lines before the update hits. Test core automation, campaigns, or both. Could you send one email to half of the group and the other with a different subject line to the rest?
You'll see open rates before they disappear, alongside clicks and conversions—measures that won't go away with Apple's privacy change.
Some ideas for test variations include:
% vs. $ signs
Emojis vs. no emojis
Subscriber's name vs. no name
Limited time offer vs. no immediacy
Omnisend has a free subject line tester. And if you're looking for inspiration, we've researched the 35 best holiday email subject lines and emojis that engage and convert.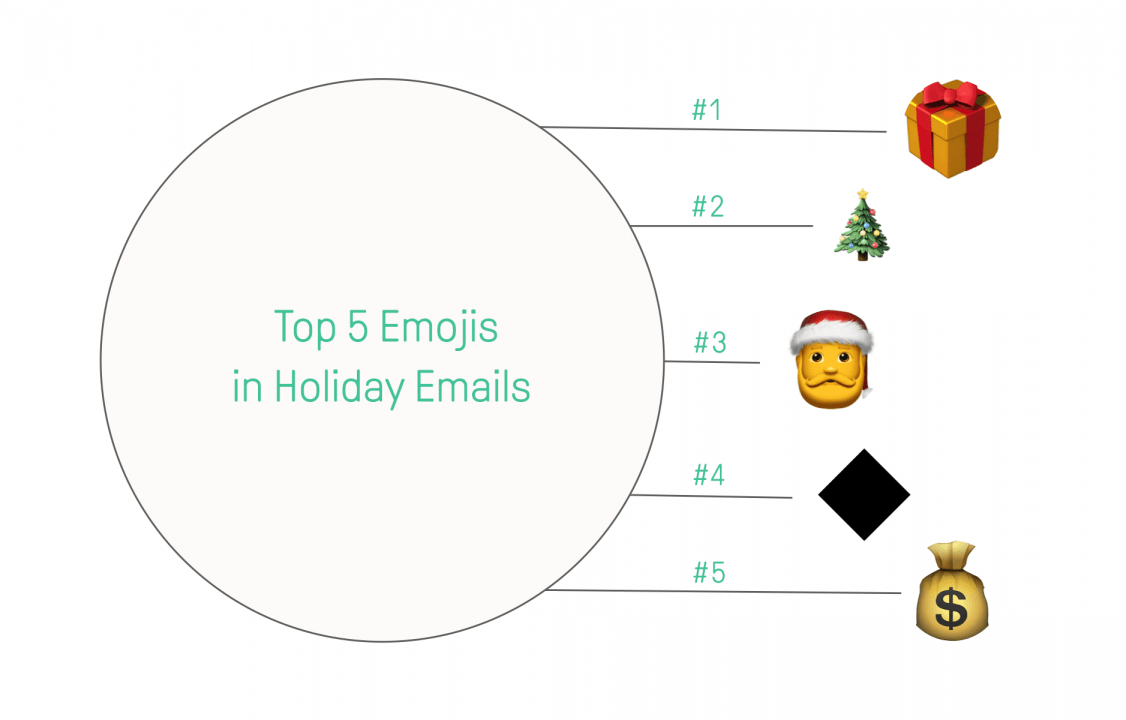 #3: Promote Value-Adds in All Emails
Ecommerce is a cluttered and intensively competitive field, especially during the holidays. Please highlight your primary value-adds in each email message, whether automated or promotional.
We're discussing features like free shipping thresholds, curbside pickup, extended and hassle-free return policies, live chat or 24/7 customer support, and gift wrapping. All of these perks help to build consumer confidence.
A "buy online, pick up in store" option might be someone's deciding factor. Or, contemplate some value-add stats that might hold sway:
68% of consumers want free delivery
Half want free returns
Half want package tracking
Post-purchase, instill greater trust and reduce support inquiries by communicating shipping, fulfillment, and returns policy information.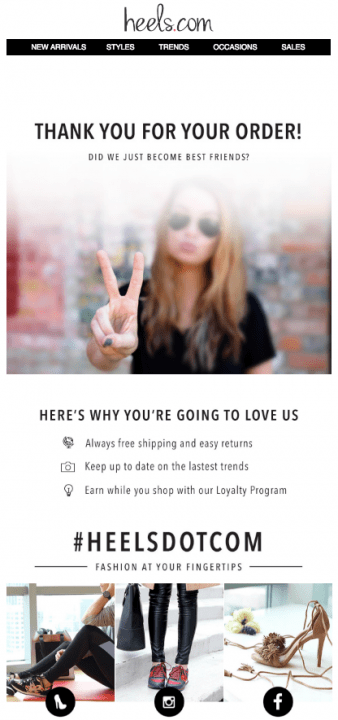 #4: Implement Holiday-Essential Lifecycle Messaging
Back to those automation workflows previously mentioned. Use these (potentially) slower summer months to prepare holiday-specific automated emails that speak to your subscriber's journey point.
I'm assuming that your marketing email program is well-stocked with automation. We have a good reason for you to amass them if you still need to. Automations generated 29% of all email orders in 2020 while making up only 2% of all email sends.
The following behavior-based workflows are crucial for driving sales in the background without increasing your workload, giving you greater freedom to spin holiday marketing ideas into promotional campaigns. It would be wise to implement them before the holiday rush hits.
Welcome automation earned a nearly 60% conversion rate during the 2020 holiday season. It makes sense that holidays are the welcome email's time to shine. Ecommerce brands typically have significant traffic during Q4, often attracting shoppers who are just discovering them. Consider leveraging the attention by offering a first-purchase incentive through a "happy holidays" email.
Cart and browse abandonment messages are triggered when shoppers leave items in the cart without cashing out or, for the latter, view products but fail to take further action. Please take the opportunity to remind them of what caught their eye. Cart abandonment messages had a 59% conversion rate on Black Friday and a 49.2% rate on Cyber Monday.
Post-purchase communications are perfect for nurturing your customer relationships and encouraging additional sales during and after the holiday season. It's a prime spot to cross-sell. Shoppers who click on a personalized product recommendation have a 26% higher average order value.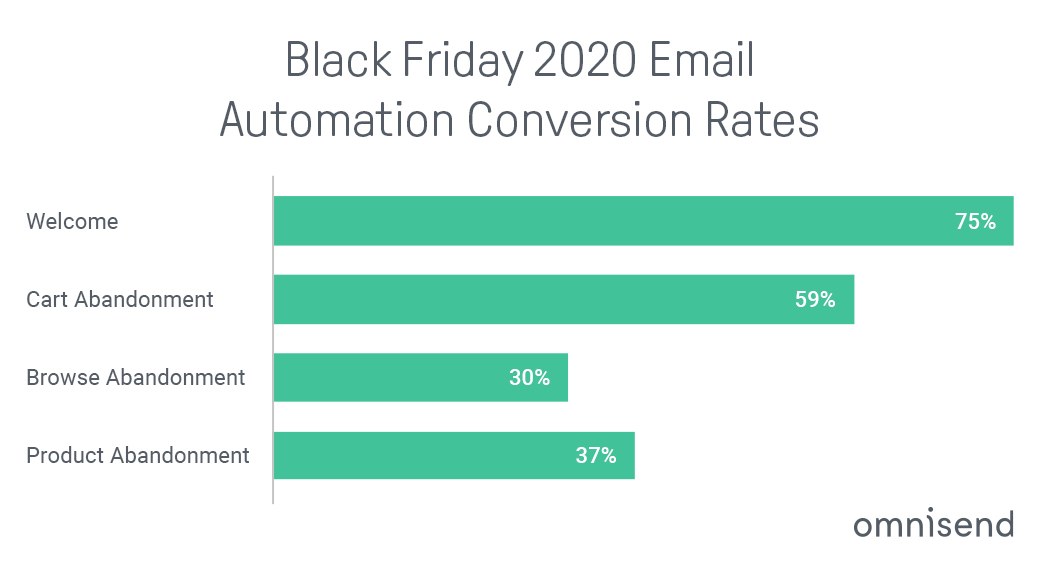 Depend on these workflows to entice buyers and transform a seasonal shopper into a customer who returns for more after the last holiday gifts have been unwrapped.
#5: Incorporate SMS and Push Notifications into Holiday Marketing
Email should not serve as the be-all and end-all of your holiday marketing strategy. While it's the meat and potatoes, combining it with other messaging channels boosts sales.
Ecommerce merchants using omnichannel campaigns are rewarded with a 287% higher purchase rate than those that stick to a single channel. SMS and web push notifications can take you further than email alone, especially with the abundance of messages hitting subscribers' email accounts from November to December.
While not holiday-specific, INGLOT Cosmetics Canada is a testament that it works. The company takes an email-SMS-push notification approach with its cart abandonment workflows. Combined, the rate of conversion is 117% over email-only promotions. The automation drives 8% of its yearly email revenue.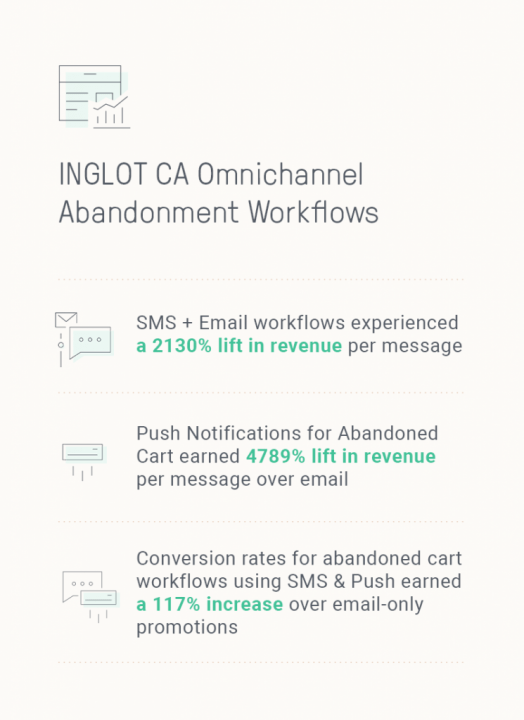 Let's break these channels down a bit further.
SMS
We urge you to start ASAP if you're not collecting phone numbers.
There are many reasons. First, mobile users are an attentive audience, with 78% of consumers saying they use their phones primarily for texting.
Merchants are recognizing the potential of SMS and jumping aboard. Last year, Omnisend customers sent 378% more texts than in 2019, leading to a 100% year-over-year increase in conversions.
Here's a brief look at how SMS fared for ecommerce merchants during the 2020 holiday season:
SMS messages sent during the Cyber 10 generated 72% of November orders
Black Friday accounted for 19% of November orders

Conversion rates were higher than the average rate for the year:
November: +19%
Black Friday: +33%
Cyber 10: +42%
Giving Tuesday: +240%
We foresee SMS' stature only growing when the iOS update quashes the ability to email subscribers who don't open an email.
SMS is versatile. For example, it's a great avenue for reaching VIP shoppers. Grant your most engaged users first dibs on buying a limited-stock product.
Send time-sensitive texts, like one-off flash sales or notifications about inventory running low. Or candidly communicate the reasons for a shipping delay. Proactively addressing snafus bodes well—34% of consumers say brand loyalty is damaged when they forget about a purchase because it arrived late.
Texts are also a great addition to automated lifecycle messages. Omnichannel campaigns incorporating them are about 48% more likely to result in conversion.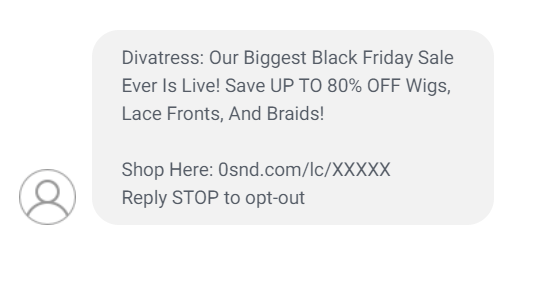 Push Notifications
Unlike email or SMS marketing, push notifications don't require registering personal information. These small popup messages appear within a browser or on a mobile phone, reaching opted-in users quickly. They're effective at grabbing immediate attention.
The holiday season is ripe for taking advantage of the push notification's unique features. Dabble with offering incentives on the tentpole days—it's a great Black Friday marketing strategy and ideal for Cyber Monday promotions, too. A customer doesn't have to be on your site to receive them.
Our pro tip: target. Could you create a pop-up about free shipping for visitors who look over your shipping and returns policy? You can use the same incentive in a notification for those browsing a popular product; adjust the language and visuals.
Push notifications to deliver. The Sunday before Black Friday, 2020, saw a year-over-year conversion rate increase of more than 3,800%. During Cyber 10, the conversion rate was 38.5%, a lift of 867% over the previous year.
#6: Use First-Party Data to Retarget
If you have subscribers who don't respond to automation (and who doesn't?), go where they are. Of course, that place is online, social media sites in particular. The average internet user spends about 2 ½ hours on different social channels.
Paid digital advertising might be the megaphone that prompts a purchase. When we say advertising, we mean retargeting to your subscribers, not random users with specific characteristics who may or may not be familiar with your brand.
With Omnisend, you can sync specific subscriber segments directly into Facebook and Google ad accounts, skirting any reliance on cookies. And there's no need to stress about the iOS 14.5 update, which allows iPhone users to prevent Facebook from accessing their tracking data for targeted ads. The audience sync feature harnesses your cache of subscriber emails.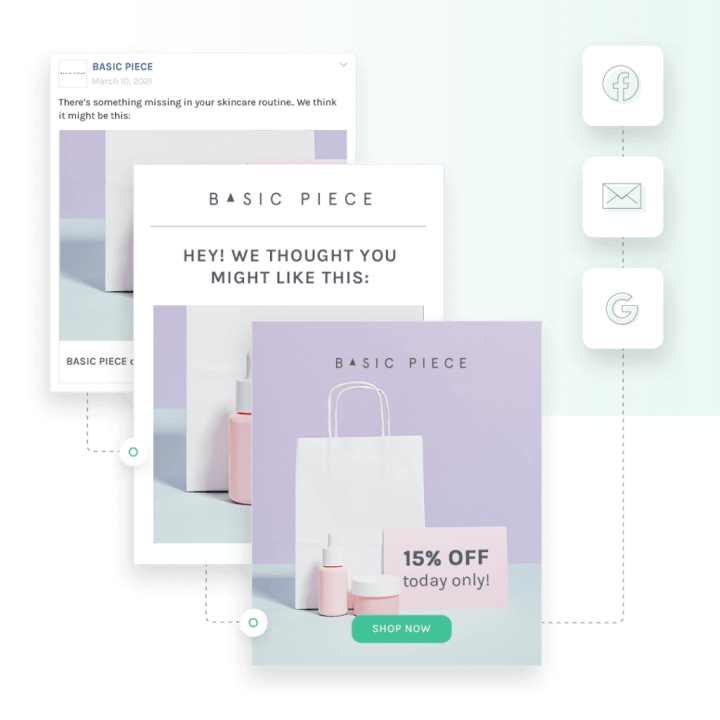 Want to reach new subscribers who have yet to open their wallets and make a purchase? Flash a special holiday discount on Instagram. Do you have repeat customers you want to reward for their loyalty? Could you sneak them a peek at a forthcoming flash sale with a Google display ad?
Retargeting on social media will cost some money, but hyper-targeting ads based on customers' shopping behaviors is an intelligent way to maximize the investment.
Gear Up for Holiday Promotions Now
It's tempting to slip into summer mode, brush aside thoughts of the holiday crush, and say, "We've got time." But we live in an age when snowmen and Christmas trees pop up alongside ghost and witch decor.
You want to be on your holiday marketing game this year. Ecommerce is showing some signs of a post-pandemic slowdown, and the impending iOS 15 update is shaking up email marketing. Get your ducks in a row, and you won't have to worry about either.
Steal our roadmap and begin now. Plan early, be direct with your subject lines, broadcast your value-adds, lean on automation, embrace SMS and push notifications, and retarget.
We have no doubt these six things can steer a revenue-producing holiday strategy. Explore how Omnisend can make the work easier by trying a free 14-day trial today.
Special thanks to our friends at
Omnisend
for their insights on this topic.