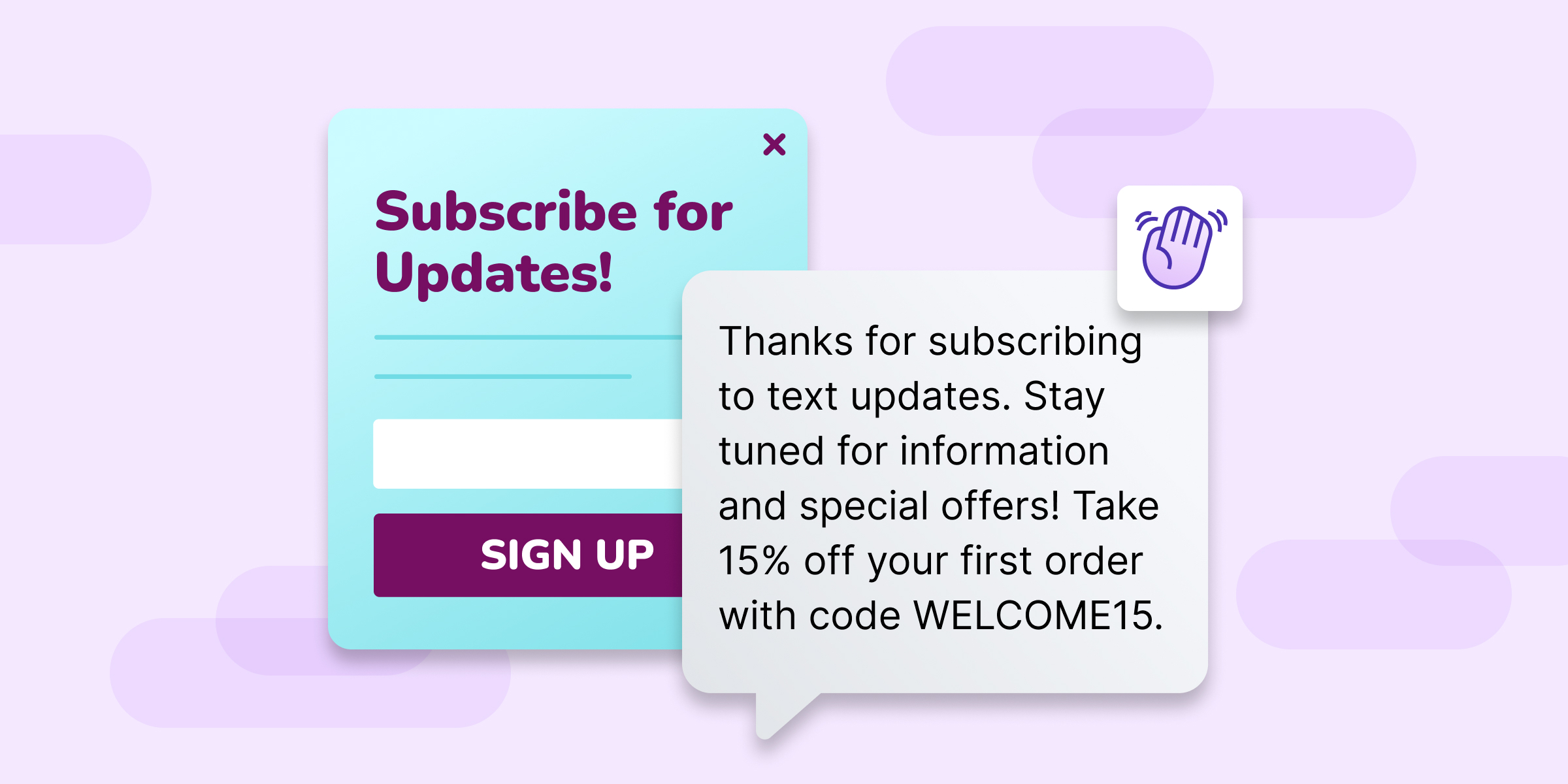 Getting started with SMS marketing can feel daunting. 
But step 1 is to grow your list. 
And I'll let you in on a little secret…
You don't need thousands of SMS subscribers to see a real impact on your bottom line. 
There isn't a magical list size that you need to reach before you start really leaning into text marketing. In fact, you need to show value to your subscribers ASAP whether you have 2 people on your list or 200.
Luckily, there's so much you can do to grow your list today. Starting with these 6 ideas:
Just remember that you have to start somewhere.
Try out 1 or all these ideas and you'll be well on your way to sustainable list growth that will boost revenue for your business.
Get our best content on ecommerce marketing in your inbox 2 times a week
1. Update your welcome popup
When it comes to growing your text list, the most obvious place to start is your welcome popup. Chances are, it looks something like this: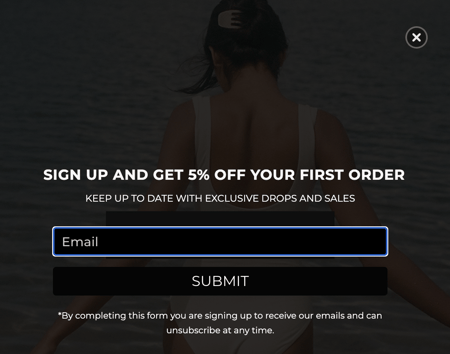 So take it a step further, and add a phone field to your popup like this: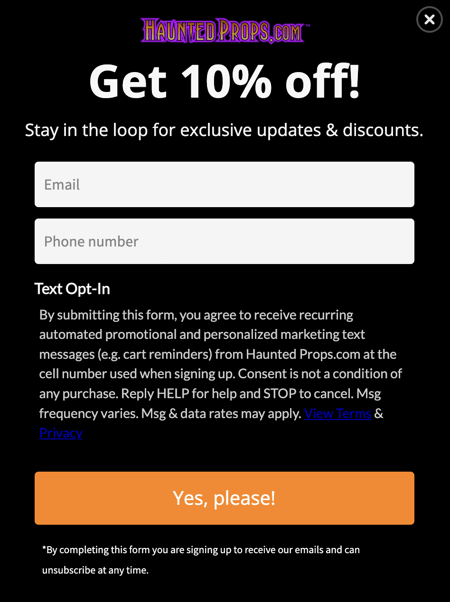 Just remember that your offer matters. And it's going to have the biggest impact on your conversion rate. So take a step back and make sure you're giving people a reason to join your lists in the first place. 
With Privy, you can launch popups and grow your email and SMS lists in minutes. Plus, you can send your emails and texts. All with one platform. The best part? You can get started with Privy for FREE today. Already have an account? Log in and update your popups to include a phone field.
2. Target existing subscribers on your site
Once you've updated your existing popups to include a field to capture phone numbers, it's time to target the people who don't see something like your welcome popup because they're already on your list. That means current subscribers and customers.
With Privy, you can target specific audiences to make sure the right audience is seeing your messages at the right time.
Here's how accessory brand, Kōv Essentials, targets existing subscribers and customers to join their SMS list: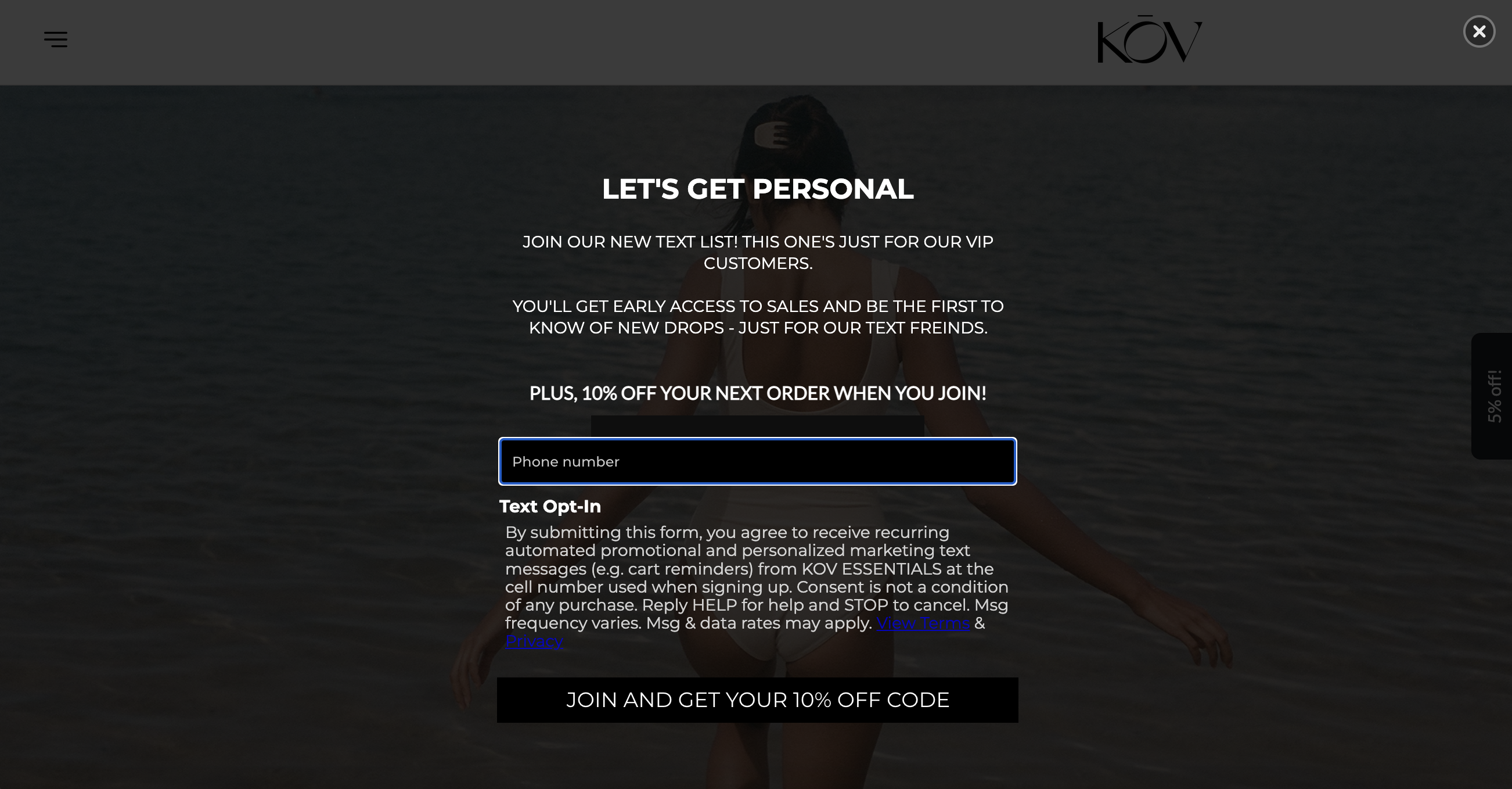 Saratoga Olive Oil targets members of their audience who haven't signed up for other campaigns with this popup: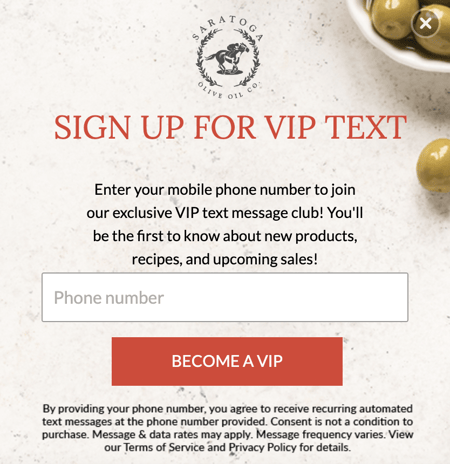 Remember that these people (your existing customers and subscribers) are incredibly valuable for your business. They've already shown interest in your brand. So make sure you have popups targeted specifically to them to encourage them to join your SMS list ASAP. Because they're the most likely to convert.
3. Send an email to your existing subscribers
Once you've updated your popups and onsite campaigns to boost signups to your text list, it's time to send an email to your existing subscribers.
Remember: since they've already subscribed to your email list, they've already shown interest in your brand. Which means chances are, they'd want to hear from you on another channel, too.
But for this to work, you need to think about the incentive that's going to move the needle for them. Just asking them to sign up for your SMS list isn't enough. For the best results, you need an offer.
Here's how women's clothing brand, LoveShackFancy converted email subscribers into members of their SMS list: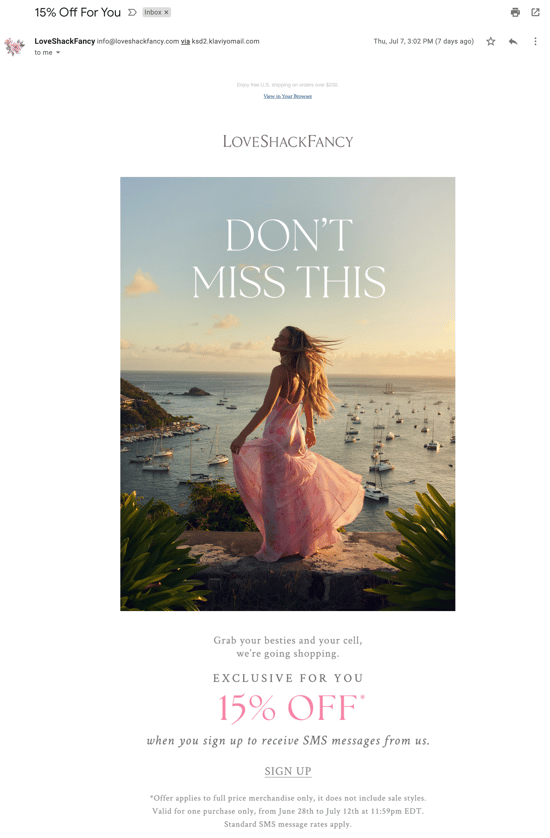 As a luxury brand that doesn't offer discounts often, this is a big deal. So when you see something like "15% Off For You" in your inbox from them, you want to act. FAST. 
But when you see that this is a limited-time offer, it drives even more urgency to join the list ASAP.
Mate the Label did something similar here: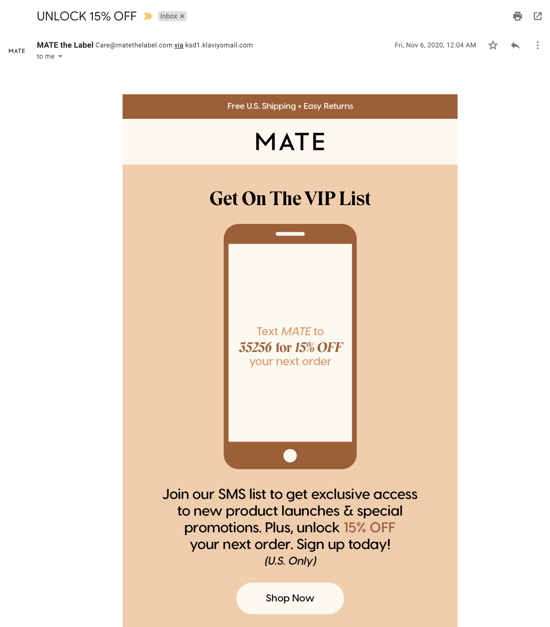 By positioning their SMS list as a VIP channel, it really makes you want to join. Who wouldn't want to get early access to new products and special offers? This is the perfect way to get your existing email subscribers to convert. Pair that with 15% off and you have a recipe for success.
Skincare brand, Blume, does an amazing job setting expectations and laying out why subscribers should join their text list with this email: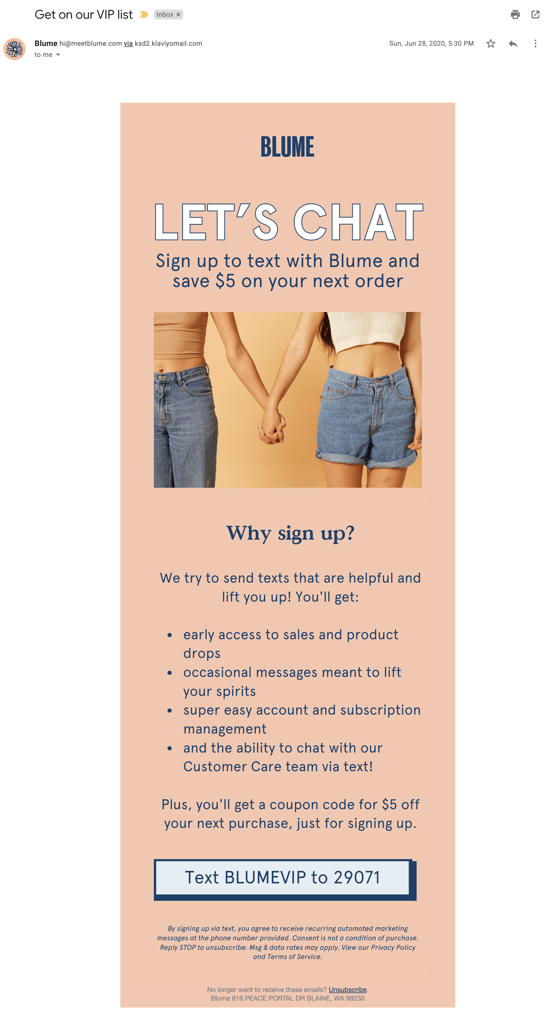 Yes, you get $5 off your next order, but you also know exactly what you're signing up for. 
Just remember that 1 email isn't enough to grow your list sustainably. So keep mixing in messages like this every so often (just make sure you exclude members of your audience who have already signed up).
4. Include a CTA in all future emails
Sending one-off emails pointing your subscribers to join your SMS list is a great way to boost growth. But to make it even more likely that your audience knows about (and eventually subscribes to) your text program, adding in a CTA to all your emails is a great way to keep it top of mind (and constantly get new people to join).
Take this example from bag brand, Baboon to the Moon: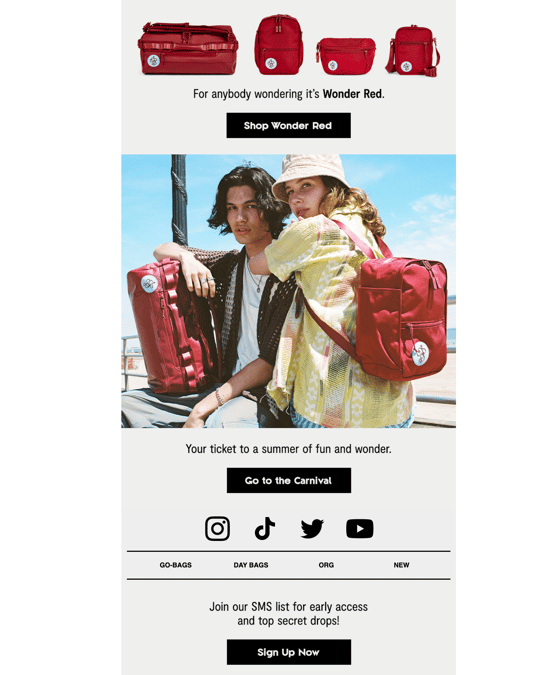 This is an email about a brand new colorway, but they didn't miss a chance to plug their SMS list. Even a CTA as simple as "Join our SMS list for early access and top secret drops" is going to get at least some people in your audience interested enough to join. Do this in every email and you're going to boost numbers with every send.
Similarly, Kōv includes a CTA to get their email subscribers to join in every email, like this one about a product restock: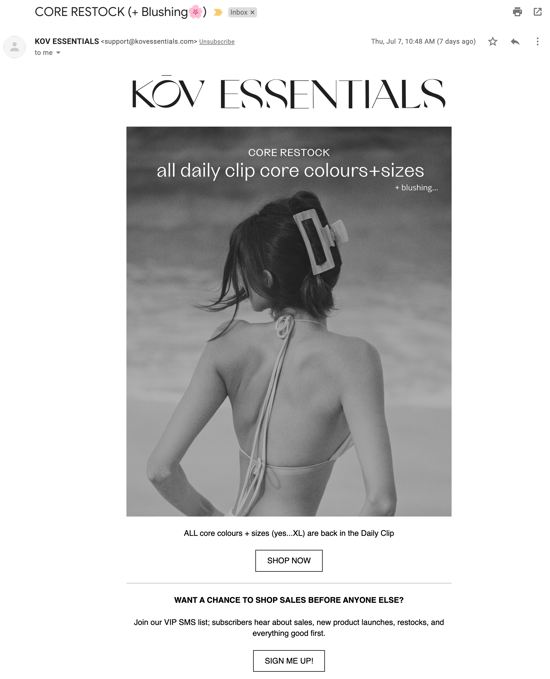 By sharing the fact that SMS subscribers hear about everything first, it really makes audience members, especially those who are most engaged, want to sign up ASAP. Because who doesn't want to be the first to know about new products, sales, and restocks from their favorite brands? This adds real value for people who subscribe.
So next time you send an email, even if it's about something completely different, make sure you include a CTA about your SMS program that highlights why people should subscribe (what's in it for them?) and before you know it, you'll be on your way to sustainable list growth.
5. Give SMS subscribers early access and sneak peeks
Exclusivity is one of the main reasons I sign up for text messages from my favorite brands. And that's exactly why teasing the fact that your SMS subscribers get special perks like sneak peeks, early access and exclusive offers works so well. 
To get your wheels turning, here are a few examples. Like this one from Baboon to the Moon: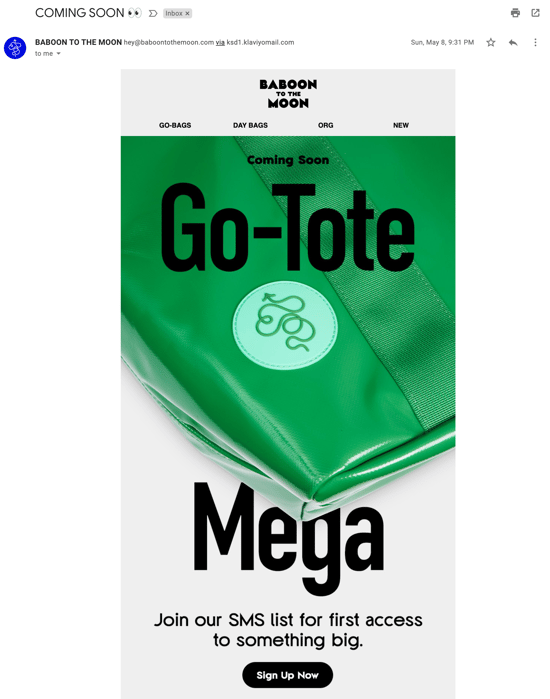 By teasing the fact that they're launching a brand new tote and that SMS subscribers get first access, you have a clear reason to join ASAP. Even if this isn't necessarily the launch for you. Because in the future, you might want to jump on a product before anyone else.
What's great about this is the fact that you can send reminders like this ahead of every launch. Remind your email subscribers that the SMS list gets first dibs and you're sure to convert at least some of them to join the list.
Kōv went a different direction with this email about a free gift with purchase: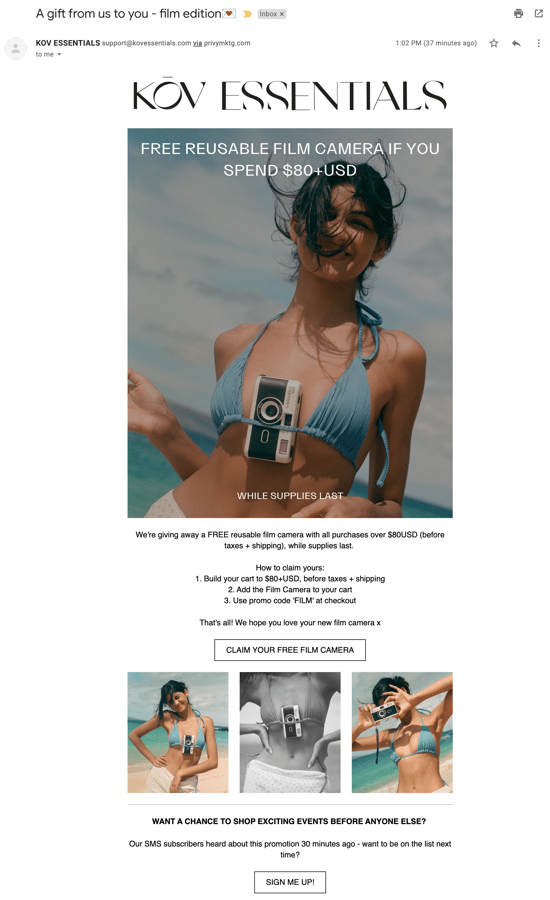 First, they explain the offer and how to claim it. Then, they share the fact that SMS subscribers heard about this promotion ahead of time. This is a great way to both drive sales for your business (with the offer) and get new SMS subscribers.
And this isn't the first time they've included messaging like this. It's the perfect thing to include in all your email marketing campaigns where SMS subscribers were first to know. Because your most engaged audience members won't be able to resist.
And finally, here's how candle brand, Mala, used a limited number of free gifts to drive urgency around joining their SMS list: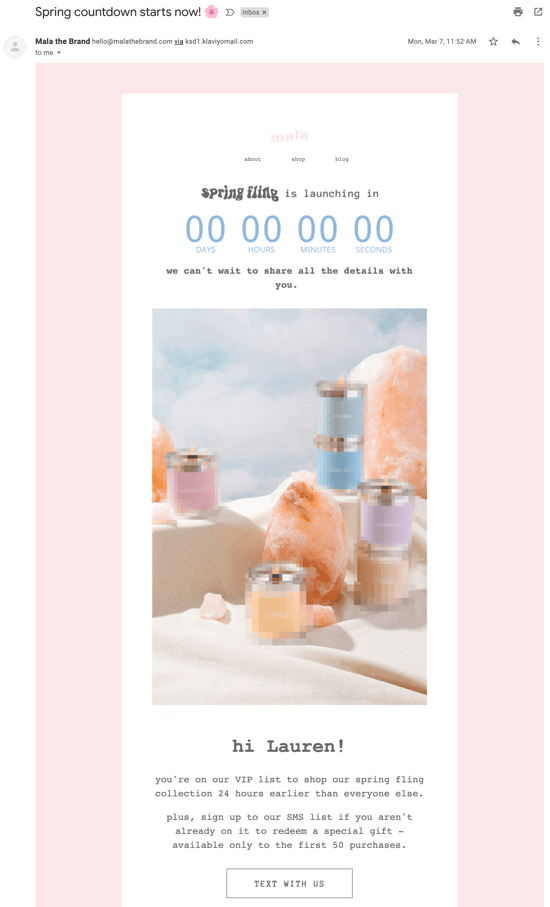 This teaser message is short and sweet, but it does a great job of making you feel special as a subscriber. Just because I'm on the email list, I get to shop the upcoming collection 24 hours before anyone else. This is the kind of thing that's going to keep your email subscribers engaged. 
Then, to get email subscribers to join their SMS list, there's a quick CTA about a free gift with purchase for the first 50 people to buy. Not only does this drive immediate sales, but it gives the audience a reason to sign up ASAP. 
Constant reminders about the value of joining your brand's text list is a must. You have to make it crystal clear what's in it for them. All 3 brands do a great job showcasing that value with these emails. So take a page out of their playbooks and use exclusivity to drive new signups to your list today.
6. Convert your followers on social
Sharing your SMS list on social is a great way to get new subscribers. And the best part about this strategy is that it's something you can mix in on a regular basis. 
Take this example from jewelry brand, Ring Concierge: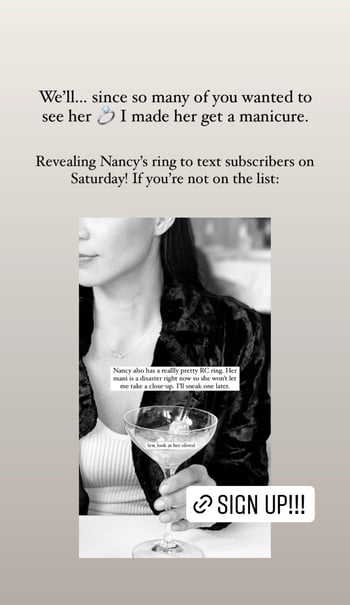 This was part of a series of stories, but the founder shared a behind-the-scenes look at her friend Nancy's entire wedding planning process and revealed the ring to her SMS subscribers first. The fact that there's a link right there makes it a seamless process for her Instagram followers to join immediately. 
Every so often, she'll mix in different CTAs like this to convert more and more of her followers into subscribers. This is an amazing way to constantly grow your list.
And Chelsea, the Founder and CEO of Kōv Essentials doubled her SMS list in a matter of hours with this exact strategy:
@kovessentials

so excited to partner with privy to help you all build your sms list💕💕💕
So the next time you're building out your social calendar, consider sprinkling in some CTAs to join your SMS list. Especially if you're offering something exclusive (like early access or a first look), I'm positive you're going to get new subscribers with every post.
Start growing your SMS list today
The first step to getting started with SMS is growing your list. But before you panic about not having enough subscribers, remember that you have to start somewhere. Just like you did with your email list.
But you don't need thousands or even hundreds of subscribers to get real results from text marketing. Just remember that once you start, you can't wait weeks or months to engage with that audience. Because by then, they might not even remember who you are. That's why it's so important to show value early and often.
So whether you offer exclusive discounts, early access to brand new products, or behind the scenes peeks at what's coming up, the most important thing is to get started.
Update your welcome popup, send an email to your existing subscribers, convert your followers on social…there's so much you can do to start growing your SMS list today. 
And Privy can help with everything from capturing phone numbers from site visitors, to sending emails to existing subscribers, to sending your very first SMS campaign. It's the all-in-one platform you need to grow your ecommerce store. Plus, you can get started with Privy for FREE today.
Topics: Text Marketing
Special thanks to our friends at
Privy
for their insights on this topic.