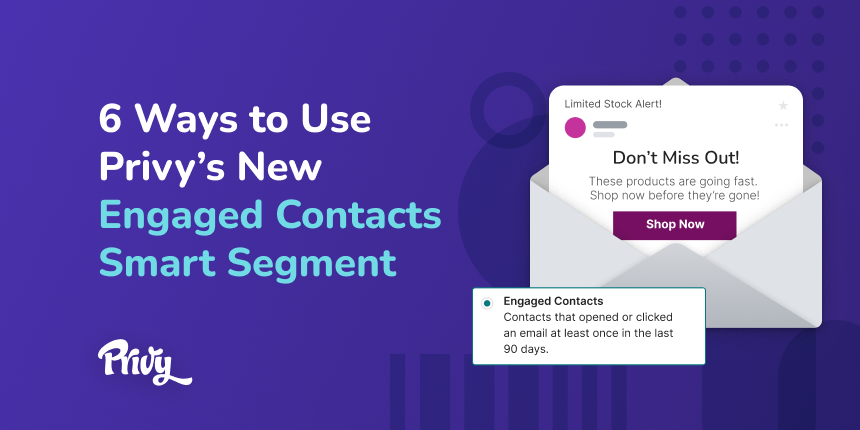 It's no secret that most brands send multiple types of emails. 
Newsletters to share new content or messages from the founder… 
Promotions to try to incentivize sales…
Announcements to share new product launches, and so much more.
And while it's tempting to send your emails to as many people as you possibly can, it's important to remember that relevance = success when it comes to your email marketing strategy.
Just think about it for a second. You wouldn't send a confirmation email to a brand new subscriber. Or a purchase followup email to someone who had never made a purchase.
So before you hit "Send" on your next email, remember that each member of your audience isn't at the same stage with your brand. 
But chances are, you have a list of engaged contacts who consistently open and interact with your messages. Which makes them the perfect audience to receive frequent communication.
Here are 6 types of emails that are perfect for the most engaged members of your email list.
Get our best content on ecommerce marketing in your inbox 2 times a week
Why use Privy's Smart Segment for engaged contacts?
Before we dive into emails and inspiration, you might still be wondering why you shouldn't be blasting your entire email list every time you send a message.
Which is fair. Because you work hard to grow your email list constantly.
And before we go any further, there are definitely instances where it makes sense to send emails to a large portion of your list (Black Friday Cyber Monday anyone?).
But the more you can tailor your messages to specific segments within your email list, the better your results will be. 
Because if you're constantly sending irrelevant messages to your subscribers, they're either going to stop engaging with you or unsubscribe. Not ideal.
Getting started with segmentation can feel daunting, though. That's why starting with your most engaged contacts is the perfect first step. Because you already know these contacts want to hear from you, are interested in what you sell, and have a higher likelihood of interacting with whatever you send next.
And with Privy's all-new Smart Segment for Engaged Contacts, it couldn't be easier to send targeted messages that will have an impact.
6 types of emails to send your engaged contacts
Now that you know why segmentation is so important and where to start, it's time to get into some examples that will give you the confidence and inspiration you need to start sending emails to your engaged contacts.
Here are 6 types of emails to add your calendar ASAP to bring in sales and keep them wanting more.
1. Targeted reminders for current promotions
Think about it: how many times have you missed a promotional email in your inbox? A ton, right? Because a single email is not enough. 
So whenever you're running a limited-time promo, reminders are the perfect way to stay top of mind and make sure your engaged contacts are seeing your messages.
They're a great way to end your offer on a strong note and give your audience one more chance to take action. 
Here's an example from jewelry brand, Idyl: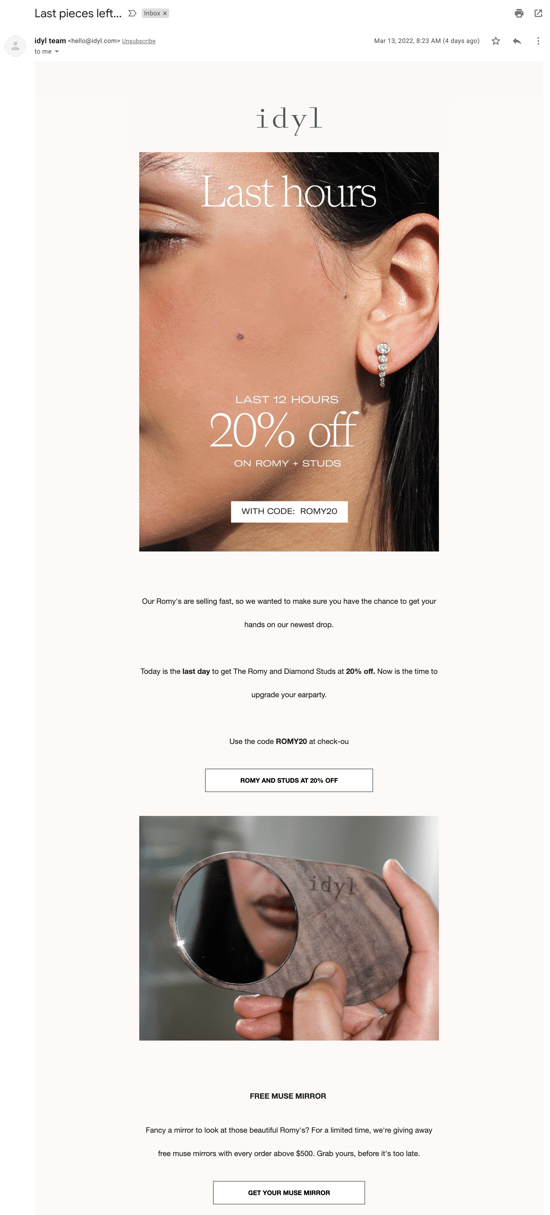 This is the perfect reminder to shop their newest product at a discount for 12 more hours. Plus, they call out the fact that they're selling fast to add a little extra urgency. Toss in a free gift with purchase and you've got the ultimate cherry on top. 
So the next time you're running a limited-time offer, don't stop with just one email. Make sure at the very least you're sending an announcement email and a last chance email. Bonus points if you sprinkle in a couple others in between and throw in a text message or two.
2. Exclusive offers
When it's genuine, your audience remembers when you go above and beyond to give them something special. 
And because your engaged contacts have interacted with your messages recently, you already know they're interested in what you have to offer, making them a prime audience to show a little extra love to.
Sometimes a little nudge is all it takes to convert an engaged member of your list into a customer. Here's a great example from women's clothing brand, Mochi: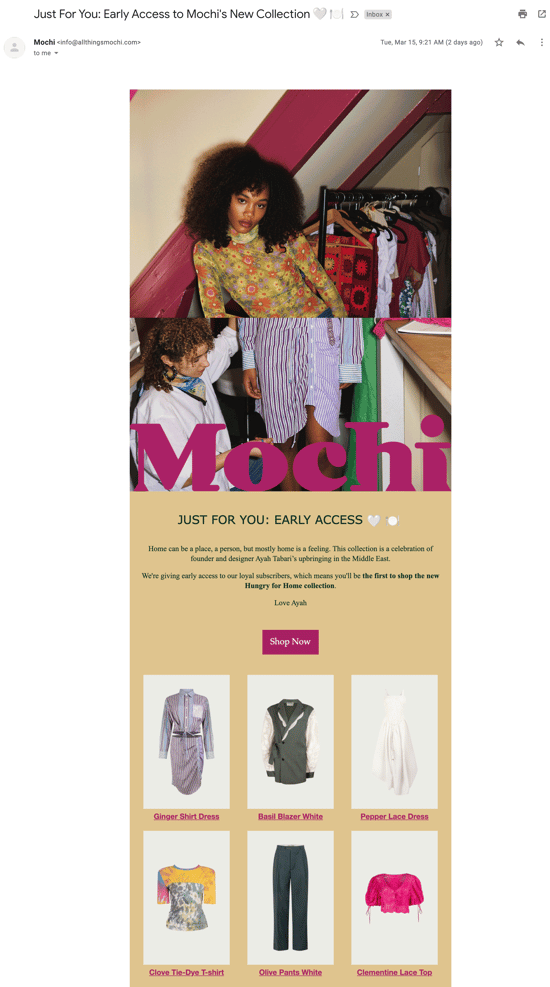 I absolutely love that they specially say: "We're giving early access to our loyal subscribers, which means you'll be the first to shop the new Hungry for Home Collection."
That's exactly what your engaged contacts are, loyal subscribers. But when you call it out, it makes them feel special! Like they're getting something not everyone else is.
The more often you can give your audience that feeling, the better. Because who doesn't want to be loyal to a brand that makes them feel good constantly? Sign me up for that treatment.
3. Limited stock alerts
Your engaged contacts are more likely to open your emails than the rest of your list. So they're already primed to take action when you do send an offer their way. 
Limited stock alerts are an awesome excuse to get in front of this audience because they naturally drive urgency. Ever made a panic purchase because something says low stock? Same.
So whenever you have low inventory, use it as an excuse to send an email to your engaged contact segment.
Here's a great example from coffee brand, Jot: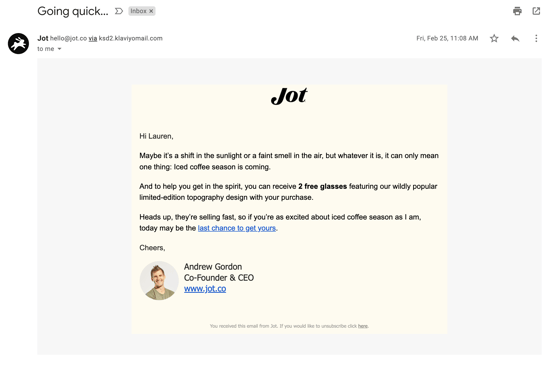 What makes this one so good?
I love that it doesn't have any images except a photo of the CEO. It might be counterintuitive, but mixing in plain text emails every once in a while is a great way to get your messages to stand out because so many emails in your subscribers' inboxes are so image-heavy.
Plus, the offer is killer: the glasses are limited edition and free with your purchase. But they're going quickly. 
This is another great one from hair accessory brand Kōv: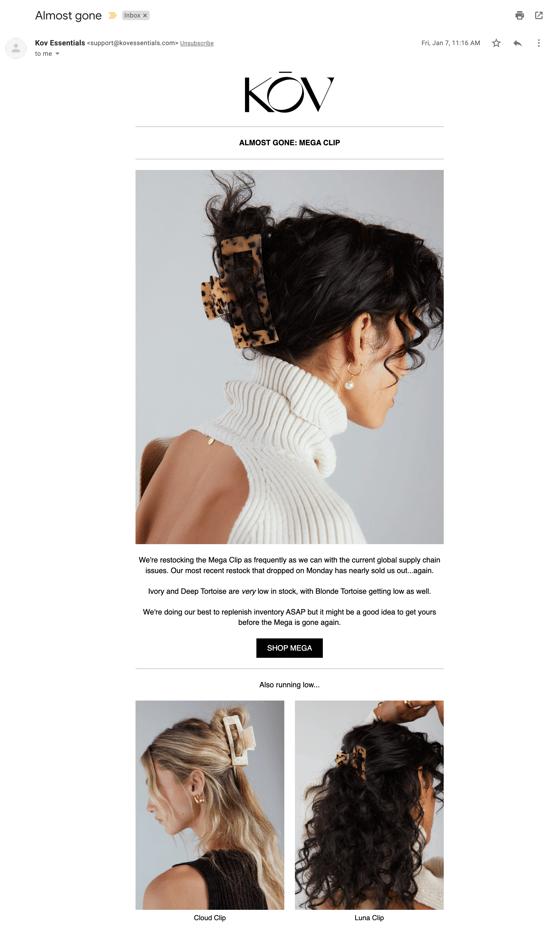 Less than a week after bringing back one of their most popular products, it's almost out again. What an amazing problem to solve as a founder!
But because of supply chain issues, it's hard to say exactly when they'll be back once they're gone. This adds extra urgency and is the perfect push to get your contacts over the hump if they've been thinking about making a purchase.
So go take a peek at your existing inventory. Do you have any products that are running low? Start putting together an email ASAP.
Whatever you do, just don't send false low stock alerts. Your audience will catch on and it's one of the worst things you can do to build trust.
4. Monthly bestsellers
Highlighting your bestsellers is great social proof. 
And getting your hottest items in front of your engaged contacts is the perfect place to start because they've already proven that they're excited about what you have to offer. 
The best part? It's a super low lift way to get in front of your high intent contacts. Take this example from eyewear brand Krewe:

The entire email is dedicated to their top 10 products for the month. Plus, they have a bestsellers collection on their site where they highlight their most popular products: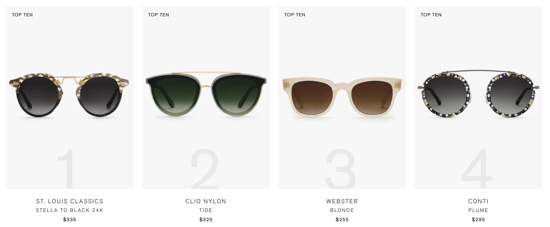 So even if you didn't see the email (or receive it in the first place!) you'll be able to skim their top products easily if you're torn. 
If you're constantly struggling to come up with a reason to email your subscribers, sharing your best-selling products on a monthly basis is a great place to start. Especially for your engaged contacts.
5. Sneak peeks of new products
Sharing behind-the-scenes content is an amazing way to build excitement around new arrivals. 
That way, when you actually do launch a brand new product, your most engaged audience members are already chomping at the bit to find out what you have up your sleeve.
And it turns out you can actually use sneak peeks as a way to encourage other behavior you're trying to drive. Take this example from skincare brand Blume:
They preview that they've been working on something new, but to be the first to find out what it is, you have to sign up for their text list. This is a genius way to build hype and your list of SMS subscribers.
But it turns out this play works for more than just new products…
Clean candle brand Mala, teased a new look: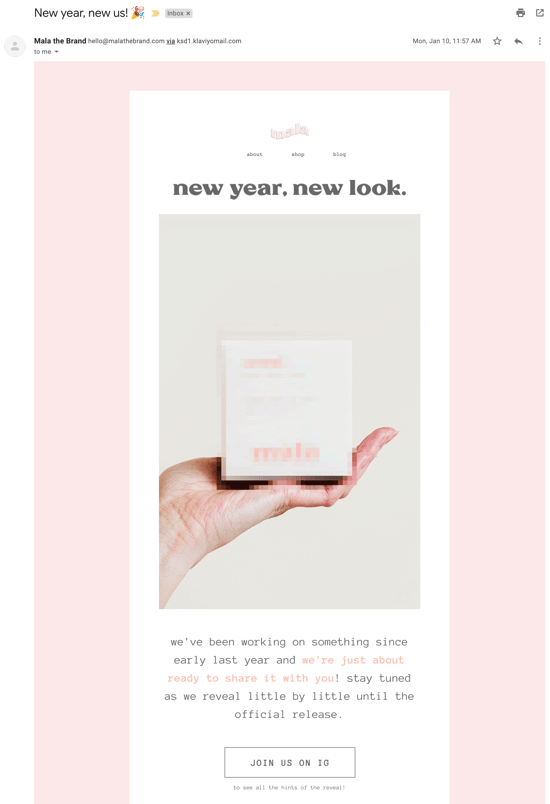 But rather than pointing their audience to subscribe to another list, they point them to their Instagram page to follow along. So clever. 
You can take it a step further by giving your engaged contacts early access to shop once you do launch to make them feel extra special. That way, when you introduce the product to the rest of your your list, you can drive urgency if you have limited stock.
6. Invites to join your SMS list
Your engaged contacts have raised their hand to let you know they want to hear from you. Which is amazing.
So what better way to keep them in the loop than to ask them to join your SMS list?
But first, why would you want to have an SMS in the first place? Here are a few key stats you should know:
Nearly 40% of consumers would like to receive texts 2-3 times a week from brands they signed up to hear from (

source

)
SMS open rates can be as high as 98% (

source

)
Attentive found that ecommerce brands generated $71 for every dollar spent on

SMS marketing
So if you're on the fence about texting your contacts, start with getting your most engaged email subscribers to opt in. Because chances are, they'd actually love to hear from you.
Here's how Kōv invited subscribers to joining their SMS list: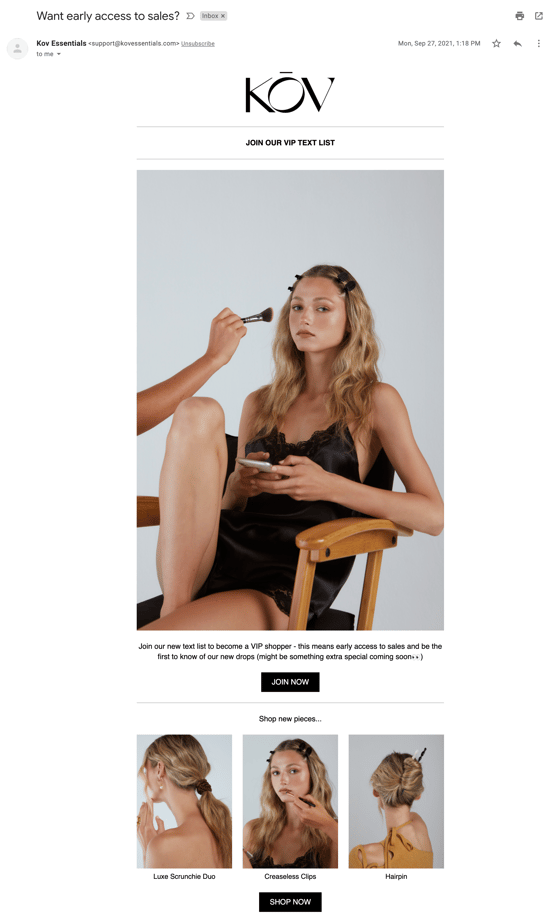 Rather than just inviting email contacts to join her SMS list, she shares what's in it for them: they'll get early access to sales and the newest products. So if you're already obsessed with Kōv, this is the perfect way to get the scoop before anyone else.
What better way to build a brand new channel from the ground up than to tap contacts that have a history of engaging with your brand? 
And even if you've already started incorporating SMS into your marketing playbook, you should always be thinking about how to grow your list. Sending an email to your engaged subscribers is the easiest way to give your list a boost.
Start sending emails to your engaged contacts today
With Privy, it couldn't be easier to send messages to your most engaged contacts.
Just choose your newsletter template, edit it to your liking and simply click the "Engaged Contact" button in your newsletter settings. 
Here's a full walkthrough:
So get started with Privy today and send emails to your engaged subscribers to bring in revenue, build trust, and so much more.
Topics: Email Marketing
Special thanks to our friends at
Privy
for their insights on this topic.