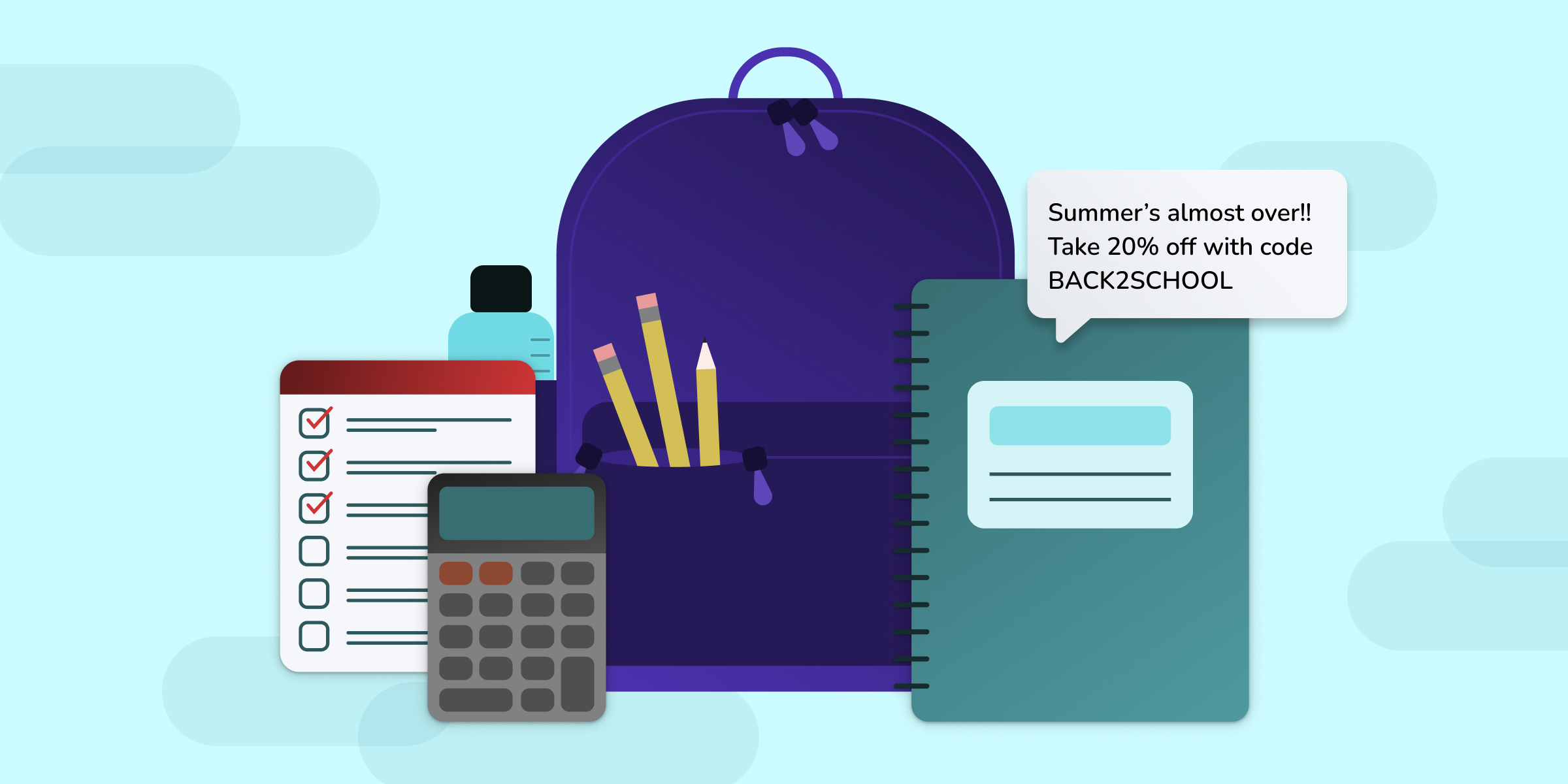 Back to school isn't just for kids' brands. This year, you can bring in sales for your store no matter what you sell. 
…even if you haven't started planning yet.
Here are 7 campaign ideas you can steal whether you sell activewear or candles:
Plus, keep reading for subject line ideas and real-life examples that will inspire you this back to school season and beyond.
It's everything you need to launch a back to school campaign that will drive sales for your store.
Get our best content on ecommerce marketing in your inbox 2 times a week
1. Showcase your back to school products
If you sell products that are perfect for back to school, one of the easiest ways to bring in sales is to show them off. 
Here's a great example from bag brand, Baboon to the Moon: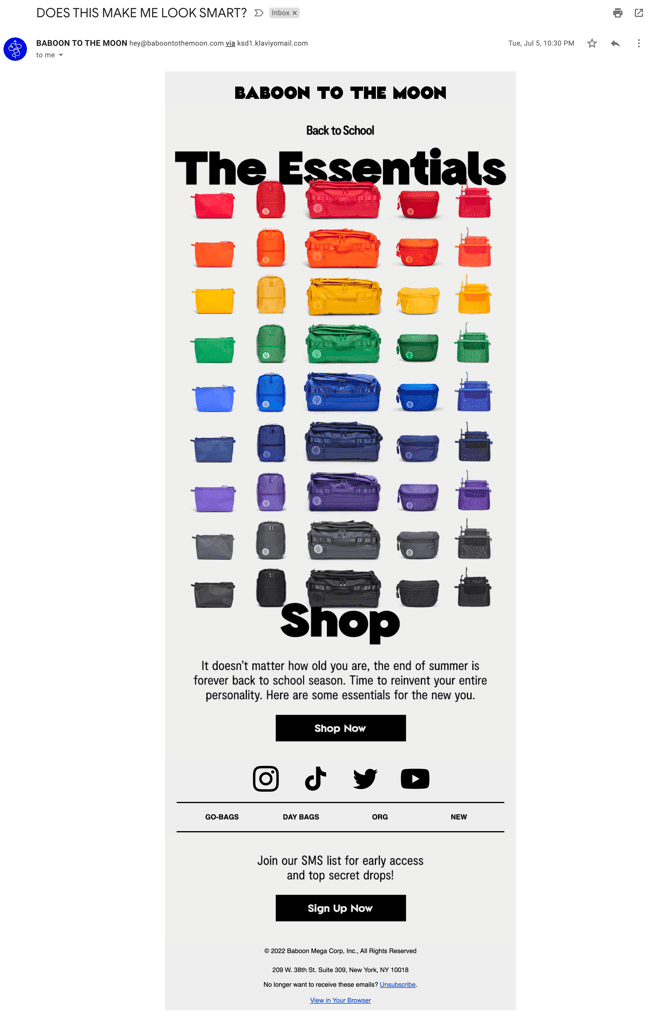 Not only do they showcase a handful of different products, but they also highlight the fact that there are tons of color options to choose from. So whether you want to stand out with yellow, or go with a more neutral option, they have the bag for you.
I also love the copy they use to make their messaging relevant whether you're heading back to school or not: "It doesn't matter how old you are, the end of summer is forever back to school season."
Bonus points: there's a section with a CTA to join their SMS list, which is a great way to boost the number of subscribers on their text list. Even if their audience isn't necessarily looking for a new bag.
Overall, the messaging here couldn't be simpler. But the theme and timing are perfect. So if you already have products that fall in the back to school category, put together an email (and ideally, text) that highlights them to bring in sales. 
2. Make shopping a breeze
If you only have a few products that are perfect for back to school, a one-off email that features them is great. But what if you have tons of products you want to show off?
Putting together easy-to-shop collections is a great way to help your audience navigate everything you offer.
Here's how Maisonette makes their hundreds of products shoppable:
By breaking their products into different categories, people can easily find exactly what they're looking for. From basics, to toys, to backpacks, there's something for everyone.
Just remember that too many options can be overwhelming. So the simpler you can make the shopping experience, the more likely your audience is to make a purchase. Do the heavy lifting for them and you're sure to reap the benefits.
But Maisonette didn't stop with a single email. They've also sent texts like this featuring their back to school shop: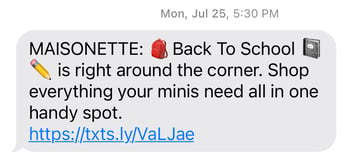 Which means they're bringing in additional sales with every touchpoint. So no matter what your back to school offer is, consider adding text marketing to the mix. 
The best part? With Privy, it's never been easier to get started. Take a peek at 60+ text examples and try a free template today.
3. Run a promo
Mattresses aren't usually at the top of the back to school shopping list. But Casper does a great job making this promo work:

The headline about how much you can save by shopping this sale (up to $600!) hooks you immediately and makes you want to know more. And by showing sale prices next to original prices for different types of mattresses, they make it easy to want to click to keep shopping.
No matter what you sell, you can run a promotion (whether it's sitewide or on select products) this back to school season.
Just remember to drive urgency with your offer. That way, you can send follow-up and reminder emails (and texts!) that improve your chances of driving revenue this back to school season.
4. Try a free gift with purchase
A free gift with purchase is an amazing offer year-round. Because who doesn't want to get something for free from a brand they really love?
The easiest way to get a campaign like this off the ground is to use a product you already sell as the free gift like Cotopaxi does with this offer: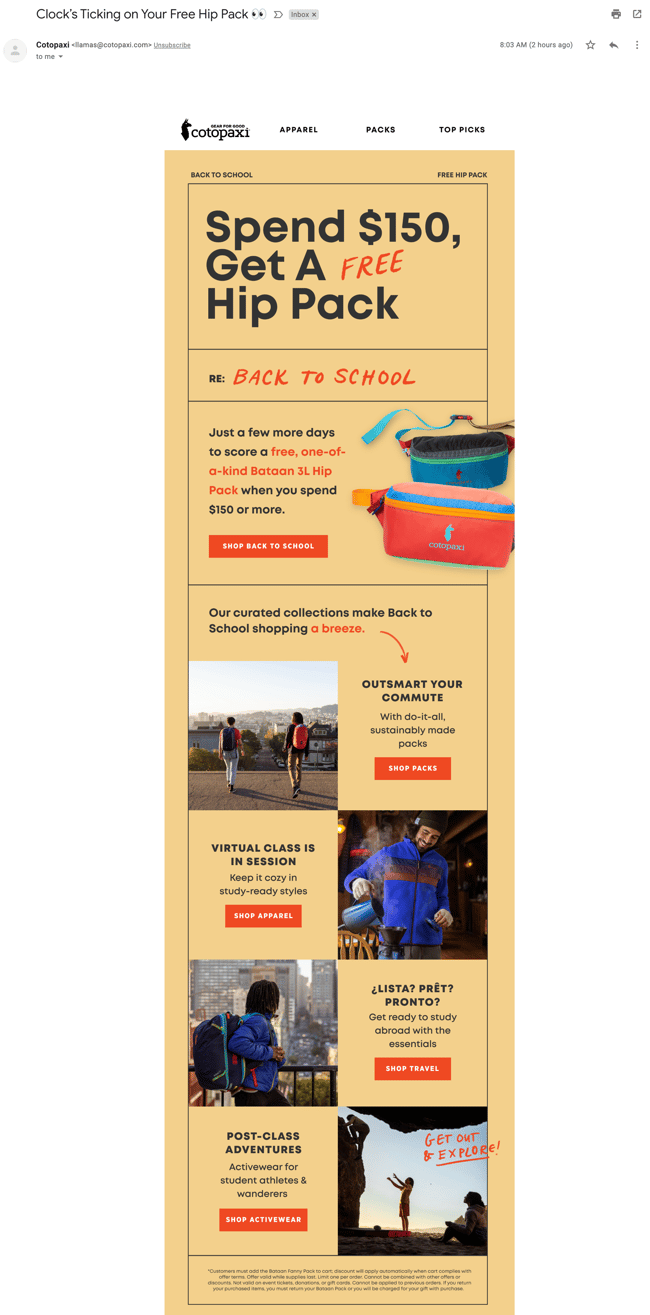 Notice that not every single order placed receives the free gift. Just orders $150+. So if you're planning to run a promo like this, make sure you set a threshold that makes sense for your business. You don't want to be giving away a product that's worth more than someone's order.
Want to take the free gift with purchase to the next level? Rather than using a product you already have as the gift, you can create a brand new, exclusive product to build excitement and incentivize your audience to buy. It just takes a little extra prep time to bring it to life. So if you've never run a free gift with purchase campaign, start small with something you already have to test the waters.
5. Put together a killer bundle
It's no secret that bundles are a great way to boost your average order value (AOV). Which is what makes them a no-brainer offer no matter what time of year it is. 
But if you have products you can pair together at a discounted price for back to school, give it a shot! Here's a great example from activewear brand, Girlfriend Collective:
What makes this so good? The description and images that include all the products in the back to school bundle so you know exactly what you're getting. And the fact that you're saving almost $100. Pair that with a button that makes it easy to shop and you're good to go!
Even if your products don't scream back to school, take a page out of Girlfriend Collective's playbook and put together some customer favorites with a back to school spin to get your audience interested. Then you can showcase it on your homepage, social, and anywhere else that makes sense to bring in sales for your store.
6. Launch a brand new product
Take a look at your highest revenue days. Chances are, most of those involve a product launch. And while it takes more planning to execute than the other campaign types, this one pays off in a big way.
Here's how candle brand, Homesick, used back to school as an excuse to come up with a brand new collection: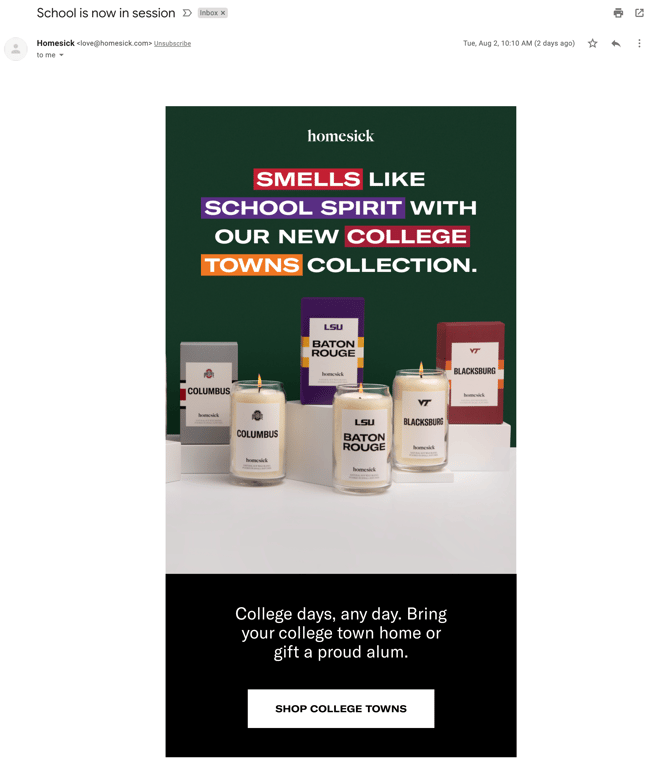 This is a genius play. Not only will current college students eat this up, but school alums and their families are sure to bite on this offer.
And while this specific campaign probably doesn't apply to your store, you can easily use a "holiday" like back to school as a reason to come up with a new product your audience will love. Whether it's specifically related to back to school or not. 
Just keep in mind that launching a brand new product is the most time consuming campaign type because it requires prep work well ahead of time and an understanding of what resonates with your audience. Because the last thing you want to do is launch an all-new product that doesn't land.
So even if you don't have time to launch a new product for this back to school season, keep in mind that it's a killer option down the road.
7. Give back to a cause
Last but not least, giving back to a cause that matters to your brand and audience is a great way to bring in sales this back to school season. No matter what you sell.
Take this example from children's clothing brand, The Simple Folk: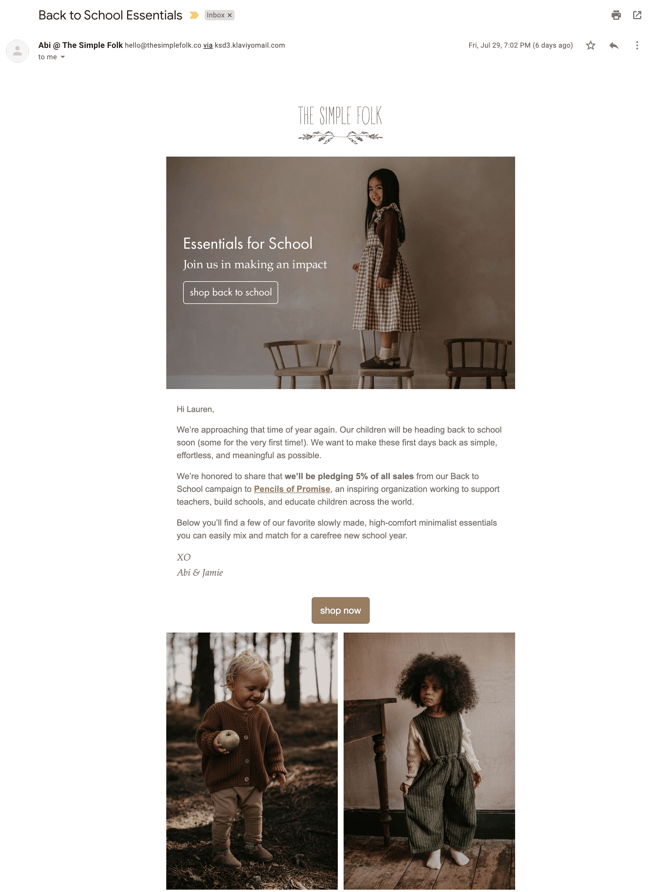 Instead of running a discount or simply showcasing the perfect back to school clothes, they're giving back 5% of sales to Pencils of Promise, a nonprofit that's focused on empowering communities with education. A perfect fit for this time of year.
Then, they show off some back to school favorites that make shopping simple. 
What's so great about this campaign is the fact that you can do something similar whether you sell water bottles or granola bars. Plus, it's low lift and these are the types of offers your audience will remember. Because who doesn't want to support a brand that gives back?
So the next time you're coming up with a campaign for your store (no matter what time of year it is), consider finding a cause that will resonate with your audience and donating a certain percentage of sales to that.
5 Back to school subject line ideas
You have campaign ideas, but before you press send on your back to school email, make sure you put thought into your subject line. Because if you can't capture your audience's attention in the inbox, you're never going to get them to open your emails. Here are 5 subject line ideas to get you started:
Your back to school essentials
Back to school, solved.
New! Just in time for back to school
Are you ready for back to school?
Stock up for back to school
Just remember that you should put your offer front and center! So whether you're launching a brand new product or running a sitewide sale, make sure you're not burying the lede with your subject line. Find a way to weave in your offer and you're sure to get your audience excited enough to open your email and bring in sales.
Get your copy of The Ecommerce Holiday Calendar
Never miss a chance to bring in revenue for your business with Privy's Ecommerce Holiday Calendar. 
From Valentine's Day to the 4th of July, there are so many holidays you can leverage to bring in sales. But it's impossible to remember them all with everything else on your plate. So leave it to us.
Get constant updates and inspiration all year long. So you can focus on what really matters.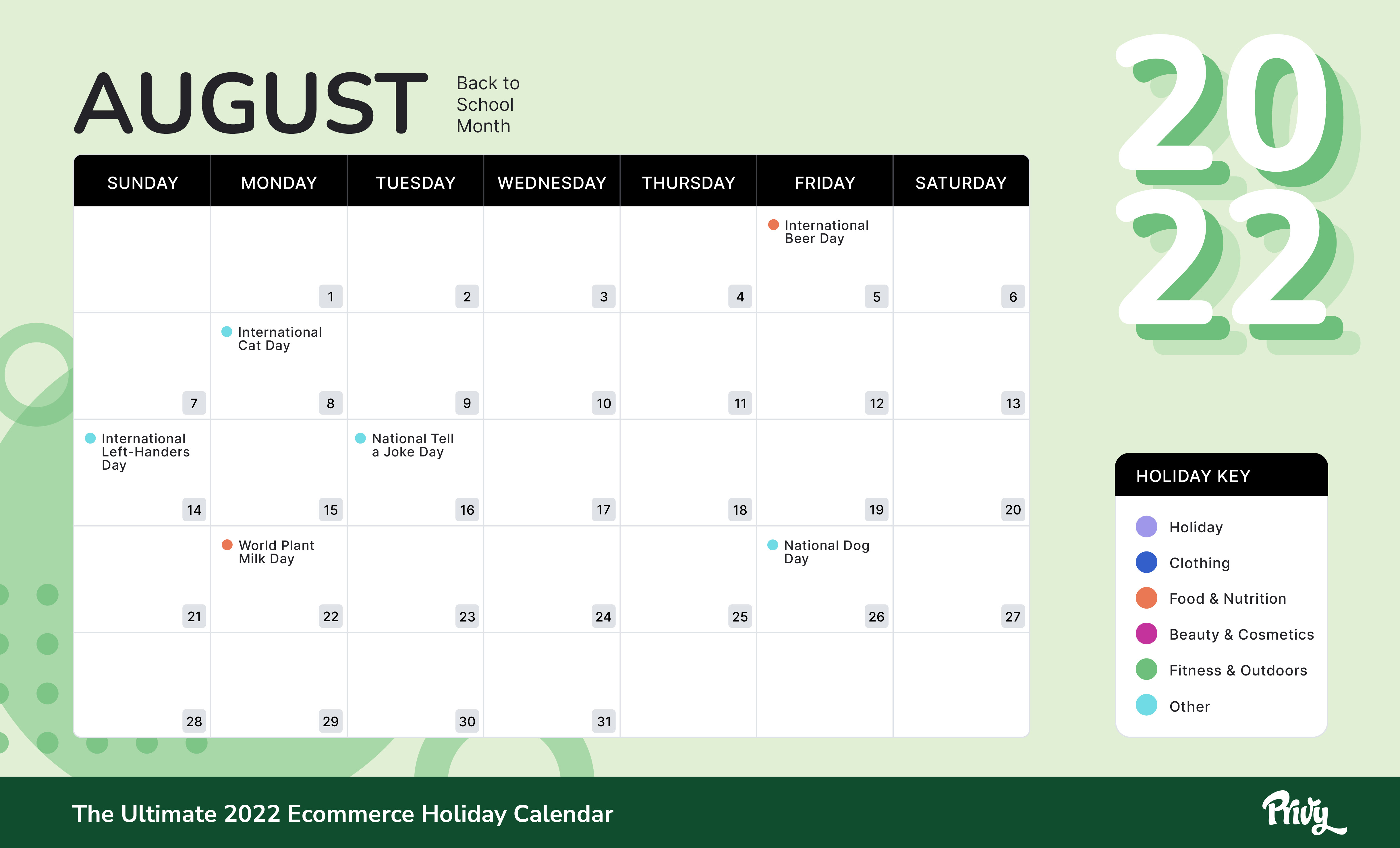 Get your FREE copy of the calendar today.
Crush this back to school season
Try a sitewide sale, launch a brand new product, or showcase back to school products your audience will love. There's so much you can do to drive sales. Even if you haven't started planning yet.
With Privy, you can grow your email and SMS lists and send revenue-generating emails and texts ASAP. All with one easy-to-use platform. 
The best part? You can get started for FREE. So you can crush this back to school season and beyond.
Topics: holiday
Special thanks to our friends at
Privy
for their insights on this topic.