Fast fashion is cheap, and trends are shifting fast. Clothes are mass-produced, copying high-end fashion designs. And even though this kind of clothes production allows consumers to buy low-cost trendy items, the price our planet pays is unthinkable.  
The World Bank calculated how much fashion costs our environment. Here are some shocking facts: 
The fashion industry uses 93 billion cubic meters of water per year — which is enough for the needs of five million people

Around 20% of wastewater worldwide comes from fabric dyeing and treatment

The industry is responsible for 10% of annual global carbon emissions — more than all international flights and maritime shipping combined
It's promising that 42% of the millennial and Gen Z population have expressed that they would rather buy second-hand than get new items. In addition, more brands and manufacturers are joining the cause by redesigning and making the necessary changes to uphold sustainable fashion.
But more effort is needed. Americans alone throw away a staggering 11.3 million tons of textile waste every year — or roughly 2,150 pieces of clothes every second. 
Why influencers can promote sustainability
The call for change — the call for fashion sustainability — needs to reach more people. With fashion being an influencer-driven industry, the power to get the message across lies with influencers. Influencers can persuade potential consumers to buy certain products or services.
In 2019, the size of the global market for fashion influencer marketing was estimated at $1.5 billion, and from 2020 to 2027 is anticipated to rise at a compound annual growth rate (CAGR) of 35.7%.
Social media influencers now have more engagement and can now set trends better than TV or movie personalities. They can launch effective awareness campaigns and other efforts to promote sustainable fashion.
How influencers can promote sustainability
Influencers can use different ways to promote sustainable fashion. We outlined some of them.
They can promote slow fashion
Source: Unsplash
What better way to promote sustainable fashion than by campaigning for "Slow" fashion, the opposite end of "Fast" fashion?
Kristi Soomer, the founder of Encircled — a sustainable clothing brand — said "Slow Fashion is an approach to producing clothing which takes into consideration all aspects of the supply chain — people, the environment, and animals. Spending more time on the design process, ensuring that each piece of apparel is quality made."
More than just advertising sustainable clothing lines, influencers can serve as educators not only of how heavily problematic fashion waste is, but how fast fashion is powered by exploitative and cheap labor.
Influencers can also inspire consumers to make it a practice and adhere to a set of values that prolongs the lifespan of clothes they have and will choose to have in the future.
One example of good practices in fashion is what Aja Barber, a fashion influencer, considers the best fashion advice. She said you should identify your own particular style and stick with it. By doing this, you can avoid purchasing unnecessary clothing that will merely accumulate in your closet and go unused for a long time.
Help followers identify the right products or brands that uphold sustainable fashion
According to the Business of Sustainability Index of GreenPrint, 66% of American consumers surveyed, and specifically 80% of young Americans ages 18 to 34, are willing to spend more to buy sustainable products.
Unfortunately, 78% simply don't know how to pinpoint environmentally friendly brands to support, despite their desire to support sustainable products.
Influencers like Danielle Alvardo put out informative posts on which brands you can go to and trust for the best quality and lifespan of clothes. She gives detailed breakdowns of the materials used and how it translates to the environment. 
Influencers like the twins Scott & Brett Staniland, and Izzy Manuel promote sustainable fashion by showing that sustainable fashion is anything but plain and boring. The Staniland twins refuse to wear anything fast fashion and always go for sustainable brands.
The combination between pleasure dressing and ethical fashion may be seen on Izzy Manuel's Instagram feed. The half-Indian, half-Chinese sustainable fashion influencer does not hesitate to put together beautiful, ethically created ensembles. She shows how wearing the same clothing repeatedly is currently in style.
They can promote renting or swapping clothes
When you rent clothing, you pay a lower price to borrow an item for a predetermined period of time. When you swap, you give away some of your clothing in exchange for someone else's. Renting and swapping clothes make it clear that having more clothing isn't always necessary. 
Borrowing or swapping clothes are not yet perceived as real alternatives to refreshing wardrobes. But they are real options that will lengthen the lifespan of clothes. There are platforms, websites, or avenues influencers can promote where you can rent or swap clothes.
They can also show how to host fun clothes-swapping parties, normalizing sustainable fashion activity and making it trendy.
Apps like Tulerie offer a peer-to-peer clothing rental app where users can rent out the full spectrum of their clothes from each other. While you enjoy looking through their closets online, you can also earn money simultaneously as you open your own closet to them.
Said by an influencer interviewed by @fashionista_com, Source: Tulerie IG
And when you want to rent designer items, you can always go to Style Lend, where fashion influencers and other members rent each other's designer items — not only clothes but also designer bags. You no longer need to buy at the full retail price when you need the piece for just a night.
They can promote selling and buying second-hand clothes
When it comes to sustainable fashion, buying and selling second-hand clothes are great options as well. Influencers promote this by selling their own clothes and showing followers how quickly they can do it.
They often sell items on multiple sites, like eBay, Facebook, and Instagram, on their personal blogs, etc.
And yes, it's easy to buy and sell used clothes online. You can also do it and give your 5 cents for saving the environment. You just need to know the winning ad strategies.
Influencers also show the joy of thrifting and buying second-hand items. They can share their great finds, encouraging their followers to try thrifting as well. 
Jacob Starr, Moriah Elizabeth, and others shared (for IZEA) how they find hidden gems in second-hand stores.
Do mending and creative sewing tutorials
YouTubers like Jessica Neistadt and Ashley Rous (best-dressed on Youtube) show how to transform clothes bought from thrift shops into something they can enjoy wearing. 
The possibilities are endless with the right vision and inspiration. Many influencers offer in-depth tutorials on creative clothes mending, and some dare to try creating something new and beautiful. Whoever said there's no hope for out-of-fashion or ugly clothes?
They can promote vintage clothes
There are a lot of reasons to love vintage clothes. Not only are they sustainable because you get to reuse old clothes, but they are also more durable.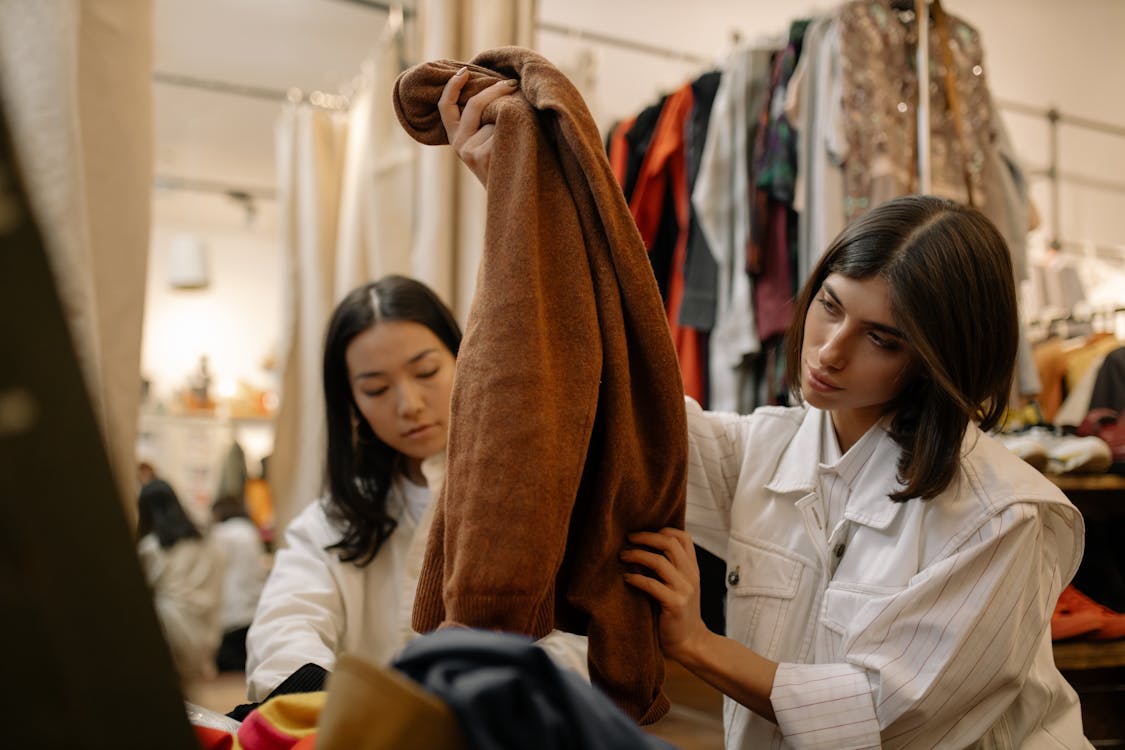 Source: Pexels
Vintage clothes are made with more quality materials and more intricately than modern clothing. They are also easier to repair and alter. Made from natural fibers, vintage clothes are made to be worn for comfort. Influencers can open a lot of people's eyes to shopping vintage. 
Vintage clothes are never out of fashion. It gives you more options to express your era-crossing style without breaking the bank. There's no better feeling than having that priceless item that you'll continue to give love. Vintage can be adapted in ways that many modern clothes can't.
One influencer who shows how elegant and stylish vintage clothes can be is Shirin Altsohn. She showcases long and swirling dresses and feminine and delicate clothes, such as those with sweetheart tops. The cuts are always sophisticated rather than trashy and revealing. 
They can facilitate conversations regarding fashion issues
Podcaster Venetia La Manna is a prime example of how being vocal is the only way to bring change to the industry. She co-founded Remember Who Made Them, which celebrates garment workers' dignity and labor efforts to open discussions and strengthen a new solidarity economy in fashion. 
She shares information regarding difficult topics revolving around the fast fashion industry without holding back. She and her group empower listeners by providing them with adequate tools and resources to make clothes donations, buy less and better, and hold fashion brands accountable. 
Amma, another sustainable fashion influencer based in the UK, invites industry experts to share stories, views, and tips, in addition to sharing her own journey from being a fast fashion addict to a sustainable fashion advocate.
She does all this through her podcast, the write-ups, and the digital content she creates. Amma is very outspoken about racial fairness and equality, and she uses her position and power to spread knowledge, encourage donations, and promote other causes.
The Bottom Line
The rise of influencers, specifically Social Media influencers, gives power to persons other than the mainstream media and TV personalities, people we can relate with better. Influencers who do not rely on paid advertisements of big brands alone can advocate causes that uphold the common good.
One such cause is sustainable fashion, which will affect not only your closet and your pocket but the welfare of the whole planet and all that exists in it. The influencers can show countless ways you can take part. And often, you don't have to do so much to make a change.