It's estimated that more than 90% of companies across ecommerce industries have some type of loyalty and rewards program. A rewards program is a great marketing and retention strategy for building a brand that sustains longevity and success. Building a community of loyal customers is the result of a rewards program.
A rewards program designed and created well is an amazing way to retain your customers and celebrate their loyalty to your brand, but before you can start rewarding them you need to get them to join in the first place!
We're experts on loyalty and rewards programs and have seen some of the best and worst programs out there in ecommerce. We are highlighting seven ways to get your customers engaged no matter who they are or what they're like. We've come up with 7 of the best ways to get customers to find value in joining your program.
🛍️
"The sole purpose of a loyalty and rewards program is to turn one-time customers into repeat customers and build a loyal following."
1. Offer welcome points
The best way to kick off your rewards program is by offering customers welcome points for signing up, or following you on social media. Reward customers right off the bat before a purchase. Rewarding customers for completing a simple task like signing up is a fantastic way to provide them with an immediate value that boosts the overall appeal of your program.
The benefit of offering welcome points is the head start it gives your customers toward earning their first reward. We recommend your welcome points be motivating enough to encourage joining, but not enough that they redeem a reward on their first purchase. A good rule of thumb is to offer about half of the amount of points needed for your first reward. So if you offer $5 off for 500 points, then a 250 sign-up bonus is great!
If your customers can see themselves earning their first reward after just one purchase, they're far more likely to actually make their first purchase in order to redeem it. It's important to remember that your customers find value in your program when they spend points, not when they earn them!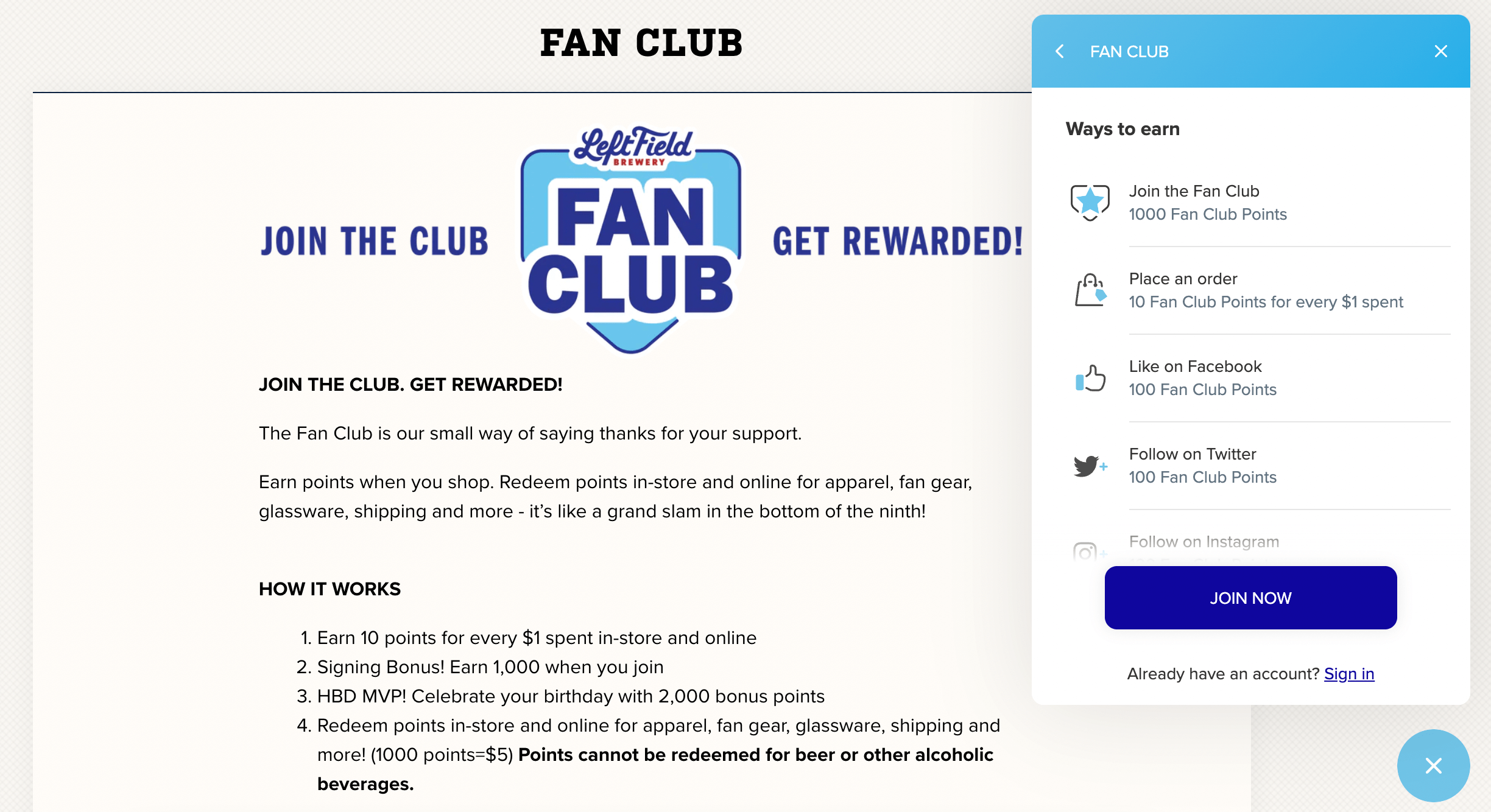 Left Field Brewery offers a signing bonus of 1,000 points to motivate customers to join its rewards program Fan Club. Left Field Brewery offers enticing rewards and customers can already have a major head start with 1,000 points towards their next purchase. When the value is this easy to see and obtain, customers will quickly join to start earning even more!

2. Tell them about your rewards program through email
Email marketing is one of the most effective ways to communicate with your customers. Customers are only able to join your rewards program if they know about it, and a launch email campaign is the best way to spread the word! Through a short series of emails, you can effectively explain the value of joining your program highlighting the benefits and explaining how customers will be rewarded for engaging with your brand. Ecommerce brands even include points balances in future email series, keeping rewards top of mind at all times.
The most important part of any program email is a clear call to action. When you send each of your emails, you need to make it easy for customers to join right away,–otherwise, they won't. Including direct links to your account sign-up page maximizes the chance of customers joining, boosting your engagement rates significantly.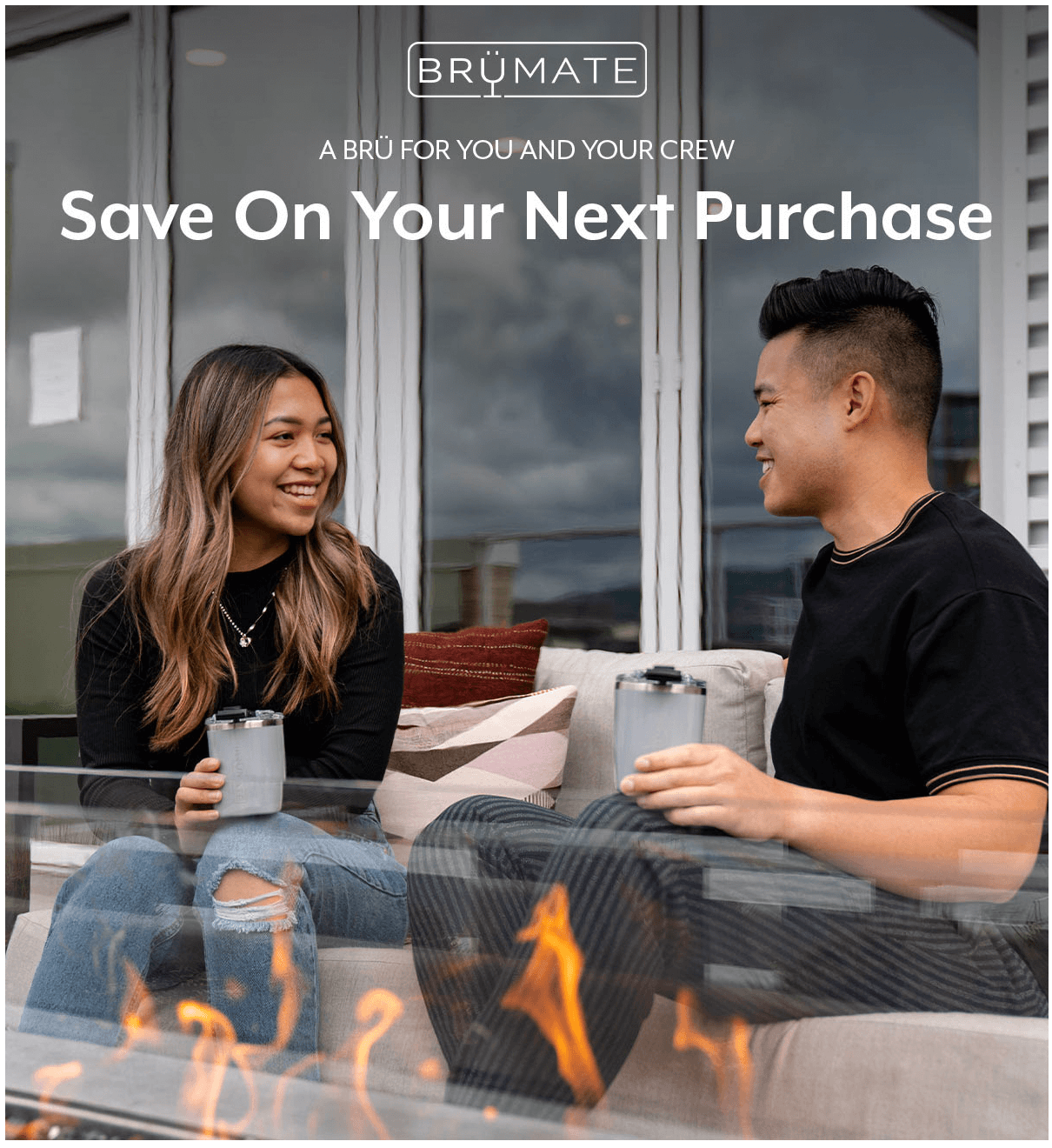 BrüMate crafts an amazing email campaign that associates its rewards program with savings. Through a series of emails, BruMate outlines how many points are needed to redeem for a discount.  A clear call-to-action is also included at the bottom as a button prompts first-time customers  to "Sign-up + Start Earning."
3. Brand it beautifully
First impressions matter and branding is at the forefront of making a first impression on your site visitors and returning customers. It's estimated that it takes about less than a second (0.05 seconds) for people to form an opinion about your website. Branding your rewards program is one of the most important parts of providing a seamless rewards experience for your customers. Your program should be a beautiful extension of the rest of your brand rather than just an afterthought, and paying attention to every customer touchpoint will make that happen.
A great way to do this is by branding your program launcher and customer panel. Since these are the first parts of your program that most customers will see, it makes sense to make them attractive and on-brand. This means choosing colors, images, and icons that speak directly to the rest of your onsite experience.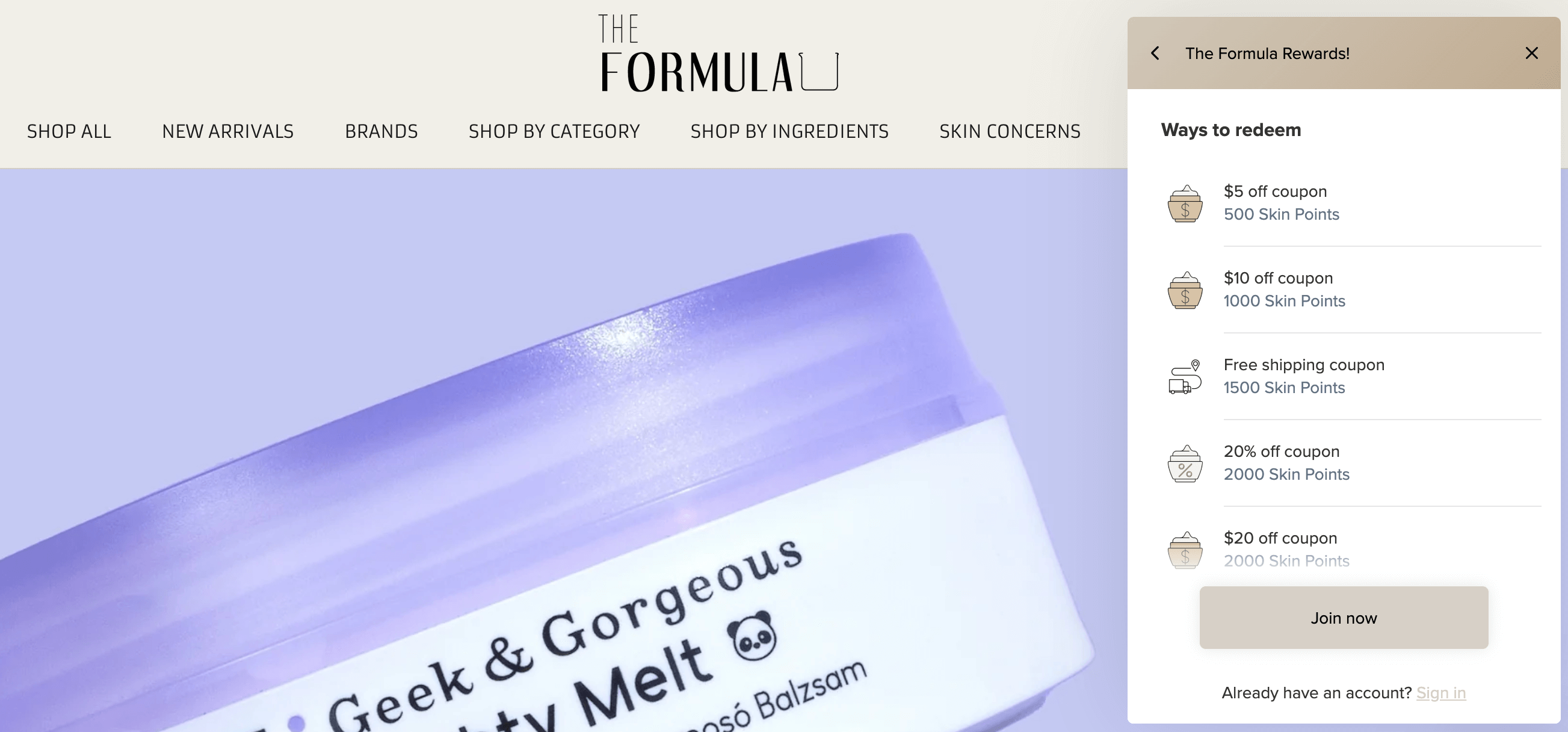 With custom colors, a custom font, and icons in its rewards program, The Formula Skincare has created an impressive brand that immediately brings you in as soon as you view its rewards program. Their rewards program, The Formula Rewards, elevates the branding to another level with fonts that match the website's aesthetic and the custom, corresponding redeeming level icons.

4. Include a call-to-action on your homepage
CTAs (call-to-actions) are powerful when you place them effectively on your website. Adding an announcement on the front page of your website is a great way to draw attention to your rewards program and get customers interested in learning more about rewards and sign-up.
You can make your announcement even more effective by using it to highlight the best parts of your program. Whether it's the incentive they'll receive for signing up or the other rewards you're offering, use your program's most valuable assets to catch your customers' attention and get them excited to join. You should also make sure that your call to action is clear, so customers know exactly what they should be doing next in order to join your rewards program.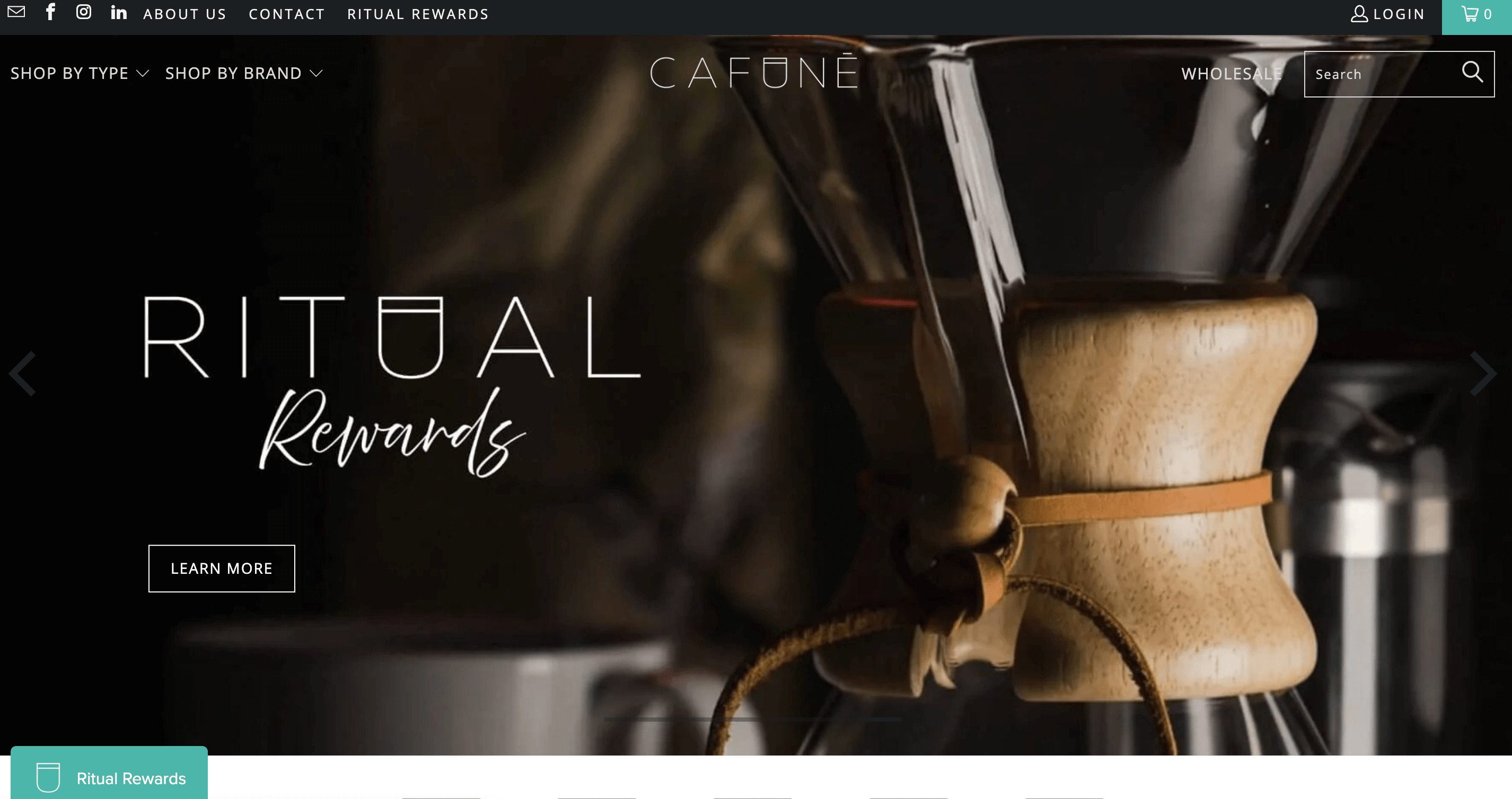 Coffee brand, Cafune places three clear CTAs on its website. They have a rotating slideshow, one of which includes information on their rewards program, Ritual Rewards. They also have a link to their explainer page at the top of their header and their rewards launcher on their homepage. The colors they use are on-brand and attractive, as well.
5. Make the first reward easy to earn
One common mistake that ecommerce brands make is making all of their rewards difficult to earn. Either by creating a points structure where it's hard to obtain a reward or by inflating points. By structuring their programs this way, they inadvertently reduce their reward redemption rate and make it less desirable to join.
To avoid this problem, all you need to do is offer a couple of ways customers can earn points quickly. If customers can see that earning rewards is an easy task, they're more inclined to join your program and take advantage of its benefits. Rewarding customers with a welcome bonus, celebrating a birthday, following the brand on Instagram or TikTok, and engaging with your brand on social media are all great ways to make your rewards more accessible.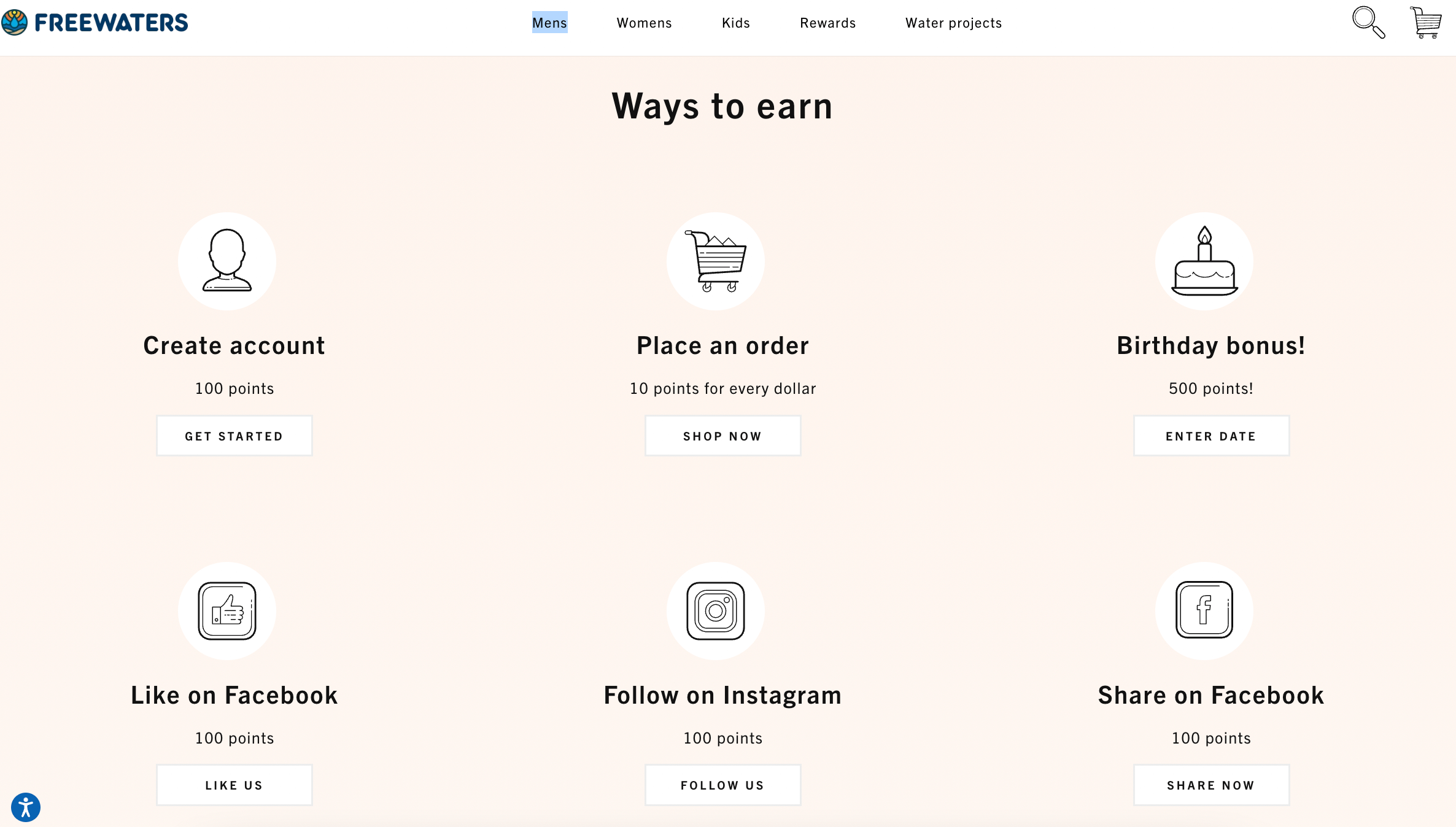 Footwear brand, Freewater, offers simple ways to earn points. Ranging from a welcome bonus of 100 points, a follow on Instagram, or a share on Facebook. If you do all four actions, earning 400 points before placing an order, you are already halfway to a $10 off redemption reward. When customers are able to earn points as easily as this, the program becomes valuable to any customer.
6. Make your rewards appealing
This might seem like a no-brainer, but understanding what your customers actually want from your program is an important part of building your rewards experience.
Personalization is key in ecommerce, whether your ecommerce brand is large or small. According to insights, "76% of customers said that receiving personalized communications was a key factor in prompting their consideration of a brand." Some brands find that their customers are simply interested in discounts on future purchases, while others find more value in exclusive merchandise they can't get anywhere else.
🎁
It's important to understand which rewards your customers value most.
Create surveys, social media polls, and listen to what your customers are saying in their product reviews. What are their pain points? What do they wish your brand did for them?  These strategies will not only get you the answer you need but also help you build stronger emotional relationships with your customers by including them in your rewards program's development process.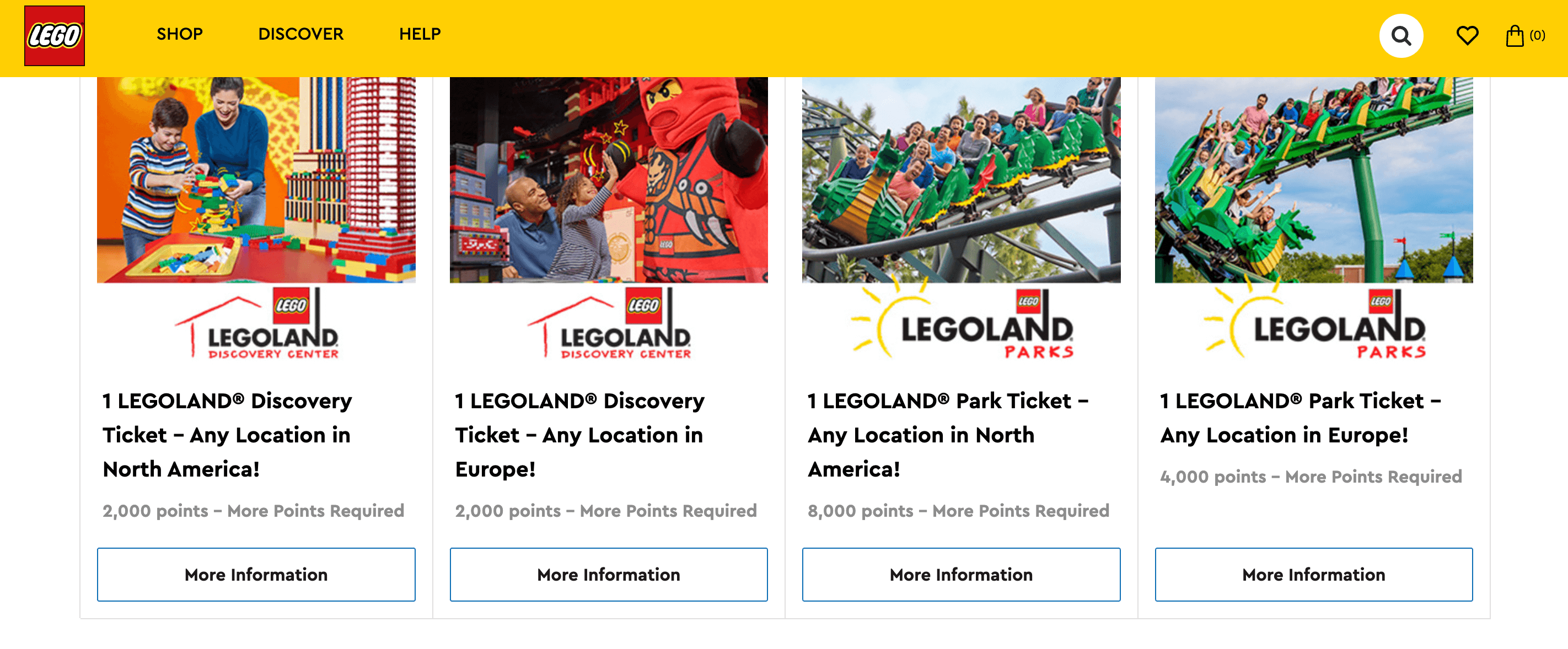 LEGOs understand that their customers love their products and as well as a good discount, so they make that the focus of their rewards menu. That being said, they also ensure that customers who are just looking for experiences are happy as well by allowing them to earn access to events and tickets to its theme park, LEGOLAND instead. These awesome options mean that customers are motivated to join the program no matter how they want to be rewarded.

7. Run a bonus point event
Sometimes the best way to get customers to join your program is to make them feel like they're missing out on value. If you run a weekend event where you award double the points, customers will join your program in order to avoid missing the awesome deal!

A 'Bonus Points Event' is simply when you multiply the number of points a customer can earn during a specific timeframe. For example, you can offer double the points on all purchases for a single weekend, celebrating a new product release or your brand's birthday. Customers are incentivized to shop and earn more points, maximizing their reward balance, which can be spent on a second purchase.
Bonus points events are not only a great way to increase reward program sign-ups but also to reward current members for their loyalty to your brand! Bonus points give your customers the necessary motivation to complete purchases they might have been on the fence about and join your loyalty program in order to reap the rewards.
The "Fear of Missing Out" makes customers more likely to participate in a bonus points campaign because they don't want to miss a reward they feel others are receiving. One of the masters of this is the apparel brand, Columbia. Every time they run a bonus points event, customers will definitely know, thanks to their emails and social media campaigns.
Columbia offers 5x rewards on everything, which was only running for a few days. Their promotion is attractive, simple, and clear in its messaging–they're here to save you money. They also promote a sense of urgency by including an expiry date on when the bonus points event will be over. All of this leads to more customers turning into lifetime loyalty club members.
Build your rewards program to succeed
If you build a rewards program that is designed well, and take these actions then you will build a successful rewards program with a strong brand community. A rewards program designed and created well does an amazing way to retain your customers and encourage repeat purchases.
Editor's Note: This post was originally published on June 12, 2018, and was updated for accuracy and comprehensiveness on May 24, 2023.
Build brand loyalty and launch your program.
Create a rewards program in minutes
This originally appeared on
Smile.io
and is made available here to cast a wider net of discovery.