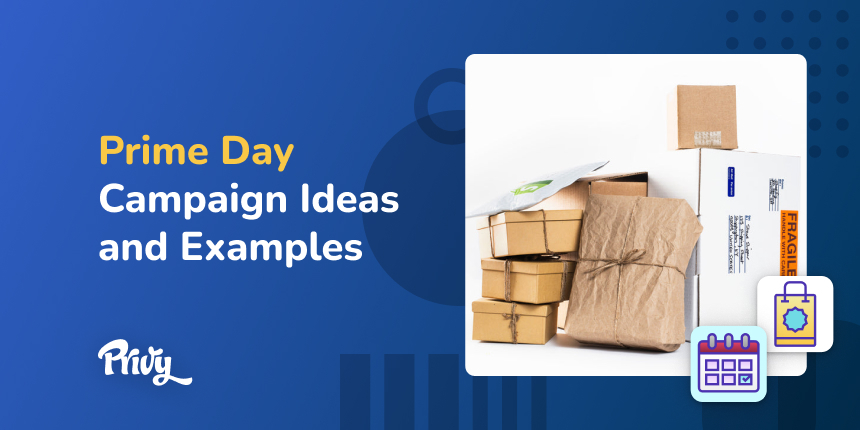 It's official. Prime Day has been confirmed for July 12th and 13th.
And guess what. You don't have to sell on Amazon to bring in Prime Day sales for your store.
But it gets better…
88% of Americans plan to shop Prime Day deals, despite economic uncertainty.
Which means buyers are already Prime-d to buy. 
So whether you sell exclusively on Shopify or you're dipping your toes into the Amazon waters, there's a lot you can do to build a successful campaign for Prime Day.
Here are 8 ideas to inspire you:
Plus, you'll get real-life examples and subject line ideas. Which means bringing in sales this Prime Day has never been easier.
Get our best content on ecommerce marketing in your inbox 2 times a week
1. Point shoppers to Amazon
This one's pretty obvious. But if you're already selling on Amazon, it's the perfect time to point your subscribers there. Because with all the buzz around Prime Day, that's likely the channel they'll already be focused on.
And that's exactly what skincare brand, Blume, did here: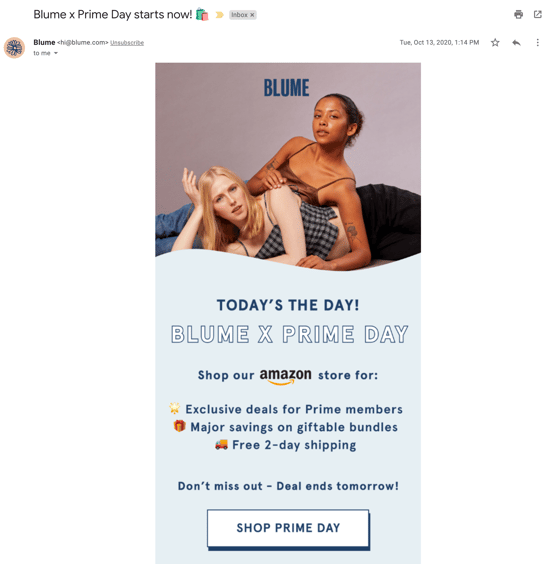 Rather than pointing people to blume.com, they're directed to Blume's Amazon store. 
There's urgency ("Deal ends tomorrow!"), major savings without tons of detail to pique your interest, and, of course, a callout for free 2-day shipping. Simple, but effective. 
And don't worry, if you're not selling on Amazon, there's still a ton you can do. Just keep reading.
2. Create your own Prime Day deals
Prime Day is all about deals. So if you're not focused on coming up with a killer offer, chances are your audience isn't going to pay much attention. 
But that doesn't mean you need to be selling your products on Amazon…
Take a look at what clean deodorant brand, Curie, did for Prime Day: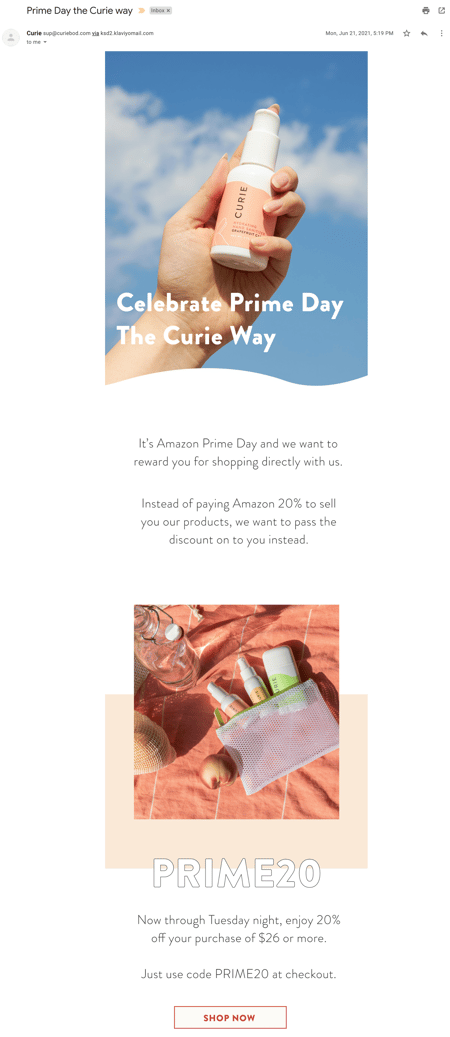 A great deal (20% off orders of $26 or more) with even better positioning. 
How good is this line? "Instead of paying Amazon 20% to sell you our products, we want to pass the discount on to you instead." Immediately, you know why they aren't already selling on Amazon and why they're giving subscribers 20% off their purchase.
Plus, I love that the discount code includes "Prime." And the subject line is gold: "Prime Day the Curie way." Before you even open the email, you know that it's not going to be your typical Prime Day deal, making it even more enticing to open. 
So if you're not selling on Amazon, think about how you can create killer deals your audience will love and position them in a way that makes shopping directly with you a no-brainer like Curie did with their Prime Day campaign.
3. Start early
The earlier you start planning, the better. Because unsurprisingly, the competition is fierce. Weeks before Prime Day starts, search results look something like this:
But the benefit of putting your own spin on Prime Day is that you can get ahead of the competition and share your deals early. 
I love what Modern Fertility did here: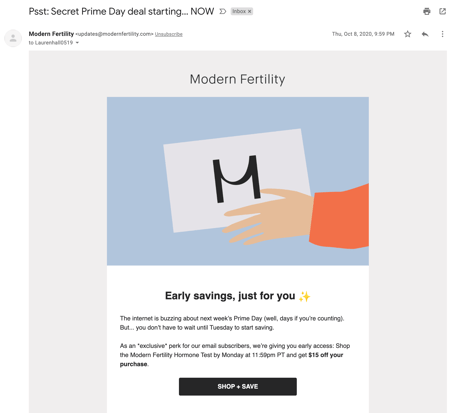 By sharing their discount early, they're converting shoppers who might not have purchased otherwise. And I love that they call out the buzz around Prime Day along with the fact that you don't have to wait to save.
Plus the reminder that you're getting this deal because you're an email subscriber is a great reminder of why you're on their list (and encourages you to stick around).
So don't wait until Prime Day to share savings with your subscribers. The earlier you can get in front of them, the better.
4. Try a tiered discount
Like Blume, epic sauce brand, Fly by Jing, encouraged their audience to shop their products on Amazon for Prime Day.
But this is about their offer. Rather than giving shoppers a blanket percent off for all orders, Fly by Jing encouraged their audience to purchase larger quantities/sizes (which boosts AOV) with a tiered discount structure for 3 of their best sellers: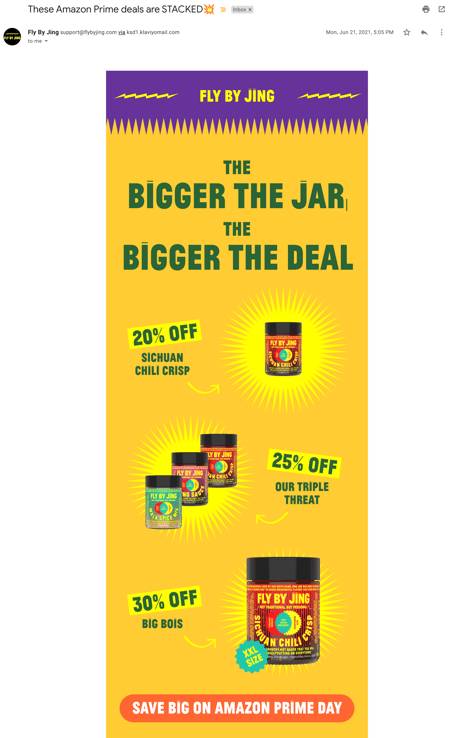 Notice how these discounts don't apply to all the products they sell. A smart move if you want to limit discounts to specific products in your catalog. 
So even if you don't want to offer site-wide savings for Prime Day, get creative. Choose a few products you know your audience loves and put together irresistible offers they'll drool over. 
You can even position your offer as the last big promo before Black Friday (as long as it's actually true). Because with holidays like Memorial Day and the 4th of July behind you, it makes sense that you wouldn't plan many other massive savings opportunities between now and then. 
But no matter what your offer is, be clear about what it is, how your audience can take advantage of the deal (Do they need to use a discount code? Is it automatically applied at checkout? etc.), and when it ends. Urgency and the copy you use drives sales. So be thoughtful about it.
5. Send a text
Remember Curie's spin on Prime Day? Well, rather than just sending an email, they took it a step further with this text: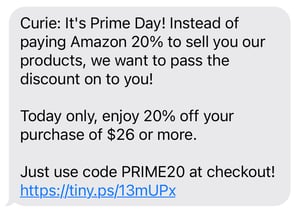 Why is this so genius? Because every time you send an email or text for your store, you're going to bring in sales.
And especially during massive sales days like Prime Day, one message is NOT enough. 
Here's what Curie's timing looked like for their campaign:
June 21, 2021 (first day of Prime Day deals last year) they sent an email at 5:19pm ET

June 22, 2021 (second, and last, day of Prime Day deals last year) they sent a text at 3:27pm ET
If you're worried about sending an email and text the same day, you can go this route. But because Prime Day is such a quick event, you want to get in front of your audience as quickly as possible.
So don't be afraid to send multiple messages on different channels. You're meeting your customers where they are.
Just remember that the earlier you can share your deals, the better. Since they're not selling directly on Amazon, there was no reason they couldn't have launched this campaign early and shared it with their audience to bring in sales before Prime Day even started.
And if you're using SMS for your store, you might even want to give them early access (think sharing your deals hours before you blast it out on email and social) to make them feel special and give them a reason to stick around.
By the way, with the Privy Growth Plan, you can send your emails in texts all with one easy-to-use platform. Plus, get access to Privy Convert to help you turn your traffic into subscribers so you can build lasting relationships that will drive sales for your store.
6. Don't forget a reminder
Just like sending an email and text together helps you bring in sales when you have a limited-time offer, reminders give your audience one last chance to make a purchase before time runs out.
And especially with 2-day events like Prime Day, messages are easy to miss. So improve your chances of being seen with a reminder.
Here's a great reminder email from Blume: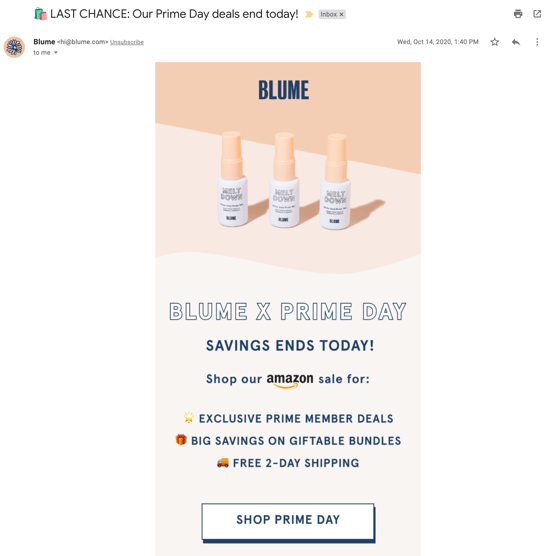 It's pretty much the same email they sent the day before, but how many people do you think missed it then? This gives them one more chance to save big.
And because the format and messaging is the same as their announcement email, this probably took under 5 minutes to put together.
So don't get lazy. One message isn't going to cut it. You need to be sending emails (and ideally texts) AND reminders to get the most sales possible this Prime Day *and always.*
7. Showcase the offer across your site
Yes, sharing your offer via email, SMS, and social is important. But you shouldn't stop there. The second someone lands on your store during Prime Day, they should know exactly what you're offering.
Update the hero image on your site, use an announcement bar and/or launch a Prime Day popup that highlights your deals immediately. Even if someone hasn't seen any other messaging around the holiday. Because the more friction you can remove, the better. 
Here's an example of a Prime Day popup you can design and launch with Privy:
And an announcement bar that can be seen no matter where your visitors land on your site:

You can get started with Privy for FREE today. Already have an account? Log in to start designing Prime Day campaigns ASAP.
8. Start your own version of Prime Day
Maybe you want to stay away from mentioning Prime Day anywhere in your messaging, but still want to put together an offer your audience will obsess over.
Take a page out of The Feed's playbook: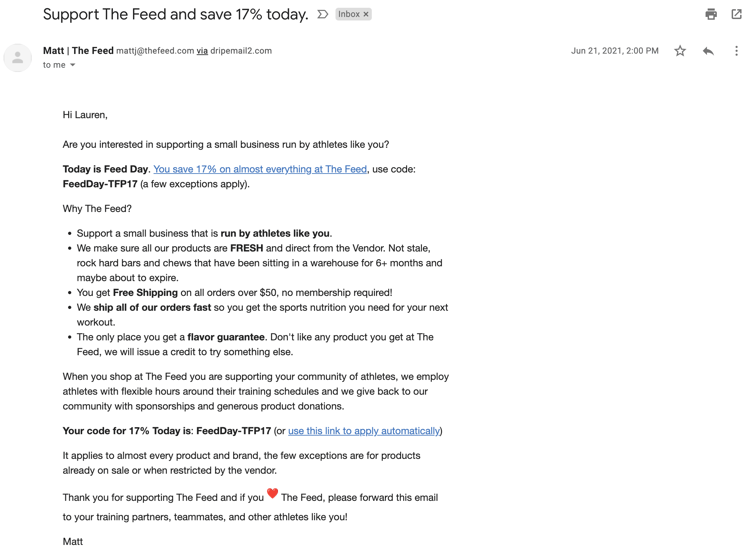 You'll notice that they don't mention Prime Day anywhere in this email. They start off with a 17% off discount code and launch into all the reasons to support their small business (fast, free shipping, fresh products, etc.).
And the fact that it's a plain text email vs. a heavily designed template makes it stand out even more.
But they didn't stop there…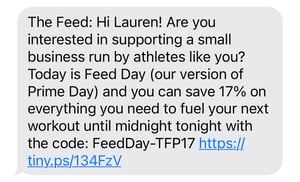 In their text, they compare Feed Day to Prime Day, but don't acknowledge the fact that their savings comes at the exact same time as the massive Amazon holiday.
And if you want to avoid the Prime Day craziness, you can create your own version of Prime Day any time of year. Maybe to fill the gap when sales are especially slow.
So whether you want to mention Amazon/Prime Day or not, there's a huge opportunity to bring in sales for your business while your audience is ready to shop and save big.
10 Prime Day subject line ideas
Now that you have Prime Day offer ideas, it's time to plan your subject line. But whatever you do, don't throw it together without a second thought at the very end. Because if you don't have a killer subject line, you're missing out on sales.
Without something that stands out in the inbox and appeals to your subscribers, the chances your message gets opened are slim. 
So take the time to write an attention-grabbing Prime Day subject line your audience has to click.
Here are 10 ideas to get you started:
Even better than Prime Day

Prime Day, our way

Prime Day savings you'll love

Pssst: Prime Day starts now.

A top secret Prime Day deal

Love Prime Day? This is for you.

Prime Day came early…

Shhh Prime Day deals just for you

It's here. Prime Day must-haves.

Prime Day deals start now!
And remember you can use the preview text to shed more light on what you're offering. Don't bury the lede. Discounts are going to get your audience to open. Give them exactly what they're looking for before they've even opened your email.
Get your copy of The Ecommerce Holiday Calendar
There are hundreds of holidays all year long. And each one presents an opportunity to drive sales for your business. 
But it's impossible to remember and plan for all of them. That's why we put together The Ecommerce Holiday Calendar. So you don't have to.
When you sign up, you'll get reminders, inspiration, templates, and more to help you drive holiday sales all year long. From Valentine's Day to Father's Day, we have you covered.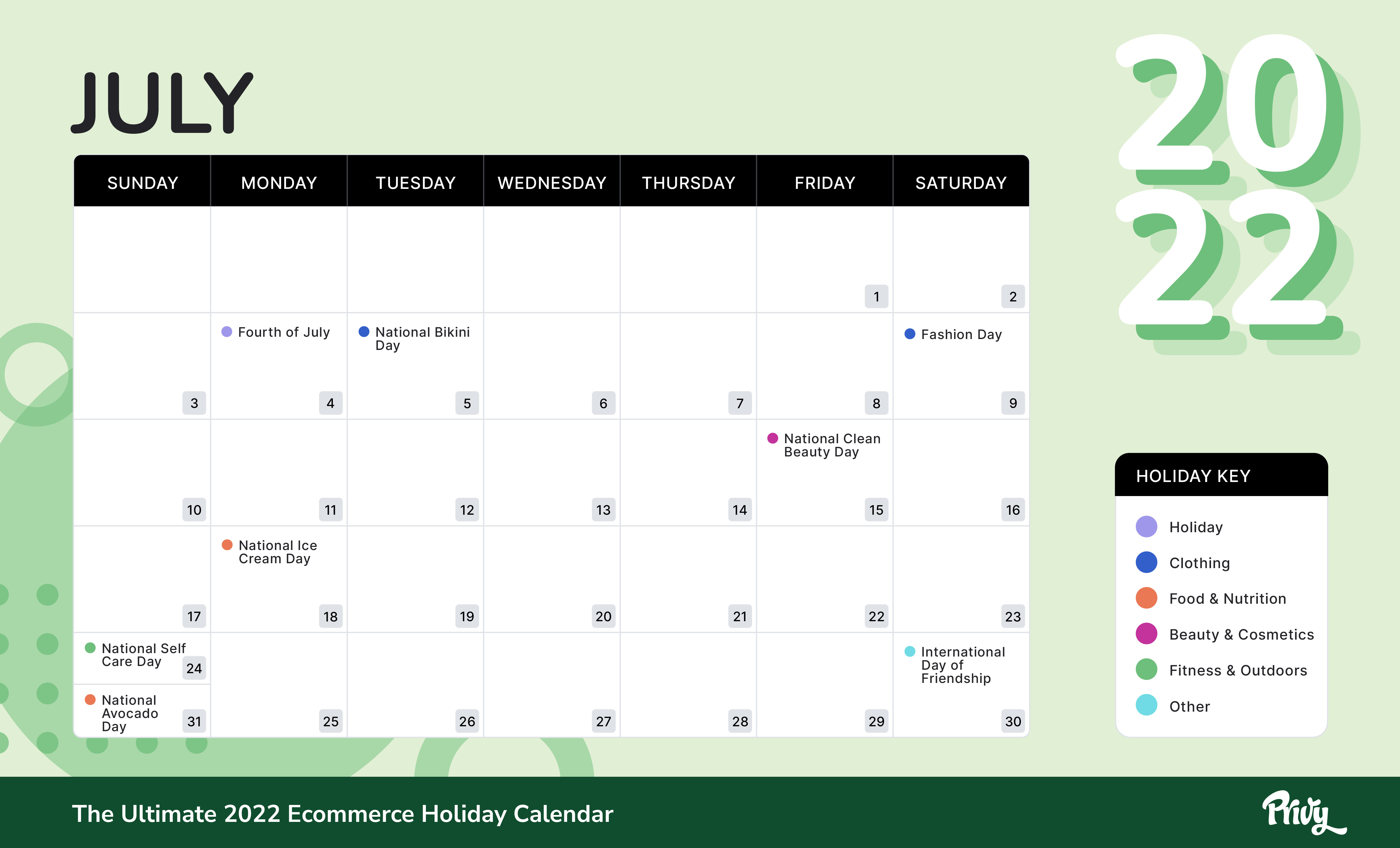 Get your FREE copy of the calendar today.
Launch your Prime Day campaign today
Now you have everything you need to launch a record-breaking Prime Day campaign (even if you don't sell on Amazon). Campaign ideas, real-life examples to inspire you, and subject lines you can steal.
Which means it's time to jump in and start planning. Remember that the sooner you share your offer, the better. Especially if you don't sell on Amazon, there's no reason to wait. Get ahead of your competition and start teasing your deals with your audience ASAP.
And if you're not sure what your audience would love to see this Prime Day, ask! Launch a poll on Instagram. Send an email or text with a link to a poll where they can cast a vote. Because the more excited they are about your offer, the more likely you are to bring in sales.
Topics: holiday
Special thanks to our friends at
Privy
for their insights on this topic.