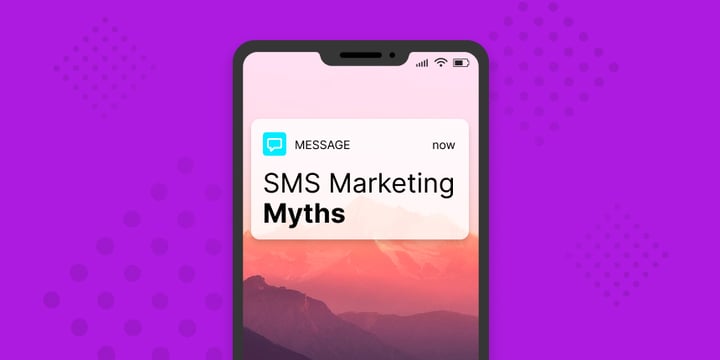 There's plenty of buzz online about SMS marketing for ecommerce brands, but there's plenty of confusion, too.
Is SMS the future of marketing or merely a flash in the pan?
Do customers love it or hate it?
Does it take minutes to implement or months?
If you're skeptical about adding SMS to your marketing mix, you're not alone. We recently asked hundreds of ecommerce store owners what they thought about texting customers, and they had some doubts…
But, we have data that will put those doubts to rest.
In this post, we examine 9 myths about SMS marketing for ecommerce store owners and bust them with real-world evidence.
Let's get started.
Get our best content on ecommerce marketing in your inbox 2 times a week
Myth #1: "SMS Marketing Is Too Difficult to Get Started"
This is the most-cited reason why ecommerce founders aren't using SMS marketing yet. While there is a learning curve for any new marketing tactic, this one is short.
For example, if you already run popups on your website, growing your SMS contact list is as simple as adding a phone field to that form. Worried about compliance laws? SMS marketing platforms like Privy Text have compliance measures built right into the product, so you don't have to bury your head in any fine print.
Bottom line: once you learn the basics, texting your customers will be as easy as texting your friends.
Myth #2: "SMS Marketing Takes Too Much Time to Execute"
Between marketing, store management, and order fulfillment, you might think it's impossible to cram SMS marketing onto your to-do list. But Privy Text users start sending messages to customers in as little as five minutes.
Plus, you can put several SMS marketing tasks, like welcome messages and abandoned cart reminders, on autopilot, so you can spend less time sending texts and more time growing your brand.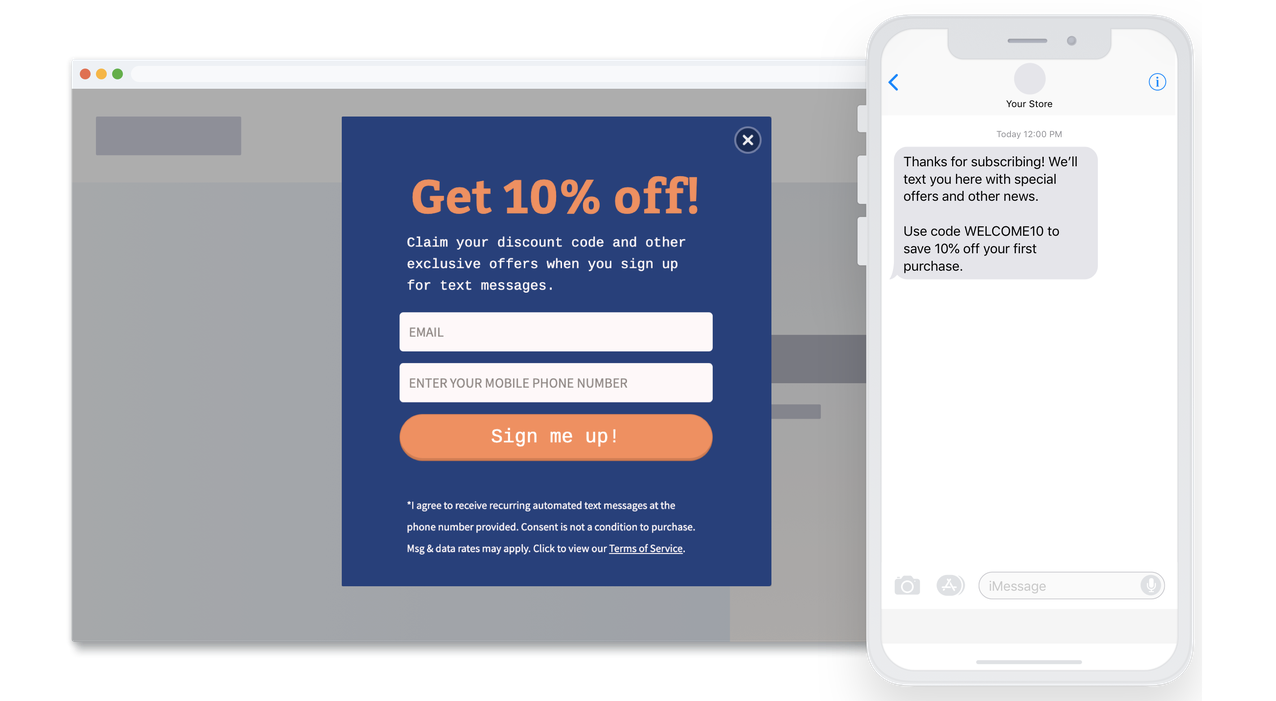 If you think it'll take too long to build your SMS contact list, consider the haircare brand Kōv Essentials. After just two weeks, Kōv's founder, Chelsea Branch, grew their SMS list from zero to 133 contacts and drove $1,000+ in sales. (We broke down Chelsea's strategy on this episode our podcast.)
But wait – isn't texting customers intrusive?
Myth #3: "Customers Get Annoyed When You Text Them"
Many ecommerce brands fear that text messages are intrusive or spammy. But your customers might want you to text them more than you think.
According to Attentive's 2021 SMS Marketing Consumer Trends Report, nearly 40% of people said they want to receive marketing text messages 2-3 times a week from brands that they signed up to hear from.
On top of that, 18.8% of consumers said they are open to receiving SMS marketing messages once every day.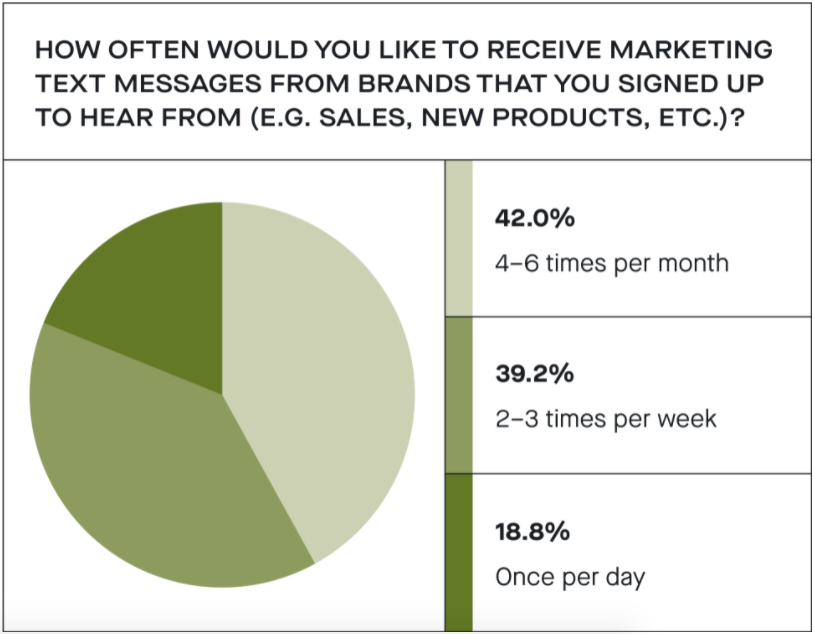 Will customers hate it if you text them incessantly without permission? Probably (not to mention it's illegal).
But when customers opt in to SMS marketing, they're looking for a unique, personal relationship with your brand. For example, you can share exclusive discounts or early access to new products with your SMS list since they're likely your most engaged fans.
Myth #4: "SMS Marketing Is Too Expensive"
If you run your brand on a budget, it's understandable why you wouldn't want to splurge on a new tool. But SMS marketing is an investment (and an affordable one at that).
You don't need a bunch of bells and whistles when you first start with SMS marketing. You just need a simple Shopify integration and a dashboard to create and send campaigns.
For the price of a few coffees, you can turn text messaging into your biggest revenue stream –which leads us to the next myth…
Myth #5: "SMS Marketing Doesn't Perform"
When you think about the ROI for text marketing, there are probably 2 metrics that come to mind: open rate and conversion rate.
If you're unsure whether SMS can capture people's attention and get them to spend money, consider these two stats:
One study found that SMS open rates can soar as high as 97%, compared to 20.9% for email.
Nearly 96% of marketers using SMS marketing say it helps them drive more revenue, according to Attentive. Furthermore, 57.7% report that it "significantly or overwhelmingly" boosted revenue generation.
No wonder 66% of marketers not using SMS plan to start soon.
Myth #6: "Asking for Phone Numbers Will Decrease My Conversions"
You might have heard that you should create separate opt-in forms for email and SMS, which might lead to a drop-off in sign-ups. But as Privy's founder, Ben Jabbawy, pointed out in this podcast episode, merchants who simply add a phone number field to their existing optin forms see signup rates as high as 10%.
Don't just take our word for it, though.
"When I was first thinking about asking my customers for a phone number, I was thinking 'man, no one's ever going to opt-in,'" Cole Dash of RudeMuzik told us. "And then after a couple days, I was like 'oh WOW. People are opting in.' I'm super excited about the possibilities."
Myth #7: "SMS Is Only for Big Brands"
While huge companies like IKEA, Petco, and Starbucks have huge SMS marketing budgets, that doesn't preclude small ecommerce companies from getting in on the action.
In fact, SMS marketing can actually work better for niche brands because it lets small teams cultivate personal, customized relationships that big brands don't have the bandwidth for.
Unlike advertising on social media or TV, SMS marketing isn't pay-to-play.
Myth #8: "SMS and Email Don't Work Well Together"
As Kurt Elster pointed out on the Unofficial Shopify Podcast, there's a fear that SMS marketing can cause your marketing channels to cannibalize one another. But with proper planning, text and email marketing actually complement each other. In fact, marketers using multiple channels in their campaigns see an engagement and purchase rate 250% higher than marketers relying on single-channel campaigns, according to G2.
For example, the instantaneous nature of text messaging makes that channel ideal for time-sensitive announcements, while messages with lots of visuals and CTAs are better suited for email.
Most importantly, giving customers the freedom to choose SMS, email, or both demonstrates that you value their preferences.
For a deeper dive into using SMS in tandem with email, check out this podcast with Mary Miller from Tinuiti.
Myth #9: "SMS Marketing Is a Fad"
In a time when marketing trends fizzle out as quickly as they appear, you might be tempted to dismiss SMS marketing as a fad. After all, it's not as firmly established as email or social media. But the data suggests that SMS is here to stay – and it might even become the most impactful channel.
In 2020, mobile messages generated $19 billion in revenue, prompting 61% of marketers to increase their SMS budgets, according to G2.
SMS likely won't replace email or social media, but it's safe to say brands that wait too long to start texting their customers are missing out on revenue and relationship building.
Need Help Getting Started with SMS Marketing?
Now that we've dispelled some myths about SMS marketing, you might be wondering: Where do I start?
We're glad you asked!
Check out our "Ultimate Guide to Text Message (SMS) Marketing for Ecommerce." If you're looking for a blueprint to drive more online sales with text messaging, this is a must-read.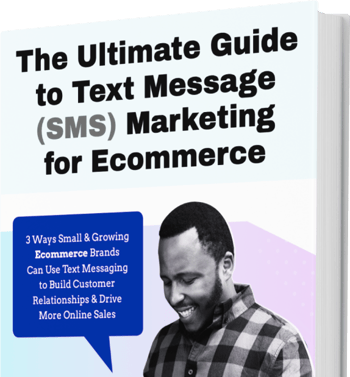 Topics: Text Marketing
Special thanks to our friends at
Privy
for their insights on this topic.