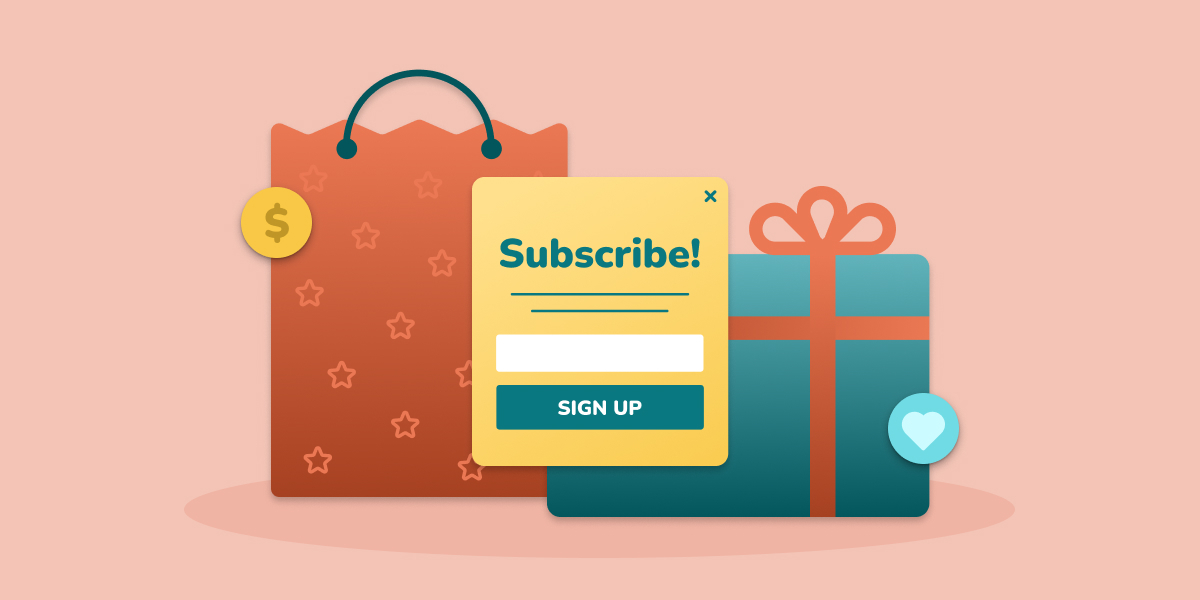 The more contacts you have, the more revenue you'll bring in with every email and text you send.
That's why list growth needs to be a constant priority, but the next few months leading up to BFCM are especially important.
And these 9 tried-and-true tactics are proven to work.
Because list growth is the #1 thing you can be doing today to prep for Black Friday.
From popups, to giveaways, and so much more, you'll be bringing in additional email and SMS subscribers ASAP.
So you can promote your BFCM offers to more people than ever before. And have your biggest holiday season ever.
Get our best content on ecommerce marketing in your inbox 2 times a week
1. Lean in to popups
Obviously you should always have popups running on your site. But the incentive really matters.
Check out this example I came across in Harry Dry's Newsletter: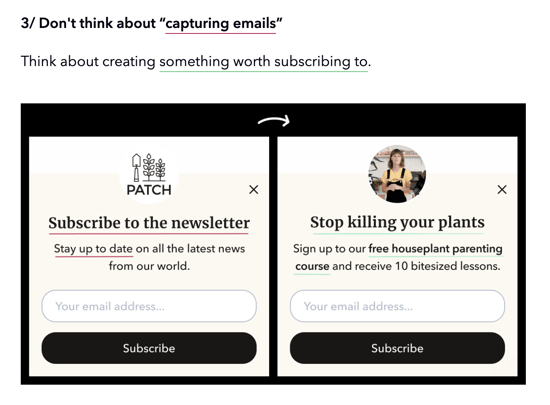 I don't know about you, but I know which I'm subscribing to!
So every time you're coming up with an offer to convert visitors into subscribers, ask yourself: what's in it for them? And make it hard to turn that thing down.
Heading into BFCM, a great way to encourage people to get on your lists is to tease your offers early (just another reason to lock in your offer sooner rather than later).
Something like, "Don't miss out on our biggest sale of the year," goes a long way. Here's a great example (made with Privy!) from jewelry brand, Mejuri: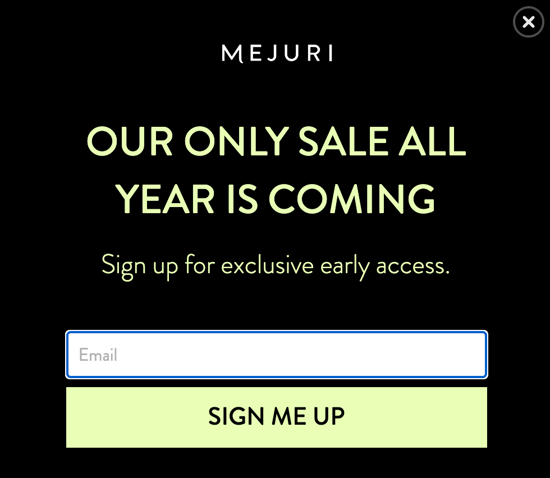 Gamified popups, like this spin to win (made with Privy!), are also a really great way to get tons of signups: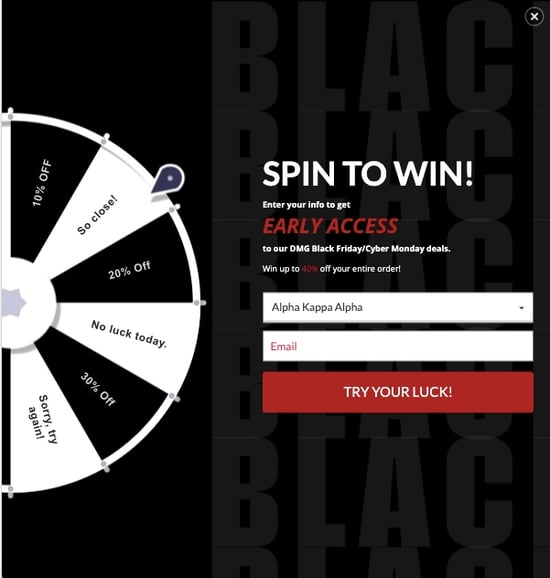 Looking for more BFCM popup examples? We have a massive swipe file with 60+ popup ideas (plus email and text ideas, too!).
Just remember that it's really important to make sure the experience is great. Make sure you don't have too many things competing for attention! Popups, chat windows, etc. are super important. Just make sure the experience for visitors isn't overwhelming.
Tabs are a great way to allow your visitors to trigger your popup themselves. Because often popups will show up pretty much right away before anyone has had a chance to check out your products. Which means they probably don't know if they want to join your list yet! 
So tabs give them a chance to poke around and see your products first then pull up your popup to join your lists. Here's a great example of a tab (made with Privy!):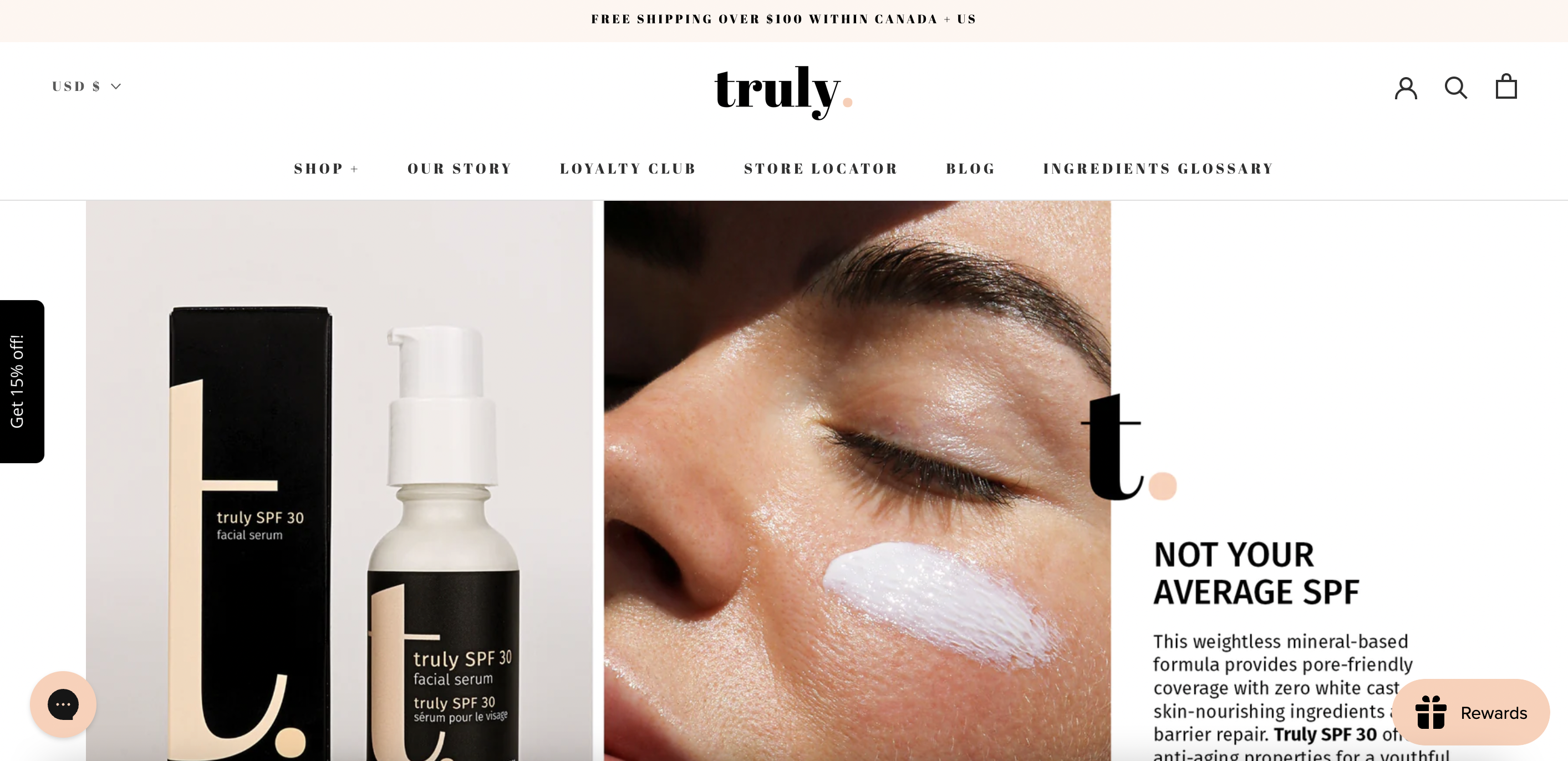 On the left side of the screen, you'll see a "Get 15% off!" black tab. When you click on that, this popup gets triggered: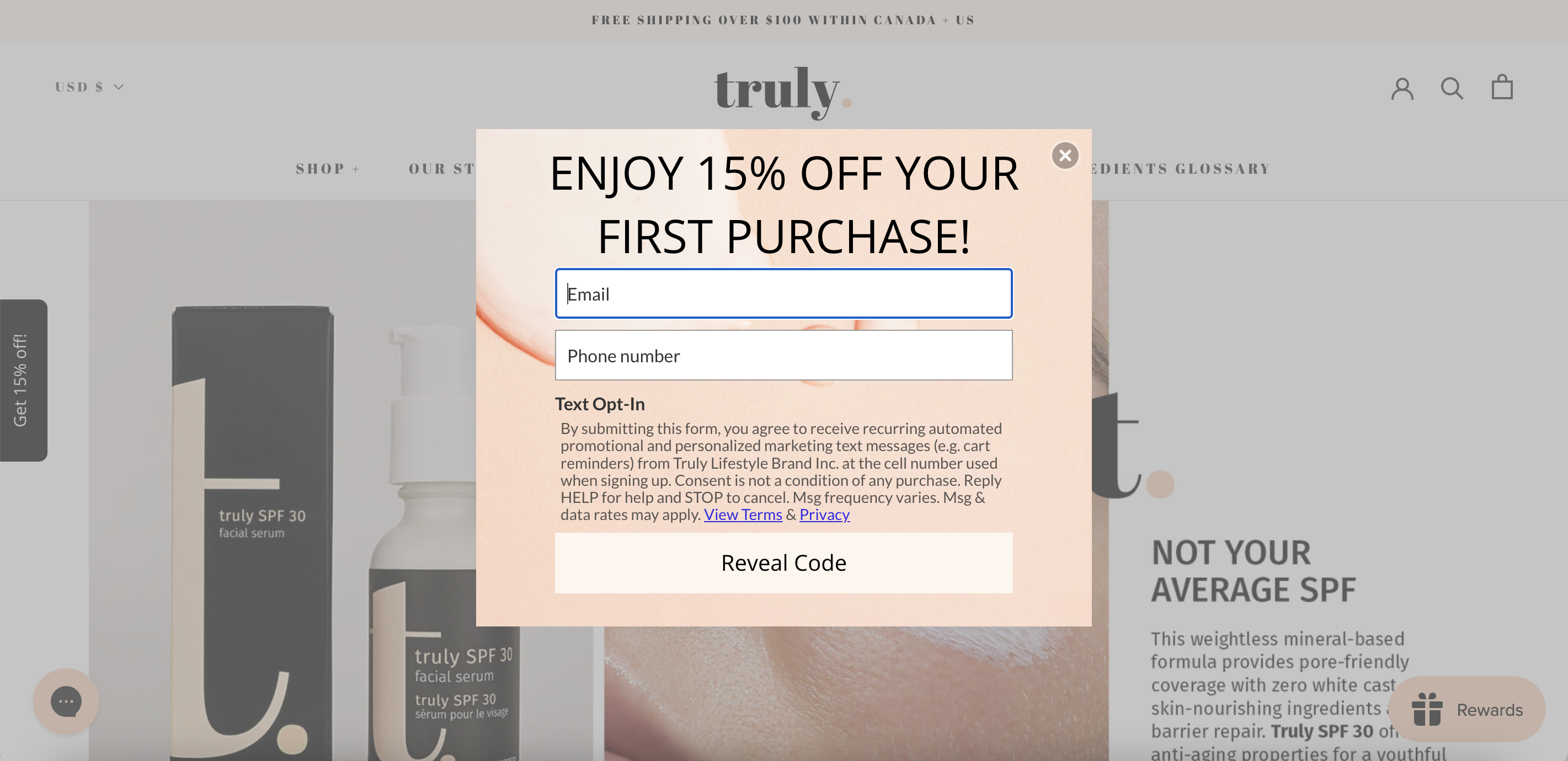 Just like Truly Lifestyle Brand, make sure you include a field for SMS, too, so you can grow your email and text lists at the same time! 
You can also target email subscribers who aren't already on your SMS list with a popup like this (made with Privy):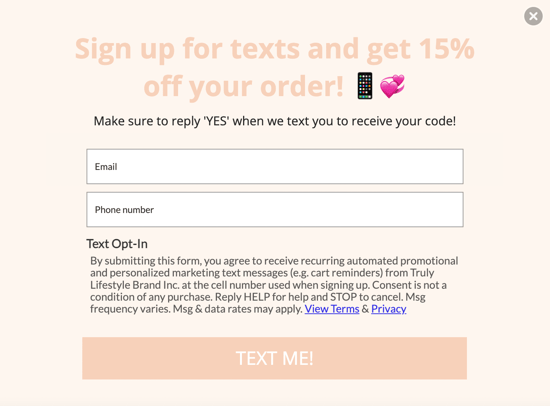 You'll just want to make sure the email field is included so your subscribers' phone number gets tied to the right account!
Then, when your BFCM offers are officially live, try something like this example (made with Privy!) from jewelry brand, Mejuri, to showcase your offer and turn the extra traffic you're getting into subscribers: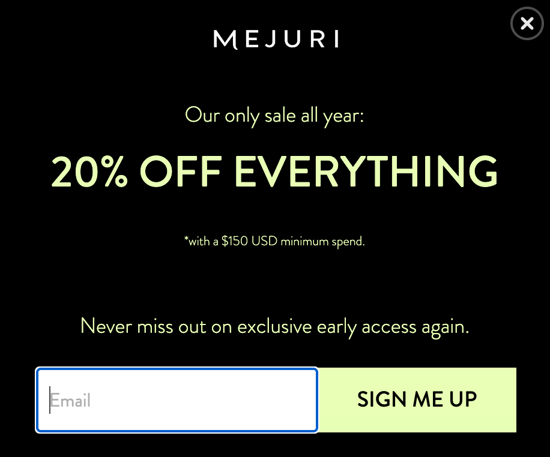 The possibilities are endless. When you keep the experience top of mind and add real value for your audience, they're going to be excited to join your lists, not annoyed.
2. Offer early access
As BFCM creeps closer, an amazing way to get new subscribers is to tease the fact that subscribers get early access to your upcoming offers. 
Obviously you have to actually deliver on that promise, but this is a great way to turn your site visitors into subscribers leading up to BFCM.
And the more specific you can get here, the better. How much sooner will subscribers get access? What about SMS subscribers? Remember to make it hard to say no!
Ring Concierge does a really good job with this. They're constantly pushing email and SMS signups on social and teasing early access to get their followers to convert.
And they really deliver on that. Check out this early access text and email from last BFCM: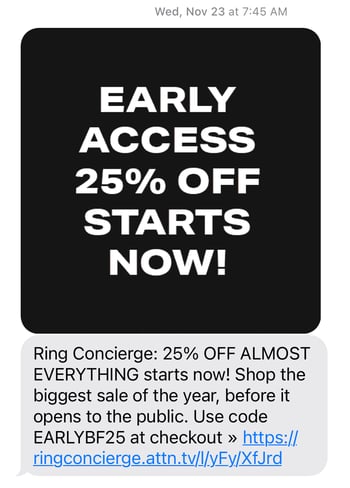 These both went out the Wednesday before Black Friday and everyone else didn't get access to their biggest sale of the year 'til Black Friday.
Pro tip: You can drive even more urgency by using something like a countdown timer to enforce a deadline for people to sign up to get early access!
3. Run a giveaway
Getting in front of like-minded brands' audiences can be an incredible way to grow your list.
I came across this one from last November with jewelry brand, Ring Concierge, and skincare brand, Summer Fridays.

Both brands have about 650k followers, so really similar audience sizes and compatible audiences.
This email went out at the very beginning of November, which means Summer Fridays likely did the same thing. By entering, you're opted in to emails from both brands, which is a great way to get new subscribers.
Just keep in mind that these new additions likely don't know much about your brand. So have a gameplan to bring them into the fold. Don't just start sending promotional emails and expect them to convert!
4. Share on social media
Turning your followers into subscribers is a pretty low lift way to boost your numbers. And this is something you can do regularly leading up to BFCM.
All it takes is creating a simple landing page. Something like this is perfect (made with Privy!):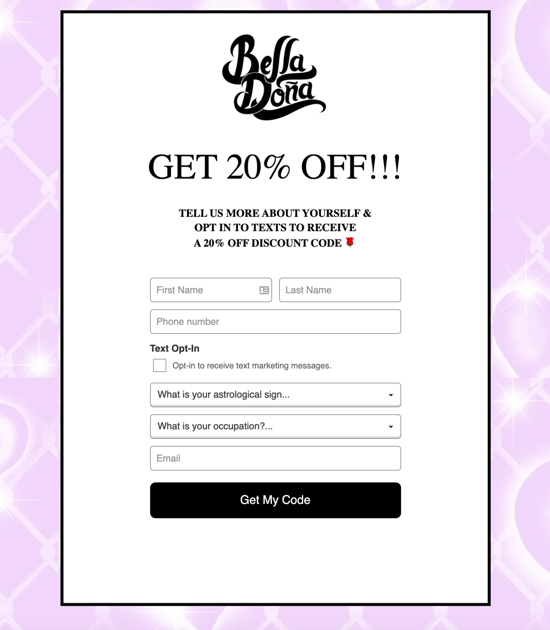 Then, you can share the link in your stories and in your bio!
Here's how candle brand, Canceled Plans, turned followers into SMS subscribers:
This is real value. By subscribing, you get early intel on what's coming back. If you love this brand, signing up is a no-brainer. 
Of course you can do this for your email list too. Or make your life easy and create a landing page with fields for both! JFYI, this is super simple with Privy.
5. Work with influencers
Just like you might work with influencers to promote deals and products, you can switch up the ask leading up to BFCM. 
So instead of, "hey, go check out this product, here's a code"  take it a step further and ask them to point people to your landing page with forms to sign up for your lists.
Something along the lines of, "Hey, this is one of my favorite products out there and they're doing something amazing for Black Friday. Go sign up for their email list to be the first to know what they're up to." 
Coming from the right person, this ask can feel really authentic. 
Here are a couple influencer posts with a personal touch that could be tweaked slightly to include a link to a landing page: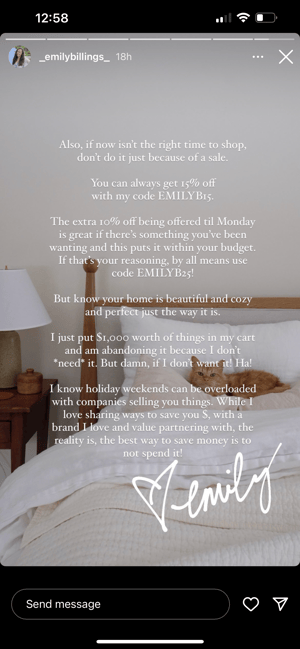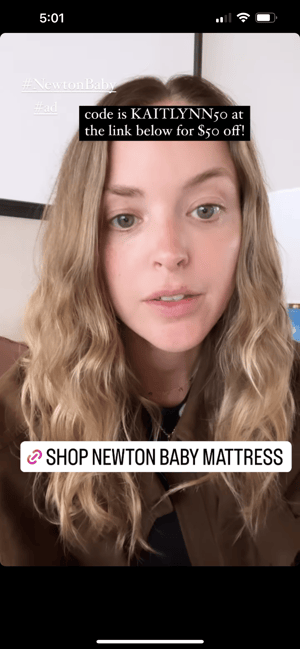 This will work best if you already have influencers in your arsenal who love your product! But it's not too late to build relationships now if you're just starting out with this channel.
6. Test out a quiz
If you haven't listened to this episode of Ecommerce Marketing School with Joanne Coffey, you're missing out.
She breaks down the exact playbook she used to grow Jones Road Beauty's email list past the 1m subscriber mark with the help of a quiz.
Luckily, you can use a quiz to generate tons of signups leading up to Black Friday, too. 
This play works really well for skincare and beauty, consumables with multiple flavors, wellness, home goods, sizing and fit help on clothes…you get the idea. Really the only place something like this would be tough is for single SKU businesses.
Here's a great example from clothing brand, VETTA. Last November, they sent an email with a style quiz and asked people to share their results on social for a chance to win a full collection.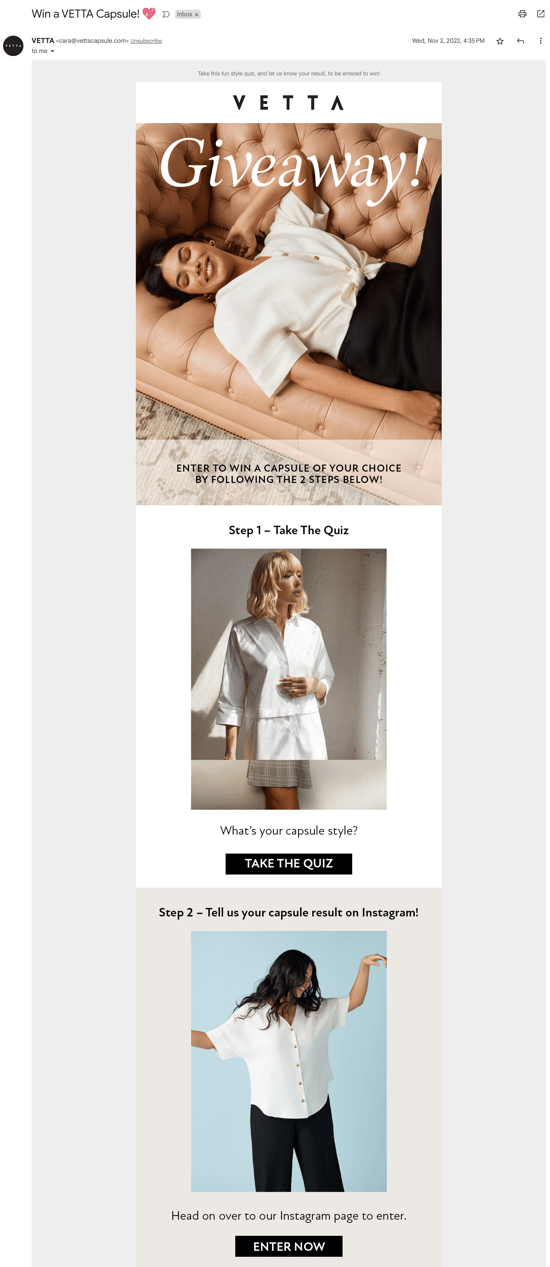 Not only does this help grow their lists, but it also encourages people to follow them on Instagram!
Quizzes are also a really great way to help your existing subscribers (especially anyone who hasn't made a purchase) choose the right products to purchase during BFCM.
There are so many opportunities here. Not just for BFCM, but all year.
7. Drive referrals
Incentivizing your audience to refer their friends to sign up for your list (and of course, check out your products) is a great play leading up to Black Friday. Especially with a killer incentive. 
There's a brand called Artipoppe that sells high end baby carriers that does a great job with this.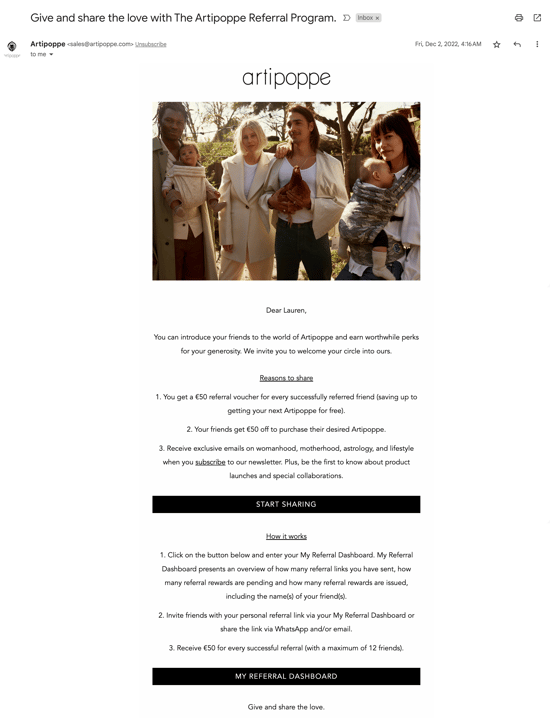 They don't offer many discounts (I think this is the only one I've seen!), but they value referrals highly so the discount is meaningful (~$50). Especially because their products are pricey.
So whether you have a robust referral program already, or you're just getting it off the ground, leverage your audience to help you grow your list this BFCM and beyond.
8. Convert your email list into SMS subscribers
A super straightforward way to get your email subscribers on your text list is to send an email promoting it. Like this one from Kōv Essentials (made with Privy!):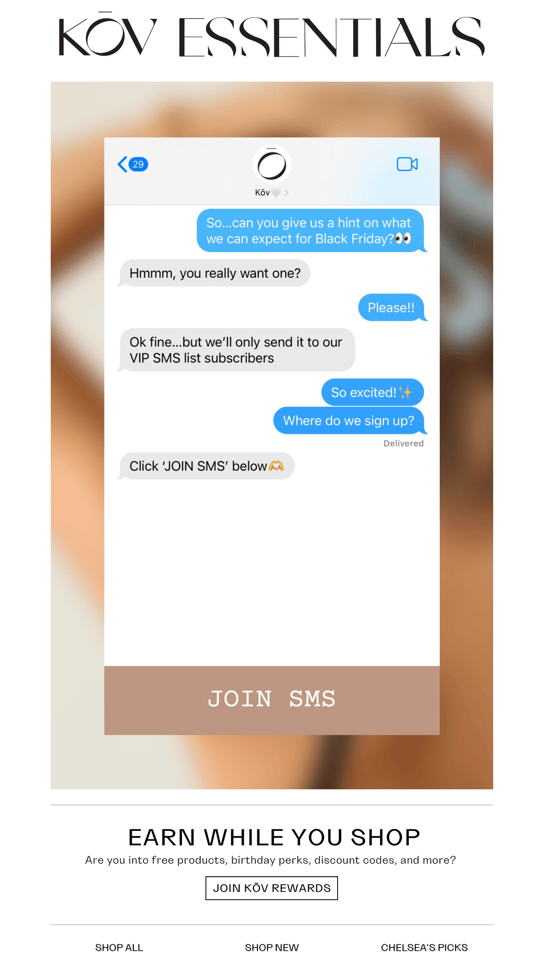 Just make sure you highlight what's in it for them. In this example, SMS subscribers get hints about Kōv's BFCM promo before anyone else. 
Just remember that you really need to deliver on your promise. Whether that's early access, sneak peaks, or anything else.Otherwise, your audience won't hesitate to unsubscribe.
SMS is such a great opportunity to surprise and delight your audience this holiday season. Make sure you're giving your subscribers real value. Not just copy and pasting what you're sending in an email. 
It can't just be sell, sell, sell all the time with text. Remember that it's a way more intimate channel than email.
But don't stop at a single email promoting your SMS list. You can  showcase your text program in all your future emails, too.
Include something like this in any other emails leading up to Black Friday to maximize signups:

Pssst. This is something you can do all year to grow your SMS list.
8. Try a QR code
If you sell through different retailers on top of DTC, it's really important to do whatever you can to capture shoppers' emails and phone numbers to try to build a relationship directly with them. 
Because of course you don't have full control or ownership if you're selling your products at places like Whole Foods or Target, for example.
QR codes can be a great way to capture that! So add a QR code to your products that are in stores with some clever copy that brings them to a landing page with a form that includes fields for email and text. 
Then you can create a list of anyone who signs up on this specific landing page and nurture your retail audience differently than anyone who signs up through popups or other landing pages on your site.
Get creative here! Chances are, if customers are buying your products in stores, they'd be pumped to join your email and SMS lists to hear directly from you.
Start driving signups today
Now that you have 9 tactics to grow your list leading up to Black Friday, it's time to actually bring them to life.
Privy is the easiest way to grow your lists and send emails and texts this Black Friday and beyond.
Start your FREE 15-day trial to give it a shot. 
And be sure to bookmark this page. It's packed with everything you could possibly need to crush this holiday season.
A full calendar to help you stay on track, 172+ email, popup, and text examples, podcast episodes you've gotta binge, and SO much more.
Special thanks to our friends at
Privy
for their insights on this topic.