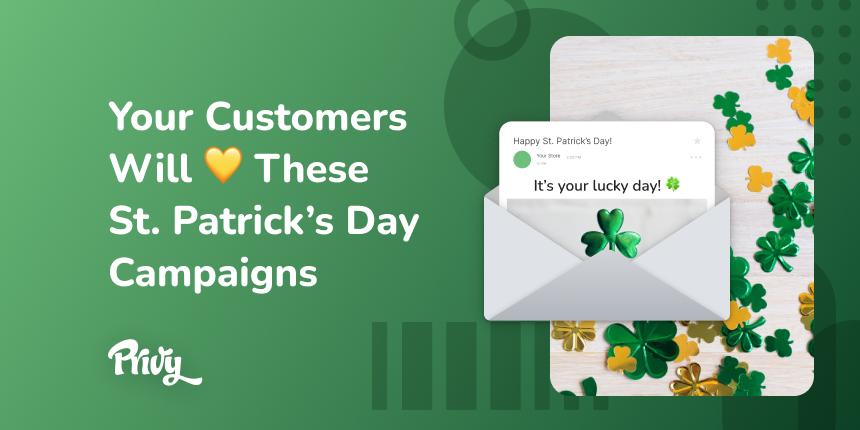 March is jam-packed with holidays you can piggyback off of to bring in sales for your store.
From International Women's Day to the first day of Spring, you have so many opportunities to generate revenue and build winning campaigns.
So if you're still locking in your calendar for the month, look no further.
Start with these 9 St. Patrick's Day campaign ideas you can steal. So you can make March your best month yet.
Get our best content on ecommerce marketing in your inbox 2 times a week
1. Share on-theme products
Holiday campaigns don't have to be a ton of work to have an impact. 
Take this example from Estelle Colored Glass:

All they did was package up on-theme products and take killer product photos. How simple is that? So if you have green products in your store and not a ton of time to put together a campaign, start here.
In less than an hour, you'll have a reason to reach out to your audience and boost sales.
2. Update your packaging
Bocce's Bakery got a little more complex with their St. Patrick's Day campaign. 
Rather than just featuring an existing product, they took it a step further with exclusive St. Patty's Day products with killer packaging: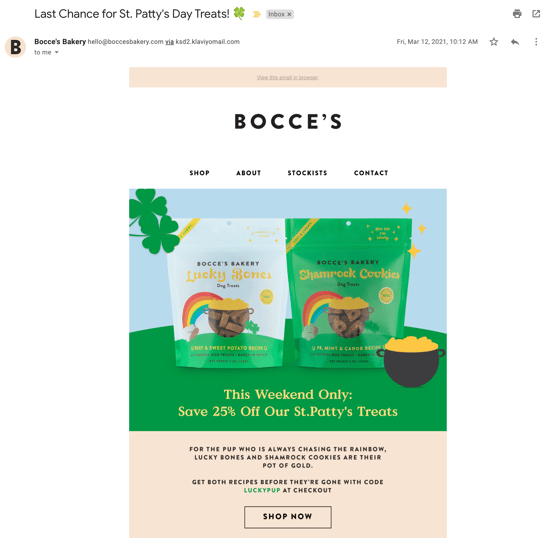 And while this definitely takes more time to execute, limited-time products are an awesome way to drive demand for your business once you have a loyal customer base.
But they didn't stop there. On top of a St. Patrick's Day specific product, they also ran a limited time promo. 25% off for one weekend only to create an epic campaign.
3. Create holiday-specific content
Maybe you're not into the idea of launching a new product for every holiday. That's totally understandable. With a small team (or maybe it's just you!), you can only do so much.
But that doesn't mean you can't put together a St. Patrick's Day promo.
Take this one from 8Greens: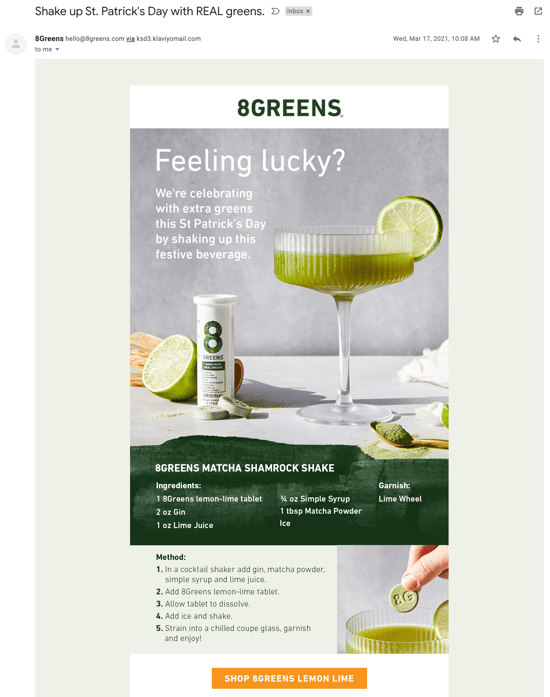 Using their existing product, they came up with a St. Patrick's Day cocktail recipe customers will love. Plus, it reminds their audience that they have the freedom to get creative. Super smart play.
But even if a recipe doesn't make sense for your business, you can still create St. Patrick's Day-themed content to stand out.
I LOVE this example from Krewe:

Yes, they feature green products, which is awesome. But they also use the end of the email to call out their Second Chances program: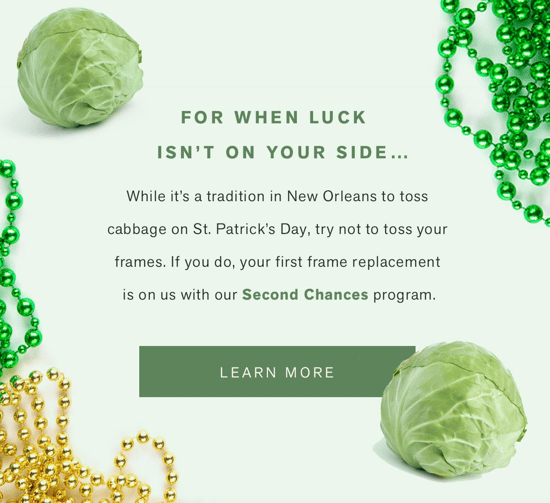 A quick little fun fact with a themed image is all it takes. Plus, it's a great way to give their audience peace of mind before making a purchase. 
Use St. Patrick's Day as a chance to get creative with your marketing.
4. Run a limited-time promo
A limited-time promo is the perfect low-lift way to bring in St. Patrick's Day sales for your store.
Soleil Blue kept it incredibly simple with this promo: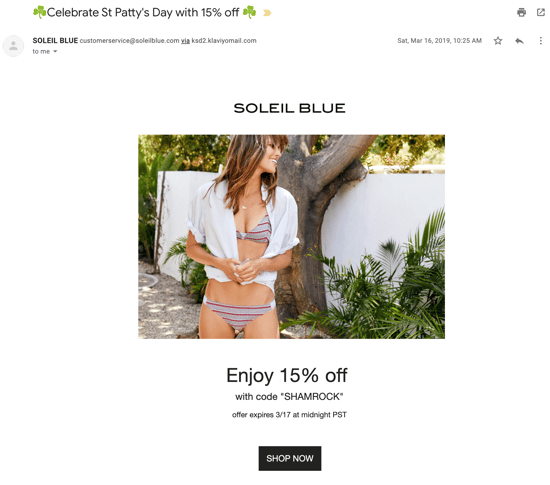 With a discount code like "SHAMROCK," they were sure to keep the promotion on theme without having to spend hours building a complex campaign.
If you're not interested in offering a sitewide discount, you could offer a discount on a certain collection, product, or offer something totally different (keep reading for more ideas!).
5. Offer free shipping
If you don't offer free shipping on every order to begin with, it's the perfect incentive to encourage your audience to make a purchase this St. Patrick's Day.
Take it from Wildfox:

Yes, they featured tons of green products, but they also offered free 2-day shipping for 2 days without an order minimum.
Thanks to Amazon, no one likes to pay for shipping. So whenever you can offer it, that should be your go-to.
6. Include a free gift with purchase
Golde takes a totally different approach by leaning on a free gift with purchase on every order over $50: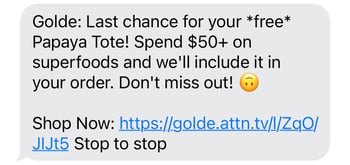 What makes this campaign so smart is that they're using an existing product as the free gift. Which means all they need to do on the back end is throw in a tote bag and they're good to go.
Maybe you have something small that would be the perfect free gift with purchase incentive to use for your St. Patrick's Day promo this year.
7. Send order deadline reminders
Order deadlines are always the perfect excuse to reach out to your audience. 
In this case, WithCo sells cocktail mixers, so it's a great fit for them to reach out with a last chance reminder to get orders in in time to receive them for the 17th: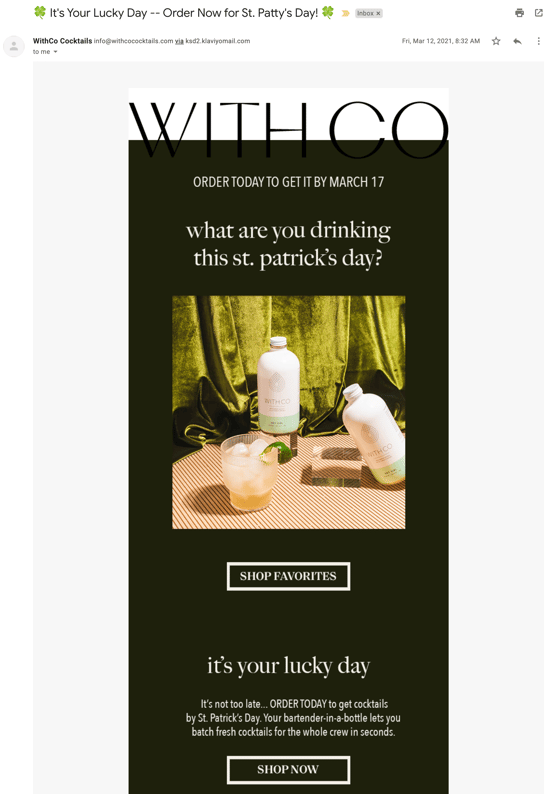 Even if you've already sent an email to your audience, a reminder is the perfect chance to re-engage and give them one more chance to place an order and receive it in time.
8. Gamify your forms
Updating your on-site campaigns is another great way to lean into holiday campaigns.
With Privy, you can create a spin to win campaign like this one in minutes: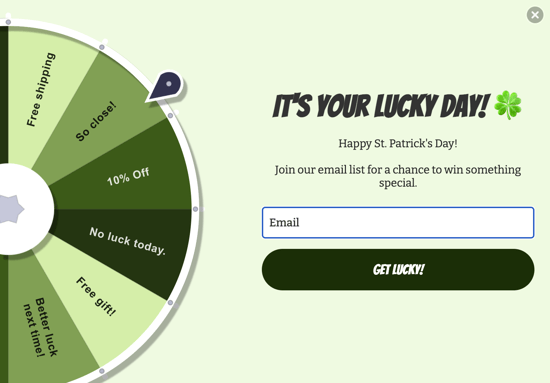 Give your site visitors a reason to give you their email address or phone number in exchange for a chance to win something special in honor of St. Patrick's Day.
It's a win-win for you and your audience. 
Want to keep it simple? Use this Privy template to get your St. Patrick's Day popup live ASAP: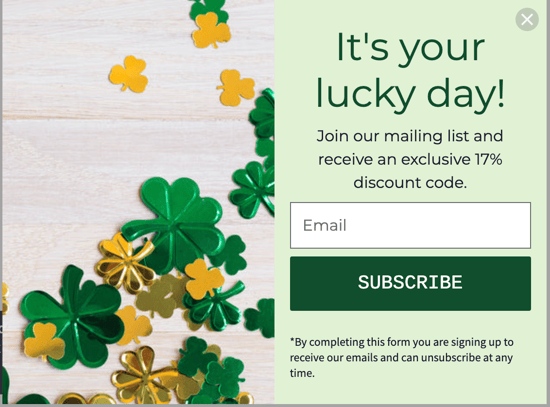 The best part? You can get started with Privy for FREE today.
9. Use a St. Patrick's Day email template
Once you have your St. Patrick's Day popups in place, it's time to design your email template.
But with Privy's pre-built templates, it shouldn't take long.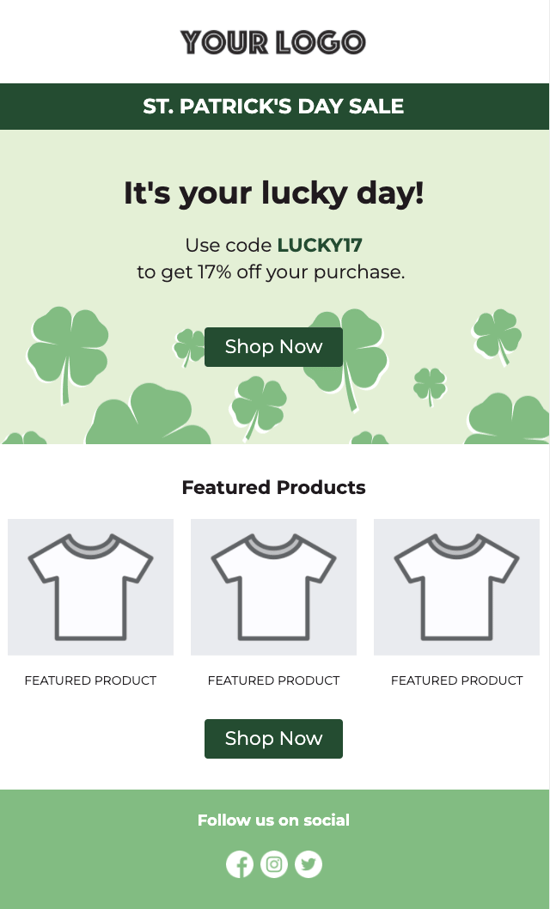 Add your logo, update your messaging, and select products to feature and you're good to go. It's never been easier to get a campaign live.
10 St. Patrick's Day subject line ideas
A killer subject line will drastically improve your chances of getting your audience to open your emails. 
So no matter what your St. Patrick's Day offer is, make sure you don't hit "Send" until you've come up with the perfect subject line.
Here are 10 St. Patrick's day subject line ideas to get you started:
It's your lucky day! 
Lucky you! 
Irish You a Lucky Day
A St. Patty's exclusive
Get lucky this St. Patty's Day
A leprechaun left this gift for you… 
Not a pot of gold, but it's good. 
No luck needed. 
Luck of the stylish
The luck you've been waiting for 
No matter how great your email is, if you don't nail your subject line, your subscribers aren't going to pay attention. So take the time to get it right.
The Ecommerce Holiday Calendar
Maybe you nailed your Valentine's Day marketing. Or came up with the perfect March Madness campaign for your store.
Or maybe you're just getting your holiday campaign strategy off the ground…
With The Ecommerce Holiday Calendar, you'll get monthly reminders and campaign ideas so you never miss another revenue-generating holiday again. Get access for FREE and start mapping out your marketing strategy for the rest of the year.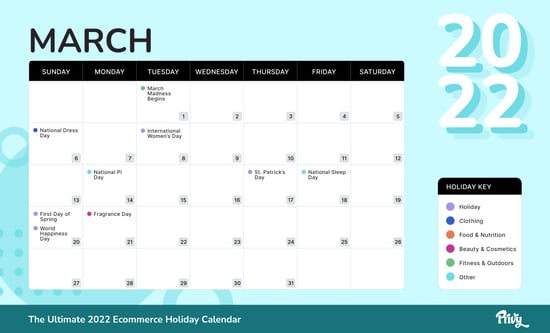 Don't sleep on St. Patrick's Day
Whether you sell beauty products or beverages, St. Patrick's Day is the perfect excuse to come up with a campaign that will bring in sales for your business.
And it can be as complex (or simple!) as you want it to be.
Offer free shipping, a discount code, or come up with a brand new collection. Whatever you do, just make sure you're doing something so you don't miss out on slam-dunk sales for your store.
Special thanks to our friends at
Privy
for their insights on this topic.