Quick links:
---
Loyalty programs keep customers coming back using rewards and referrals. But what about tiered loyalty programs? What makes them so uniquely effective for engaging customers and boosting revenue? 
Tiers prove value to customers throughout their entire customer journey which means that you are consistently enticing customers back.
Consumers who engage with high-performing loyalty programs are 78% more likely to spend a premium. So the more you reward people, the more loyal they will be! 
Let's dive into what a tiered customer loyalty program is, why it is so effective, and tips for implementing a tiered system in your own business.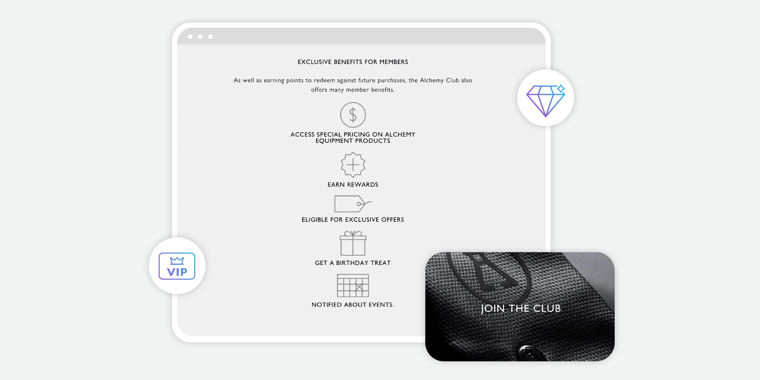 What is a tiered customer loyalty program?
A tiered customer loyalty program is a customer incentive strategy that rewards people the more they spend. Once a customer spends a certain amount or earns a certain amount of points, they move up a level. 
This could look like a "bronze, silver, or gold" membership, or something like a regular membership versus VIP membership. 
But how does a tiered loyalty program work? 
You have probably seen examples of this with airline frequent flyer programs. The more customers spend with a single airline, the more points they accumulate. When they move up, they are then rewarded with bonuses like access to lounges and priority boarding. 
A tiered system gives more rewards to people higher up to encourage loyalty and higher spending. 
You may not have a VIP airport lounge, but your business can still take advantage of a tiered loyalty program!
What are the benefits of a tiered loyalty program
You might be wondering if there are benefits to using a loyalty tier instead of regular rewards. 
There are a couple of benefits of rewarding loyal customers in this way. 
Firstly,  it encourages brand loyalty because the more loyal they are, the more rewards they get. It is beneficial and exciting for them to keep purchasing from you over competitors because their customer experience is only going to improve over time. 
Look at loyalty programs like Amazon Prime. Premium members spend about double what non-members spend and shop twice as much in a 12 month period. 
The second benefit is that it encourages higher spending. When people have free "points" to use, they will come back. A gift-card study found that 59% of people spent more than they had on their gift cards. 
Incentivizing people with points and rewards means they are more likely to spend more than they intended.
Lastly, you can increase the value of the rewards incrementally. Lower tiers still have points and rewards, however, higher levels (i.e. people who spend the most with you!) could have experiential rewards as well as points. 
For example, beauty brand Mecca runs a loyalty program called the Beauty Loop. Their top-tier members get experiential rewards like surprise gifts 3 times a year, access to exclusive beauty events, and dibs on limited edition products.
Strategies to create a successful tiered loyalty program
Getting started can feel like the most daunting part of planning your customer loyalty program or adding tiers. Give yourself a good grounding knowledge with these strategies:
1. Provide clear value to customers at every level
One of the obvious benefits of customer tiers is that nobody misses out on benefits. It just gets better over time! A successful tiered loyalty program will provide value at every level.
Using the airline example again, a bronze customer might get complimentary food and drink. A silver customer might get priority boarding and free luggage allowance. A gold member might get lounge access, priority boarding, double luggage allowance, and first-class seating. 
Each tier is rewarded, which improves customer experience, which then encourages more spending and loyalty. There are clear benefits at each level that make loyal customers feel special.
2. Keep it simple for the customers
If you want higher engagement with your tiered loyalty program, you have to keep it simple. Your customers should know exactly what they need to do to qualify.
How can you creatively simplify your loyalty program? Here are some ideas 
Have a visual loading bar that shows them how much they need to spend to get to the next level 
Display the different tiers side by side and show the different value levels
Don't have too many conditions to move up each level – make it worth their time too!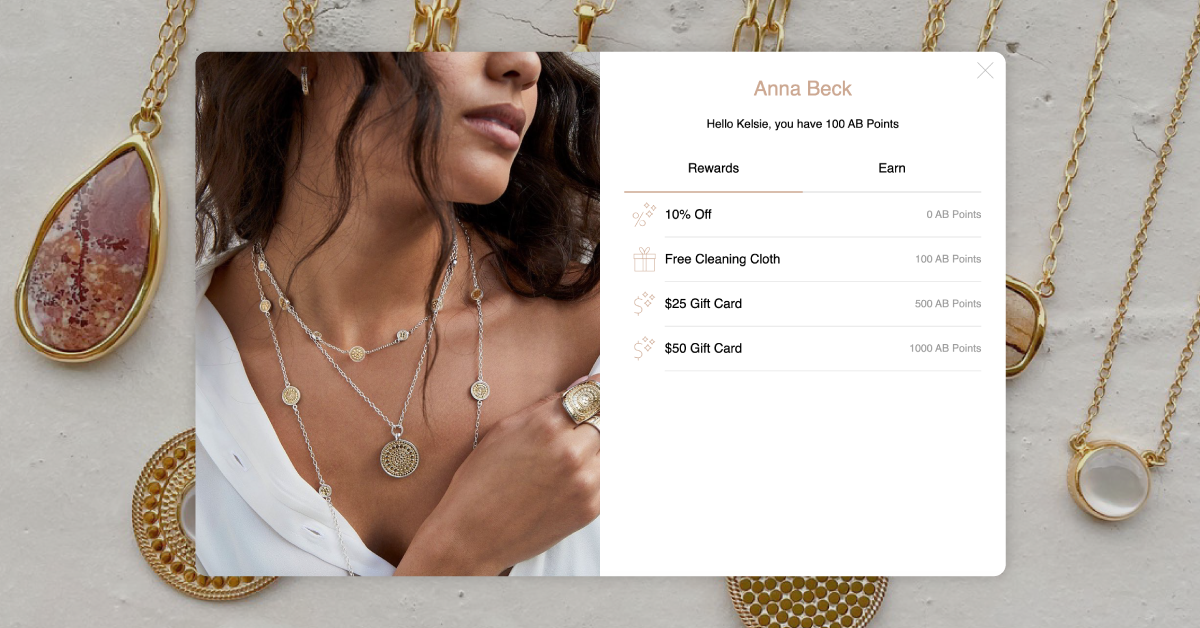 An example of a simple loyalty customer is jewelry boutique Anna Beck. Customers automatically receive 100 points just for joining their rewards program!  Since starting their points system, Anna Beck has experienced a 728.33% increase in revenue, directly attributable to their loyalty program.
Simplicity is a good rule of thumb no matter what loyalty program design you have. 
3. Brand your tiered levels

As well as having a branded community, consider having branded customer tiering.
Each level should differentiate customers and reward them for their loyalty and engagement.
You can keep it simple with a gold-silver-bronze model, or push the creative boundaries like inclusive-lingerie brand Our Bralette Club.
Our Bralette Club has a branded loyalty program called the Peach Party. That means that all customers get to be part of the community. However, they take it to the next level with their different tiers.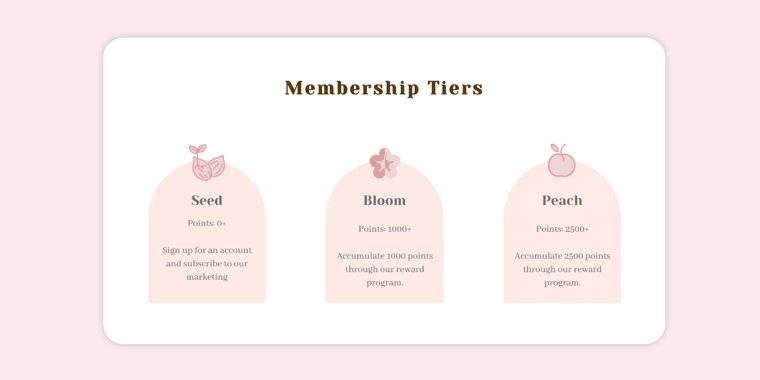 They have a simple spend threshold system that unlocks new and exciting benefits for customers. Instead of just 1-2-3, they are called "Seed", "Bloom", and "Peach". 
Their tiers are 100% on brand and invite customers into a fun, inclusive community.
4. Use experiential rewards for your customers

Experiential rewards are bonuses that go beyond the transaction. The goal is to exceed their expectations and give them a customer experience they won't find anywhere else.
Online competition is fierce for loyalty programs. 44% of consumers aren't happy with rewards programs because the bonuses feel "irrelevant".
It's not enough to just add discounts for something your loyal customers would probably buy anyway.  Adding experiences to your loyalty rewards program will help you stand out. 
Experiential rewards you could use for your VIP customers could be things like: 
Giving access to fun, exclusive events run by your brand
Sending freebies on their birthday 
Running giveaways/competitions for similar interests 
Gamifying their points to spend on things other than products.
5. Blend gamification into rewards
Gamification is an excellent strategy for increasing engagement with your loyalty program. Loyalty program gamification is when you take fun, game-like elements and integrate them into the user experience.
Examples of gamification are things like earning points, random bonuses or prizes, unlocking surprise rewards, and lottery-type strategies where anyone could win if they purchased in a certain time frame. 
BCode is a great example of loyalty program gamification. After launching their double points campaign, bCODE saw exactly the kinds of results they could hope for, including a 94% increase in loyalty points spent! 
Gamification engages your customers and differentiates you from other businesses wanting their attention.
Tips for an effective tiered loyalty program
If you are going to run a tiered loyalty reward program in your own business, there are a few things you need to implement to be successful.
1. Customers come first

Of course, loyalty programs benefit your business – loyal customers, referrals, and improved customer experience all contribute to increased spend per customer.
However, if you want real engagement with your customers, they need to come first.
It may be tempting to create a tiered loyalty program that only encourages people to spend more. We promise that you will be a lot more successful and they will love buying your products if you prioritize their experience over revenue.




2. Regularly monitor results



You can't "set and forget" customer loyalty building!
Part of putting your customer first is to regularly monitor engagement and results and make changes if they aren't responding. A good loyalty program will have high engagement because people ENJOY spending money with you. 
To analyze customer experience and run a truly successful rewards program, you should invest in UX analysis and loyalty program software that tracks results automatically.
3. Effectively communicate with your customers
Building a loyalty program involves actually building loyalty. To do this you need to communicate with customers at every touchpoint.
This can be either passive communication or direct communication. 
Passive communication is how clearly your loyalty program is set out. 
Do customers know exactly how to join?
Is it obvious how many points they need to get to the next level?
Are they aware of the benefits of moving up a level?
Take pet boutique Smack Bang for example.
When customers log in to their easy-to-read interface, it is obvious how customers can earn more points.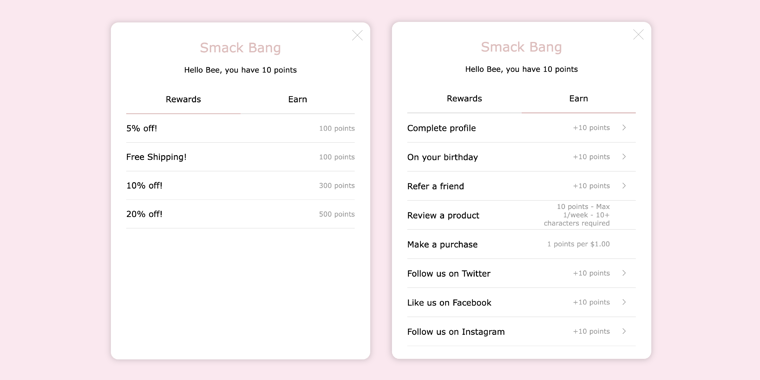 Direct communication is when they interact or make a purchase. 
Do you send follow-up emails to ask about their experience?
Are you gathering feedback?
Do you use language that makes them feel "part of the club" and thanks customers for being loyal? 
Could you surprise them even if they haven't made a purchase recently? 
The Pareto Principle (also known as the Law of the Vital Few) states that 80% of all sales come from just 20% of your customers and that 20% are usually loyal, returning customers. 
Make sure you are communicating with your "Vital Few".
4. Have a single view of all your campaign progress
The last tip for an effective tiered loyalty program is to centralize your data. You should be able to see your campaign progress at a glance.
This is especially important if you have both online and in-store rewards. Don't make it difficult for customers to spend points with you!
Loyalty programs can improve marketing ROI, drastically increase revenue, create lifetime loyal customers and drive brand awareness. However, you can't take advantage of all those great benefits if you can't easily track your campaign progress.
Final Words
A tiered loyalty program is a clever way to reward customers who spend the most. Using strategies such as gamification, effective and timely communication, and branding your tiers will guarantee higher engagement. Ultimately, giving your customer the VIP treatment will benefit your business! 
To track your campaign progress, increase ROI, and reward loyalty points with ease, try building your loyalty program with Marsello! 
Published Nov 11, 2021 8:43:42 AM
Special thanks to our friends at
Marsello
for their insights on this topic.