From Munich to Budapest, Sydney to Singapore, Vienna to Indiana, we're still innovating, still more committed to clients than ever, and still growing as a unified team nearly two years after the pandemic ransacked so much of the industry – and took so many businesses with it. 
When I think back over my 4+ years with Emarsys North America, I can't help but for the nostalgia to overcome me. I become sentimental looking back and remembering when the entire office celebrated together when we crossed the "100 North American clients" mark.
Or the multiple Halloween parties where the entire office dressed up and laughed with one another… 
… or the Thanksgiving get-togethers where we all brought a bite to contribute to the smorgasbord… 
…and the holiday gift drives we organize every year to help those less fortunate. 
I close my eyes and think back. I remember ups and downs, the coming and going of new faces. I remember the late nights that no one else saw, when my colleagues selflessly stayed until midnight just to finish a project. Not because they had to. But because they wanted to.
I feel excited by the fast pace of change… amidst rebrands and renovations to the platform, reshaping and restructuring of teams, and a continuous reworking of how my team creates material to support the global organization… I feel joy and gratitude to be here. And, I'm not alone:
In the Indianapolis location alone, I've encountered new faces and made new friends from across the world – in no other environment could I have met colleagues from Madagascar, Russia, Israel, and Latin America all in one place.
What makes this place so special isn't just the diversity, or the freedom that comes with the remote work flexibility, or even the most generous salary and benefits package I've ever been exposed to. 
It's the combination of all of these and more, and the joy we each feel when we wake up in the morning – whether we commune (even if via Slack or over Zoom) or commute – and then lay our head down each night knowing we gave our all to our 1,500+ clients, plus one another. 
It's the honor I feel every time I get to say "I work in tech" or "I work at a global SaaS company called Emarsys, recently acquired by SAP!" It's the chance to call one another – our global counterparts, each of our client brands, and now our extended SAP coworkers – family. 
This place is special. There's a lot of run-of-the-mill jobs and companies out there. But there's only one place I call home, and I'm here, now, with my team at Emarsys SAP. Come join us!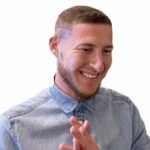 Michael Becker
Digital Content Manager, Emarsys
About the author
Michael is Digital Content Manager at Emarsys. In conjunction with his team, he manages the Marketer + Machine content hub and podcast – creating best-of-breed, educational material for e-commerce and digital marketers. Michael is a published author on industry publications including Content Marketing Institute, JeffBullas.com, Business2Community, and others.
Special thanks to our friends at
Emarsys
for their insights on this topic.