What is the best review app for Shopify?" one merchant asks the Shopify community. I need help adding product reviews and stars to my new store," chimes in another.
Does this sound familiar?
There are hundreds of similar inquiries posted across different groups and communities. And each time, the goal is the same—to find out which product review apps work for other Shopify sellers.
If this is your goal, you are in the right place. We have collected a list of the best Shopify review apps recommended by online merchants like you.
How to Choose the Best Review App for Shopify?
Sellers use Shopify review apps for a good reason: customer reviews displayed in online stores can increase conversion even by 270%.
That's because the sheer presence of user-generated content (i.e., reviews, comments, photos) can drive shoppers to purchase, even if they don't engage directly with it.
So, let's look at the features of the best review apps to understand how they can help you skyrocket your conversion.
Automatic review request emails
A recent study has found that up to 80% of reviews originate from follow-up emails, so having them ready and scheduled in advance may save you a lot of effort. This feature will automate the process of getting those precious reviews.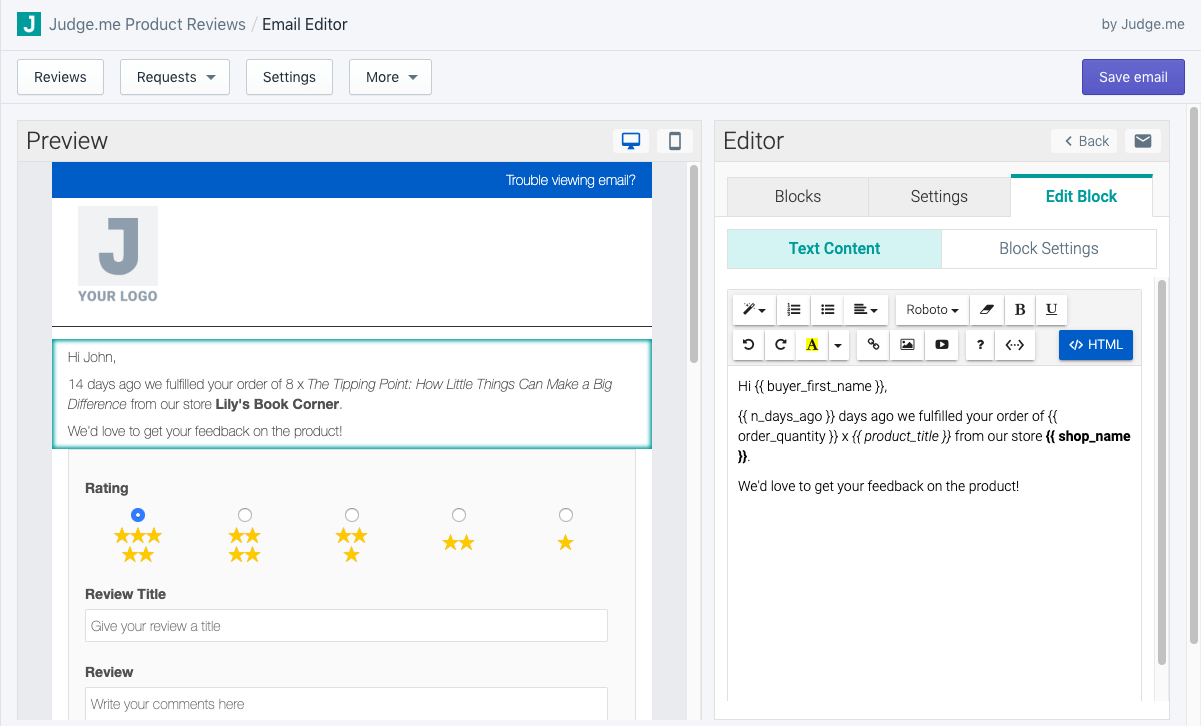 Photo and video reviews
Visual content increases visitor engagement and hooks their attention on your products. That's why adding a photo or a video to a review is a good idea.
Here's what visual reviews can look like.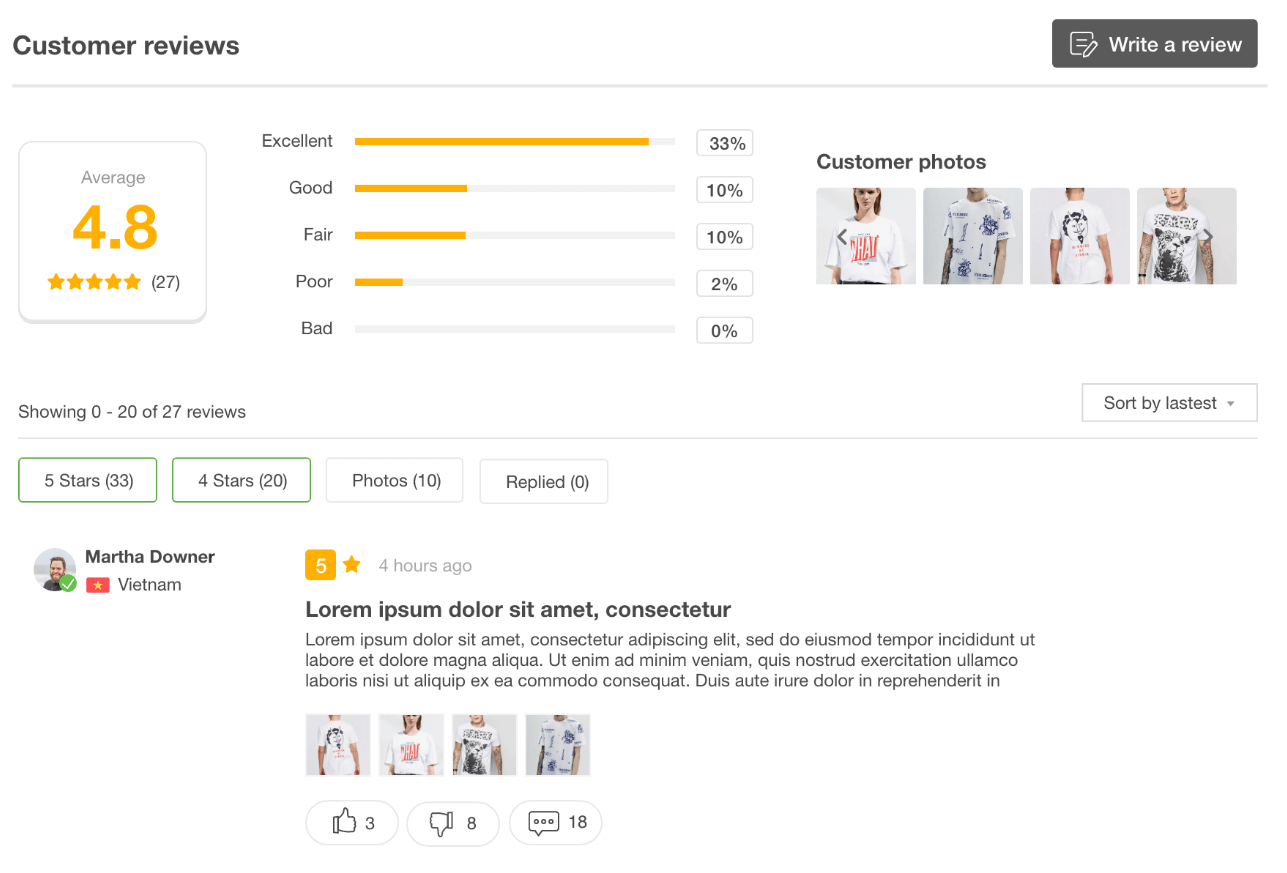 Multiple review widgets
Review widgets help showcase reviews in different ways, allowing customers to write their thoughts and add star ratings on your product pages.
Point to note: Built-in widgets should be easily customizable, i.e., you can change their designs.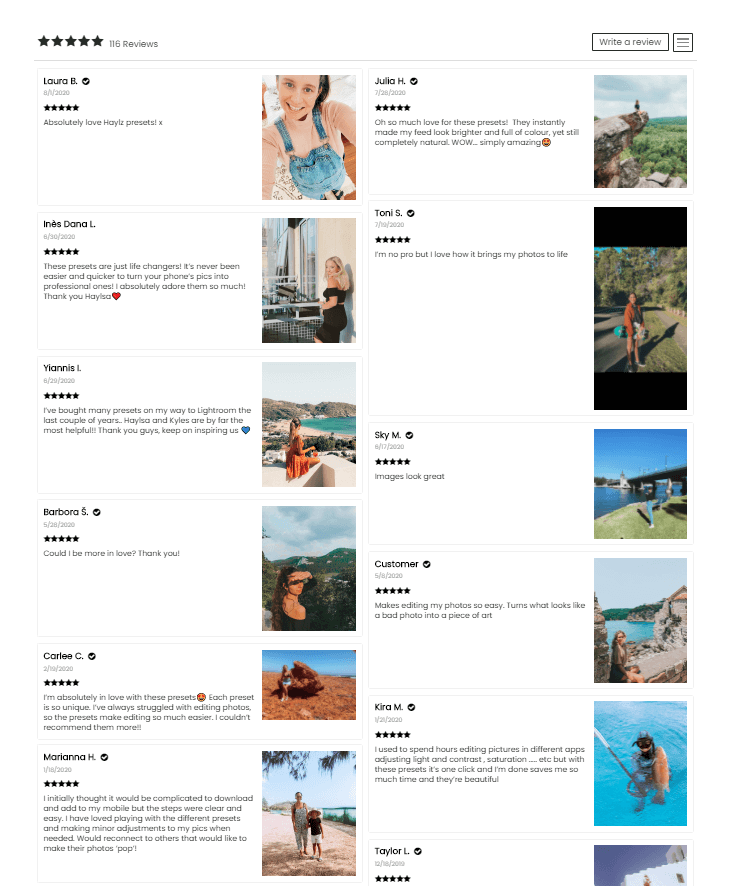 Multiple incentive options
More choices mean more ways to encourage customers to leave their reviews.
If you offer a buyer something in exchange for their review, make sure you are fair toward your other consumers and disclose it.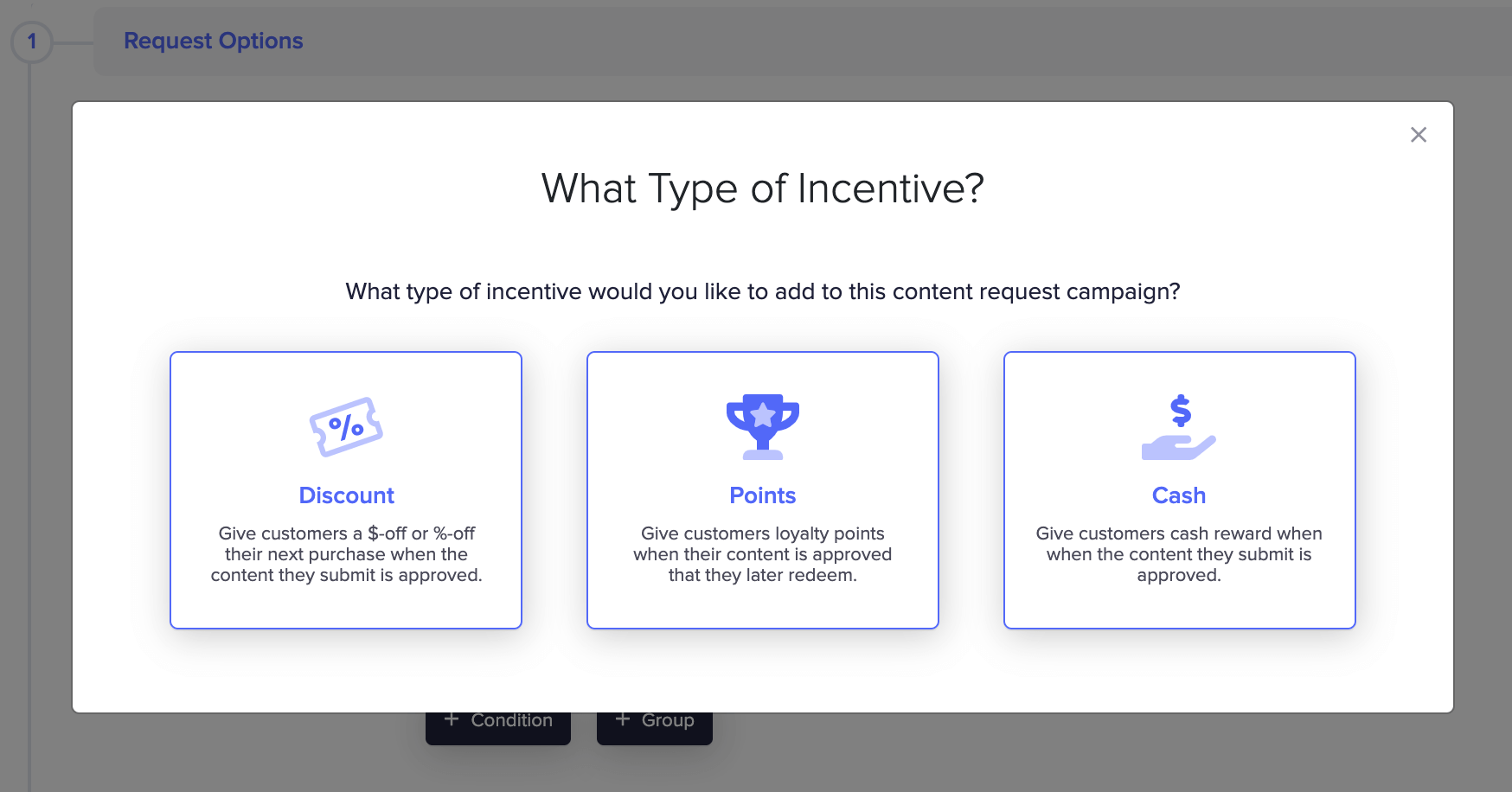 Excellent customer support
Delivering great support applies to you as a merchant and an app developer. So when you think of the best Shopify review app, look beyond the features.
Check how satisfied the users are, how responsive the support is, and whether you will find extensive documentation or helpful tutorials on using the app of your choice.

Let's now look at Shopify's best product review apps based on overall app ratings, features, and pricing.
The 10+ Best Review Apps for Shopify
Product reviews are often a key factor for online shoppers that helps them decide whether they should buy the product, especially if the product is expensive.
That's why having a good Shopify product review app is crucial if you want to successfully collect and display customer reviews and observe more Shopify sales.
1. Judge. me
Judge. me Shopify review app is one of the top apps available in the store. It is rated 5 stars and received over 4.5k positive comments to date. This Shopify review app is designed to grow your eCommerce store with the help of product reviews.
It's one of the most affordable solutions in the Shopify store, with all the essential features.
Best features:
Generate reviews via web, email, push, and SMS
Unlimited review requests, orders, and imports
Text, photo, and video product reviews
24/7 email and chat customer support
Q&A and custom forms
Pricing: Free plan available. Paid plan costs $15/month—free trial on request.
Why Judge.  I is the best Shopify review app:
Judge. me sends out review emails to the buyers to write their product reviews directly in the email. If a customer ignores or forgets about your request, the app can send out a reminder and include a coupon to persuade them to scribble a few words or leave a photo or video review.
It's an excellent choice for online Shopify store owners looking for the best free or affordable product review app.
2. Loox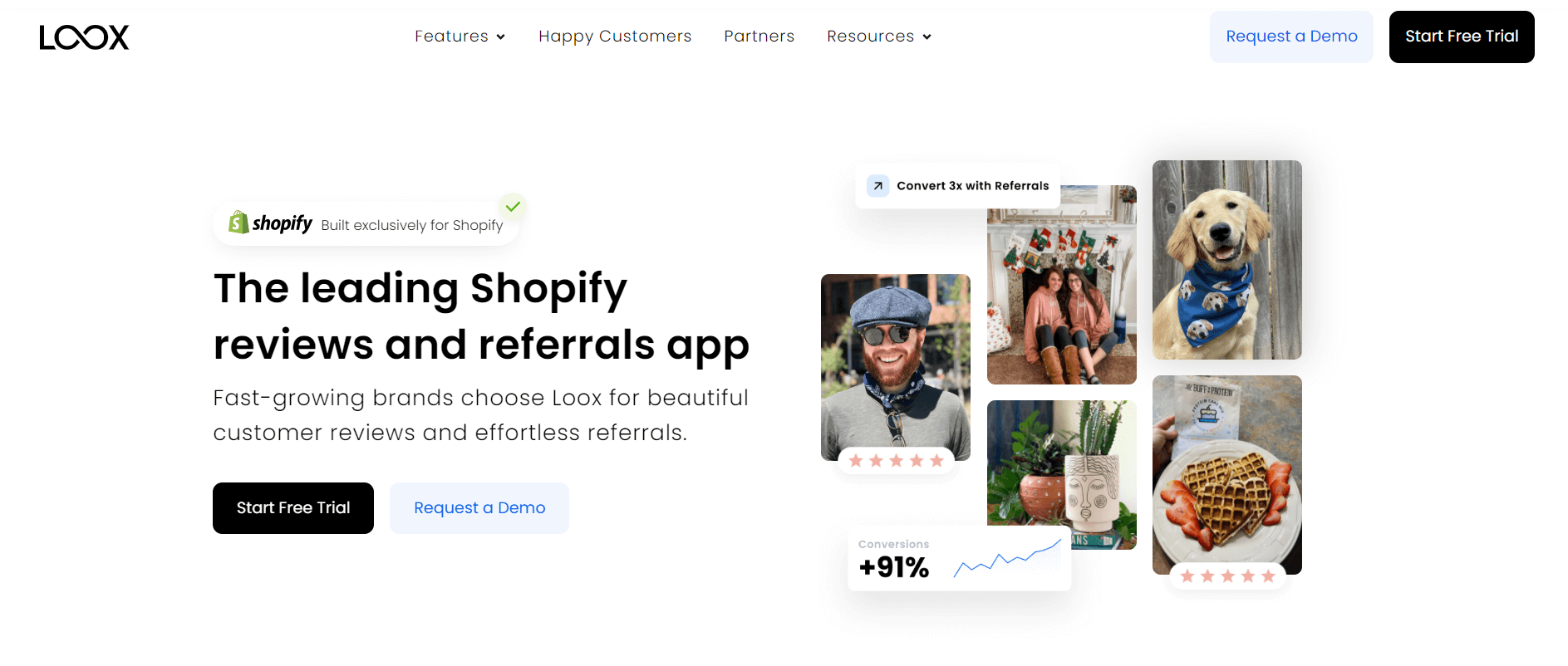 Loox is a Shopify-exclusive review app with a rating of 4.9 stars. 100,000 Shopify store owners have used it, and the number is growing. Loox allows buyers to leave product reviews with photos that you can turn into an eye-catching social media-style gallery of happy customers.
Best features:
One-click import of text reviews and photos
Customizable display of product reviews
Product rating widgets and pop-ups
World-class customer support 24/7
Automatic email reminders
Pricing:
14-day free trial. Paid plans start at $9.99/month.
Why Loox is the best Shopify review app:
Loox is an excellent choice if you are looking for a Shopify product review app that leverages the power of visual content.
The app can send automatic email review requests to your customers. If they submit a review (especially with a photo), they can receive a discount on future purchases.
Thanks to an inline SEO, you can display product reviews and ratings on search results with Google Rich Snippets that will help you improve your store's organic traffic.
3. Stamped.io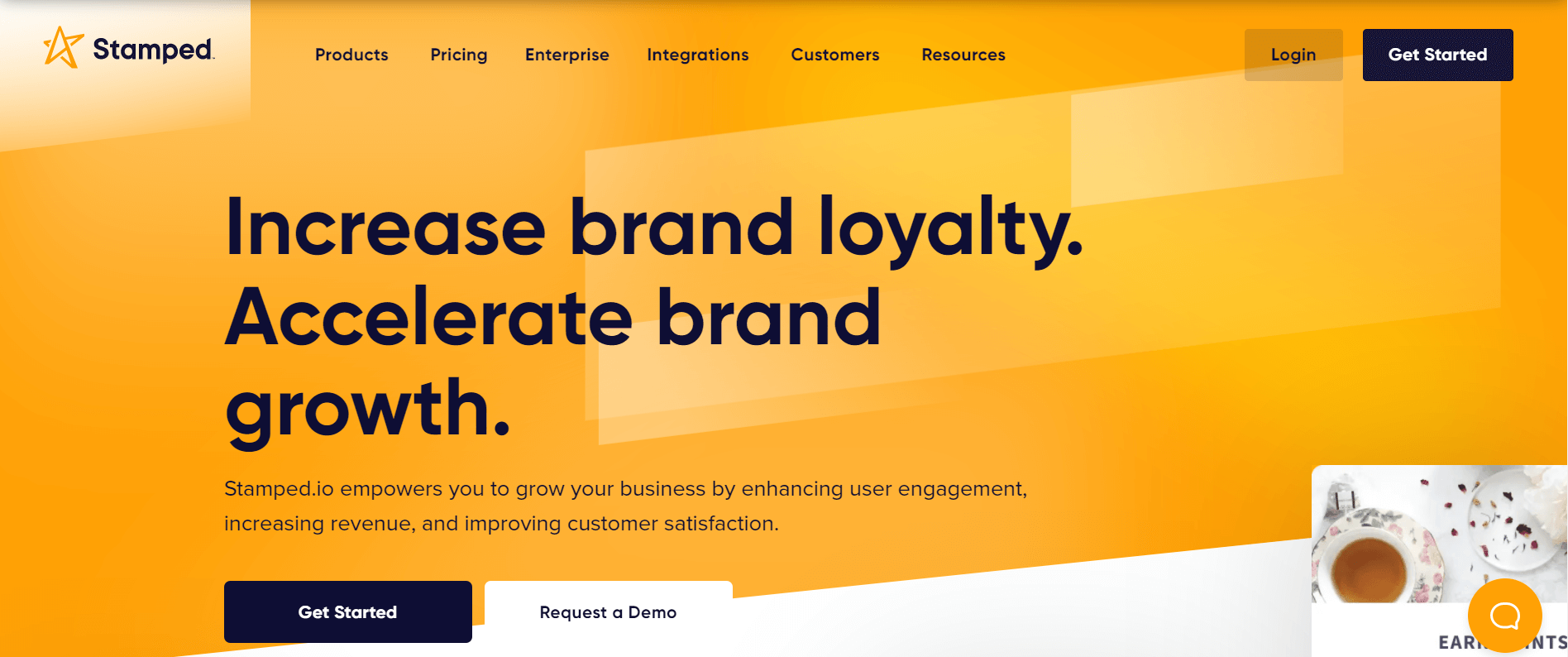 Stamped.io is another excellent review app for Shopify to collect customer reviews on auto-pilot. So far, it has received 5,000+ reviews and 4.9 stars from eCommerce store owners and marketing folks.
Stamped.io can help you increase conversion rates and encourage sales with various widgets, including visual customer review snippets. These rich snippets can also boost your Shopify store's SEO.
Best features:
Seven different types of UGC and ten other widgets
Revenue-generating features (e.g., upselling, cross-selling)
Customers may browse all existing reviews
In-email review request form
100% customizable
Pricing: 7-day free trial. Free and custom plans are available. Paid plans start at $19/month.
Why Stamped.io is the best Shopify review app:
The stamped.io review app offers many types of UGC (user-generated content) to collect and showcase. From product reviews, Instagram shoppable gallery, and NPS (Net Promoter Score) to check out reviews.
It also offers more than ten review widgets to help your customer reviews boost conversion and build trust.
Stamped.io is not the cheapest review app, but with all the features, it is worth the money.
4. Yotpo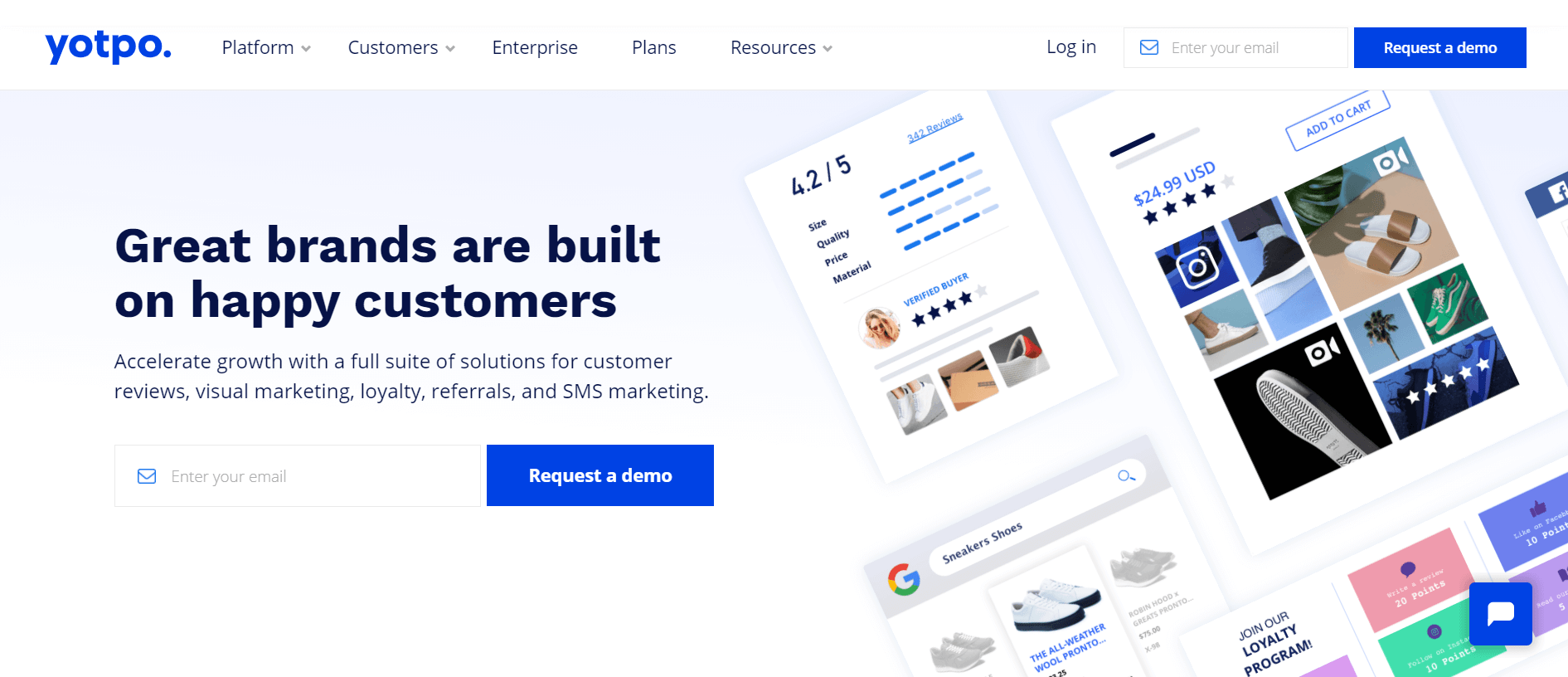 Yotpo app is another Shopify eCommerce tool that received great user reviews and high ratings. This review app has quite a unique feature that allows you to collect reviews for multiple products with just one click.
You can collect customer feedback by sending an automatic email request or directly on-site.
Best features:
Reviews, ratings, Q&A, and photos
Rich Snippets to increase SEO
Automatic request emails
Reviews import
Social tools to share thoughts on social media
Pricing:
Free plan available. Paid plans start at $19/month.
Why Yotpo is the best Shopify review app:
Yotpo allows Shopify sellers to get product reviews by sending automatic emails or via Yotpo's Reviews Widget, allowing buyers to leave their thoughts directly on-site.
This app offers a wide range of pricing options and a built-in data analytics feature.
5.Grovee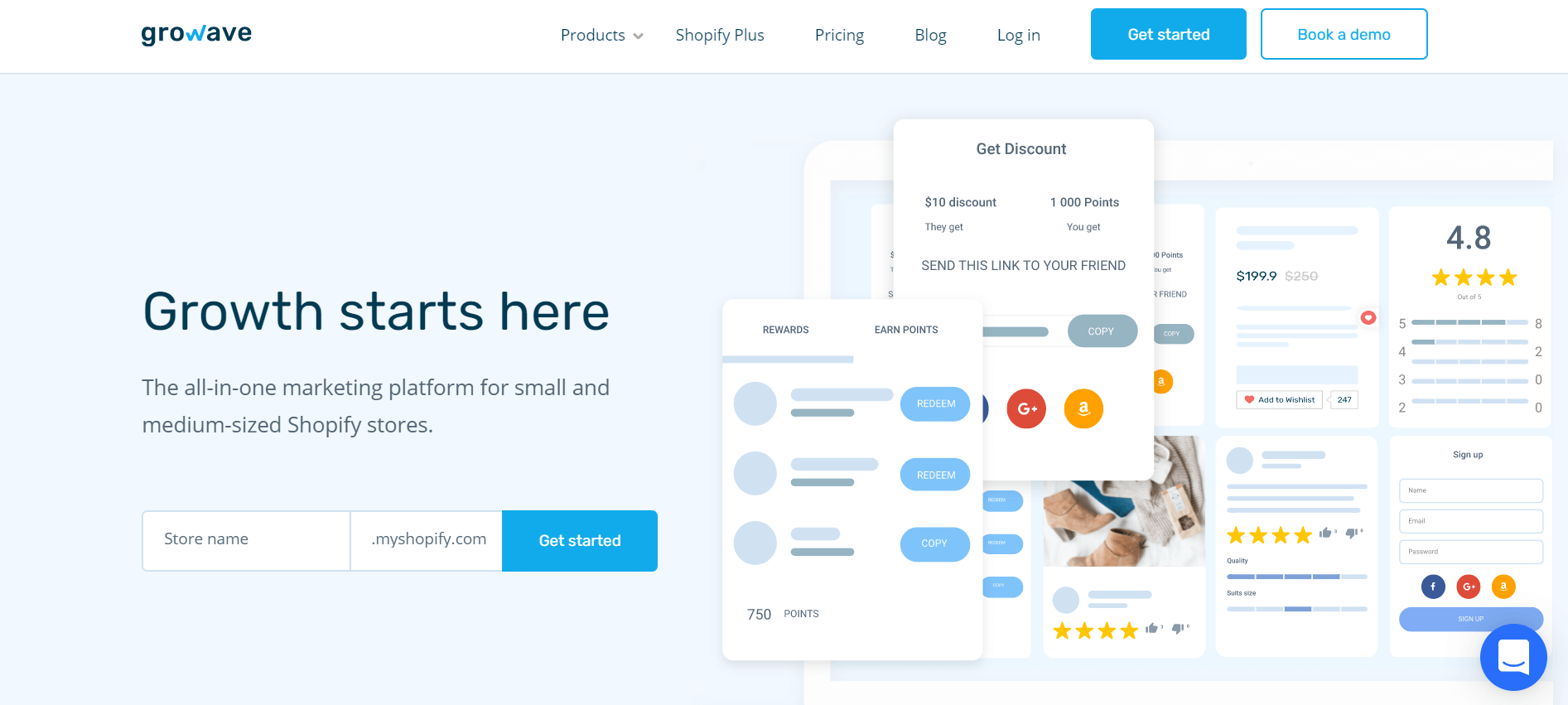 Grove is another excellent Shopify-exclusive review app due to its rich features and product review email reminders.
Rated 4.9 stars, Grove allows you to easily import and display product reviews, so your customers will know they can trust your store and products.
Best features:
Instagram feed and UGC as shoppable social galleries
Multiple reviews in a single review request email
Wishlist (customers can save products for later)
Loyalty program gift cards
Text and photo reviews
Pricing: 14-day free trial. Free plan available. Paid plans start at $29.99/month.
Why Grove is the best Shopify review app:
Grove is a versatile marketing platform that aims to help you grow your traffic, engage customers, and sell more.
These features include photo and text product review wish lists, Instagram feed, referrals, loyalty programs, and accessible data import.
This free review app is excellent for small and medium-sized Shopify stores looking to have loyalty and rewards, reviews, wishlists, Instagram, and UGC features in one app.
6. Firepush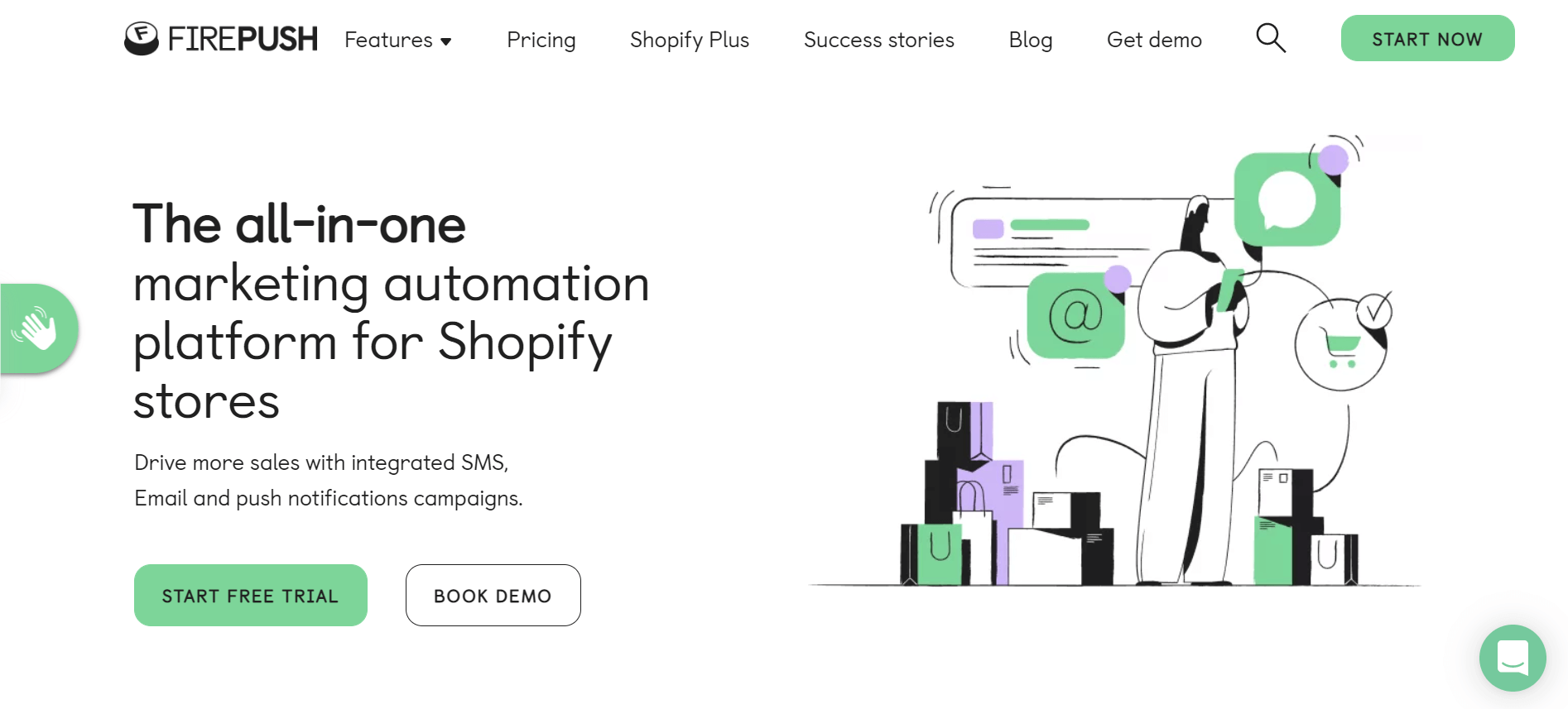 Firepush is an omnichannel marketing app for Shopify, rated 4.8 stars. It combines email marketing, SMS marketing, and web push marketing on one centralized dashboard.
Although it is not strictly a Shopify review app, the built-in features can help you get reviews from your happy customers. You'll be able to request reviews via emails, SMS, and pushes. So if you're looking for a marketing app with review features, this might be the one.
Best features:
Automatic email, SMS, and push notifications with review requests
'Win-back customer' campaigns
Cross-selling and upselling
Abandoned cart recovery
Pricing: 14-day free trial. Free plan available. Paid plans start at $15/month.
Why Firepush is the best Shopify review app:
Firepush can help you engage more customers via automatic review requests via emails, web pushes, and SMS messages. This app can send fully customizable push notifications and notices to any segment of your customers, including the buyers you want to leave their reviews.
You can easily integrate it with dedicated Shopify review apps like Loox and Growave to get even more from your past sales.
7. Fera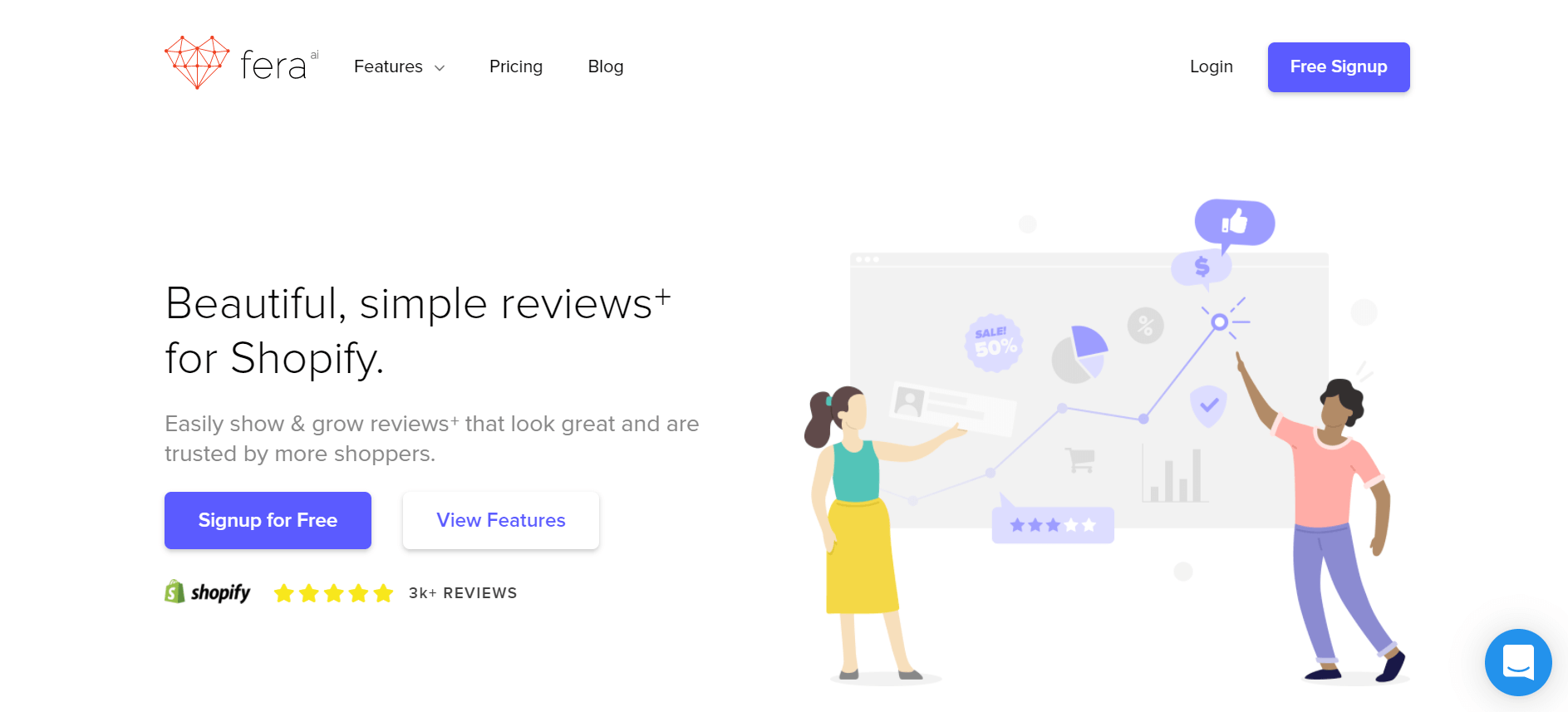 Fera Product Reviews App is one of the best product review apps for Shopify you can get. It has been used by over 10,000 Shopify stores and received a rating of 4.9 stars.
With Fera, you can automatically collect video, photo, and text reviews and offer incentives such as loyalty points, cashback, and discounts.
Best features:
Highly customizable reviews and photo/video widgets
Customer review, photos, and video management
Beautiful rating, review, and photo widgets
Product reviews as Google Rich Snippets
Automatic and one-time review requests
Pricing: 14-day free trial. Free plan available. Paid plans start at $9/month.
Why Fera is the best Shopify review app:
The Fera product review app lets you easily display customer reviews in many different ways directly on your product pages or a pop-up.
Thanks to the built-in A/B test feature, you can analyze your reviews to optimize them for better results.
The app is fast and very easy to set up. Should you need help, you can contact to the support via email, phone, or live chat.
8. Vitals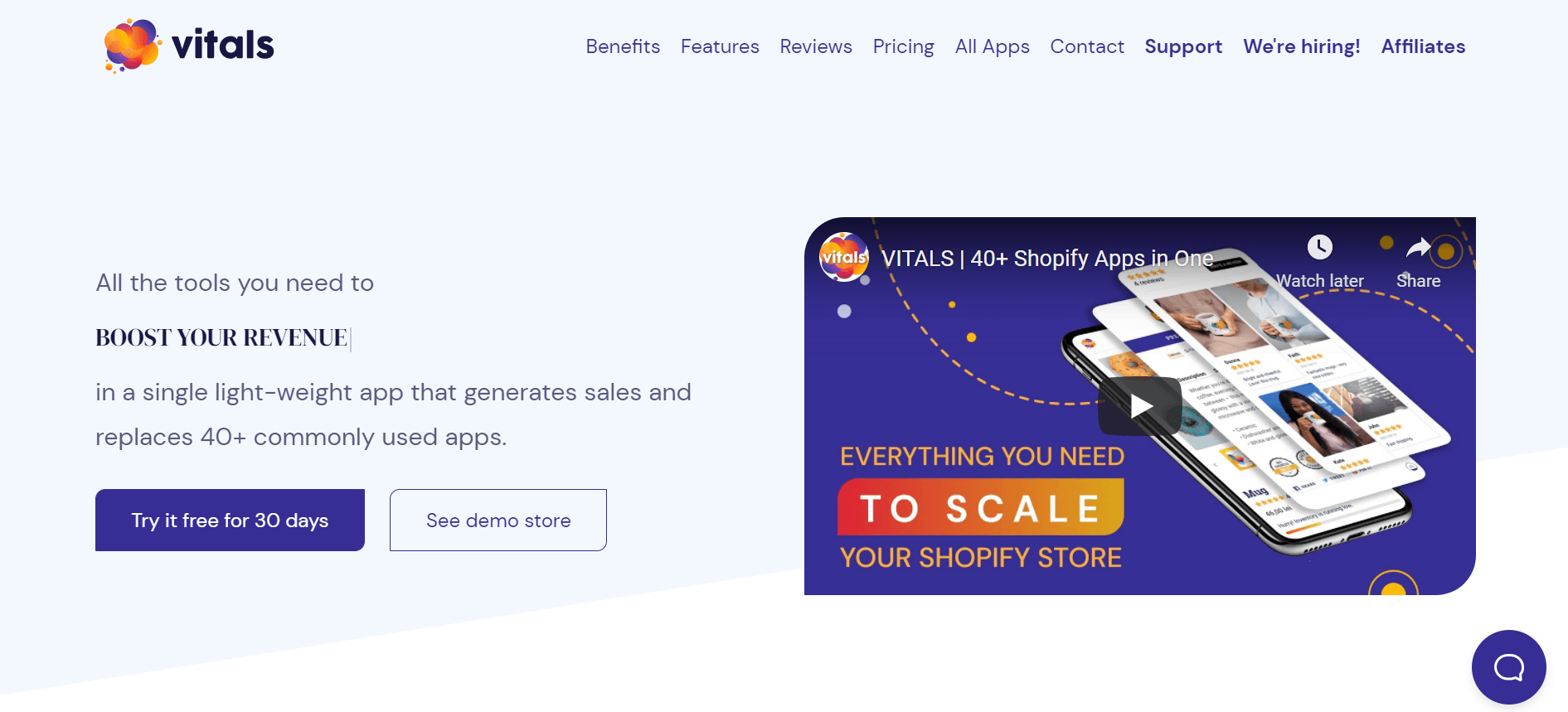 The Vitals app is a robust all-in-one sales and marketing platform for Shopify. Although it is just one app, it offers over 40 functionalities for which you would typically need a separate app.
Instead of adding and paying for 40+ different apps, including a dedicated review app, you can get all of them for the price of one.
Best features:
Review widget on home, product, and collection pages
Automatic review request emails
Text and photo product reviews
Cross-selling and upselling
Reviews import
Pricing: 30-day free trial, then $29.99/month.
Why Vitals is the best Shopify review app
Vitals App is a unique 5-star app that makes everything easy and accessible. With 40+ apps in one, the benefits you get speak for themselves.
When building trust, the app gives you core features, such as trust badges, recent sales, payment methods logos, product reviews, and an Instagram feed.
The company offers a 30-day no, risk-free trial that allows you to test all the apps included in the Vitals platform.
9.Ryuu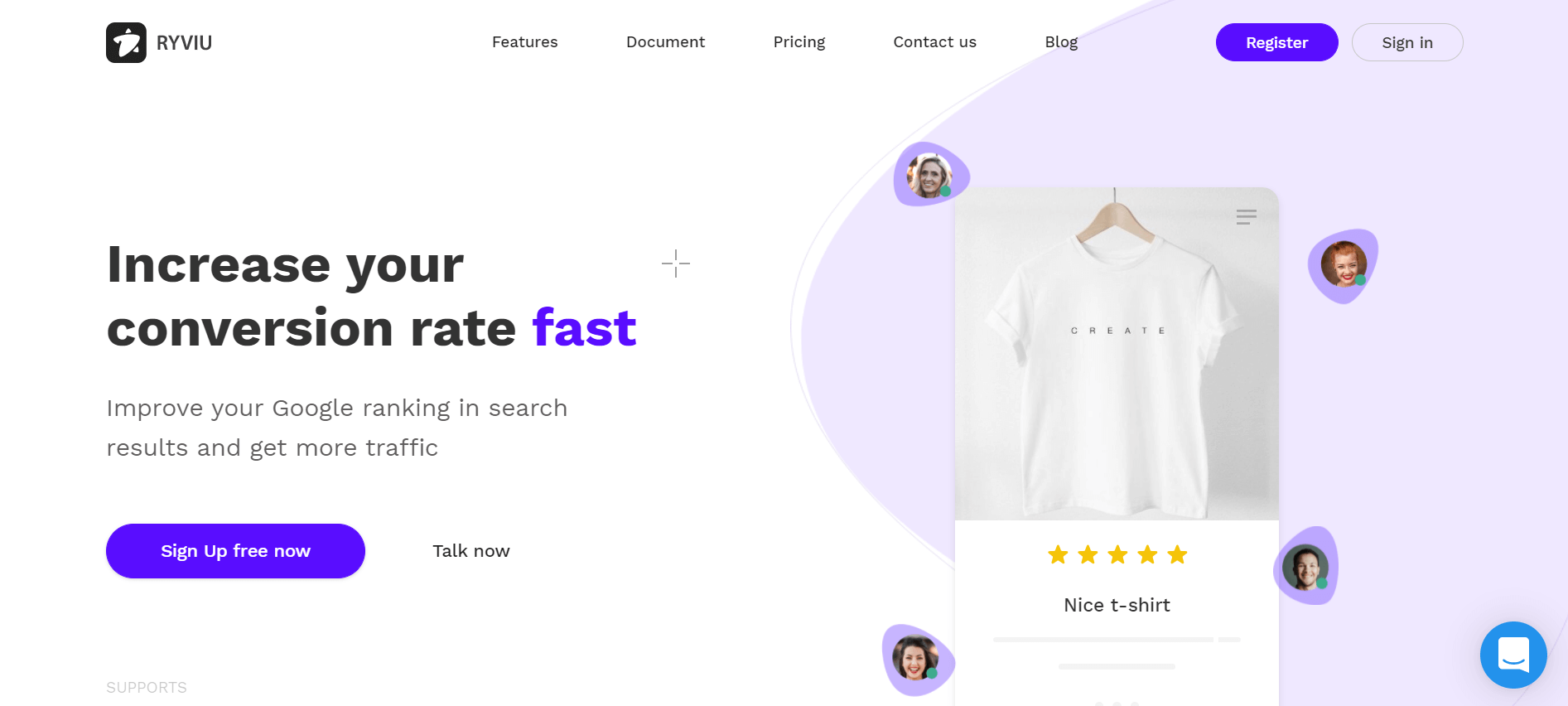 Ryu, rated 4.8 stars by Shopify merchants, houses all the fundamental features you expect from a dedicated review app.
This app will let you import all your product reviews from Aliexpress or Amazon to your store in just a few steps. You can then customize those reviews and showcase them in your store.
Best features:
Q&As that customers can vote for
Automatic review request emails
Product reviews widgets
Product reviews import
Google Rich Snippets
Pricing: Free plan available. Paid plans start at $4.99/month.
Why Ryviu is the best Shopify review app:
The Ryviu app works great for small eCommerce and dropshipping sites that do not need all the bells and whistles.
For a very affordable price, you get a variety of review widgets, data import features, automatic emails to send review requests, and Google Rich Snippets to improve your SEO.
10. Opinew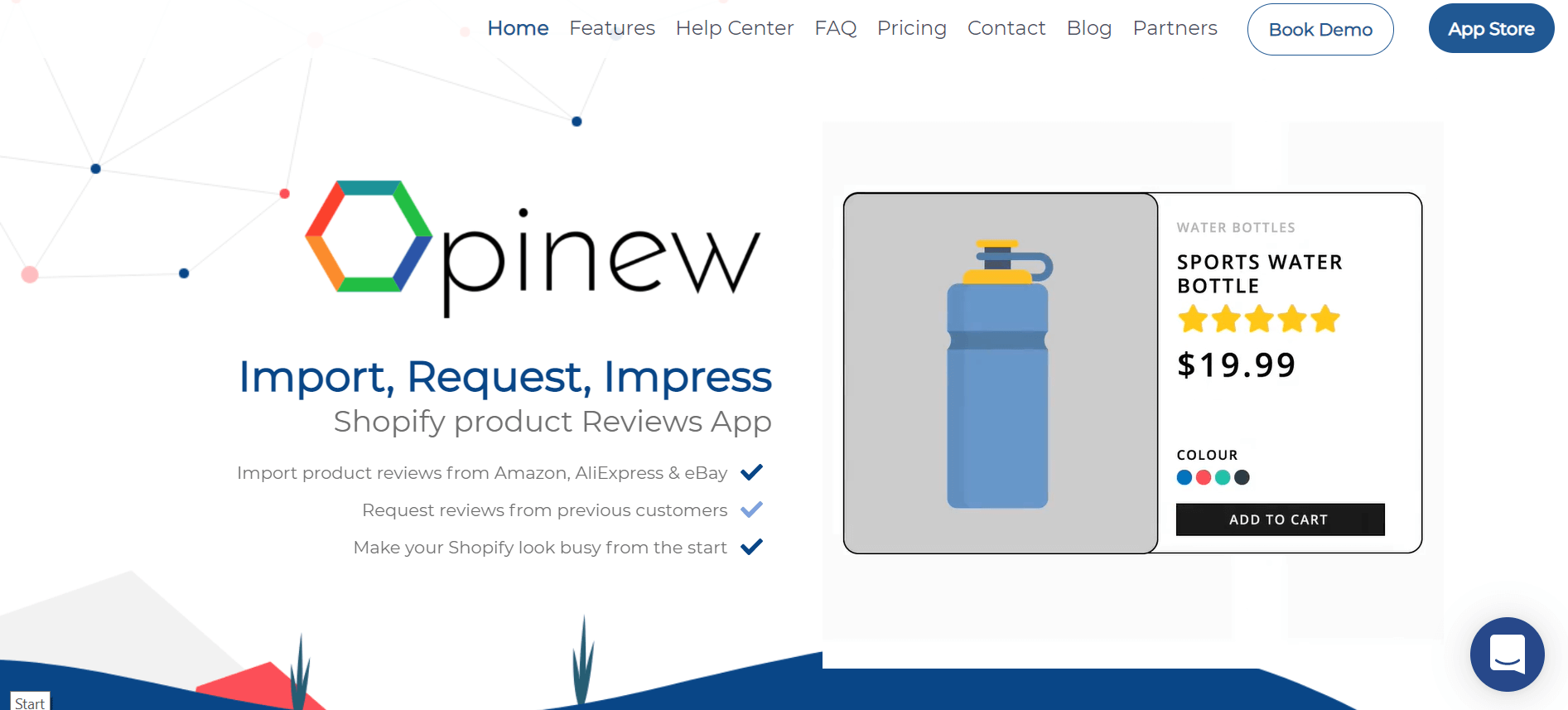 Another app popular among online sellers is Opinew. Shopify merchants rate it with 4.8 stars, and the reviews about the app are very favorable.
Opine will help you import customer reviews from AliExpress, eBay, and Amazon and automate creating product review collections.
Best features:
Customizable review widgets and request emails
Review requests via email, SMS, and QR code
Google Rich Snippets and Google Shopping
Text and photo product reviews import
Product review incentive (coupons)
Pricing: 14-day free trial. Paid plans start at $9/month.
Why Opinew is the best Shopify review app
The Opinew review app is lightweight, so you don't need to worry about any feature hurting your store's performance. It is also important that all app users, no matter the plan they choose, get access to the same features on different scales.
And in case you need help with the app, you can contact customer support seven days a week.
11.Credens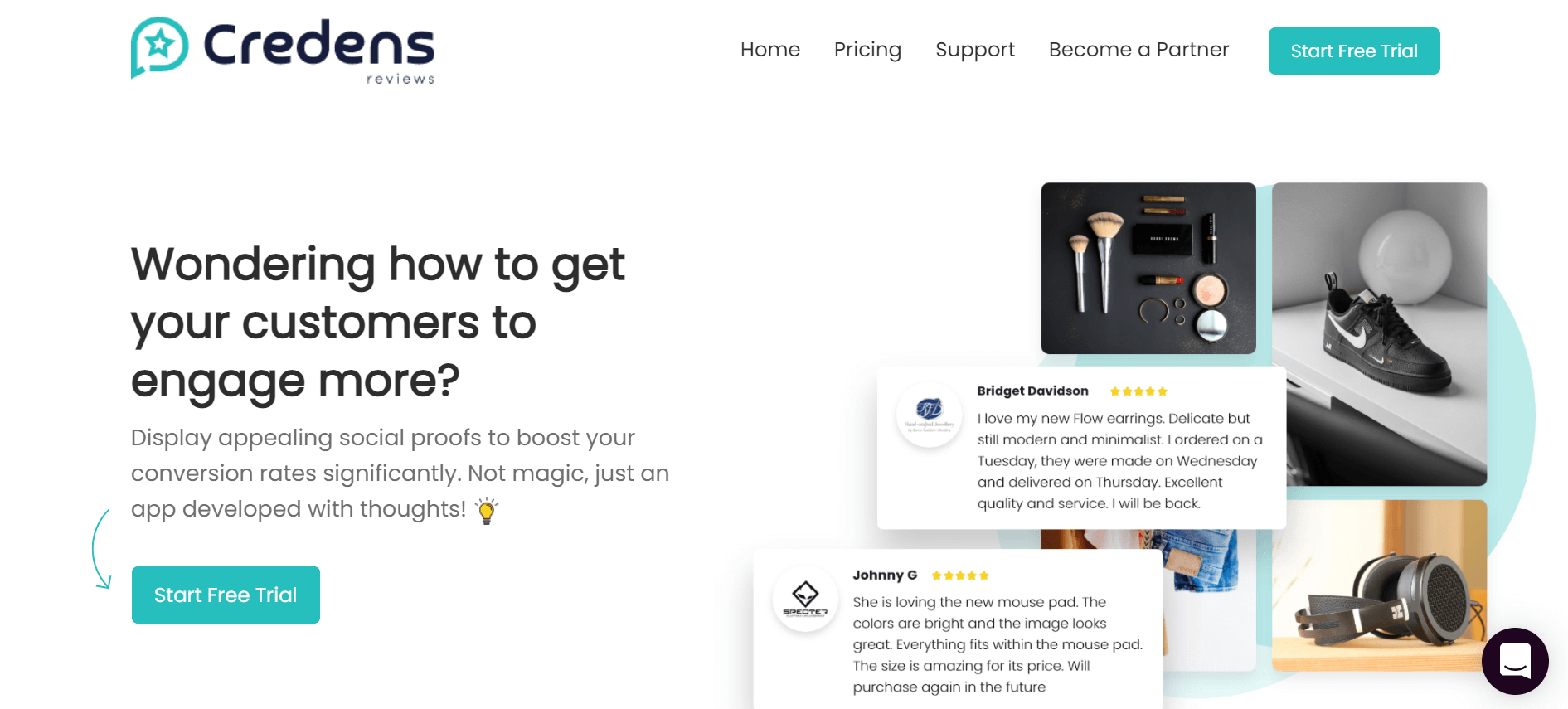 The Credens app has been used by over 2,000 sellers and boasts of increasing sales by 34% (percent).
Rated 4.9, Credits offers many powerful review features to help your store shine. It lets you collect your customers' product reviews, photo reviews, and testimonials.
Best features:
Review request emails so you can track
Reviews in-depth analytics
Product reviews import
Photo reviews widget
Verified Buyer tags
Pricing: 7-day free trial. Paid plans start at $9/month.
Why Credens is the best Shopify review app:
Users love Credens because it is flexible, easy to use, and works as intended. They also praise the excellent customer service.
The Credits review app has everything you need to display product reviews and testimonials on your store to increase conversions.
You can quickly moderate the reviews and track your success with the data analytics displayed inside the app dashboard.
The Best Review App for Shopify: Summary
You surely have noticed that it is hard to pinpoint a single app that would rule them all. And there are even more apps to choose from on the market!
So how can you go about it?
Pick an app with all the features you are looking for and try it. You risk nothing as almost all apps we recommend here are entirely free or offer free trials:
Judge .me
Loox
Stamped.io
YotpoGrovee
Fera
VITALS
Ryviu
Opinew
Credens
Test one for a week and then another. Eventually, you will find at least one review app from this list that will match your needs.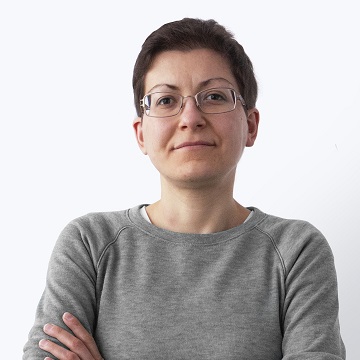 Agnieszka Sienkiewicz
Aggie is a digital marketing expert who understands customer journeys and sales processes. She creates detailed guides, customer success stories, and other content to help online stores drive sales in an organic way. Besides digital marketing, she is passionate about sports (bike riding), studying, and healthy lifestyle.
Special thanks to our friends at
FirePush
for their insights on this topic.