Let's take a trip down memory lane, BFCM 2018 wasn't that long ago, and this year is poised to be even bigger.
We learned some things last year about what works well and what doesn't…because let's be real, marketing doesn't always go the way it's supposed to.
To fully take advantage of the opportunity that the BFCM weekend has to offer, we put together a few Do's and Dont's for your onsite marketing efforts. Let's take a look at what we learned last year and how to implement it this year.
High traffic, high reward
Here are our top five picks for creating a high-converting strategy that takes advantage of your higher than normal traffic volume. All are meant to augment the customer experience in a valuable way.
1. Minimize visitor effort
This is key. The more you ask out of these visitors, the more likely they are to leave, which leaves you high and dry (and with an inflated bounce rate to boot). Keep your promotions during BFCM ungated since the focus during the holidays shouldn't be list building. You'll get their email with a purchase anyway, so save email collection for the rest of the year.
Pro Tip: Don't run spin-to-win promotions during BFCM. While it's a normally highly engaging promotion type, during BFCM 2018 they drop to around 6.5%, half of their regular engagement rate. Again, additional effort can drive visitors away to competitors, so don't have multi-step promotions running.
We are huge advocates of using countdown timers with your promotions. They not only create a sense of urgency that drives visitors to the same session conversion, but they're particularly high converters during the holiday season. During BFCM 2018 our clients saw a 22.6% purchase conversion rate from their timers. By embracing a "this weekend only" mentality, timers emphasize the feeling that a shopper would be missing out on something if they didn't get it now. FOMO is a powerful tool, so make sure to remind them these deals aren't here to stay and close the sale.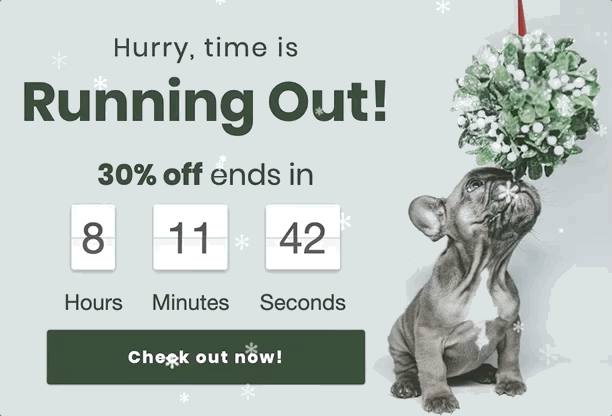 3. Mobile, mobile, mobile
Mobile performance is increasingly important each day, and there's an expectation of a seamless experience across devices now. Make sure to create mobile-specific versions of all your BFCM promotions, and consider running mobile-only campaigns to prioritize this high-value segment. Mobile is a great way to unite your other marketing efforts like Facebook Messenger and SMS marketing, closing gaps in the customer journey and nudging shoppers toward the finish line.
Pro Tip: Our users had an average 22.65% mobile conversion rate during BFCM. This year the NRF says that 73% of US shoppers plan to use their phone or tablet to research and/or make a purchase during the holiday season.
Make your promotions as eye-catching and big as possible–within reason. Since using a full-screen takeover and center pop-up means you're interrupting the shopper's experience, you need to make sure it's worth it. These pop-ups force the visitor to take a moment and ensures they won't miss out on the offer.
Pro Tip: If you want to really go all out, add one of our built-in animation effects to your promotions. During BFCM last year, users who used animation in their pop-ups had 5% higher engagement and ended up with an almost 22% conversion rate among shoppers.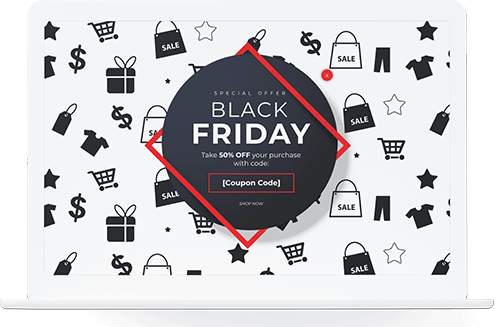 5. Same session conversions
Do everything you can to incentivize the same session purchases. If a shopper leaves your site, even if they're interested, the likelihood they're coming back to check-out plummets. Whether they get snagged by a competitor, or just forget to make a purchase at all, you've likely lost them. Use urgency and threshold promotions to encourage the same session purchases. Free shipping, gifts, or unlocking deeper discounts are a great way to encourage visitors to not only check out now but to spend more to meet a threshold. As we mentioned before, timers are a great way to drive urgency, reminding visitors this deal won't be around forever.
With higher than average traffic levels come different motivations for retailers and consumers alike. As a holiday based entirely on the expectation of deep discounts and special offers, it's starting to become a race to the bottom for most retailers. With incentives from retailers in all industries, it's important to find a strategy for your brand voice to be heard and capture attention.
Don't try and reinvent yourself during this time, look back at what worked during the BFCMs of the past and what tends to engage your most valuable customers. While there will be trends and products that change with the seasons, a base strategy that's worked well before will likely work again. Make appropriate tweaks, look for relevant enhancements to current strategies, and keep a close eye on your performance metrics.
Early shoppers present a chance to capture their attention (and money) before everyone else. According to Bluecore, nearly a third of shoppers start their research early—provide a good enough incentive for them to purchase now, and you just may seal the deal before BFCM ever starts.
Try sending out emails with sales information and important dates that solidify loyalty among your current customers. Help them plan ahead and know when to visit your site for the best deals. Consider offering current customers a VIP discount code or early access to the sale, as these are consumers who will likely respond to a feeling of exclusivity and appreciate the gesture. Finally, make sure to put thought into your targeting rules, both for onsite promotions and offsite efforts. Nothing is as helpful for conversion rates as relevancy and personalization.
The next two weeks will be a whirlwind as your finalize your strategy, build buzz, and gear up for your biggest season yet. Don't get so caught up in the moment that you lose sight of the bigger picture. Yes, BFCM is a huge shopping weekend–but it's not the end all be all. There's an entire holiday season ahead ready for you to find the best strategy for your brand and your customers.
This article was originally published by our friends at JustUno.