Since we started Happy Returns, it's been our goal to make sustainable, in-person returns available to as many merchants and shoppers as possible. While hundreds of merchants use our world class Return & Exchange Portal to help shoppers initiate returns including in-person drop-off, we have always enabled merchants to offer our Return Bar service to their shoppers through their own custom return portals if they choose.  
Now that our Return Bar service has reached critical mass — with more than 78% of the U.S. population living within 10 miles of our 5,000+ Return Bars¹, over 70% of all shoppers choosing in-person returns², and hundreds of thousands of shoppers awarding us a 93 lifetime Net Promoter Score³ — we are making our Return Bar service available through other return platforms as well. I'm pleased to announce that Loop merchants can now enable their merchants to offer our hassle-free in-person Return Bar service.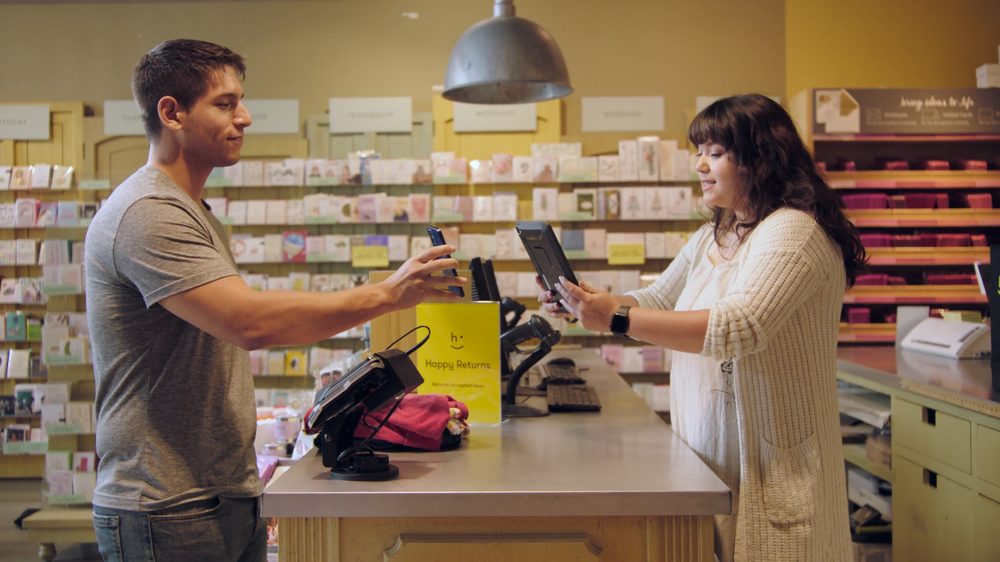 Shoppers begin their return on Loop's return portal, choose to drop-off their items at a Return Bar, and receive a QR code generated by Happy Returns. They then bring the items — without a box or a label — and their QR code to a Return Bar to complete their return. This return method helps merchants reduce their return costs by up to 40% and also helps reduce the impact on the planet by reducing cardboard waste.    
Several Loop merchants are seeing strong results: Princess Polly, Figs, and Allbirds all have more than 70% of their returns going through Return Bars.
Our passion to make in-person returns available as broadly as possible drives our continuing commitment to innovation and to making our Return & Exchange Portal the most compelling service it can be for merchants and shoppers. And yes, our full Return & Exchange Portal service is now totally free for merchants who offer PayPal as a payment option — regardless of whether the merchant is new to Happy Returns or PayPal.  
Whichever returns portal you choose for your business, we want to make Happy Returns' in-person Return Bar service available for you and your shoppers. This announcement with Loop is another important step to making that a reality. 
To learn more about our in-person Return Bar service, and how it could be a fit for you, schedule a meeting with our team here. 
The Happy Cycle of In-Person Returns
As in-person return volume grows, we open additional Return Bars, which in turn makes it easier for shoppers to return in-person, and reduces return costs for merchants and impacts on the environment.
David Sobie
Co-founder and Vice President, Happy Returns by PayPal
---
Subscribe today

---
Share this post:
---
Related Posts
---
 
Want to learn more about how Happy Returns can help you optimize returns? Lets chat.
Special thanks to our friends at
Happy Returns
for their insights on this topic.