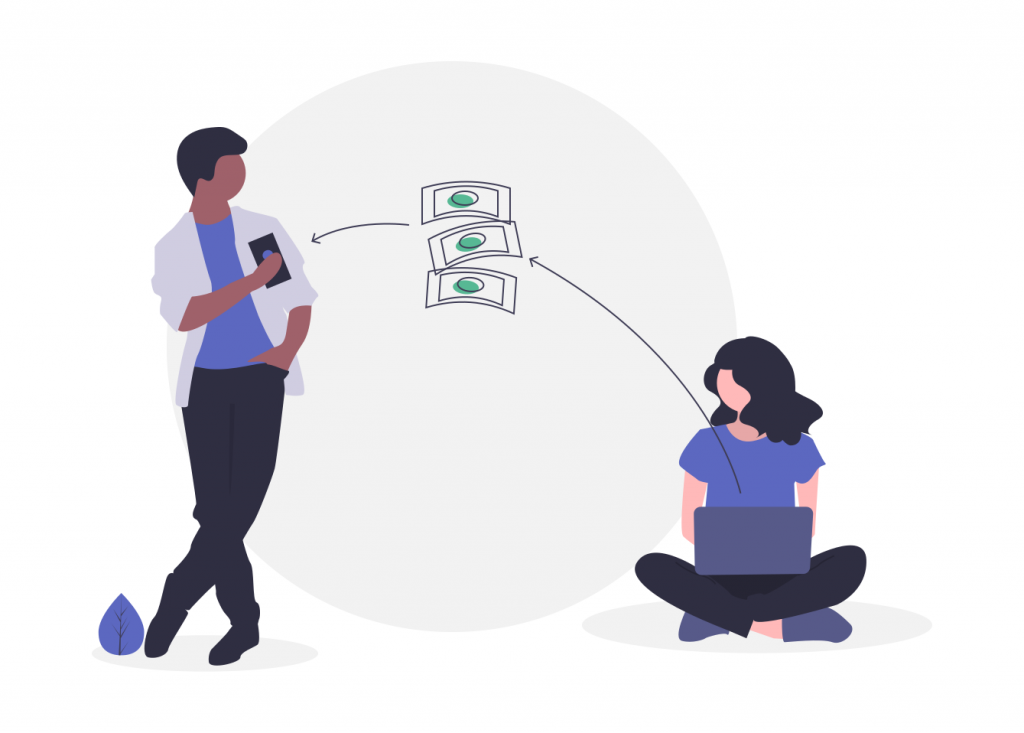 Conversions (and their value/cost) are the guiding light for paid media marketers. When we pay for the click/view/impression, we're much more critical of conversion rate. 
Conversion rate optimization, or CRO, is a marketing technique to get as many conversions out of your traffic as possible. It can focus on the user journey and identifying creative/functionality optimizations, A/B testing, on-page promotions/chats, and other forms of enhancing the path to conversion.
We surveyed agency and in-house paid media marketers to get a sense of how CRO factors into their efforts. 
For the purposes of this survey, we asked marketers:
What's their monthly ad spend?
What ad channels are they investing in?
What CRO tools if any are they using?
If they had any additional thoughts about CRO. 
CRO is not just for big budget campaigns! Running a test can be done on a budget, what matters is controlling for variables and taking action based on the data!
Agencies are much more likely to use tools than in-house marketers (not for lack of interest). Tools absolutely contribute to the secret sauce of how agencies add value to their clients. 
Most marketers think about CRO from the lens of landing pages or analysis. There's a huge opportunity to expand CRO efforts around message mapping, audience segmentation and retention marketing!  
The biggest takeaway: 82% of those surveyed agree that CRO should be part of paid media campaigns and have a generally positive feeling towards the strategies/tools. 
One of the biggest differences between agencies and in-house marketers was whether there was internal buy-in for CRO. 
63% of surveyed agencies have some form of CRO functions compared to 50% of in-house marketers. This was doubly surprising because the half that invest in CRO (either through third party tools, their own, or through other mechanisms) spend less than $25K per month. The larger the budget, the harder it was for in-house marketers to secure buy-in for CRO.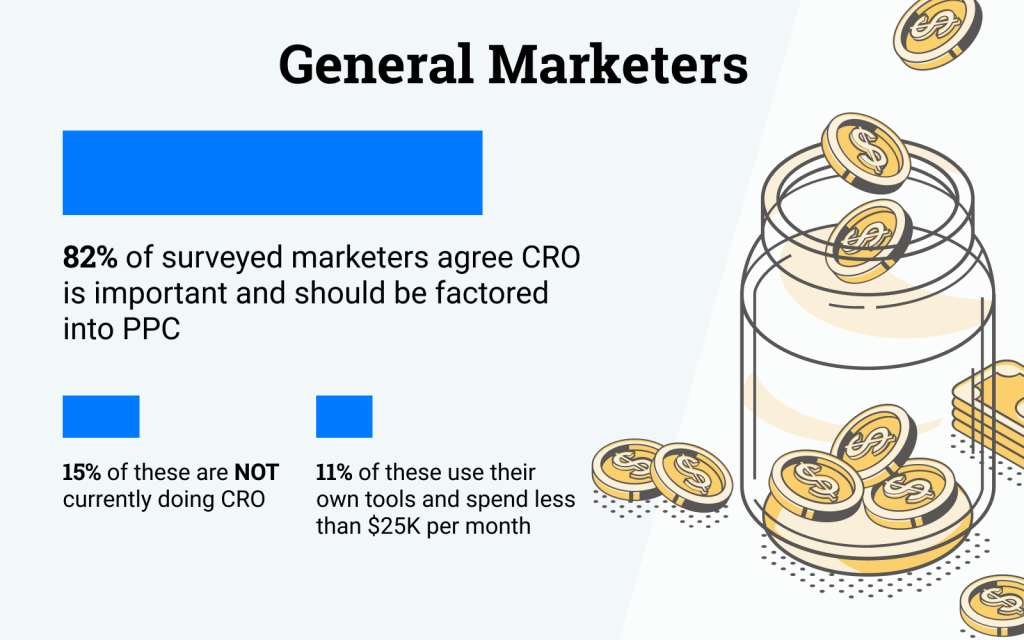 This surprised me because CRO needs to meet data thresholds to be useful (typically 1,000+ sessions to even approach relevance). This may explain why the dominant CRO tool among in-house marketers are landing pages. 
Conversely, the higher the monthly spend, the more likely agencies were to have CRO functions built into their offering. 
All spend levels had analysis and A/B testing tools as part of their CRO program, while only the highest and lowest client spending agencies use landing pages or on-page CRO tools. 
A big factor in whether marketers invest in external CRO might be the ad platforms they're investing in. 
All surveyed have some Google Ad spend with fairly equal Facebook spend (68% of agencies and 67% of in-house marketers). These platforms have built A/B testing into creative, as well as promoting bidding strategies focused on conversions (volume or at a target cost per acquisition).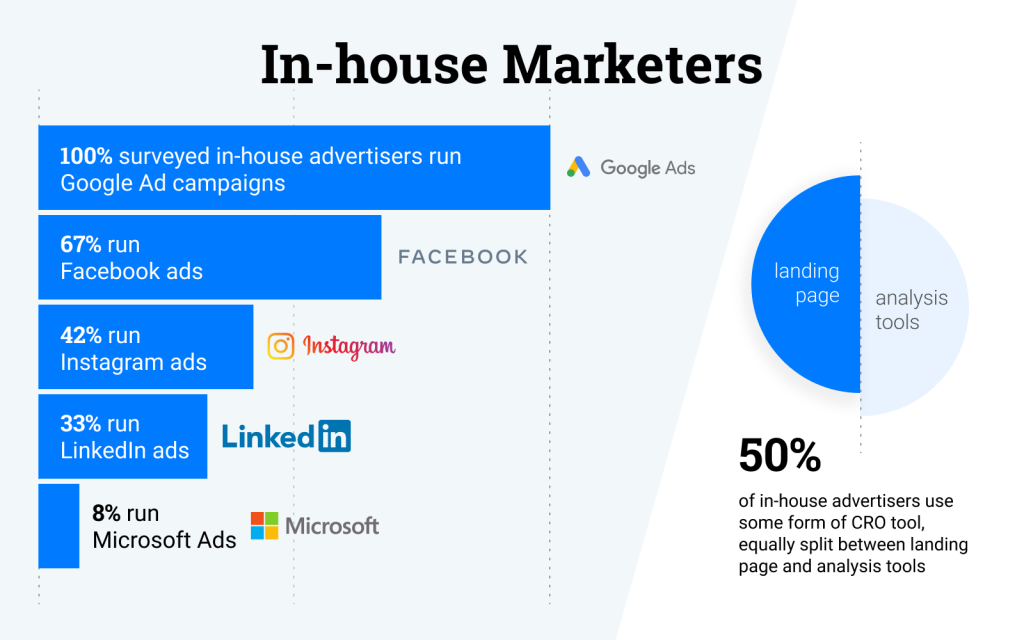 This might have been enough when paid media practitioners only took responsibility for generating the quality leads, but increasingly brands hold PPC responsible for the full acquisition journey. Building in dedicated CRO functions will help ensure the landing page experience can close the deal brilliant paid media sets up. 
This is backed up by the big spending agencies ($250K+ per month), who have comprehensive CRO programs and are investing in growing ad platforms like TikTok, Quora, and Reddit.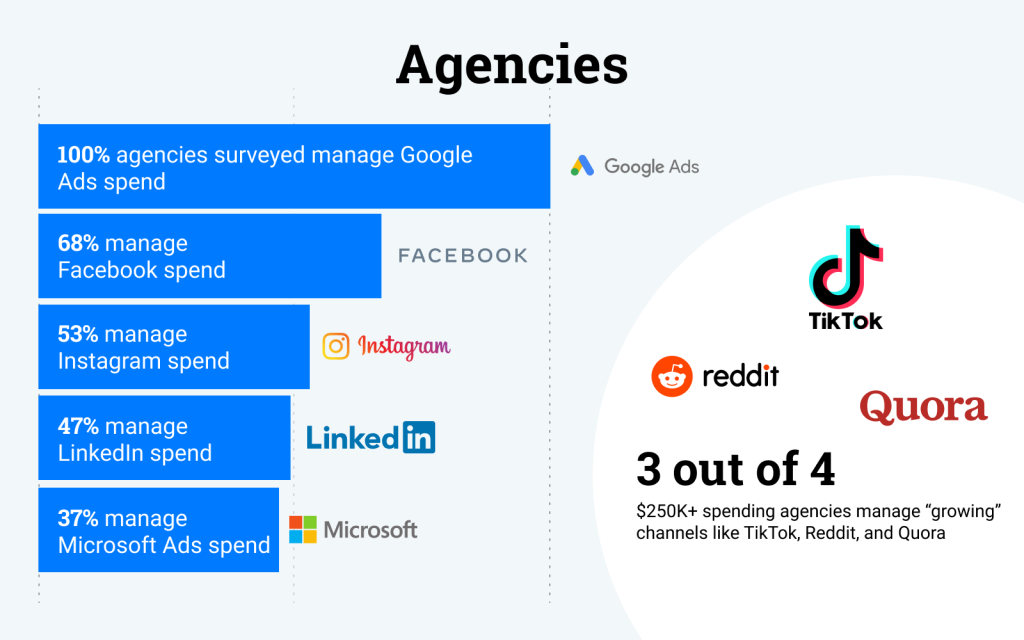 "Paid media efforts that don't factor in CRO (both pre and post click) are like having only one person working peak hours – you'll close some business because the lead quality is fantastic, but you'll be missing out on valuable sales and intelligence. As we move into a first-party data world, I'd expect more paid media professionals to factor in CRO into their strategies and offerings."
"It's vital to max ROI (ROAS) for every dollar spent that we convert as many clicks as we pay to receive. This is the crux move. Speed, design, responsiveness, familiarity, alignment with query or ad visuals, forms and more must all come under consideration. Too often have I seen accounts where the "best-working" LP is chosen and used for ALL campaigns and groups."
CRO efforts are the key piece to making paid media efforts worth the money and time spent. You can work in conversion rate optimization to a campaign of any size, and it goes well beyond the scope of just the initial landing page your acquired traffic lands on.
You'll need targeted messaging throughout a shopper's onsite experience all aimed at the goal of converting them from first-time visitor to paying customer. Paid media is just the beginning of their experience with your brand, what comes after it is up to you.
If you're interested in taking the next step in your CRO strategy, book a demo now to see how Justuno Plus can help improve your ROAS or get started with a free-trial on Justuno today.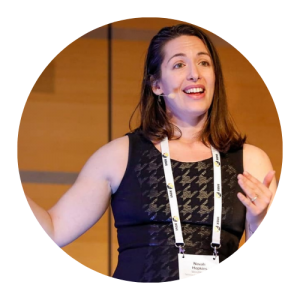 Navah Hopkins
Navah is the Director of Paid Media at Justuno, an AI CRO software suite. A veteran of the digital marketing industry, she began as an SEO in 2008, transitioning to PPC in 2012. She manages the strategy and execution of paid media integrations, as well as building relationships with agency partners.
This free and instant analysis of your website performance will show you what Justuno can do for your business.
Please enter a valid email address
Special thanks to our friends at
Justuno
for their insights on this topic.