Gone are the days where "mental health" or "mental illness" were taboo topics to be avoided at all costs. Just like we all have a body that we want to take care of, we all have a mind that needs just as much TLC. This October 10th is World Mental Health Day, initially created by the World Health Organization.
This is a day where mental health discussions are encouraged to raise awareness about mental illness issues on a global scale in an effort to make resources more readily available. The fight against mental illness stigmatization is an ongoing one and there are many fighters in this battle. In the ecommerce world, so many brands are embracing their human emotional connections by committing to mental health through their brand values, initiatives, and products.
Celebrate World Mental Health Day this October by checking out these six brands with some awesome mental wellness products.
Gaiam
Taking care of your physical health is a big part of your mental health and wellbeing. Yoga and meditation are a great way to deal with anxiety and connect with your breath to ground you in the present moment. The best part is even if you're a total beginner there are thousands of brands out there that can equip you with the resources you need to start finding your zen.
One of our favourite yoga and fitness brands is Gaiam. They offer meditation, yoga, and even active balanced lifestyle products geared towards working from home. It's no secret that the pandemic took a toll on several people's mental health. But with tools like this that make working from home more bearable, customers can feel at ease with one part of their day.
The only posing Gaiam does is yoga poses. This is a brand that truly lives, eats, and breathes their values of making yoga accessible for everyone and allowing everyone to embrace their imperfections. In addition to their physical products, Gaiam offers their Yoga Studio App filled with yoga classes and tutorials. With a variety of class lengths ranging from 15 minutes to an hour, there is something that is accessible for everyone. Yogis can also filter through class categories to find something that serves in the present state they are in.
Gaiam ensures that they are delivering customers with the tools that they need to succeed from the mat to the class. Talk about delivering the total package.
Only Human
We've all heard of retail therapy but here's a brand that takes it one step further when it comes to supporting mental wellness through shopping. Only Human is a clothing brand that aims to "spark human connection and bring us together in ways that matter." Not only are their values represented in their physical clothing, but their mission runs even deeper in their value-added content. This global brand supports a different non-profit organization every month, donating 10% of their sales to them for that month.
Not only can customers feel good about themselves and their purchases with Only Human, but this brand offers a variety of resources for their customers. Their Free Resources page is filled with partner apps that can support individuals on their mental health journey. From links to counselling and meditation services like Betterhelp.com and Aura (Meditation and mindfulness) to downloadable mental health resource sheets, Only Human is clearly a brand that truly cares about their customers. This is the type of value added content that will truly increase customer engagement and give them a reason to keep coming back.
In fact, September 2021's campaign was Stay: a Suicide Prevention Campaign. With a dedicated page on their main website, customers can find out more about the campaign, see authentic videos from Only Human's team, and learn more about the JED Foundation in which 10% of proceeds go during that month. In addition to those pieces, Only Human completes their mental health advocacy puzzle by connecting customers to online and tangible mental health resources, a collaborative created Spotify playlist, and inspiring Stay stories from their brand community.
Mental health and wellbeing is and should be a collaborative journey and Only Human embraces this with their brand community centred on support.
Hims
In the realm of men's wellness, Hims stands out as a brand committed to promoting mental and physical health for men. Breaking barriers and challenging stigmas, Hims offers a range of products designed to address common concerns that men may face, from hair loss and skin care to erectile dysfunction and mental well-being.
Mental health is a crucial aspect of overall well-being, and Hims understands the significance of addressing it openly and compassionately. By creating a safe space for men to explore and seek solutions for their mental health concerns, Hims plays a vital role in breaking down societal norms that may have once discouraged such discussions.
One of the standout features of Hims is their accessible and user-friendly approach. Through their online platform, men can discreetly and conveniently access a variety of wellness products, including supplements, prescription medications, and over-the-counter ED pills, all from the comfort of their own home.
Recognizing that seeking help and advice can be challenging for some, Hims offers personalized consultations with licensed healthcare professionals, ensuring that customers receive proper guidance tailored to their unique needs. This empathetic and supportive approach fosters an environment where men feel comfortable and encouraged to prioritize their mental health.
Beyond their product offerings, Hims actively promotes mental health awareness through informative content, articles, and resources on their website and social media platforms. By engaging with their audience and destigmatizing mental health discussions, Hims aims to foster a community that values and prioritizes mental wellness.
Hush
Getting enough sleep has been a concern for most of us ever since we were little. From the infamous bedtime every child fought to the sleep alerts we get on our smartwatches, sleep has always been prioritized. And that's because sleep is a crucial part of mental and physical health.
Unfortunately, for many of us falling asleep isn't a simple matter of counting sheep. 1 in 3 Americans will be affected by a sleeping disorder in their lifetime, ranging from insomnia, to sleep deprivation, to sleep apnea. Insomnia specifically is a very real struggle many people deal with and it is often caused by various other mental health concerns including anxiety, PTSD, depression and more.
"Approximately 50% of insomnia cases are related to depression, anxiety or psychological stress." National Alliance on Mental Alliance
For those of us who struggle to sleep at night, it's no secret that we're willing to try almost anything to catch some Zs. The good news is that brands like Hush are here to help when it matters most. This sleep focused brand offers a range of products including weighted blankets, mattresses, and cooled sheets and blankets to help their customers achieve a good night's sleep.
Hush blankets and mattresses are meant to support their customers in achieving better sleep. Weighted blankets are a tool for reducing sleep anxiety and Hush explains the scientific proof right on their website for curious customers. If this wasn't enough, their review page is flooded with social proof from thousands of positive customer reviews.
With almost 100k reviews, you really don't have to take it from Hush directly – their brand advocates sell their products for them. Additionally, Hush has leveraged their loyalty program by offering customers benefits for both product referrals as well as 300 Hushbucks for a product review on top of the 200 HushBucks available for uploading a photo. These incentives allow customers to earn points to redeem for money off their next purchase.
No need to keep it hush hush when it comes to this brand. Don't sleep on Hush – sleep on their products instead.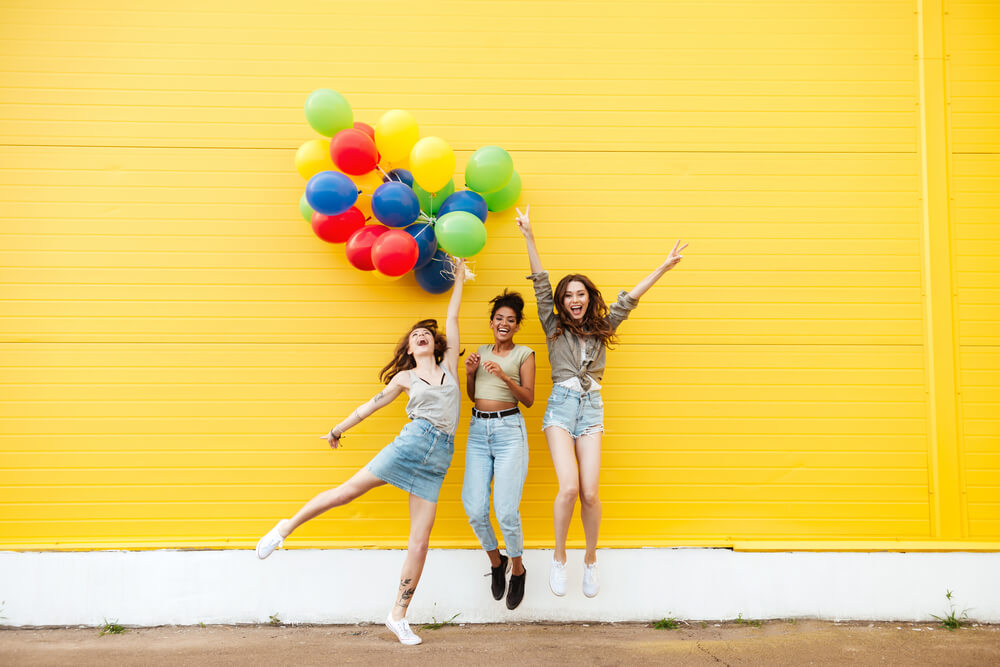 Tea Trunk
When you think of self care, it's hard to not think of cozying up with a nice cup of tea. Not only does tea make us feel all warm and fuzzy inside, certain kinds have also been scientifically proven to have calming effects, reducing anxiety and depression.
"Habitual green tea drinkers in Korea were 21% less likely to develop depression over their lifetime than those who did not drink tea." Nature
Traditional Indian tea brand, Tea Trunk offers premium, ethically-sourced teas from Indian farmers that are sold globally through their ecommerce store. With teas crafted in small batches, they allow customers to shop for very niche products.
Customers can browse through various tea types by "shopping by concern" including weight loss, sleep, and hormonal balance to name a few. This takes the guesswork out for new tea drinkers and allows long-time tea connoisseurs to find their favourites in a matter of seconds providing an optimal ecommerce customer experience for all shoppers
Tea Trunk continues to support the customers by having an active, fun, and educational social media presence. With everything from timely, quirky pop culture references to Q&A format posts, they spill the true tea on their Instagram grid. They've created a one-stop-shop for customers in their highlight reels as well by discussing their loyalty program, tea suggestions, and basic tips and tricks. No matter where customers are looking and what they're looking for, Tea Trunk offers an answer.
Next time you're feeling stressed, think about checking out Tea Trunk and picking a flavor that's right for you.
Colorful Black
It's important to do things to take care of your mind, body, and spirit every single day. Taking care of yourself can include everything from doing your skincare routine to taking a shower. So to us, self care = self love.
The beauty industry is flooded with hundreds of brands offering everything from niche products like biodegradable nail polish to giants like Sephora with every product you can think of under the sun. However, these brands often cater to ethnic majorities with a small product range available for visible minorities. This is why brands like Colorful Black, a French based black-owned company, who offer hair, skin, and makeup products geared towards black and mixed-race customers are so important.
Colorful Black exists to make everyone feel valued and able to find a solution for their specific hair and beauty needs. Their Magazine offers a variety of different articles ranging from Advice pieces to product specific posts to help new customers find their perfect product.
Oftentimes, majorities don't consider the struggles that minorities face on a daily basis. Even things that may seem "simple" like buying shampoo or conditioner at a drugstore can be an anxiety trigger for people of other races who face struggles on a daily basis. For example, Black women often experience microaggressions related to their hair.
Black hair care is extremely important from a cultural perspective and it's important to have brands like Colorful Black that can make these things slightly less stressful, one amazing product at a time.
The Bare Home
Everybody copes with their stress in different ways. For some people, R&R and doing absolutely nothing is the key to recharging their battery. For other people, keeping busy is the best option. Well if you're looking for a brand to help you check a few things off your Sunday cleaning list, look no further than The Bare Home.
"Cleaning has been proven to have beneficial effects including gaining control of your environment, boosting your mood, increasing focus, and is even linked to better physical health." Very Well Mind
You might be thinking, what on earth does cleaning have to do with mental wellness? Well for a lot of people, having a clean environment can make you feel safe and reduce anxiety. What makes The Bare Home even better? You can feel good about the impact you're leaving on the planet with these sustainable, less-waste cleaning products.
The Bare Home even makes cleaning fun (well as fun as it can be) by gamifying their shopping experience with a loyalty program, The Nest Rewards. With a product range that has such a high purchase frequency, customers can rack up Nest points to redeem for dollars off their next cleaning product haul.
Even if cleaning isn't your thing, The Bare Home offers curated bundles filled with themed products. This helps cleaning rookies know exactly what products to buy to use together. On the other end of the spectrum, they also offer a wider range of products including candles, soaps, shampoos, and more to help their customers unwind after a long day.
Their Self Care bundle for example includes a biodegradable shampoo and conditioner bar, hand soap, and an essential oils candle. These products are perfect for helping someone unplug after a busy day and spend some time to focus on themselves. With all of their products being scented with premium essential oils, The Bare Home is truly focused on delivering a calming customer experience.
No matter if you love or hate cleaning, The Bare Home freshens up the entire process one small step at a time.
Choose the right mental health support for you
No matter what stage you are at on your mental health journey, just know that you're not alone. It can be hard to confide in people close to you at times, but there are thousands of resources out there that really care about you. If you need mental health resources, you may be surprised what you can find even on your favourite ecommerce store.
Take some time this October 10th, and every day for that matter, to take care of your mind, body, and spirit. Whether that looks like shopping for a mental wellness product, or taking the first step in getting support for your mental health, do something for you.
We are not mental health experts by any means, but if you find yourself in need of professional, expert support, here are a few global mental health resources:
This originally appeared on
Smile.io
and is made available here to cast a wider net of discovery.