A new study of 3,006 shoppers by Emarsys revealed insight into consumers' shopping intent that may feel surprising in light of recent economic news, but which is great for marketers: one in five (21%) U.S. consumers will do most of their holiday shopping on Black Friday — with over a third (35%) increasing their spend from 2021. 
According to the study, the average American consumer is expected to spend $441 over the Black Friday weekend. That's a 16% increase from $381 in 2021. Less than a quarter of consumers (24%) plan to decrease their spending this Black Friday. [Insert a sentence on what that means with analysis].
Value is on consumers' minds
Increased spending may come as a surprise given global economic concerns. However, Emarsys' research indicates that consumers are spending more discerningly to maximize the value they get for their spending. 
Seeking the biggest discounts (41%), taking advantage of free returns (37%) and grabbing deals early (28%) are top-of-mind for consumers this Black Friday.  For those who intend to scale back, it's unsurprising that inflation (61%), the global cost-of-living crisis (56%), and fear of recession (36%) were cited as the most common reasons.
This more discerning approach to shopping will impact the channels that consumers will use to make purchases. While online purchases (62%) lead the way, 47% of consumers also plan to shop in-store. COVID-19 has become mostly a thing of the past for many, as only 11% will avoid brick-and-mortar stores due to health concerns. All of this suggests that both digital and physical retail are continuing as two viable options for shopping, with consumers making the most of the deals by looking in both locations.
Adapting to changing purchase behavior
The changes brought about by the last few years are here to stay, and it's become ever more important for brands to meet customers where they are, deliver the personalized experiences they crave, and adapt to the platforms where they're shopping.
"The global pandemic, and associated lockdowns, didn't just introduce millions of consumers to ecommerce, but also to strategic spending," commented Sara Richter, CMO, Emarsys. "Shoppers have been forced to navigate tough scenarios with limited funds; financial concerns this year have resulted in a higher level of planning ahead to secure the best deals during the Black Friday sales period."
The takeaway of this research for marketers is that preparing for Black Friday is key. Brands can begin focusing on building a strategy that cuts through the noise and helps them beat the competition to drive revenue. Personalized marketing tactics are increasingly essential. Richter added, "For the best possible Black Friday, brands will understand the behaviors, preferences, and concerns of consumers as individuals, showing an understanding of exactly what, and how, they want to buy."
With a robust omnichannel marketing strategy and savvy personalization approach, brands are poised to get a slice of the increased spend many consumers have planned for this coming Black Friday.
Use the biggest shopping event of the year to begin (or deepen) relationships with a broad number of customers. Savvy messaging and a focus on relationship-building instead of one-time transactions can mean that the efforts made on Black Friday will continue to bring rewards long after the holidays are over. 
Get Started Today
To get more ideas on how to prepare for Black Friday, what to do to maximize your efforts on the big day, and how to follow up to nurture relationships with Black Friday buyers, download our ebook, Power Up Your Black Friday: 10 Omnichannel Strategies to Beat Competitors and Make More $$$.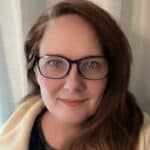 M.C. Andrews
Content Marketing Manager
About the author
M.C. is a writer whose career has included freelance and in-house work in a variety of industries, from Saas to banking to the education sector. As a content manager for Emarsys, she loves to create compelling, engaging content that helps marketers better connect with consumers.
Special thanks to our friends at
Emarsys
for their insights on this topic.