Whitney Blankenship
Content Marketing Manager
Reading Time: 8 minutes
Customers are the lifeblood of every business, and an incredible amount of time is invested in attracting, cultivating, nurturing, and reactivating them.
Long gone are the days when closing out a one-time transaction was seen as enough—smart companies now look to build long-term, mutually beneficial relationships that focus on a higher customer lifetime value and keeping hard-earned new customers coming back for more.
With so much riding on the success of finding and more importantly keeping customers, efficiently managing all customer interactions throughout the entire customer lifecycle is crucial. This is where customer lifecycle marketing software comes in.
Looking for better control over crucial lifecycle messages? Try Omnisend free for 14-days!
What Is Customer Lifecycle Software?
Customer lifecycle software is a tool that analyzes the entire chain of interactions throughout a specific customer's journey, presents the results in a clear, easily digestible manner, allowing you to respond with targeted solutions.
The benefits of lifecycle management tools are many. Firstly, you'll be able to separate your interactions into customer lifecycle stages. The 4 phases of the customer lifecycle are:
Lead: This is when a customer is searching for a solution and has shown some interest in your business. They might have visited your site, clicked on an ad, or signed up to your email list. This stage is all about education, offering informative content and product recommendations based on the customer's needs.
Active customer: The customer has made a purchase, so you need to follow up with post-purchase engagement. This means sending order and shipping information, asking for reviews, upselling with similar product recommendations, incentivizing a second purchase, and so on. This is your chance to turn a one-off buyer into a loyal customer.
Inactive customer: These are customers who have purchased, but not recently. Rather than lose them for good, you can use customer reactivation messages to remind them what they are missing out on.
Lapsed customer: Customers who haven't made a purchase for more than 90 days can be won back with lapsed-purchase campaigns, which offer value and incentives to come back into the fold.
As well as identifying and catering to individual customers based on where they are in the customer lifecycle, you can also build detailed customer profiles and segment them into different categories based on various characteristics. You'll be able to track customer behavior over multiple channels and reach out with personalized, highly relevant automated omnichannel marketing.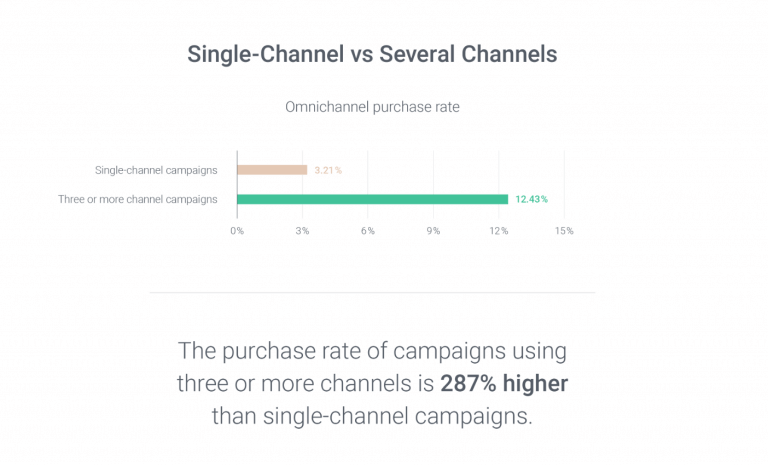 With omnichannel marketing showing 287% higher purchase rates than single-channel campaigns, the ability to send exactly the right message to a customer at exactly the right time and in exactly the right place is crucial, and something that can differentiate your business from the competition.
For more on the powers of omnichannel marketing, check out our free whitepaper The Complete Guide to Omnichannel Marketing Automation.
How to Choose Customer Lifecycle Software?
Choosing customer lifecycle marketing software will depend largely on the needs of your business. Things to consider include:
What kind of customer data is most important for you?
What kind of unique features does your business need to improve sales?
What are your preferred marketing channels?
What are your growth and retention goals?
That said, there are certain customer lifecycle management best practices and functions that should come natively within the software you choose. Ecommerce businesses should be looking for at least the following:
1. Easy Gathering and Detailed Segmentation of Data
The best way to get meaningful data from your customers is by making them into subscribers. Your customer lifecycle marketing software should offer dynamic sign-up forms like pop-ups, landing pages, and even interactive, gamified forms that engage prospective customers and entice them to join your email list.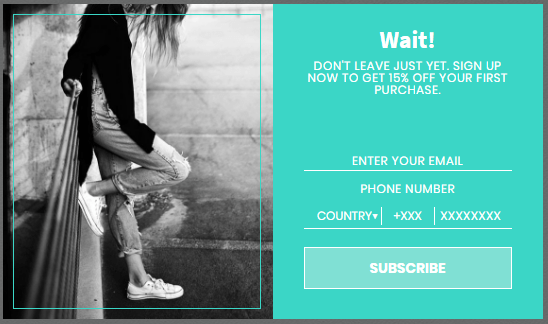 Aim to receive information such as name, age, gender, interests, email address, and phone number from your sign-up forms. All this is valuable data, and it allows you to engage in omnichannel marketing by sending emails and SMS when subscribers sign up, abandon their carts, need to be re-engaged, and so on.
Gathering customer data is one thing, but knowing how to use it is another. Make sure that your lifecycle management tool is able to effectively segment your data so that you can categorize your customers by a wide variety of characteristics, including things like: have made a purchase recently; have opened and clicked on your campaigns; have shown an interest in a specific product, or more basic things like demographic data or where they signed up from.
2. Effective Automated Email and SMS Marketing
Email marketing blows all other marketing channels out of the water in terms of ROI, generating an astonishing $40 for every $1 spent.
Look for customer lifecycle management tools that offer advanced automated email marketing campaigns that not only keep subscribers informed and engaged with newsletters, but send profitable automated email workflows like welcome series, cart abandonment, product abandonment, and so on.
You can also look to go beyond email alone and complement it with other channels like SMS and push notifications for a true omnichannel experience. With omnichannel campaigns involving SMS 47.7% more likely to end in conversion, it is definitely worth adding this lucrative and growing channel into your marketing strategy.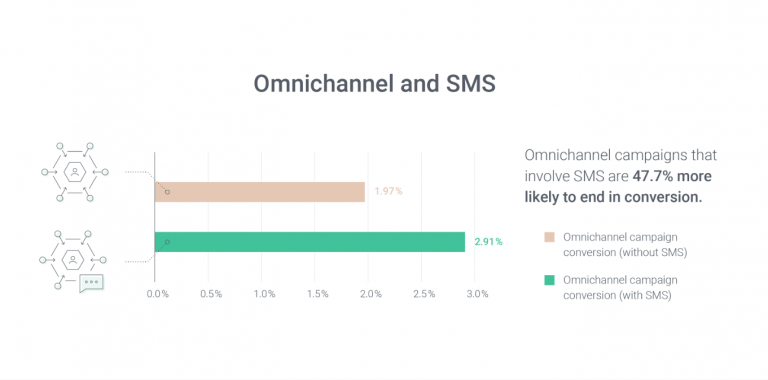 3. Customer Retention and Reactivation Tools
It's a well-known fact that keeping an existing customer is far more valuable than acquiring a new one. Good customer lifecycle software solutions know this and will provide you with a wide variety of tools to encourage repeat purchases and entice lapsed customers back into the fold.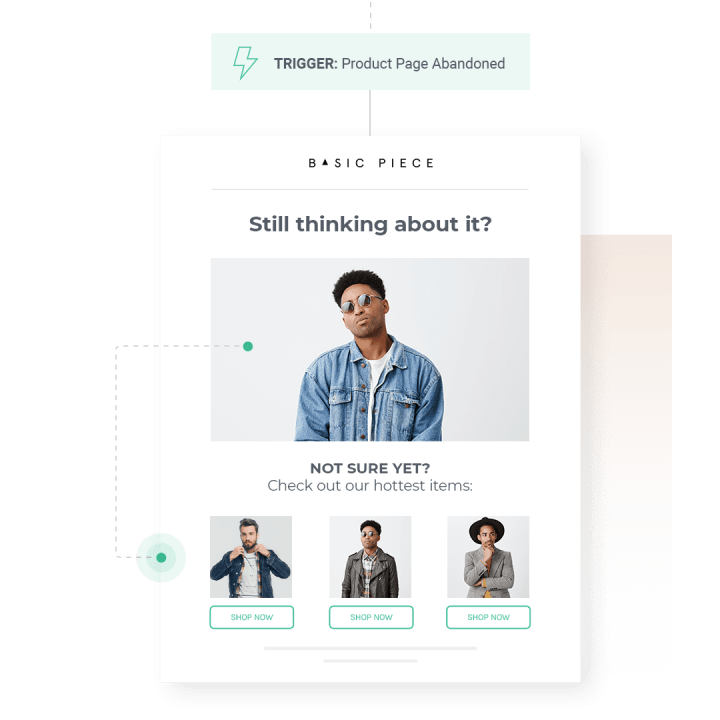 Look for things like personalized product recommendations that tempt customers with items that they have previously shown an interest in; Facebook retargeting for hyper-relevant advertising on social media, and automated customer reactivation emails to remind them what they are missing out on.
4. In-Depth Analytics and Testing
Comprehensive and detailed analytics is a crucial aspect of customer lifecycle management, providing you with real-time information on which aspects of your marketing strategy are working, and what might need a little refinement.
Look for customer lifecycle software that provides not only the big-picture view, detailing things like your overall sales performance and ROI, but also individual campaign and automation reports, the performance of different channels, site tracking, behavioral and transactional data, audience growth trends, and more.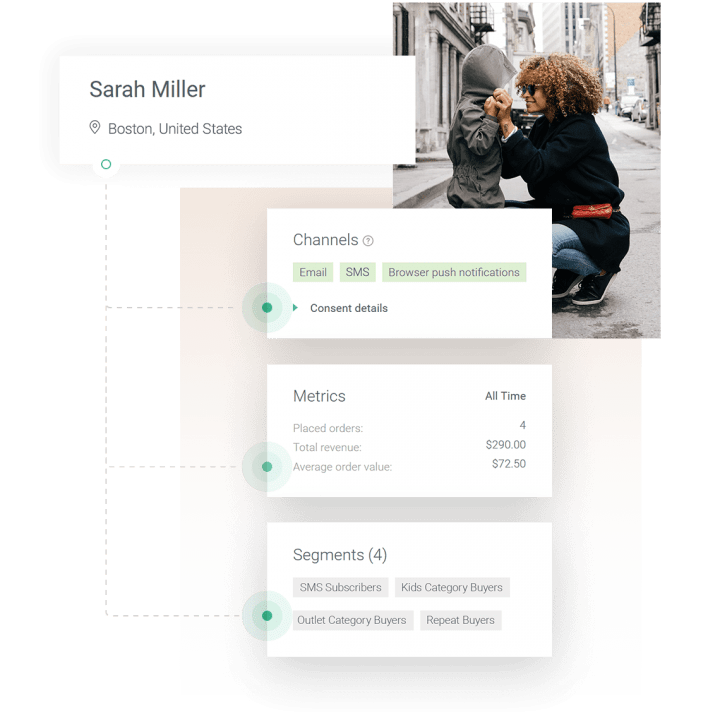 You should also have the option to engage in A/B testing to help you find out exactly what works best with your particular audience. With A/B testing, you'll be able to build parallel messaging paths as test variations, testing different kinds of content, message timing, channels, and other aspects of your automated workflows. That way, you are guaranteed to send the exact combination of automated messages that best resonate with your target audience.
The 4 Best Platforms for Customer Lifecycle Management
Omnisend is a complete lifecycle management solution that can analyze your customer data, intelligently segment your audience, and provide tools for every step in an individual customer's journey.
Designed specifically with the needs of ecommerce merchants in mind, Omnisend is a marketing automation platform that provides powerful automated email, SMS, and other channels in an easy-to-use interface. You simply create your messaging with the editor, schedule your omnichannel workflows (welcome series, abandoned cart, order confirmation, etc.), and let it earn revenue for you on autopilot.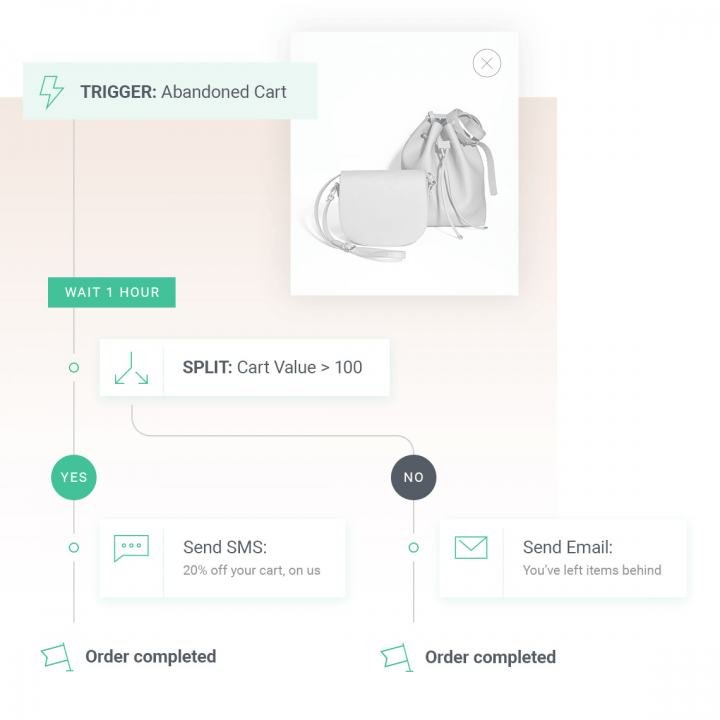 The best part about Omnisend is its attention to detail, taking measures to optimize each step of the customer lifecycle, backed by data. For example, you can find the most effective sign-up forms, including landing pages and interactive forms such as the Wheel of Fortune, and educate leads with newsletters, email, and SMS marketing.
After a customer has made a purchase, Omnisend offers a range of customer retention and reactivation tools, including personalized product recommendations and lapsed purchase campaigns.
Your customer lifecycle management is all brought together with detailed analytics, allowing you either an overall view or to delve into the minute details of your performance, and A/B split testing to optimize your content.
Sounds too good to be true? Grab a Free trial of Omnisend today and see for yourself!
Pipedrive offers a unique, intuitive visual representation of your sales process that is easily customizable to suit the needs of your business. You simply name your lifecycle stages or choose a template to fill with your customers, and easily visualize the various steps you need to take to bring deals through to close.
This easy-to-use, deal-driven interface is ideal for small businesses, helping you to keep on top of complex sales processes and apply an activity-based sales strategy that ensures engagement throughout the customer lifecycle. With each customer's current lifecycle stage clearly mapped out for you, you will always know what to do next and can be confident that you'll never miss an activity. Other useful features include chatbots for your website, and in-depth analysis and reporting.
Pipedrive is a useful tool that is more specialized in its functions, it lacks the more advanced marketing automation of platforms like Omnisend, for example. Still, it is fantastic at what it does, so if your business requires the visually-focused features that it excels in, it makes for an excellent choice.
Like Omnisend, Hubspot is a complete marketing automation platform that features comprehensive customer lifecycle management tools.
Hubspot is one of the biggest names in ecommerce and the sheer size of its platform can seem intimidating for beginners at first, but it is actually quite simple to use. Customer lifecycle tools fall under the Hubspot CRM (Customer Relationship Management) umbrella, a closely related but not quite identical system that is very common in ecommerce, with many overlapping features.
HubSpot CRM allows businesses of all sizes to gather and analyze customer information, gain insights and find opportunities in data, visualize sales funnels, and create customer retention campaigns. You can easily segment customers according to their needs and characteristics, allowing you to spend extra time on those who might need a nudge to commit to a purchase, or haven't purchased for some time.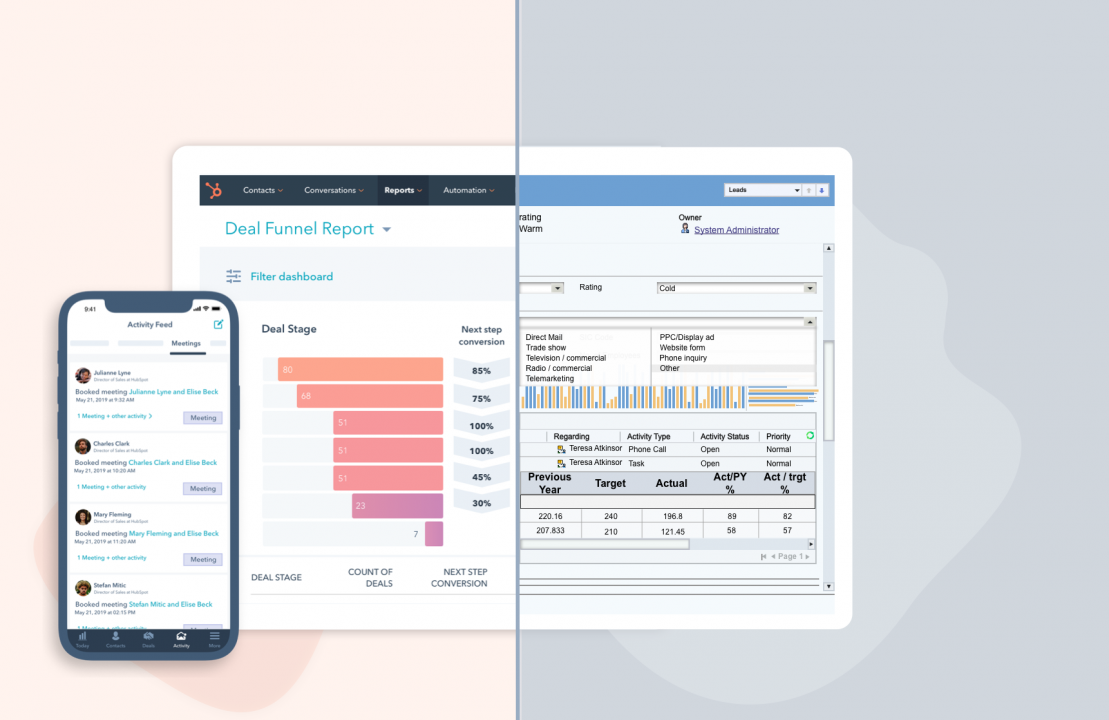 A great advantage of Hubspot is its large ecosystem, allowing you to take care of your customer lifecycle management, marketing, sales, and customer support all in one place. Hubspot CRM is free, so it's definitely worth checking out whether it can work for your business.
Zoho is a powerful suite of software to run your entire business, but its flagship product is the Zoho CRM.
With a huge range of features, including easy lead management for the awareness stage of the customer lifecycle, marketing automation to nurture and make sales, contact management for easy segmentation of customers, omnichannel possibilities, and a range of powerful analytics, it is no wonder Zoho is one of the biggest names in the customer lifecycle game.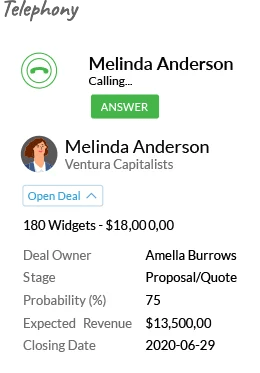 One of Zoho's standout features is its ability to make accurate forecasts based on the data it collects, allowing you to plan ahead with confidence. Another nice touch is the built-in gamification, which awards fun little trophies when jobs are completed and targets achieved.
Zoho CRM is a fantastic tool that is highly customizable, packed full of great features, and comes as part of a larger, integrated system. Its true strength lies in lead generation, offering great lead captThe 4 Best Platforms for Customer Lifecycle Managementure, nurturing, segmentation, interaction tracking, pipeline tracking, and more. If this is what your business is looking for, you should definitely check it out!
Wrap up
Choosing the right customer lifecycle software is one of the most important decisions that you will make—because making the right choice will help you to attract more customers to your brand, keep them happy and coming back for more, and ultimately sell more of your products.
That's why you should take the time to carefully consider your specific needs and goals before making a commitment. Do you need a complete, all-in-one marketing solution like Omnisend? Or are you happy with a more specialized, but limited customer lifecycle management tool like Pipedrive?
If you'd like all of your customer lifecycle tools in one, easy-to-use platform, you can try Omnisend for free today and check it out for yourself!
Special thanks to our friends at
Omnisend
for their insights on this topic.